Choosing the right website builder is a crucial decision for any business owner launching an online presence. Two popular options are Format and Squarespace, both sleek and modern platforms for creating beautiful, functional websites.
But how do you know which one is the best fit?
In this comprehensive Format vs Squarespace comparison, we evaluate Format and Squarespace across key criteria, including ease of use, design customization, blogging, e-commerce, and SEO integrations to help you confidently select the ideal website builder for your business goals and needs.
1. Understanding the Basics
Founded in 2012, Format is the new kid on the block compared to Squarespace, which launched in 2004. Despite its newcomer status, Format has quickly gained popularity.
Squarespace was founded by Anthony Casalena in his college dorm room. Today, Squarespace dominates the website builder market. As of 2021, it powers over 4 million websites worldwide.
Though smaller, Format hosts over 300,000 sites. Its minimalist templates appeal to creative agencies and photographers looking to create elegant online portfolio websites.
Both builders cater to small businesses, bloggers, artists, and entrepreneurs. However, Squarespace has more brand recognition and a larger user base. Its Facebook community has over 115,000 members.
Format doesn't have an official Facebook group. However, users connect in the Format Community Forum.
The key takeaway? Squarespace is the established industry leader while Format is a growing niche alternative praised for its simplicity. Keep reading as we dive deeper into how they compare across key criteria.
2. Ease of Use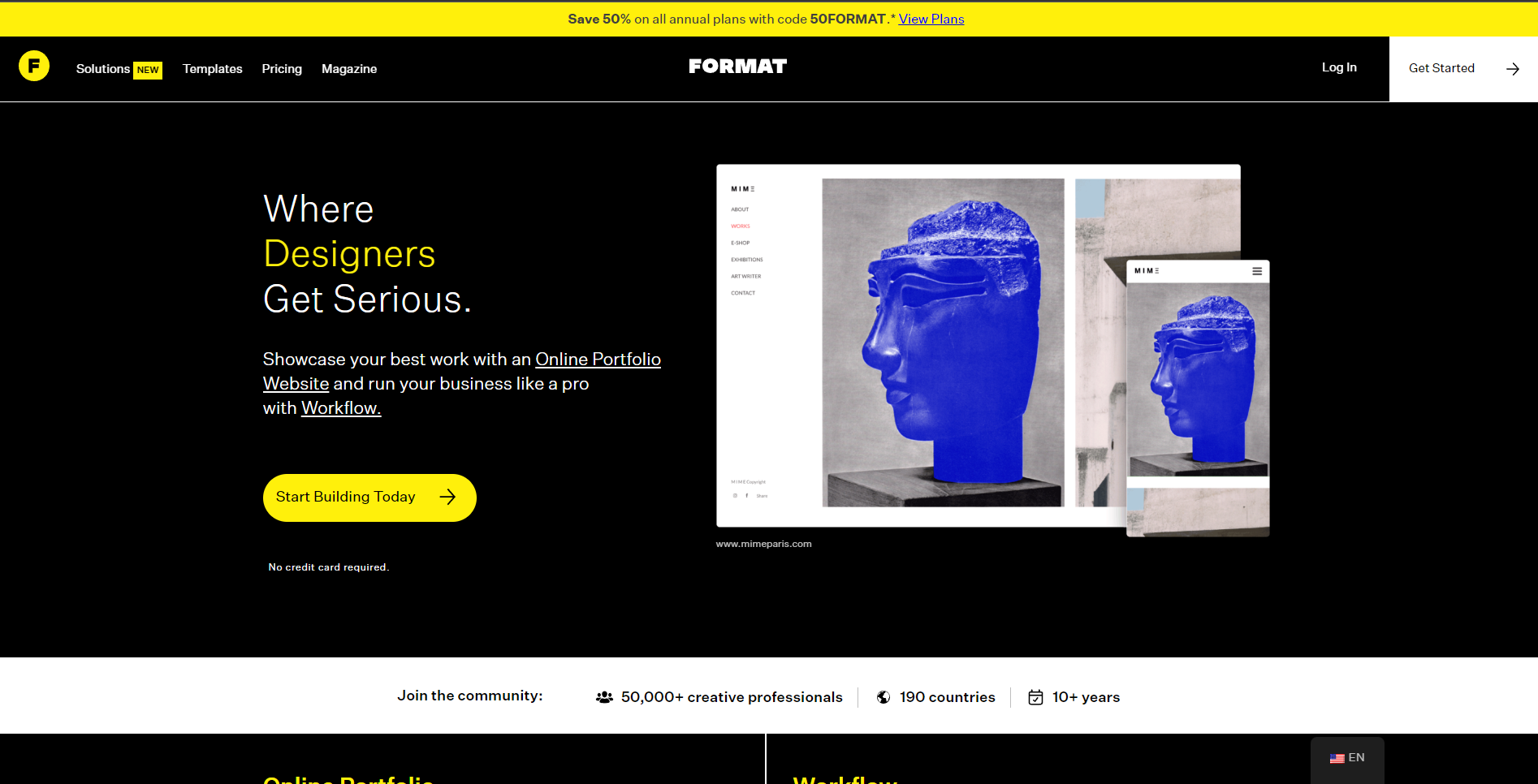 Format shines when it comes to usability and simplicity for portfolio website creation. The interface features a clean, minimalist design that is intuitive even for beginners. Users can drag and drop elements to build professional sites quickly.
The learning curve is gentle, especially compared to Squarespace. Format's simplified options encourage you to publish, not get stuck trying to configure settings.
Overall, the user experience is seamless. Format makes it easy to choose a template for your photography website, customize fonts, colors, and layouts without coding. The editor allows you to edit site-wide styles in one click. Format also automatically optimizes images for faster load times. Every part of the site-building process is streamlined.
With its pared-down features and pre-designed templates, Format enables rapid photography website creation. Novices can launch a polished website in minutes, not days. The platform regularly earns praise as one of the most user-friendly builders available.
Squarespace provides a robust set of options for designing your site. However, this very configurability can overwhelm beginners. With numerous widgets, customization settings, and add-ons to sort through, Squarespace has a steeper learning curve.
The interface can be cluttered at times compared to Format's clean minimalism. You'll need to set aside serious time to understand Squarespace's full capabilities. Customizing a template takes patience and practice. The multitude of menus/settings makes it less intuitive to operate.
On the plus side, Squarespace offers helpful onboarding checklists, video tutorials, and 24/7 customer support. These resources combined with its powerful features make the platform very capable. But you'll invest significant effort in mastering it.
With its simplified editor and pre-designed templates, Format takes our prize for the easiest website builder. The intuitive drag-and-drop interface enables anyone to quickly create photography websites. Format's pared-down approach lowers the barrier to getting online fast.
3. Design and Customization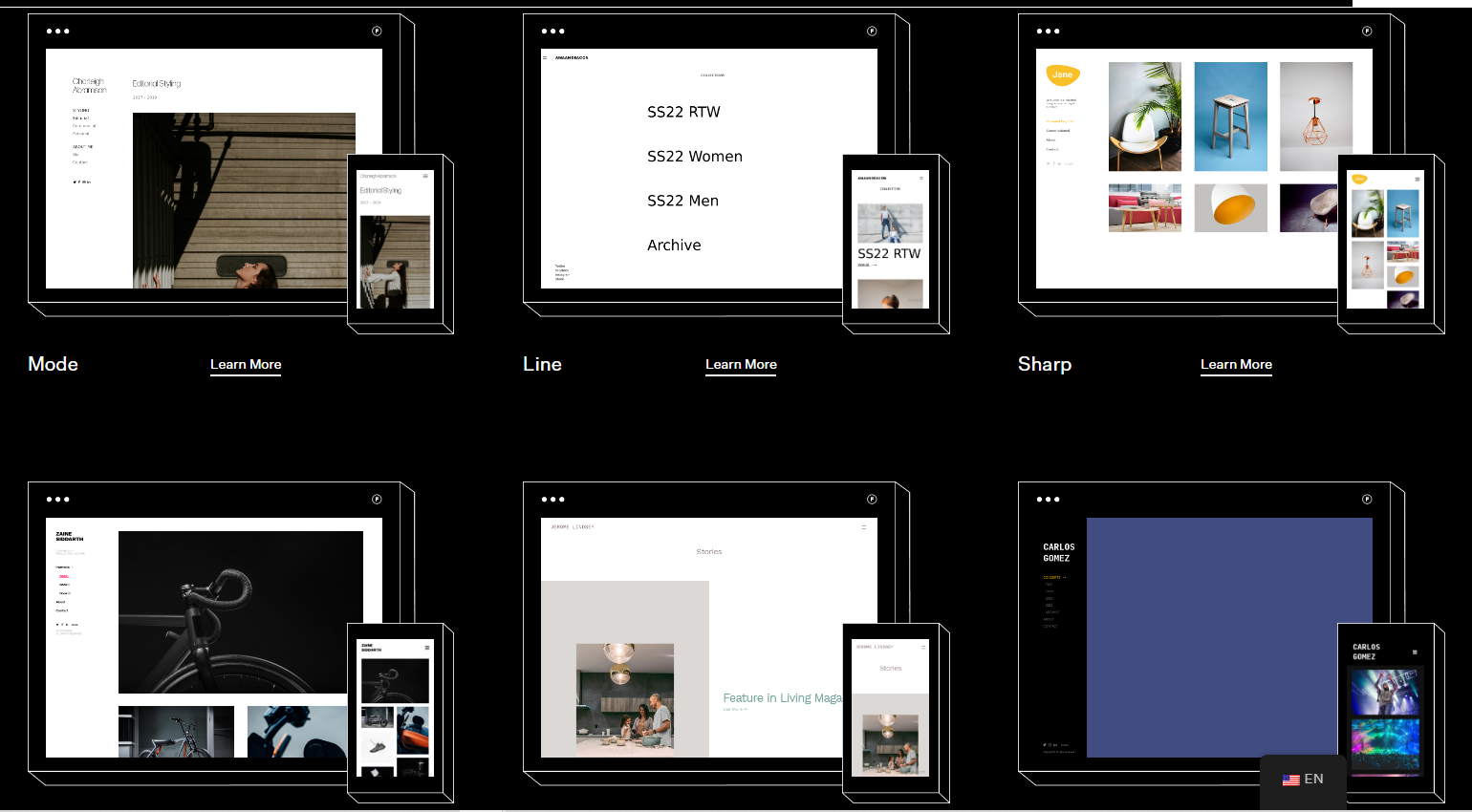 Format offers around 70 beautifully designed templates spanning categories like portfolios, blogs, stores, and more. The minimalist layouts feature trendy aesthetics perfect for creatives, agencies, and contemporary brands.
While you can't extensively customize the core templates, Format makes it easy to tweak fonts, colors, and image placements. Users praise how effortless it is to create a unique look and feel. Format also automatically optimizes images for fast loading.
The mobile editor simplifies building responsive sites optimized for all devices. You can preview mobile designs live. With media queries and mobile-friendly templates, Format takes the guesswork out of creating sites tailored to every screen size.
Squarespace provides around a hundred templates across industries and styles. The elegant designs cater to blogs, stores, portfolios, restaurants, events, and more. While attractive, the structured templates limit flexibility.
To deeply customize Squarespace themes requires working within code. The WYSIWYG editor only enables surface-level changes like tweaking fonts, colors, and block placement. You'll need developer skills to overhaul templates.
Squarespace makes mobile optimization accessible for non-coders. You can preview mobile versions of pages live. The interface also allows adjusting elements to fit different breakpoints. So Squarespace streamlines multi-device sites despite its rigid templates.
Format wins for best design flexibility. It has the best design customization tools and without rigid templates, the software grants more creative freedom to craft a distinct visual brand. Users can finely tune Format's stylish themes into a customized web presence with far less hassle than Squarespace.
4. Features and Functionality
Blogging Tools
Format offers a capable blog module to publish articles and news. The editor simplifies writing posts with WYSIWYG formatting tools and drag-and-drop image uploading. You can schedule posts in advance and enable commenting.
However, advanced blogging features are lacking. There are no options for guest authors, contributors, categories/tags, or post series. Format also lacks built-in email list integration. You'll need to embed or connect third-party tools for newsletter sign-ups.
For basic blogging needs, Format delivers an intuitive creation process and attractive templates. However, it fails to support complex publishing workflows or reader engagement tools tailored for blogs.
Squarespace shines for blogging thanks to its robust Post Editor. Writers can create informative blog posts and format them with text styles, media embeds, code blocks, and footnotes. The scheduler lets you manage publication dates.
Squarespace supports multi-author blogs with contributor accounts and permissions. You can categorize content with tags and enable commenting. Email list integration comes built-in for managing subscriptions.
The platform also surfaces blog metrics like views, shares, and subscribers. With its advanced features, Squarespace satisfies demanding blogging needs from individual to multi-author sites. The flexible tools foster publishing and engaging audiences.
Squarespace wins for in-depth blogging functionality. Beyond basic posting, it provides contributor management, email lists, analytics, and more. These specialized tools optimize complex blogging workflows and audience engagement better than Format's simpler offering.
E-commerce Capabilities
Format offers basic e-commerce functionality for building a web store and selling physical goods online. Users can create product pages, customize checkout processes, and manage orders.
However, Format's e-commerce features are limited compared to dedicated commerce platforms. It does not support digital products, subscriptions, or product variations. Inventory management and order automation are lacking.
Format integrates with Stripe for accepting payments. However, you cannot process transactions in person or accept alternate gateways. There are also no native CRM, fulfillment, or accounting integrations.
In summary, Format provides enough tools for a simple online store. But scaling or running advanced operations would require bolting on many external apps.
Squarespace delivers robust e-commerce features rivaling dedicated commerce solutions. You can create product pages with variants, promotions, and multimedia.
Payment processing integrates Stripe, PayPal, and others. Squarespace supports one-time purchases, subscriptions, and split payments. Strong inventory and order management come built-in too.
The platform seamlessly tracks customer data for segmented marketing. Powerful analytics provide visibility into traffic and sales. Squarespace even offers a POS app for in-person sales.
With its end-to-end functionality, Squarespace suits complex e-commerce operations. The extensive features minimize the need for third-party apps.
Format shines when it comes to building professional portfolio websites, but Squarespace is the clear winner for e-commerce. Its native toolset rivals standalone commerce platforms in capability and convenience. Format simply can't compete with the advanced inventory, order, and fulfillment powers Squarespace brings natively.
SEO Tools
Format provides SEO fundamentals like editing meta titles and web page descriptions for separate website pages, as well as adding alt text for images. It also supports Google Analytics integration for insights.
However, the specialized portfolio website builder lacks advanced optimizations like XML sitemaps, custom URLs, and page-specific metadata. There are no built-in SEO guides or content analysis either.
The simplified editor makes it tough to tweak header tags and page structures for on-page optimization. Any complex SEO requires custom HTML/CSS coding skills.
Overall, Format covers search engine optimization basics but ignores the fine-tuning needed for best-in-class discoverability. You'll have to leverage external tools and plug-ins to fully optimize sites.
Squarespace delivers robust SEO capabilities to maximize site visibility. The configurable options make optimizing pages intuitive even without coding expertise.
You can set custom URLs, meta descriptions, social sharing tags, and rich snippets for every page. Structured data and sitemaps auto-generate. Granular analytics quantify traffic and conversions.
Squarespace also provides SEO guides and content analysis to improve optimization and structure. Further, its fast servers and mobile responsiveness align with Google's ranking factors.
In summary, Squarespace has native SEO tools for DIY optimization without third-party apps. It empowers beginners and experts alike.
Squarespace wins the SEO category with its unrivaled optimization capabilities right out of the box. Unlike Format, Squarespace demystifies SEO for users of all skill levels to maximize site visibility.
Integrations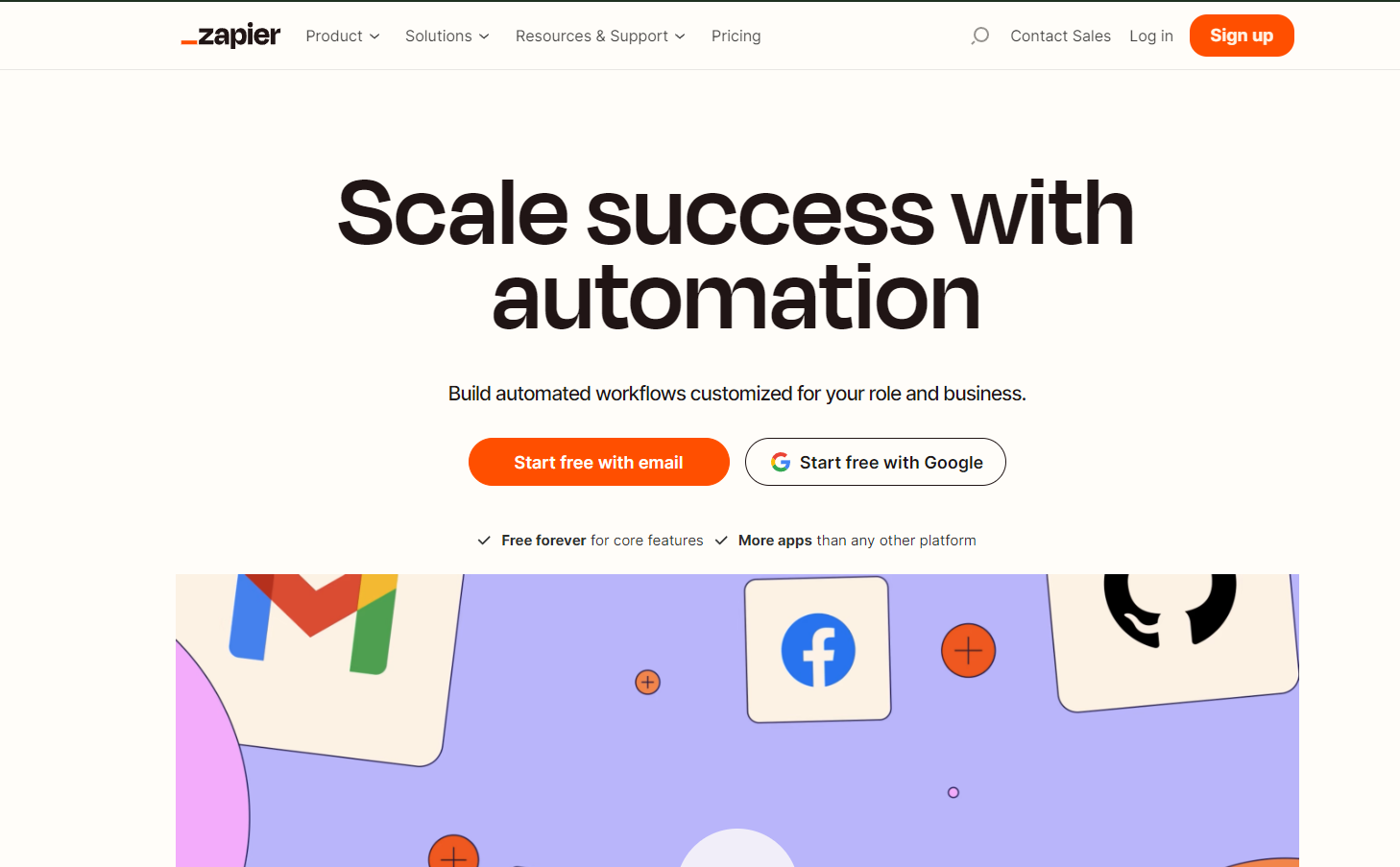 Format offers basic integration with external apps via Zapier. You can connect popular tools for email, analytics, payments, and more.
However, Format lacks deep native integrations seen in other website builders. There is no commerce ecosystem or library of integrated services to add advanced features.
The platform's simplicity natively omits the expansive capabilities expected by larger businesses. Instead, Format focuses on creating portfolio websites rather than a robust ecosystem.
In summary, Format covers the basics for connecting everyday business apps. But scaling features requires stitching together many disjointed apps.
Squarespace shines for its vast native and third-party integrations. The App Marketplace houses hundreds of integrated tools to augment websites.
Native integrations include email marketing, bookings, donations, and CRM. Squarespace also seamlessly partners with Google Workspace, MailChimp, Acuity, and more.
Further, open APIs and automation tools like Zapier expand possibilities. You can easily build custom features or logic using Squarespace's libraries and data.
For small needs or enterprise sites, Squarespace's expansive integrations enable convenience and customization without coding.
Squarespace wins for best integrations. Its App Marketplace and open API access make augmenting sites easy and consistent. Squarespace simply offers deeper native and third-party capabilities than Format's basic apps.
Analytics and Reporting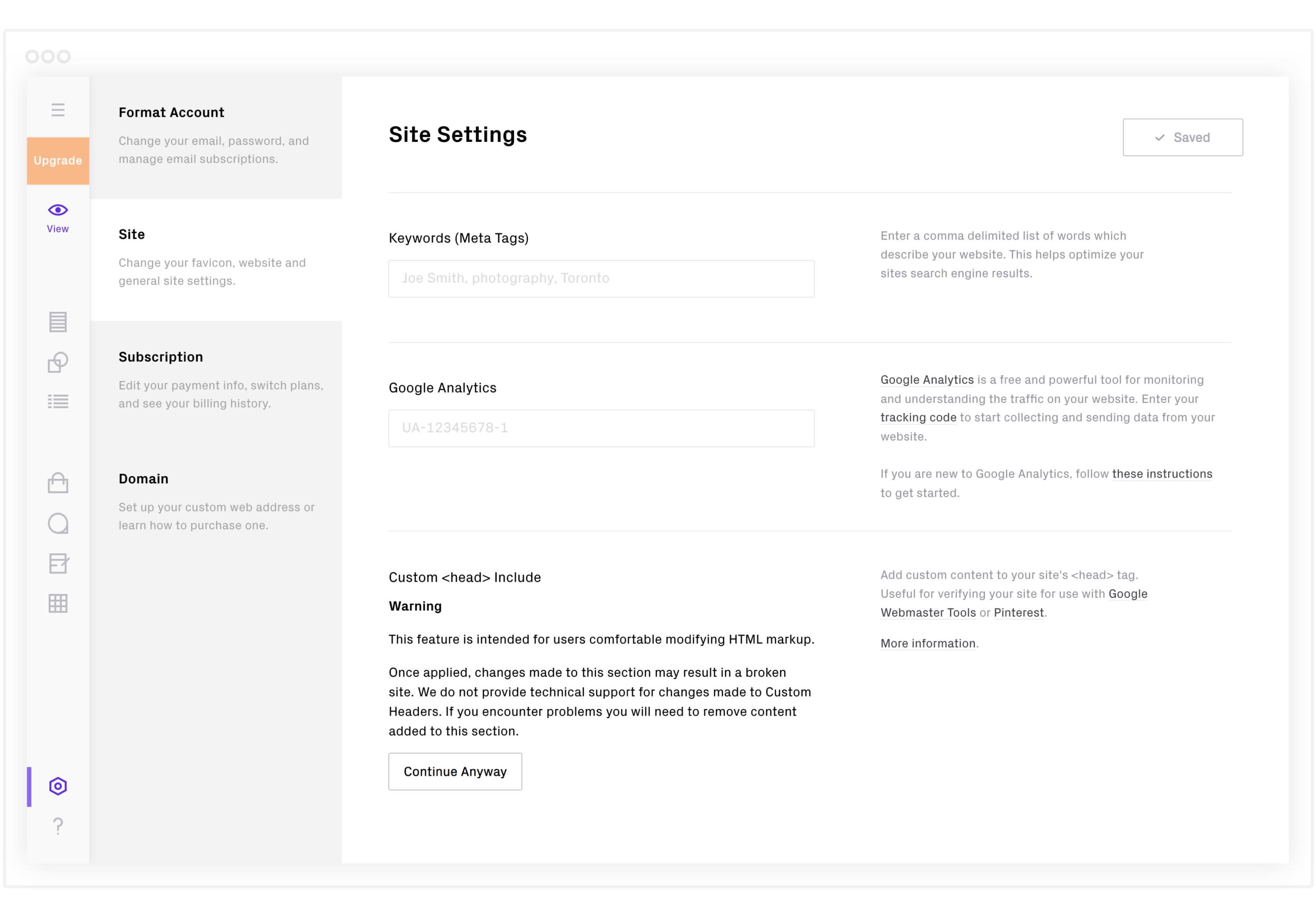 Format offers basic analytics via integration with Google Analytics. You can view traffic sources, top pages, and other metrics to understand site performance.
However, custom reporting is not possible within Format itself. There are no options for segmenting data, creating custom reports, or comparing time periods.
E-commerce sites face limits in tracking sales and conversions beyond basic volumes. Without custom reporting, analyzing sales funnels and marketing initiatives is a challenge.
In summary, Format only provides surface-level analytics. Those wanting deeper business intelligence will require paid add-ons or external tools.
Squarespace delivers powerful built-in analytics and custom reporting. Its insights tools track all site activity from traffic to sales.
The Metrics suite visualizes traffic channels, popular content, conversions, and revenue with custom periods. You can segment and filter data to derive actionable insights.
E-commerce sites can analyze customer behavior at each stage from impression to purchase. Squarespace makes understanding your funnel intuitive.
For both blogs and stores, Squarespace enables thoughtful analytics far beyond Format's generalized reporting.
Squarespace wins for its robust analytics and custom reporting capabilities. The platform provides the actionable business intelligence that Format's platform lacks natively.
5. Website Performance
Website Speed and Load Times
Format builds all sites on fast servers optimized for speed. It automatically optimizes images and minifies CSS/JS files to boost performance.
The company aims to deliver sub-second load times for the average page. Format sites scored well in independent speed tests, ranging from 1-2 seconds on mobile.
However, sites cannot use caching plugins to further accelerate performance. And, Format's stripped-down code base lacks some optimizations like code minification.
For a simple business site, Format provides adequate speed out of the box. But more complex or media-heavy sites may encounter slowdowns.
Squarespace leverages a global CDN and optimized code to power fast performance. Sites score well in speed tests, averaging sub-3 second mobile load times.
The platform minifies CSS, JavaScript, and HTML automatically. Squarespace also compresses images on upload for lighter pages. Its templates encourage smart media loading practices too.
Users can further tune sites with built-in caching tools and CSS/JS optimization settings. Or apply deferred loading for heavy resources.
For the most demanding sites, Squarespace enables granular performance tuning beyond Format's set-and-forget approach.
Winner: Tie
Format and Squarespace deliver comparable site speed for the average user case. Both use code optimization and fast servers to provide snappy mobile experiences. We declare this category a tie since speed depends largely on each site's size and media needs.
Website Reliability and Uptime
Format guarantees 99.95% uptime for all customer sites. This equals less than 4.5 hours of total downtime per year.
The company uses AWS infrastructure across multiple regions to minimize outages. Format also proactively monitors sites and provides status notifications.
Few user complaints exist around reliability or downtime. Independent tests showed strong results – 99.98% uptime over 2 months.
For most businesses, Format should deliver adequate uptime. However, there are no SLA guarantees if issues ever occur.
Squarespace commits to 99.95% uptime for all customer websites. The company actively maintains and monitors its servers for maximum reliability.
Like Format, Squarespace runs on geographically distributed AWS servers to mitigate downtime risks. Users can subscribe to status updates via email or SMS.
Independent tests confirm Squarespace's reliability, recording 99.97% uptime over 6 months. The platform matched Format in real-world performance.
Further, Squarespace offers an SLA with remedies for any extended outages. This provides peace of mind unavailable with Format.
Squarespace wins based on its official SLA governing uptime and remedies. While both platforms deliver excellent reliability, Squarespace contractually guarantees it.
6. Customer Support and Community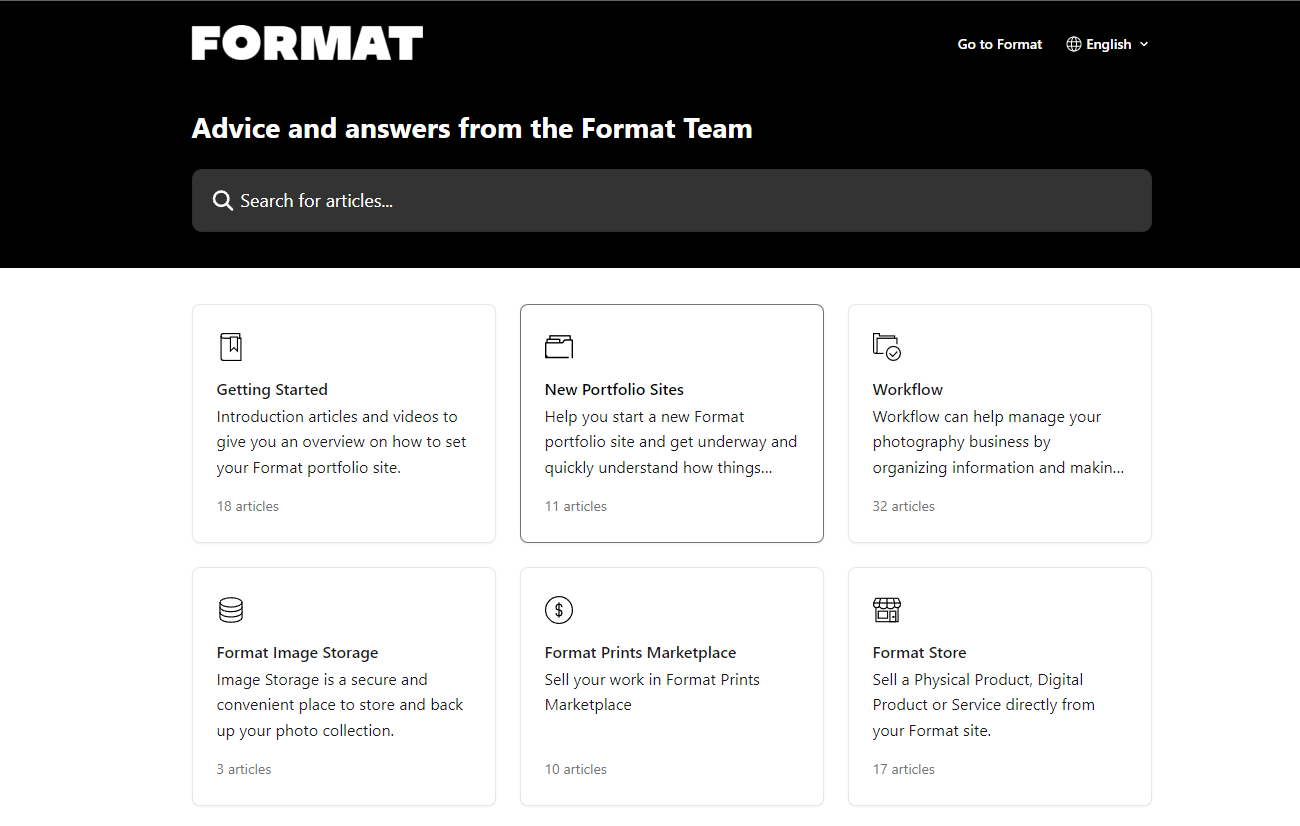 Format provides email support and a knowledge base for self-service help. Users report reasonably quick replies, often within a business day.
However, there is no live chat or phone support. A lack of real-time channels can prove frustrating for urgent issues.
Format's community resides in its public support forum, where staff and users post advice.
The forums provide useful guidance across website-building topics. But the community is still growing with less activity than Squarespace's.
Overall, Format delivers baseline support and community options common for SaaS platforms. But resources are thinner versus leading competitors.
Squarespace offers email, live chat, phone, and social support channels. Knowledgeable reps provide prompt resolutions, with phone wait times averaging under a minute.
Self-help resources are also abundant, including guides, webinars, and a thriving community forum.
Squarespace's forum sees high engagement from over 1 million members. Users find quick DIY solutions from peers and staff.
For urgent issues, multi-channel 24/7 support proves more reliable than Format's slower email-only option. Squarespace simply provides a more well-rounded support ecosystem.
With stronger self-help content and reliable multi-channel assistance, Squarespace wins for best customer support and community. Its forums also foster more peer knowledge sharing than Format's smaller user base allows.
7. Pricing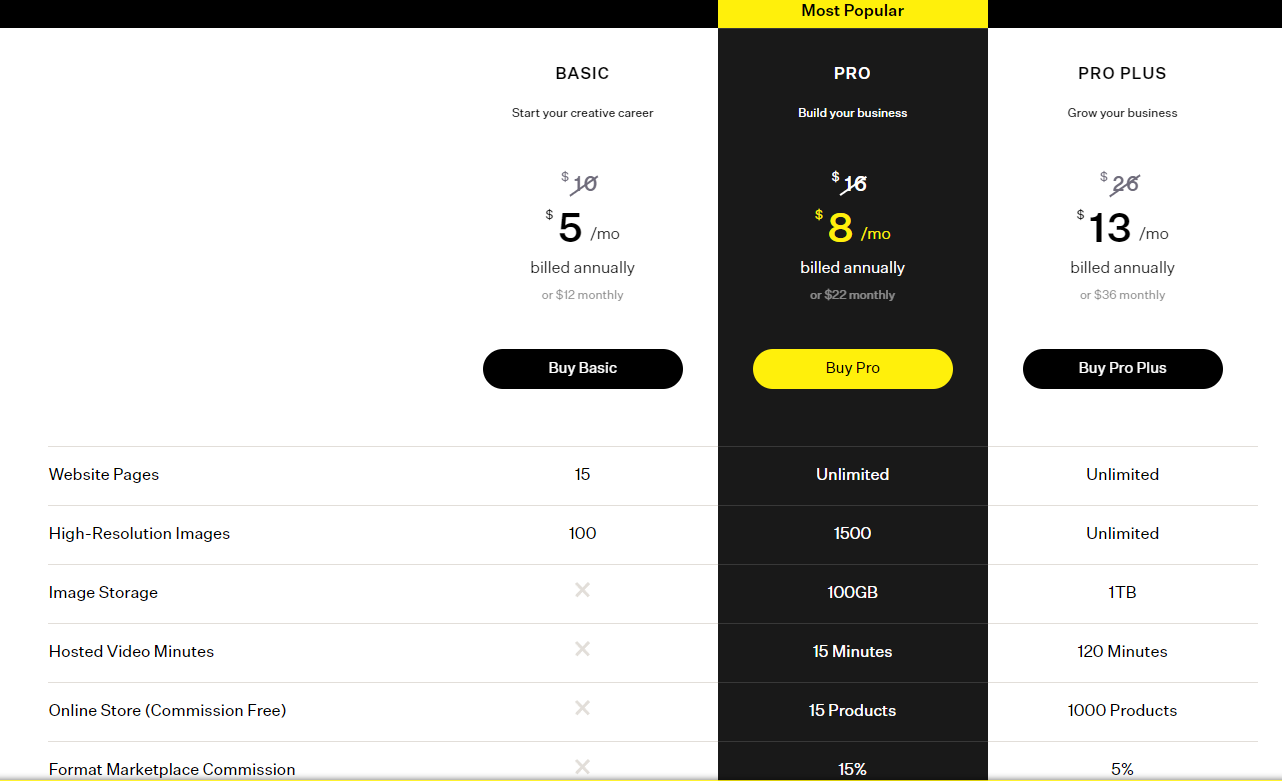 Format offers 3 premium plans:
Basic: $5/month
Pro: $8/month
Pro Plus: $13/month
Each plan includes unlimited pages, bandwidth, and basic support. Additional features like white-label branding, priority support, and advanced integrations come with higher tiers.
There is also a free trial available. Overall, Format provides strong value for the money at competitive market prices.
However, Format lacks built-in commerce capabilities. You'll pay extra for integrations to enable shopping features beyond basic informational sites.
Squarespace has 4 main subscription tiers:
Personal: $16/month
Business: $23/month
Basic Commerce: $27/month
Advanced Commerce: $49/month
Storage, bandwidth, free custom domain, and support are covered in all plans. Higher pricing unlocks powerful features like donations, abandoned cart recovery, and real-time shipping.
Free trials let you test Squarespace risk-free. While pricier than Format, Squarespace bundles valuable e-commerce features absent in competitor plans.
Format wins for the best value, offering robust website-building capabilities at lower price points. Squarespace charges a premium for its native commerce options absent in Format's simpler plans.
8. Reviews and Reputation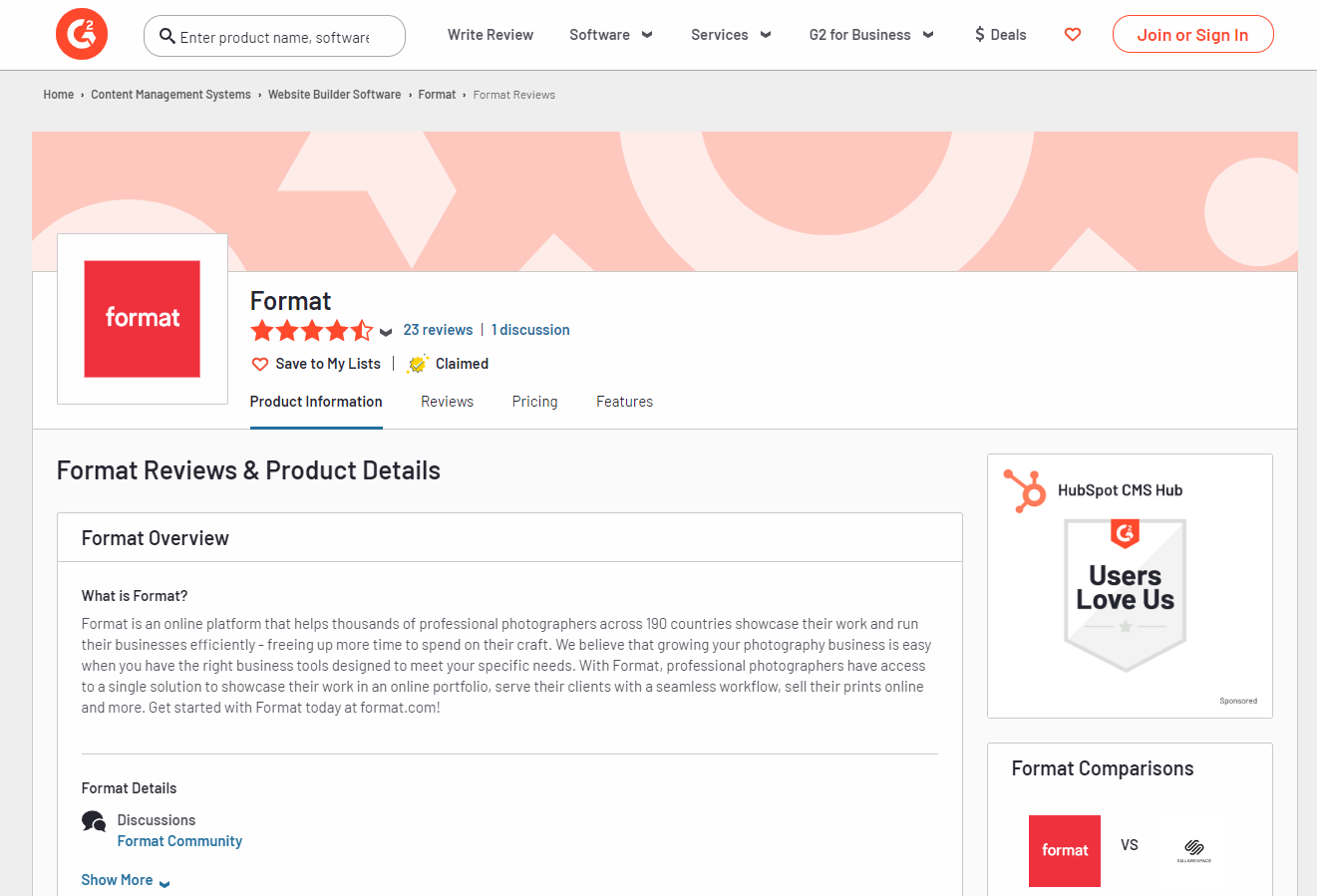 Format earns positive reviews for its simplicity, elegant templates, and ease of use. Users praise the intuitive drag-and-drop editor that makes building sites fast and straightforward.
Criticism centers around the platform's limitations for larger businesses. The lack of robust e-commerce, customization, and advanced features disappoints some users with bigger needs.
Overall at Capterra, Format rates 4.5/5 stars based on 258 reviews.
The website builder appeals most to freelancers, agencies, and small brands seeking an affordable, user-friendly solution. However, scaling can require integrating additional apps.
Users compliment Squarespace for its powerful design flexibility, extensive features, and reliability. The breadth of capabilities suits larger businesses well.
However, some find the interface overly complex compared to stripped-down competitors like Format. Novices may encounter a learning curve mastering Squarespace's abundant options.
On Capterra, Squarespace scores 4.5/5 from 700+ reviews.
The platform works well for all business sizes and verticals needing advanced functionality. But smaller sites may find it overkill.
Winner: Tie
Both Format and Squarespace earn glowing reviews for ease of use and quality templates. The right choice comes down to site needs – Format for its simplicity, and Squarespace for advanced capabilities. We declare this category a tie.
9. FAQ's
What types of sites can I build with Format? Format is ideal for portfolios, agency sites, blogs, and simple online stores. Its elegant templates cater to creative professionals.
Does Format have e-commerce features? Format offers basic e-commerce functionality but lacks advanced capabilities like digital products or subscription billing.
Is Format easy to use? Yes, Format prioritizes usability with an intuitive drag-and-drop editor. Even novices can quickly build sites.
How much does Format cost? Plans start at $14/month. All tiers include unlimited storage and bandwidth.
What types of sites can I build with Squarespace? Squarespace suits blogs, stores, portfolios, restaurants, events sites, and more.
Does Squarespace have e-commerce features? Yes, Squarespace provides enterprise-grade commerce tools for physical and digital selling.
Is Squarespace easy to use? Squarespace has a steeper learning curve but offers abundant features. Beginners may require more onboarding.
How much does Squarespace cost? Plans start at $12/month. Pricing scales based on advanced capabilities
Final Thoughts
Format is the best choice for freelancers, agencies, artists, and small brands seeking an inexpensive, user-friendly platform. With its simplified editor and classy templates, anyone can quickly build a beautiful website optimized for portfolios, blogs, and basic stores. Format shines for its no-fuss approach to creating an elegant online presence.
Squarespace better suits larger businesses needing advanced functionality like powerful e-commerce, marketing tools, and third-party integrations. Its robust features and design flexibility empower complex sites for any industry or vertical. Squarespace works well for established brands prepared to invest in a sophisticated platform with expansive capabilities.
Choosing the right website builder is critical for establishing your ideal web presence. Consider your business's unique goals, audience, and needs – then select either user-friendly Format or feature-rich Squarespace as the superior fit. Don't hesitate to ask any questions in the comments if you need help determining the best platform for your online success!
If you'd like to learn more about this website builder, be sure to check out my Squarespace review.
Alternatively, you can also read up on how Squarespace compares to other site builders: