According to custom markets insights (CMI), the global website builder software industry is expected to reach $4.2 billion by 2030. There are dozens of website builders popping up each day, but not all of them are worthy of your attention.
Kartra and Wix are two online business-building platforms that let you build beautiful websites, landing pages, and online stores. There's no need to worry about web hosting or installing third-party software with either platform. Everything you need to build and manage your website comes built-in, and you can add additional tools and apps to further expand your site's functionality.
But, even with these similarities, there are some distinct differences between the two website builders that you must be aware of before making your choice.
I have spent over 12 hours reviewing and comparing these two platforms in every area, including ease-of-use, design and customization, eCommerce capabilities, blogging tools, pricing, and more.
Read the rest of this comparison guide to discover which online business building platform is better to meet your needs.
1. Ease of Use
Gone are the days when you needed to be a coding expert to build a website. These days, anyone can create a professional and full-featured website even with zero technical knowledge. Let's see how they compare.
Kartra is an all-in-one business solution with built-in tools to handle every aspect of your business. With it, you can create professional landing pages and sales funnels to generate more leads and boost your sales.
Kartra provides you with drag-and-drop tools that let you build any type of website without the need for web design or coding knowledge.
There's no need for additional tools or hiring a developer. If you have basic computer-use knowledge, you can build a fully functional website, complete with sales funnels, integrated email tools, scheduling apps, and more.
Kartra makes this easy by providing you with dozens of pre-built templates to choose from. This means that you only have to swap out the pre-made text and images for your own.
You can also integrate additional elements like maps, forms, slides, videos, etc. with the click of a button. All of these tools and more are available on your easy-to-navigate dashboard.
Summary of kartra's Ease of Use Features:
Drop-and-drag page builder
Pre-built landing pages and sales funnels with high conversion rates
Automated emails for effective marketing campaigns
100% mobile-responsive templates
Built-in calendar for easy client scheduling
Wix is a hosted website builder designed for simplicity and easy customization without the need for coding knowledge. It's also a well-known eCommerce solution that allows users to create beautiful online stores.
The blank-canvas, drag-and-drop editor lets you add elements anywhere on the page which means you can create pretty much any type of design you want on your Wix website.
The software also has a huge list of features and elements at your disposal. You can choose to build each page from scratch, or you can pick from hundreds of templates that you can customize to match your requirements for online marketing.
Summary of Wix's Ease of Use Features:
Drag-and-drop editor for easy website building
Stunning pre-built templates for any kind of business
Built-in eCommerce features including dropshipping and fulfillment
Analytics and reporting to monitor your website traffic and performance
Online scheduling feature to book clients easily
Winner: Wix
Kartra has a lot more features to offer, including things like sales funnels, automated emails, integrated eCommerce payments, A/B testing, HelpDesk, video hosting, and more. But, with such a vast offering of features comes an equally large learning curve.
In comparison, Wix has far fewer features but also a much smaller learning curve. So, in terms of ease of use, Wix is the winner because it provides you with everything you need to build your website or online store without confusing you with too many bells and whistles.
2. Design and Customization
Both Kartra and Wix offer a range of pre-designed high-quality templates so you don't have to worry about website designs, structures, and layouts.
Here's how they stack up in the design and customization department.
Kartra has over 500 free website page and section templates to choose from, giving you plenty of options to find one that fits your business perfectly.
All templates are 100% mobile responsive and easy to customize using the no-code drag-and-drop editor.
Pick any theme and customize it fully to align with your brand colors and style. Kartra Pages lets you customize every on-page element to suit your needs. You can even create your own theme from scratch which is helpful if you want a truly unique website design.
This is a great feature for those with keen design skills who may find other website builders (Wix included) limiting in this regard.
Summary of Kartra's Design and Customization Features:
All-in-one business management platform
Create high-converting sales funnels
Easy drag-and-drop editor requires no coding knowledge
Expertly designed templates optimized for mobile
Built-in video upload feature
Like Kartra, Wix has hundreds of high-quality, expertly designed website templates to choose from. They are available in a variety of categories, including business, blogging, photography, etc.
All Wix templates are visually impressive and designed to look great on mobile devices. Wix also has an unstructured editor so you can have pixel-perfect placement of any element you want on your page, such as images, text, videos, galleries, forms, and more.
Summary of Wix's Design and Customization Features:
100% mobile-responsive templates
Unstructured editor for unbridled creativity
Drag-and-drop functionality for easy customizability
Custom colors, fonts, and alogo creator for your branding
Easy integration of blog, online store, and other features
Both platforms offer a broad range of templates to fit any type of site you may want to build. However, Kartra excels in helping you create high-converting pages and sales funnels for your products.
It comes with an impressive range of pre-built templates, as well as a powerful drag-and-drop editor that lets you customize every aspect of how your page looks and functions.
Kartra even provides you with behavioral adaptive marketing features so you can offer tag-based, history-based, and list-based content for higher conversions.
3. eCommerce Capabilities
The right eCommerce features will help you build and manage your online store effectively. You want a site builder that comes with built-in tools and easy integrations for third-party apps so you can work seamlessly when managing your website and online business.
Let's see what Kartra and Wix have to offer in this regard.
Kartra comes with strong eCommerce capabilities, including check-out, funnels and campaigns, integrated payments, flexible shipping options, and more.
You get upsells, downsells, and cross-sells, as well as order bumps and many other tactics to help you maximize the revenue from each customer.
The platform also has enterprise-grade security to ensure maximum protection for your online store.
You also get online scheduling functionalities. Clients can easily book and purchase your services on your website so you never have to worry about missing a booking again.
The Kartra Calendar App is available for free, with the option to upgrade to a premium version to unlock more advanced scheduling tools.
Kartra also includes a HelpDesk feature that allows you to launch your own live chat and ticketing system. This way, you can handle all your clients' technical challenges from your dashboard.
Summary of Kartra's eCommerce Capabilities:
Integrated eCommerce shop with secure payment gateway
Optimized product carts to streamline sales processes
Sell up to 20 products on the "Starter" plan
Free Funnel Mapper tool with each plan
Secure checkout for both PayPal and credit card payments
Wix has powerful eCommerce features that continue to improve with time. You get a powerful point-of-sale (POS) tool that allows you to sell online and in physical stores.
Another great feature of Wix is that it lets you sync your inventory and filter your products easily on your website.
Wix facilitates dropshipping with built-in integrations to platforms like Syncee, Modalyst, and Sprocket.
You get all the tools you need to build and manage your online store, but you can also integrate third-party apps from the Wix App Store if you want to further extend your eCommerce store's functionality.
Summary of Wix's eCommerce Capabilities:
Built-in eCommerce store functionality
Multichannel sales management
Sell unlimited products or services
Powerful point-of-sale system
Automated cart recovery
With either Kartra or Wix, you won't have to worry about integrating other eCommerce tools to build and manage your online store. Both platforms do a great job when it comes to selling products online.
However, Kartra has the upper hand because you get eCommerce functionality from the Basic plan whereas with Wix, you'll need a Business & eCommerce plan or higher before you can start selling products on your Wix website.
4. Blogging Tools
Google loves to see fresh content on websites. If you hope to rank your new site high, then it's a good idea to create a blog and update it with new content regularly.
This will help you gain visibility so your target customers can find you online through organic search. For this reason, you need a website builder with robust blogging tools.
Unlike Wix, Kartra doesn't put any special focus on its blogging features. It does come with a range of blog templates, but it's not such a great tool for CMSs like WordPress.
Of course, you can still create a blog, but if you'll be creating a lot of content, you may find the platform challenging to use for many reasons. For example, Kartra does not auto-update blog posts. This means you have to do this manually each time you want to publish a new post.
The good news is, you can still host a blog on WordPress and then use a special Kartra plugin that allows you to publish pages created on Kartra to WordPress.
Where Kartra excels is in video hosting and marketing. The platform has a video upload tool that allows you to present pop-up offers within your videos as a way to enhance your marketing.
This feature is particularly helpful for filmmakers, musicians, online course sellers, or anyone else who wants to offer premium video content.
As a blogger, you'll also find other helpful tools on Kartra, including email marketing tools, SMS marketing tools, and various other automated features to help you create marketing campaigns for effective customer engagement.
Summary of Kartra's Blogging Tools:
Built-in video hosting great for video blogs
Boost your marketing with in-video pop-up offers
Built-in email marketing tools to communicate with your audience
Automated SMS marketing for effective campaigns
Easy WordPress integration
Wix excels when it comes to blogging functionalities. The platform provides a pleasant writing environment and a structured text editor that lets you embed images anywhere in your posts.
Quickly write, edit, schedule, or publish blogs from your dashboard. There are dozens of blog templates to choose from, all of which are clean and modern.
Wix also has a video hosting feature that lets you upload video content to your website to offer, sell, or rent to your audience.
Summary of Wix's Blogging Tools:
Free, reliable blog hosting on cloud servers
Powerful content management features
Rich text editor with audio and video add-ons
Multiple customizable, fully mobile-responsive blog templates
Fast-loading blog for enhanced user experience
Winner: Wix
Although Wix has more basic features when it comes to blog marketing, it's still the better option for bloggers.
Creating blogs on Kartra can be time-consuming. Wix, on the other hand, simplifies the entire blogging process so you don't have to spend a lot of time on creating or publishing posts.
5. Search Engine Optimization Tools
SEO is crucial for you to get your website in front of your target audience. Fortunately, both website builders come with built-in SEO tools that make it easy for you to rank your new website on Google and other search engines.
Let's take a look at what they have to offer.
Kartra has robust SEO parameters that consist of things like meta-keywords, meta-description, image optimization, page author, and so on.
The intuitive platform guides you in optimizing your new website. But, if you are more knowledgeable about SEO, then you can dive into the SEO settings which you'll find under the tab labeled "SEO parameters" on your dashboard.
Here, you can customize settings for each of your pages to help you build a more SEO-friendly Kartra website.
Summary of Kartra's Search Engine Optimization Tools:
Built-in SEO settings
A/B testing for full-page optimization
Web analytics feature to gauge page performance
Easy integration with Google Search Console
Wix has more advanced SEO features compared to Kartra. The platform helps you create a successful blog by focusing on things like high page load speed, improved security, and mobile friendliness.
In addition, Wix also has advanced SEO tools like custom meta-tags, canonical tags, and robot meta-tags. You also get bulk 301 redirects, XML site maps, and social sharing optimization.
There's an SEO wizard that provides you with a checklist and helps you set up everything quickly and easily even if you don't know anything about SEO best practices.
Summary of Wix's Search Engine Optimization Tools:
SEO Setup Wizard for easy optimization
100% mobile responsive, fast-loading pages
Edit SEO for each individual page
Built-in image optimization feature
Winner: Wix
Wix is the clear winner here. It's one of the top website builders with a strong focus on search engine optimization.
Not only does the platform come with a massive range of both basic and advanced SEO tools, but it also provides you with an SEO Wizard so you don't have to do any of the hard work.
6. Community and Support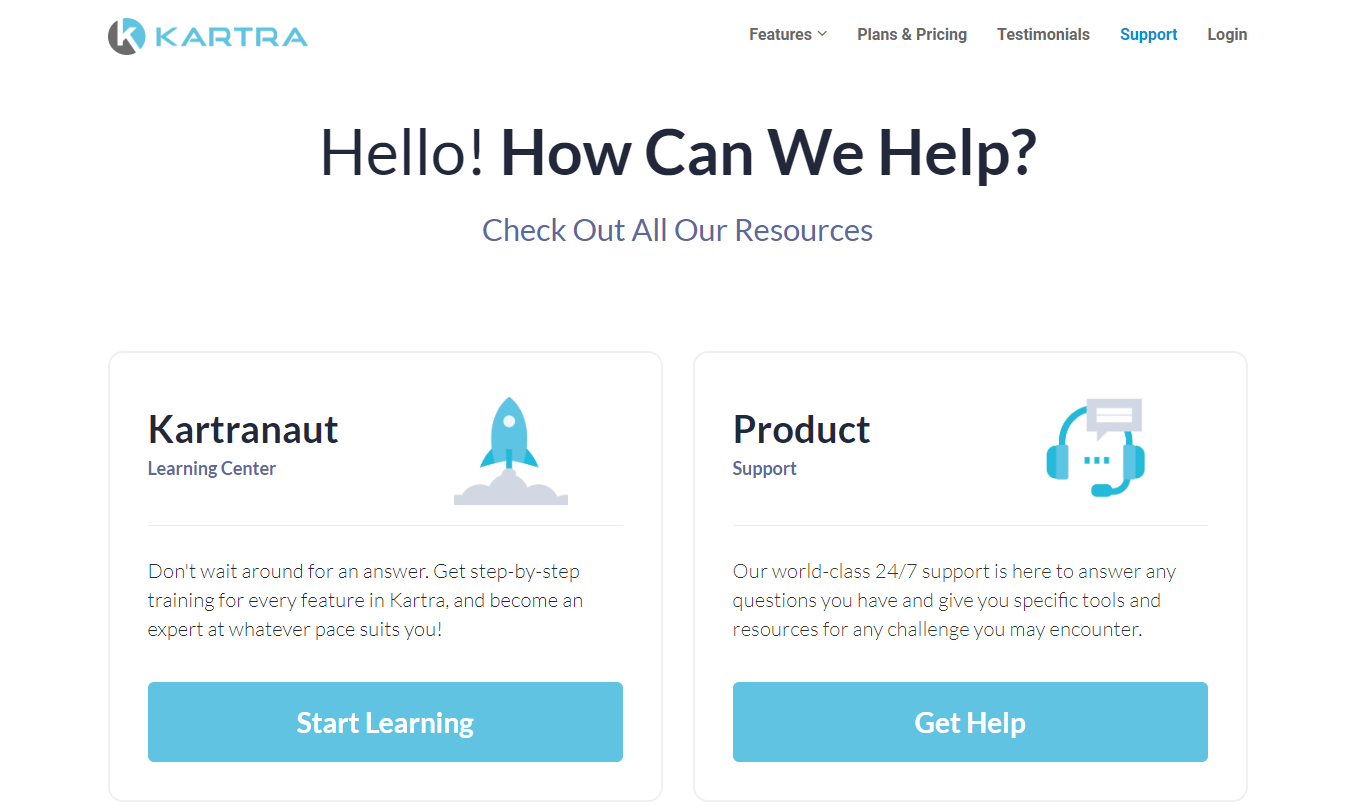 Kartra offers you support in a number of ways. There's a Learning Center filled with helpful guides and how-to videos. This way, you don't have to wait around for an answer.
There's also a 24/7 (mostly bot) chat feature to give you answers to specific questions and guide you toward tools and resources to help you overcome any challenge you may face.
You can email or call the support team to speak to a human or join the Facebook community to discuss strategies, tips, and tricks to help you get the most from Kartra.
Summary of Kartra's Community and Support Features:
Facebook community for asking questions, discovering solutions, etc.
Kartranaut Learning Center for step-by-step training on all Kartra features
Wide range of technical documentation for Kartra software
24/7 chat support to answer any questions you might have
Wix has a well-stocked online help center with articles to answer any question you might have pertaining to the software.
If you need assistance from a human, you can get in touch with the support team via email, live chat, or phone.
Just keep in mind that only subscribers on the VIP plan get access to 24/7 priority phone support.
Summary of Wix's Community and Support Features:
In-editor help option for quick and easy assistance while building your site
Multiple contact channels, including email, phone, and live chat
Well-curated knowledge base with how-to guides and beginner tutorials
Vibrant Facebook community of like-minded Wix users
Winner: Tie
Both platforms offer great support in a number of channels, so we will call this one a tie.
7. Pricing
The last thing you want in a website builder is to pay for features you don't need or use, so let's take a look at the pricing structures of each software so you know which one to choose according to your needs.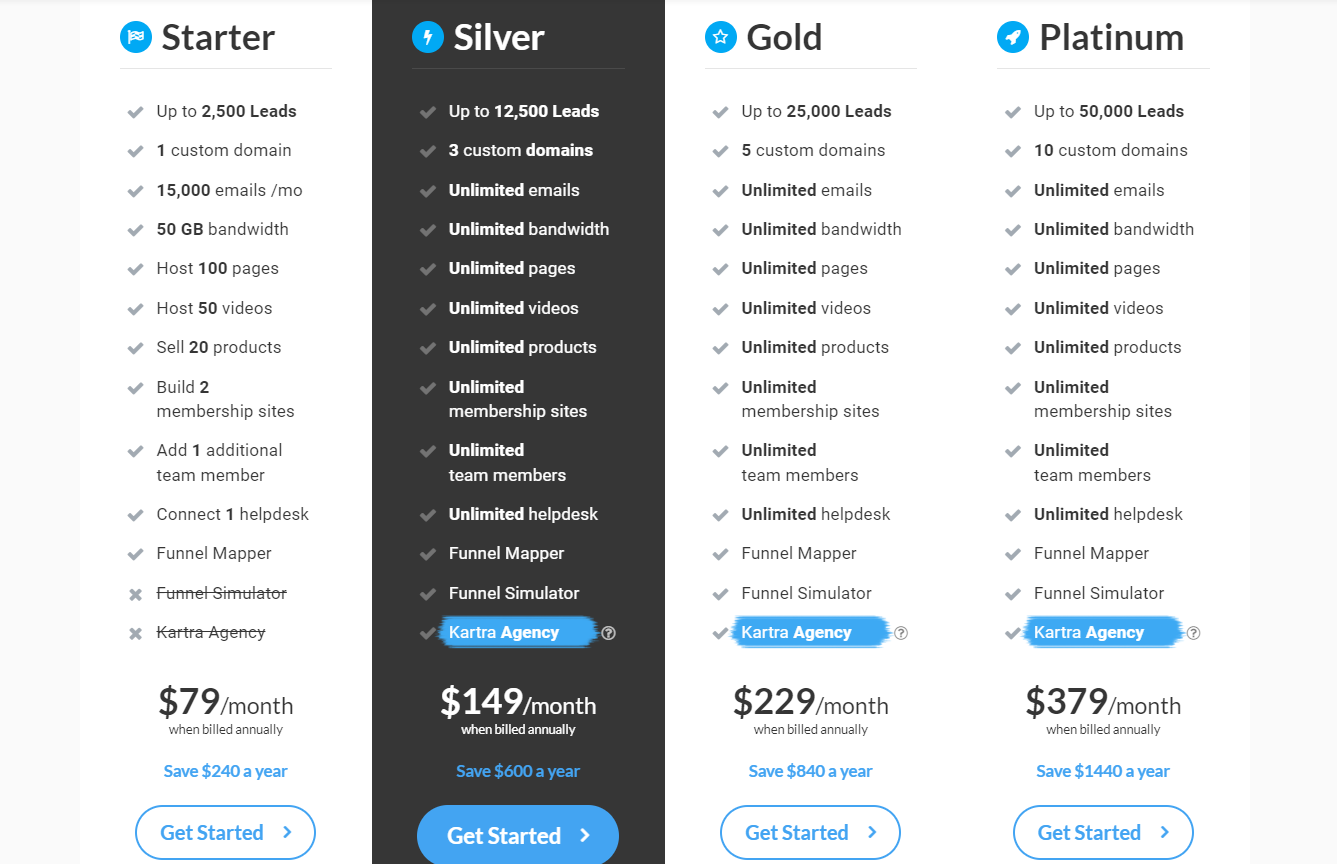 Kartra doesn't offer a free trial or free version. However, you can get access to all of the platform's powerful features for 14 days for just $1. You also get a 30-day money-back guarantee and you can save up to 25% discount when you pay annually.
Here's what you get with each of Kartra's premium plans:
Starter Plan: $79/Month: This plan comes with one custom domain and allows you to build two membership websites, sell 20 products, host 50 videos, and create up to 100 pages. You get up to 2,500 leads and you can also connect 1 helpdesk and add an additional team member.
Silver Plan: $149/Month: This plan is perfect for scaling your business. It has everything in the Starter plan + up to 12,500 leads, three custom domains, and unlimited team members, membership sites, products, videos, pages, and bandwidth.
Gold Plan: $229/Month: This plan has everything in the Silver plan, including up to 25,000 leads and 5 custom domains. You can have unlimited emails, unlimited helpdesk, and a range of other advanced features only available to Kartra Gold subscribers.
Platinum Plan: $379/month: This plan has everything in the Gold plan, as well as the ability to manage up to 50,000 leads and add 10 custom domains. You also get the Sales Funnel Mapper, Funnel Simulator, and Kartra Agency features free of charge.
Wix offers a range of plans to suit different needs. There's no free plan, but you can sign up for a free trial. You'll have to put up with Wix ads, but it's worth it to get access to the platform's core features.
Here's what each premium plan entails:
Combo Plan: $15/Month: This plan is ideal for personal use. It comes with a custom domain, a free SSL certificate, and 2GB of storage space and you can host up to 30 minutes of video.
Unlimited Plan: $22/Month: The Unlimited plan comes with everything in the Combo plan + 5GB of storage space, one hour of video, and a visitor analytics app. This plan is ideal for entrepreneurs and freelancers and comes with a Google Ads budget to help promote your business.
Pro Plan: $27/Month: The Pro plan is ideal for complete online branding. It comes with all the features in the Unlimited plan, as well as 50GB of storage space, two hours of video, an events calendar app, and over 40 different sizes of your logo ready to use on various social media channels.
VIP Plan: $45/Month: This plan has everything in the Pro plan, as well as 100GB storage space, 5 video hours, and priority customer care. If you value first-priority support, then this plan is ideal for you.
Winner: Wix
Wix has the best pricing value as it allows you to build a simple website for free. This makes it easy for anyone who is just starting out and wants a risk-free way to try out the platform.
Just note that the free plan is ad-supported and you won't get access to the platform's full functionalities, including eCommerce, custom domain, etc. until you upgrade to one of the premium plans.
Final Thoughts
I hope this Kartra vs Wix in-depth comparison has helped you determine which site builder is best for you.
They're both great options, but if you're still not sure which one is the right fit, here's my recommendation:
Choose Kartra if you want a truly all-in-one solution to help you build, launch, and manage a successful online business from one place. Although more expensive than Wix, it's worth it for all the features you get.
Everything you need is included in Kartra, from the drag-and-drop website and funnel building to email marketing, scheduling calendars, membership sites, and more. You even get unique features like Helpdesk, which aren't available on Wix.
Choose Wix if you want a simple, quick, and affordable way to build and launch your website or online store without having any technical skills. You won't get a suite of features that's as robust as those on Kartra, but you get great value for money and you won't have to worry about paying for features you don't need if you're just starting out.
If you still aren't sure which platform is right for you, you may want to consider reading about other Wix Alternatives.
Other Comparisons You May Enjoy