A website is a crucial tool to help you establish your brand and connect with your customers online. But, not everyone is skilled in designing or building websites, and that's where site builders come in.
They make it easy for you to create a good-looking, fully-functional website quickly and easily with no coding knowledge required.
While site builders offer many of the same services, some have unique features designed for specific users.
In this comparison guide, we take a closer look at two powerful site builders, Wix and WordPress to give you a better idea of which one will work best for you.
Both Wix and WordPress are powerhouses in the website-building arena and I have spent over 12 hours testing out both site builders so you don't have to.
Below, I outline my experience with each platform in terms of ease of use, design and customization, eCommerce capabilities, and more.
Without further ado, let's dive right in.
1. Ease of Use
Ease of use is one of the most important factors to consider before choosing a website builder. 
If you don't have advanced coding knowledge, you want a platform with an intuitive and user-friendly interface, a drag-and-drop editor, and predesigned templates.
Let's see how these two platforms compare in this regard.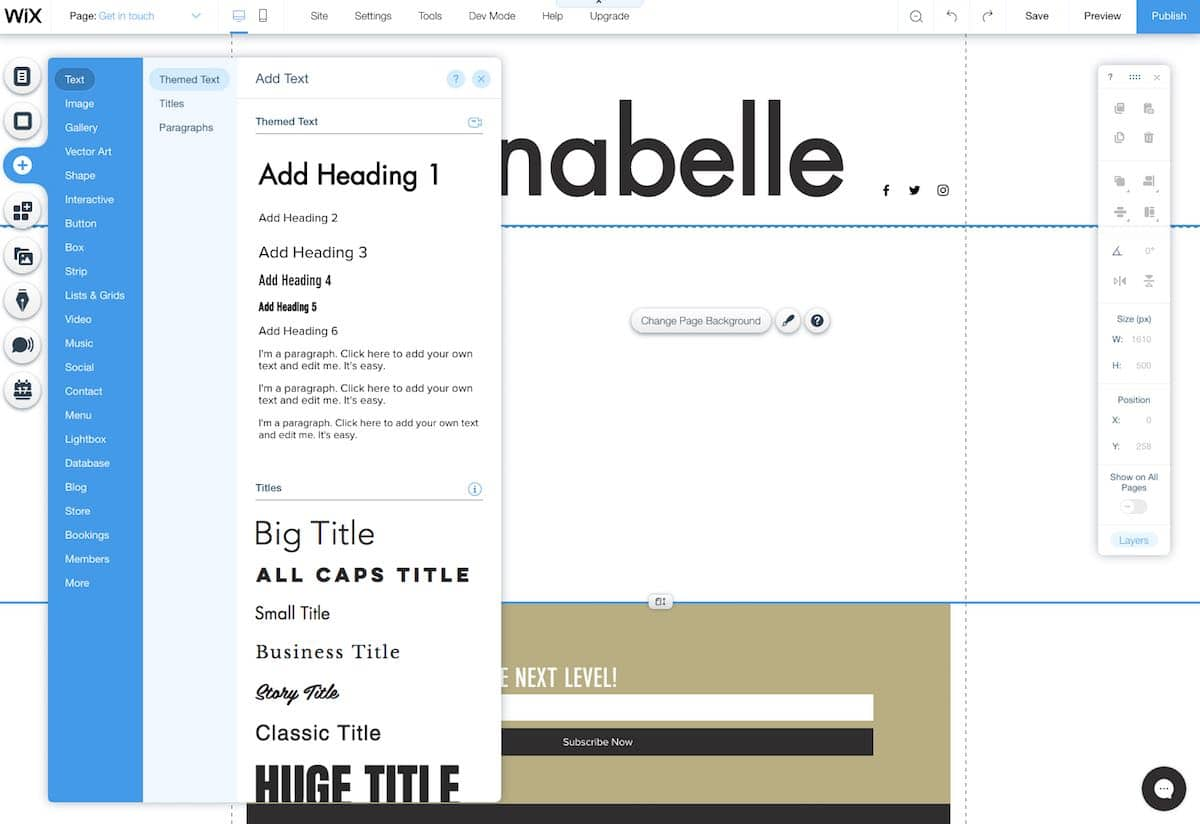 Wix is a site builder with tools for both beginner and pro website creators. It's one of the easiest platforms to use since it requires no coding knowledge or technical experience.
If you can click a mouse, you can build a beautiful website with the Wix editor. There are plenty of drag-and-drop templates to choose from, which means you won't have to start from scratch.
There's even an AI-powered tool, Wix ADI that can create your website for you. All you have to do is answer a few questions about your new site, and the platform's artificial design intelligence will do the rest.
Even if you have zero design talent, you'll find this exceptional site builder a perfect tool to help you create a full-featured website for your business.
Everything is taken care of for you, including web hosting, technical maintenance, and website security – all for a single monthly fee. This means you have that much less to worry about.
Just note that this level of simplicity and ease means you won't have as much control or customization power as you would get with a platform like WordPress.
Summary of Wix's Ease of Use Features:
Simple interface that is easy to navigate
Unstructured editor for total design freedom
Modern templates with built-in marketing and sales features
Robust integrations with third-party tools and apps
Mobile optimized by default so your site looks great on any device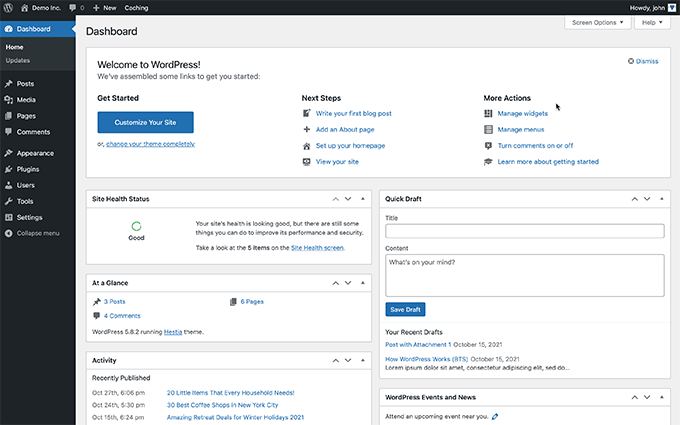 There's a good reason why WordPress powers over a third of the internet. The platform is extremely easy to use (once you get the hang of it) and comes with an impressive suite of tools for building scalable websites.
There are two versions of WordPress: WordPress.com, and WordPress.org.
WordPress (dot) com is very similar to Wix in that it offers hosting for your website on its own servers. You get a website builder and tools to optimize and promote your site to a global audience.
The platform offers free and paid plans to choose from, but it isn't open-source so you don't get as much flexibility as you would with the alternative WordPress version.
WordPress (dot) org is a free and open-source CMS (content management system). You can download and use the software for free, but you have to secure your own hosting, domain name, themes, and plugins.
The open-source nature of this platform means that compared to Wix, it functions on a somewhat more technical level.
As a WordPress user, you can access advanced customization options and modify the software in whichever way you want.
This gives you significantly more control over how your website looks compared to what you would get with a simple platform like Wix.
But, for a total beginner, this level of customization may not be such a "Pro" as it comes with an equivalent level of frustration if you don't know what you're doing.
If you're more experienced in site building, self-hosted WordPress offers you an exciting level of freedom in customizing your website to not only make it look unique but also function in a way that caters to the exact needs of your visitors.
Summary of WordPress's Ease of Use Features:
Free and open-source content management system
Deeper level of customization and flexibility
Simple dashboard with options listed plainly on the sidebar
Built for content management, which makes blogging easy
WordPress plugin, theme, and software support
Winner: Wix
When comparing Wix and WordPress for building a brand-new site, Wix is the clear winner regarding ease of use.
Wix sites are ideal for small businesses, individuals, and entrepreneurs who want ease and simplicity to create a professional-looking website without needing any design skills or technical knowledge.
It has an intuitive interface that simplifies the process of creating a website, whereas WordPress requires a slightly steeper learning curve.
With Wix, you also get a wide range of professional guides to take you through the entire website-building process step-by-step.
2. Design and Customization
Wix focuses on making the website building process as simple as possible so you can create a great site with no technical knowledge required.
WordPress, on the other hand, focuses more on giving you the power to customize your website right down to the last pixel.
Here's a more detailed look at the design and customization capabilities of each platform.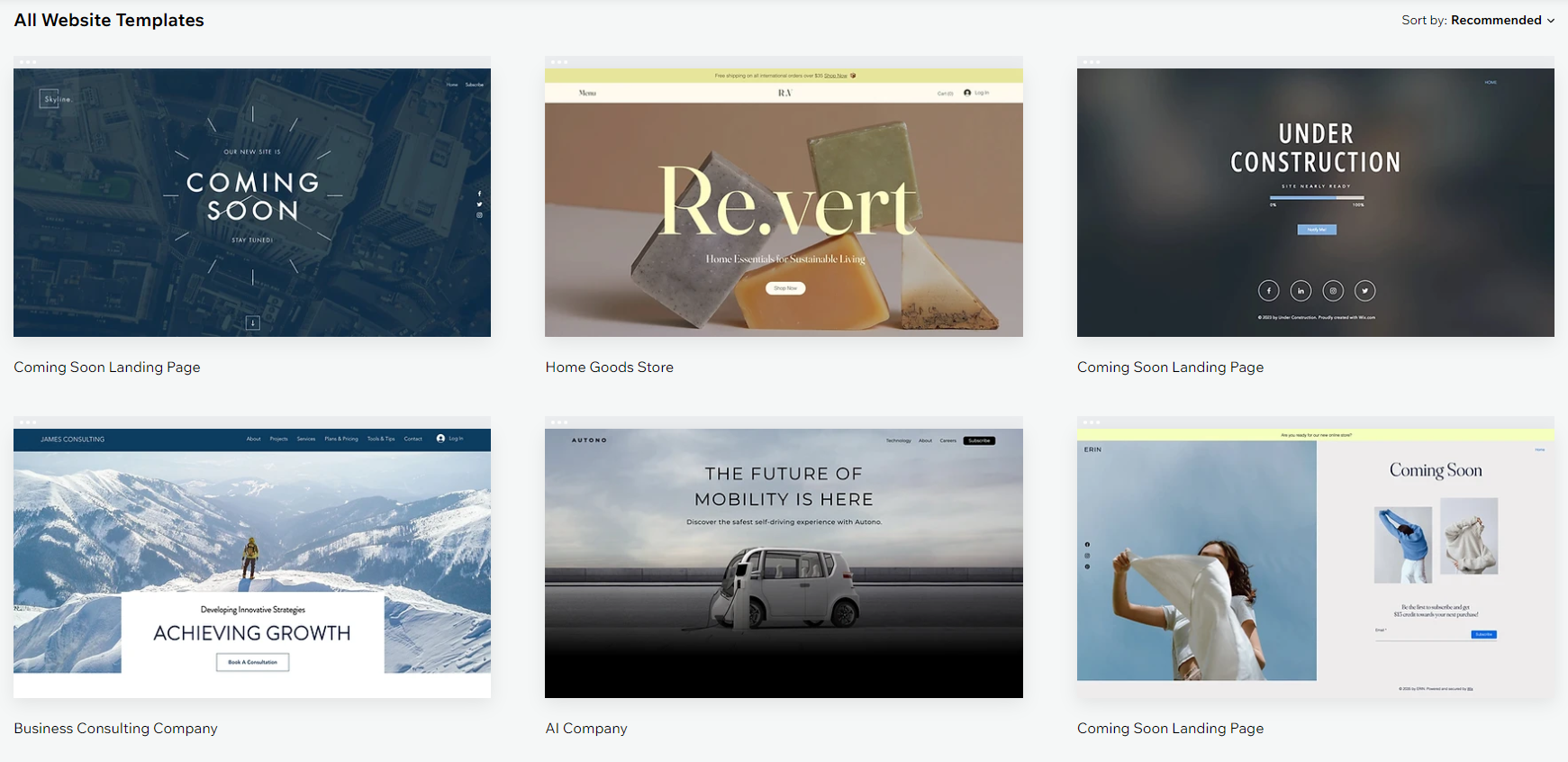 Wix offers a variety of themes and templates that you can use to create your website. All of them are modern, expertly designed, and optimized for the web.
You won't have to build your website from scratch. There are over 800 free and premium templates to choose from, with layouts to suit every need.
Simply choose a template and customize different design elements like colors, styles, images, and so on to make it your own. You can use the platform's simple drag-and-drop editor to make the required changes in minutes.
Most of the Wix website templates have built-in features like video backgrounds, galleries, and so on, but you can add your own elements like forms, maps, calendars, etc. to suit your needs.
If you need additional functionality that is not available on the platform, you can integrate third-party plugins, apps, and add-ons through the Wix App Market.
You can easily install these tools on your site with a few clicks. Some of them are free to use and others require a fee. For example, you can add email marketing functionality using a free platform like MailChimp, or get website visitor insights with Google Analytics.
But, if you want to add a tool like Zonify for Amazon Affiliates, then you'll have to sign up for a paid subscription before you can use the app on your website.
Summary of Wix's Design and Customization Features:
Different types of layouts with built-in website features
Wix App Market for additional tools and apps
Free logo creation tools
100% customizable templates and themes
Huge library of free images, vector art, and icons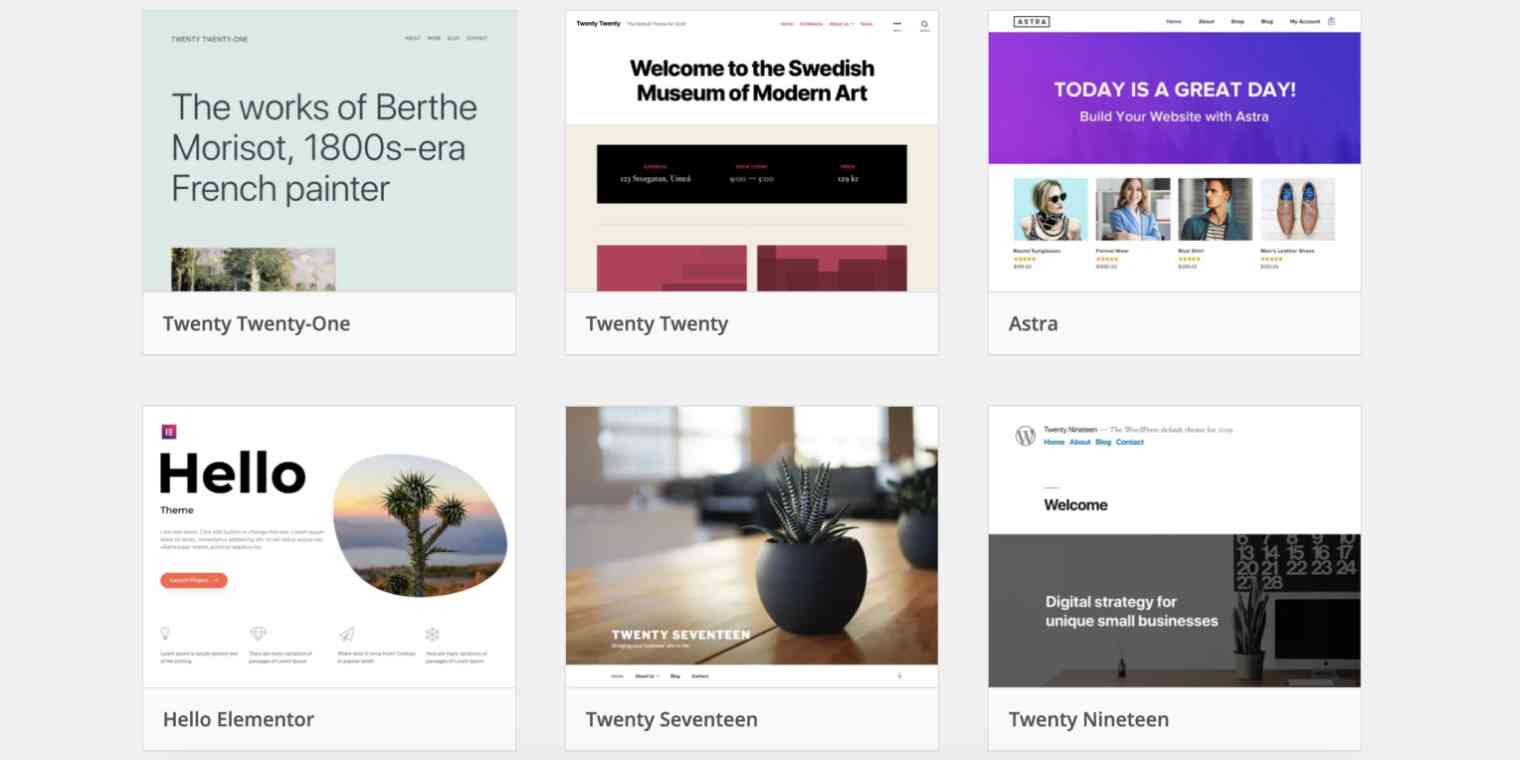 Like Wix, WordPress also offers a range of free and premium templates – but, you get a much wider selection of themes, templates, plugins, and apps to make your website look and function the way you want.
Premium WordPress templates are generally of higher quality than the free ones. They are professionally maintained and offer significantly more customization options.
WordPress also allows you to use external themes from third-party marketplaces like Elegant Themes, Theme Forest, and Mojo Marketplace.
You can also use code (CSS, HTML, or JavaScript) to create your own custom theme. This gives you an immense level of control and flexibility to create exactly what you want, and it's something you won't be able to do using a beginner-focused platform like Wix.
WordPress has a vast library of tools (plugins) that adds different levels of functionality to your website. Many of these are free, but others are available at a price.
You can add tools like contact forms, SEO tools, shipping integrations, email tools, and more. Explore tools by category, from marketing and sales to services and communication, and every other website-building tool you can think of.
The best part about using WordPress plugins is that there's a huge developer community that ensures a high level of support, maintenance, and updates for your chosen plugins.
Summary of WordPress's Design and Customization Features:
Visual composer and theme editor
In-depth WordPress theme customization options
Huge library of plugins and apps for more website functionality
Custom coding (CSS, HTML, JavaScript) for a truly unique site
Step-by-step guides for customizing your WordPress theme
Both site builders are viable options for creating beautiful, functional websites. They each come with a range of clean, modern, and stylish templates. While Wix offers a comprehensive site design experience geared toward non-technical users, WordPress wins this one by virtue of having a more robust set of tools for designing and customizing your website.
Wix makes things easy by giving you drag-and-drop options, but WordPress is the better design solution that gives you the creative freedom to change how your website looks right down to the most basic level using either the page editor or custom code.
3. eCommerce Capabilities
If you intend to sell products or services on your website, then you want a site builder that offers seamless integration with all the eCommerce tools you'll need.
After all, you don't want to spend time building a beautiful website and be unable to use it to sell your products.
Let's take a look at the eCommerce capabilities of these two platforms.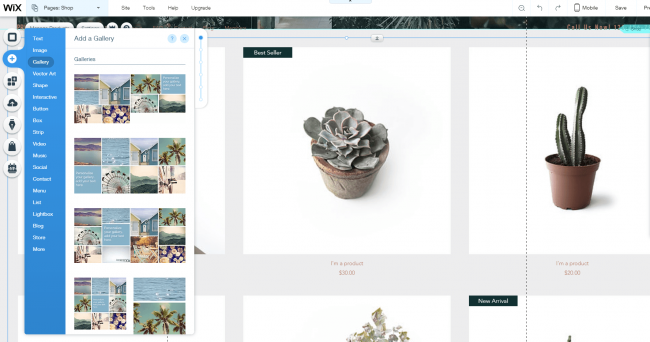 Wix offers a variety of features for eCommerce, including the ability to sell an unlimited number of products (physical and digital).
It comes with a powerful point-of-sale (POS) system that allows you to sell online and in person. You can sync your inventory easily to maintain an accurate count both on- and offline. Wix also has a mobile app that lets you manage your store easily from wherever you are.
On your dashboard, you'll be able to see in-depth reports and analytics so you know exactly how your eCommerce business is doing.
You'll have access to basic or advanced features depending on the plan you're on. For example, on the Business plan, you get the abandoned cart recovery tool which comes in handy for winning back lost sales on your website.
Additionally, you'll find tools for seamless inventory and catalog management, as well as tools for marketing, orders, and payments.
In short, you can run your entire eCommerce business from your Wix dashboard and not need to integrate any other tools.
Summary of Wix's eCommerce Capabilities:
All-in-one platform with built-in eCommerce functionality
Pre-made store templates so you don't have to start from scratch
List an unlimited number of products or services
Beautiful product galleries to highlight your products
Sell on multiple channels, including mobile, web, and social media storefronts
Powerful point-of-sale system for selling online and in physical stores
Customizable shipping and tax options
Discount codes to incentivize more sales
Stripe, PayPal, and other payment gateways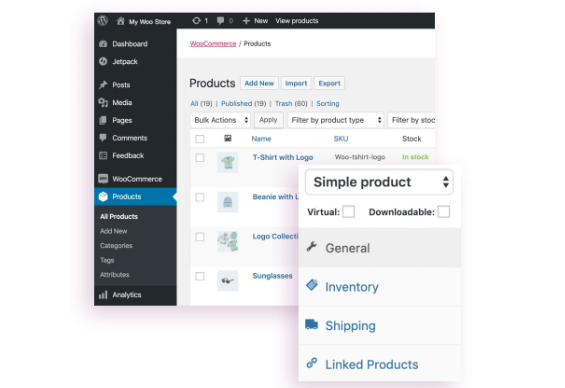 WordPress is similar to Wix in that it also offers a wide range of eCommerce features. But, there are a lot of differentiating factors that you must be aware of before making your choice.
While Wix provides you with all the tools to build your eCommerce store, WordPress goes a step further by allowing you to fine-tune each tool to make it better suited to your specific needs.
You get a wide range of themes and plugins designed to help you customize your store's design and functionality and you can integrate multiple payment gateways and tools for managing products, tracking inventory, and processing orders.
All in all, WordPress is significantly more powerful for eCommerce than Wix, which makes it a better option for anyone who wants advanced features and customizability.
Summary of WordPress's eCommerce Capabilities:
Shopping carts, checkout, and payment flows
Easy integrations with dozens of payment providers
Multiple fulfillment options are available
Integrations with shipping providers
Tax calculations and revenue reporting
Built-in return and refunds management
It's clear to see that both Wix and WordPress have a lot to offer in terms of eCommerce functionality. But, WordPress does a lot more thanks to its thousands of integrations with third-party eCommerce tools.
Wix is perfectly adequate for a small eCommerce business, but as it grows, you may discover the need to migrate to a platform like WordPress which offers more advanced features and customizability for your online store.
4. Blogging Tools
A blog allows you to keep your website updated with fresh content. This is something that Google and other search engines love and will ensure that your website can be found by your target customers through organic search.
For this reason, you need a website builder that offers adequate blogging capabilities.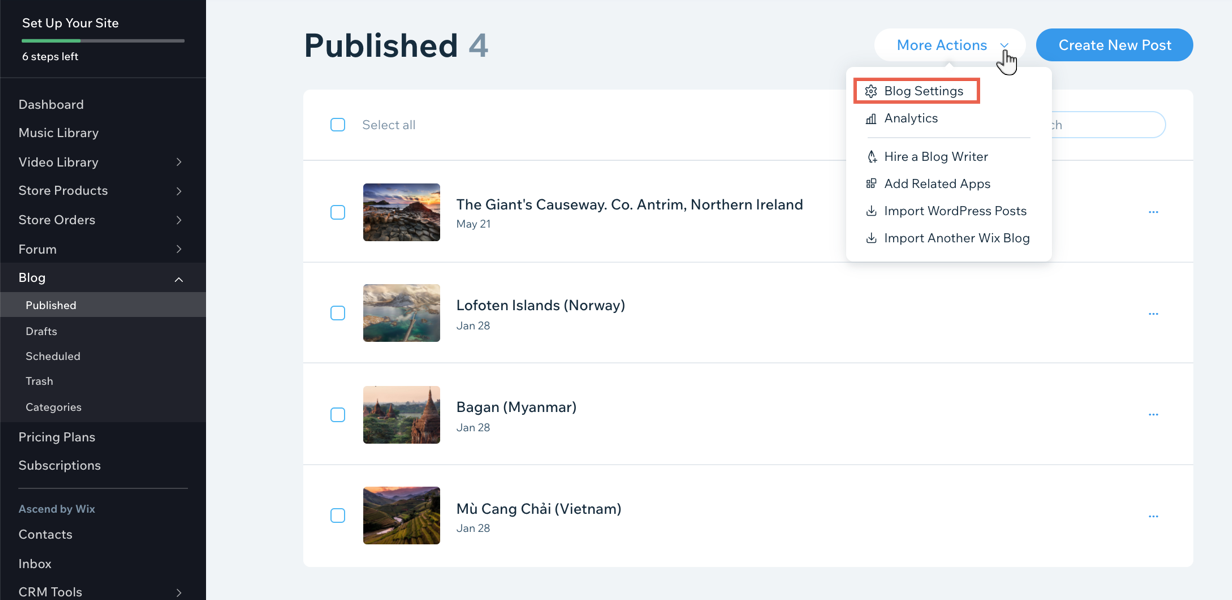 Wix has built-in features for creating a blog. You'll find plenty of templates and blog design options to choose from. There's also a simple blog editor that lets you create and publish posts easily.
There are plenty of design options to make your blog page unique. For example, you can have a post list or grid setup and even change the thumbnail images, text alignment, and spacing to make your blog page unique.
You'll also find a range of built-in SEO tools (more on that below) to ensure that your blog content is easily found online.
Wix's blogging features aren't as advanced or flexible as the ones you'll find on WordPress. However, they are still adequate for building basic blogs for small businesses and entrepreneurs who are just getting started.
Once your site is built, you can easily integrate a blog to drive more targeted traffic to your site. If you're not sure how to go about creating a blog, the platform's artificial intelligence, Wix ADI can do it for you.
In just minutes, you'll have a functional blog that's mobile responsive and optimized for search. You can set it so your blog subscribers can sign up to create a public profile, leave comments, or log in to access premium content.
Summary of Wix's Blogging Tools:
Built-in blogging feature
Multi-level subscriber access for premium content monetization
Mobile-friendly and 100% responsive blog templates
Automated SEO settings for quick visibility online
Easy third-party integrations for more blog traffic
WordPress: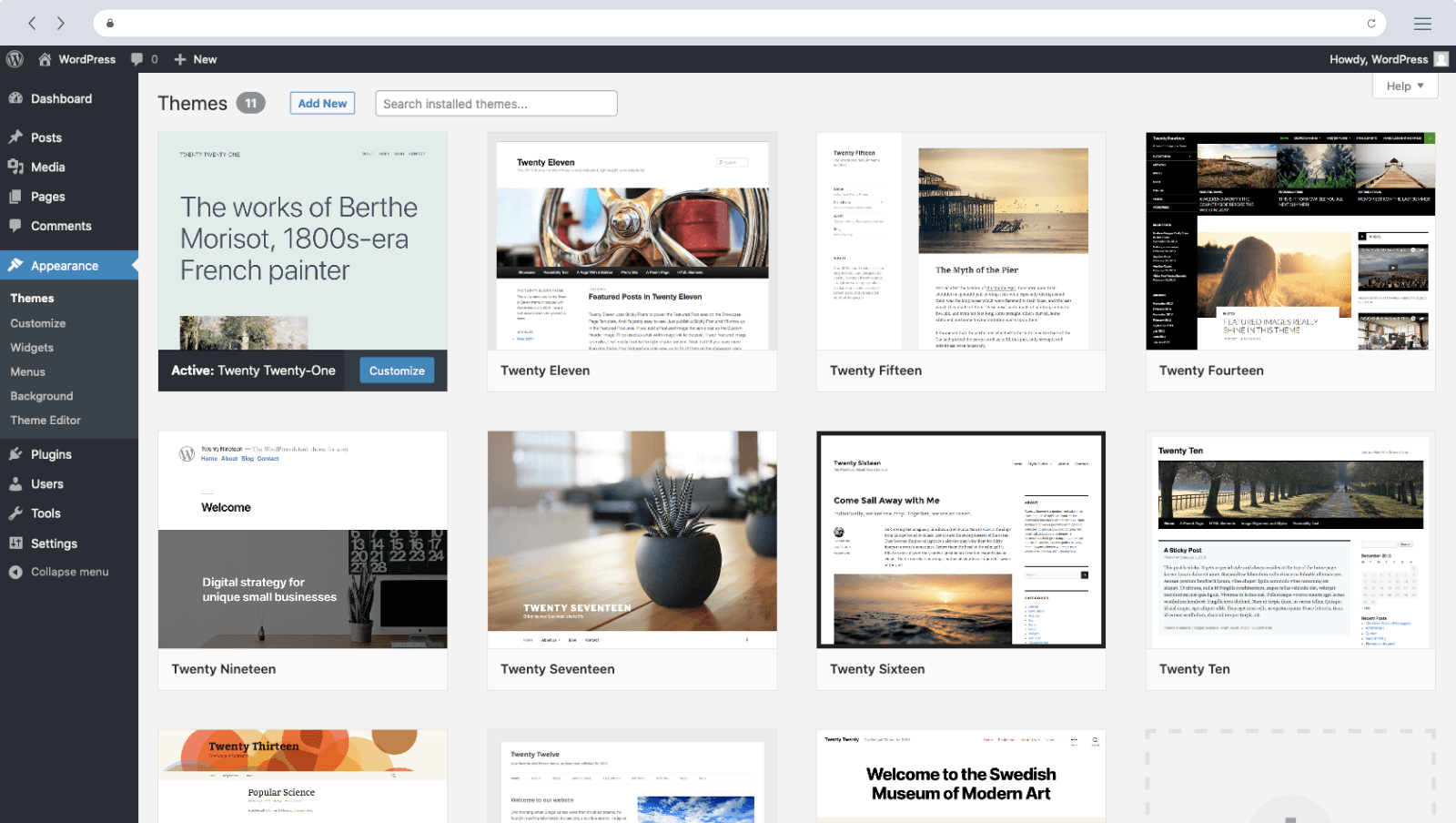 WordPress is built for blogging, which means that, compared to Wix, it's the better option as an online publishing platform.
Whether you want to build a blog, business website, or eCommerce store, if you intend to publish content on a regular basis, then WordPress is the better choice for you.
The open-source CMS simplifies the content publishing process, and you can even schedule posts in advance, making it easy to automate your blogging process. For this reason, WordPress is widely used by bloggers everywhere.
Creating and managing a blog is simple and the powerful editor lets you customize your posts however you want.
You also get customizable categories and tags, as well as the ability to schedule posts in advance. Integrate social media to share published posts with a broader audience.
All in all, this is the ideal blogging solution for WordPress users who want to build a content-focused site.
Summary of WordPress's Blogging Tools:
Advanced blog customization tools
Powerful content management system built for blogging
Customizable categories and tags
Built-in comments section available to WordPress account holders
Backdate blog posts
Feature a single image across the top of each post
Multilingual functionality
WordPress wins the blogging contest. Not only is the software one of the most powerful content management systems available, but it also comes with tens of thousands of plugins designed to enhance your blog's functionality.
5. Search Engine Optimization (SEO) Tools
Your level of SEO determines whether or not your target audience will be able to see your website.
Many website builders these days come with built-in SEO tools so you don't have to start from scratch to get your website to rank. But, some do the job a lot better than others.
Let's see how Wix and WordPress stack up in terms of SEO.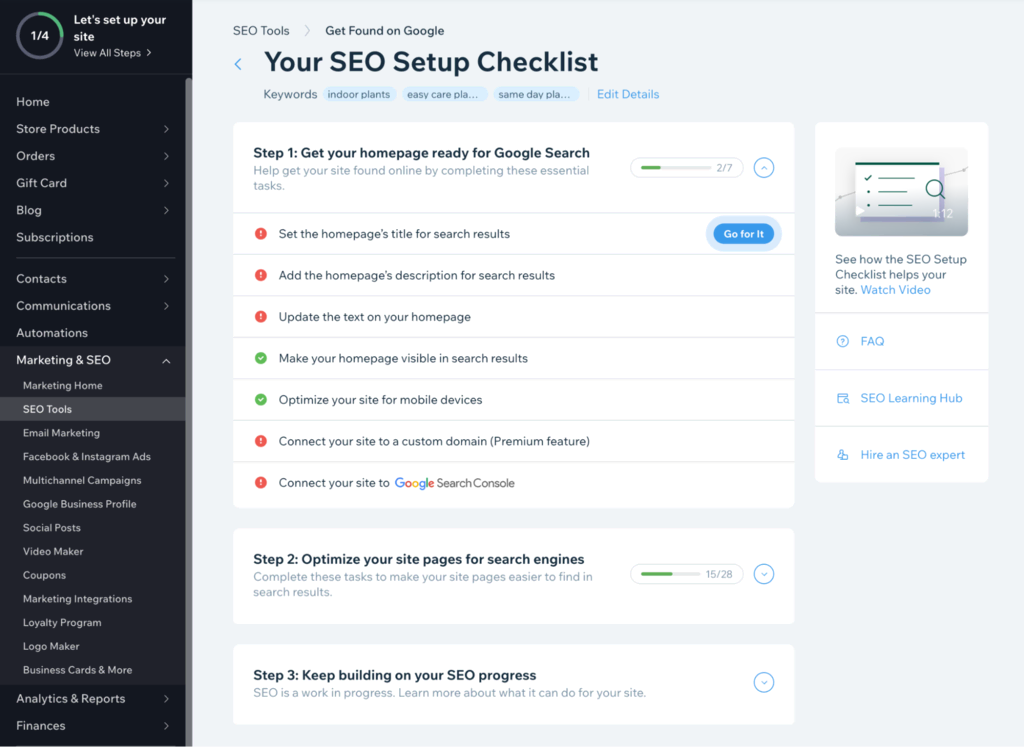 Wix comes with a range of built-in SEO features to boost the visibility of your Wix site. These include things like mobile friendliness, high page load speed, robust security, and many other basic SEO features.
The platform also comes with some advanced tools for SEO, such as:
Custom meta-tags
Canonical tags
Robots meta-tags
Bulk 301 redirects
Social sharing optimization
XML site map
… and more.
Since Wix is built for simplicity and ease of use, there's a beginner's guide and SEO setup checklist that you can use to take you through all the fundamentals of website optimization.
This means there's nothing for you to think about. Just enter your website name and a few basic keywords, follow the rest of the steps, and you'll have your website optimized for search in no time.
You can edit your settings for each page on your site, further optimizing your content for search. Add title tags, meta descriptions, structured data markups, and additional meta-tags.
Wix also provides you with detailed website visitor analytics to see how people interact with your site pages. You can track impressions and clicks and see which of your content is most popular so you can do more of what works.
Summary of Wix's Search Engine Optimization Tools:
SEO setup checklist for easy website optimization
100% mobile responsive websites
Automatic image optimization
Accelerated mobile pages (AMP)
Edit SEO settings on individual pages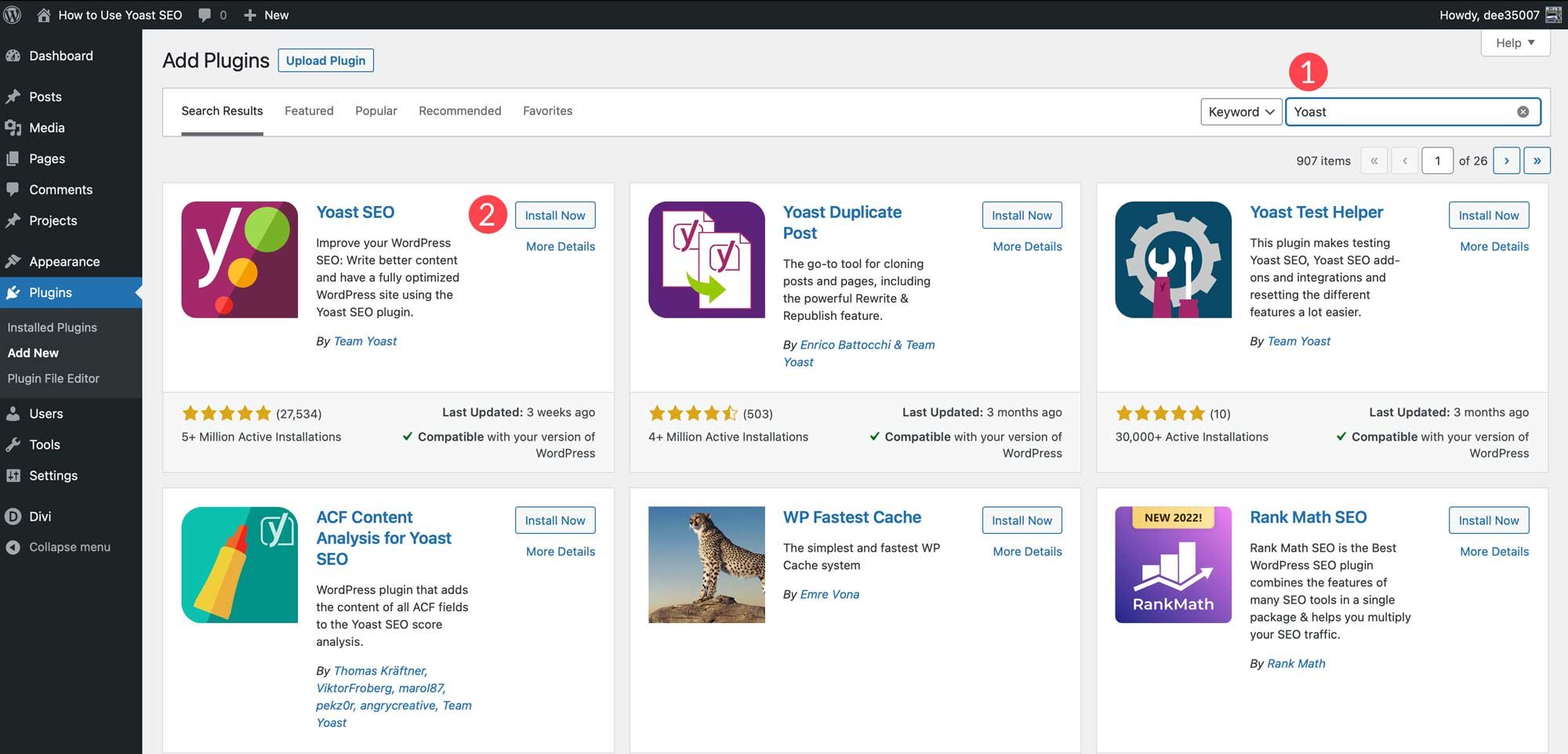 There's no denying that WordPress is one of the best website builders for SEO. The platform is popular among many digital marketers because of its range of powerful SEO and marketing tools.
In addition to the built-in features, you also get plugins to help optimize your site for search engines and make it easier to connect with and engage your audience.
Some of the WordPress SEO features include customizable page titles, page descriptions, image alt tags, and more.
You also get easy integration with analytics tools, such as Google Analytics and you even get support for structured data. Furthermore, WordPress's large developer community means that there are tons of custom solutions available that you can use to boost your SEO and marketing.
One of the best SEO tools for WordPress is the Yoast plugin. It's used by millions of websites and offers both premium and free services to help you rank your content on Google. Use it to guide you through the process of optimizing your site, including editing your metadata, linking internally, and automatic redirects.
Summary of WordPress's Search Engine Optimization Tools:
Create alternative text for images to infuse keywords
Add attractive permalinks instead of ugly-looking URLs
Easy management of metadata
Fast load time to reduce bounce rates
Automatically optimized for mobile users
Both Wix and WordPress are among the top website builders you'll find. But, when it comes to SEO, WordPress wins hands down.
WordPress sites load fast and the platform comes with a wide range of built-in SEO tools like the ones mentioned above, but it also has hundreds of third-party add-ons that you can use to integrate additional SEO tools, such as social media, tracking, and analytics plugins.
6. Community and Support
Support is one of the main considerations when choosing a website builder. If you need help while building your site, you should be able to get it through a channel that's convenient for you.
It's even better if the website builder has an active community of users with whom you can interact during your site-building journey.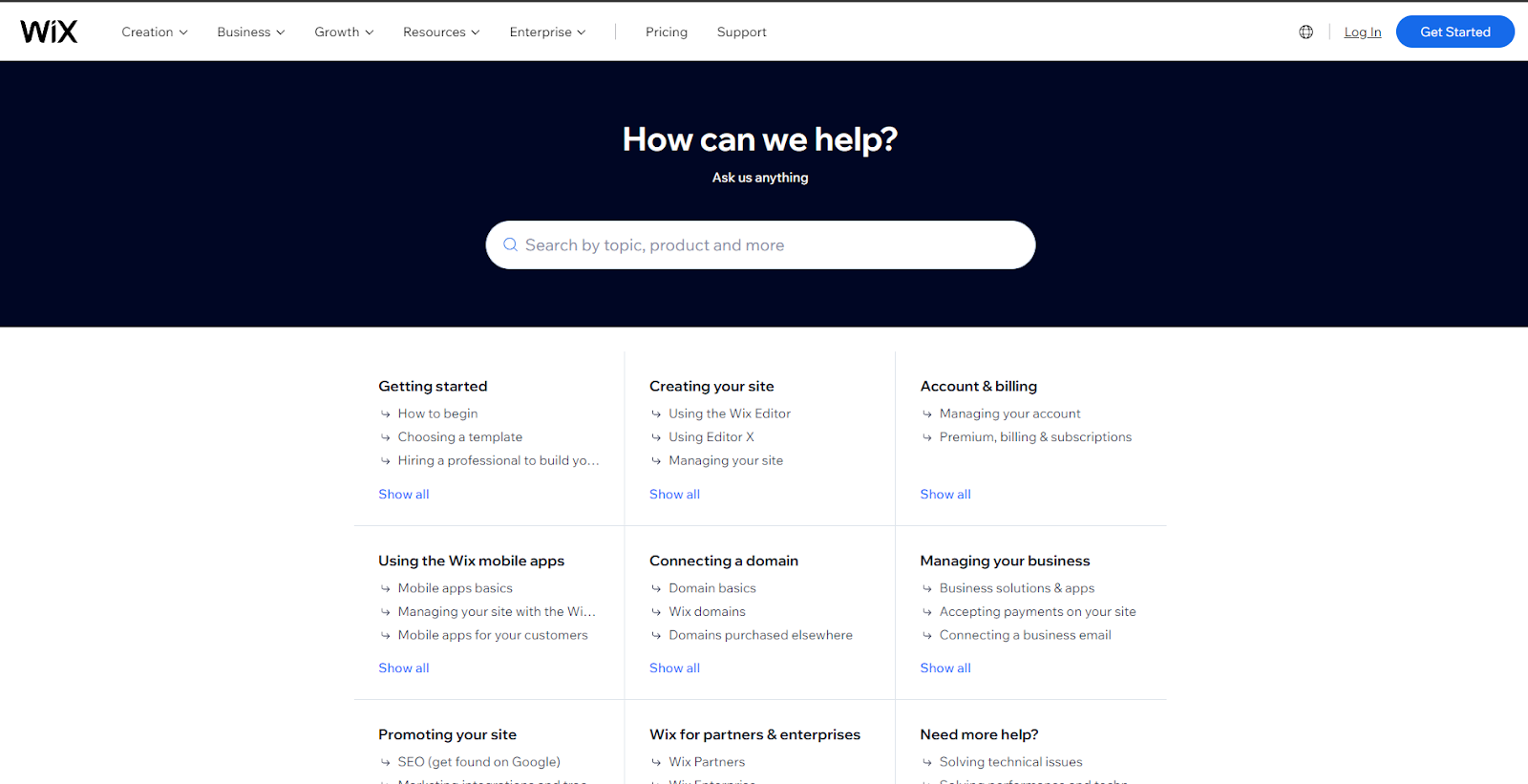 Wix offers support through email, live chat, or phone. You can get in touch with the support team via email or live chat Monday to Friday between 5 AM and 5 PM PT. But only those on the VIP plan can get priority phone support at any time of day or night.
You can also get in touch with the support team on social media. Here you can leave comments and feedback, ask for assistance, and receive answers to your questions at any time.
Support is available in a number of languages, including English, Spanish, and Portuguese. There's a well-curated knowledge base filled with how-to guides and tutorials to help you learn every aspect of the platform.
There's also an in-editor help feature on Wix that you can leverage if you need help while building your website. This means you can get assistance while still on the page. Just click on the "?" icon to get more information on any element on the page.
Summary of Wix's Community and Support Features:
24/7 call-back option for premium members
Well-stocked knowledge base for self-help
In-editor help feature for ease and convenience
Beginner tutorials for quick website setup
Vast social media community of users, creators, and developers
WordPress: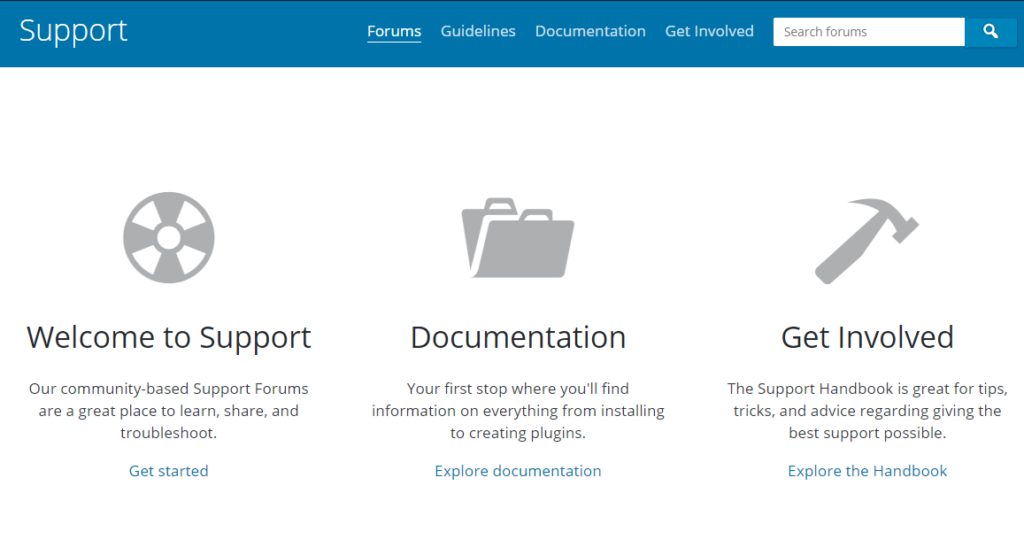 WordPress has a huge community of users and developers which makes it possible for you to connect and interact with others. The platform facilitates and creates discussions, content organization, and interaction between members.
One thing's for sure when using WordPress, you will never have to worry about being stuck at any stage of building your new website. There's help everywhere you look.
You can contact support via email or chat depending on your plan. Join the WordPress forum to get community support, or dive into the knowledge base and read up on the constantly updated guides on how to make the most of the platform.
Summary of WordPress's Community and Support Features:
Email or chat with support, depending on the plan you're on
Forum/community support
Guides and how-tos available from the help center
Massive community of users and developers
Active social media groups where you can connect with like-minded users
Winner: Tie
Both site builders have huge communities made up of users and app developers, so we'll call this one a draw.
On both platforms, you can get helpful support in a variety of ways, including chat, email, and self-help resources and the higher-tier plans offer priority customer service.
7. Pricing
Affordability is an important factor to consider when choosing the best website builder.
You probably don't have a ton of cash to spend on your site when starting out and since website builders are generally on a monthly or yearly subscription model, it's important to consider not only what you can afford right now, but also long-term costs.
Let's take a look at the pricing structures of Wix and WordPress to help you make the right choice.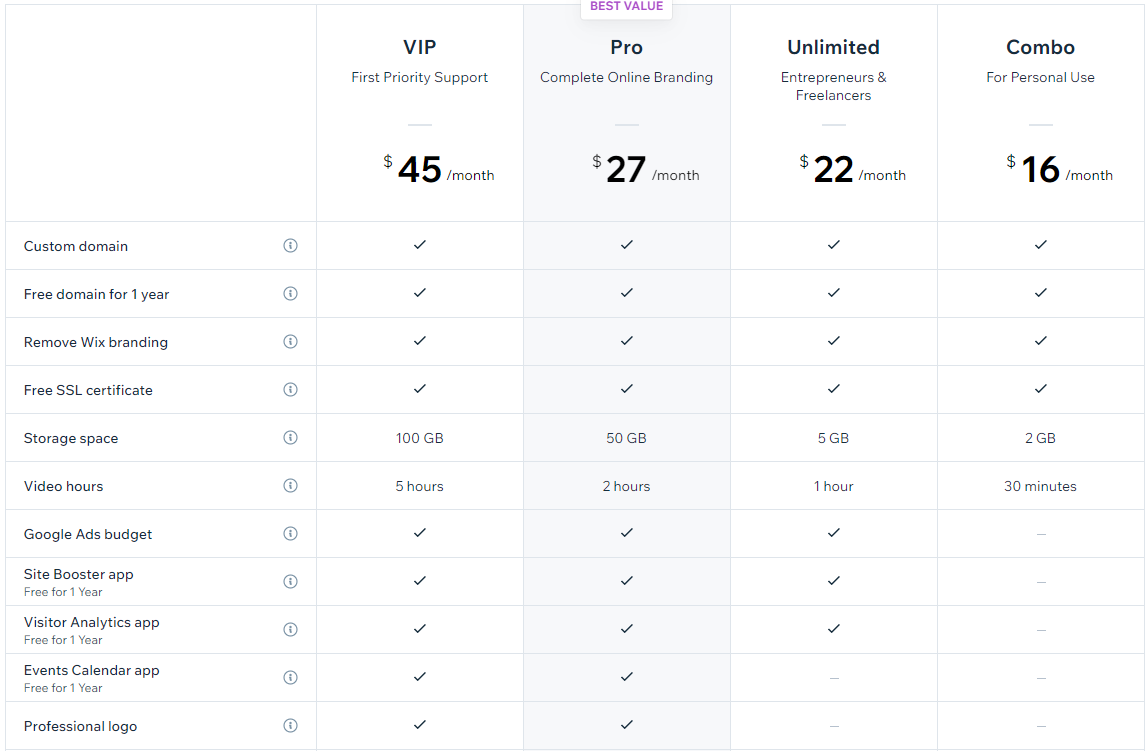 Wix offers a range of plans to suit different needs. There's no free plan, but you can sign up for a free trial. You'll have to put up with Wix ads, but it's worth it to get access to the platform's core features.
Here's what each premium plan entails:
Combo Plan: $15/Month: This plan is ideal for personal use. It comes with a custom domain, a free SSL certificate, and 2GB of storage space and you can host up to 30 minutes of video.
Unlimited Plan: $22/Month: The Unlimited plan comes with everything in the Combo plan + 5GB of storage space, one hour of video, and a visitor analytics app. This plan is ideal for entrepreneurs and freelancers and comes with a Google Ads budget to help promote your business.
Pro Plan: $27/Month: The Pro plan is ideal for complete online branding. It comes with all the features in the Unlimited plan, as well as 50GB of storage space, two hours of video, an events calendar app, and over 40 different sizes of your logo ready to use on various social media channels.
VIP Plan: $45/Month: This plan has everything in the Pro plan, as well as 100GB storage space, 5 video hours, and priority customer care. If you value first-priority support, then this plan is ideal for you.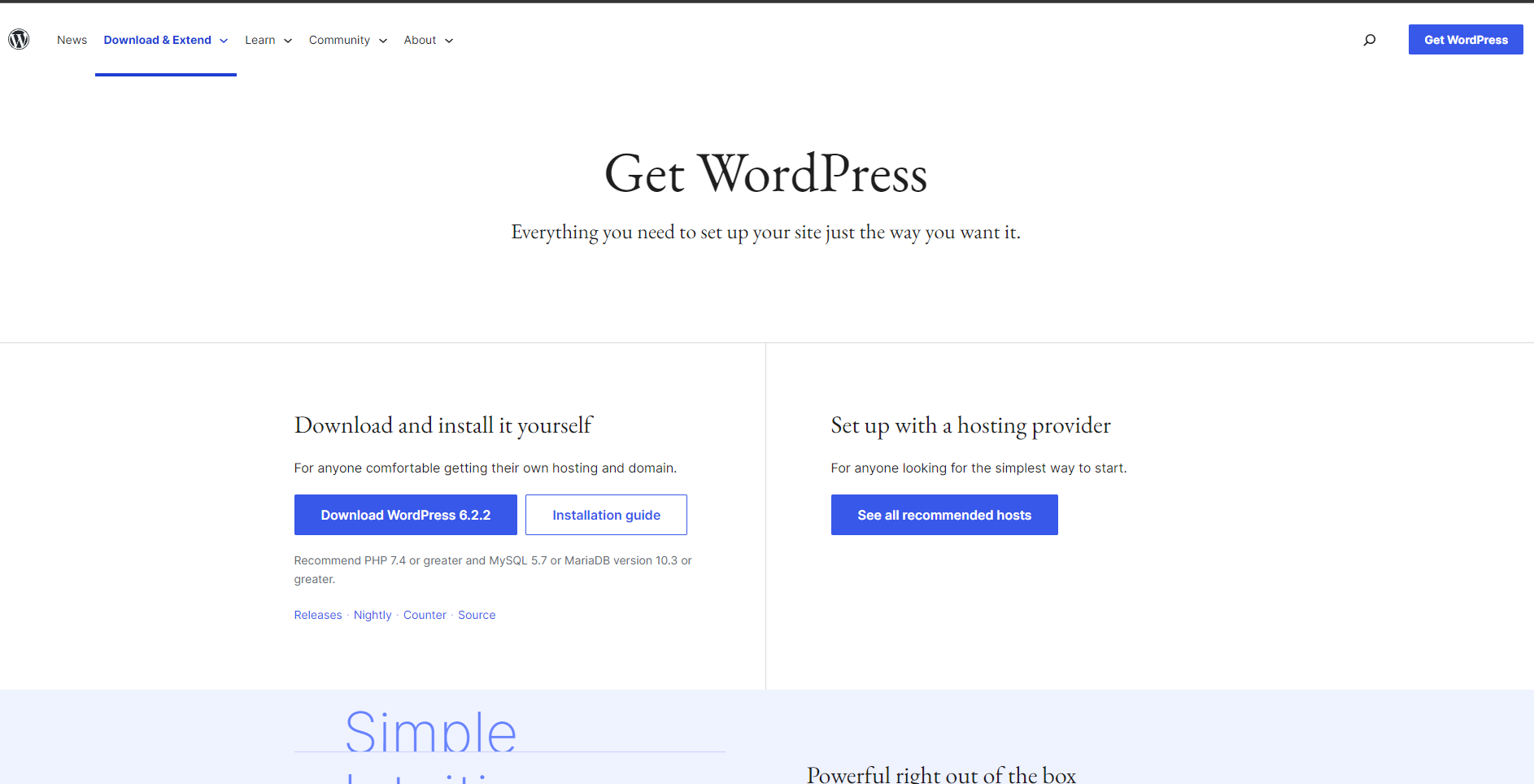 As previously mentioned, WordPress has two versions.
1. WordPress (dot) org (Self-Hosted on Bluehost):
Free: $0/month: WordPress (dot) org is the free, open-source version of the software that you can download and install yourself. You'll have to register an account with a hosting provider of your choice and get your own domain before you can set up your WordPress site.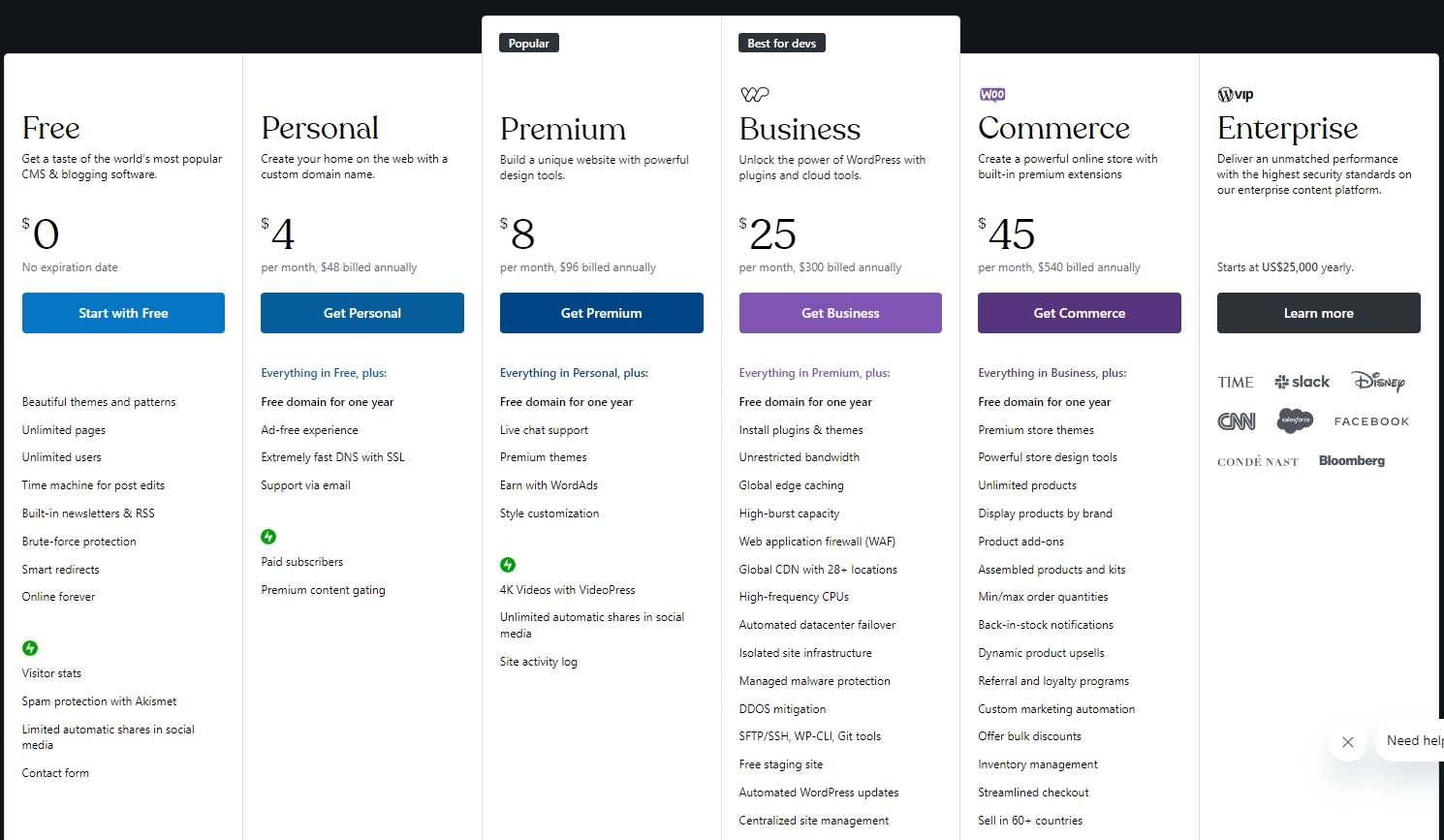 2. WordPress (dot) com (Hosted on Bluehost):
Free Plan: $0/month: The free WordPress plan lets you build a website with unlimited pages and unlimited users. There is no expiration date on the plan, and you get access to all of the features of the world's most popular blogging and CMS software. This plan also comes with visitor stats, Akismet spam protection, contact forms, and limited automatic shares on social media.
Personal Plan: $4/month: The Personal plan has everything in the Free plan + a free domain for one year. You also get an ad-free experience and extremely fast DNS with SSL. You can reach the web host support via email and get access to security and performance tools to grow your website, including paid subscribers, premium content gating, and more.
Premium Plan: $8/month: This plan has everything in the Personal plan + live chat support, premium themes, and style customization. You also get the opportunity to earn with WordAds which gives you one more way to monetize your website or blog. You can add 4K videos and unlimited automatic shares on social media.
Business Plan: $25/month: This plan comes with everything in the Premium plan + unrestricted bandwidth, third-party plugins and themes, global edge caching, 28+ CDN locations, and high-burst capacity. You get everything you need to unlock the power of WordPress with integrated cloud tools.
Commerce Plan: $45/month: The WordPress Commerce plan has built-in premium extensions to create a powerful online store. It is everything in the Business plan, as well as premium store themes, advanced store design tools, and unlimited products. You can even display your products by brand and include product add-ons on your pages.
Winner: Tie
Wix offers more value because it has a more comprehensive approach in terms of website building and hosting services. Of course, this is assuming that you value simplicity and ease above all else.
On the other hand, WordPress offers more control and flexibility thanks to features like dynamic product upsells, back-in-stock notifications, and min/max order quantities. extensive plugin library and the open-source nature of the platform.
Ultimately, the best choice for you will depend on your individual needs and budget.
Final Thoughts
I hope this head-to-head comparison has provided you with enough information to help you choose the right website builder for you.
Wix and WordPress are leaders in the site-building space and both have a lot to offer in terms of features and functionality.
Whether you want a site builder for hosting a simple blog or building a complex eCommerce website to sell dozens of products, you'll get all the features you need with both Wix and WordPress.
Also, if any of the features you want aren't native to either platform, you can integrate third-party apps and plugins to extend your website's capabilities.
But, since each platform has a different set of tools, it means that they have different learning curves. You'll have to consider each software's features so you can choose the one that matches your skill level and meets your goals.
Choose Wix if: If you have zero technical know-how, you can't go wrong with Wix. The site builder comes with a simple drag-and-drop editor and does all the maintenance for you, whereas WordPress leaves it all to you.
Choose WordPress (Hosted on Bluehost) if: If you're a little more tech-savvy and want something that gives you more customization options, then a WordPress website is the right option for you. It comes with a powerful content management system and built-in tools for running your website.
When your business starts to grow, WordPress will allow you to add versatility and additional features to your website without skyrocketing the cost of site maintenance.
For this reason, I would recommend WordPress to anyone whose main focus is on building a scalable website or dedicated blogging site.
If you still aren't sure which platform is right for you, you may want to consider reading about other Wix Alternatives.
Other Comparisons You May Enjoy