Wix and Weebly are two popular website builders that are similar in a lot of ways. Both platforms were created in 2006 and offer many of the same features, including a drag-and-drop site builder, blogging functionality, built-in marketing tools, and more. 
But there are some crucial differences that you must be aware of before making your choice.
I've spent over 10 hours reviewing and comparing these two site builders to give you a better idea of how they stack up in terms of usability, design, customization, eCommerce features, SEO, and more.
Read the rest of this in-depth Wix vs Weebly comparison to learn more so you can make the right choice for you.
1. Ease of Use
Everyone wants to be able to create a great looking website with as little hassle as possible. Fortunately, both site builders are built for simplicity and ease-of-use. Here's a quick look at what each has to offer in this department.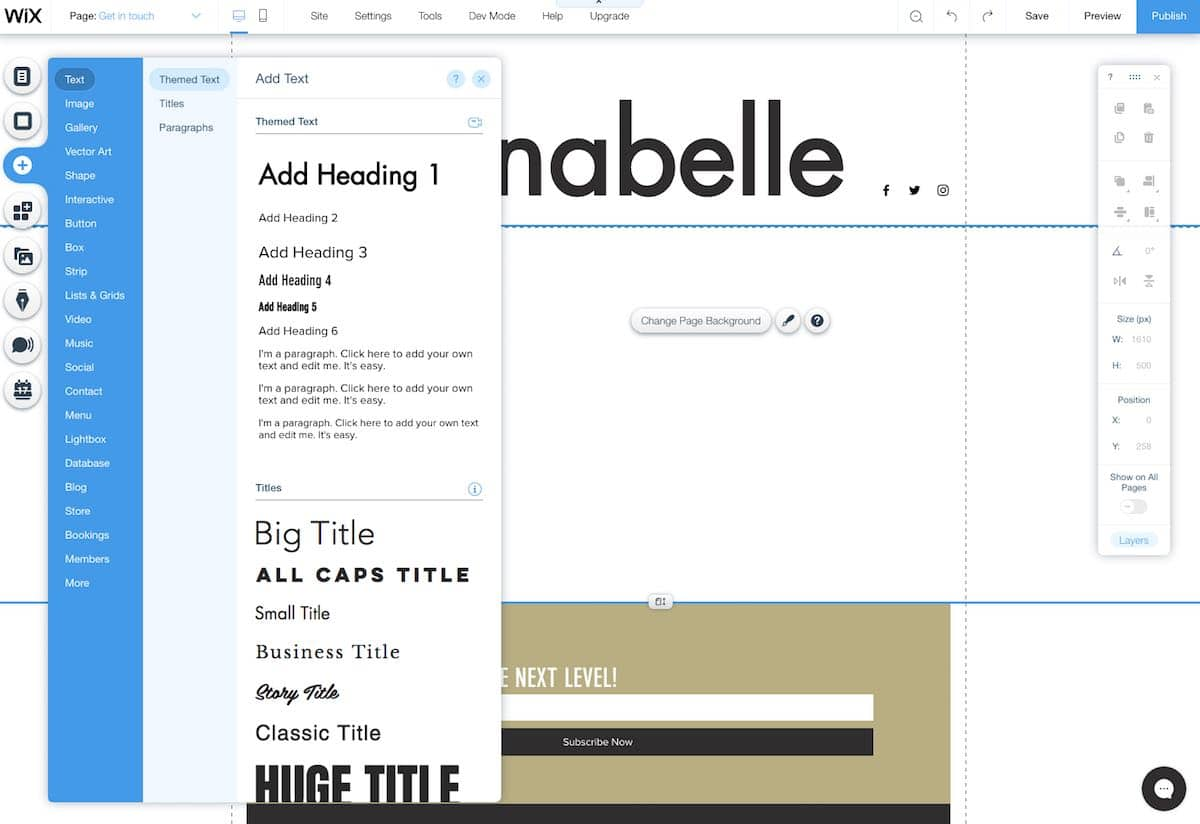 Wix is a versatile website builder that works for both beginners and experienced website creators.
Since its inception, the Wix platform has always been committed to providing the simplest way to build a website for non-tech-minded users.
You don't need to have coding knowledge to leverage all of the platform's core features. You don't even have to build your site from scratch. There are plenty of pre-made templates to choose from, and you can use the simple drag-and-drop editor to customize your site to match your needs.
Alternatively, you can use Wix ADI (artificial design intelligence) to create your website for you. Just answer a few short questions about the type of site you want to create, the specific pages you need to add, and so on. The AI-powered builder will then build your website for you.
Although its main focus is on simplicity and ease of use, Wix also understands that more experienced users require advanced features and more robust customization options.
For this reason, the platform has a Wix Code Editor that lets you dive deep into the weeds of your website or blog to create a truly unique site.
Summary of Wix's Ease of Use Features:
No code, drag-and-drop editor
Startup Wizard for simple website set up
High-quality pre-made templates
High level of customization
Built-in email marketing and payment processes
Wix ADI for easy website creation
Wix Code for advanced users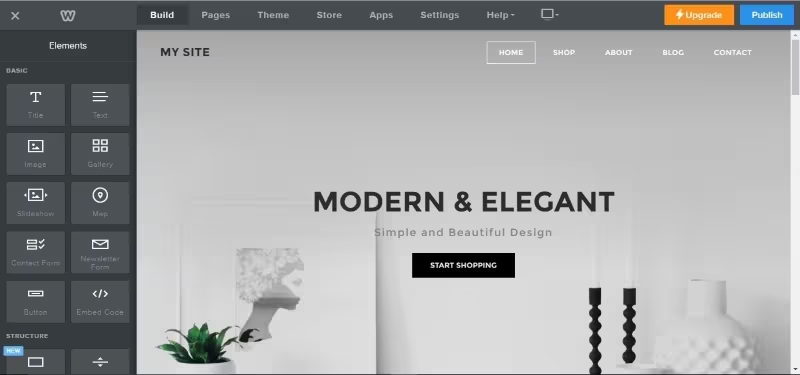 Like Wix, Weebly is also very easy to use and comes with a range of pre-designed templates for your website.
You can either use a template to jumpstart your website creation or you can start from scratch and drag-and-drop different elements such as images, text, etc. onto a page to create the exact type of layout you want.
No need for coding knowledge. If you can point and click a mouse, you can build a website on Weebly.
Weebly specializes in creating personal and small business websites. Unlike Wix, it doesn't come with a lot of support for building complex websites.
But, the platform continues to strive to improve its service. For example, the latest releases have added features like multi language capabilities, ad monetization, and more robust eCommerce offerings (more on that below).
Summary of Weebly's Ease of Use Features:
No credit cart required for free Weebly account
Multiple templates to build a branded website
Built-in eCommerce features even on free plan
Drag-and-drop editor for simplicity and ease
Winner: Wix
Wix is the winner here because it offers features that are ideal for users of all experience levels. This isn't the case with the majority of website builders (Weebly included) that are typically geared toward either beginners or experienced users, but not both.
In 2018, Weebly was acquired by Square, and the integration of the site builder with the payment processing platform has resulted in a more powerful website creation platform, however, the software still has some limits to its design potential.
2. Design and Customization
If you're new to website building, you might not know exactly where to start when it comes to designing your site. The good news is, both platforms have a wide range of pre-designed templates to choose from and plenty of customization options.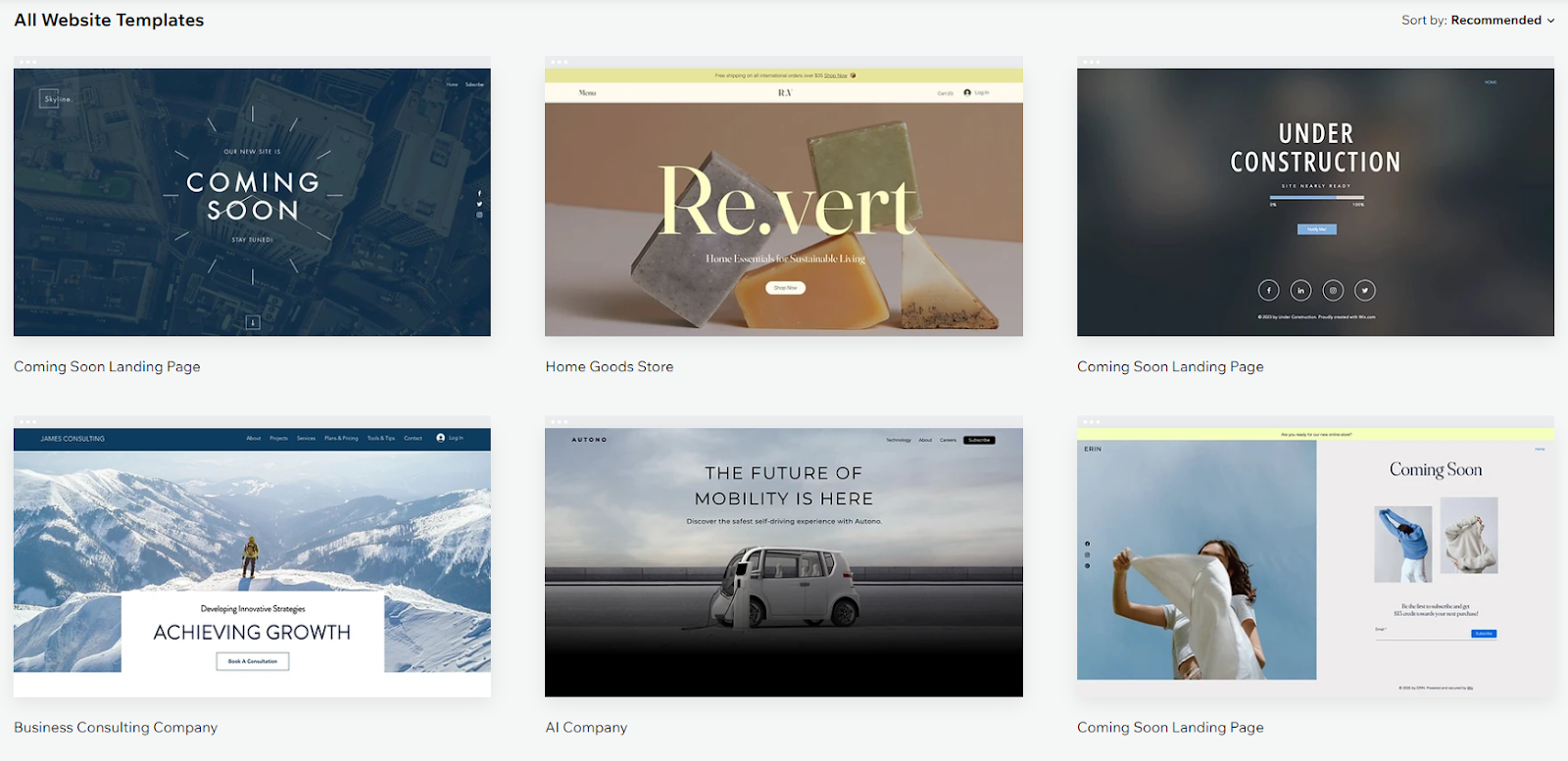 Wix has over 900 templates available to you in a wide range of categories. You can choose a template that fits your industry and type of website. Use the drag-and-drop editor to customize it by changing different elements, including images, backgrounds, texts, and colors.
One drawback of using Wix is that once you've published your new site, it's difficult to change to a new template without losing your content.
This can be frustrating for new users who may want to try out different website layouts before making their choice.
As previously mentioned, Wix also has an artificial intelligence that simplifies the design process for you. Experienced users can use Wix Code to get into the back end of the website for even more design and customization options.
You can add even more functionality to your website with apps from the Wix App Market.
Wix has a mobile app which means you can build and manage your site using a smartphone. However, the mobile app dashboard is somewhat slow which users might find frustrating.
Furthermore, Wix has some design issues whenever visitors view the website on a smart phone.
Summary of Wix's Design and Customization Features:
User-friendly designs
Wix Artificial Design Intelligence for easy site design
Free tools to create your own logo
Fully customizable and mobile-friendly templates
Built-in marketing and sales tools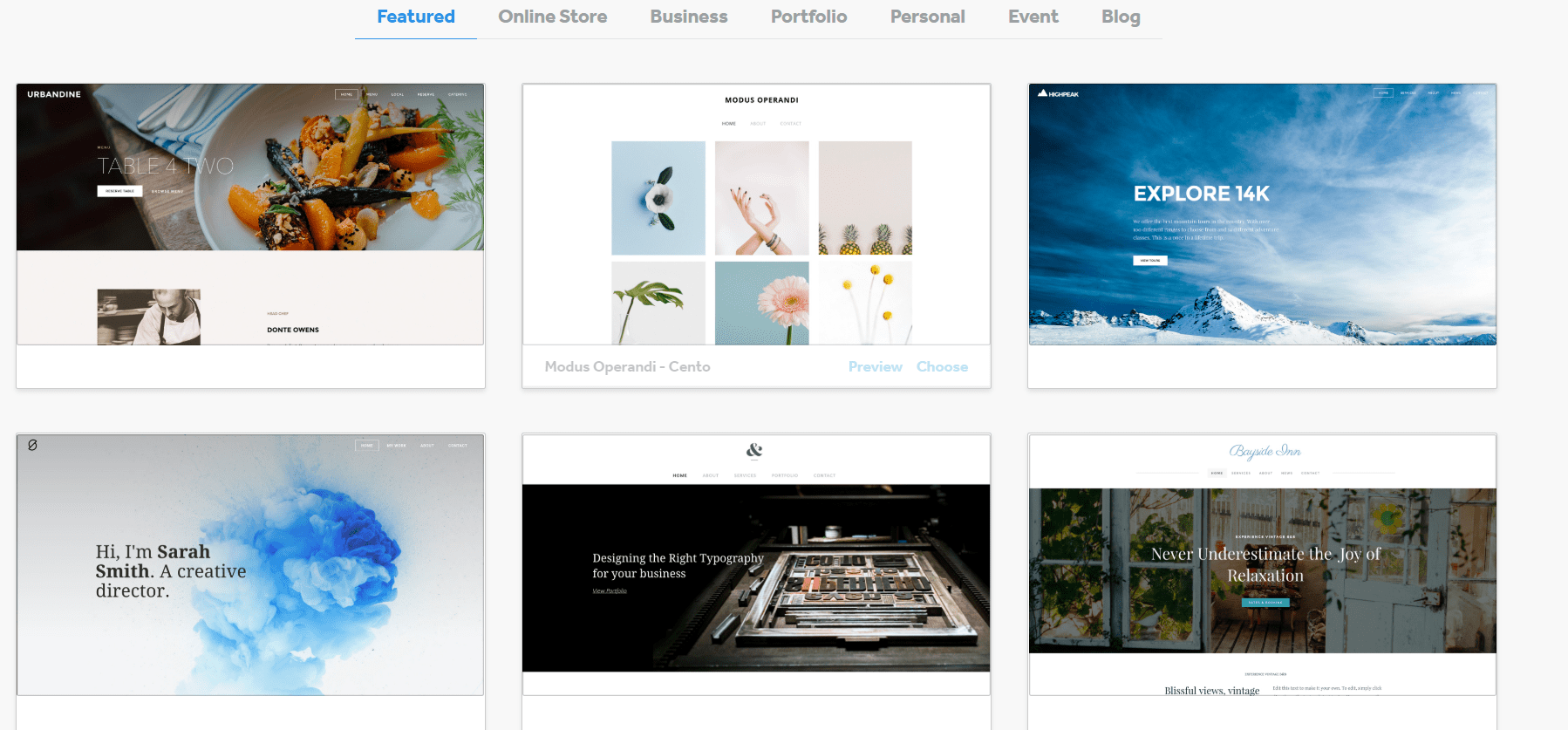 Weebly has an intuitive interface and basic design tools designed to simplify the process of website designs for those without experience.
Compared to Wix, Weebly has limited customization options. You get plenty of pre-made templates to build your site, but you won't get the same deep customization levels available on Wix.
This means that many of the templates on the platform will look pretty much the same from one site to another, which can be a dealbreaker for someone looking to create a truly unique website.
Although many of Weebly's design and customization features don't hold a light to Wix, the platform does allow you to add apps from the Weebly app center. There's also a mobile app that is faster and performs better than Wix's. If you intend to do a lot of your website building and management on your mobile phone, then you'll appreciate this feature.
Weebly also lets you view visitors statistics on the analytics dashboard and interact with your website visitors using your mobile app.
Unlike Wix, all Weebly sites are 100% mobile responsive and look great on small devices.
Summary of Weebly's Design and Customization Features:
Powerful and fast mobile app for on-the-go website management
Simplified web design process perfect for beginners
Dozens of expertly-designed templates to choose from
Fully mobile-responsive websites
Access visitor analytics and reports on mobile app
Winner: Wix
One of the design features I love about Weebly is that it has a mobile app which makes it easy to build and manage your website on the go. Unfortunately, this alone isn't enough to win the design and customization contest.
When it comes to building your website, Wix does the heavy lifting for you and all you have to do is make a few edits to your Wix website before you hit publish. Very few other website builders aimed at consumers (Weebly included) are as strong as Wix in this arena.
3. eCommerce Capabilities
Seamless eCommerce integration allows you to provide a smooth shopping experience to your customers.
Fortunately, both Weebly and Wix have integrated eCommerce tools that you can access right inside your dashboard. However, there are some stark differences in the online selling features offered by each platform. Let's take a look.
img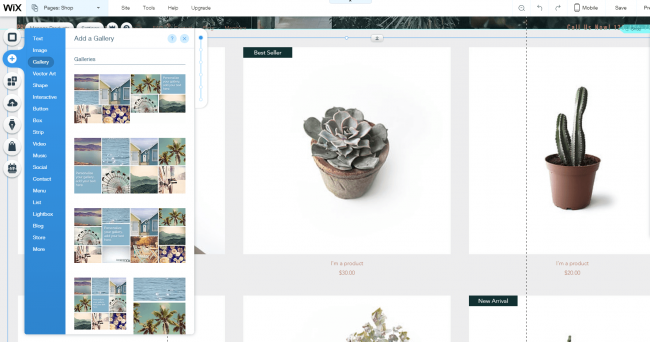 Wix is great for small online stores. You can create a beautiful digital storefronts and sell physical products and digital goods all from one place. Optimize your products for search engines and accept online and offline payments.
Wix excels in visually presenting your products. You can easily add videos and images, and add the zoom effect.
There's also an import/export option available for your product catalog and you'll find customer accounts and subscriptions boxes. These features make it much easier for repeat customers to use your Wix online store.
Additionally, Wix allows you to sell on Amazon, Instagram, and other social channels. The platform has built-in security measures to keep your eCommerce store secure, including two-step sign-in verification to greatly reduce the chance of anyone hacking into your website.
All payment methods on Wix meet the strictest industry standards for security and you get SSL web security with each website. This gives visitors peace of mind when entering their personal details on your site.
Summary of Wix's eCommerce Capabilities:
Beautiful digital storefront templates
Sell physical and digital products
Optimize products for search engines
Accept online and offline payments
Add images, videos, and Zoom effect
Import/export option available for product catalog
Sell on Instagram, Amazon, and other marketplaces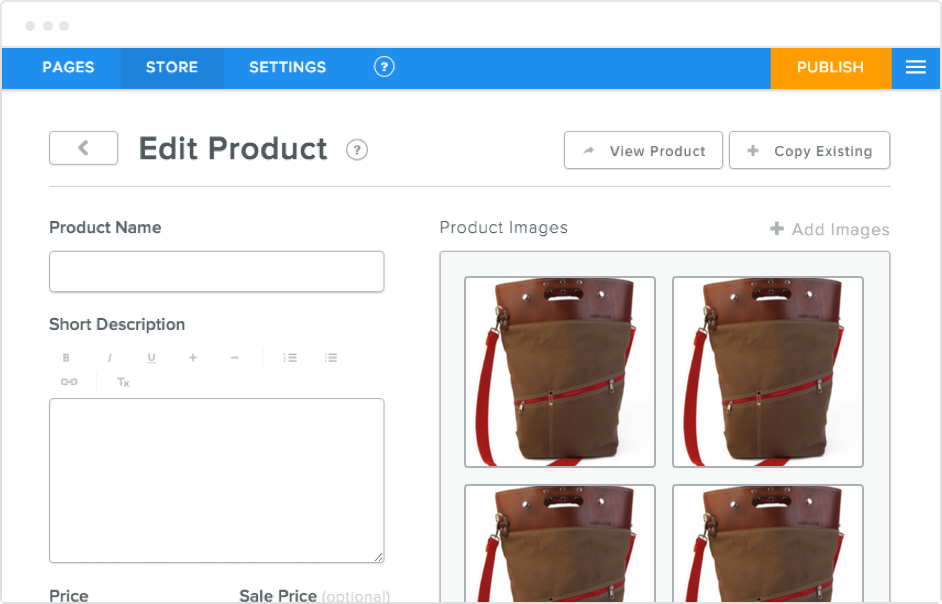 Weebly is owned by Square, which means it has powerful eCommerce functionality. Now called Square Online, the platform has a free plan that offers eCommerce capabilities. This gives it an edge over Wix.
In order to sell products or services online with Wix, you'll have to upgrade to one of the higher-priced plans.
Weebly's integration with Square provides users with powerful point-of-sale capabilities and the ability to accept global credit card payments on mobile devices. Some of these features are available on the premium plans, but the free plan still gives you enough to set up your store and start accepting global payments.
You can build a beautiful online store using Weebly's drag-and-drop editor. Many features come built into the templates and you can import product lists automatically. In addition to physical products, you can also sell MP3s, videos, digital downloads, or any other types of digital products.
Weebly has SEO fields for all products, which helps to optimize your inventory for search. Each site has SSL encryption by default and if you subscribe to the Business or Performance plans, you'll also get an automatic sales tax calculator (available in the US only) and a shipping cost calculator.
All in all, Weebly offers a much more complete eCommerce solution compared to Wix. Setting up your online store is quick and easy, and you have a vastly larger number of eCommerce features available to you, even on the free plan.
Summary of Weebly's eCommerce Capabilities:
Simple, guided online store setup
Powerful built-in eCommerce functionality even on the free plan
Modern, optimized online store templates
Sell physical and digital products
SEO fields for all listed items
SSL encryption for all websites
Automatic sales tax calculation
Built-in shipping cost calculator
Wix has strong eCommerce capabilities. For example, the platform supports multiple languages when building your eCommerce site and you get support for visitors to see product prices in local currencies – a feature that you won't get on Weebly.
However, since its acquisition by Square, Weebly has shown a much stronger focus on its eCommerce capabilities. Not only does Weebly offer more online sales features but you also get some of them on the free plan. On Wix, eCommerce features are only available to subscribers to the platforms' higher-tier plans.
4. Blogging Tools
Wix and Weebly offer basic blogging functionality. Over the past few years, both platforms have worked to improve their blogging options. Let's take a look to see which one offers more value in the blogging arena.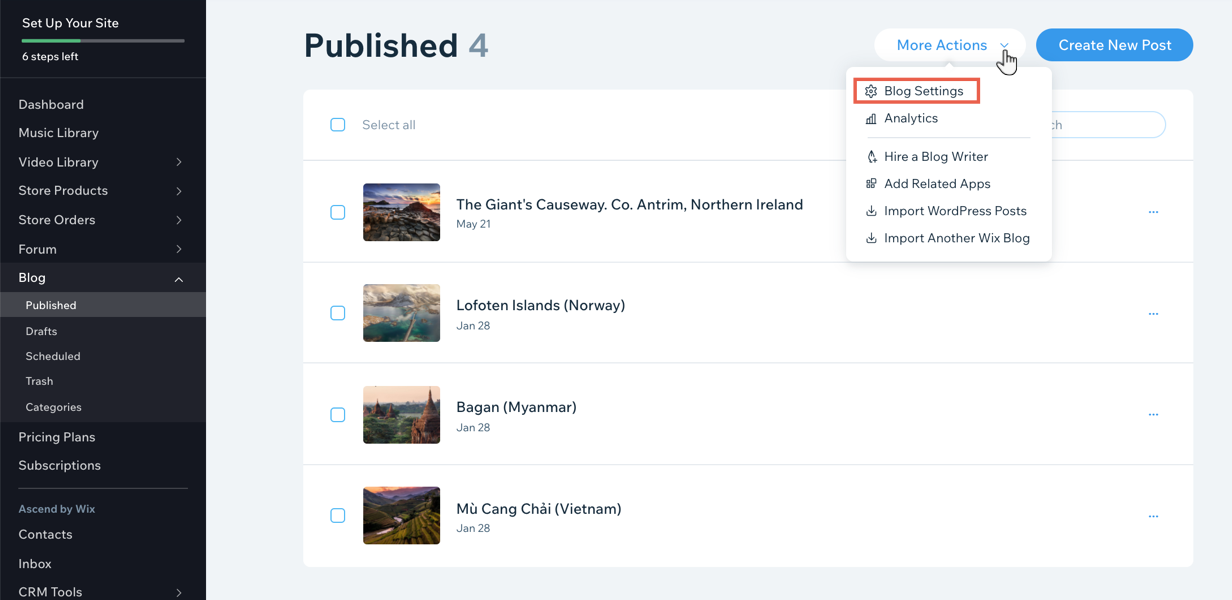 Wix comes with built-in blogging functionality that makes it easy to add a blog to your website. Just click the "Start blogging" tab in your toolbar, and you can start adding content to your blog. It couldn't be simpler.
Having said that, the Wix editor isn't as well integrated into the site builder as the one on Weebly. For example, when you want to add images, text, videos, the options appear in an external window.
But, it's still a seamless editing experience and you can take care of all your blogging tasks, such as scheduling posts, adding different authors, etc. in one convenient place.
Summary of Wix's Blogging Tools:
Set up a Wix blog in minutes
Choose from a variety of stunning blog layouts
Seamless, no code editing experience
Add categories and manage comments from your Wix Editor
Easy search feature to find posts, members, hashtags, etc.
Like Wix, Weebly allows you to add a blog to your website in just a few clicks. All you have to do is add a new page to your site, and then click "Add post" on the blog page.
Weebly also lets you create way more complex layouts for your blog posts. For example, you can add different elements like forms, video backgrounds, image galleries, and so on to each page using the regular Weebly editor.
Unfortunately, even with these strong features, the design of Weebly's blogs isn't quite as clean and modern as Wix's.
But, considering that you can build a blog for free on Weebly, this is a sacrifice most users are willing to make.
Summary of Weebly's Blogging Tools:
Create a Weebly blog for free
Create unlimited pages
Choose from dozens of templates made for bloggers
Set up your blog in minutes with intuitive interface
Built-in marketing and eCommerce features
Weebly wins this one because the software offers unlimited storage and website pages, whereas Wix has storage caps on all its plans. You're also limited to 100 pages per website.
While this may be fine for a personal website or small business website, you may find it inadequate as your website grows.
5. Search Engine Optimization Tools
SEO is crucial for your online success. Search engine optimization tools help to improve the visibility of your website online so it can be found by your target audience. For this reason, you need to choose a site builder that has robust SEO tools.
Wix has built-in features that make it easy to optimize your website for search and social. In addition to helping you influence how Google perceives and ranks your site in the search results, Wix also has features to drive more traffic to your pages and attract visitors with the right intention so you can boost your conversions.
Some of the optimization techniques include things like meta-tags for social media share, canonical URL, structured data, image optimization, and instant indexing of your homepage.
You don't have to be an SEO expert to get your site to Google's first page. Simply follow the Wix SEO Checklist which is a personalized list of all the SEO elements you need to cover for your particular website.
But, if you have been in the game for a while and want to take full control of how your pages display in the SERPs (search engine results pages), then you can use the built-in Wix SEO tools to adjust settings according to your needs.
Another SEO feature that sets Wix apart is its impressive 99.9% uptime. Wix websites are always available online. The platform has dozens of data centers all around the world. The infrastructure is also supported by Google Cloud, AWS and various other servers to ensure maximum reliability.
With such a diverse network, Wix can run routine maintenance on your website without you experiencing any downtime at all.
Summary of Wix's Search Engine Optimization Tools:
SEO Wizard for easy search engine optimization
Meta-tags for social media share
Canonical URL to solve identical page issues
Structured data to help Google contextualize your content
Image optimization for improved website performance
Auto create and submit site map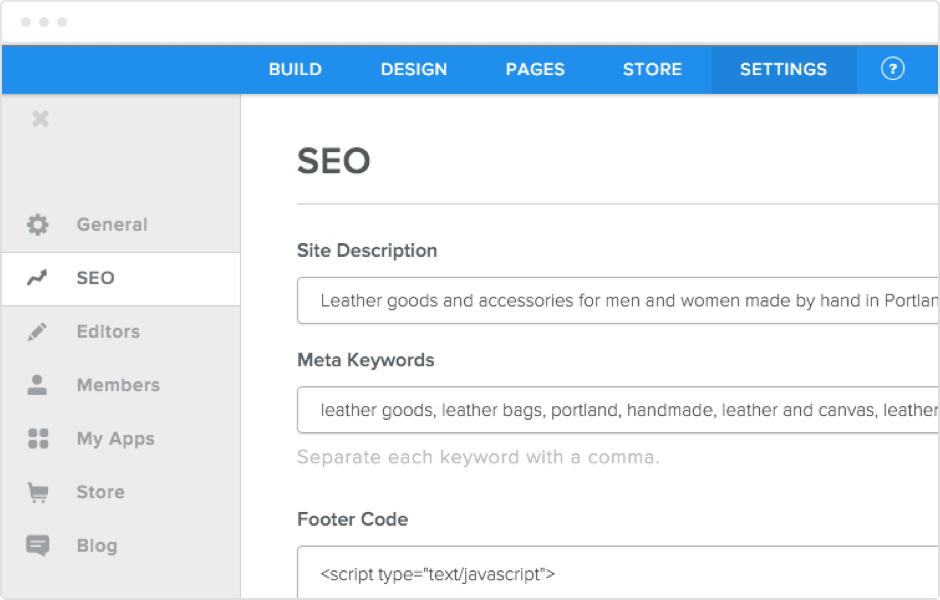 All Weebly websites have a range of built-in features to help you show up in search. Some of the main features include a site map, responsive design, meta-descriptions, SEO friendly HTML formatting, and much more.
On your dashboard, you'll also find advanced SEO settings such as alt tags on images, page-specific descriptions, and more.
In addition to the general settings for SEO, you can also customize options for individual pages. For example, you'll be prompted to add a page title, customized page, link, page description, and meta keywords.
If all of this sounds confusing, never fear. Weebly has a step-by-step guide to help you set up your website SEO so you can rank high in search results.
Weebly's dashboard is simple to use and super responsive compared to the one of Wix which tends to lag a bit, particularly when using the mobile app. With Weebly, your changes reflect quickly which significantly cuts down on your website building time.
Also, Weebly boasts some of the fastest load times among popular website builders like Wix and Squarespace.
Summary of Weebly's Search Engine Optimization Tools:
Easy SEO setup
Optimized page titles and update page descriptions
Update URL and submit site map
Advanced SEO settings for individual pages
Automatic website indexing
In page meta-data editor for easy optimization
Winner: Wix
Both site builders have robust SEO features, but Wix wins this one because of the platform's easy to use SEO Wizard which takes all the guesswork out of ranking your new website on Google.
6. Community and Support
Support is an important factor to consider before choosing a website builder. If you should need assistance during your website creation journey, you need to be able to get it via a channel that's convenient to you. Let's see how these two platforms compare in terms of community and support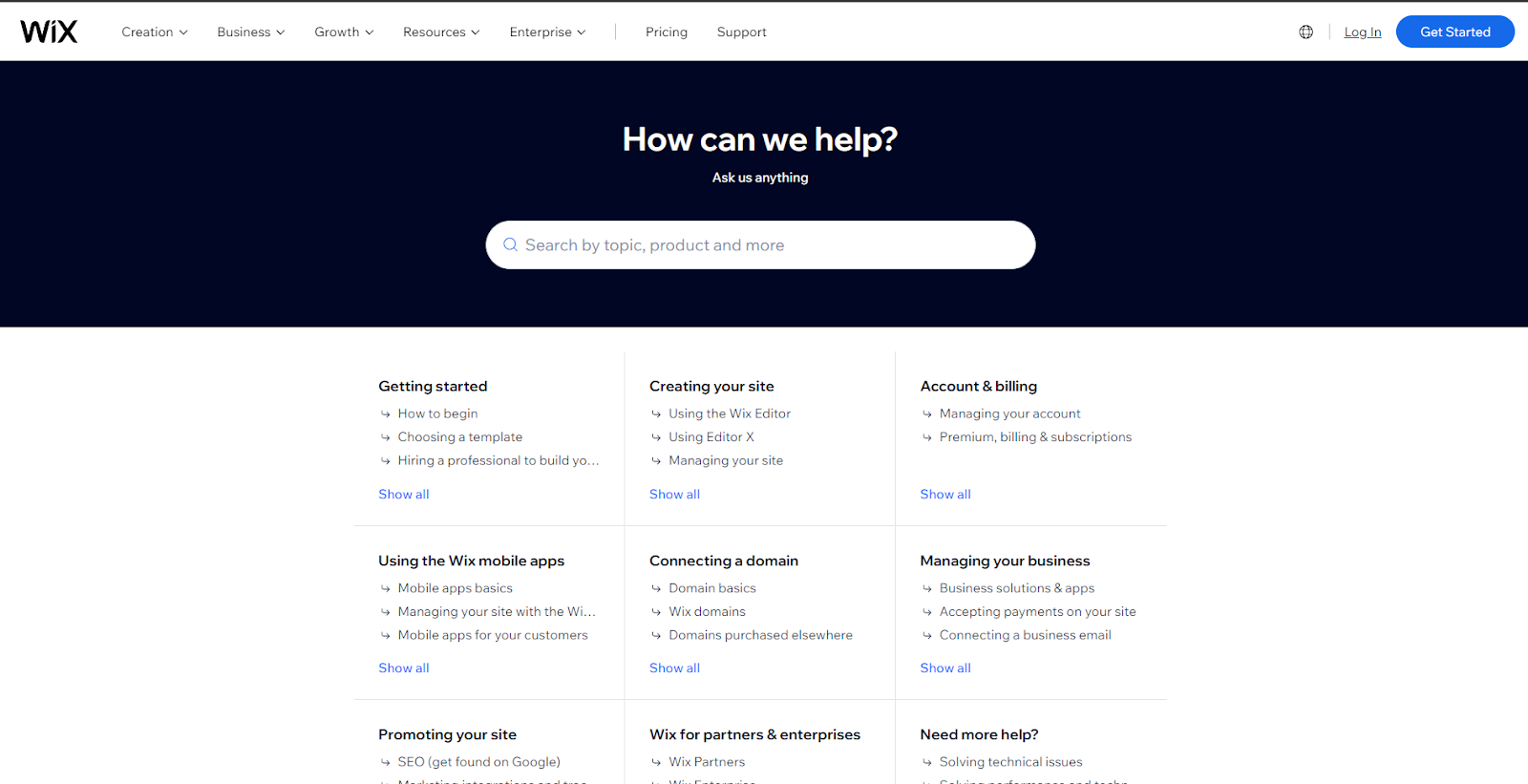 Wix has an online help center packed full of how-to guides and in-depth tutorials on how to get the most from every feature on the platform.
You can browse through these articles to find answers to your questions. If you still need help, you can get in touch with Wix support through email or live chat. If you subscribe to the VIP plan, you can get priority 24/7 support via phone to avoid having to wait to get the assistance you need.
For everyone else, Wix offers a phone call back line whereby you input a request and a customer service agent calls you back. Although not as efficient as a real phone support line, it works well to get you the answers you need when you need to speak to an actual person.
The platform offers multilanguage support and callback hours differ according to your language. For example, English callback hours are 24/7 whereas Russian hours are between 8 AM and 5 PM GMT +1.
Wix support is also available via social media. There's an active community of users with whom you can connect, share ideas, and get actionable advice on how to build a successful website.
Summary of Wix's Community and Support Features:
Multiple channels to contact support
Beginner tutorials for easy setup
In-depth online documentation
Community-based information portal
Additional support via social media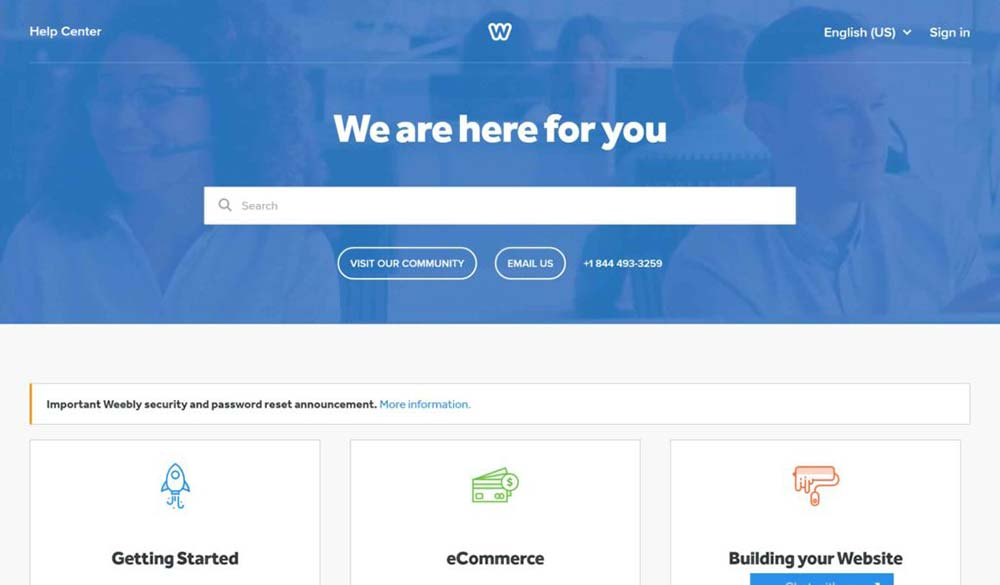 Weebly provides customer support via forum, chat, and email. There's a customer care page with links to articles on different topics, but if you still require human assistance, you can get in touch with customer support by clicking the button on the contact page.
Unlike Wix's callback system, Weebly has a direct contact phone line that is available seven days a week between 6 AM and 6 PM US Pacific Time.
Weebly also has a live chat box that offers a combination of bot and human support, as well as an efficient ticketing system.
In addition to all that, you'll also find tons of resources on the platform's help center knowledge base. There's also a community forum filled with active and engaged users with whom you can connect to learn more tips and tricks on how to build your website on Weebly.
Summary of Weebly's Community and Support Features:
Helpful knowledge base
Community forum with engaged users
Social media support
Efficient ticketing system
Weebly has the best customer support because it offers assistance in multiple languages.
7. Pricing
Pricing is yet another important consideration to make before deciding which website builder to go with. Here's a closer look at each platform's pricing structure.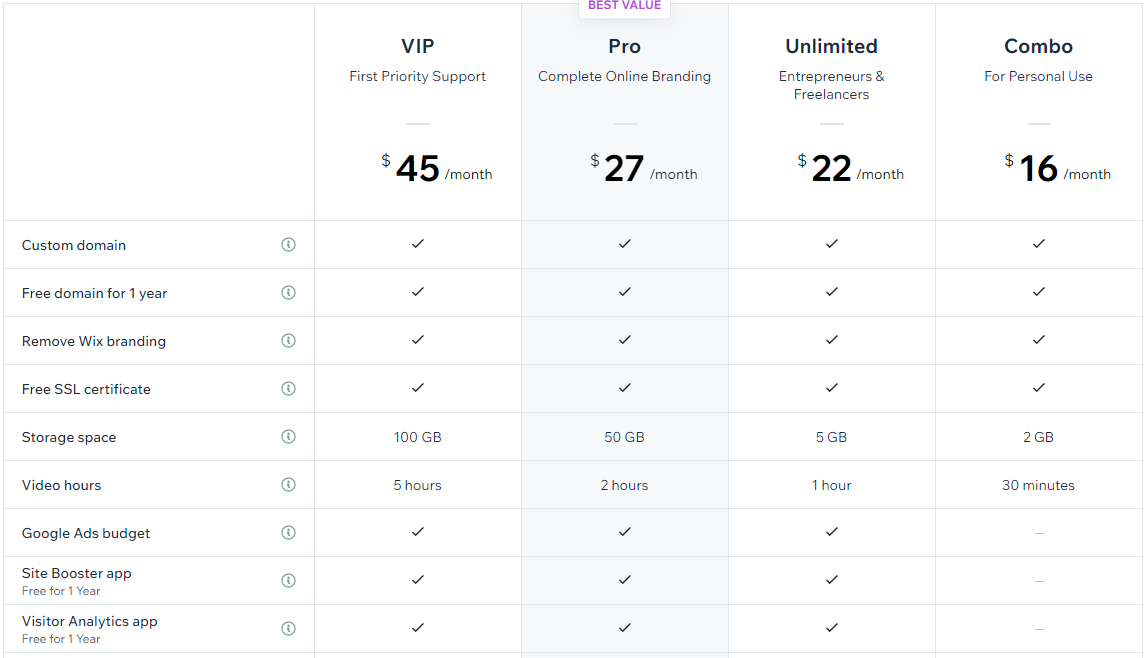 Wix offers a range of plans to suit different needs. There's no free plan, but you can sign up for a free trial. You'll have to put up with Wix ads, but it's worth it to get access to the platform's core features.
Here's what each premium plan entails:
Combo Plan: $15/Month: This plan is ideal for personal use. It comes with a custom domain, a free SSL certificate, and 2GB of storage space and you can host up to 30 minutes of video.
Unlimited Plan: $22/Month: The Unlimited plan comes with everything in the Combo plan + 5GB of storage space, one hour of video, and a visitor analytics app. This plan is ideal for entrepreneurs and freelancers and comes with a Google Ads budget to help promote your business.
Pro Plan: $27/Month: The Pro plan is ideal for complete online branding. It comes with all the features in the Unlimited plan, as well as 50GB of storage space, two hours of video, an events calendar app, and over 40 different sizes of your logo ready to use on various social media channels.
VIP Plan: $45/Month: This plan has everything in the Pro plan, as well as 100GB storage space, 5 video hours, and priority customer care. If you value first-priority support, then this plan is ideal for you.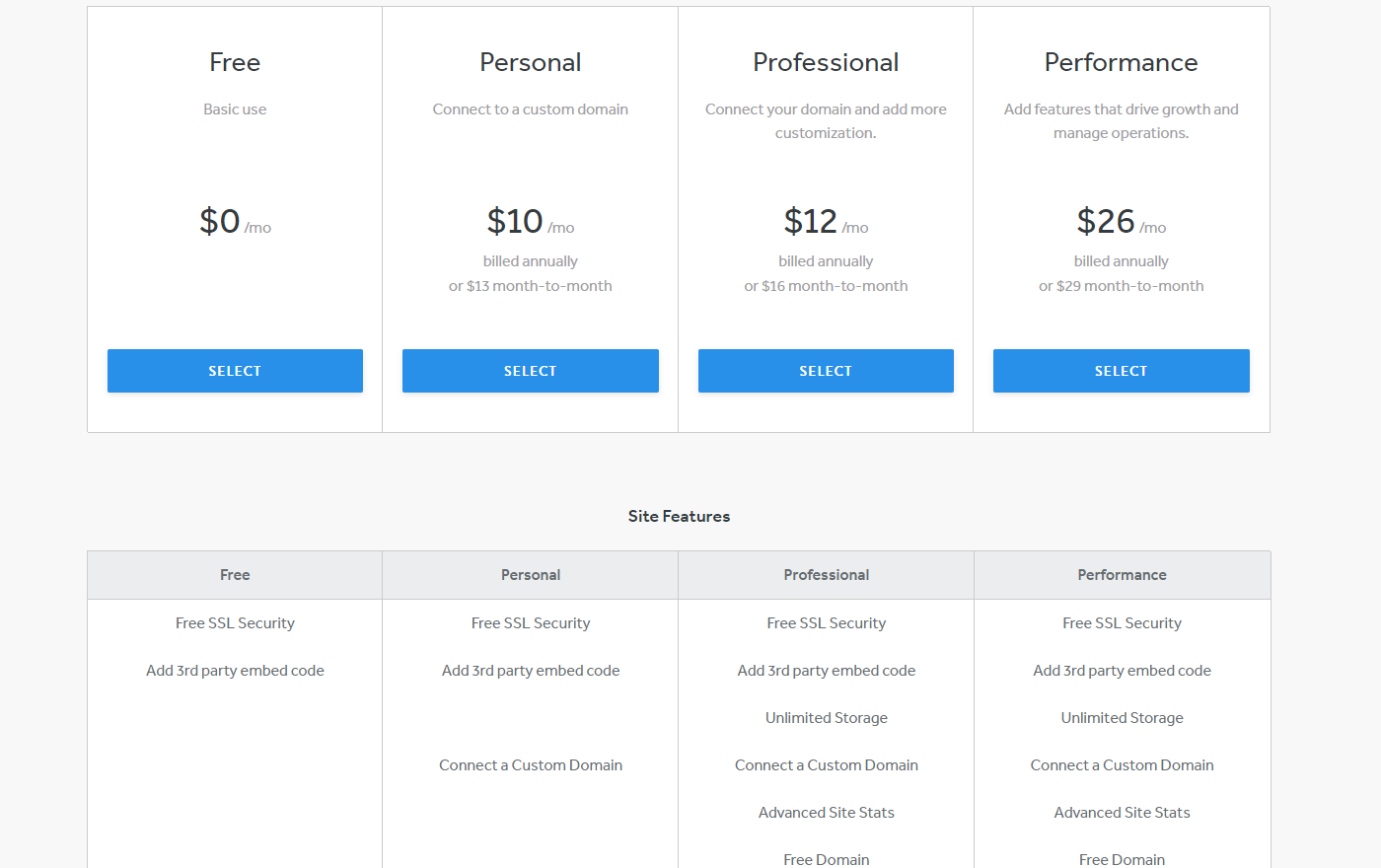 Weebly's plans are as follows:
Free Plan: $0/Month: This plan lets you build a free website. You get SSL security and the ability to add third-party embed code. This plan also comes with eCommerce features to help you start selling products online, including shopping cart, unlimited items, inventory management, coupons, and more. You can reach support via chat, email, and community forum.
Personal Plan: $10/Month: This plan has all the site features, eCommerce tools, and marketing features in the free plan. You can also connect a custom domain and sell digital goods. You get access to shipping labels and a shipping calculator, as well as advanced SEO tools and pop-up notifications.
Professional Plan: $12/Month: The Professional plan has everything in the Personal plan + a few additional features to add more customization to your website. You can remove Square ads and you also get unlimited storage, advanced website statistics, and a free domain with any annual plan. Other features include password protection, and you get phone support.
Performance Plan: $25/Month: This plan has everything in the Professional plan. It also includes the ability to accept payments through PayPal, Item Reviews, and advanced eCommerce insights. Users on this plan get priority support.
Wix has a free plan that comes with ads. You can pay for special features as they become necessary. The platform has multiple pricing tiers which make it easy to find the right plan to fit your needs. You can choose accordingly so you don't end up paying for features you don't use.
In comparison, Weebly has fewer pricing tiers but it offers a great free website builder with an impressive number of features that you won't get with Wix's free plan, including eCommerce tools, email support, and live chat support.
Final Thoughts
It's clear to see that both Wix and Weebly bring a lot to the table. Your decision to choose one over the other will depend on whether you want cheap or versatile.
Both platforms offer free tiers which means you can create a basic site at no cost. But, if you plan to grow your site in the future, you'll need to upgrade to a premium plan on either platform to get the features you need.
Choose Weebly if you want the cheaper alternative. The site builder has a free plan and is ideal for personal and small business websites. Integration with Square strengthens Weebly's ability to provide robust features such as a powerful mobile app, advanced eCommerce functionality, and more.
However, if you want to create a website for a larger business, you will be better-served using a platform like Wix which has a lot of high-end features for managing large websites, such as a flexible website builder, strong customization features, built-in marketing tools, and robust third-party integrations.
If you still aren't sure which platform is right for you, you may want to consider reading about other Wix Alternatives.
Other Comparisons You May Enjoy