Choosing the right website builder is a crucial decision for any business owner looking to establish an online presence. Two popular options are Site123 and Wix – but which one is the better choice for your needs?
In this comprehensive Site123 vs Wix comparison, we evaluate both platforms across key website creation criteria like ease of use, design capabilities, features, performance, support, pricing, reputation, and more.
Our goal is to simplify the website builder selection process so you can focus on growing your company, not worrying about technology. Let's dive in!
1. Understanding the Basics
Wix launched in 2006 and was founded by Avishai Abrahami, Nadav Abrahami and Giora Kaplan. It is one of the most widely used website builders globally, with over 200 million users across 190 countries. Wix has a strong market presence and currently powers over 10% of all websites on the internet.
Site123 started in 2010 and was created by the company Wix. It is a more lightweight and pared down website builder meant for small businesses and online stores. Site123 has over 1 million users but significantly trails Wix in market share and popularity.
Wix has an active community and user forum with over 1 million members. Site123 doesn't have its own user forum, but users can access Wix's community for support.
In summary, Wix is the dominant player between these two platforms. It has been around longer, has far more users and websites powered by its technology. Site123 serves a niche as a simpler alternative to Wix, but doesn't have the same reach or market penetration.
2. Ease of Use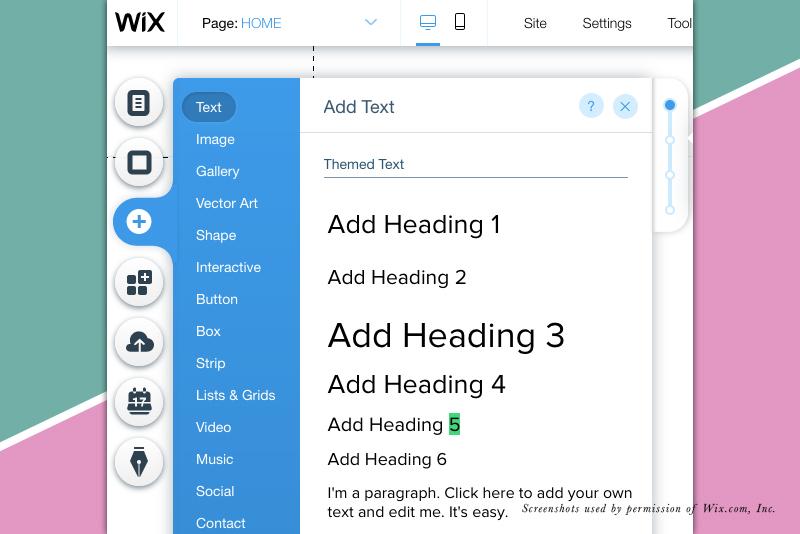 Wix has a modern, visually appealing user interface. The dashboard uses large icons, clean fonts and provides intuitive access to key features. This makes the platform inviting for beginners. Wix uses a drag-and-drop editor that allows users to add and customize elements by dragging them onto the page. No coding expertise is required.
The editor has a lot of depth in terms of options and customizations. This can create a learning curve for some users. However, Wix provides ample documentation, support articles, video tutorials and webinars to help users get up to speed. New users may need to spend some time learning the platform before feeling fully comfortable.
Overall, Wix offers a positive user experience. The editor is responsive and makes updating sites fast and simple in most cases. Some more complex actions like modifying mobile views or connecting certain applications can be tricky until you gain experience. But Wix has the best user experience among website builders overall.
Site123 focuses on simplicity in its interface and editor. The dashboard is clean and focuses only on key options like editing your pages, blog, contacts, and store. This makes the platform very straightforward for novices to start using quickly.
The editor uses preset templates, modules and blocks to build pages. It is simpler compared to Wix but less flexible. Users can't drag and drop elements anywhere or have the same granular control. This makes Site123 better suited for basic websites. Complex or highly customized designs are harder to achieve.
Learning Site123 is quicker than Wix, especially for users with minimal technical skill. Most common tasks are self-explanatory or easy to implement through the templates. But users may feel constrained at times by the lack of control compared to Wix's open editor.
Overall, Site123 simplifies the website building process but reduces options in the process. It is easier to use at a basic level but less capable for advanced users.
Winner: Wix
Wix wins for ease of use due to its balance of power and simplicity. While Site123 is simpler for complete beginners, Wix provides an excellent user experience with more room to grow. Wix's interface is still inviting for novices but also accommodates advanced needs.
3. Design and Customization
Wix provides hundreds of professionally designed templates to choose from. There are options for all types of businesses, interests and aesthetics. Users can browse by category to find something suitable. The template selection makes it easy to get started with a polished design.
The platform also has artificial design intelligence, Wix ADI, to create your site for you and provide you with personalized recommendations to optimize your new site for search.
Once you select a template, Wix allows for extensive customization. You can modify colors, fonts, layouts, add/remove elements, and more. The drag-and-drop editor gives you control over each element's position. Advanced users can also edit HTML and CSS code. This flexibility makes it possible to create highly unique designs.
For mobile, Wix automatically optimizes sites for smartphones and tablets. You can preview mobile views while building and make adjustments. Unique mobile layouts can also be created if desired. Wix sites work well across mobile devices.
Site123 has around 100 ready-made templates focused on common business types like services, retail, portfolios, blogs, etc. While not as robust as Wix, there are professional designs for most use cases. The templates make starting out easy design-wise.
Customizing templates is more limited compared to Wix. You can change colors, fonts, add modules/blocks and edit some elements. But sections can't be freely rearranged or removed. Options are streamlined for simplicity, making major design changes harder.
Site123 sites are responsive for mobile by default. You can preview the mobile view and make minor tweaks like text size or layout spacing. But there is less control compared to Wix regarding creating totally separate mobile pages.
Winner: Wix
Wix wins for design and customization because it provides greater flexibility no matter your skill level. Site123's simplification makes elaborate customizations difficult. Wix enables both beginners and experts to realize their design vision.
4. Features and Functionality
Blogging Tools
Wix provides an integrated blog as part of its website builder. Adding a blog only takes a few clicks. Wix blogs support features like post scheduling, tagging, categories, author attribution and comment moderation.
Creating posts is simple with Wix's editor. You can format text, add images/videos, customize layouts and more. The editor makes it easy to craft polished blog posts without coding.
Wix has SEO tools for blogs such as editable URLs, metadata, ALT text automation and built-in image compression. These help optimize blog content for search engines.
There are hundreds of blog page templates to choose from. You can match the design to your brand style. Wix also supports custom post templates to save time.
For media, Wix allows embedding videos, audio, PDFs, and more into blog posts. Images can be uploaded directly or imported from stock libraries. This diversity of media options enhances blog content.
In terms of analytics, Wix provides insights into visits, views, readership location, and traffic sources for your blog. The reports help optimize your approach over time.
Overall, Wix gives you a full suite of blogging capabilities without needing other tools or plugins.
Site123 has a simple built-in blogging engine. Adding a blog is easy but configuring settings is limited compared to Wix.
The editor for making posts is more restrictive than Wix's offering. Your formatting, layout and media options are reduced. It is geared more towards basic text-focused blogs.
SEO options are also light. You can customize URL slugs but there is little else for search optimization. No built-in image compression or metadata support.
Site123 provides a handful of templates for blog pages. There are fewer choices compared to Wix. Customizing the templates is also constrained.
Embedding media in posts is supported but somewhat limited in terms of available file types and sizes. Image uploads are restricted to Site123's library. Stock photos require a paid plan.
Analytics for Site123 blogs include views and visitors. But it lacks helpful data on traffic sources, location and reader engagement.
For simple blogging needs, Site123 delivers adequate capabilities. However, advanced users may find it lacking.
Winner: Wix
Wix vs Site123 – Which has better blogging capabilities? Wix is the clear winner for blogging features. It provides far more capabilities out of the box, better customization, and optimization for search and engagement. Site123 blogs are usable but lack the depth and flexibility that Wix offers.
E-commerce Capabilities
Wix offers a full-featured online store as part of its website builder. Adding a store takes just a few clicks and Wix provides numerous ecommerce templates to choose from. You can sell physical and digital products on your site.
Wix stores support unlimited products, custom categories, discounts, coupons, taxes, and shipping rates. Detailed product pages can be built using the editor, showcasing images, variants, descriptions, and more.
For payment processing, Wix integrates with Stripe, PayPal, Square, and over 10 other gateways. It also provides its own payment processing solution. Sellers can easily accept credit cards and manage transactions.
Wix delivers robust analytics for understanding sales performance. Store owners can track metrics like conversion rate, top products, referrals and revenue in detail.
On the marketing side, Wix enables promotional tools like cross-sells, upsells, abandoned cart automation, and email campaigns. SEO options like custom URLs and alt text help drive traffic.
Wix also offers a mobile app for managing your store on the go. Inventory, orders, and products can be handled from your smartphone.
With its combination of design flexibility, built-in promotion and detailed analytics, Wix provides a complete ecommerce solution.
Site123 provides simple online store capabilities catered to small sellers. Adding a store is straightforward but customizing it is limited.
Product options are capped at 200 SKUs for free plans. Paid plans allow more but are far below Wix's unlimited products. Discount tools, coupons, and taxes are available.
For payment processing, Site123 integrates with Stripe and PayPal primarily. It does not offer much choice beyond these two, limiting flexibility.
Analytics for stores cover sales, orders, and views. However, they lack deeper metrics on traffic sources, conversion optimization, and other insights compared to Wix.
Email and social media marketing tools are essentially non-existent on Site123. There are also no built-in recommendations or upsells to boost sales.
Site123's ecommerce solution is very simple. For larger stores or those wanting customization and marketing tools, it falls short versus a platform like Wix.
Winner: Wix
Wix is the clear winner for e-commerce capabilities based on its combination of design flexibility, expansive features, and built-in marketing tools. Site123 provides only basic store functionality sufficient for very small sellers but not ideal for larger stores. If you want a professional looking website with features to boost customer satisfaction, Wix is the right pick for you.
SEO Tools
Wix provides several built-in SEO features to help optimize sites. Pages can be configured with custom URLs, title tags, meta descriptions, and open graph tags for better indexing.
Alt text can be automatically added to images to improve rankings. Wix also automatically compresses images to enable faster load times.
An SEO wizard analyzes sites and suggests areas for improvement like fixing broken links or duplicative content issues. Wix also integrates with Google Search Console for performance insights.
Blog posts come with configurable SEO settings as well for optimization. Overall, Wix sites are search-friendly by default with the available tools.
However, Wix does limit some SEO flexibility. For example, sites must use Wix domains instead of connecting external domains. Structured data markup is also lacking. However, there are workarounds and third-party integrations that can fill gaps.
Compared to Wix, Site123 has minimal built-in SEO functionality. Page titles and meta descriptions can be customized, but advanced options are lacking.
There is no image alt text generation, built-in compression, or SEO auditing tool. Site123 also does not integrate with Search Console. Users are on their own for technical SEO.
The good news is Site123 does allow connecting third-party domains. This provides more flexibility with URLs and site structure versus Wix sites using subdomain addresses.
But overall, Site123 essentially provides just basic on-page optimization capabilities. Users need to leverage external tools and plugins to fully optimize Site123 sites for search engines.
Winner: Wix
Wix and Site123 both offer basic SEO tools. However, Wix is the winner thanks to its additional built-in capabilities like customizable metadata, image compression, alt text generation, and SEO auditing. Site123 has little to offer out of the box. While its SEO features are beginner-friendly, it requires third-party solutions.
Integrations
Wix offers one of the most extensive app marketplaces among website builders with over 500 apps and integrations. These add advanced capabilities without needing code.
For e-commerce, Wix integrates with shipping providers like USPS and FedEx to automate delivery and tracking. Accounting tools like QuickBooks sync store data. Amazon, eBay, and POS systems can integrate with Wix stores as well.
For email marketing, Wix partners with MailChimp, ConvertKit, and more. Appointments can be scheduled via Calendly or Acuity. Live chat can be added through Zendesk or Drift apps.
Wix also integrates with cloud storage like Google Drive, Dropbox and OneDrive to manage site files. Content can be scheduled and published from WordPress. Payment platforms like PayPal, Stripe and Square are supported.
The App Market is constantly growing with new additions. Wix makes it easy to connect both business-critical platforms and helpful productivity tools.
Compared to Wix, integrations are a weak point for Site123. Its app market contains only around 50 add-ons. Many popular services are not supported natively.
For shipping, Site123 only integrates with Shippo. No native support for USPS, FedEx, or other major carriers. Accounting and POS system integrations are also lacking.
Email marketing apps like MailChimp can be embedded via custom code workarounds but are not natively integrated. Site123 also lacks integrations for live chat, appointment scheduling and content plugins.
Supported integrations include PayPal, Stripe, and some mining hosting platforms like Google Cloud and MS Azure. But overall, options are quite limited.
Unless they provide custom code support, most users will find the apps they need are not available in Site123's small marketplace. This can be limiting.
Winner: Wix
Wix is the clear winner for its huge library of integrations for important business tools. Site123 has only basic connections available, forcing reliance on custom code in many cases.
Analytics and Reporting
Wix provides detailed analytics and reports within its platform. Core reports cover site visits, unique visitors, referrals, form submissions, and more. Data can be segmented by time frame, traffic source, and other filters.
For ecommerce stores, Wix Analytics track sales, revenue, orders, conversion rate, top products, and other metrics. Cohort analysis shows how customers are interacting over time.
Wix users can also integrate Google Analytics for more advanced insights. But Wix Analytics offers a full snapshot for most owners without needing to connect to Google.
Beyond the main reports, Wix provides an SEO tool that checks indexed pages, broken links, page speed, and optimizations. Email marketing campaigns can also be analyzed for open rates, clicks, and unsubscribes.
Overall, Wix bundles excellent analytics and reporting to inform strategy without relying on third-party platforms.
Site123 provides minimal analytics focused on visits, visitors, repeat visitors, and views for pages and blog posts. This gives a surface-level snapshot but lacks deeper metrics.
E-commerce reports are also light, covering sales volume, orders, and top products. But there are no conversion rates, cohorts, or detailed segmenting options available out of the box.
To get expanded analytics, Site123 users will need to integrate a platform like Google Analytics. This adds complexity compared to Wix's integrated advanced reporting.
For SEO and email marketing, Site123 essentially provides no usable reports. Third-party solutions would be required for insights into those areas.
In summary, Site123 analytics are very bare bones compared to what Wix offers natively.
Winner: Wix
Wix wins handily for its detailed integrated analytics spanning site traffic, conversions, sales, email marketing, and more. Site123 analytics are extremely limited unless you integrate third-party platforms.
5. Website Performance
Website Speed and Load Times
Wix uses a global CDN and optimizes images to enable fast load times across sites. Caching also stores elements to improve performance. Wix builds speed into its core platform.
The average Wix site loads in 2-3 seconds according to independent testing. Wix provides page speed tools to identify areas for improvement like large images. Users can also enable caching rules and deferred loading to boost speed.
One speed advantage Wix has is utilizing cookieless domains for visitors. This reduces HTTP requests and speeds up rendering. Code is also minified automatically to optimize loading.
Wix generally enables sites to achieve strong Google PageSpeed Insights scores out of the box. But users can tweak settings like image compression and CSS/JS delivery to further improve speed.
Site123 does not disclose much detail about speed optimization features built into its platform. Based on testing, the average Site123 page takes 4+ seconds to load.
Limited speed settings can be configured, like enabling compression and browser caching. But robust tools seen in Wix for optimizing images, CSS/JS delivery, etc. are missing.
Site123 uses cookie-based sessions that can hamper performance versus Wix's cookieless approach. There is also no integrated content delivery network.
Achieving fast page load times appears more challenging with Site123. Users may need to manually optimize media and enable CDNs via third parties to match speeds seen on Wix.
Winner: Wix
Wix wins for faster average load times thanks to automatic built-in optimizations that Site123 lacks. Wix also provides more speed customization tools for users to improve performance.
Website Reliability and Uptime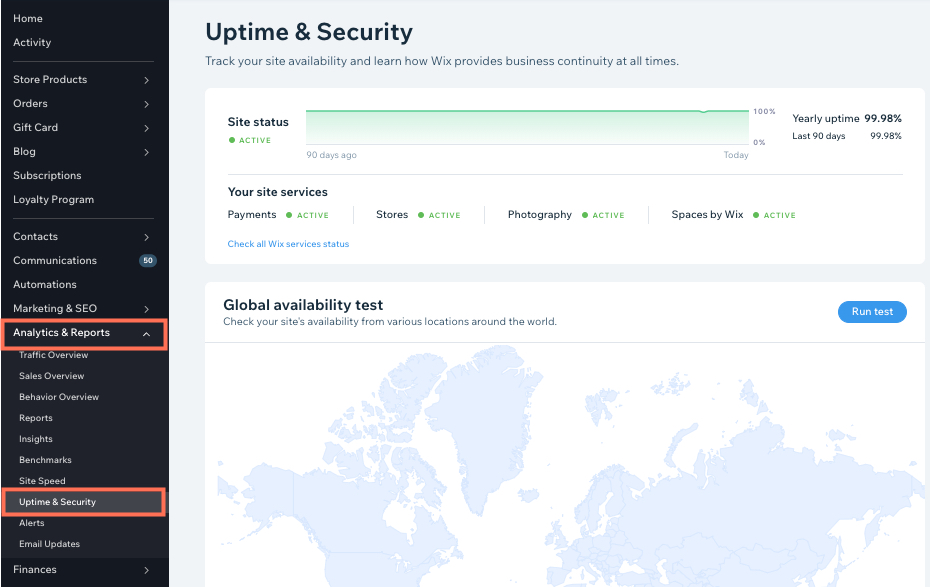 Wix guarantees 99.9% uptime for all customer sites. This is considered the industry standard for web hosting services. Wix uses AWS infrastructure across multiple availability zones to deliver reliable service.
Independent uptime monitoring shows Wix consistently hitting 99.9% or better over months. Outages are very rare thanks to the distributed infrastructure.
Wix also provides automatic daily backups of all sites. If there is ever data loss, sites can be restored to a recent previous version. Customers can request backups as well.
With its SLA, global infrastructure, and backup capabilities, Wix offers excellent reliability for a website builder. Sites very rarely go down unless in cases of extreme network outages.
Site123 does not provide an official SLA or uptime guarantee for its free plans. Paid plans come with a 99.9% uptime commitment but this is not clearly reported on like Wix.
Independent monitoring shows Site123 uptime averaging around 99.5-99.7% rather than the 99.9% seen with Wix. Outages are less frequent but slightly more likely.
Backups are provided on paid plans but are limited to free accounts. Site123 does use multiple data centers but lacks insight into infrastructure comparable to Wix.
Overall, Site123 appears reliable but falls short of Wix in terms of guaranteed uptime, actual monitored performance, and transparency about its backend infrastructure.
Winner: Wix
Wix emerges as the winner for better uptime and reliability due to its SLA, public performance stats, and proven infrastructure. Site123 trails when it comes to guarantees, backups, and monitoring uptime.
6. Customer Support and Community
Wix provides 24/7 customer support via live chat, email, and phone. Average wait times are under 5 minutes for chat support. Wix also offers detailed documentation, hundreds of support articles, and video tutorials.
The Wix user forum has over 1 million members who can help answer questions. Popular topics have detailed discussion threads from both Wix staff and other users.
The Wix support team holds free webinars and has an entire education platform at Wix Academy with courses on web design, marketing and ecommerce. These make learning the platform very accessible.
There are also active Wix user groups and communities on Facebook such as "Wix Support & Help" with over 45,000 members.
Overall, Wix dedicates tremendous resources to customer support through varied channels, robust education, and community engagement.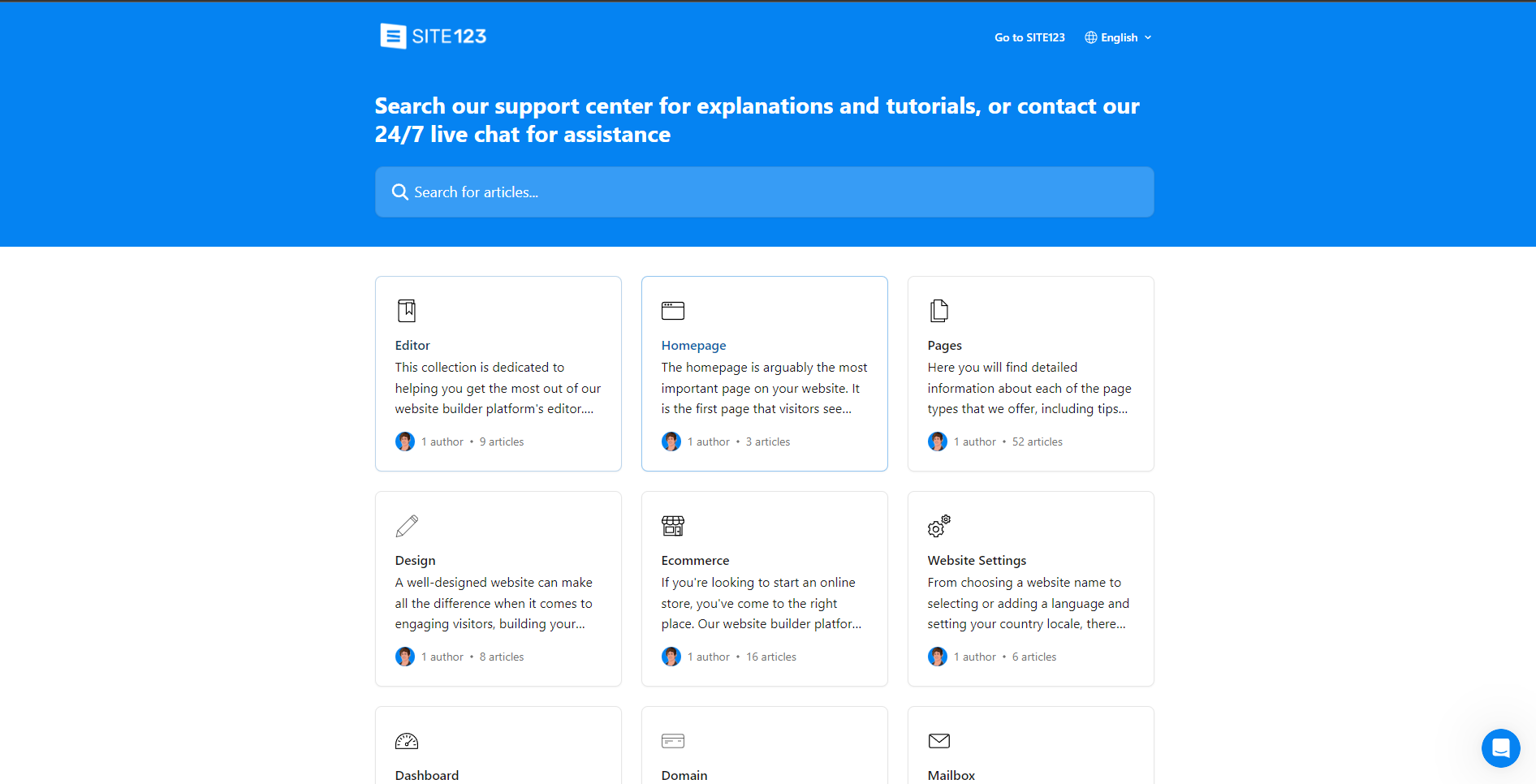 Site123 provides email and chat support 24/7, but the phone is limited to business hours. Chat wait times average 10-15 minutes. Tickets can take 1-2 days for responses.
The knowledge base contains hundreds of articles but lacks the depth of Wix's content. Video tutorials are also limited to covering just the basics. There are no free webinars or courses.
As Site123 is owned by Wix, users can leverage Wix's forum for questions. But there is no native Site123 community or user forum.
Relevant Facebook groups like "Site123 Website Creators" have under 3,000 members, showing lower engagement than Wix communities.
In summary, Site123 devotes less focus to customer education and community compared to Wix. Support options are decent but not as robust.
Winner: Wix
Wix wins for their unparalleled commitment to great support and education through varied channels. Site123 has decent but much lighter options comparatively for learning the platform and getting help.
7. Pricing
Wix has four different plans to offer, including a free website builder with ad support and up to 3GB of storage. Paid plans start at $16/month for 10GB storage and a free domain.
The $22 business unlimited plan removes Wix ads and allows you to add a custom domain and use the platform's free stock images. The $27 plan adds e-commerce features like shopping carts, contact forms, Business VIP features, and unlimited bandwidth. Full business and enterprise plans are also available with more capabilities.
All paid Wix plans offer a free domain for 1 year. Add-ons like extra storage, SSL certificates, shipping labels, and other tools can be purchased individually as needed.
Wix has frequent sales around holidays that discount plans 30-50% off for the first year. Overall, Wix offers a nice balance of free entry and reasonably priced upgrades for the best value for money.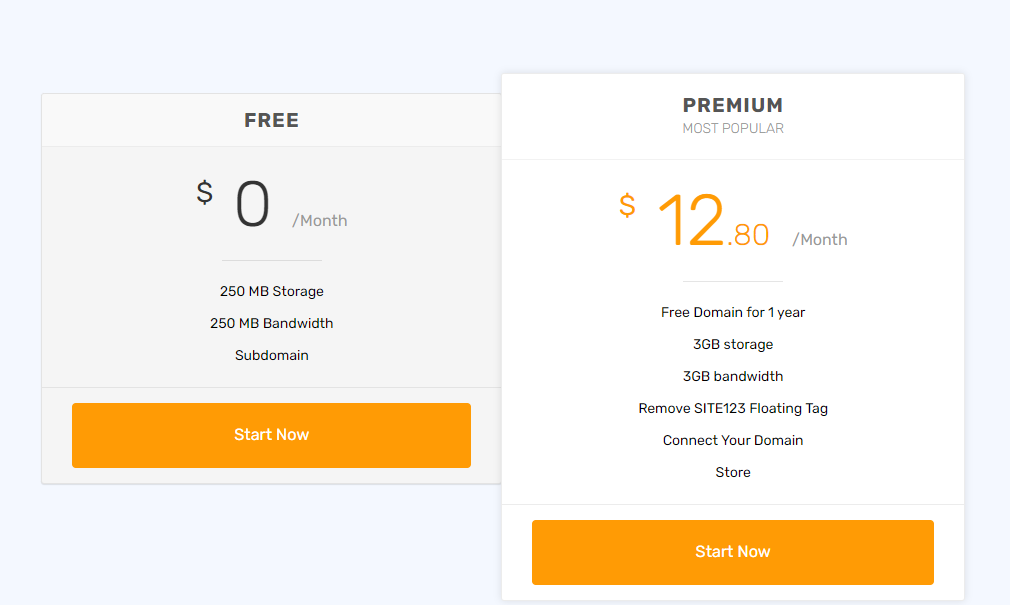 Site123's free plan includes 500MB bandwidth, basic e-commerce, and Site123 subdomain. No storage amount is disclosed. Removing ads costs $6/month.
The paid upgrade costs $12.80 for additional bandwidth and priority support.
Add-ons for additional storage, email services, and other features must be purchased on top of core plans.
Overall Site123 is competitively priced but offers less value in their base plans compared to Wix. Extras cost more and fewer freebies are included.
Winner: Wix
Comparing Wix and Site123 shows that Wix wins for providing better value and extras in its base plans. Site123 is affordable but nickels and dimes are more for add-ons. Wix's regular discounts are also a nice perk. Compared to Wix, Squarespace, and other leaders in the website-building space, Site123 lacks the advanced functionality and design options required to build growing sites.
8. Reviews and Reputation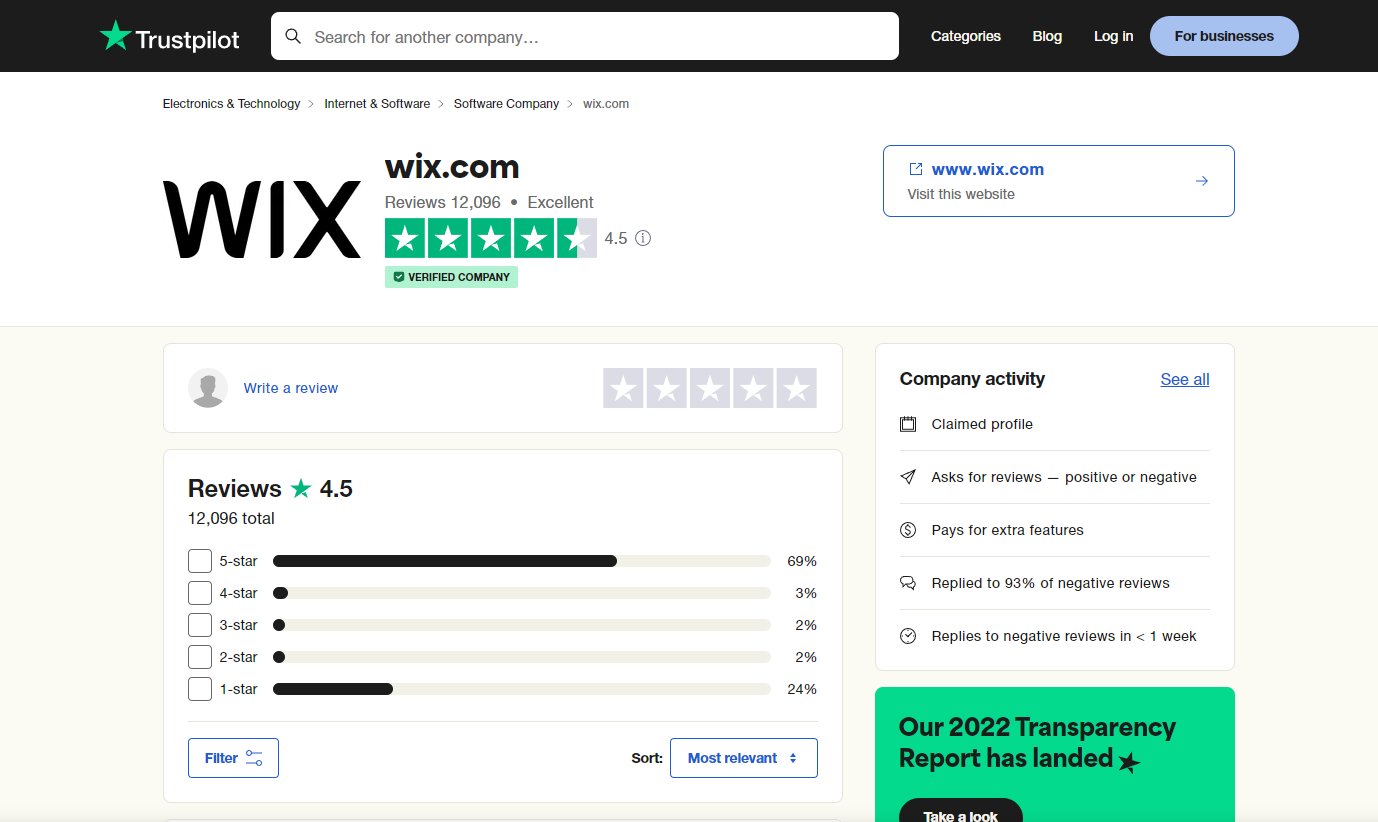 Wix earns strong reviews for its versatile website builder and performance. Users praise the modern templates, drag-and-drop editor, and wealth of apps and integrations.
Pros frequently mentioned include the intuitive interface, built-in SEO tools, reliable uptime, and excellent support resources. The ability to make professional sites without coding also attracts many.
Negative feedback focuses on the learning curve for advanced features, occasional glitches in the editor, and limitations for hardcore developers. Some also feel Wix is overly focused on pushing paid upgrades.
But most reviews agree Wix is a top choice for user-friendly website building with excellent templates and features. The positives appear to outweigh the negatives for most.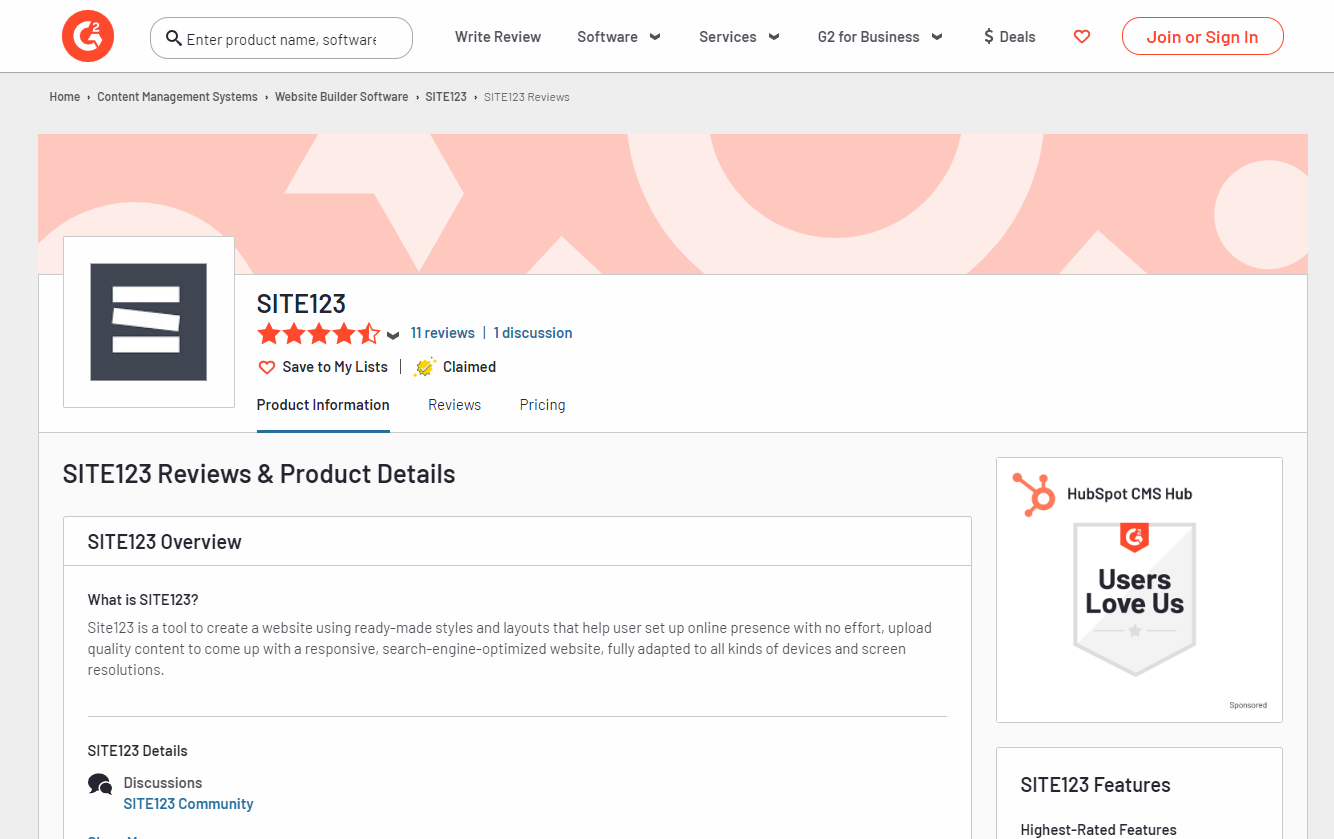 Site123 earns mixed reviews for its simplicity but lack of depth compared to rivals. Users praise the ease of getting started but feel limited over time.
Positive feedback centers around Site123's straightforward editor, nice templates, and affordable pricing. Users with basic website needs tend to be satisfied.
Critical reviews focus on the lack of features and integrations compared to other builders. Complaints of steeper learning curves for advanced customization are also common.
Overall, Site123 satisfies those wanting an entry-level experience. But many reviews suggest upgrading to Wix or other platforms as needs grow beyond basics.
Winner: Wix
Wix wins based on more consistently positive feedback for its balance of power and ease of use. Site123's reviews show users can outgrow its simplicity quickly compared to Wix.
9. FAQ's
What is the maximum storage on a free Wix plan?

Wix provides up to 3GB of storage on its free plan. Paid plans provide 10GB to unlimited storage.

Does Wix offer free domains?

Yes, all Wix paid plans include one free domain for the first year. You must renew the domain annually.

Can I use my own domain on Wix?

Yes, you can connect any domain you purchase to the Wix site by changing the nameservers and DNS settings.

Does Wix allow me to own my site content?

Yes, you retain full ownership of your content published on a Wix site, you do not turn it over to Wix.
What is the maximum storage on a free Site123 plan?

Site123 does not disclose exact free storage limits, but it is under 1GB.

Does Site123 offer free domains?

Yes, some paid Site123 plans include one free domain for the first year which must be renewed.

Can I use my own domain on Site123?

Yes, you can connect custom domains purchased elsewhere to your Site123 site.

Does Site123 allow me to own my site content?

Yes, you maintain full ownership of content published on Site123 and do not hand over rights.
Site123 vs Wix – Final Thoughts
Choose Wix if…
Wix is the best choice for users wanting a robust, full-featured website builder to create an online presence. It's great for creative professionals, agencies, online stores, and bloggers needing strong customization tools and built-in marketing capabilities. The learning curve is a bit steeper but it pays off long-term.
You can learn more about this website builder by reading my Wix review.
Alternatively, check out how it compares to other site builders:
Site123 is ideal for small business owners, entrepreneurs, artists, and anyone wanting an easy entry into website building. It's straightforward editor and simple process make it great for beginners focused on getting online quickly and easily. Just know it lacks the growth potential of Wix.
Choosing the right platform is crucial based on your specific needs and stage of growth. Neither Wix nor Site123 is an absolute "best" – your goals determine which solution fits you. Please ask any questions in the comments and we're happy to provide personalized advice to help find the perfect platform for your website!