When starting a business, having the right website platform is crucial for success in today's digital world. Strikingly and Squarespace are two popular options, but deciding between them can be challenging.
This in-depth comparison examines the key factors business owners should consider when choosing between these website builders. We will look at market position, ease of use, design capabilities, features, performance, support, pricing, and reputation for both Strikingly and Squarespace. Understanding the strengths and weaknesses of each platform across these categories will help you determine which is the correct website builder for your business goals and budget.
With the right platform, you can have a website that effectively communicates your brand, engages your audience, and supports your sales and growth objectives. The wrong choice could lead to frustrations, limitations, and extra costs down the road.
1. Understanding the Basics
Strikingly launched in 2012 by founders David Chen, Dafeng Guo, and Teng Bao in Shanghai, China. It quickly gained popularity for its simple drag-and-drop website builder. Strikingly aims to make website creation fast and intuitive for small businesses and entrepreneurs. It currently has over 2 million users worldwide.
Squarespace entered the website builder market in 2004. The company was founded by Anthony Casalena in a college dorm room. Based in NYC, Squarespace emphasizes beautiful design and powerful e-commerce features. It reports over 3 million websites on its platform from customers in over 180 countries.
Both Strikingly and Squarespace have active Facebook communities where users ask questions and share advice. Strikingly users can join the Strikingly Website Users group. For Squarespace, check out the Squarespace Entrepreneurs group. These groups provide valuable support and inspiration.
The market for website builders is competitive. But Strikingly and Squarespace stand out for their ease of use and features tailored to small businesses. Their growth demonstrates the demand for intuitive platforms that help entrepreneurs quickly create effective online presences.
2. Ease of Use
Strikingly aims to provide an intuitive website builder for entrepreneurs and small businesses. The interface features a simple drag-and-drop builder with premade sections and elements. Users can easily drag sections like "About Us" or "Contact" onto their page and customize the content.
The builder is straightforward for beginners to start with. New users are walked through choosing a template, customizing sections, and publishing their site. Detailed help articles and tutorials provide guidance for any unfamiliar tasks. The interface is clean and well-organized into clear sections like Pages, Design, and Settings.
Overall, Strikingly offers a very user-friendly experience. The learning curve is minimal, especially for users with no coding skills. The platform emphasizes simplicity and ease for business users focused on their content and brand, not web design.
Squarespace provides a powerful but more complex site builder to create and alter web pages. It offers extensive customization options accessed through a layered interface. Users can tweak site-wide layouts, individual page designs, element spacing, and advanced CSS/HTML code.
The breadth of options can overwhelm beginners. New users face a steeper learning curve in navigating the interface and understanding all the settings. The builder is less intuitive at first compared to Strikingly's drag-and-drop simplicity.
On the plus side, seasoned users have granular control over design details from fonts to animations. Squarespace templates offer more powerful customization for users willing to learn its advanced interface. But overall, Strikingly is more beginner-friendly.
Strikingly wins for best ease of use. The Strikingly website builder has a drag-and-drop editor that is extremely intuitive for website creation. The clean interface and simple options lower the barrier for users new to building a site. Strikingly speeds up the process of getting online fast, which makes it perfect for beginners and small business owners.
3. Design and Customization
Strikingly offers beautiful templates optimized for different industries like restaurants, fashion, and travel. Users can browse and preview templates to find ones that match their brand. The template library is updated regularly with on-trend designs.
While templates or landing pages cannot be edited, users can customize colors, fonts, and images within preset sections. Advanced users can also edit code to go beyond the builder's options. However, customization is more limited compared to other builders.
All Strikingly sites are mobile-responsive. The templates are reformatted for optimal viewing on phones and tablets. Extra features like contact forms and alternate navigation menus for mobile are also available.
Squarespace is renowned for its gallery of elegant, professional templates. Over 100 templates suit businesses from photography to events to retail. The sophisticated designs and quality are standouts.
Users have fine-grained control over customizing templates. The Site Styles editor tweaks fonts, colors, and branding site-wide. Advanced options even allow CSS/JavaScript editing. Squarespace offers far more design flexibility than Strikingly.
Strong mobile optimization is another advantage. Templates resize smoothly for mobile devices. Design tweaks can also be applied for mobile vs. desktop. Squarespace sets the standard for multi-device customization.
Squarespace wins for design and customization. Its beautiful templates combined with powerful customization tools enable users to craft unique, stylish sites. While Strikingly offers some adjustments, Squarespace provides unparalleled fine-grained control over site design and mobile experience.
4. Features and Functionality
Blogging Tools
Strikingly provides basic blogging capabilities for users to share articles and news. The platform allows you to create blog posts with text, images, videos, and files. Posts can be categorized into different topics.
However, Strikingly lacks more advanced features like blog templates, comment moderation, RSS feeds, and search optimization. The blogging functionality is designed for simple posting rather than running a full-content publication site.
Posts cannot be scheduled or integrated with email marketing tools either. Overall, Strikingly offers only lightweight blogging that supports posting short updates but not manage an extensive blog.
Squarespace is built for powerful blogging and content management. It provides features for managing multi-author blogs with hundreds of posts.
Robust capabilities include categorization with tagging, author management, comment moderation, RSS feed integration, social sharing buttons, and Disqus comments. SEO features like metadata customization and sitemaps help optimize blog content.
Posts can also be scheduled with built-in or third-party automation tools. Email newsletter and campaign integration is seamless for connecting with audiences. In short, Squarespace provides enterprise-level tools for content marketing and blogging.
Squarespace clearly wins for blogging capabilities. Its extensive features support publishing robust content and managing blogs long-term. Strikingly only offers basic blogging suitable for short updates. For running a blog or content operation, Squarespace is the superior platform.
E-commerce Capabilities
Strikingly provides basic e-commerce capabilities for users to sell products and services. It allows creating an online store, adding products/inventory, and setting up payments.
However, it lacks more advanced selling features. There are limited options for customizing product pages and product categories. No native support exists for coupons, discounts, subscriptions, or bulk orders. The checkout process is simple but inflexible.
Strikingly integrates with PayPal for processing payments. But support for other payment gateways is limited. There are also no native tools for managing taxes, shipping, and order fulfillment.
Overall, Strikingly is better suited for simple online ordering rather than full-fledged e-commerce stores. It lacks robust options compared to dedicated commerce platforms.
Squarespace is optimized for building full-featured online stores. It has comprehensive e-commerce features and provides beautiful product page designs and tools to manage inventory and orders.
The platform natively supports coupons, discounts, customer accounts, subscriptions, and abandoned cart recovery. Taxes, shipping rates, and payment gateways integrate seamlessly. Automated order processing and fulfillment are possible.
Squarespace also provides detailed sales, metrics, and inventory reporting. Its commerce capabilities rival dedicated e-commerce solutions. Stores can customize experiences and scale growth over the long term.
In summary, Squarespace enables powerful e-commerce, while Strikingly only facilitates basic sales. For serious online retail, Squarespace is the superior choice.
Squarespace wins for e-commerce capabilities. Its DIY editing interface and native features allow customizable stores that convert visitors to customers. It also offers advanced e-commerce features through third-party integrations. Strikingly lacks the advanced tools needed for flexible, scalable selling. Squarespace is the best fit for growable online retail.
SEO Tools
Strikingly provides basic SEO capabilities to help users improve site visibility. It allows editing page title and meta descriptions for better optimization.
The platform also generates a sitemap to aid search engine crawling. Strikingly sites use structured data markup to enhance listing details.
However, there are limited options for deeper customization. No access is provided to edit site headers, schemas, or HTML code. Few insights are offered into site traffic or keyword performance.
While Strikingly covers SEO basics, it lacks powerful optimization tools more advanced users may want.
Squarespace gives fine-grained control over site optimization features. Users can tweak page titles, meta info, alt text, and other metadata.
Tools are included for search engine sitemaps, traffic analytics, and integrating Google services. Squarespace also provides structured data markup for richer indexing.
For deeper customization, users can directly edit HTML and JavaScript code. The platform offers many options to boost SEO rankings and traffic.
Squarespace also surfaces actionable SEO insights and recommendations to improve optimization further. Overall, it provides robust SEO capabilities for experts and beginners.
Squarespace wins for SEO tools. While Strikingly optimizes sites in basic ways, Squarespace enables detailed customization and insights to elevate search performance. Squarespace gives users more power to improve their site's visibility.
Integrations
Strikingly offers some basic integrations to connect your site with other apps and services. It supports integrating an online store platform like ECWID, as well as Stripe for payments, and Disqus for comments.
Users can also embed content from YouTube, Google Maps, Calendly, and other sites. However, Strikingly lacks native integrations with many popular marketing, sales, and analytics tools.
Connecting Strikingly to email marketing, CRM, live chat, or webinar software would require custom workarounds. The platform's integration options are relatively limited out of the box.
Squarespace features an extensive App Marketplace with hundreds of integrations. It connects natively with email, social media, accounting, analytics, and other business apps.
For example, users can integrate MailChimp, Constant Contact, Google Analytics, Zapier, and Slack. Popular e-commerce integrations include ShipStation, TaxJar, and USPS.
The App Marketplace makes it easy to connect Squarespace sites with critical marketing, sales and operational tools. This saves users time and money versus paying developers for custom integrations.
Squarespace wins for its extensive integrated App Marketplace. Strikingly only offers a handful of native integrations. Squarespace's marketplace provides powerful connections with popular business apps right out of the box.
Analytics and Reporting
Strikingly provides limited analytics capabilities to help users understand their site's performance. Its reporting dashboard tracks basic metrics like visitors, conversions, and traffic sources.
Users can view trended line charts for traffic data. However, the customization of reports is constrained. Strikingly's analytics lack features like goal setting, segmenting users, or comparing date ranges.
There are no options for integrating third-party analytics either. Overall, Strikingly analytics offer a basic overview but lack advanced insights or customization for users wanting more.
Squarespace includes powerful native analytics with customizable reporting. Users get access to visitor demographics, engagement metrics, sales data, and more.
The Analysis suite enables building custom dashboards, segmenting users, and scheduling email reports. Data can be trended over flexible date ranges for comparison.
Squarespace also allows integration of Google Analytics, Heap, and others. This provides expanded insights beyond the built-in analytics. In summary, Squarespace delivers complete analytics for optimizing sites.
Squarespace wins for its robust analytics capabilities versus Strikingly's simpler reporting. Squarespace provides the advanced insights and customization needed for web traffic analysis, split testing, sales funnels, and maximizing conversions.
5. Website Performance
Website Speed and Load Times
Strikingly builds all sites on its optimized infrastructure for fast performance. The platform uses content delivery networks and caching to accelerate page loads.
Strikingly sites average load times under 2 seconds according to independent testing. The company focuses on maximizing website speed for the best user experience.
However, users have no control over technical optimizations. There are no tools provided for checking site speed or further optimizing performance. Customization options are limited.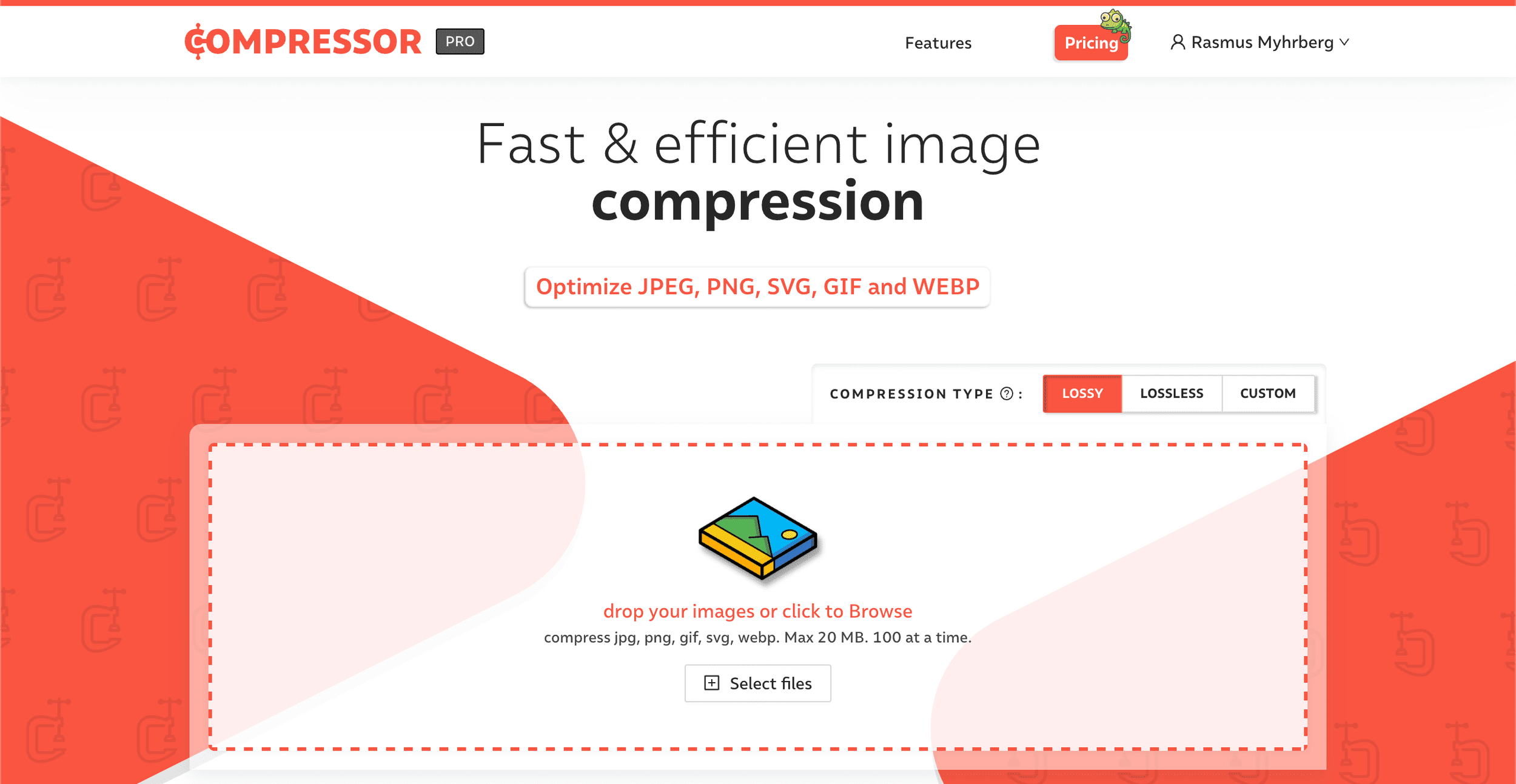 Squarespace enables quality website performance along with custom controls. The platform intelligently caches pages, images, and assets for speed.
Load times depend on site size and traffic but average under 3 seconds. Squarespace also provides performance monitoring tools and tips for optimization.
Developer settings allow adjusting image quality, enabling compression, and more. Users can further tune performance beyond the default setup.
Winner: Tie
Strikingly and Squarespace deliver comparable fast website performance. Both use intelligent caching and infrastructure to accelerate load times. Squarespace offers more performance insights and customization. But the end speed results are excellent on both platforms.
Website Reliability and Uptime
Strikingly guarantees 99.9% uptime for all websites on its platform. Its infrastructure is set up to provide continuous reliability.
The company uses cloud hosting across multiple data centers to minimize downtime risks. Strikingly also offers automatic backups and one-click restores in case of incidents.
However, Strikingly does not provide financial credits if the 99.9% uptime SLA is unmet. There are limited remediations or custom upgrades for users wanting extreme reliability.
Squarespace ensures extremely reliable uptime exceeding 99.9% for all customer sites. The platform leverages multiple data centers and redundancies.
In the rare case of downtime, Squarespace provides financial credits based on the length of the outage. Users can request account credits to offset any losses.
For mission-critical needs, Squarespace offers dedicated IPs and managed infrastructure upgrades. Custom packages with 100% uptime guarantees are available.
Squarespace wins for providing rock-solid reliability plus financial remedies for any downtime. Strikingly uptime is excellent but lacks custom options or credits. For users where uptime is utterly critical, Squarespace delivers.
6. Customer Support and Community
Strikingly provides email support for customer issues and questions. Users can submit support tickets through the platform's help desk.
Response times are typically 1 business day. Support is limited to weekdays, however. No live chat or phone options exist which can be frustrating for urgent needs.
For community assistance, Strikingly users can join the Strikingly Users Facebook group. Members share advice and best practices for building sites. But official support is still limited.
Squarespace offers 24/7 customer support via live chat, email, and phone. Users can get assistance around the clock including weekends and holidays.
Response times are very fast, usually under an hour even for off-peak times. Squarespace also monitors social channels for customers needing help.
For community, Squarespace users can join the Official Squarespace Community forum to discuss the platform. Squarespace staff actively engage in the forums.
Both Squarespace and Strikingly have convenient customer assistance choices, but Squarespace wins for superior support resources. Its 24/7 live customer assistance far surpasses Strikingly's more limited weekday-only options. Combined with vibrant forums, Squarespace ensures users have help when needed.
7. Pricing
Strikingly offers 3 paid plans ranging from $8 to $49 per month (billed yearly). The low-end Limited plan supports core website building. Pro plans add e-commerce features, custom domains, and priority support.
A free trial lets users test Strikingly with limited features. Overall pricing is affordable for small businesses and startups. You can create unlimited free sites, but you'll require add-ons for greater capabilities.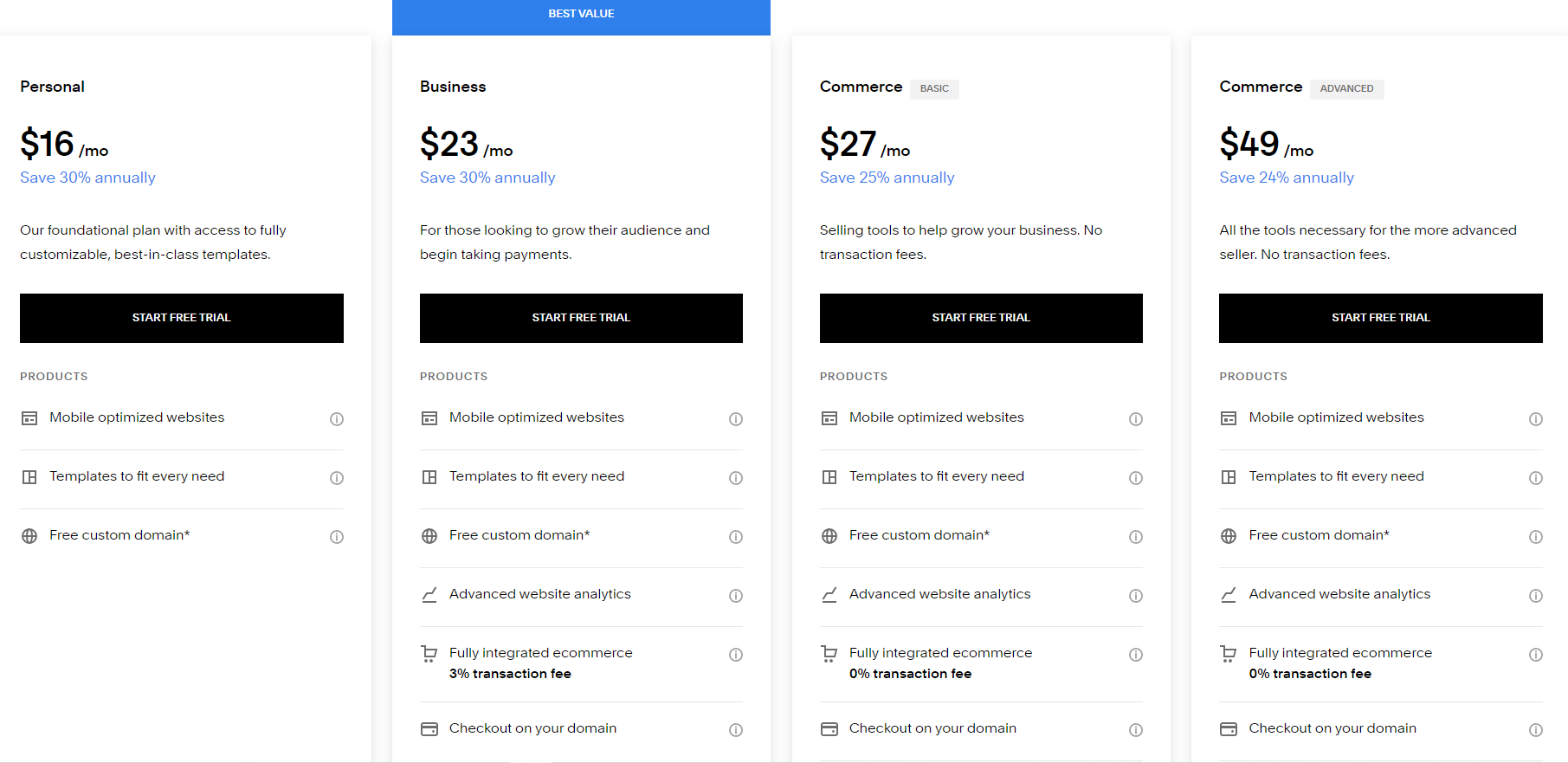 Squarespace provides flexible plans from $16 to $49 per month. Users can pay monthly, or take advantage of the annual plans to save up to 30% on their subscription.
Higher-tier plans include unlimited pages, e-commerce features, and advanced design customization. Add-ons are available but not required to unlock core features.
Free trials are offered along with student and nonprofit discounts. Squarespace offers affordable pricing with the convenience of monthly billing and flexibility.
Squarespace wins for pricing model and flexibility. Basic and advanced plans on Squarespace allow you to build and manage your website at fair price points (monthly or annual) with the ability to change your plan at any time.
8. Reviews and Reputation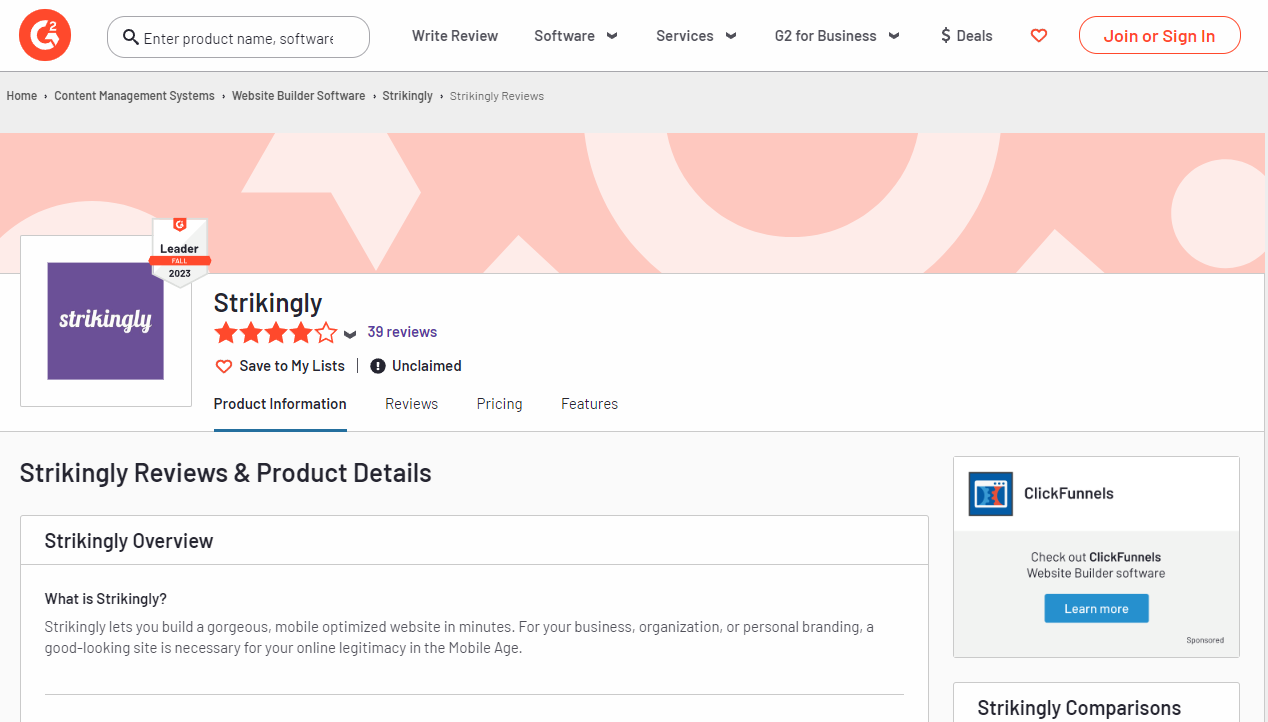 Strikingly earns positive reviews for its easy drag-and-drop website builder. Users praise the intuitive interface that makes building sites fast and simple.
Many online Strikingly reviews highlight the quality templates and ease of getting online quickly. Users say Strikingly is great for beginners.
However, some reviews critique the limited customization and inflexible pricing. More advanced users say Strikingly can feel too constraining. There are also complaints about lackluster support.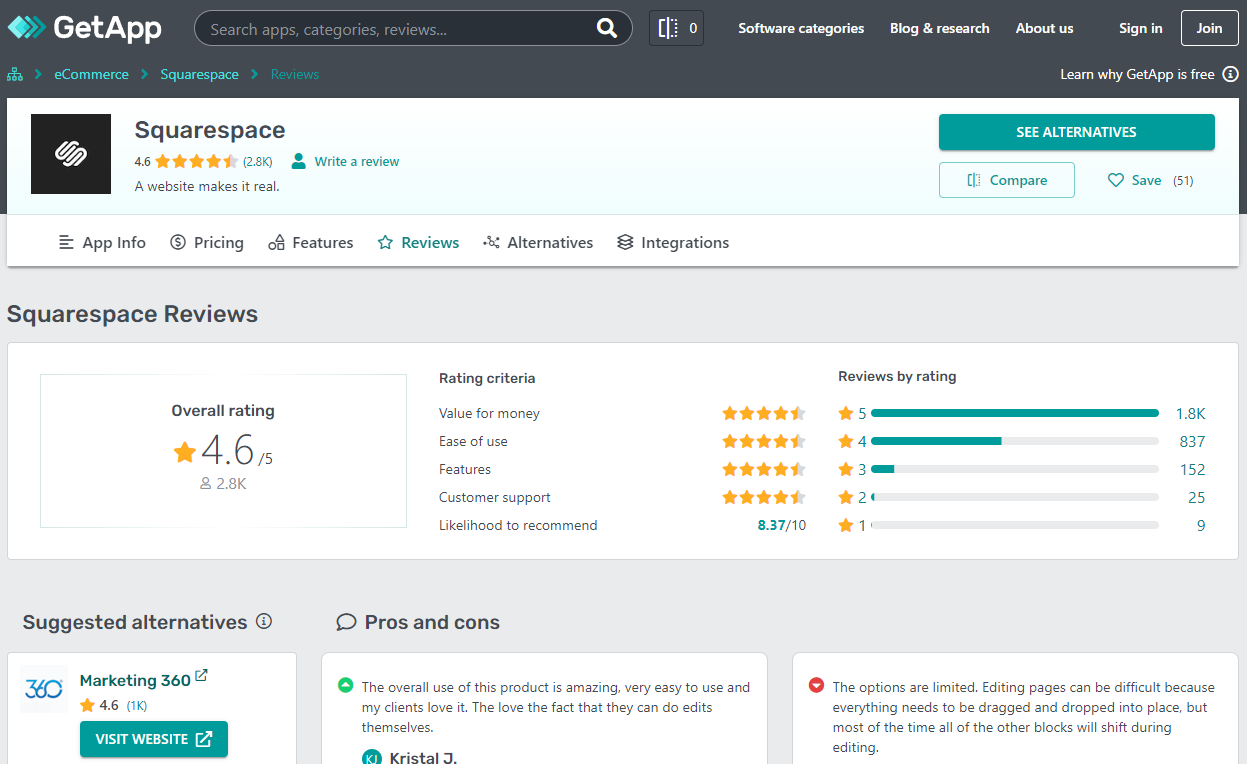 Squarespace receives outstanding reviews for its beautiful templates, powerful features, and excellent support. Users rave about the polished website design capabilities.
Positive reviews on sites like G2 highlight the platform's unlimited hosting, ease of use, and integrations. Users report satisfaction with Squarespace's capabilities.
Some downsides mentioned include the steeper learning curve for beginners. There are occasional complaints about the developer interface lacking intuitiveness. But most reviews are overwhelmingly positive.
Squarespace edges out Strikingly for higher review scores and praise for its broad feature set. While Strikingly wins for simplicity, Squarespace impresses users more overall with its balance of intuitive use and customization power. The glowing reviews speak to Squarespace's leadership position.
9. FAQ's
What is the maximum page limit on Strikingly? Strikingly's free plan allows up to 5 pages. Paid plans offer unlimited pages.
Does Strikingly offer blogging features? Strikingly has basic blogging capabilities but lacks advanced content creation and publishing features.
Can I sell products on Strikingly? Strikingly's paid plans enable simple online ordering and payments but lack robust e-commerce store features.
Is there a Strikingly mobile app? No, Strikingly does not have a mobile app. The platform is web-based and mobile-responsive.
Does Squarespace include email marketing? No built-in email marketing exists, but Squarespace integrates with email providers like MailChimp.
Can I get a custom domain on Squarespace? Yes, all paid Squarespace plans allow connecting a custom domain.
Does Squarespace offer SEO tools? Yes, Squarespace provides advanced SEO tools for optimizing sites like editable metadata and XML sitemaps.
Is there a limit to storage space on Squarespace? No, Squarespace offers unlimited storage and bandwidth on all plans.
Final Thoughts
This Strikingly vs Squarespace comparison has highlighted some of the most prominent similarities and differences between the two site builders, as well as other website builders. By now, you should have a good idea of which one will be the best site builder for your business. If you're still not sure, here are my recommendations:
Choose Strikingly if you want a super easy website builder to get online fast. With its simple drag-and-drop editor, Strikingly allows beginners to quickly launch a site. It's ideal for new entrepreneurs who are focused more on their business than website creation. Strikingly offers intuitive website creation with quality templates to showcase your brand.
Also, if you'd like to learn more about this platform, check out my Strikingly review.
And here are some Strikingly comparisons as well:
Choose Squarespace if you want deeper customization tools and scalable e-commerce features. Squarespace enables the building of sophisticated websites with powerful blogging, analytics, and integrations. It's great for established businesses needing to customize experiences and unlock robust capabilities. Squarespace balances ease of use with enterprise-level functionality.
You can find out more about it by reading my Squarespace review.
Alternatively, you can also take a look at how Squarespace compares against other site builders:
Choosing the right platform is critical for having the best web presence to reach your goals. We hope this comparison gives you clarity on which builder fits your unique needs. Please ask any other questions in the comments below! We're happy to provide personalized advice on selecting the best website platform for your business.