Bandzoogle and Wix are both powerful website builders with a lot to offer to their target audiences. Each platform focuses on a certain niche and, therefore, comes with a set of features that aid in the completion of specific tasks.
For instance, Bandzoogle is a specialized DIY music website builder exclusively for the creation of music websites. Wix, on the other hand, is an all-in-one web development tool that allows you to build any type of website you want.
I've researched and reviewed both systems to help you better understand what they have to offer in terms of design approach, ease of use, features, functionality, support, and pricing.
Read the rest of this Wix vs. Bandzoogle comparison where I share this information to help you choose which website builder is right for you.  
1. Ease of Use
Wix is a general site builder that caters to a wide range of users whereas Bandzoogle is a specialized website builder designed for musicians, bands, solo artists, DJs, and even gig organizers.
Both site builders offer an easy and quick process of setting up your website. No coding skills are required; you get pre-built templates and a drag-and-drop page editor.
So, let's see how the Wix vs. Bandzoogle comparison fares regarding this characteristic.
Wix has a simple interface that is easy for users to navigate. It has a drag-and-drop editor that is extremely flexible and doesn't require any coding knowledge. Even non-technical users will find this feature-rich platform easy to use.
It gives you a higher level of creative control over your website, and you can make changes on a pixel-by-pixel basis. There are over 900 templates to choose from, 60 of which are designed specifically for musicians, bands, and DJs.
The platform also provides you with website examples from other musicians to give you inspiration. You can pick a template and use the Wix editor to customize it to match your needs.
In addition to the Wix visual editor, there's also an AI (artificial intelligence) site-building tool, Wix ADI that you can use to customize your website in one go. Just input the information about the website you'd like to build, and in a few minutes, the artificial design intelligence will create a custom site for you.
Moreover, Wix has built-in music features that make it easy for you to build your brand online, including event planning features, membership sites, and integration with Spotify and other audio players.
Summary of Wix's Ease of Use Features:
Wix ADI (Artificial Design Intelligence) for swift site creation
Unstructured drag-and-drop builder for complete design control
Quick integration of blog, store, and other features
Templates with built-in music features
All-in-one website-building experience, including hosting and domains
Bandzoogle is one of the best website builders for musicians to promote their music and sell merch for their band.
It's an affordable website builder with a range of modern, responsive templates and music features.
The site builder is exceptionally good at understanding the needs of musical artists, and every template not only looks good on all devices but also comes with the tools you need to create a stronger web presence.
You can build pages to engage your current and future fans. Easily update them from your dashboard, and leave the rest of the technical nitty-gritty to Bandzoogle.
The platform is trusted by over 600,000 musicians for their homes on the web. When you sign up for a premium plan, you get access to all the platform's features and you can instantly upload your tracks, sell music online, and sell tickets to your concerts and other events.
You can also embed music players like Bandcamp, as well as your Instagram feed. Each plan comes with a free custom domain name and you get unlimited bandwidth, which means there's no limit to the amount of traffic your website can get.
The third-party integrations to services like Dropbox, SoundCloud, Printful, and Paypal make it easy for you to connect with musician services that you're already using to make it even easier to build and manage a successful website.
Summary of Bandzoogle's Ease of Use Features:
Simple site builder with a user-friendly interface
Multiple ways to sell your music online
Easy to sell tickets or merchandise
Pre-designed pages for quick site setup
Includes SEO for musicians
Winner: Wix
Bandzoogle is solely focused on website creation for musicians and bands. It has some really good templates for musicians, but Wix is pretty good at being a website builder which means you won't have to spend as much time creating your websites.
It has an intuitive editor and templates with built-in music features that strike the perfect balance between ease of use and the necessary tools for artists. Wix also has an App Store that lets you extend your website's functionality with third-party apps.
2. Design and Customization
When it comes to design and customization, both site builders deliver an extensive range of features and tools for building attractive music websites.
But, where Wix offers universal web design, Bandzoogle specializes in providing the exact tools needed by musicians. Let's see what this means for someone who prioritizes the ability to fully customize their website design.
Wix has a range of templates that are fully customizable. There are dozens available to choose from in the music category. Simply click on any element you want to change, and use the intuitive editor to make alterations quickly and easily.
The site builder works particularly well for music site setup and management. There's a range of built-in features specifically for musicians, including the Wix Music App which lets you create a quality website to promote your music or band.
The widget, which is available from Wix's App Marketplace, lets you easily integrate the audio player into your music project so your fans can listen to, download, or stream their favorite tracks or purchase them directly from your website.
In addition to having full customization options, you also get access to Wix's massive library of free images, icons, vector art, and more. You can use these to enhance your music website designs to make them more visually appealing.
Many of the templates come with built-in and reusable design assets such as photo and video backgrounds to simplify the website creation process even further.
Summary of Wix's Design and Customization Features:
900+ templates to choose from (including music website templates)
Fully customizable, mobile-friendly templates
Built-in marketing and sales tools
High-quality photo and video backgrounds
Royalty-free stock images, icons, and vector art
As previously noted, Bandzoogle is a specialized site builder designed for the development of music websites only.
The entire functionality of the system is geared toward a single goal which is to create, manage, and promote online music projects.
The site builder has a number of expertly designed music templates that work great for individual musicians and bands. The system has an all-in-one kit for designing and branding any music website.
As an artist, there isn't much for you to think about, except to pick a template you love and add your content.
You can customize colors, fonts, and layouts to transform any template. Upload your tracks and sell them online with built-in tools. You can also sell merch and tickets from your website. Additionally, the platform comes with crowdfunding tools that make it easy for you to get sponsors for your upcoming projects.
Summary of Bandzoogle's Design and Customization Features:
Responsive, music-related templates
All templates are mobile-ready
Easy, visual design editing
Customize layouts, fonts, and colors with zero coding
Electronic Press Kits (EPK) preset layouts
Winner: Wix
Compared to Wix, Bandzoogle's editor is not quite as flexible and is a lot harder to use. It comes with pre-defined layouts with columns where you can add your text, images, and other page elements. It also has some inconsistencies in the overall editing experience.
In contrast, Wix offers an unstructured page editor to give you full design flexibility. You can place text, images, and other elements anywhere you want on the page. Also, there's an integrated video player which means that (unlike Bandzoogle) you aren't limited to embedding videos from YouTube and other video-sharing sites.
3. eCommerce Capabilities
eCommerce features are an important consideration if you intend to sell products or services on your new website. Let's see what each site builder has to offer in terms of eCommerce functionality.
With Wix, you can launch and manage a full-featured music web store and offer multiple digital or physical music items for sale.
Once you sign up, you get access to a simple and intuitive product management tool on the Wix platform that allows you to upload and customize various items to sell on your site. Use the eCommerce tools on the platform to sell t-shirts and other merchandise for your upcoming tours.
You can add images and videos, edit product descriptions, and adjust SEO settings on each of your product pages. There's also a convenient feature that backs up and restores your music store in case something goes wrong.
You can create your image, boost exposure, promote upcoming gigs, and book events with built-in tools. Wix also lets you build a community around your passion integrating social media so you can convert followers into loyal fans. After all, social media management is vital in securing as much traffic as possible for your site.
The Business plan comes with an abandoned cart saver tool that automatically contacts visitors who leave your music website before completing their purchase. Visitors get an offer of a discount code to encourage them to complete their transactions.
In short, Wix is so much more than just a website builder. It's also a comprehensive business management platform that you can use to run your entire music business with ease.
Summary of Wix's eCommerce Capabilities:
Powerful website and online store analytics
Built-in calendar/booking management features
Email marketing and campaign management
Billing and invoicing tools
Membership management and inventory management tools
Bandzoogle has stylish themes to build a full-featured website for selling your music online. The platform comes with a powerful integrated commerce engine and offers commission-free sales of subscriptions, merchandise, and music downloads.
You also get basic mailing list tools to keep in touch with your customers and make it easier to send transactional emails.
Sell single tracks and albums, as well as merch, such as band apparel, vinyl, and any other physical items. You can also sell tickets directly from your website. Manage live and online events with the built-in calendar – all without ever having to pay a commission.
Bandzoogle also makes it possible for you to sell subscriptions to your loyal fans as a way to create a source of passive income for your music business. You can use the Crowdfunding feature to raise funds for your fan-supported projects. Choose from over 25 currencies and connect your site to PayPal for faster payments.
All in all, this platform provides you with all the tools you need to get the most from your music website.
Summary of Bandzoogle's eCommerce Capabilities:
Stylish theme options for music stores
Built-in promotion tools to sell products online
Easy PayPal integration for seamless payments
Crowdfunding feature for fan-funded projects
Sell both physical and digital products on your site
Winner: Wix
With regard to eCommerce, Wix has more to offer its subscribers compared to Bandzoogle. It helps music website owners connect small to medium-sized digital stores to their projects to start selling physical and digital products online.
The site builder has powerful web store customization options that ensure fast and effective promotion of your project. Although Bandzoogle does a great job of website design and customization, its eCommerce features are no match for Wix.
4. Blogging Tools
Creating a blog is essential in helping you attract organic (and therefore super-targeted) traffic from Google and other search engines. Here's what the two site builders offer in terms of blogging functionality.
Wix is a powerful website builder with a built-in CMS (content management system). It comes with great blogging features, including pre-made blog templates and a simple editor that lets you create and publish posts right from your dashboard.
You can build a beautiful blog, complete with built-in features like comments and social media integration to boost engagement on your music blog.
In addition to the blogging feature, you'll find other complementary tools to assist your blogging efforts, such as email marketing and search engine optimization tools. There are also AI-powered tools to assist your content creation, including a blog name generator, logo maker, and the cool Wix ADI feature to assist you in creating a share-worthy blog.
In the Wix App Marketplace, you can get third-party tools to further extend the functionality of your music blog.
Summary of Wix's Blogging Tools:
Free hosting for your blog
Fast-loading blog for optimal user experience
Powerful content management features
Advanced integrations to drive more blog traffic
Built-in SEO features, including automated XML and HTML sitemaps
Bandzoogle allows you to create a blog section or page on your music website. You can choose the type of blog to add to your music website from the dozens of pre-designed templates on the platform.
Each of these is mobile-ready and optimized for search. You can customize the template easily since Bandzoogle is considered a drag-and-drop website builder. Change everything from colors and fonts to styles and layouts to create a design that is uniquely yours.
You can also add widgets or blocks to your blog pages with the required content, such as text, music, albums, news, images, events, calendars, etc.
The system also has a range of other blog-related tools on offer, such as user comments, social media site integrations (Twitter, Instagram Gallery, etc.), and third-party niche integrations to apps like GigSalad, Bandcamp Player, and Bandsintown, among many others.
Summary of Bandzoogle's Blogging Tools:
Fully customizable blog that fits your need
Simple widgets with text, video, and audio add-ons
Reliable web hosting on cloud servers
24/7 support to help you build a successful music blog
Third-party integrations for added blog functionality
Winner: Wix
Wix has a feature-rich blogging engine which makes it the clear winner here. Adding a blog to your music website is quick and easy, and you get powerful content management tools, as well as built-in tools for promoting your music blog and engaging fans.
5. Search Engine Optimization Tools
There's no point in building a beautiful music website if no one will ever find it online. It's important to choose a website builder that provides you with the tools to rank your website in the search results pages so you can connect with your target audience.
Wix ensures that your music website can be found online thanks to powerful built-in SEO tools. These include meta-tags, code links, header tags, redirecting tools, and Google Analytics parameters to track your music website statistics in real-time.
Wix also has an automated SEO wizard, an AI-powered tool that guides you in setting up the essential SEO parameters for your website and blog. This is a super helpful feature that beginners will love.
You won't have to work hard trying to figure out ways to boost your site's visibility. Simply implement all the suggestions given for your particular website, and you're good to go.
Wix also has a special solution for music business owners: the Ascend Platform. This is a collection of over 20 high-end marketing tools to help you manage and promote your business online. These include Forms, Invoices, Live Chat, Inbox, Tasks and Reminders, and various automations to simplify your business operations.
Summary of Wix's Search Engine Optimization Tools:
SEO Wiz Tool integration for easy SEO setup
Meta-tags for enhanced social media sharing
Advanced SEO apps and widgets from the Wix App Marketplace
Detailed checklist and guidelines for website SEO best practices
Built-in website promotion tools for enhanced online visibility
Bandzoogle excels when it comes to search engine optimization for musicians. The platform's websites are built with SEO features designed to help fans easily find your music online.
You can adjust baseline SEO parameters to optimize each page or project. You'll find all the major SEO fields that you need to fill out in the "Pages" section. Add your website title, description, and meta tags. Adjust 301 redirect paths, optimize keywords, and more. You can do it all from your dashboard.
Bandzoogle also provides you with fan data to show you where your customers come from, how they behave on your website, and so on. This information can help you determine what's working for your music website so you can create more content and products that resonate with your fans.
Summary of Bandzoogle's Search Engine Optimization Tools:
SEO tools for higher visibility and rankings for your music website
Fan data for insights into content performance
Optimize keywords for higher placement in SERPs
Pre-made music landing pages available
Social media integration for increased engagement
Winner: Wix
Bandzoogle does a great job of helping you optimize your website for SEO, but Wix is the best when it comes to search optimization. Not only does the platform offer both basic and advanced SEO settings, but it also comes with an automated SEO Wizard to guide you through the entire process of optimizing your music website.
6. Community and Support
Wix offers support in a variety of convenient ways, including an online help center filled with in-depth guides and tutorials on every conceivable website-building topic. You can browse through the articles or search using relevant keywords to find answers to questions.
If you need to speak to someone from the support team, you can get in touch with them via live chat, email, social media, or the Wix Forum. The forum is a great space to connect with other Wix users so you can share ideas and get actionable tips on how to get the most from the platform.
Wix also has a callback feature where you can input a request for one of the customer service agents to call you back. It's level of customer service is on par with other leaders in the website buildwer space, including Squarespace website builder.
Summary of Wix's Community and Support Features:
In-depth how-tos and beginner tutorials
Community-based information portal
Multichannel, multi-language customer support
Additional support through social media
24/7 callback option for premium users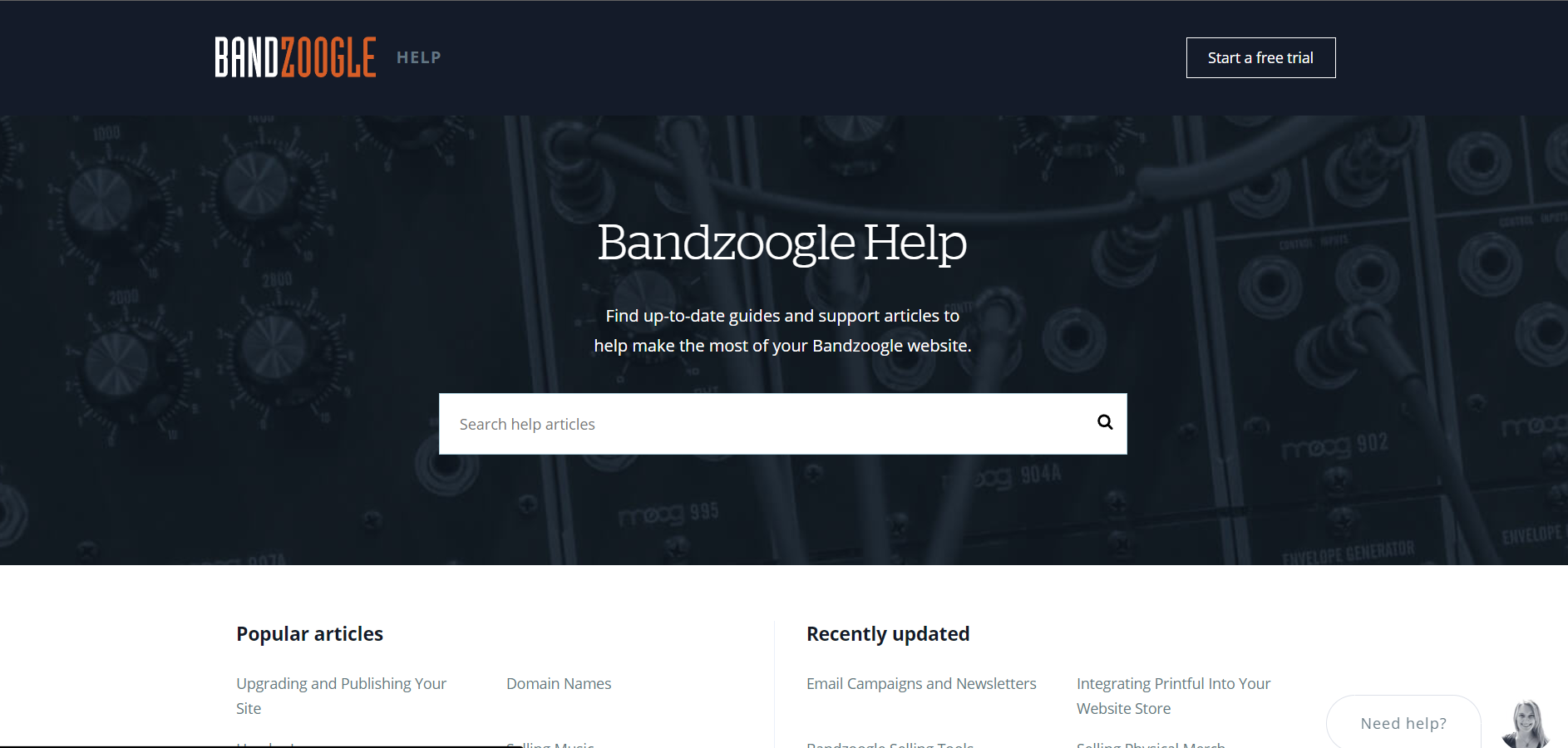 Bandzoogle has a team of award-winning web experts to assist you in your web development journey.
You can get in touch with the support team any time, day or night via email or live chat. There's always someone on hand to help you build the most effective site for your music.
But, for those who prefer the self-help option, you can find answers to your questions on the platform's well-curated knowledge base which includes lots of how-to guides and video tutorials. There's also an FAQ page and a user forum where you can interact with other Bandzoogle users.
Summary of Bandzoogle's Community and Support Features:
24/7 assistance via live chat
Well-curated knowledge base
Regularly updated video tutorials
Email/helpdesk support option available
Vibrant user chat forum and musician advice blog
Winner: Tie
Wix offers a variety of support channels and you also get a choice among nine languages. This is an industry-leading website builder with world-class support that is on par with Bandzoogle's 24/7 live chat and email support, as well as the wealth of helpful documentation and resources on the website.
7. Pricing
Before you make a choice of which website builder is right for you, it's important to consider the pricing of which platform so you can get the best value for your money.
Let's talk about pricing in this section of the Wix vs. Bandzoogle comparison.
Wix offers a range of plans to suit different needs. Here's what each premium plan entails:
Wix Free Plan: Wix has a free forever plan that lets you build a simple website. The plan includes free web hosting and a sub-domain (e.g. YourSite.wixsite.com). This is an ad-supported plan, which means Wix ads will be shown on every page and favicon in the URL. You get up to 500 MB of storage and bend with. Unfortunately, this plan doesn't include customer support, Google Analytics, or online payments. You'll have to upgrade to one of the premium plans to unlock these and other features.
Combo Plan: $15/Month: This plan is ideal for personal use. It comes with a custom domain, a free SSL certificate, and 2GB of storage space and you can host up to 30 minutes of video.
Unlimited Plan: $22/Month: The Unlimited plan comes with everything in the Combo plan + 5GB of storage space, one hour of video, and a visitor analytics app. This plan is ideal for entrepreneurs and freelancers and comes with a Google Ads budget to help promote your business.
Pro Plan: $27/Month: The Pro plan is ideal for complete online branding. It comes with all the features in the Unlimited plan, as well as 50GB of storage space, two hours of video, an events calendar app, and over 40 different sizes of your logo ready to use on various social media channels.
VIP Plan: $45/Month: This plan has everything in the Pro plan, as well as 100GB storage space, 5 video hours, and priority customer care. If you value first-priority support, then this plan is ideal for you.
Bandzoogle has three premium plans designed to help take your music from garage to arena. You can sign up for a 30-day free trial, and you can change your plan at any time.
Lite Plan: $8.29/Month: This plan is for bands that are just starting out. It has all the basics to get your music website online. You can create 10 pages, 10 tracks, and 100 folders. It comes with SSL security, fan data, themes, and custom design tools. You also get a range of selling tools, including subscriptions, music download sales, crowdfunding, and 0% commission fees. There are built-in SEO tools, a tour calendar, and electronic press kits (EPKs), and you can have 100 fan subscribers on your mailing list.
Standard Plan: $12.46/month: This plan is ideal for bands growing a fan base. It comes with all the basics, including unlimited award-winning support, a free domain name, premium hosting, unlimited bandwidth, and hundreds of mobile-ready music-focused themes. There's also a built-in blog and music player, as well as tools to sell music downloads, subscriptions, merch, and crowdfunding.
Pro Plan: $16.63/Month: This plan has everything in the Standard plan, as well as advanced tools that are perfect for established bands. For example, you get unlimited pages, tracks, and folders. You also get advanced fan data features, video headers, custom fonts, and the ability to sell tickets. You can integrate third-party print-on-demand tools for your merch, bundle products, and use Facebook pixels.
Winner: Wix
Bandzoogle has no free option, and while Wix's plans are a bit more expensive, it's worth it if you can get full value by utilizing all the features available to you.
If you'd like to know more about this website builder, check out my Wix review.
Final Thoughts
As you've probably learned from this Wix vs. Bandzoogle comparison, both Wix and Bandzoogle have much to offer anyone who wants to create a quality music website. However, there are other factors to take into consideration before you make your choice. 
For example, if you want access to industry-specific features without having to find and integrate different tools yourself, then Bandzoogle is a great choice for you.
However, if you want more control over your website's design and customization, as well as the ability to add multiple third-party apps to help run your music business, then Wix is a good option for you.
Choose Bandzoogle if: You have limited web design skills and want to get your own website online as quickly as possible without going through a steep learning curve. This site builder makes music website creation as simple as possible.
Choose Wix if: You want a website builder that delivers extensive functionality and flexibility. Wix has music-related features as well as an impressive set of promotion and sales tools to help you run a successful website.
If you still aren't sure which platform is right for you, you may want to consider reading about other Wix Alternatives.