A website builder is just one aspect of creating a successful website. You also need the tools to help you create high-quality content, boost engagement with readers, and implement effective promotion strategies.
Wix and Blogger are two website builders that are designed to help you build a successful blog. They are complete website design solutions with built-in tools to create and manage every aspect of your online presence from one place.
But, there are also some distinct differences that make each web service ideal for different types of users.
I've spent 10 hours reviewing and comparing the two platforms, and in this guide, I'll share my findings with you so you can understand how the site builders compare in terms of ease of use, design and customization, blogging functionality, and more.
By the end of this Wix vs. Blogger comparison, you'll know which platform is best for building a website.
1. Ease of Use
Blogger is a basic blogging platform whereas Wix is a comprehensive website design platform with built-in tools and integrations for marketing and sales. Since each platform offers vastly different features, it stands to reason that there are also differences in each web builder's level of ease for users.
Wix is a versatile website builder that works for both beginners and experienced website creators. The platform has thousands of pre-designed templates, many of which come with built-in tools for marketing and sales.
You can install a content management system (CMS) in one click and you can use the simple drag-and-drop editor to customize your website to match your needs.
If you know absolutely nothing about building a website, never fear. Wix has an AI-powered tool, Wix ADI to create your website for you.
Just answer a few short questions about the type of site you want to create, the specific pages you need to add, and so on. The artificial design intelligence will then build your website for you.
All in all, Wix's site builder offers everything you need to make your site-building journey easier, regardless of what type of website, blog, or online store you want to create.
Summary of Wix's Ease of Use Features:
High-quality prebuilt templates for all industries
No code, drag-and-drop editor perfect for beginners
Quick integration of blog, store, and other features
AI-powered Startup Wizard for quick website setup
Built-in email marketing and payment tools
Like Wix, Blogger has a very simple and straightforward interface. It comes with a drag-and-drop editor that makes it easy for beginners to create beautiful designs without any technical knowledge.
Google owns Blogger, and being part of the search giant's ecosystem, the website builder's layout is a lot like other platforms in Google's suite of products, which makes it familiar to anyone who's already using any of them.
If you use any of Google's other products, then you already have a Blogger account. This integration simplifies a wide range of other tasks that might prove tedious to new website creators, such as content creation, email marketing, website analytics, and more.
A lot of new blogger users will prefer Blogger or Google Sites for creating personal blogs just because of its simplistic approach. There is no intimidating process to get started, the interface is easy to navigate, and there are no advanced technical terms to learn since Blogger is simply focused on blogging and nothing else.
Summary of Blogger's Ease of Use Features:
User-friendly interface that is simple to navigate
Pre-made themes and templates are available
100% blogging-focused platform
Easy Google product integrations
Free hosting and website maintenance
Winner: Wix
Blogger's drag-and-drop website builder is a lot easier to use than the one on Wix. However, the ease of use comes at the expense of your ability to fully customize your website to look and function exactly the way you want.
If you are a total beginner, you'll value the ability to build a professional-looking, full-featured website without having to learn code or any other technical processes on Blogger, but Wix has an AI tool that can create your site for you.
Those with a bit of web-building expertise will also appreciate Wix because it offers unlimited customization options.
2. Design and Customization
Next up in this Wix vs. Blogger comparison – design and customization.
When choosing a website builder, you want one that offers a wide range of customization options so you can create stunning designs. You also want a site builder with an intuitive interface so you don't have to spend an inordinate amount of time learning how to use the design tools. 
Let's see how Blogger and Wix compare in this area.
Wix has an impressive selection of templates, close to 1,000 in total. They are segmented into various categories and sub-categories, including blog templates, online store templates, business website templates, and portfolio website templates.
All of them are mobile-responsive and optimized for speed, and once you've found your desired template, you can use Wix's editor to customize it to meet your needs.
Wix's editor offers a lot of design flexibility when it comes to creating your site. It's intuitive and simple to use with smooth drag-and-drop functionality and advanced design features that let you define the exact position and behavior of each element using both flexible and grid layouts.
Customize your site with free images, icons, etc. from the Wix Library. There are countless customization options to help you build a truly unique site.
However, this level of choice comes with a slightly steeper learning curve compared to a simple site builder like Blogger. For this reason, Wix is better suited to someone with a bit of technical knowledge.
Summary of Wix's Design and Customization Features:
User-friendly design tools
Industry-specific website templates
Mobile-friendly websites
Free logo-creation tools
Massive library of free images, icons, etc.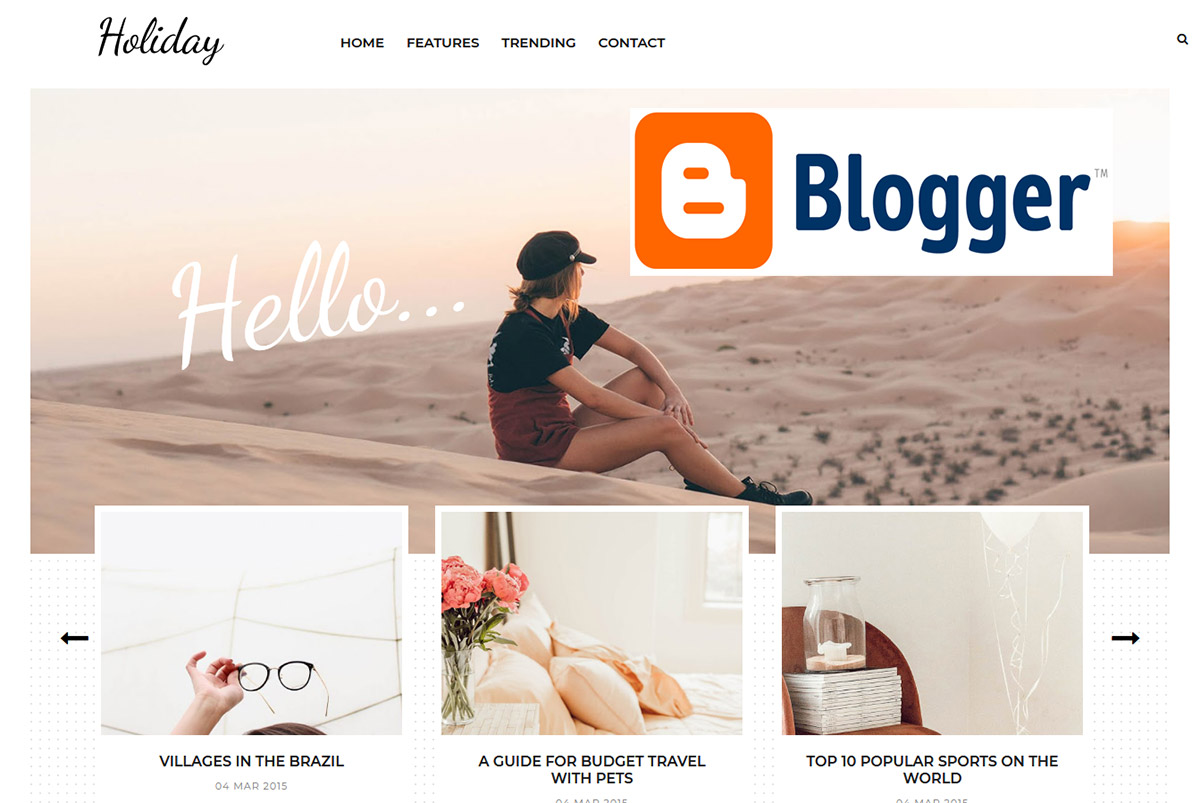 Blogger has a strong focus on simplicity and ease and comes with a range of pre-built templates so you don't have to build your website from scratch.
Simply choose a template that fits your needs and those of your audience, and then get to work customizing it. Change the fonts, colors, and backgrounds to create a website that matches your brand and preferences.
You can swap out the text, images, videos, and other elements with your own. This way, you don't need to know anything about web design to create a stunning personal blog or business blog.
Summary of Blogger's Design and Customization Features:
Premade templates for websites and blogs
Easy customization options
No design experience is necessary
Preconfigured SEO settings
Winner: Wix
Wix is a more robust platform that offers an impressive range of design and customization options. It has a more extensive selection of design tools that are indispensable when it comes to website development.
However, this high level of design flexibility also means that there's a somewhat steeper learning curve compared to a platform like Blogger. So, you may choose one platform over the other depending on your needs and your level of technical expertise.
3. eCommerce Capabilities
If you intend to sell products or services online, then you need a website builder that provides you with built-in eCommerce tools, or seamless integrations to connect your favorite eCommerce platforms.
Let's see what Wix and Blogger have to offer in this regard.
Wix simplifies the eCommerce selling process. All the tools you need to sell products online come built-in which means you don't have to worry about integrating third-party apps to sell your products.
You can sell digital products and services on your site. Connect multiple payment solutions, including Paypal and Stripe, and offer coupons and discounts.
All these tools and more are available on your dashboard so you don't have to cobble up different apps or switch from one to the other when managing your eCommerce business.
Summary of Wix's eCommerce Capabilities:
Sell digital products, physical products, subscriptions, and more
Robust point-of-sale (POS) features built-in
Connect multiple payment solutions to give customers more options
Dropship products through Printful, Modalyst, Spocket, etc.
Display both images and product videos
As previously mentioned, Blogger is meant just for blogging, which means that it doesn't come with any of the features required for a fully functional and secure eCommerce website.
However, it is possible to turn your Blogger site into an online store by integrating third-party eCommerce platforms like Ecwid into your blog or website. Customers will be able to click through from any page on your blog to your online storefront.
Since Blogger allows you to embed YouTube videos, you can leverage this feature to create product pages on your blog with videos, photos, and descriptions of each product.
Update listings with new posts from time to time. This way, you'll be able to expand the possibilities of your blog through a web store and third-party promotional services like Facebook, Instagram, etc.
Summary of Blogger's eCommerce Capabilities:
Wide range of templates ideal for building an e-commerce store
Easy integrations with Ecwid and other eCommerce platforms
Connect to social media networking websites
Built-in SEO features for high-performing product pages
Quick PayPal integration into Google Blogger
Winner: Wix
Wix is the clear winner in this category because it has built-in eCommerce tools which means you don't have to worry about integrating third-party apps to create an online store or sell products or services on your website.
4. Blogging Tools
Wix vs Blogger: Which platform is best for blogging? Blogger is a blogging-focused platform, whereas Wix is a general website builder with blogging functionality. However, it's still worth taking a closer look at the features each platform offers to know which one is the better option for creating a professional blog for.
Wix has dozens of pre-designed templates specifically designed for Bloggers. Each of these is fully customizable, allowing you to change the layout and structure, as well as fonts and colors to create a unique blog that stands out from all the rest.
Wix blogs are responsive and mobile-friendly. They make your content easily accessible on any device. You can set featured posts on any page on your site. You can also set sticky posts that appear at the top of your regular blog feed even after you post new articles.
You have the option of a members area which you can use to give your blog subscribers access to various features, including the ability to login and access premium content, create a public profile, comment on your blog posts, and more.
Summary of Wix's Blogging Features:
100% free and reliable hosting for your blog
Simple and fast Wix blog setup process
Web forms, landing pages, and powerful content management features
Easily edit title tags, image attributes, and meta-descriptions
Backlink monitoring and keyword rank tracking tools
Created by Evan Williams in 1999 and acquired by Google in 2003, Blogger is among the oldest and most established website creation platforms on the internet.
As implied by the name, Blogger is wholly focused on providing blogging functionality to its users, which is why it remains one of the most popular choices for new bloggers worldwide.
It's a great option for anyone who wants a simple (and free) platform to build a blog without the need to learn design or coding skills. The platform supports RSS by default, it is set to comments and focuses on the most recent blog posts.
Create one blog or multiple blogs. To get started, all you have to do is sign up with your Google account. You'll get access to Blogger's range of features that simplify blog management, including the ability to schedule posts to publish later, add and moderate comments on each page, view blog statistics, and more.
The platform makes it easy for you to start posting. It handles all the heavy lifting behind the scenes, and even posting on your blog is condensed into just a few easy steps. Using the drag-and-drop editor, you can organize your content with only a few movements and clicks.
Blogger is the perfect solution for beginners but it does lack some of the customization and monetization options you will find on Wix. You can monetize your blog through ads using Google AdSense but if you intend to use other monetization strategies, you'll find this platform to be quite limiting.
In such a case, you'll have to go with a platform like Wix that allows you to explore multiple ways to make money from your blog.
Still, Blogger has a lot to offer beginner bloggers. You get free, reliable hosting, and there are built-in SEO optimization features for your blog. But, support and community are limited compared to its competitor and the ownership and control of your content is unclear.
Technically, the website or blog that you create on Blogger isn't yours. You're using Google's free service, which means the company owns your blog. If you do not meet the content policies on Google or Blogger, then they can erase your website and content without notice.
I don't know about you, but I like the peace of mind of knowing that I have full control over the content I create and that my blog can never be deleted without any warning or explanation.
Winner: Wix
Blogger only has one monetization option available which presents a problem for anyone who wants to set up multiple streams of revenue for their blog.
With Wix, you can use Google AdSense as well as monetize your site through affiliate marketing, eCommerce, and even selling your own digital products. All of this is possible from a single dashboard.
With Blogger, you have very little control when it comes to managing your content. It's not easy to upload some media files like videos, PDFs, and GIFs to your blog entries, and you'll have a hard time building authority through backlinks.
The reason for this is that the vast majority of Blogger sites are considered to be spam regardless of the quality of their content. Many people have reservations when it comes to linking to such blogs which is why you'll find it difficult to attract links – and if you can't generate backlinks for your blog, you'll find it hard to build authority and develop a brand within your field.
5. Search Engine Optimization Tools
SEO is important in a website builder because it helps you attract organic traffic to your website. You need a site builder that comes with built-in tools for basic SEO, as well as the ability to integrate additional tools for advanced optimization of your website.
Wix comes with a range of built-in SEO features to boost the visibility of your website. These include things like mobile friendliness, high page load speed, robust security, and many other basic SEO features.
The platform also comes with some advanced tools for SEO, such as custom meta-tags, robots meta-tags, canonical tags, and bulk 301 redirects. You also get social sharing optimization, an automatic XML sitemap, and more.
Wix has a beginner's guide and SEO setup checklist that you can use to take you through all the fundamentals of website optimization. Just enter your website name and a few basic keywords, follow the rest of the steps, and you'll have your website optimized for search in no time.
You can edit your settings for each page on your site, further optimizing your content for search. Add title tags, meta descriptions, structured data markups, and additional meta-tags.
Summary of Wix's Search Engine Optimization Tools:
Wix SEO Wizard for quick setup
SEO checklist for easy website optimization
Automatic image optimization
Edit SEO settings on individual pages
100% mobile responsive, fast-loading pages
Blogger has basic SEO features, including customizable page links, meta descriptions, and title tags.
Google is very concerned about website speed and security. As a Blogger user, you can forget about these two aspects of website management and focus all your attention on creating and promoting your content online.
The platform takes care of all the technical details, including website hosting, speed optimization, security, and any other technical issues associated with managing your blog.
The minimalistic design and functionality play a huge role in ensuring SEO friendliness for all Blogger-built websites load fast and perform great with regards to SEO.
Unlike other platforms, you don't have to spend time setting up your hosting account and learning about both speed and security to help your website rank high in the SERPs (search engine results pages).
On Blogger, you'll also find basic traffic analysis tools to provide you with information on valuable metrics, such as traffic sources, page views, visitor demographics, and other insights to help you measure and improve your website's performance.
Summary of Blogger's Search Engine Optimization Tools:
Google platform comes with built-in SEO
Minimalistic design for optimal website performance
Website security and speed optimization done for you
Basic traffic analysis tools available
Winner: Wix
Blogger simplifies SEO for beginners, but the platform lacks more advanced features such as those you'd find on Wix, including automatic image optimization, schema markup, the ability to create 301 redirects, and more.
Wix offers both basic and advanced SEO features and has an SEO wizard to guide users through the entire process of optimizing a new website for Google and other search engines.
Wix also offers a comprehensive suite of analytics tools, including Google Analytics integration, to help you determine what's working and what isn't in your blog management so you can do more of what gets you visible online.
6. Community and Support
When building your website, you want a site builder that offers robust support through multiple channels to ensure that you get the help you need whenever you get stuck during the website creation process.
Wix has an online help center packed full of how-to guides and in-depth tutorials on how to get the most from every feature on the platform.
You can browse through these articles to find answers to your questions. If you still need help, you can get in touch with Wix support through email or live chat.
For everyone else, Wix offers a phone call back line whereby you input a request and a customer service agent calls you back. Although not as efficient as a real phone support line, it works well to get you the answers you need when you need to speak to an actual person.
Wix support is also available via social media. There's an active community of users with whom you can connect, share ideas, and get actionable advice on how to build a successful website.
Summary of Wix's Community and Support Features:
Multiple channels to contact support, including email, phone, and live chat
Well-curated knowledge base with how-to guides and beginner tutorials
In-editor help option for quick and easy assistance while building your site
Vibrant Facebook community of like-minded Wix users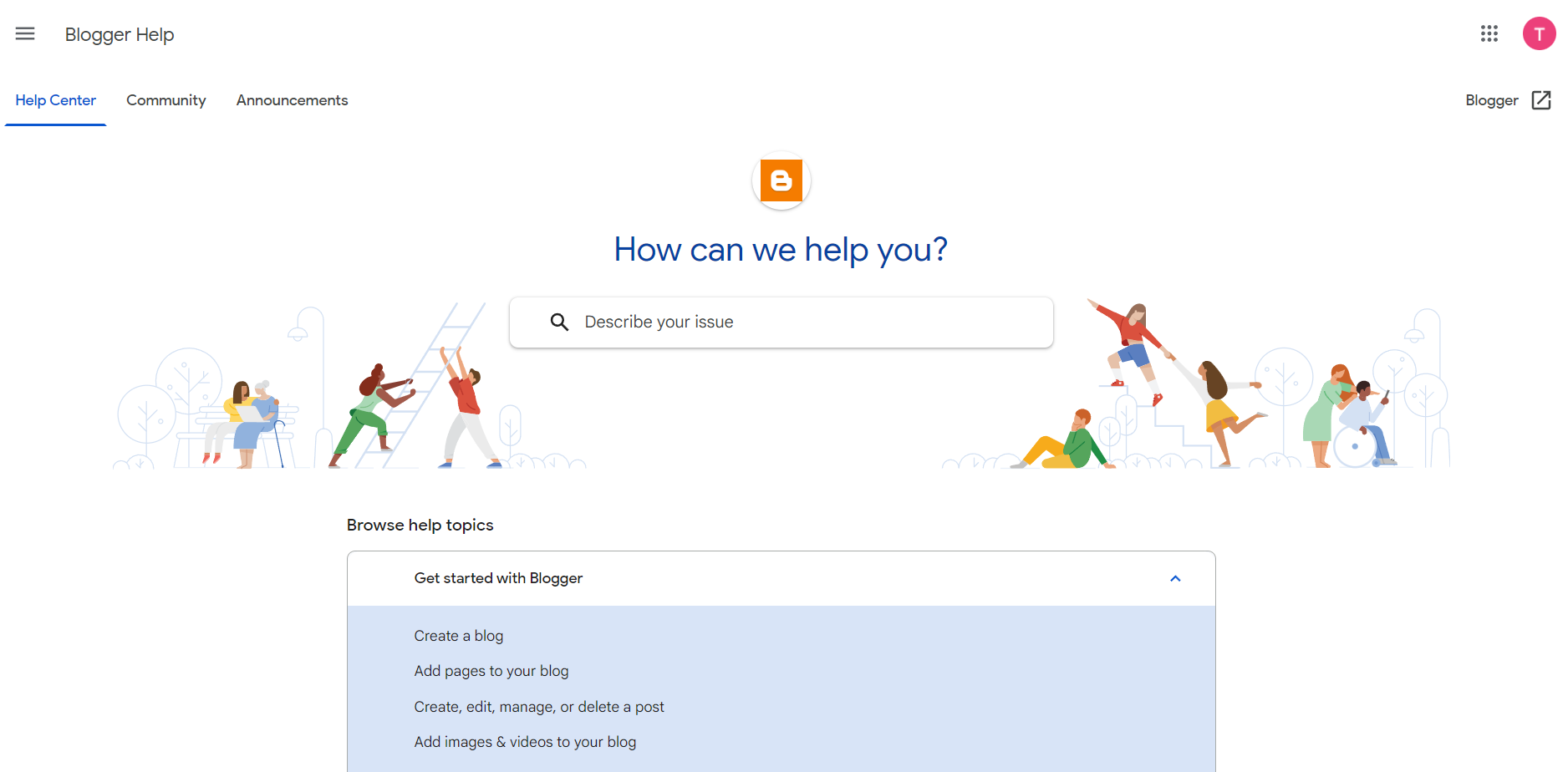 Blogger is a free platform which is why it's not surprising to learn that it offers limited support options.
On the website, you can access a help center with in-depth articles and how-to guides. There's also an FAQ page to answer some of the most common questions users ask.
However, there is no direct support available through any channel, such as phone, chat, or email.
Winner: Wix
As for the Wix vs. Blogger comparison in terms of community and support, Blogger offers infrequent software updates and underwhelming support.
In contrast, Wix offers support in a number of ways. Users can access the help center which is filled with up-to-date articles, videos, and tutorials on different topics related to using the website-building platform. Additionally, you can access support through live chat or phone.
7. Pricing
Most website builders offer a pricing structure that is based on a tiered system with higher-priced plans offering more features and advanced options.
Let's see how these two platforms compare in the pricing department.
Wix offers a range of plans to suit different needs. Here's what each premium plan entails:
Wix Free Plan: Wix has a free forever plan that lets you build a simple website. The plan includes free web hosting and a sub-domain (e.g. YourSite.wixsite.com). This is an ad-supported plan, which means Wix ads will be shown on every page and a favicon in URL. You get up to 500 MB of storage and bend with. Unfortunately, this plan doesn't include customer support, Google Analytics, or online payments. You'll have to upgrade to one of the premium plans to unlock these and other features.
Combo Plan: $15/Month: This plan is ideal for personal use. It comes with a custom domain, a free SSL certificate, and 2GB of storage space and you can host up to 30 minutes of video. You can sign up for a free trial on any of the premium plans to get access to the core features before deciding whether or not this SiteBuilder is right for you.
Unlimited Plan: $22/Month: The Unlimited plan comes with everything in the Combo plan + 5GB of storage space, one hour of video, and a visitor analytics app. This plan is ideal for entrepreneurs and freelancers and comes with a Google Ads budget to help promote your business.
Pro Plan: $27/Month: The Pro plan is ideal for complete online branding. It comes with all the features in the Unlimited plan, as well as 50GB of storage space, two hours of video, an events calendar app, and over 40 different sizes of your logo ready to use on various social media channels.
VIP Plan: $45/Month: This plan has everything in the Pro plan, as well as 100GB storage space, 5 video hours, and priority customer care. If you value first-priority support, then this plan is ideal for you.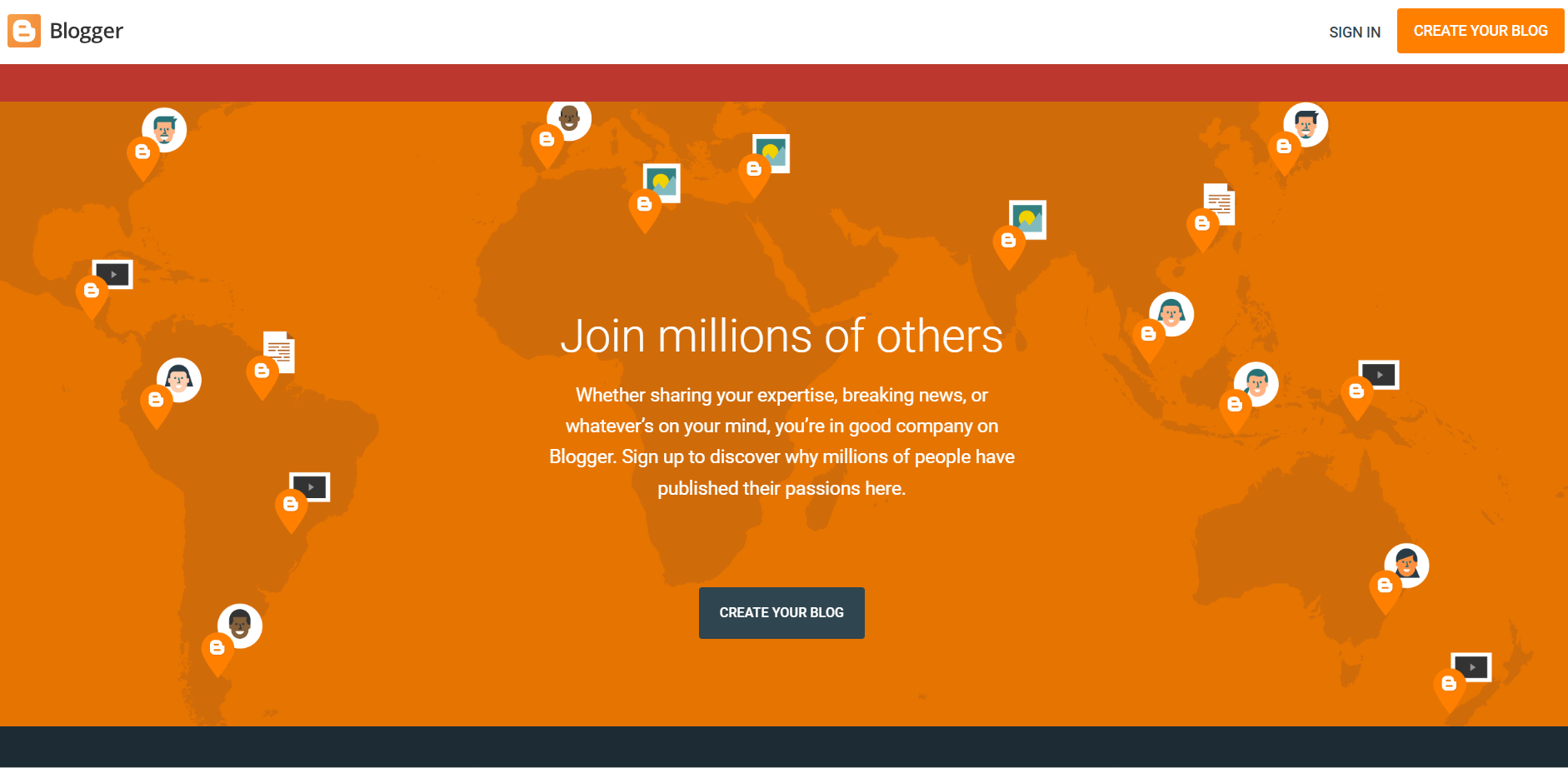 This Google-focused platform is entirely free to use and you can quickly publish a full-featured blog in minutes. This is a perfect solution if you don't mind using a free subdomain.
You also get a free SSL certificate that comes pre-installed with each blog you create on the platform.
Just keep in mind that choosing a free blogging platform may be the simplest option for you right now, but it's still a risky move. If you decide to expand your blog or want to start selling products and services online, then you'll have to switch between free blogging platforms which can be a challenging and time-consuming process.
And even if you are familiar with HTML, JavaScript, and SEO, redirecting your blog to a new custom domain could still result in you losing traffic, authority, and Google rankings.
Winner: Wix
So is Wix or Blogger better with regard to pricing? Well, it depends on what your main priorities are. If you are a beginner searching for a free platform that helps you get your blog online as quickly as possible, then Blogger is the best option for you.
However, for someone who wants to build a multi-featured website or online store, you will be better served going with a platform like Wix.
Final Thoughts
After discussing all the different features of Wix and Blogger, we can conclude that both site builders have their own unique set of strengths and limitations.
But, my research for this Blogger vs Wix comparison has made it clear that Wix stands head and shoulders above its counterpart in terms of ease of use, design customization options, and monetization features.
It also has better support and advanced SEO optimization tools, as well as a Wix App Marketplace where you can find different apps to further increase your website's functionality.
While Blogger is free to use, it does come with limited customization options. The free blog platform is easy to set up and use, but having that convenience also means you get a limited feature set. Blogger integrates with Google which makes it easy for you to if you're already using other products in Google's suite of tools. However, the platform may not be suitable for complex websites.
The Bottom line of the Wix vs. Blogger comparison?
Choose Blogger if: You want a free website builder to create a basic blog with as much simplicity and ease as possible. You'll get free hosting and a free domain name but you won't be able to get a custom domain name, which is something you'll need if you want to establish a blogging business.
Choose Wix if: You value deep customization options when building your website, and want access to advanced sales and marketing features. With Wix, you can start off using the free plan and upgrade your site as you go along. You can make adjustments and expand your website as your online presence grows. Wix has all the tools you need to branch out in any area you want, whether you want to add an online store, blog, or landing page to your website.
If you still aren't sure which platform is right for you, you may want to consider reading about other Wix Alternatives.
Other Comparisons You May Enjoy