With so many options for building an online presence, choosing the right website platform is a crucial decision for business owners and creatives. Two popular choices are SmugMug and Squarespace – trusted platforms used by photographers, bloggers, small e-commerce businesses, and more.
But with different strengths, features, and target users, how do you choose between the two website builders? In this comprehensive SmugMug vs Squarespace comparison, we evaluate how the two platforms stack up across key criteria like features, customization, performance, pricing, and more.
Our goal is to provide an unbiased analysis to help you determine the best platform for your specific needs and budget.
1. Understanding the Basics
Founded in 2002 by Chris and Don MacAskill, SmugMug is an online photography platform used by amateurs and professionals alike. With around 500,000 users, SmugMug has built a loyal following thanks to its specialization in photography.
Squarespace, founded in 2003 by Anthony Casalena, is a leading online publishing and e-commerce platform. With over 2 million sites powered worldwide, Squarespace dominates the website-building industry.
Though younger, Squarespace eclipsed SmugMug early on thanks to its broader target audience beyond just photographers. But SmugMug holds its own with a reputation for gallery features suited for visual creators. Both remain popular choices for building an online presence.
2. Ease of Use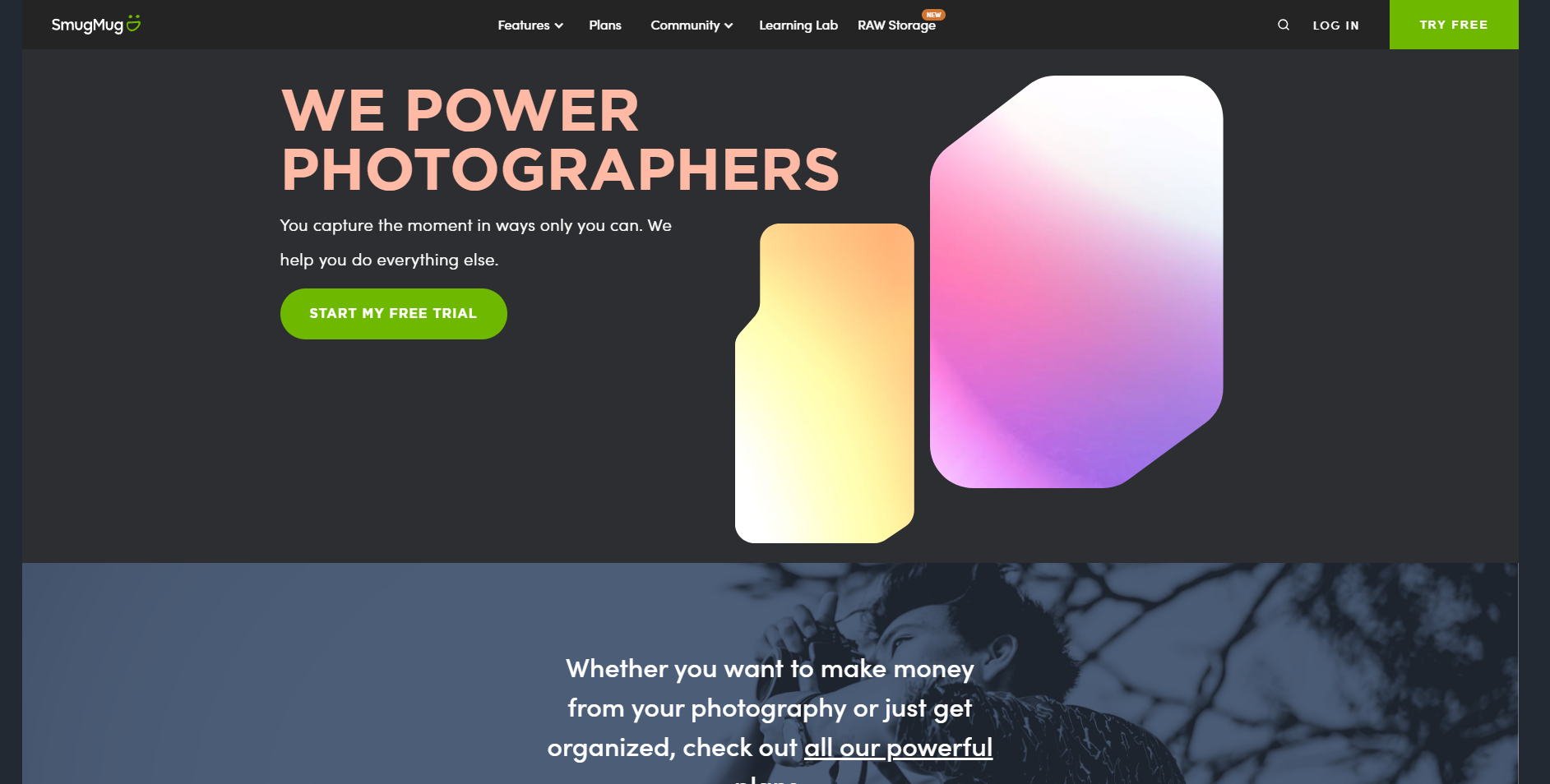 SmugMug aims to make building a photography website intuitive yet customizable. The dashboard interface is clean and well-organized, with logical menus like "Pages," "Galleries," and "Orders." Customization options are neatly categorized into sections like "Design," "Store," and "SEO."
For beginners, SmugMug offers pre-designed themes and layouts to easily create photo galleries or e-commerce pages. Adding photos is simple with drag-and-drop uploading. The platform automatically organizes uploads into galleries based on metadata. Users can then customize gallery pages with descriptions, tags, print fulfillment, and e-commerce options.
Overall, SmugMug's interface caters directly to photographers looking to build a professional website. While the breadth of options may seem overwhelming at first, the UI makes sensible use of icons and menus to access key features. With practice, most users are able to build custom gallery websites within a few hours.
Squarespace aims for balanced power and simplicity in its web editor interface. The intuitive drag-and-drop builder allows elements like text, images, and modules to be added with ease. Bulk uploading media is straightforward as well. The streamlined menus make accessing settings quick while previewing changes in real time.
For beginners, Squarespace offers templates tailored to blogs, stores, portfolios, and more. Users can select a template, customize the design, and then plug in their own content. Page layouts, fonts, colors, and images can be adjusted to suit a brand. Squarespace also provides guided onboarding and tips for navigating its editor.
Overall, Squarespace's flexible editor excels at fast template customization for beginners while still offering precise design control for experts. With responsive preview and simple menus, most users can build a polished site within a day of experimenting with the builder.
Squarespace takes the prize for easier initial onboarding and intuitive portfolio site-building capabilities. Its balance of simplicity and customization allows beginners to quickly create professional-looking pages while still providing expansive control for experts. SmugMug offers powerful photography-focused features for outstanding photography websites, yet its learning curve is steeper. For most first-time users, Squarespace's responsive drag-and-drop editor and sleek UX better facilitate website creation. Its guided onboarding resources also set new users up for success.
3. Design and Customization
SmugMug offers 100+ professionally designed themes for galleries, portfolios, and e-commerce. Photographers can pick a theme and then customize colors, fonts, textures, and layouts. While themes are optimized for galleries, limitations exist for extensive customization.
Users can modify some CSS but SmugMug's themes are not easily editable down to the code level. Options are mostly limited to preset adjustments. Photographers do get portfolio-focused design choices like lightboxes, slideshows, and watermarking.
For mobile, SmugMug themes are fully responsive. Galleries and images are rescaled seamlessly on mobile devices. But some store features like merchandising aren't optimized for mobile shopping.
Squarespace provides 100+ mobile-ready templates to create a blog, store, portfolio website, and more. Each template offers multiple color schemes and font pairings to choose from. Users can customize layouts, fonts, colors, images, and textures to suit their brand.
For deeper design control, Squarespace allows modifying or adding CSS, JavaScript, and HTML code. Expert users get granular access to style elements how they wish. Non-coders can still achieve beautiful sites using intuitive customization options.
Squarespace also enables designing separate mobile views, standalone mobile pages, and pop-ups for promoting apps or emails. Templates and content automatically reshape for each device's optimal viewing.
Squarespace wins for superior design flexibility on both desktop and mobile. Its elegant templates become fully customizable sandboxes to create unique, professional sites. SmugMug's themes cater well to galleries but lack the expansive customization and mobile commerce support of Squarespace. For designers seeking pixel-perfect control and multi-device experiences, Squarespace is the better choice.
4. Features and Functionality
Blogging Tools
SmugMug allows users to create blog posts and news pages as part of their overall website. The editor offers basic formatting options like headings, lists, links, bold, italics, and quotes. Images, videos, and galleries can be added seamlessly. However, customization is limited compared to dedicated blogging platforms.
Posts are organized under a chronological blog page showcasing excerpts. But advanced blogging features like categories, tags, and author archives are not supported. Commenting can be enabled on posts, utilizing Disqus for moderation tools. RSS feeds are available for blog content.
Overall, SmugMug covers the basics for news-style blogging aligned with photographer portfolios. However, the blogging experience lacks the depth of controls and customization available from Squarespace and WordPress. It is suitable for short updates rather than extensive blogging.
Squarespace provides a robust blogging engine built right into its website builder. The Post Editor offers an extensive formatting toolbar for crafting posts using text, images, embeds, and other dynamic elements. Everything from fonts to colors to layouts can be customized.
Posts can be organized into separate categories, tagged, scheduled for publishing, and set up with comment moderation. Subscriber options like email digests and RSS feeds make curating an engaged audience simple. Contributors can be granted access to author content under separate bylines.
Overall, Squarespace's baked-in blogging capabilities rival those of WordPress – most users will never need to look beyond its editor. For photographers, creatives, and entrepreneurs alike, its tools make regularly publishing on-brand content easy.
With its expansive formatting options, administrative tools, and custom integration, Squarespace clearly comes out ahead for built-in blogging. SmugMug tackles simple news posts but lacks the depth expected from a modern content platform. For anyone seeking to routinely publish blogs, Squarespace provides an intuitive yet powerful blogging engine ready to match the capabilities of its overall website builder.
E-commerce Capabilities
As a photographer's platform, SmugMug offers robust e-commerce tools tailored to selling prints and digital downloads. Photographers can easily generate product galleries showcasing photos available for purchase. Custom pricing can be set up for print and digital products.
Streamlined order management and fulfillment integration allow automating the process from purchase to production to shipping. Detailed sales analytics provide insight into store performance.
For non-print businesses, SmugMug's e-commerce options are more limited. While digital products like photos or videos can be sold, traditional product inventory, shipping, and tax tools are lacking compared to Squarespace.
Overall, SmugMug's e-commerce excels for photographers but lacks the flexibility required by wider online retail stores. Its tools focus exclusively on selling creative work rather than physical merchandise.
Squarespace enables the building of full-featured online stores with its Commerce platform. Business owners can create product pages, customize pricing and inventory, calculate taxes, manage shipments, and track sales analytics.
Robust merchandising options like coupons and promotions help drive sales. All revenue is collected directly through Squarespace for a transparent fee. Square's integrated point-of-sale app can sync in-store and online inventory.
For creative sellers, galleries, video sales, and digital downloads are all supported. But Squarespace goes beyond SmugMug with capabilities for physical/service inventory. Its commerce platform can power a store selling almost anything.
Squarespace clearly provides superior e-commerce capabilities with the flexibility to sell both digital and physical goods. While SmugMug offers an excellent commerce solution for photographers, Squarespace commerce can handle much more – from blogs selling merch to restaurants taking reservations. For any seller needing scalable inventory management, shipping logistics, tax tools, and robust analytics, Squarespace is the winner.
SEO Tools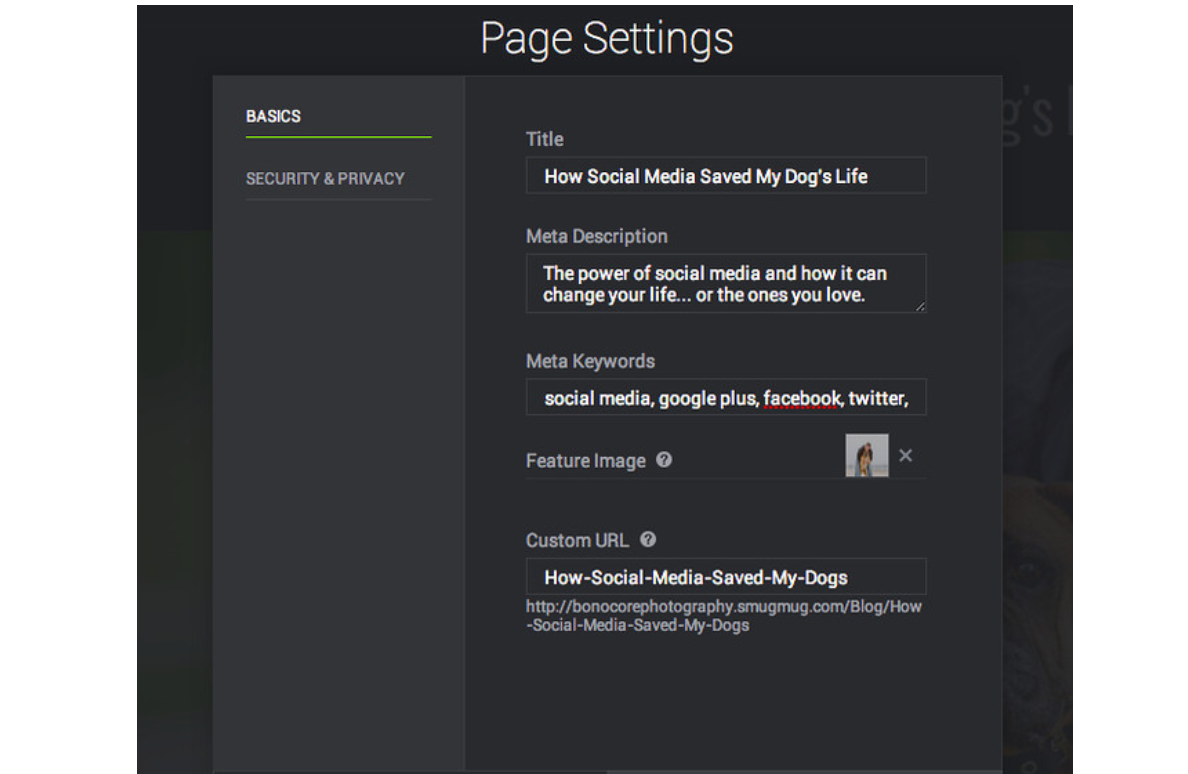 SmugMug provides basic on-page SEO customization like title and meta descriptions. But advanced XML sitemap, alt text, and SEO keyword optimization must be manually configured. SmugMug offers redirects and some site analytics for tracking traffic.
Signing up for the SmugMug Platform removes ads and gives full access to view page sources and HTML. This allows manual optimizing but lacks built-in SEO tools beyond customizable titles and descriptions.
Overall, SmugMug requires third-party or manual optimization to fully optimize SEO. Its platform does not provide guidance or analysis on improving organic search traffic.
Squarespace enables configurable SEO for every page with title, description, and social sharing metadata. An integrated sitemap and automatically generated alt text improve crawlability and indexing. The Pages panel lists SEO keywords to help optimize content.
Advanced users get access to edit HTML and CSS for more technical on-page optimization. Add-ons like SEO Site Checkup audit pages for fixes. Actionable search analytics like click-through rates help refine keyword targeting.
Overall, Squarespace provides robust on-page SEO customization out of the box. Its integrated keyword tools and metrics help guide optimization for organic search without external plugins.
Squarespace wins for its extensive built-in SEO tools that don't require third-party plugins or manual optimization. SmugMug takes more setup work to achieve advanced SEO. For any user focused on improving search visibility, Squarespace offers powerful configuration options and analytics to increase inbound organic traffic.
Integrations
SmugMug offers some built-in integrations along with an API for connecting third-party apps and services. Native integrations include portfolio imports from platforms like 500px and integration with photo labs for fulfillment.
SmugMug's order and fulfillment API enables direct integration with printing partners. For e-commerce, PayPal handles simplified payment processing.
Beyond those features, SmugMug's first-party integrations are limited compared to Squarespace. Users must rely on community-built or manual API integrations for additional capabilities.
Overall, SmugMug covers integrations useful for photographers but falls short of connectivity beyond its core focus. Those needing custom connections or non-photo third-party integrations will require API expertise.
Squarespace provides an extensive App Marketplace with hundreds of integrated third-party platforms and services. Email marketing, accounting, calls-to-action, polls, social media, and more can be added seamlessly.
Native integrations such as easy newsletter signups via MailChimp or Campaign Monitor are built into Squarespace's tools. Donation collection through Stripe or PayPal can also be configured directly.
An open API enables developers to build custom integrations as well. For e-commerce stores, Square POS powers integrated online/offline syncs. Overall, Squarespace offers diverse integrations out-of-the-box along with API access.
With its App Marketplace, native connections, and open API, Squarespace clearly provides superior integration capabilities. SmugMug relies heavily on its community to build missing integrations via API, whereas Squarespace develops and maintains an extensive collection itself natively. For extensibility with third-party platforms and services, Squarespace is the winner.
Analytics and Reporting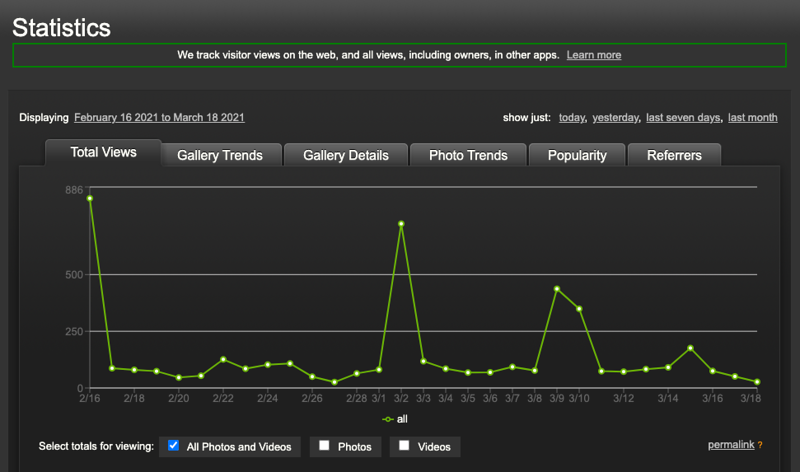 SmugMug provides basic website analytics showing traffic sources, top pages, geography, and device data. E-commerce analytics track sales, coupons, profits, and order activity. For galleries, stats on views, favorites, and shares are available.
However, custom reporting is lacking. Data cannot be filtered or exported for further analysis. SmugMug's first-party analytics give high-level insights but lack the depth of Squarespace's Google Analytics integration. Third-party analytics require custom code additions.
Overall, SmugMug analytics covers the basics for monitoring traffic and sales. However, limited segmentation and customization leave more to be desired for data-driven users.
Squarespace has robust traffic analytics powered by Google Analytics integration. It provides insights on visitors, acquisition channels, geography, tech data, behavior, and conversions. Custom dashboards allow tailoring reports to business needs.
For e-commerce stores, Squarespace Commerce analytics track sales performance, trends, inventory, profit margins, and more. Revenue analytics can be filtered by product, category, or promotions. All reports offer CSV/PDF exports.
Developer users also get access to Squarespace's Analytics API for pulling raw data. Overall, Squarespace enables deep data analysis powered by Google Analytics with extensive filtering and segmentation.
Squarespace wins for its powerful analytics capabilities through Google Analytics integration, custom dashboards, and API access. SmugMug offers simpler first-party analytics without the customization needed for deep data insights. For performance tracking beyond the basics, Squarespace provides superior analytics and reporting.
5. Website Performance
Website Speed and Load Times
SmugMug websites are hosted on its own high-performance servers designed for fast image delivery. Pages are optimized for speed with minified code, browser caching, lazy loading, and compression. SmugMug offers CDN integration for further acceleration.
Average load times for SmugMug sites range from 1-2 seconds according to third-party tests. Speed will depend on site size, images, and video being served but SmugMug uses multiple optimizations to enable fast performance.
For galleries with many photos, paginated views prevent overloading a single page. Overall, SmugMug provides above-average speeds tailored for photography sites. However, more complex pages may load slower than dedicated CDN hosting.
Squarespace optimizes sites and hosting infrastructure for speed using a global CDN, minified code, lazy loading, and image compression. Developer Mode enables further optimizations like CSS/JS concatenation and asynchronous resources.
Average load times for Squarespace sites vary from 1-3 seconds based on third-party tests. Using image/video compression and loading only visible content keeps most pages fast. More complex pages with large hero visuals may take longer.
For commerce stores, load times are kept low through catalog pagination and eliminating non-critical requests. Squarespace also offers integrations with image optimization tools to further boost speeds.
Winner: Tie
Squarespace and SmugMug offer comparable website speeds, both averaging 1-3 seconds for most pages according to tests. By optimizing images, caching, lazy loading content, and offering CDN acceleration, they are head-to-head for site speed capabilities. The overall winner comes down to the complexity of each specific site. For photography portfolios, SmugMug provides leading speeds while Squarespace excels at complex pages.
Website Reliability and Uptime
SmugMug promises 99.9% uptime for websites hosted on its platform. Its custom servers are monitored 24/7 to provide reliable performance and rapid response if issues occur.
Scheduled maintenance is performed weekly outside of peak hours. Subscribers are given advance notice for planned downtime. Unplanned outages are swiftly addressed – most SmugMug sites experience less than an hour of downtime annually.
SmugMug's status page details any active incidents and scheduled maintenance. Overall, SmugMug delivers excellent reliability with its fully owned and operated infrastructure. But its uptime lags slightly behind Squarespace.
Squarespace guarantees 99.95% uptime for all customer websites. Its infrastructure runs across multiple data centers to prevent single points of failure. Battery and generator backups provide resilience against power events.
Monitoring tools track website availability in real time with automatic alerts if downtime occurs. Squarespace engineers swiftly diagnose and resolve most incidents within an hour. Scheduled maintenance averages under an hour monthly.
Squarespace operates a public status page showing current performance across its services. For reliability, Squarespace's distributed infrastructure helps achieve industry-leading uptime.
With a 99.95% uptime SLA and resilient infrastructure, Squarespace edges out SmugMug for the most reliable hosting. While both platforms offer excellent availability, Squarespace's redundancy across data centers protects better against downtime risks. For photographers and businesses needing airtight reliability, Squarespace is the safest choice.
6. Customer Support and Community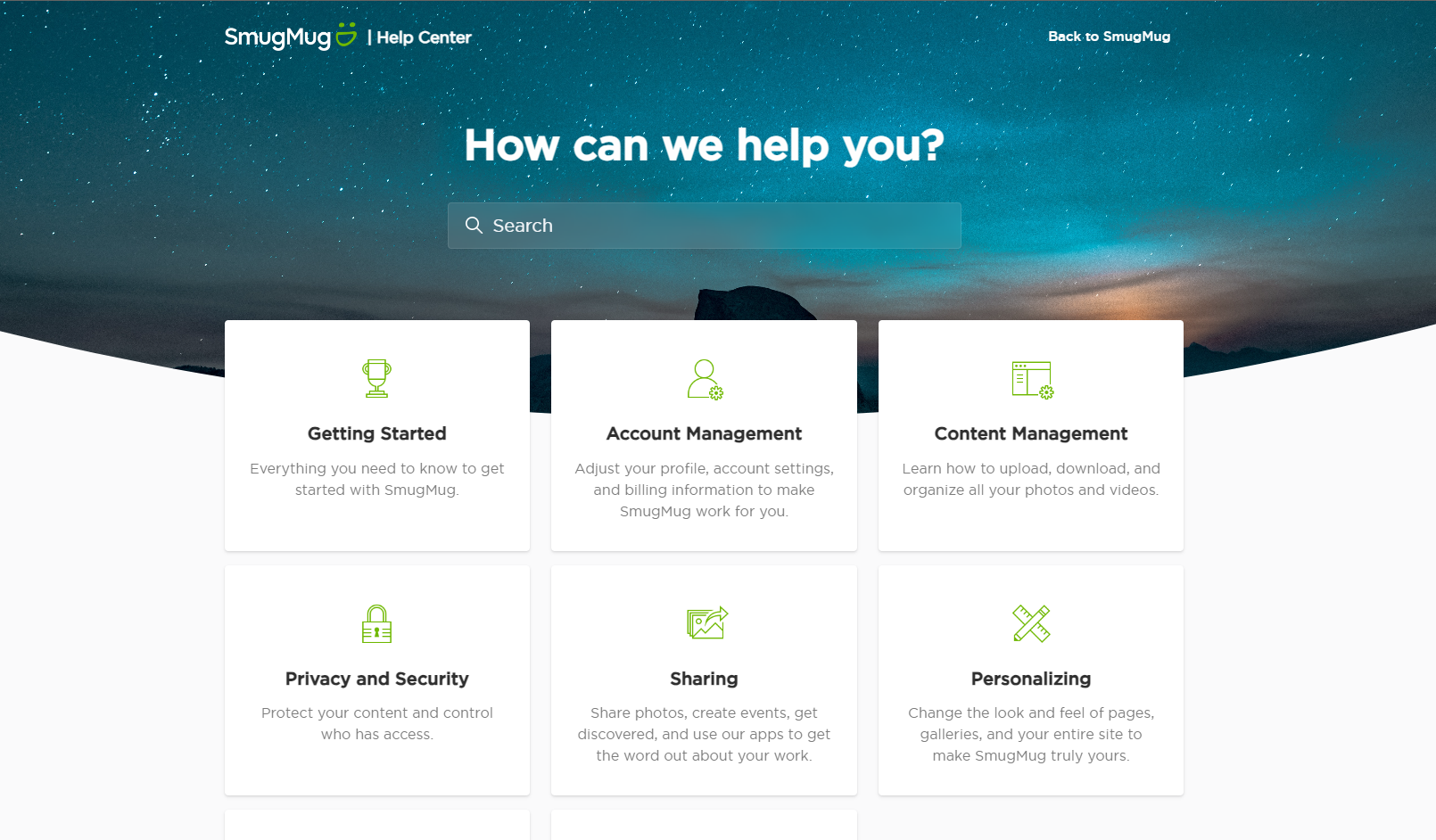 SmugMug provides email and chat support with extended weekday hours plus weekends. As a smaller company, response times average under an hour. Phone support requires a higher-tier business subscription.
The SmugMug community offers an active user forum for troubleshooting issues and getting feedback. Facebook groups also connect SmugMug users.
Overall, SmugMug's personalized support and engaged community cater well to photographers. But phone support requires premium plans, and extended service hours come at a higher cost.
Squarespace offers 24/7 email support for all subscribers. Live chat is available on weekdays during business hours. Phone support is provided 24/7 for higher-tier business plans. Average response times range from one hour for chat/email to instantly for phone.
The Squarespace Answer community provides peer support for DIY troubleshooting. Its Facebook groups give another channel for asking fellow users questions.
Overall, Squarespace matches SmugMug's email and chat support but adds 24/7 phone assistance for high-tier customers. Its active forums and groups offer community knowledge as well.
Squarespace wins for providing phone-based 24/7 support on higher plans in addition to prompt email and chat assistance. Combined with an engaged community forum, Squarespace customers gain access to more immediate help when needed. SmugMug offers a great photography community but more limited service options.
7. Pricing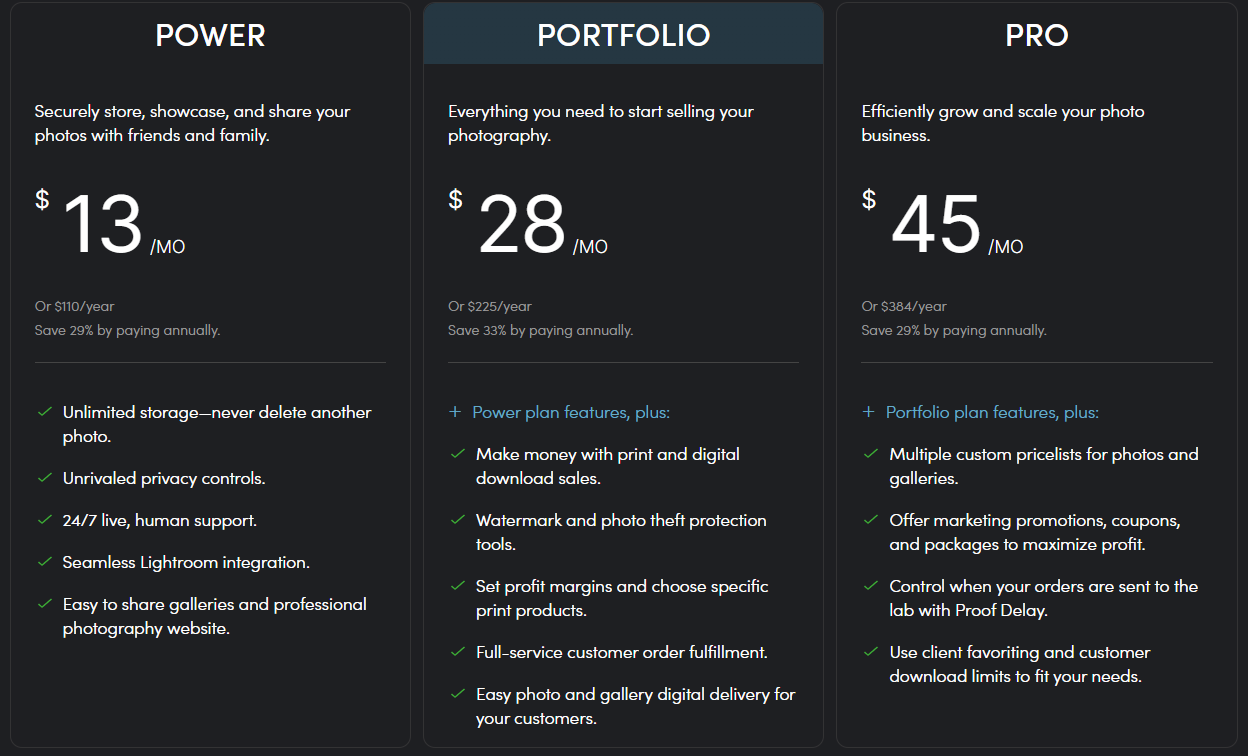 SmugMug subscription plans range from $13/month for the Power plan to $45/month for the Pro plan which supports unlimited photos and basic features while Pro boosts storage, sales capacity, and e-commerce features. You can easily upload media files on all the plans.
Add-ons like premium videos and Getty Images access incur additional fees. For additional sales channels, SmugMug charges a commission on top of the subscription cost. Custom domain registration is included free for the year.
Overall, SmugMug is competitively priced against other photo-focused platforms. But its commissions and add-on costs can multiply for high-volume photographers and businesses.
Squarespace subscription plans range from $16/month for personal websites to$49/month for advanced Commerce sites. All plans include unlimited storage, contributors, and products. Add-ons start at $12 monthly for tools like gift cards.
Squarespace charges no transaction fees on plans above Basic. Custom domains cost $20 annually. For high-volume stores, additional fees apply once exceeding $1M in sales.
Overall, Squarespace offers simplified pricing with inclusive features. Predictable subscriptions, bundled services, and no commissions provide strong value for growing businesses.
Squarespace wins for pricing transparency and value. Bundling key features into subscriptions with no hidden fees or commissions provides reliability when scaling up. SmugMug's add-on costs and sales-based commissions can be limiting for high-growth users. Squarespace's unlimited plan offerings offer predictable costs as businesses expand.
8. Reviews and Reputation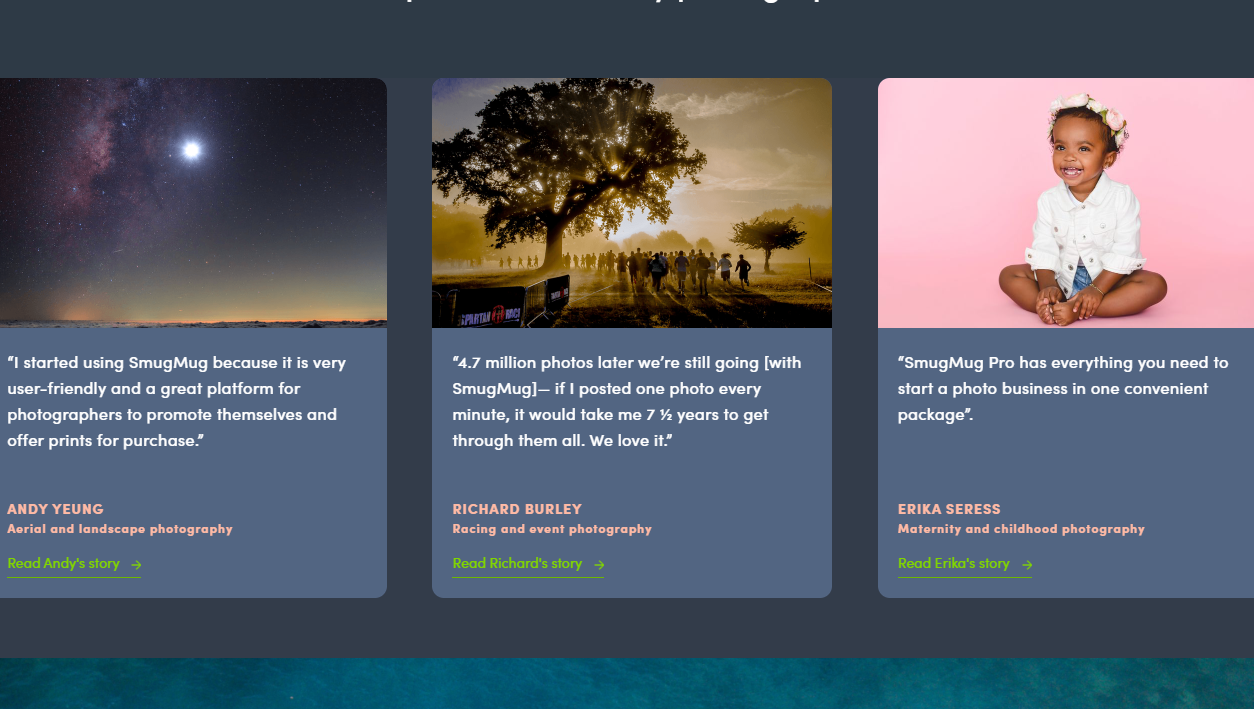 SmugMug earns positive reviews for its specialization in photography. Users praise the portfolio galleries, customization options, and client-proofing tools tailored to visual creators. Strong image management and responsive sites are also rated highly.
Reviews on platforms like Capterra and G2 mention occasional bugs and a dated interface. The lack of native commerce features also draws criticism for non-photography uses. But for core users, SmugMug wins loyalty.
Overall, SmugMug maintains a reputation as the go-to platform specifically for showcasing photography online. Non-photo uses garner more mixed reviews.
Squarespace garners excellent reviews for its all-in-one functionality, beautiful templates, and easy customization. Users praise the versatility of creating blogs, stores, and portfolios with responsive design. Intuitive tools for non-coders rate highly.
Some reviews on sites like Capterra and G2 critique the limitations of not fully owning sites. Technical users may also bemoan the lack of coding access. But for creatives, Squarespace provides the ideal mix of power and simplicity.
Overall, Squarespace earns outstanding reviews as a polished all-purpose website builder equally great for designers, entrepreneurs, and bloggers.
When you compare SmugMug with Squarespace, the winner is clear. With near-universal acclaim for its balance of usability and customization, Squarespace edges out SmugMug in reputation. While SmugMug wins loyal fans among photographers, Squarespace satisfies a broader range of website needs with its versatile tools earning outstanding reviews. For the best overall reputation across use cases, Squarespace comes out on top.
9. FAQ's
How much storage and bandwidth is included?

Storage and bandwidth are unlimited with all SmugMug plans. You can upload as many full-resolution photos and videos as needed.

Can I sell digital downloads or prints?

Yes, you can easily sell photos, videos, and print products through your SmugMug site. Digital delivery and print fulfillment integrations are included.

Is there an SEO focus for improving search visibility?

SmugMug offers basic SEO features like metadata and sitemaps. However, advanced SEO requires manual optimization or third-party tools.

What type of customization is available?

You can customize colors, fonts, and layouts using SmugMug's themes. However, modifying templates at a code level is not possible.

How long does it take to create a site?

With pre-designed themes, you can create a polished photography portfolio in a few hours once images are uploaded.
Can I sell products online with Squarespace?

Yes, Squarespace provides robust e-commerce capabilities for creating full-featured online stores. Physical, digital, and service products can be sold.

Is there an app for editing my site on mobile?

The Squarespace app allows managing and editing your site from iOS and Android mobile devices.

Does Squarespace allow editing HTML and CSS?

On Business plans, Developer Mode enables adding custom CSS, JavaScript, and HTML for advanced customization.

Can I blog directly on my Squarespace site?

Yes, Squarespace has integrated blogging capabilities with advanced features like commenting, subscriptions, and scheduling.

How long does it take to make a site?

With Squarespace's templates and drag-and-drop editor, most users can create a polished website in a matter of hours.
Final Thoughts
SmugMug is the ideal choice for photographers wanting to showcase their work online. With specialized gallery features, powerful digital sales options, and tools made for managing images, SmugMug provides the perfect platform for creatives. If you need portfolio hosting, and proofing capabilities, or want to sell prints and downloads directly, SmugMug can fulfill photography website needs from start to finish.
Squarespace works for a wider range of uses beyond photography. With beautiful templates, versatile commerce capabilities, and strong blogging tools, it powers websites from blogs to stores to portfolios. If you need an all-in-one solution for launching a polished web presence quickly across domains, Squarespace provides exceptional capabilities for creatives, restaurants, nonprofits, and online retailers.
Choosing the right platform is key to creating a successful online presence. We hope this comparison gives you clarity on which solution best suits your specific needs and goals. Please ask any other questions in the comments – we're happy to provide personalized advice to help you make the best decision for your website!
If you'd like to learn more about Squarespace, check out my comprehensive Squarespace review for more info.
Alternatively, take a look at how Squarespace performs against other site builders: