When starting an online business, one of the most important decisions is choosing the right e-commerce platform. Two top options are Shopify and Weebly, both powerful and popular platforms used by millions of entrepreneurs worldwide.
Shopify is an industry leader focused purely on e-commerce, while Weebly is a website builder with robust e-commerce capabilities. Choosing between them can be difficult, but the platform you select will have a major impact on your online success.
In this comprehensive comparison, we evaluate Shopify and Weebly across seven key factors: market position, ease of use, design and customization, features and functionality, website speed, customer support, and price. We'll look at the strengths and weaknesses of each platform to help you determine which solution is the best fit for your business goals and technical needs.
1. Understanding the Basics
Shopify was founded in 2004 by Tobias Lütke, Daniel Weinand, and Scott Lake. It has grown to become the leading e-commerce platform, powering over 1 million businesses in 175 countries. Shopify has a Facebook group with over 110,000 members.
Weebly was founded in 2007 by David Rusenko, Chris Fanini, and Dan Veltri. While not as large as Shopify, Weebly still powers millions of sites across the globe. There is an active Weebly Facebook group with over 1,500 engaged users.
Both Shopify and Weebly have been around for over 15 years. In that time, they have established themselves as leaders and built powerful platforms trusted by entrepreneurs worldwide. Shopify does have a larger market share, but Weebly still occupies an important niche. The popularity and longevity of both demonstrate these are stable platforms you can rely on for the long haul.
Ultimately, due to its singular focus on e-commerce, Shopify has become the giant in this space. But Weebly remains a versatile option loved by many store owners. The platform you choose depends on your specific business needs.
2. Ease of Use
Shopify's dashboard uses large icons and clear labels so you can quickly find key tasks. The left sidebar provides easy access to all store sections. Shopify uses consistent layouts so once you learn one section, you can easily navigate others.
Descriptive tooltips and suggestions guide customization. Terminology like "Products" and "Orders" help beginners understand what they're accessing.
Pages load quickly for a seamless experience. Key data is displayed right on the dashboard. Step-by-step tutorials introduce users to core tasks. The initial setup guides you through key steps to avoid feeling overwhelmed.
Weebly's drag-and-drop editor makes it simple for beginners to create pages and add content. Pre-made templates only require dragging your own text and images. The clean interface avoids too many on-screen options that can confuse novices.
The sidebar navigation provides quick access to your site, store, blog, and stats. Icons illustrate what elements you are adding like text or images. Workflows for new products and posts are straightforward. However, accessing some tasks requires more clicks between the editor, dashboard, and apps.
Shopify takes the prize for being easy to use. Its intuitive interface, guided onboarding, and seamless user experience allow store owners to quickly master the basics. Weebly makes it easy to create pages but lacks robust commerce-focused workflows. For rapidly managing a growing online business, Shopify's usability can't be beat.
3. Design and Customization
Shopify offers dozens of professionally designed templates optimized for product display and conversions. Shopify themes come in styles like minimalist, bold, or showcasing products. Customizing the homepage layout is easy with drag-and-drop sections.
You can tweak colors, fonts, and imagery with just a few clicks. Advanced users can edit HTML/CSS code for deep customization.
Shopify has a mobile app to manage your store. It uses responsive design so your site looks great on all devices. Mobile shopping features like swipe navigation and Apple Pay optimize the experience.
Weebly also provides professionally designed templates across categories like business, portfolio, or storefront. Most focus on content display over product promotion. You can easily drag and drop to customize sections and add new pages. Weebly has limited font and color options compared to Shopify. HTML/CSS editing is available for advanced customization. Weebly also uses responsive design for mobile optimization. But their mobile app just allows you to edit your site, not view analytics or manage orders.
For e-commerce design and customization, Shopify emerges as the winner. It's one of the best website builders that offers a wide range of templates focused specifically on product promotion and sales. Shopify also provides greater flexibility with fonts, colors, and code customization to tailor your brand.
Weebly makes it easy to create attractive content sites but comes up short on robust commerce design features. The deciding factor is Shopify's superior mobile app for managing your store on the go.
4. Features and Functionality
Blogging Tools
Shopify provides an intuitive built-in blogging engine to engage customers and drive organic traffic. The WYSIWYG editor makes it easy to format posts with options for text styling, lists, links, images, and videos. Blog posts can be organized into categorical tags and authors assigned for multi-user blogs.
Posts are optimized for SEO with customizable meta titles and descriptions. Articles can also be scheduled to be published at future dates. Shopify also offers comment moderation tools and the ability to allow customers to post reviews. Blogs are seamlessly integrated with products for contextual recommendations.
The templating engine lets you customize blog layouts and designs for on-brand styling. There are also hundreds of themes and apps to extend functionality like newsletter subscriptions, podcasting, and guest contributors.
Overall, Shopify's blogging capabilities are extremely robust for an e-commerce platform. The native tools empower merchants to drive value through content without any third-party systems.
Weebly also makes it easy to create blog posts and news articles directly on your website. The drag-and-drop editor supports text, images, embeds, tags, and comments. Blog posts can be organized by category or tag for discoverability.
Weebly offers SEO tools like customizable metadata, URLs, and alt text optimization. Blog posts can also be scheduled for future publication. For design, there are themes with dedicated blog layouts and styles.
While Weebly covers the basics of blogging, advanced features require third-party integrations. For example, podcasting requires a Weebly App Center app. Multi-author blogs are also not natively supported. Compared to Shopify, Weebly's blogging capabilities are limited.
For blogging tools, Shopify is the clear winner. The native editor, SEO customizations, scheduling, and robust theme options provide everything merchants need. Weebly handles basic blogging but lacks more advanced functionality without third-party apps. Given the importance of blogging for e-commerce, Shopify's superior built-in tools provide significant value.
E-commerce Capabilities
Shopify provides extensive e-commerce functionality to fully power online stores. Flexible product creation supports unlimited options and variants, dynamic bulk pricing, advanced custom fields for specification details, and location-based inventory tracking with different warehouses.
Checkout offers customizable themes, scripts for custom development, and secure payment processing integrations like Stripe, PayPal, and major credit card companies. It also provides automated tax calculation, discounted shipping rates from carriers like UPS and USPS, and options like Apple Pay and Google Pay for your ecommerce store.
Built-in order, customer, and inventory management tools make it easy to edit, fulfill, package, refund, archive, and track orders and products. Abandoned cart recovery uses email and SMS to re-engage customers. Shopify also enables dropshipping, brick-and-mortar POS integration, and subscription recurring billing for memberships and replenishment.
Store design is customizable with 10+ free themes, additional paid themes, sections, and advanced Liquid coding for full control. Enhanced by Shopify's app ecosystem with thousands of integrations, the platform can handle complex and diverse e-commerce requirements out-of-the-box for both online and physical retail environments.
Weebly enables users to create an online store and sell products through its website builder. The drag-and-drop editor makes it easy to create products with custom fields, global inventory tracking, variant images, taxes, and bulk or percentage discounts.
For checkout, Weebly integrates with PayPal Express, Apple Pay, Stripe, and major credit cards to handle transactions. It provides order tracking and basic management tools within its dashboard to view, edit, refund, and mark orders as fulfilled.
Weebly's themes and template sections allow for some branding customization of the store design. However, advanced functionality requires the use of their App Center integrations. While Weebly covers basic e-commerce needs, its standalone store capabilities are not as advanced as Shopify's specialized platform.
For e-commerce functionality, Shopify is the undisputed winner. Shopify was purpose-built from the ground up to provide enterprise-level tools and scalable solutions to power high-volume online retail stores. Weebly added e-commerce functionality to supplement its core website builder offering. For merchants needing maximum flexibility and advanced capabilities, Shopify is the superior choice.
SEO Tools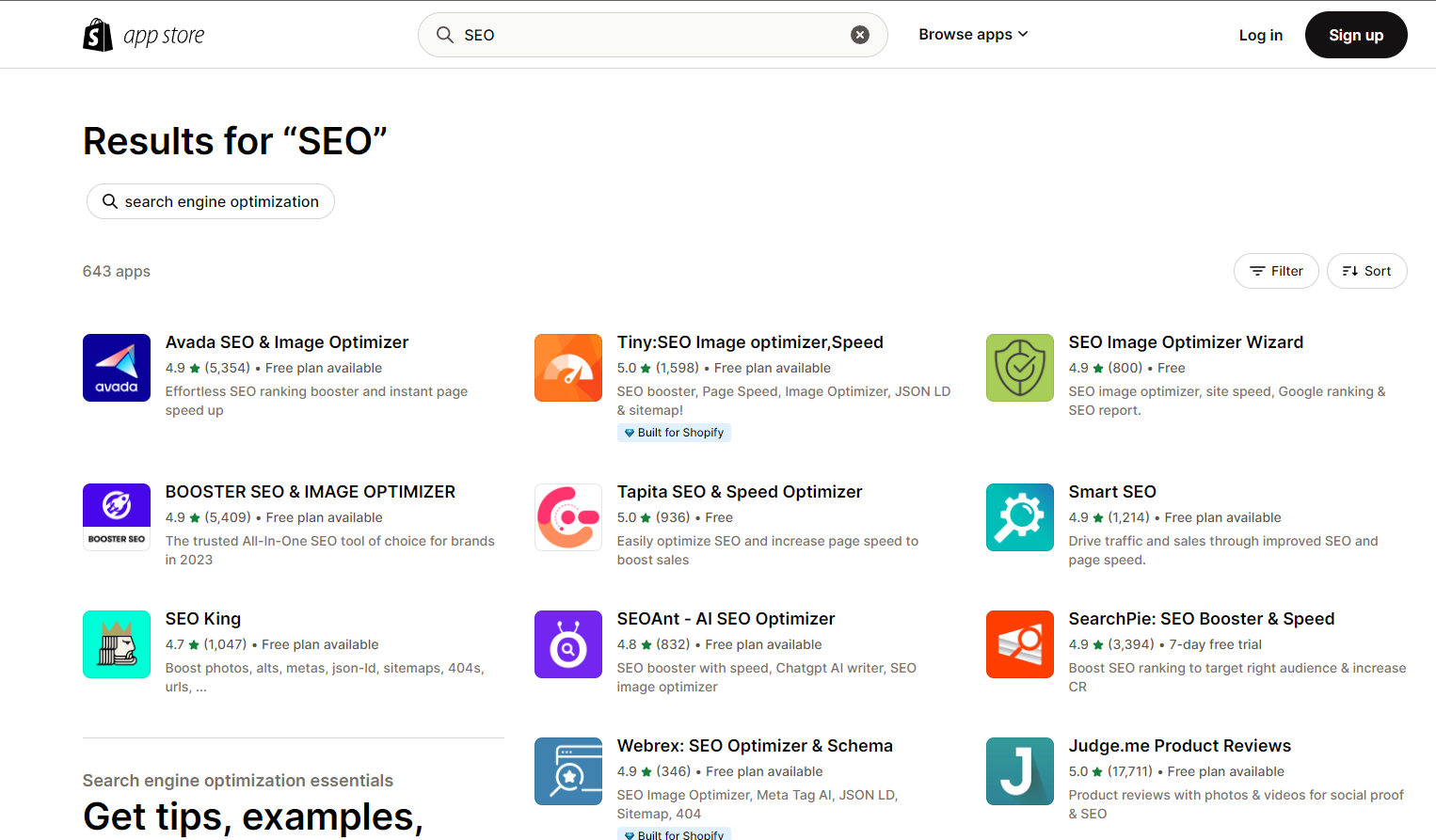 Shopify provides a range of built-in SEO tools to optimize online store discoverability. Page-specific keywords can be added to influence relevance for targeted searches. Meta titles and descriptions are customizable for every product and page.
The platform automatically generates search-engine-friendly URLs. Images can be enhanced with alt text descriptions for indexing. Additional structuring markup helps search crawlers understand the page content.
Sitemaps ensure all pages are indexed. Canonical tags prevent duplicate content issues. Redirects and 404 error handling further enhance SEO. There are also hundreds of App Store integrations for expanded SEO and digital marketing.
Weebly also offers on-page SEO optimizations to help websites rank higher. Page titles, headings, URLs, and meta descriptions can be customized to target relevant keywords.
Alt text can be added to images for discovery. Weebly also generates an XML sitemap to aid indexing. For additional capabilities, users can utilize App Center integrations like SEO suites to expand optimization tools.
However, Weebly lacks more advanced technical SEO capabilities like structured data markup, canonical tags, and 404 handling offered natively by Shopify. The SEO tools are more basic and limited without third-party apps.
For built-in SEO tools, Shopify emerges as the winner. Shopify offers small but mighty SEO capabilities out-of-the-box, while Weebly only covers basics like titles and meta descriptions. Shopify also provides integrations for expanded optimization, similar to Weebly's App Center. Given the immense value of search engine visibility, Shopify's robust SEO toolkit is a key advantage.
Integrations
Shopify offers an expansive app store with over 3,000 apps to extend platform functionality. Apps exist for marketing, SEO, customer engagement, accounting, shipping, and more.
Popular integrations include email marketing platforms like Mailchimp, Klaviyo, and Constant Contact. Social media scheduling and marketing are available through apps like Hootsuite and SocialPilot. There are also apps for reviews, loyalty programs, product customization, and POS systems.
Shopify's app ecosystem makes it easy to connect other business systems to your e-commerce operations. The platform's APIs and developer support also enable building custom integrations.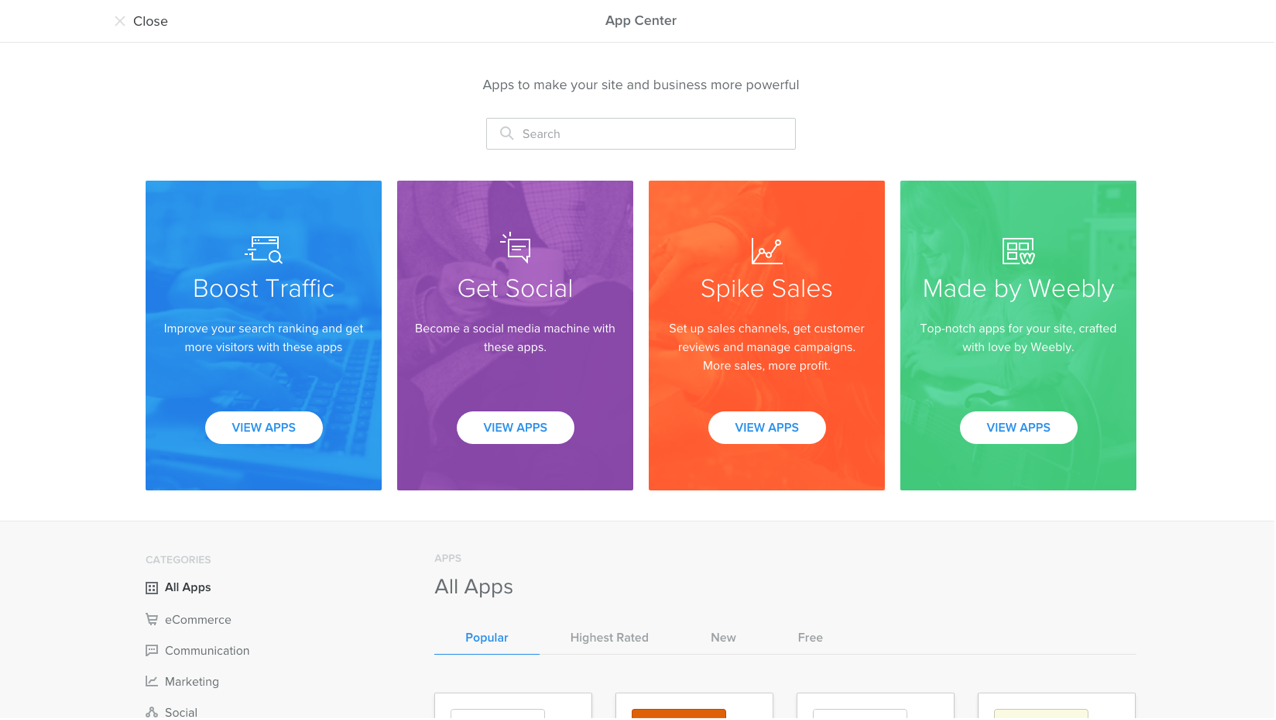 Weebly also offers an app center with over 200 integrations to add advanced capabilities. Apps support marketing, accounting, security, analytics, and other business needs.
For email marketing, Weebly integrates with Mailchimp, Constant Contact, and Campaign Monitor. Social media scheduling is available through Agorapulse, Social Pilot, and other apps. Weebly users can also connect Google Analytics, accounting software, and POS systems.
However, Weebly's app selection is smaller compared to Shopify's extensive ecosystem. Their app development platform is more limited as well.
For third-party integrations, Shopify is the clear winner due to the breadth of its App Store marketplace. With over 3,000 apps, merchants can connect Shopify to practically any other tool needed to run their business. While Weebly offers useful integrations, their selection is nowhere near as robust. Having an ecosystem that supports diverse needs for growth is a major Shopify advantage.
Analytics and Reporting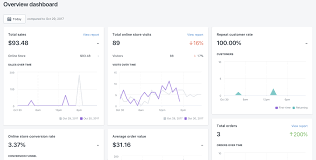 Shopify provides robust analytics and reporting to gain insights into store performance. The dashboard shows key data on orders, visitors, top products, and sales. Detailed reports include metrics on revenue, conversions, margins, traffic sources, abandoned checkouts, and more.
Reports can filter data by date range, product, traffic source, location, and other parameters for segmentation. Customizable dashboards allow focusing on key performance indicators. Data can also be exported to CSV/Excel for further analysis.
Shopify also provides an Analytics API for building advanced reporting and connecting other business intelligence tools to the platform.
Weebly offers basic analytics and reporting on store activity. The dashboard shows high-level site stats such as visits, orders, and revenue. Additional reports provide details on traffic sources, page views, country stats, and conversions.
Reports include filters for date ranges and basic segments. However, customization options are more limited compared to Shopify. Weebly analytics focuses more on website performance rather than e-commerce metrics. For advanced capabilities, users need to integrate third-party apps.
For analytics and reporting, Shopify is the clear winner. Shopify's dashboards and reports provide transparency into the operational and financial performance of an online store. Weebly analytics offer website metrics but lack e-commerce specifics needed by merchants. The ability to customize reports and connect other analytics tools also gives Shopify the edge.
In summary, Shopify has superior analytics capabilities purpose-built for e-commerce stores. Weebly only offers basic high-level reporting better suited for content sites rather than online retail.
5. Website Performance
Website Speed and Load Times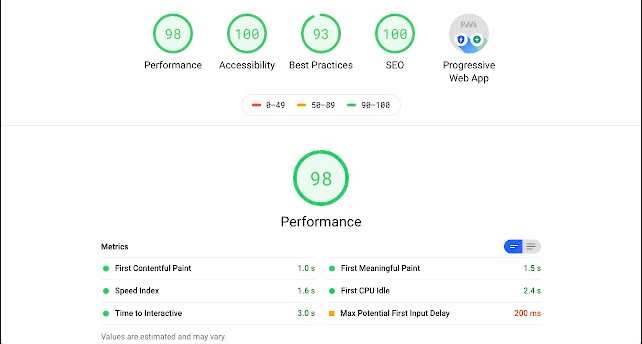 Shopify utilizes various performance optimizations to enable fast website speeds. The platform defaults to a global CDN to cache assets like images and JavaScript for quicker delivery across regions. Code minification and file compression reduce page weight for faster downloads. Lazy loading defers non-critical elements until after the page loads.
Shopify's themes are designed mobile-first for optimized performance. Automatic image resizing loads multiple sizes to serve the best for each device and connection. Caching reduces database queries and computation. Assets can be programmatically deferred for better sequencing.
Shopify provides a Performance Score and recommendations to identify optimization opportunities. There are also hundreds of app integrations for advanced capabilities like page caching. Most Shopify sites can achieve under 2-second mobile load times.
Weebly also aims to provide fast website performance across devices. Templates include optimized code and compressed assets to improve speeds. Weebly automatically compresses media and enables CDN delivery to offload assets.
However, Weebly gives less fine-grained control compared to Shopify. There is no performance grading tool to highlight optimizations. Third-party apps are required for additional capabilities like deferred loading and caching. Load times can vary more between sites based on customization.
For website speed and load times, Shopify emerges as the winner. Shopify provides superior visibility into performance with grading tools. It also handles more optimizations automatically across themes. Weebly sites can achieve fast speeds but lack specialized e-commerce tuning. Quick page loads directly impact conversions, so Shopify's speed focus is a competitive edge.
Website Reliability and Uptime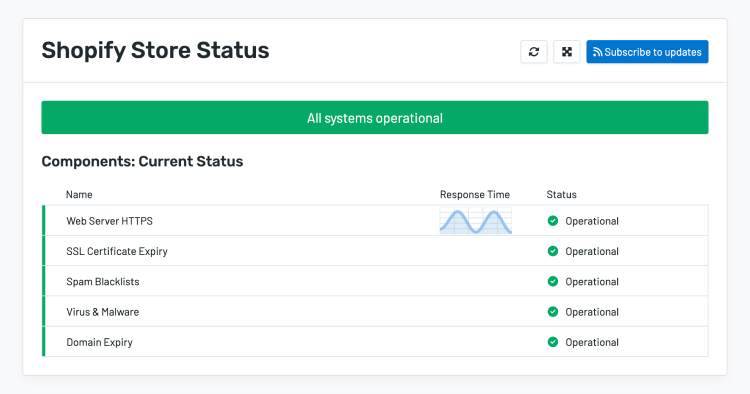 Shopify provides high website uptime and reliability to keep stores continually operational. The platform runs on a cloud infrastructure with redundancy across data centers and regions. Load balancing, failover systems, and auto-scaling ensure traffic spikes do not cause downtime.
Shopify guarantees 99.98% uptime in its service level agreement (SLA). Any downtime is typically isolated to small subsets of merchants. The status page provides transparency into any incidents. Most outages last less than an hour.
Backups run every few minutes to avoid recent data loss. Disaster recovery systems recreate stores from backups within minutes. Shopify's stability gives merchants peace of mind that stores will stay operational.
Weebly also aims to maintain high reliability for its website builder platform. Hosted sites run on multiple data centers with redundancy. Load balancing handles traffic spikes to prevent overhead.
However, Weebly does not provide an official uptime SLA. Status page data indicates higher downtime frequency compared to Shopify, with some outages lasting hours. Backups are performed daily rather than continuously.
Restores from outages can be slower due to reliance on backups. While adequate for lower-traffic sites, Weebly's stability may not suffice for mission-critical commerce stores.
For website reliability and uptime, Shopify is the clear winner. Shopify's cloud infrastructure offers greater redundancy, automatic scalability, and disaster recovery systems purpose-built for e-commerce. Its 99.98% uptime SLA also sets a higher bar for availability.
Weebly's reliability is decent for content sites with lower traffic, but merchants running large stores need the robustness Shopify provides. Even minor downtime can cause major revenue loss and customer dissatisfaction.
In summary, Shopify's stability and uptime better serve the always-on demands of high-volume online retail stores. Reliability is paramount for e-commerce success.
6. Customer Support and Community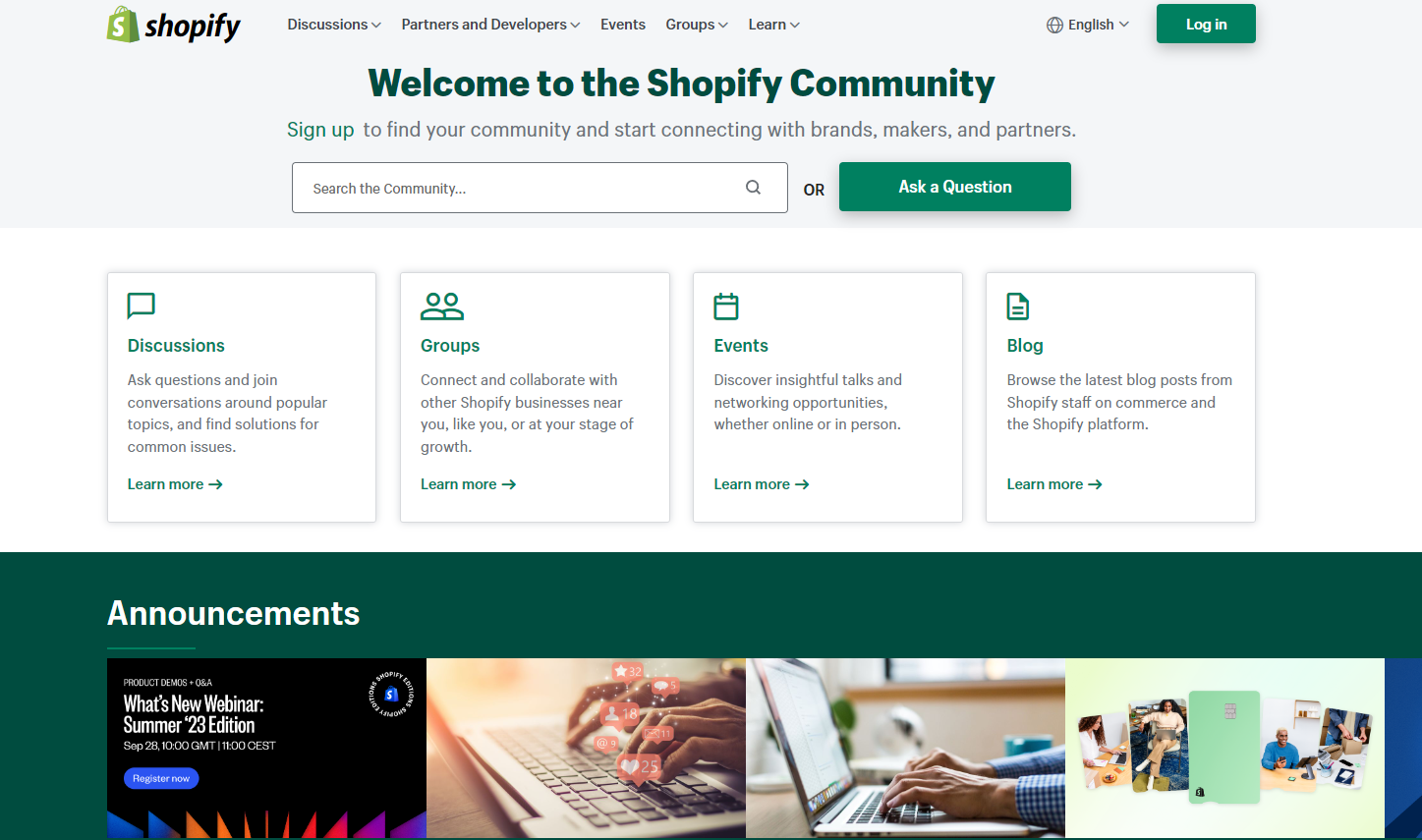 Shopify provides 24/7 customer support via live chat, email, and phone. Support agents are e-commerce experts who can assist with technical issues or help grow your business. Phone support is available for all plan levels.
Detailed help articles and tutorials in Shopify's Help Center guide you through getting started, using features, and running your store. There are also active discussion forums to connect with other Shopify merchants.
An engaged Facebook community of over 150,000 members is available at Shopify Entrepreneurs Group for advice, feedback, and inspiration. Shopify also hosts exclusive meetups and events.
Weebly offers customer support by email and chat. Phone support is only included on higher-tier plans. Support covers technical issues like editing your site, managing domain settings, and using Weebly tools.
The Weebly App Center provides articles and webinars to learn about features and best practices. Users can also access documentation and tutorials. For the community, Weebly has a Facebook User Group with 1,500 active members.
However, Weebly's community is not as robust or tailored to e-commerce as Shopify. Support lacks commerce-specific training offered by Shopify experts.
Both Weebly and Shopify offer robust customer support, but Shopify emerges as the winner. Shopify support agents are highly trained in e-commerce practices to provide relevant assistance. The vibrant Facebook community also connects merchants to share expertise. While Weebly offers decent support, it is not tailored specifically to online selling.
In summary, Shopify has superior support resources to help merchants succeed. The combination of expert assistance and a thriving community gives Shopify merchants an advantage.
7. Weebly vs Shopify Pricing
Shopify offers a range of paid plans to meet different business needs. Basic Shopify costs $29/month and supports basic online selling features. Shopify also takes a transaction fee starting at 2.9% + 30¢ per order.
The $79/month Shopify plan unlocks more advanced functionality like gift cards and abandoned cart recovery. The $299 plan adds further capabilities, and there's also advanced Shopify scaling to enterprise-level merchant needs.
Shopify provides a free 14-day trial to test the platform. Additional transaction fee discounts are also available at higher plan levels. While pricier than competitors, Shopify provides robust tools and support.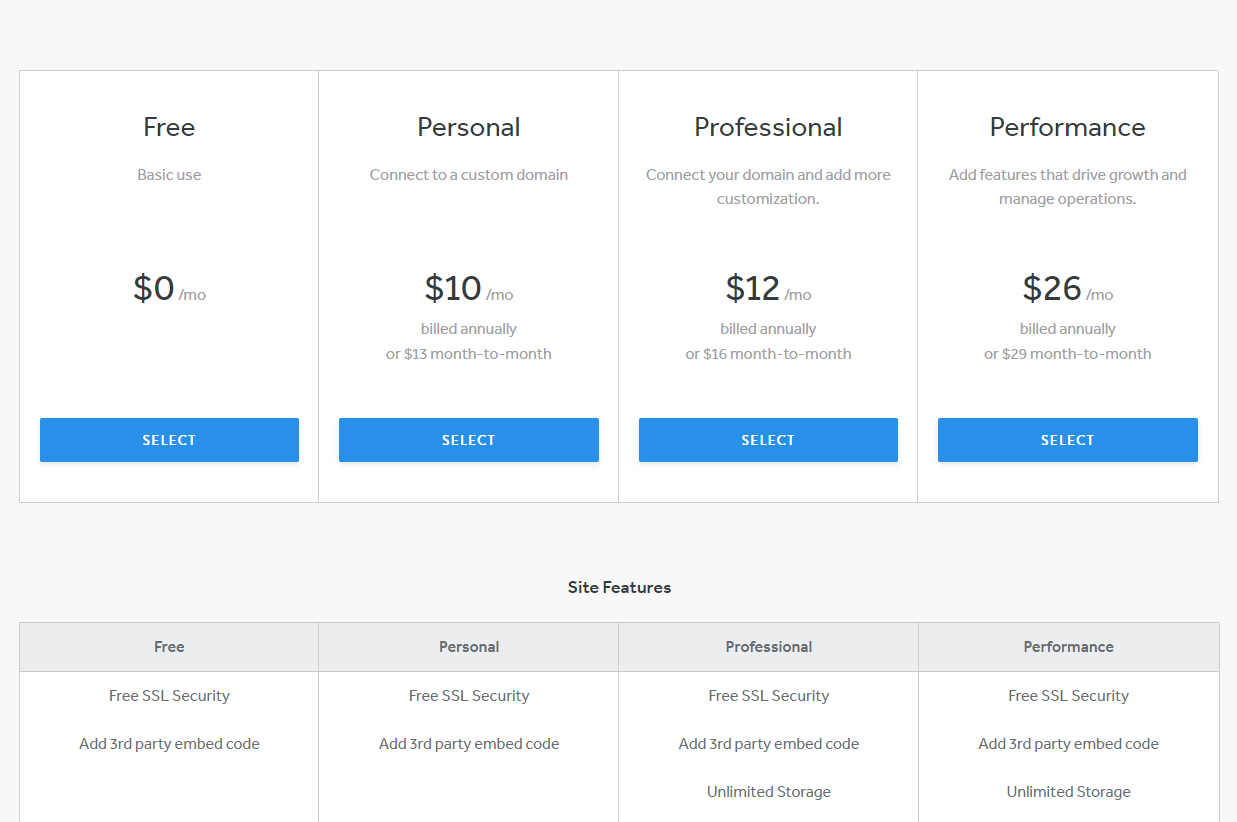 Weebly offers four website plan tiers. The free plan allows basic site-building. Paid plans start at $10 per month for SEO tools, basic e-commerce, and removal of Weebly ads.
For advanced e-commerce, Professional plans start at $12/month and have the ability to sell Digital Goods. At $26/month, the Performance plan supports advanced e-commerce insights, as well as products and real-time shipping. Performance upgrades increase limits. Weebly charges no transaction fees.
Compared to Shopify, Weebly offers lower pricing, especially for smaller online shops. However, its functionality can be more limited depending on business needs. Weebly plans are straightforward but lack the high-end capabilities Shopify enables.
Winner: Tie
Declaring a clear pricing winner is difficult. Shopify provides more advanced features but at a higher cost. Weebly is more affordable for small sites but has more limited capabilities. The ideal solution depends on specific business requirements and budget. Both platforms offer free trials to evaluate value.
In summary, Shopify suits merchants needing enterprise-grade solutions. Weebly better serves newer businesses with lower volumes. Comparing plans to unique needs is required to determine the ideal platform and pricing.
8. Reviews and Reputation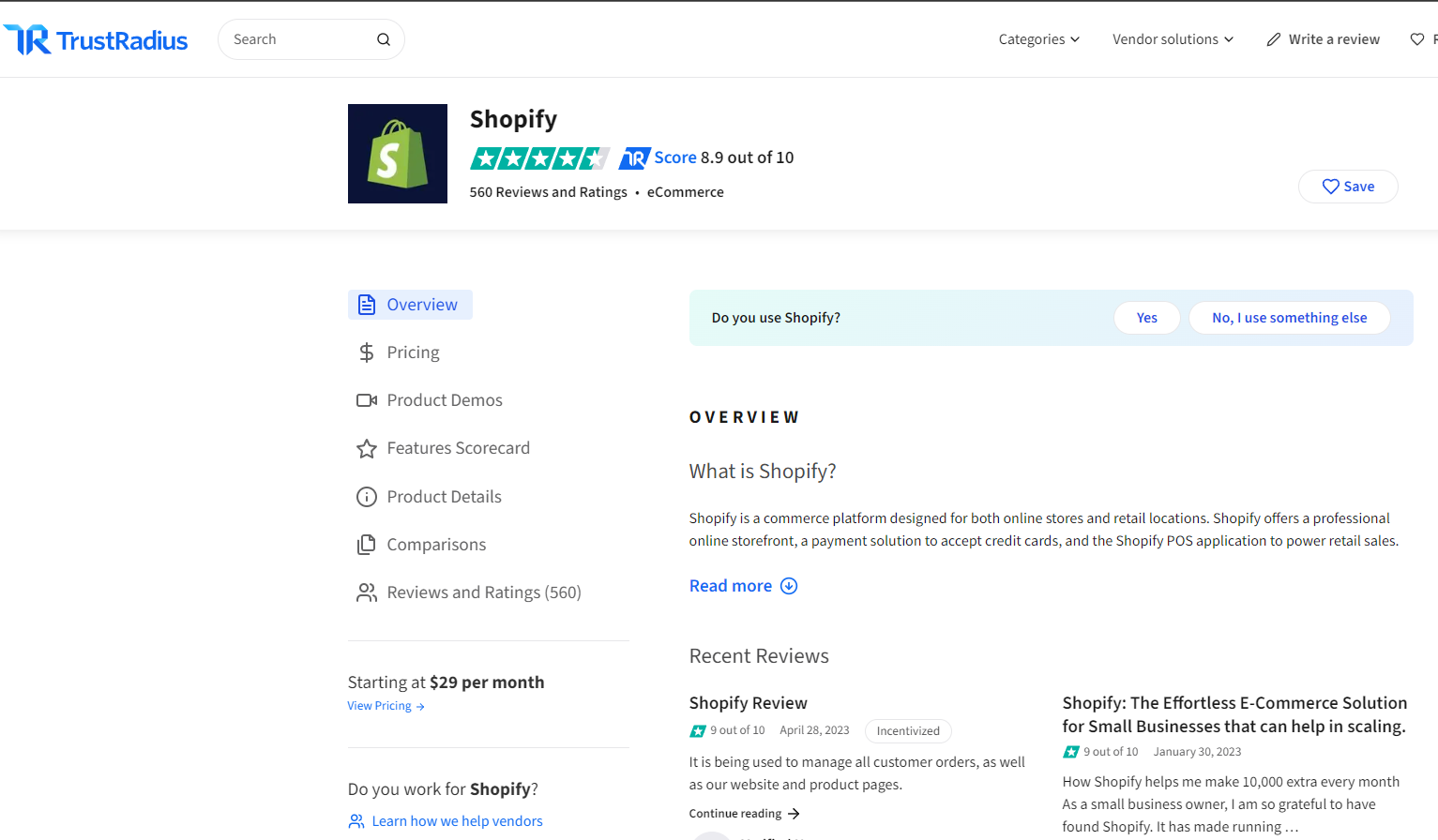 Shopify has over 550 reviews on TrustRadius with an average rating of 8.9 out of 10 (see reviews). Users consistently praise the wide range of powerful e-commerce features, ease of use, and quality customer support. The most common negative feedback focuses on Shopify's higher pricing compared to some other platforms.
On G2, Shopify has a 4.5/5 rating based on over 4,400 merchant reviews (see reviews). Highly praised features include optimized mobile capabilities, built-in SEO tools, and robust third-party integrations. Some merchants feel the additional transaction fees on top of the monthly costs are too high.
Over 6,000 Capterra reviewers give Shopify a 4.5 out of 5 rating (see reviews). Positive highlights include the modern and optimized templates, scalability for growing businesses, and the depth of analytics and reporting. Some users find the platform overly complex and expensive for more basic e-commerce needs.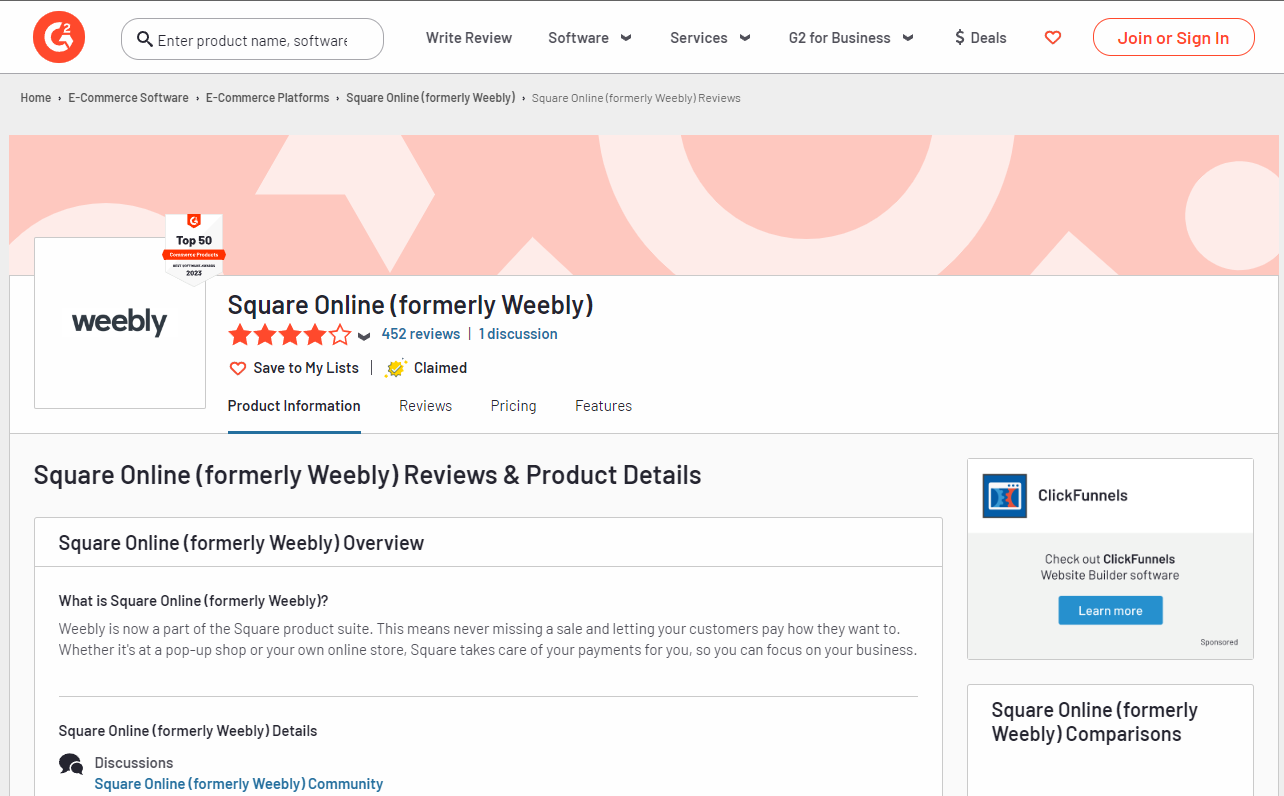 Weebly has a 4.1/5 rating on G2 based on over 450 user reviews (see reviews). Users heavily praise the intuitive drag-and-drop website builder but some want more advanced integrated ecommerce features.
On TrustRadius, Weebly has a 7.9/10 rating (see reviews). Reviewers consistently highlight the easy-to-use website editor and designer-made templates. Negative feedback focuses on limitations for serious online selling needs compared to dedicated e-commerce platforms.
Capterra users give Weebly 4.3 out of 5 stars (see reviews). They appreciate the straightforward ease of use but cite a lack of capabilities for high-volume product catalogs and stores. Some users also want more customization options for templates and branding.
Based on authoritative online reviews, Shopify emerges as the winner for reputation and merchant satisfaction. While both platforms receive strong reviews for their core website-building capabilities, Shopify is more highly rated specifically for advanced e-commerce features, scalability, and customization. Weebly reviews tend to highlight limitations for sophisticated online selling needs.
9. FAQ's
How much does Shopify cost? Shopify offers a range of plans from $29/month up to $299/month. It also charges transaction fees on sales from 0.5% to 2%, depending on your plan.
Is Shopify easy to use? Yes, Shopify is designed to be intuitive and easy to use for small business owners. The dashboard provides access to key tasks and the platform offers tutorials and 24/7 support.
Can I use my own domain name? Yes, Shopify enables you to use a custom domain name. The platform doesn't offer a free domain name, but you can point the DNS records of your new domain name to Shopify.
Does Shopify allow dropshipping? Yes, Shopify's sales and marketing features facilitate dropshipping including Oberlo integration. You can import products and manage orders easily.
How do I get paid for orders? Shopify offers built-in payment processing through Shopify Payments. You can also integrate external gateways like PayPal. The platform handles collecting and sending you your earnings.
Is Weebly really free to use? Weebly does offer a free plan but it includes ads and limited features. Paid plans start at $6 per month for a basic online store.
Can I sell products on Weebly? Yes, Weebly's e-commerce plans allow you to add a store and sell products through your site. But catalog size is limited unless you upgrade.
Does Weebly work with Square? Yes, Weebly sites can integrate with Square for POS and payment processing through the Square for Weebly app.
Is there good uptime with Weebly? Weebly does not provide an official uptime SLA but users report good reliability for lower-traffic sites. Reliability may be less than dedicated e-commerce platforms.
Can I use custom themes? Weebly does not allow custom themes to be uploaded. You are limited to their available themes and style editor customization.
Final Thoughts
I hope this Shopify vs Weebly review has helped you determine which is the best site builder for your business. If you're still not sure, here are my recommendations:
Shopify is the best choice for businesses needing a powerful e-commerce platform with advanced features. Shopify's robust tools for managing products, inventory, shipping, payments, and promotions make it ideal for high-volume merchants.
The ability to customize the shopping experience and easily scale growth over time provides long-term value. Shopify is the superior platform for any established retail business ready to invest in an enterprise-grade solution.
If you'd like to learn more about this platform, check out my Shopify review.
I also recommend taking a look at my Shopify vs. Squarespace comparison to see how it fares against another website builder.
Weebly is a better option for users needing a simple drag-and-drop website builder to create an initial online presence. Small business owners, artists, bloggers, and hobby sites can all benefit from Weebly's intuitive editor to quickly publish content.
While Weebly supports e-commerce, its limitations around product catalogs, checkout customization, and order management make Shopify better for serious selling. For affordable basic website creation, Weebly is user-friendly.
Be sure to read my Weebly review to find out the full capabilities and features of this website builder. And, if you'd like to see how it compares against other site builders, there are some comparisons I've done:
Choosing the right ecommerce platform is critical for online business success. Be sure to consider your specific needs in features, budget, and scalability. Ask any questions below – we're happy to provide guidance to help you pick the best solution!