As a small business owner, finding the right email marketing platform is crucial for engaging customers and driving growth. In this in-depth review, we'll assess if Tinyemail is the ideal solution for startups and small companies.
We'll analyze Tinyemail's core features like account setup, email campaign creation, contact management, analytics, integrations, security, customer support, pricing tiers, and overall value for money.
We'll also highlight the main pros and cons of using Tinyemail, look at customer feedback, and see how it stacks up against competing platforms.
By the end of this Tinyemail review, you'll have a clear picture of what Tinyemail provides and where it falls short. With this information, you can determine if Tinyemail offers the right set of capabilities and ease of use for your budget and business needs as you look to effectively reach and convert your audience.
Ron's Thoughts
Tinyemail is an affordable and effective email marketing platform for beginners and experienced email marketers. It boasts some powerful features, including an easy-to-use drag-and-drop email builder, contact segmentation capabilities, analytics and reporting, and a lot more. You can also use the platform for 7 days for absolutely free, making it ideal for anyone who is just starting out.
Biggest Pro:

Custom Price

Biggest Con:

Custom Price

Annual Discount:

Yes - Up to 20% Off

Price:

$15/Month

Promotion:
Key Advantages:
Affordable email marketing solution for small businesses
User-friendly drag-and-drop feature
Contact segmentation capabilities
Solid analytics and reporting
Top Alternatives: Mailchimp, Constant Contact, Sendinblue
1. Setup and User Interface
Dashboard and Navigation
Tinyemail's dashboard provides an overview of key metrics like emails sent, open rates, click rates, and unsubscribes. The intuitive email marketing tool displays these statistics in simple line and bar charts.
The left sidebar makes it easy to quickly navigate between the main sections for campaigns, reports, contact lists, and account settings. You'll be able to create and automate email marketing from one place.
While the interface is simple and easy to use, it lacks some of the visual polish, customization, and engagement of competitors like Mailchimp. Those wanting a more modern, dynamic, and visually appealing dashboard may find Tinyemail's a bit basic. However, it covers the fundamentals for reviewing account activity.
Email Subscriber Migration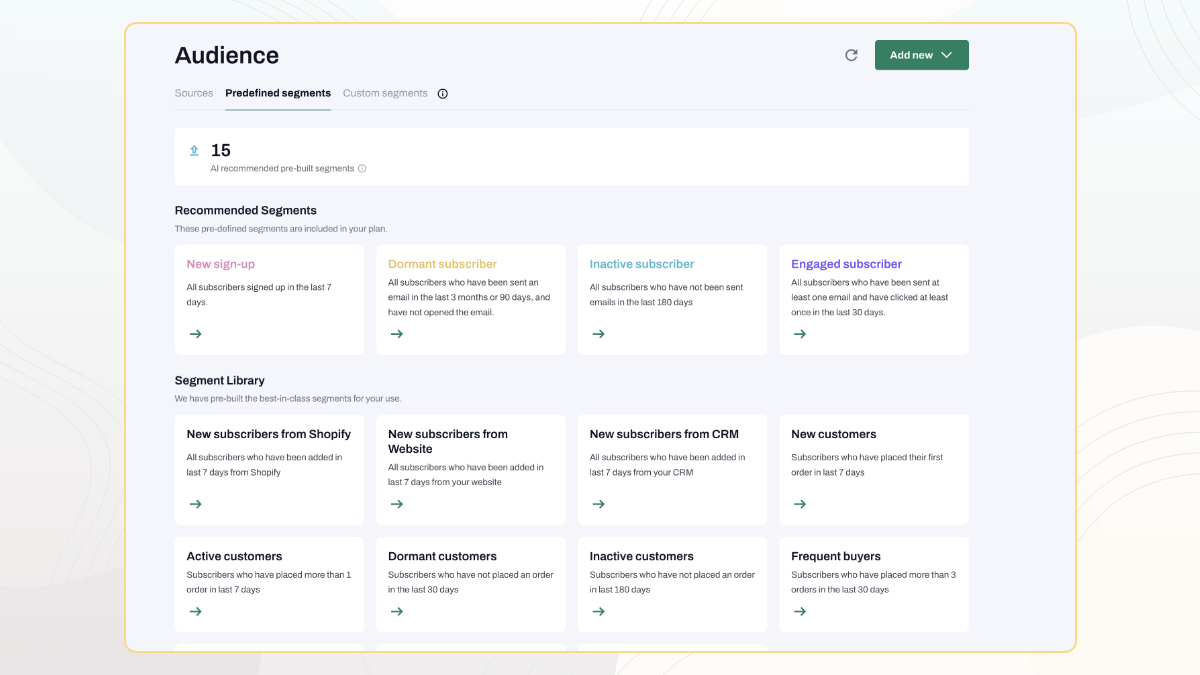 Tinyemail provides a few options to import your existing subscriber lists to make it easier for you to continue your email marketing efforts seamlessly when switching platforms.
You can upload CSV or TXT files containing your contacts' names, emails, and any additional fields you tracked in just a few clicks. Tinyemail's native import wizard walks you through matching your fields to Tinyemail's default attributes.
You can also connect Tinyemail to your previous email marketing platform through Zapier integrations. This automates transferring your subscriber data so you can deploy successful email campaigns in no time.
While the import process is relatively straightforward, you may need to do some list cleaning to match Tinyemail's specific field requirements. Deduplicating and formatting emails and names usually improves import success rates to ensure your campaign proceeded successfully.
Overall, it's feasible for most users to transfer their lists to start sending and segmenting with Tinyemail, but larger or more complex lists may prove more difficult.
2. Email Campaign Creation
Templates and Design
Prebuilt templates saves time, and Tinyemail provides hundreds of customizable email templates that users can choose from to design their campaigns. The template options cover common use cases like promotions, newsletters, welcome series, drip campaigns, and more.
Users can select a template and then customize it using Tinyemail's drag-and-drop editor. The editor allows modifying elements like text, colors, fonts, images, and layouts.
There are adequate options for basic templates across several categories. However, some users may find the templates a bit outdated or generic compared to the modern, visually stylish templates offered by some competitors.
Those wanting full creative control over their email design may need to heavily modify Tinyemail's templates or create custom HTML templates from scratch. But for simple newsletters and promotions, the templates can serve as a solid starting point for your future campaigns.
Personalization and Automation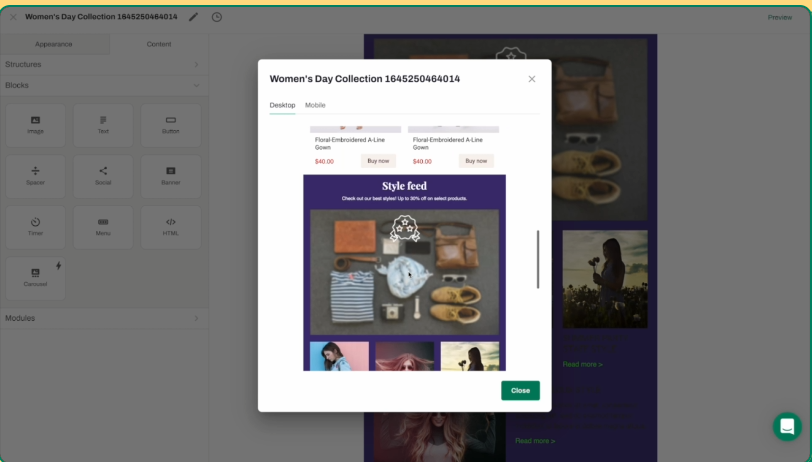 Tinyemail includes basic personalization and automation features users can leverage to target and engage subscribers. Personalization is handled via merge tags that allow inserting subscriber attributes like the first name into email copy and subject lines.
Tinyemail also offers advanced automation triggers. You get options to create automated email workflows triggered by dates, sign-ups, or subscriber actions.
For example, sending a 5-day welcome series to new contacts. The automation is functional for typical needs like drips and life cycle campaigns.
However, Tinyemail lacks some of the more complex segmentation and conditional logic capabilities provided in platforms like Mailchimp which offers automated email sequences and tools for creating landing pages with sign-up forms so you can send targeted emails to relevant users.
Marketers wanting advanced personalization and custom multi-track automation based on granular subscriber behavior may require more customization than Tinyemail provides out-of-the-box. But for simpler applications, the features are adequate.
3. Contact Management
Organizing Contacts
Tinyemail provides several options for organizing contacts into segmented lists and groups. Users can create lists based on demographics, interests, customer types, and other attributes relevant to targeting campaigns.
It's simple to assign contacts to appropriate lists through tags or import filters. Contacts can also be moved between lists over time as their attributes evolve, keeping you on top of campaign details.
While Tinyemail's list management capabilities aren't as advanced as some competitor platforms, the tools are sufficiently robust for most small business needs.
Tinyemail makes it easy to get started organizing contacts in ways that support your segmentation strategy.
Cleaning up Email Lists
To maintain healthy list hygiene and deliverability, Tinyemail offers both automated and manual tools for cleaning up contact lists.
You can use built-in preferences to automatically remove subscribers that have been inactive for a specified period of time. Tinyemail also allows manually selecting individual subscribers or batches to delete or export.
The platform also includes basic duplication detection to merge and remove duplicate contacts. While this process involves manual selection, it is quite effective for standard list cleaning and maintenance. Overall, Tinyemail provides a solid set of list-cleaning capabilities for the target small business user.
Segmentation and Targeting
Tinyemail enables both basic and more advanced contact segmentation for targeting campaigns and automation. Simple options include sending to specific lists based on attributes like demographics, interests, and customer type.
Tinyemail also supports more complex behavioral segmentation based on engagement metrics and activity tracking.
While Tinyemail lacks an advanced visual segmentation builder, its broad targeting and automation options are sufficient to support typical small business segmentation needs.
With combinations of lists, tags, and scoring, most users can achieve moderately sophisticated contact groups for personalized messaging without overwhelming complexity.
4. Email Deliverability
Email deliverability is a key consideration when choosing an email service provider. Deliverability refers to how successfully a platform can get emails into subscriber inboxes rather than blocked as spam.
Based on reviews and tests, Tinyemail has decent baseline deliverability rates for a small platform. However, exact inbox placement percentages are hard to find since Tinyemail does not publish detailed global delivery metrics.
According to online reviews, most Tinyemail users report acceptable deliverability with inbox rates around 90-95% when following best practices. This aligns with other smaller ESPs. Factors impacting Tinyemail deliverability include:
IP reputation – Tinyemail rotates IPs to protect the sender score but lacks the largest IP pools.
List hygiene – Tools to scrub lists help but require diligent list management.
Email authentication – Tinyemail uses SPF/DKIM but lacks more advanced authentication like DMARC.
ISP relationship building – As a smaller player, Tinyemail has less established relationships with major ISPs.
While deliverability is likely sufficient for most small business needs, advanced users may want to confirm inbox rates meet their standards, especially for mission-critical campaigns.
5. Analytics and Reporting
Performance Metrics
Tinyemail provides insight into all the key email marketing metrics that marketers rely on to gauge campaign performance and engagement. This includes essential rates like open rate, click rate, bounce rate, unsubscribe rate, spam complaints, shared metrics, and more.
Tinyemail tracks these metrics for both individual campaigns and overall account activity. Segmenting data by factors like campaign type, list, date range, and other filters is easy within the main Reporting dashboard. Users can dig into performance for specific segments to identify trends.
The platform calculates rates using industry-standard formulas, though advanced marketers may want to validate accuracy. Overall, Tinyemail covers the core email metrics needed for basic optimization and assessment.
Visual Reports and Insights
Tinyemail displays performance metrics in bar, line, and pie charts for visualization. The charts effectively showcase trends like open rate over time or clicks by subscriber segment.
However, competitors like Mailchimp tend to offer more visually rich, interactive dashboards for exploring campaign data.
Tinyemail's basic charts convey the fundamentals but may lack the deeper visual insights power users need to derive strategic takeaways. Advanced users can export campaign data to CSV/Excel for additional analysis and visualization outside Tinyemail.
But out of the box, the platform's reporting visuals are fairly basic. The visualization capabilities may not satisfy marketers' needs for deeper strategic insights.
6. Integrations
CRM Integrations
Tinyemail offers integrations with popular CRM platforms like Salesforce, HubSpot, Zoho, and others. The integrations allow basic contact data syncing between your CRM and Tinyemail subscriber lists. However, the integration capabilities are quite limited compared to other top email service providers.
There is minimal support for more advanced, bi-directional syncing of campaign activity and engagement data from Tinyemail back to your CRM records.
This limits leveraging Tinyemail behavioral data to enrich CRM profiles. The integrations are also light on autonomation triggers to link campaign sends to CRM activity.
Overall, Tinyemail's CRM integrations cover just the basics of contact management rather than deeper cross-channel automation and insights.
E-commerce Integrations
For key e-commerce platforms like Shopify and WooCommerce, Tinyemail offers lightweight integrations focused on automating post-purchase emails. You can send confirmation emails, cart abandonment reminders, and other basic triggered messages based on commerce events.
However, capabilities to pull additional customer purchase data into Tinyemail for segmentation are lacking.
There is also little support for customizing the default automation or implementing more advanced e-commerce workflows. These are essential tools if you want to automate campaigns for sales and encourage repeat purchases.
Tinyemail's e-commerce integrations provide just the basic starter capabilities as opposed to deeper shopper data access and customizable automation workflows offered by other email platforms.
7. Compliance and Security Features
GDPR and Other Compliance Measures
Tinyemail has implemented basic capabilities to support GDPR compliance, including tools for managing subscriber consent, allowing data access/export, and fulfilling deletion requests. However, Tinyemail lacks robust preference centers and audit trail reporting to demonstrate rigorous GDPR adherence.
Regarding global email regulations, Tinyemail claims compliance with key requirements:
CAN-SPAM Act – Includes opt-out links and sender info in emails.
CASL – Accommodates Canadian anti-spam law with consent tracking.
CCPA – Provides data access and deletion options for California residents.
Tinyemail does not offer advanced consent management or compliance reporting suited for enterprise users. Demonstrating adherence to changing global regulations seems an afterthought.
Data Security and Privacy
For data security, Tinyemail uses standard SSL encryption during transmission and at rest. Subscriber data is housed in trusted third-party data centers with adequate access controls and safeguards.
Tinyemail lacks details on specific security practices, audits, or certifications. Encryption levels, data redundancy, and backup provisions are unclear. Enterprises may require more legal assurance and IT security controls.
8. Customer Support
Availability (Channels, Hours of Operation)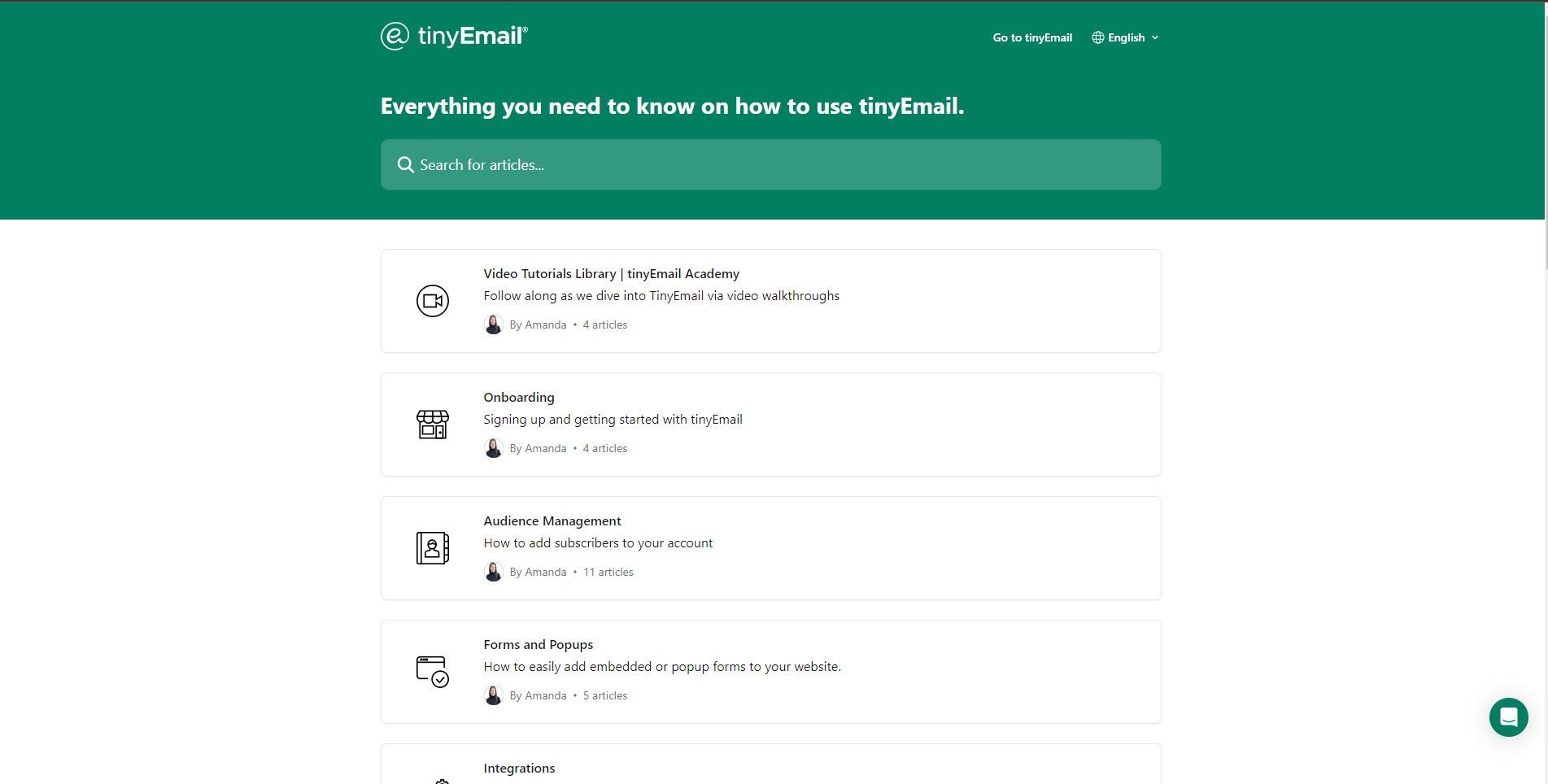 Unlike some of its competitors that have amazing customer support, Tinyemail's customer support team leaves a lot to be desired. The team offers assistance through email and in-app messaging.
Support is available weekdays from 9 am – 6 pm ET. Phone support is not offered. The limited hours and communication channels may frustrate some users needing urgent assistance.
Responsiveness and Effectiveness
According to reviews, email response time averages 1-2 business days. Support via the email marketing app tends to be slower. Support quality is hit or miss. Simple issues are addressed sufficiently but complex problems often require escalation. This is unlike other email marketing tools that offer prompt assistance where the support team immediately calls you back when you need help.
Resources (Knowledge Base, Webinars, Tutorials)
The Tinyemail help center provides basic articles and FAQs on core platform functionality. However, educational resources like how-tos, webinars, and video tutorials are lacking. DIY troubleshooting options are limited.
9. Pricing
Pricing Tiers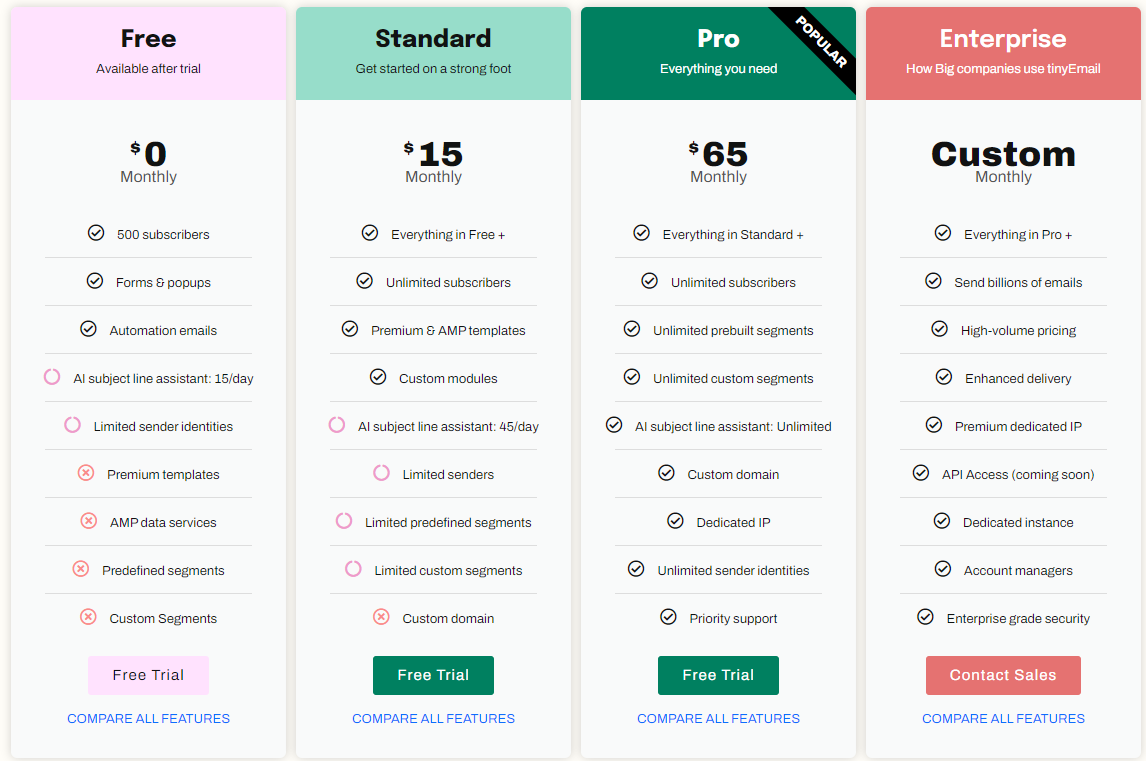 Tinyemail offers 4 pricing tiers based on the number of emails you'll send and the desired functionality.
Plans range from free which has basic email marketing for up to 500 subscribers, to $65/month for the Pro plan which has unlimited subscribers and includes advanced features like A/B testing. Custom enterprise quotes are available.
Comparison with Competitors
Tinyemail is competitively priced against other small business-focused rivals. For example, pricing is similar to MailerLite and lower than Constant Contact for smaller lists under 1,000 contacts. But rates are higher than market leader Mailchimp at higher tiers.
Value for Money
Considering the light feature set and deliverability concerns, Tinyemail may not offer strong value for money at higher pricing tiers compared to robust competitors.
However, the email marketing tool offers a free version and the entry tiers can be cost-effective for very small lists.
10. Pros and Cons
Advantages of Tinyemail
Here are some of the advantages of this very innovative tool.
Inexpensive pricing – Tinyemail offers affordable rates compared to competitors, especially for small contact lists. The free and low-cost tiers make it budget-friendly and provide you with all the features to run automated email campaigns.
Simple, easy-to-use interface – The platform has a straightforward dashboard and intuitive workflow for designing, sending, and managing campaigns. Beginners appreciate the shallow learning curve.
Drag-and-drop builder – The email editor makes constructing messages easy with drag-and-drop blocks, basic templates, and responsive design.
Contact management and segmentation – Decent tools for organizing subscriber lists and basic segmentation by attributes and behavior.
Solid deliverability rates reported – Most Tinyemail users report acceptable inbox placement rates around 90-95% following best practices.
Adequate templates and automation – The templates, basic segmentation, and pre-set automation perform well for simpler use cases.
Limitations and Challenges
As this Tinyemail review will show, the platform also has a few drawbacks.
Light feature set lacks advanced capabilities – Tinyemail trails leading email marketing platforms in sophistication and features for complex workflows.
Small ISP network and deliverability protections – With a smaller platform, Tinyemail risks deliverability challenges as customers scale up.
Underwhelming creative design options – The templates and drag-and-drop editor place limits on custom-branded design compared to rivals.
Limited analytics and integrations – Analysis, visualization, and CRM/e-commerce integrations lack the capabilities of top-tier solutions.
Customer support needs improvement – Tinyemail lacks good quality customer service. Support response times, communication channels, and self-serve help content are underwhelming.
Not ideal for advanced marketing needs – The platform's email automation features are better suits beginners who want to run a basic email marketing campaign rather than sophisticated marketers managing large programs.
Potential deliverability issues at higher volumes – Deliverability could degrade with large contact volumes given Tinyemail's infrastructure.
11. Customer Testimonials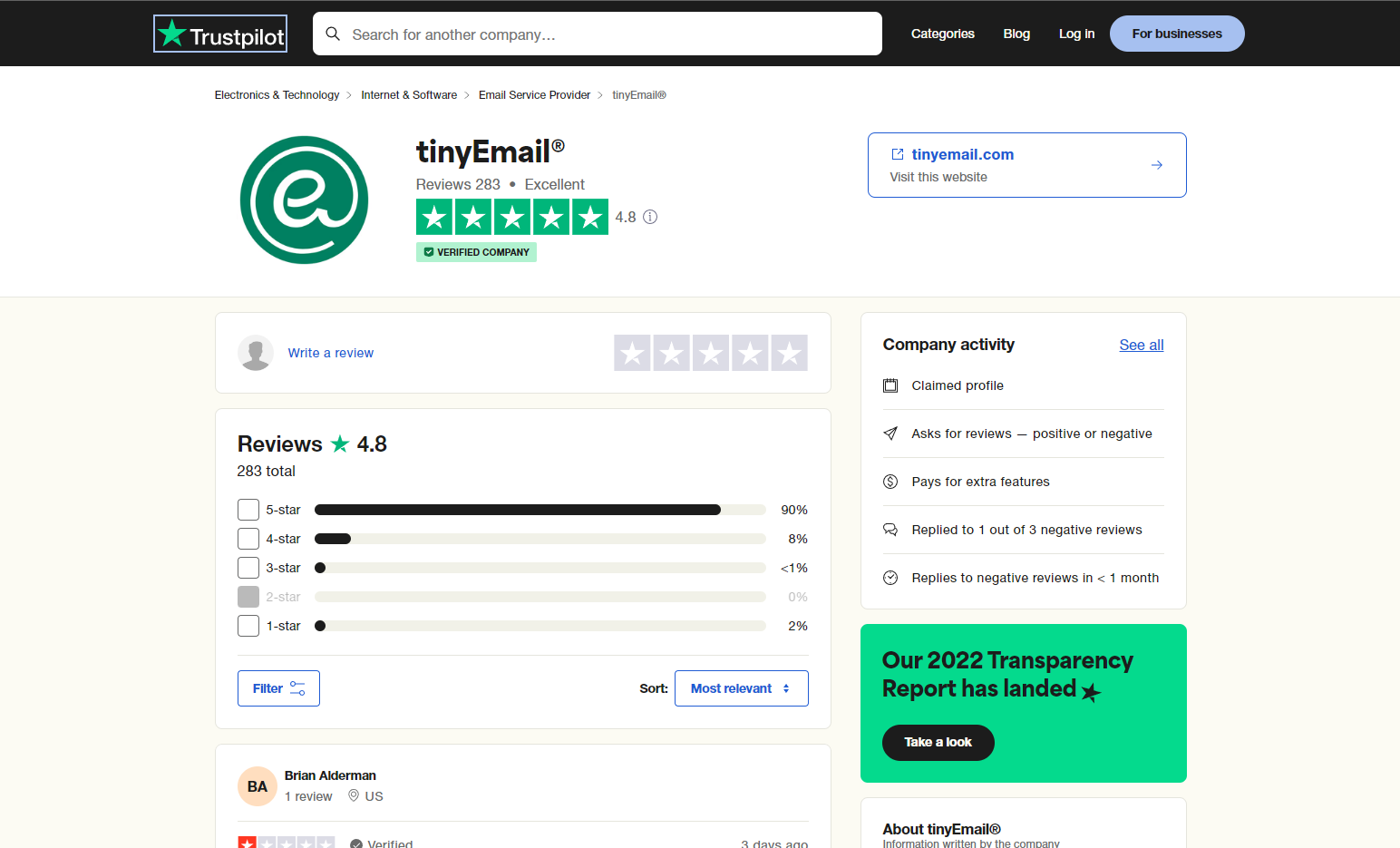 On leading software review platforms, Tinyemail earns mixed feedback and ratings:
Trustpilot – 4.8/5 star average rating from 283+ Tinyemail users. Positive feedback on segmented campaigns and deliverability.
The common themes in customer feedback are Tinyemail's affordability and simplicity for smaller needs counterbalanced by its lack of sophisticated features compared to higher-end email marketing platforms.
Also, the support team is quite slow to respond, especially on the email marketing app previously discussed. Some users also complain about the Tinyemail website's user experience.
12. Alternatives
Most email marketing platforms offer similar tools, but some have unique features that make them stand out. Tinyemail is an excellent email marketing tool, but how do its features and capabilities stack up against leading alternative email marketing platforms?
Mailchimp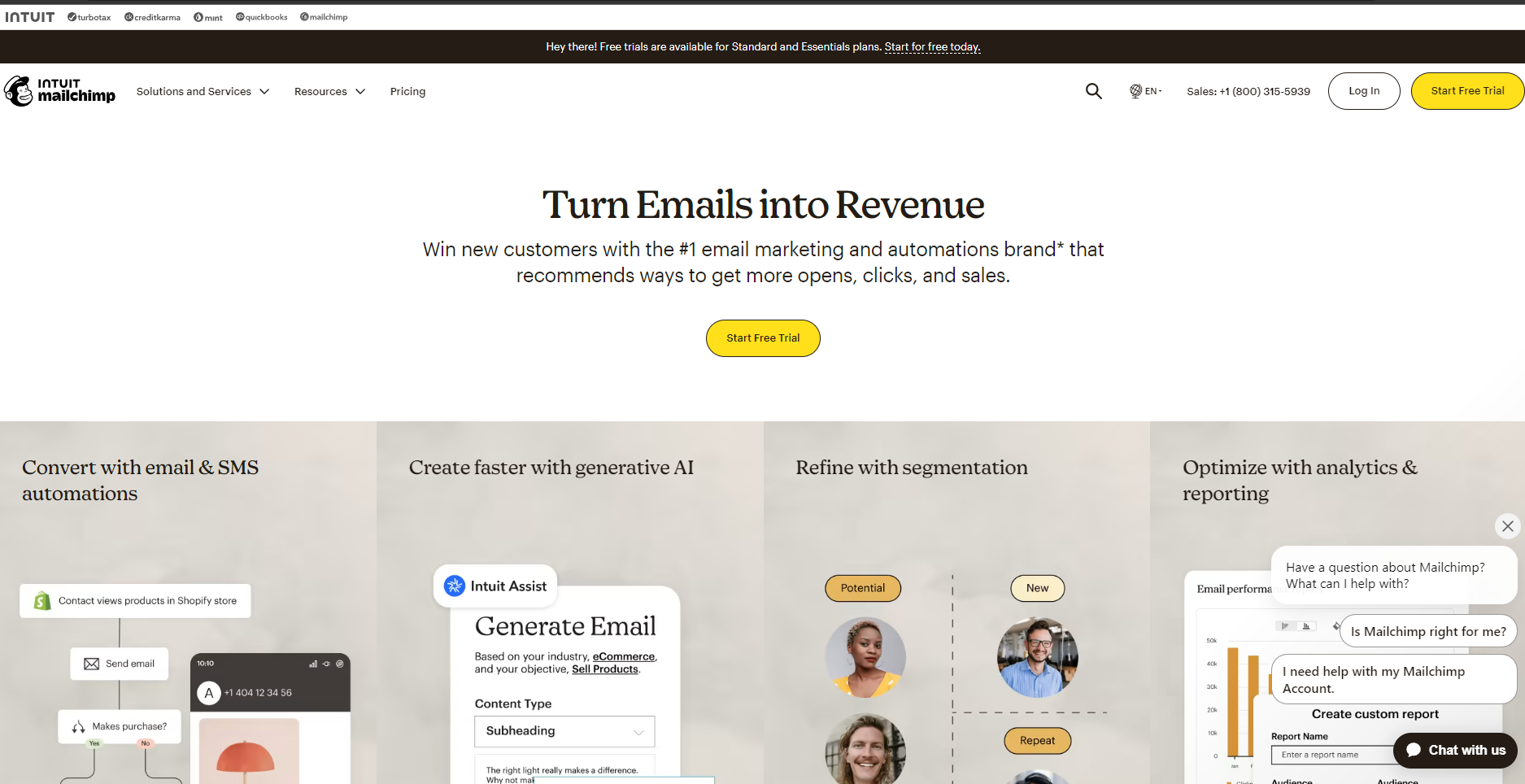 The category leader offers significantly more email functionality like advanced automation, custom coding, and enterprise-grade deliverability infrastructure.
Mailchimp has more features and sophistication but at higher price points that may not suit early-stage companies looking to run simple email marketing campaigns.
Constant Contact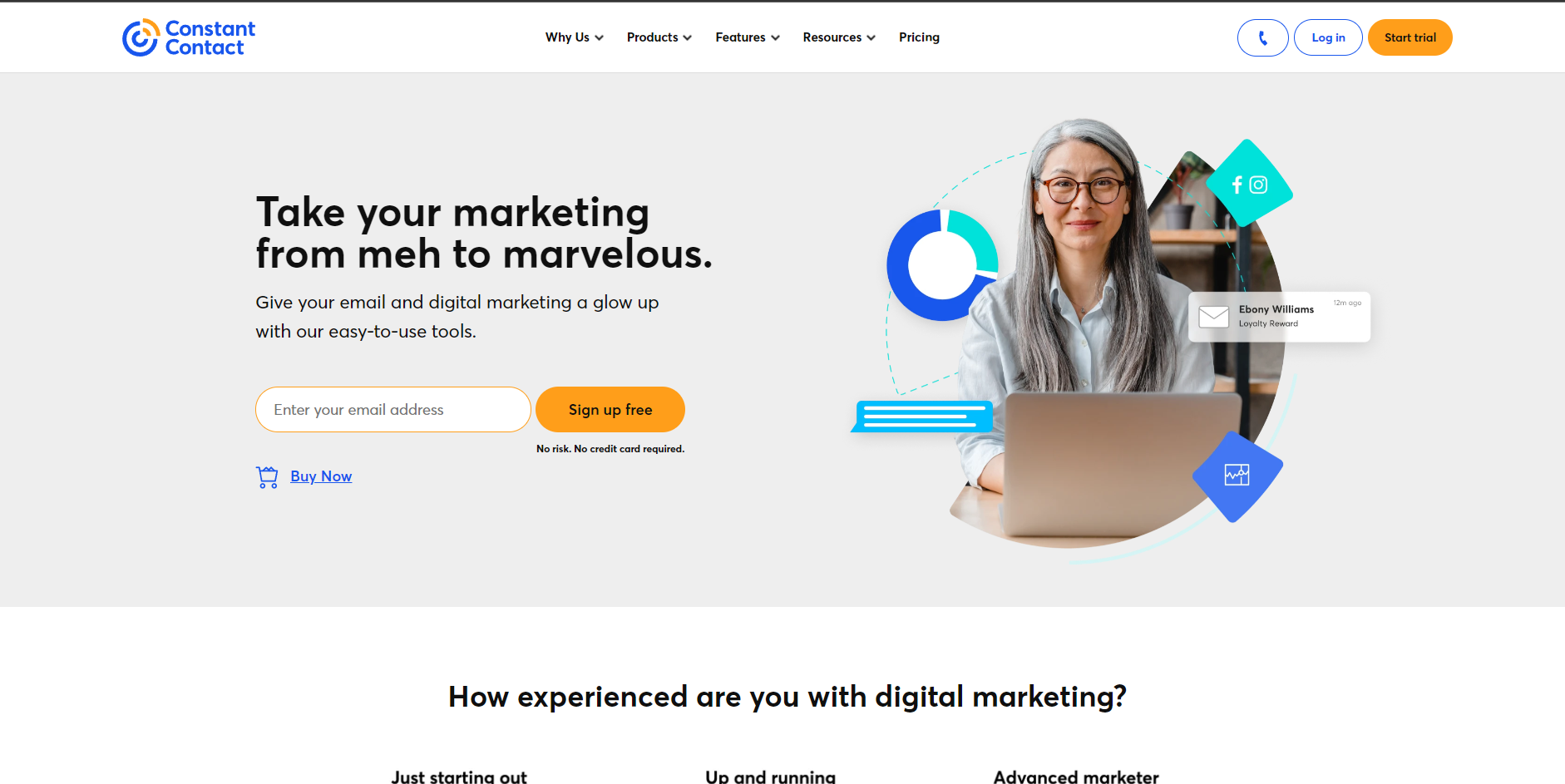 Pricing and interface simplicity is comparable to Tinyemail making it friendly for small business owners.
But Constant Contact provides more email marketing tools, including a broader selection of templates, marketing integrations, education resources, and multi-channel campaign management under a unified platform.
Sendinblue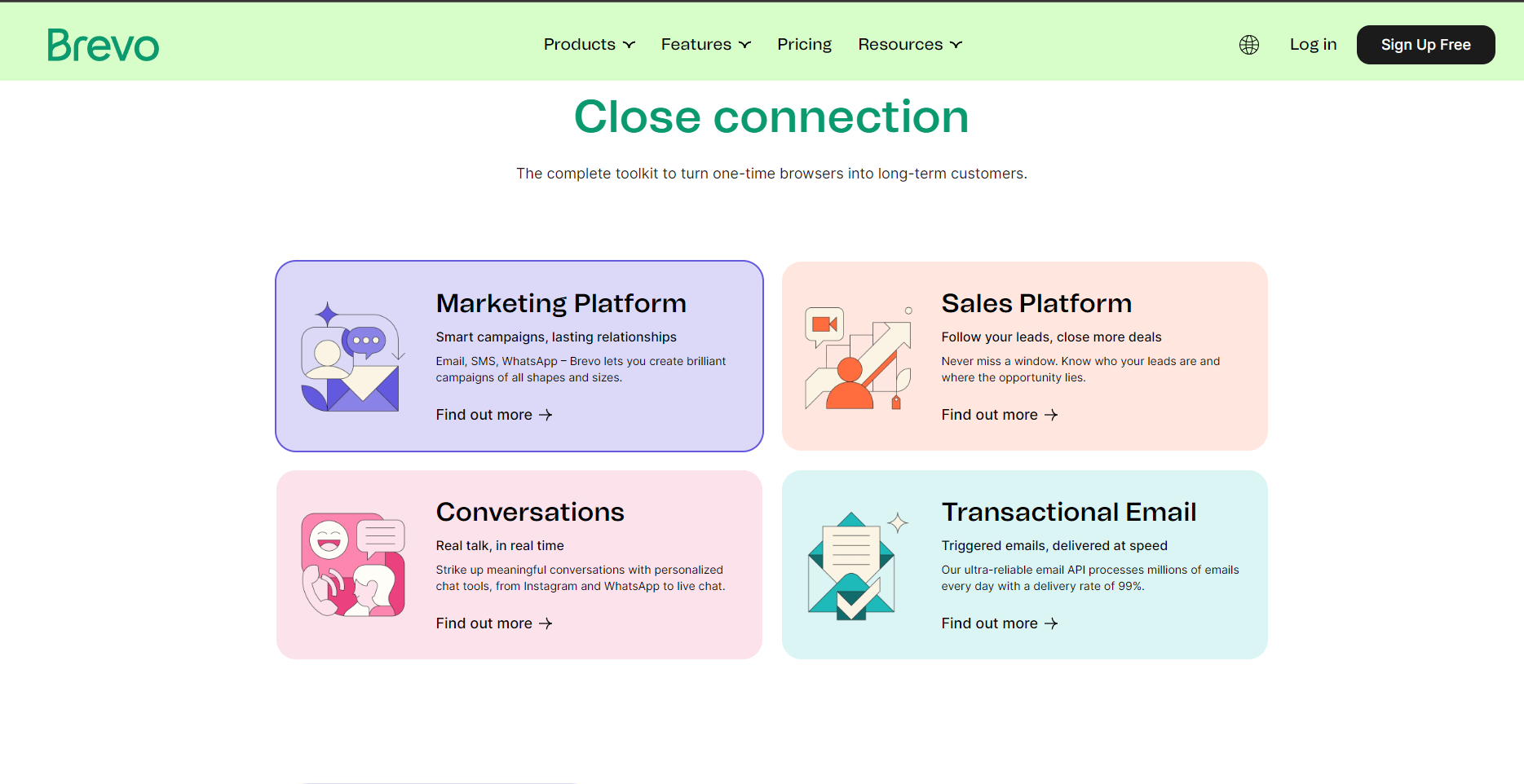 Competes with Tinyemail on affordable pricing but includes more robust features like advanced segmentation, SMS marketing, Facebook ads integration, and scalable deliverability protection.
The platform has exceptional customer support and more marketing automation features per dollar.
ConvertKit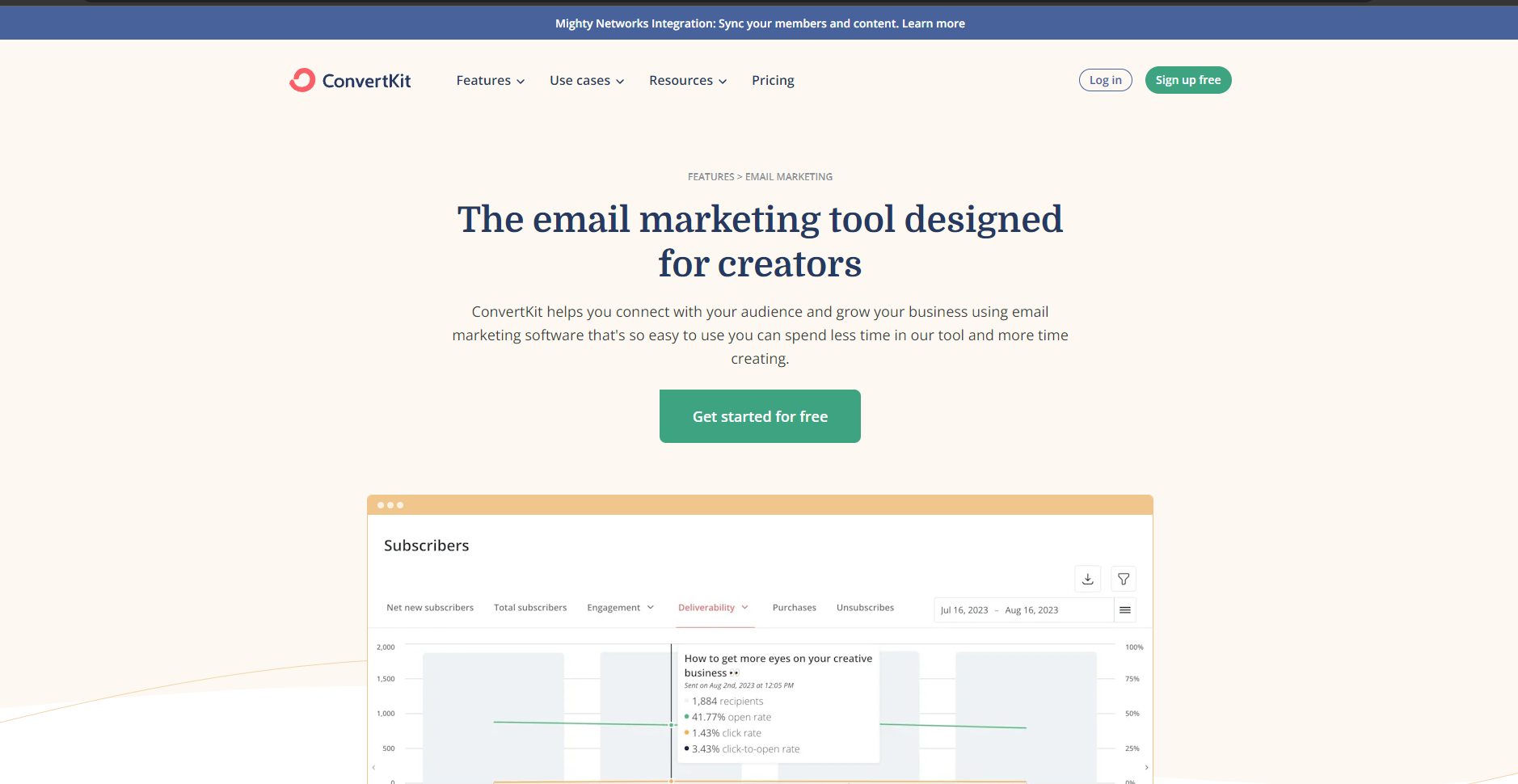 ConvertKit has a user-friendly interface specialized for creators, bloggers, and digital products. Advanced automation and complex segmentation make it more powerful yet complex to use than Tinyemail.
The new email marketing app makes it significantly more capable but less accessible.
Tinyemail competes favorably on simplicity and affordability but lacks the capabilities of these feature-rich rivals that justify their higher pricing for more demanding use cases.
Tinyemail's unique selling proposition is providing an easy-to-use email marketing software focused on the needs of small businesses and lean startups to run successful email campaigns.
The combination of affordable pricing, a simplified interface, email marketing apps, basic templates, and segmentation makes it accessible for small teams focused more on running their business than complex marketing automation.
Tinyemail targets the underserved small user with its straightforward toolset, rather than aiming to be a feature-packed enterprise solution.
Final Thoughts
In summary, the key takeaways based on this comprehensive evaluation of Tinyemail are:
Tinyemail offers an easy-to-use email marketing platform with basic features focused on smaller businesses. The interface and workflows are straightforward and intuitive.
Affordable pricing plans make Tinyemail accessible for startups and small teams. However, the lower costs come with reduced capabilities versus higher-end software.
The platform provides adequate templates, simple automation, basic segmentation, and decent deliverability rates for simpler email programs. However, more advanced functionality is lacking.
While customer support needs improvement, Tinyemail offers sufficient capabilities for the introductory email marketing needs of early-stage startups.
Overall, Tinyemail is best suited for smaller companies just getting started with email marketing.
The affordable pricing and simple interface help minimize learning curve pains when you don't need enterprise-level sophistication.
For larger businesses with complex email marketing needs, more fully featured (yet pricier and less intuitive) options may justify their higher costs.
Tinyemail hits the sweet spot of an approachable platform and reasonable pricing for budding email marketers focused primarily on core essentials over advanced bells and whistles.
Still not sure if TinyEmail is right for you? Check out my detailed comparisons below, my post focused on TinyEmail alternatives, or my roundup of the best email marketing platforms.