Choosing the right email marketing platform is crucial for business owners looking to grow their customer base and drive sales. Two popular options are AWeber and TinyEmail, both of which offer simple email creation and campaign management.
In this AWeber vs TinyEmail comparison guide, we'll evaluate how these platforms stack up across key criteria so you can determine the best solution for your business. We'll look at market position and popularity, ease of use, design customization, features and functionality like blogging, e-commerce, SEO, integrations, and analytics.
We'll also compare website performance factors like speed and uptime to provide you with the knowledge needed to select the best email marketing option and get your campaigns up and running quickly. Let's dive in!
1. Understanding the Basics
AWeber was founded in 1998 by Tom Kulzer. It is one of the oldest and most established email service providers in the industry. With over 120,000 customers, AWeber holds a strong market position.
TinyEmail launched in 2020. It was created by Seamas Egan as a simplified and more affordable email marketing solution. TinyEmail has seen steady growth but has a smaller customer base compared to AWeber.
AWeber has an active Facebook community with over 8,000 members. This group shares email marketing tips and discusses AWeber features.
TinyEmail also has a Facebook page for users. With just over 1,1K followers, it is much smaller than AWeber's community.
When it comes to market position and popularity, AWeber clearly has the edge given its longer history and larger user base. However, TinyEmail offers a competitive alternative, especially for smaller businesses on a budget.
2. Features and Functionality
Automation
AWeber offers robust automation through its sequences feature. Sequences allow you to set up automated workflows that can include welcome emails, lead nurturing campaigns, and more.
You can trigger sequences based on subscriber actions like email opens, link clicks, and date-based events. AWeber's sequences support multiple branches so you can create tailored experiences for personalized and effective email marketing campaigns.
Other key automation features include RSS autoresponders for turning blog posts into emails automatically. AWeber also has landing page integrations that can trigger autoresponders when visitors fill out forms.
With AWeber, you can set hourly, daily, weekly, or monthly email limits per sequence to control flow. There are also useful options like unsubscribe prevention to keep subscribers engaged.
Overall, AWeber provides robust automation capabilities perfect for sending timely, relevant communications.
TinyEmail offers automation through its newsletter series feature. This allows you to schedule a predefined series of emails sent over time.
You can set up a welcome series for onboarding new subscribers or create promotions sent at intervals you define. TinyEmail's automation is more limited compared to AWeber – you cannot trigger emails based on subscriber actions.
TinyEmail also lacks advanced features like autoresponder integrations, branching workflows, and subscriber engagement options. However, the simplicity may appeal to users who want easy sequence creation.
With TinyEmail, you schedule all emails upfront versus continuous autoresponder-style flows. This better suits users with minimal automation needs.
The Aweber vs Tinyemail comparison shows that both email marketing platforms have much value to offer, but AWeber is the clear winner when it comes to automation and workflow capabilities. Its robust sequences feature provides significantly more flexibility through branching, varied triggers, and subscriber engagement options, helping to enhance your email marketing efforts. TinyEmail's simpler newsletter series has its place, but AWeber is better suited for advanced automation.
Email Templates
AWeber provides hundreds of professionally designed email templates you can customize for your brand. Templates are organized by categories like welcome emails, promotions, newsletters, and more.
You can create personalized email templates and tweak them by changing colors, and fonts, and adding images. AWeber also allows CSS editing for advanced customization. All templates are mobile-responsive.
A key feature is AWeber's drag-and-drop builder for creating new templates from scratch. You can include text blocks, images, buttons, and customizable layouts.
Overall, AWeber enables you to quickly customize high-quality templates or build new emails tailored to your needs.
TinyEmail has a basic template editor for customizing your newsletter template. The email marketing service has basic editing tools to add colors, change fonts, and include a logo, header image, and footer content.
There are no pre-made template options – you start from a blank slate. The customization capabilities are also more limited compared to AWeber.
On the plus side, TinyEmail's minimal template editor is easy for beginners to navigate. But those wanting more advanced design features will find AWeber more capable.
AWeber wins for email templates thanks to its large gallery of professionally designed options and more powerful drag-and-drop builder. TinyEmail is simpler for basic customization but lacks the expansive features and flexibility of AWeber's template editor.
Segmentation
AWeber provides robust segmentation options to target subgroups of your audience. You can create segments based on subscriber attributes, engagement data, purchase history, and more.
Segments can be used to trigger tailored autoresponder workflows or to filter email campaigns to specific groups. AWeber supports both automatic and manual segmentation.
Key features include segment branching based on engagement with emails and the ability to combine multiple criteria using AND/OR logic to fine-tune segments.
Overall, AWeber has powerful segmentation tools for sending hyper-personalized communications.
TinyEmail's segmentation capabilities are relatively basic. You can manually tag subscribers and segment your list based on those tags.
However, TinyEmail lacks robust options for automatically grouping subscribers based on attributes like demographics or behavioral data. There is also no branching segmentation.
The simplicity may be appealing to users with minimal segmentation needs. But AWeber is better suited for advanced, automated subscriber grouping.
AWeber wins when it comes to segmentation. Its automated segmentation, branching, and combinational logic allow for truly personalized workflows. TinyEmail has simpler tagging that gets the job done, but serious marketers need AWeber's superior targeting capabilities.
Analytics
AWeber provides powerful analytics to track email campaign performance. You get comprehensive reports on opens, clicks, unsubscribes, bounce rates, and more.
Drill-down filters allow you to segment analytics by campaign, date range, geography, and other factors. You can also compare performance across campaigns.
Other key features include subject line A/B testing to optimize your headlines. Heatmaps show user interaction with email content.
AWeber integrates with Google Analytics to connect email data with your website stats. Overall, AWeber has enterprise-level analytics.
TinyEmail provides basic email analytics covering opens, clicks, unsubscribes, and shares. You can view statistics for your most recent newsletters.
However, TinyEmail lacks advanced segmentation options and comparative historical reports. There are no optimization tools like A/B testing or heatmaps.
The simple analytics will suit users with basic email reporting needs. However, AWeber is better for granular data and maximizing campaign performance.
AWeber wins for its powerful analytics and optimization capabilities that outshine TinyEmail's basic reporting. Marketers who rely on data-driven optimization need AWeber's segmentation, A/B testing, and integration with Google Analytics.
Unique Features
A key unique feature of AWeber is its integration with webinar platforms like GoToWebinar, EverWebinar, and Zoom. This allows you to automatically follow up with webinar attendees.
AWeber also integrates with Facebook Lead Ads for capturing leads from Facebook directly into your list.
Other notable features include advanced list management tools like deduplication and the ability to import/export subscribers as you switch email providers.
Overall, AWeber stands out with its webinar, social media, and list management capabilities.
One of TinyEmail's main unique features is its simplicity. With its basic feature set, it is one of the easiest email platforms to use.
TinyEmail also integrates directly with Medium for turning blog posts into newsletters. This makes it ideal for bloggers on Medium.
However, TinyEmail lacks the advanced integrations and power user features that set AWeber apart. Its focus is ease of use over functionality.
AWeber wins when it comes to unique features thanks to its specialized tools for webinars, social media, and advanced list management. TinyEmail's direct Medium integration provides uniqueness for that audience, but most will benefit more from AWeber's robust features.
3. Ease of Use
AWeber has an intuitive drag-and-drop editor that makes creating emails and landing pages simple. The visual workflow builder for autoresponders is also easy to navigate.
The user interface is clean and well-organized with clear menus and sections. Getting started is straightforward for beginners with in-depth tutorials.
AWeber provides tooltips and support articles to guide users. The learning curve is relatively minimal for basic email creation and campaign management.
Some more advanced features like segmentation and automation may require more familiarity. But overall, AWeber offers a very good user experience.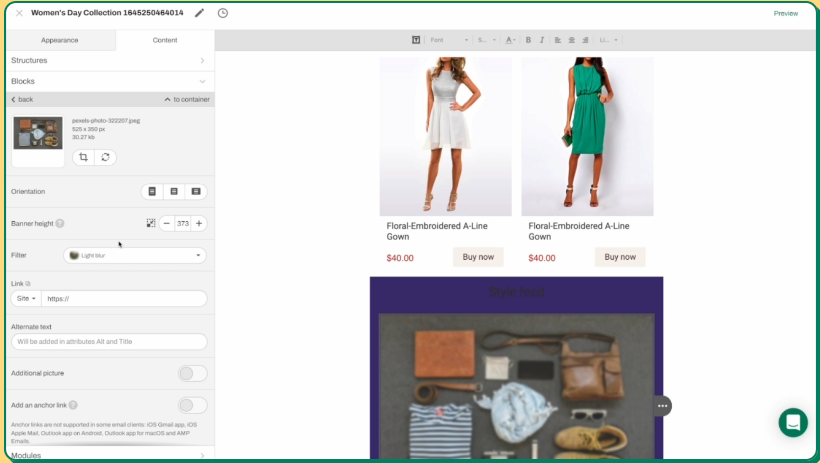 Easy usability is at the core of TinyEmail's design. The pared-down interface is very intuitive for email beginners.
Creating and sending your first newsletter takes only minutes. Options are simplified to remove complexity.
The simple dashboard and limited feature set mean there isn't much of a learning curve. However, those desiring more customization may find it too basic.
TinyEmail focuses on fast setup for simplicity rather than extensive controls. This suits beginners but more experienced users may desire more capabilities.
Winner: Draw
Ease of use is a draw between AWeber and TinyEmail. AWeber provides a strong user experience with its visual editor and clear interface. TinyEmail is even simpler for beginners but loses features. For most, AWeber strikes the right balance of usability and functionality. Both platforms are easy to recommend based on these criteria.
4. Email Deliverability
AWeber has a dedicated deliverability team that actively monitors inbox placement across major email providers. They maintain the sender's reputation to optimize deliverability.
Proactive sender scoring helps identify issues before they cause deliverability problems. AWeber also offers deliverability consulting services.
Their reports show inbox placement rates for each major provider like Gmail, Outlook, and Yahoo. Overall deliverability rates typically exceed 90%.
AWeber is trusted by major providers given their longstanding industry presence. Their expertise offers peace of mind.
TinyEmail actively monitors the ISP's reputation and users can benefit from the platform's sender score optimization and inbox placement expertise. However, TinyEmail itself does not provide deliverability reports.
The email provider manages the technical side of email delivery well and offers good deliverability rates for its users.
AWeber wins when it comes to superior transparency in email deliverability. Its granular reports on inbox placement by provider offer helpful insights TinyEmail lacks. Direct monitoring and optimization by AWeber surpasses reliance on TinyEmail. Both are reliable, but AWeber gives more control.
5. Customer Support and Community
AWeber provides 24/7 customer support via live chat, email, and phone. They also offer an online knowledge base with articles, tutorials, and webinars for self-help.
Users can access video guides and documentation when they need assistance. The AWeber user community on Facebook is also very active.
With over 45,000 members, it's a great resource for advice and sharing best practices on using AWeber.
TinyEmail offers email support 5 days a week along with an online knowledge base. Phone and live chat are not available.
Its user community on Facebook has just over 3,000 members, providing less crowdsourced guidance compared to AWeber.
The documentation is more limited though the guides they do have are informative for basics.
AWeber wins for better customer service through 24/7 live chat and phone. Its huge user community also provides an advantage over TinyEmail's smaller following. Getting quick help when issues arise gives AWeber the edge here.
6. Integrations
AWeber integrates with over 150 popular apps and services including leading platforms like WordPress, Shopify, Facebook, and Zapier.
Key integrations include webinar software, social media, and e-commerce platforms. AWeber also offers integrations for SMS, surveys, website analytics, CRM, and more.
The AWeber API allows developers to build custom integrations as well. AWeber has cultivated an extensive integration ecosystem.
TinyEmail has native integration with Medium allowing users to easily turn blog posts into email newsletters.
Beyond that, there are no direct integrations. You can connect TinyEmail to other apps through Zapier but there are limitations.
For example, no e-commerce or email list integrations exist yet. The integration options lag far behind AWeber.
AWeber is the decisive winner for its vast integration ecosystem that connects thousands of apps. TinyEmail only pairs with Medium. For integrating email marketing with other business systems, AWeber is far more capable.
7. Pricing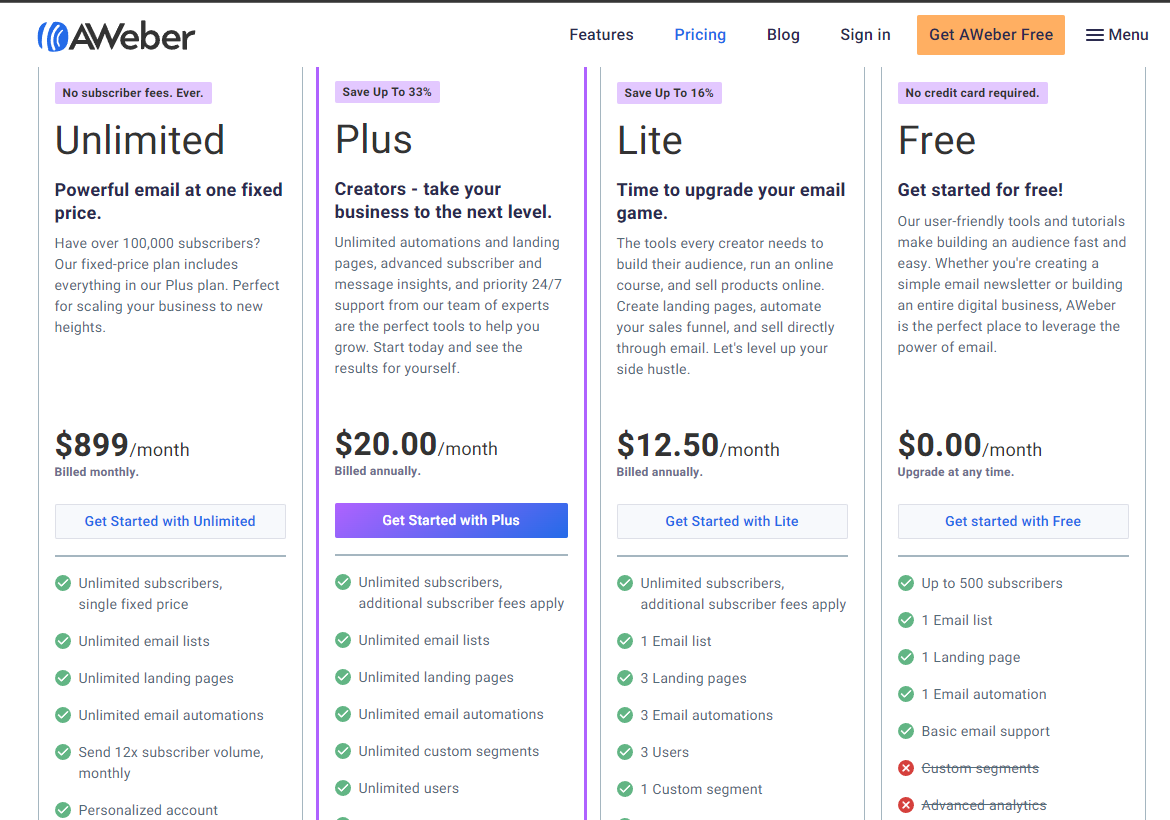 AWeber pricing is based on the number of subscribers on your list. There's a free plan that lets you get started sending emails to up to 500 subscribers.
Paid plans start at $12.50 per month for the Lite plan which comes with unlimited subscribers. The cost per subscriber goes down as the list size increases. The Plus plan costs $20/month and includes unlimited email lists and landing pages.
Advanced features like split testing, segmented broadcasts, and API access are included in all plans. The Unlimited plan costs $899/month and is ideal for lists over 100,000 subscribers.
Overall, Aweber's pricing is competitive for smaller lists but becomes more expensive at higher subscriber tiers.
TinyEmail has four premium plans:
Free – $0/mo for 500 contacts
Standard – $15/mo for unlimited subscribers
Pro – $65/mo for additional features and advanced functionality
Enterprise – Custom pricing for all the platform's core features and unlimited resources
Lower pricing matches TinyEmail's positioning as an entry-level email platform focused on core features. Budget-conscious users will find TinyEmail's rates more accessible than its counterpart.
Higher tiers provide more contacts, sequences, and premium integrations. All plans include core features, though some advanced options like A/B testing require Pro or Enterprise plans.
TinyEmail wins on pricing by offering its core service for free. This is hugely appealing to small businesses on tight budgets. AWeber provides far more features but at a cost. For those wanting just basic email marketing, TinyEmail provides tremendous value at no cost.
8. Reviews and Reputation
AWeber earns positive reviews for its comprehensive email marketing capabilities and personalized account management. User feedback praises the platform for its extensive features, automation, and ease of use.
The drag-and-drop editor, segmentation, and extensive template library get repeated mentions as strengths. Negative feedback focuses on complexity for beginners and occasional deliverability issues.
With decades in the industry, AWeber enjoys a reputation as a trusted, reliable email marketing provider. The vast majority of users are satisfied.
Users give TinyEmail strong reviews for its simplicity and ease of use, especially for email beginners.
Many reviewers say it's perfect for basic email newsletters at a low cost. Drawbacks mentioned include limited features and integrations compared to other providers.
TinyEmail lacks the long history and recognition of AWeber.
AWeber narrowly wins based on its decades of respect earned by providing email marketing to satisfied users. TinyEmail offers simplicity but lacks the polished features and robust deliverability of AWeber. For an all-around reliable choice loved by users, AWeber edges out the competition.
9. FAQ's
What is the biggest benefit of AWeber?

AWeber's biggest benefit is its robust feature set that provides enterprise-level email marketing capabilities to SMBs. The combination of power and ease of use makes it a leader.
Does AWeber offer free plans?

Yes. AWeber has a free plan that you can sign up for with no credit card required. You can send emails to 500 subscribers and build 1 landing page.
Is AWeber beginner-friendly?

Yes, AWeber is intuitive and easy to use even for beginners. The interface is straightforward and their guides and 24/7 support help new users get up to speed quickly.
What integrations does AWeber offer?

AWeber integrates with over 150 popular apps and services including Facebook, WordPress, Shopify, Zapier, and many more. It has one of the largest integration ecosystems to enhance your existing marketing stack .
How reliable is AWeber's deliverability?

AWeber actively monitors and optimizes deliverability across major ISPs. Average inbox placement rates exceed 90%. Their expertise offers great reliability.
What's the biggest advantage of TinyEmail?

TinyEmail's biggest advantage is its free plan that allows 500 subscribers with basic email features. This makes it by far the most budget-friendly option.
What features does TinyEmail lack compared to AWeber?

TinyEmail lacks advanced features like automation, segmentation, A/B testing, and expansive integrations seen in AWeber. Its focus is simpler email newsletters.
Can I import subscribers into TinyEmail?

Yes, TinyEmail allows importing your email list via CSV file. This makes switching providers easy.
Does TinyEmail have email templates?

TinyEmail does not offer pre-made templates like AWeber. But you can customize a template with their basic editor.
Is TinyEmail truly free?

Yes, TinyEmail's core plan is free for up to 500 subscribers. You only pay if you go over that list size limit.
Final Thoughts
AWeber is the best choice if you want powerful features and advanced automation capabilities such as segmentations, and robust analytics. It's perfect for established businesses ready to optimize their email marketing.
The extensive integrations also make AWeber ideal if you plan to connect your email campaigns with other systems like e-commerce, webinars, and social media. The added expertise in deliverability gives peace of mind as well.
Overall AWeber shines for growing businesses that need scalability, customization, and enterprise-level email capabilities.
TinyEmail is the optimal pick if you want dead simple email newsletters with minimal complexity. The pared-down interface makes it perfect for solopreneurs, bloggers, and early-stage startups.
The free pricing also appeals to bootstrapped businesses on a budget. Just looking to set up a basic newsletter? TinyEmail delivers (pun intended).
For users with minimal segmentation, automation, or integration needs, TinyEmail provides a fast and frictionless entry point to email marketing.
If you aren't sure if TinyEmail is right for you, consider reading my favorite TinyEmail Alternatives.
Ultimately, choosing the right email marketing platform depends on your business needs and goals. Use this AWeber vs TinyEmail guide to help you evaluate both email marketing services based on your specific use case. Feel free to ask any questions in the comments!