Tinyemail is one of the most popular email marketing tools that allow businesses to create and send marketing emails, newsletters, and other broadcast messages. If you find yourself wanting more from your email marketing provider, there are several alternative email marketing tools worth considering that may better meet your business needs.
In this article, we will highlight the best Tinyemail alternatives and how they compare with regard to key features, pricing, and overall capabilities.
Best Overall TinyEmail Alternative (Free, then $25/month)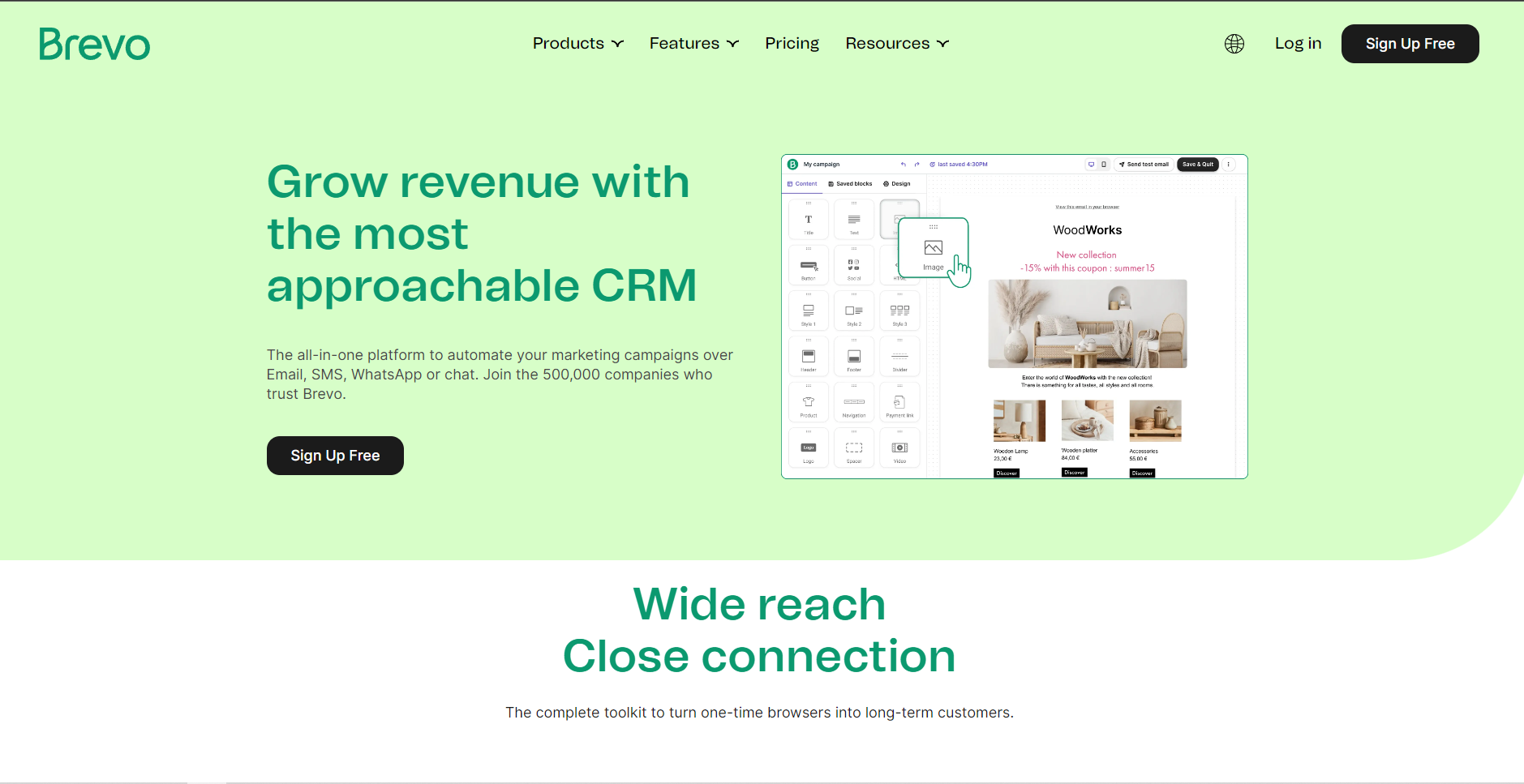 Brevo is a relative newcomer to the email marketing space that offers an intuitive drag-and-drop editor, detailed analytics, and excellent deliverability at an affordable price point.
With this email marketing tool, you can quickly build professional email campaigns, segment contacts, automate workflows, and integrate with many popular services like Shopify, WordPress, and G Suite.
The platform is designed for small business owners, entrepreneurs, bloggers, and anyone needing an easy way to design, send, and track marketing emails without a big learning curve.
What makes Brevo a better alternative than Tinyemail:
Brevo has more generous sending limits for free and low-cost paid plans, allowing up to 2,500 subscribers and 15,000 emails per month. Tinyemail caps at 500 subscribers for basic plans.
Deliverability rates are exceptional with Brevo compared to other email marketing tools. Tinyemail users often complain of emails going to spam folders.
Brevo offers robust features for CRM integration, syncing contacts, and customer data with platforms like HubSpot, Salesforce, and Zoho CRM. Tinyemail has limited sync abilities.
The Brevo editor is intuitive and easy to use, while still providing ample design customization options. Tinyemail's editor can feel clunky in comparison.
Brevo provides detailed analytics on opens, clicks, unsubscribes, bounces, and more. Tinyemail analytics are fairly basic for entry-level paid plans.
---
Best for E-Commerce Brands That Want Powerful Features and Insights (Free, then $16/month)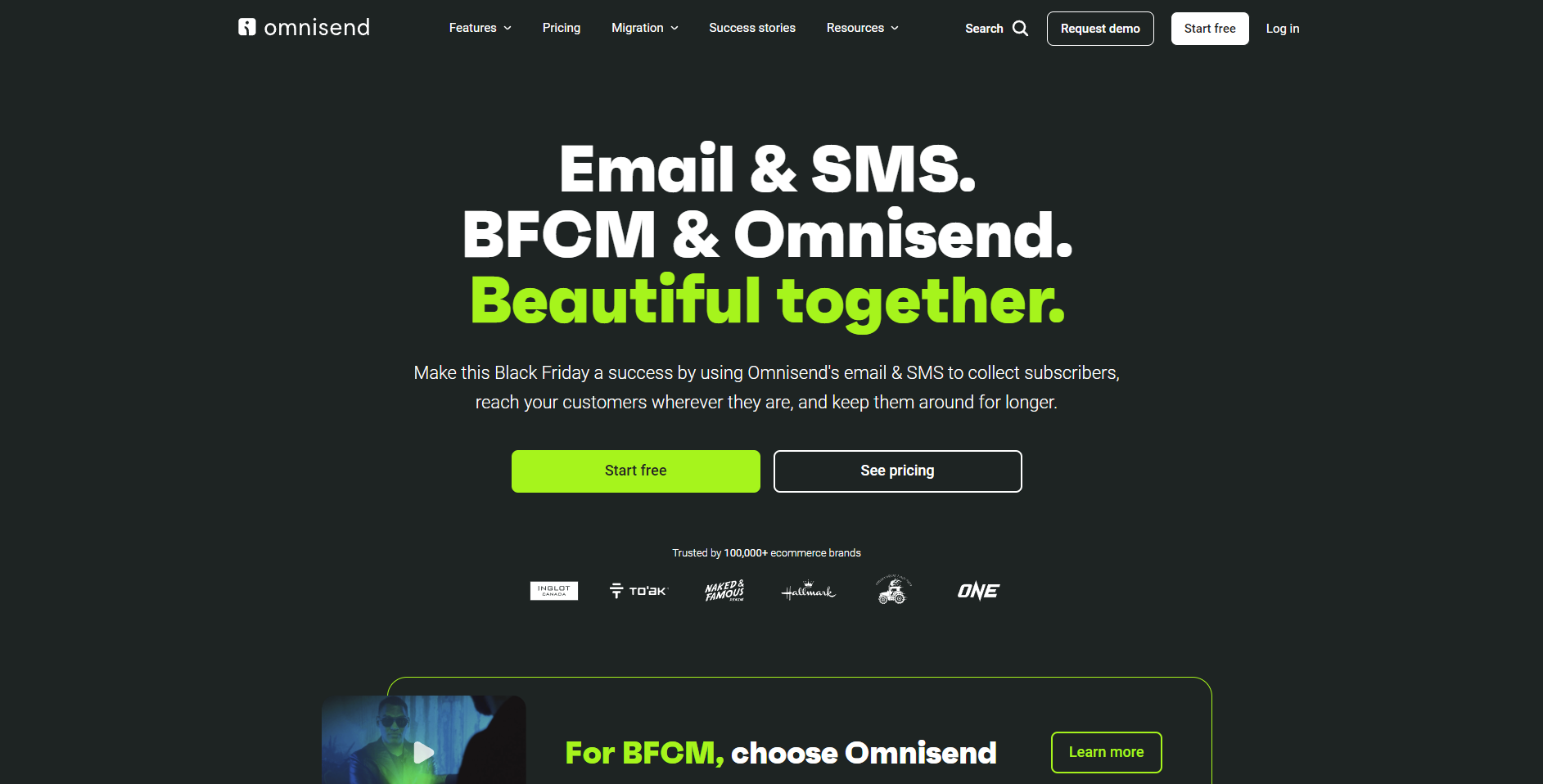 Omnisend is a robust email marketing platform built specifically to help e-commerce businesses drive sales through targeted email campaigns and personalized customer journeys.
It's one of the best email marketing tools that provides an advanced editor to create beautiful, branded emails along with in-depth analytics on customer engagement and purchasing behavior.
What makes Omnisend a better alternative than Tinyemail:
Omnisend integrates directly with popular e-commerce platforms like Shopify, WooCommerce, and BigCommerce. Tinyemail has limited e-commerce capabilities.
It offers superior automation and segmentation tools to send personalized emails to the right contacts based on their interests and activities. Tinyemail's automation is basic.
Abandoned cart automation helps recover lost sales by targeting customers who started purchases but didn't complete checkout. This feature is lacking in Tinyemail.
Omnisend provides product recommendations and other personalization to boost sales. Tinyemail lacks these advanced personalization features.
The analytics in Omnisend provide clear insights into email campaign ROI and customer engagement over time. Tinyemail's reporting is more limited unless when using third-party integrations.
---
Best for Businesses Focused on Inbound Methodology and Integrated Marketing (Free, then $20/month)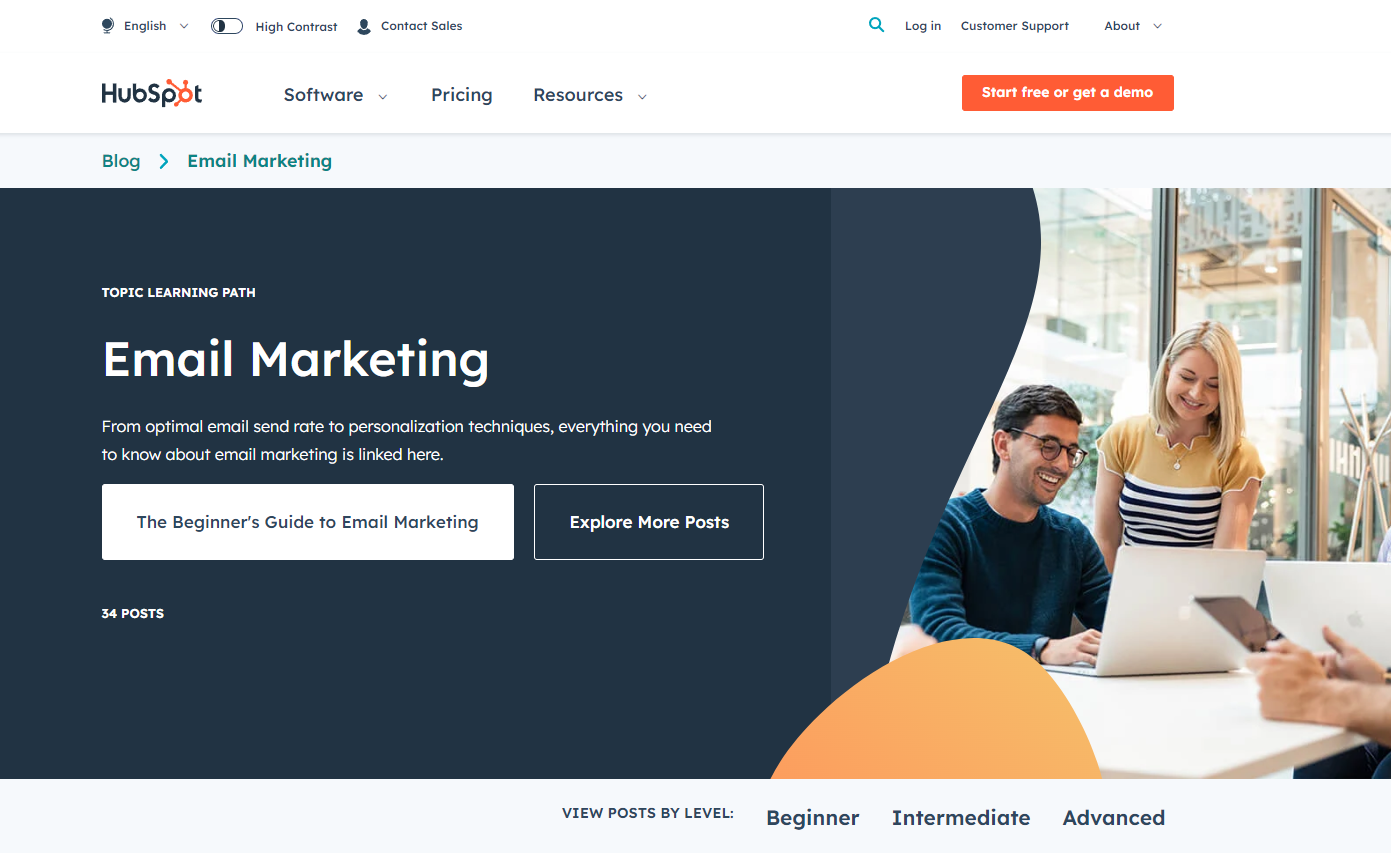 HubSpot is among the most popular email marketing tools that offers comprehensive email marketing capabilities alongside landing pages, forms, and top-tier analytics. As an inbound marketing and sales platform, HubSpot helps you execute coordinated campaigns across multiple channels. It simplifies your sales process and you can align your email approach with your website, social media, and sales funnels.
What makes HubSpot a better alternative than Tinyemail:
HubSpot ties email campaigns into robust lead-nurturing workflows and sales pipelines. Tinyemail has limited CRM and sales features.
It provides deep integration of email with other HubSpot tools like website builder, popups, and forms. Tinyemail is standalone.
The HubSpot vs Tinyemail analytics comparison shows that HubSpot connects email marketing to the bigger picture of your sales funnels and ROI whereas Tinyemail just looks at email.
HubSpot offers A/B testing capabilities to optimize your email marketing campaigns. This is missing in Tinyemail.
Users praise this email marketing software for providing advanced features, excellent templates, excellent customer support, and educational content. Tinyemail gets mixed reviews, although it does have a more intuitive interface compared to HubSpot.
---
Best for Growing Businesses That Want Automation and Advanced Integrations (Free trial, then $29/month)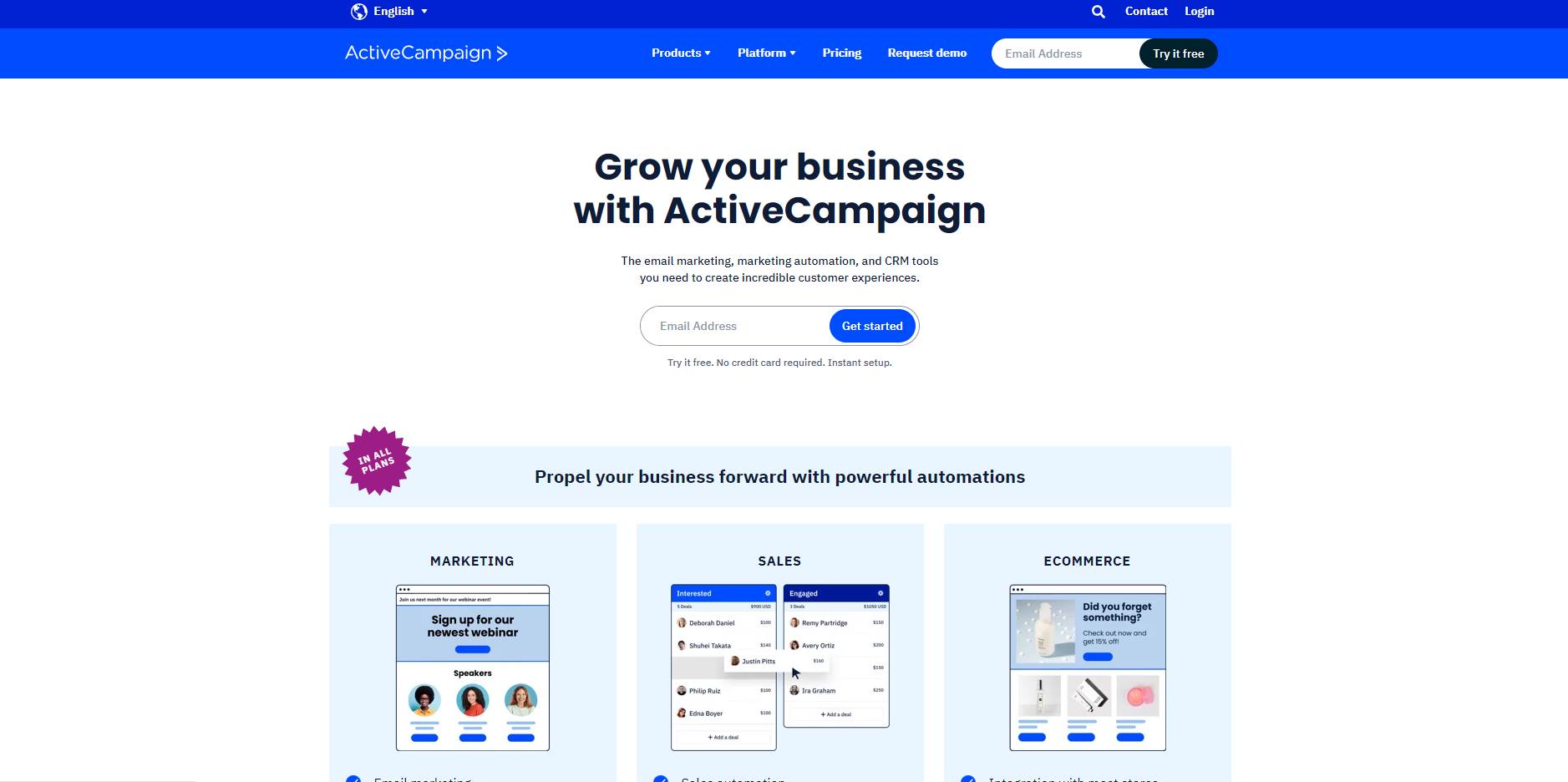 ActiveCampaign has a user-friendly interface and provides a powerful email marketing platform focused on automation, integrations, and robust analytics. The email marketing tool goes beyond basic email to help you engage your audience across channels with targeted messaging personalized to each subscriber.
You get features like automated response sequences, machine learning, users access, and excellent phone support.
What makes ActiveCampaign a better alternative than Tinyemail:
ActiveCampaign connects email to hundreds of popular software tools through Zapier and proprietary integrations. Tinyemail has limited connectivity.
It offers superior segmentation options to target groups with tailored content based on interests, location, purchase history, and more. Tinyemail segmentation is basic.
The automation builder provides intricate email workflows without coding. Tinyemail lacks advanced automation and email marketing features.
ActiveCampaign provides in-depth analytics on email performance as well as contact timelines and lifecycles. Tinyemail reporting is limited.
It offers excellent deliverability and inbox placement testing tools not found in Tinyemail.
---
Best for Small Businesses Seeking an Easy-To-Use Solution (Free, then $12.50/month)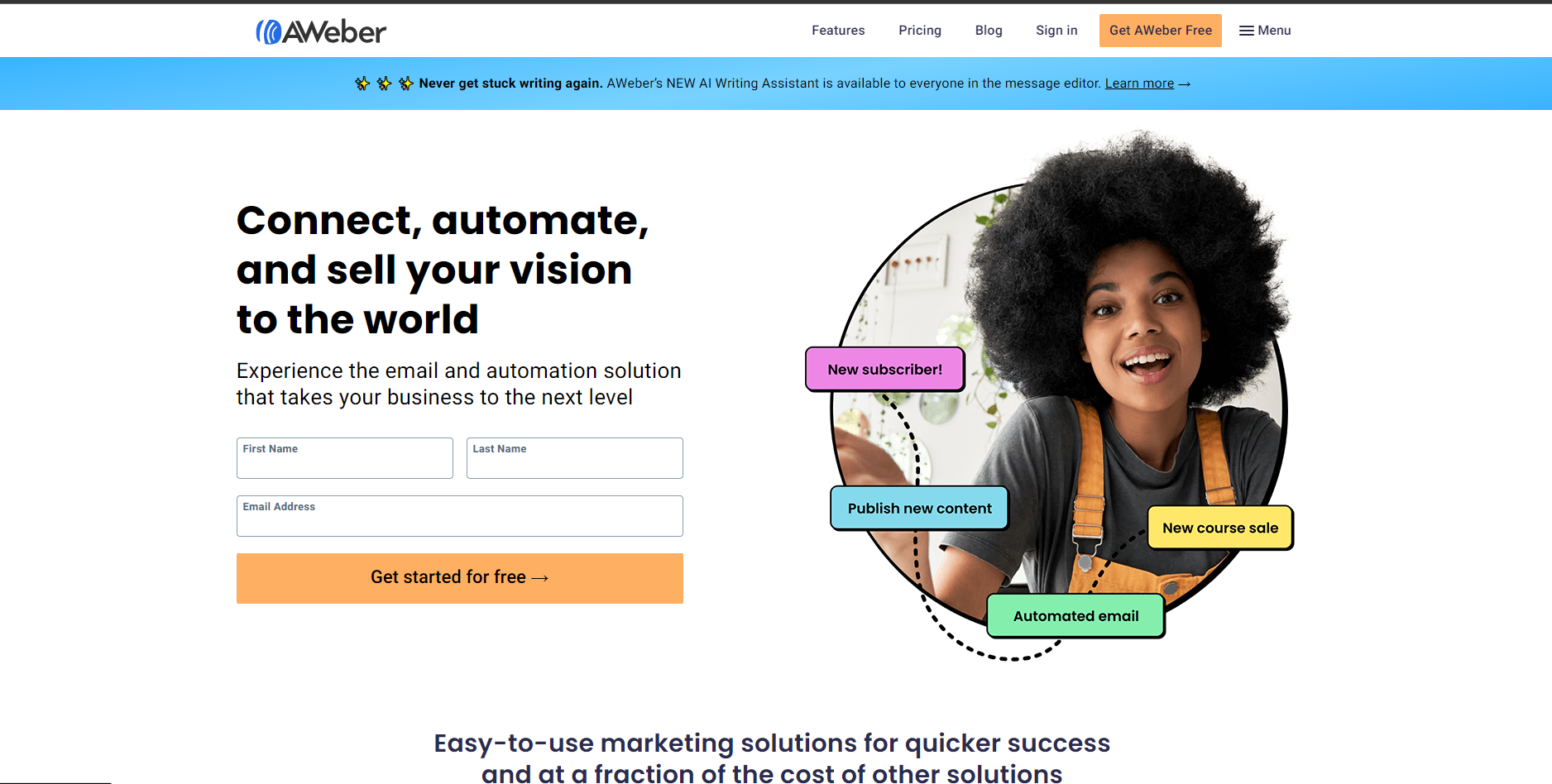 AWeber is an approachable email marketing platform known for its ease of use and affordability. It provides drag-and-drop email templates, broadcast scheduling, list management, and integration with many popular apps and services.
AWeber also has reliable customer support and offers valuable features such as email marketing automation for small business marketing without the complexity of some enterprise systems.
What makes AWeber a better alternative than Tinyemail:
AWeber is a powerful email marketing tool that has a simple widget-based editor that is more intuitive than Tinyemail's builder.
It provides excellent educational resources, videos, guides, and award-winning customer support. Tinyemail's help resources are lacking.
List management and subscriber organization tools are more robust in AWeber. Tinyemail has limited options.
AWeber integrates seamlessly with WordPress, Shopify, and hundreds of other apps in just a few clicks. Tinyemail has fewer native integrations to aid your email marketing efforts.
Detailed analytics provide insights into open rates, clicks, unsubscribes, and more. Tinyemail has basic reporting compared to other email marketing software.
---
Best for Solopreneurs and Small Teams Wanting an Easy, Affordable Solution (Free, then $9/month)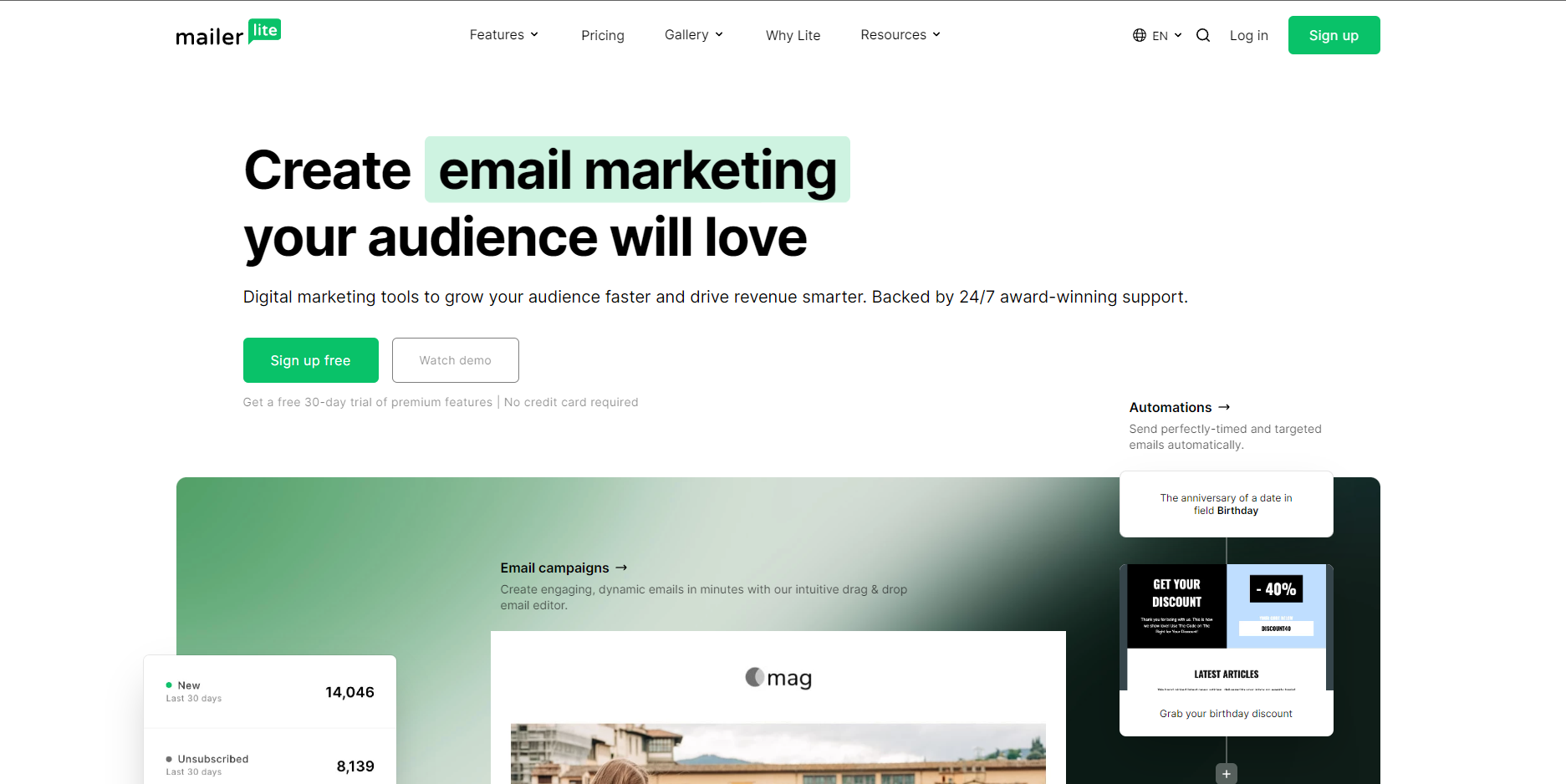 MailerLite provides an intuitive drag-and-drop email builder, opt-in forms, and built-in landing pages at one of the lowest prices on the market. The platform is designed for simplicity and ease of use by individuals and small teams who want professional email marketing without the steep learning curve.
The platform has a free plan that lets you send emails to 1,000 subscribers. You get a custom domain, premium customer support, and a landing page builder to create stunning emails and campaigns.
What makes MailerLite a better alternative than Tinyemail:
MailerLite has excellent deliverability with above-average inbox placement and spam testing tools. Tinyemail users frequently complain of deliverability issues.
It provides superior automation with pre-built workflows, triggered campaigns, and tags for segmentation. Tinyemail has limited automation capabilities.
The mobile-optimized email builder is intuitive with hundreds of templates. Tinyemail's editor is more clunky and restrictive in comparison to this excellent email marketing tool.
MailerLite offers better integration with web builders, CRMs, payment processors, and other tools. Tinyemail integrations are lacking.
Detailed real-time reports provide subscriber analytics and campaign performance tracking. Tinyemail analytics are fairly basic.
---
Best for Mid-Market and Enterprise Brands Wanting Marketing Automation (Free trial, then $59/month)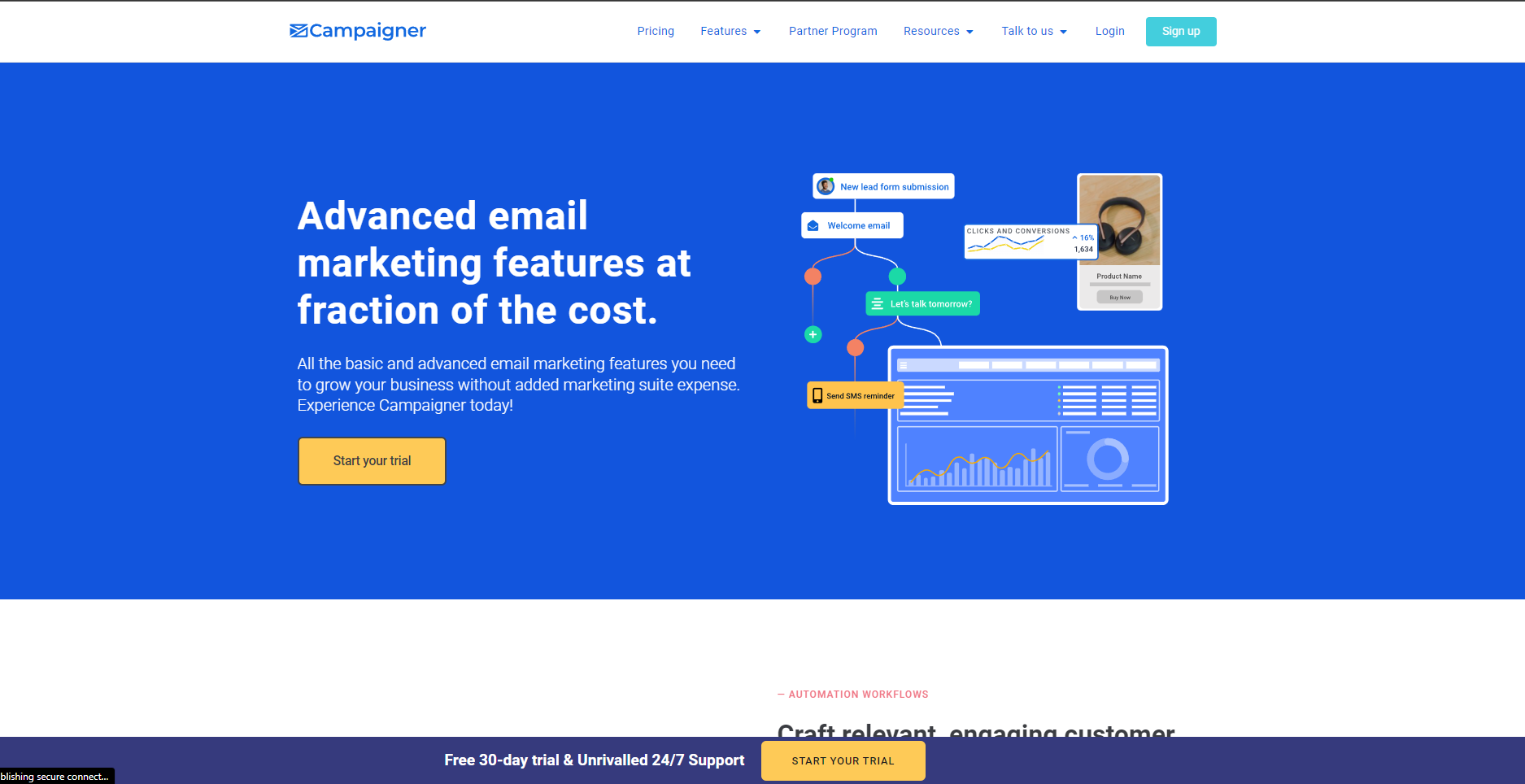 Campaigner provides robust email marketing focused on segmentation, personalization, and cross-channel automation. It enables you to engage each subscriber individually with tailored content based on their profile, interests, and behavior.
What makes Campaigner a better alternative than Tinyemail:
Campaigner offers superior segmentation and tagging capabilities for sending targeted, personalized content. Tinyemail has limited segmentation tools.
It provides complex workflow automation across email, SMS, social ads, and more. Tinyemail focuses solely on basic email automation.
Dynamic content lets you customize messaging with subscriber personalization. This level of personalization is missing in Tinyemail.
Campaigner integrates with e-commerce platforms, CRMs, and other enterprise tools. Tinyemail has fewer native integrations.
Robust analytics provide complete visibility into campaign performance and subscriber engagement over time. Tinyemail's reporting is fairly basic.
---
Best for Businesses Seeking an Enterprise-Grade Solution for Large Email Volumes (Free trial, then $5 per 5,000 contacts/month)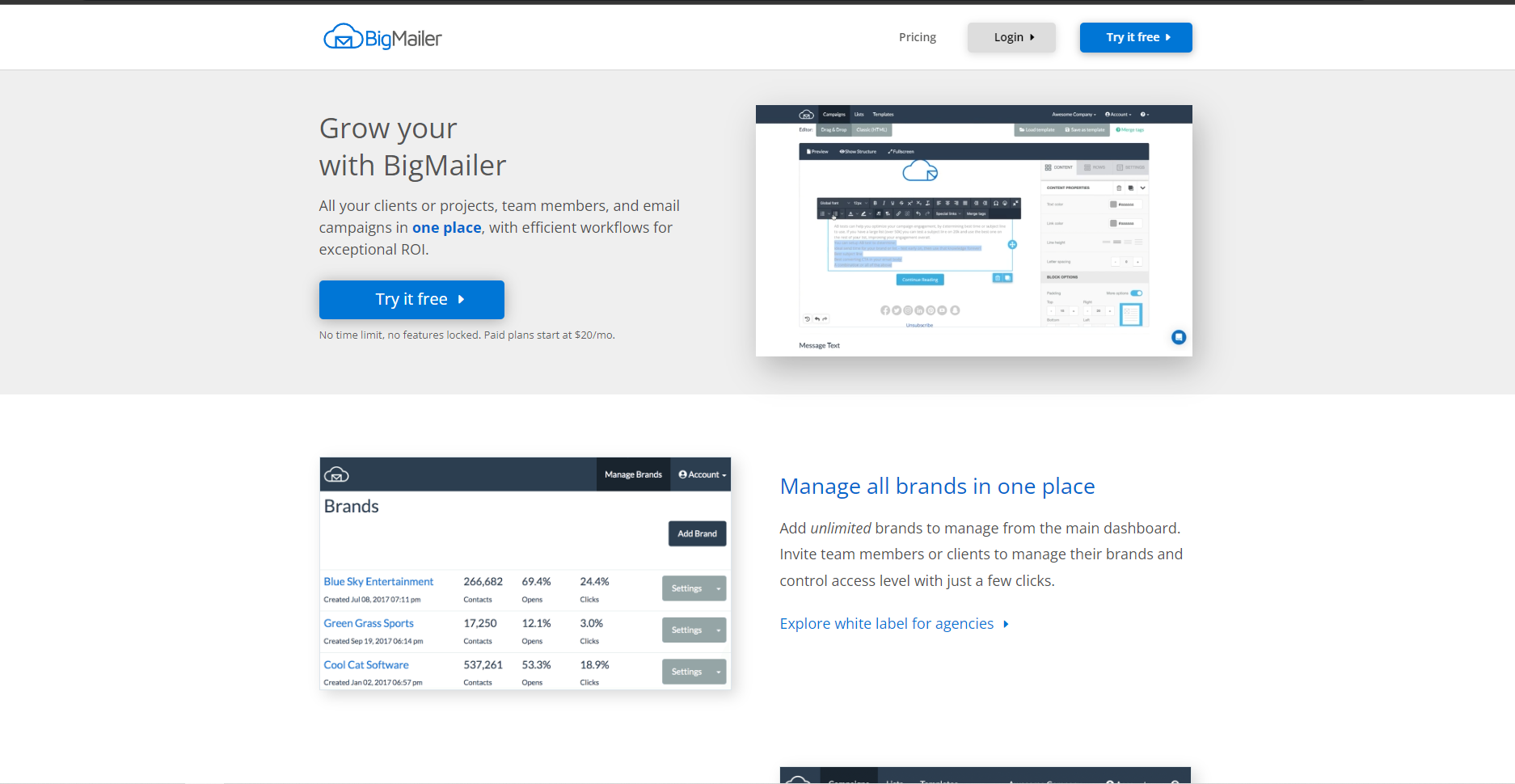 BigMailer is a powerful email marketing platform built to handle tens of millions of emails per month. It provides enterprise-level deliverability, custom branding, advanced segmentation, and robust automation for high-volume senders.
What makes BigMailer a better alternative than Tinyemail:
BigMailer has no list size limits and can scale to any subscriber count. Tinyemail caps basic paid plans at 500 subscribers, which could hamper your email marketing efforts.
It offers superior deliverability with dedicated IP addresses and inbox placement tools, as well as optimization for subject lines. Tinyemail doesn't offer a dedicated IP and users often struggle with spam folder delivery.
Granular segmentation and dynamic content help target massive audiences. Tinyemail lacks robust segmentation features.
BigMailer integrates with e-commerce systems, CRMs, CMS, and marketing automation software. Tinyemail has limited capabilities for automated emails and a very basic landing page builder.
Dedicated account management provides individualized expertise and white glove service. Tinyemail offers form-based support.
---
Best for Small Businesses Seeking an Easy-To-Use, Beginner-Friendly Platform (Free trial, then $12/month)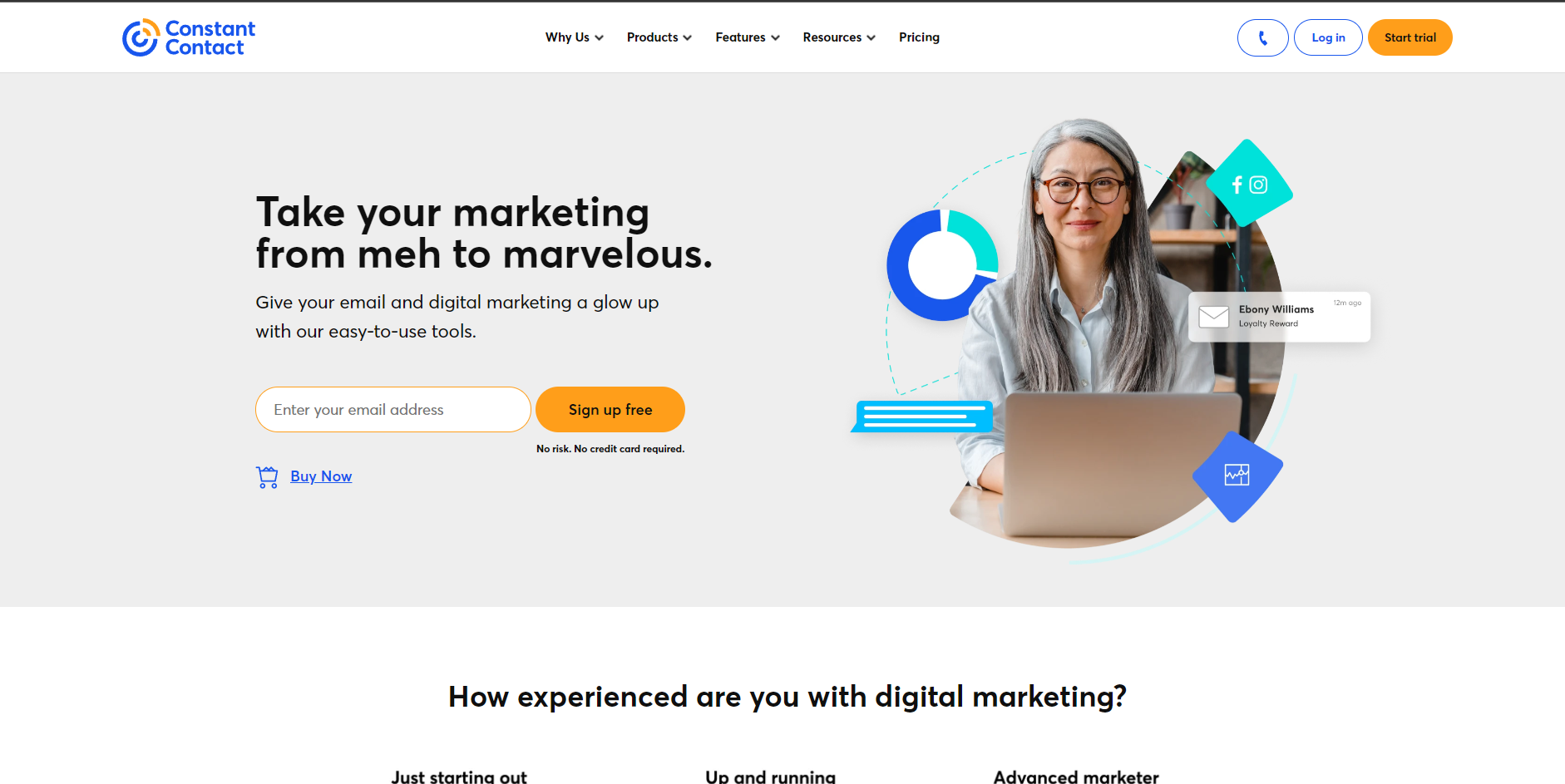 Constant Contact offers simple yet powerful email marketing designed for small business owners and entrepreneurs.
It offers an intuitive drag-and-drop builder, professional templates, automation tools, and seamless e-commerce integrations at affordable price points for small teams.
Constant Contact pricing is designed to fit the needs of growing email marketing businesses. Constant Contact offers easy DIY tools to create stunning emails, as well as more advanced features for power users with higher pricing tiers, including social media marketing automation, unlimited subscribers, and the ability to import contacts.
What makes Constant Contact a better alternative than Tinyemail:
Constant Contact offers superior educational resources with videos, guides, and award-winning customer support. Tinyemail's help content is lacking, especially its phone support.
Constant Contact pricing offers value and the plans have better integration with popular small business tools like WordPress, WooCommerce, Eventbrite, and Google Workspace. Tinyemail has fewer integrations.
When we compare Constant Contact with Tinyemail, the email builder is easy to use with hundreds of mobile-optimized templates. Tinyemail's builder can be restrictive.
List management tools for organizing, segmenting, and cleaning lists are more robust in Constant Contact. Tinyemail provides limited options.
Constant Contact provides detailed analytics on opens, clicks, forwards, bounces, and unsubscribes. Tinyemail's reporting is fairly basic.
Constant Contact pricing is more affordable and value-packed.
---
Best for Small Businesses Wanting Marketing Automation (Free, then $25/month)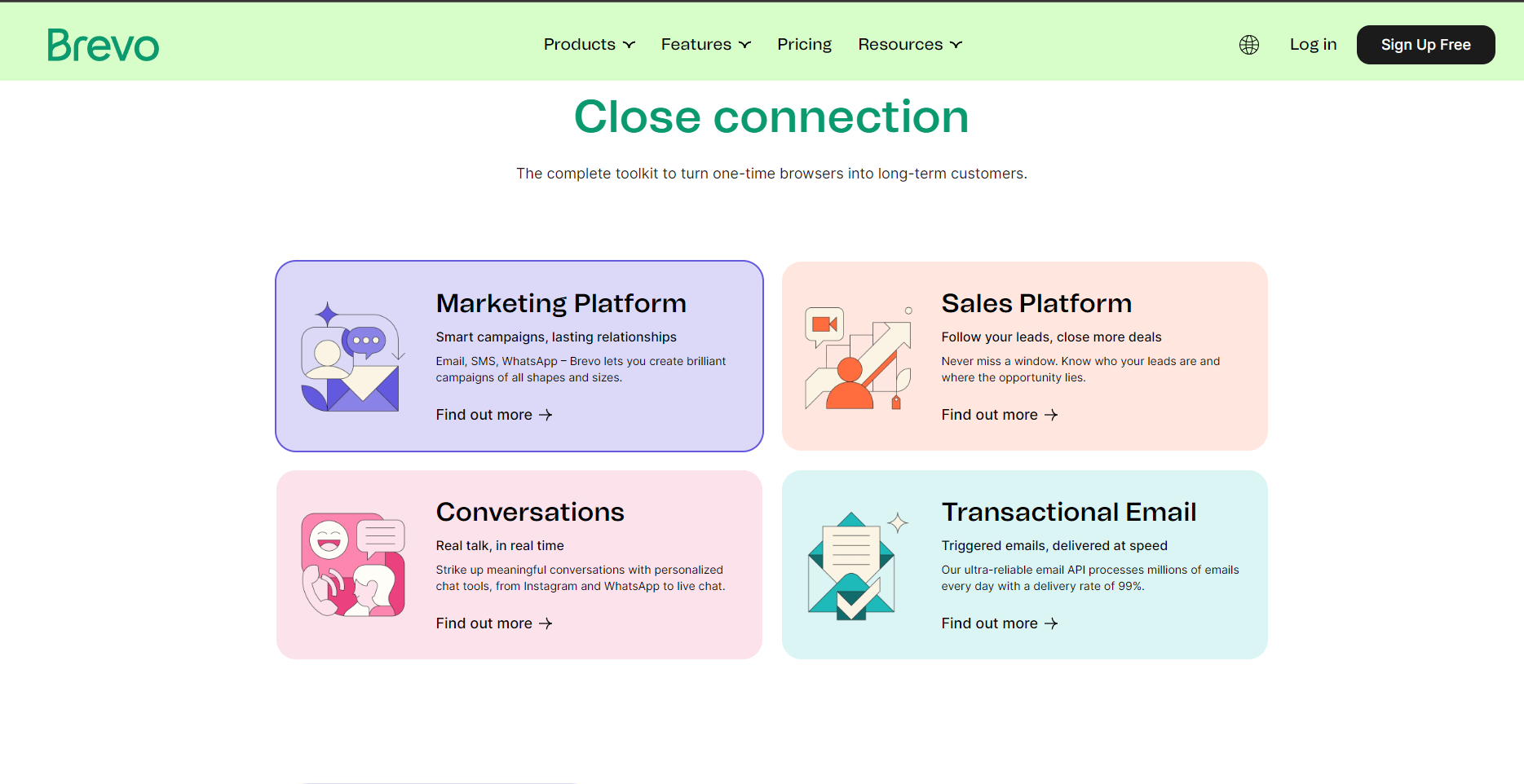 Sendinblue provides an affordable email marketing platform with powerful automation and superior deliverability.
It makes it easy to segment contacts, set up automated workflows, integrate with other apps, and get your emails in the inbox.
Sendinblue also has excellent customer support to assist with everything from creating professional looking emails to optimizing your sales process.
All in all, this is an intuitive marketing platform and a cost-effective solution for businesses of all sizes.
What makes Sendinblue a better alternative than Tinyemail:
Sendinblue offers free automation on all paid plans and a detailed automation builder to easily create workflows. Tinyemail has limited automation capabilities.
It provides SMS marketing and Facebook ad integrations alongside email. Tinyemail focuses solely on email.
Sendinblue boasts exceptional deliverability and tools to prevent spam folder delivery. Tinyemail users often cite deliverability issues.
Easy-to-use email editor, templates, and detailed analytics make Sendinblue intuitive for beginners. Tinyemail can have a steeper learning curve.
Affordable paid plans scale from free to unlimited contacts. Tinyemail pricing jumps sharply for larger lists.
---
Best for Small to Mid-Size Businesses Wanting Marketing Automation (Free trial, then $15.60/month)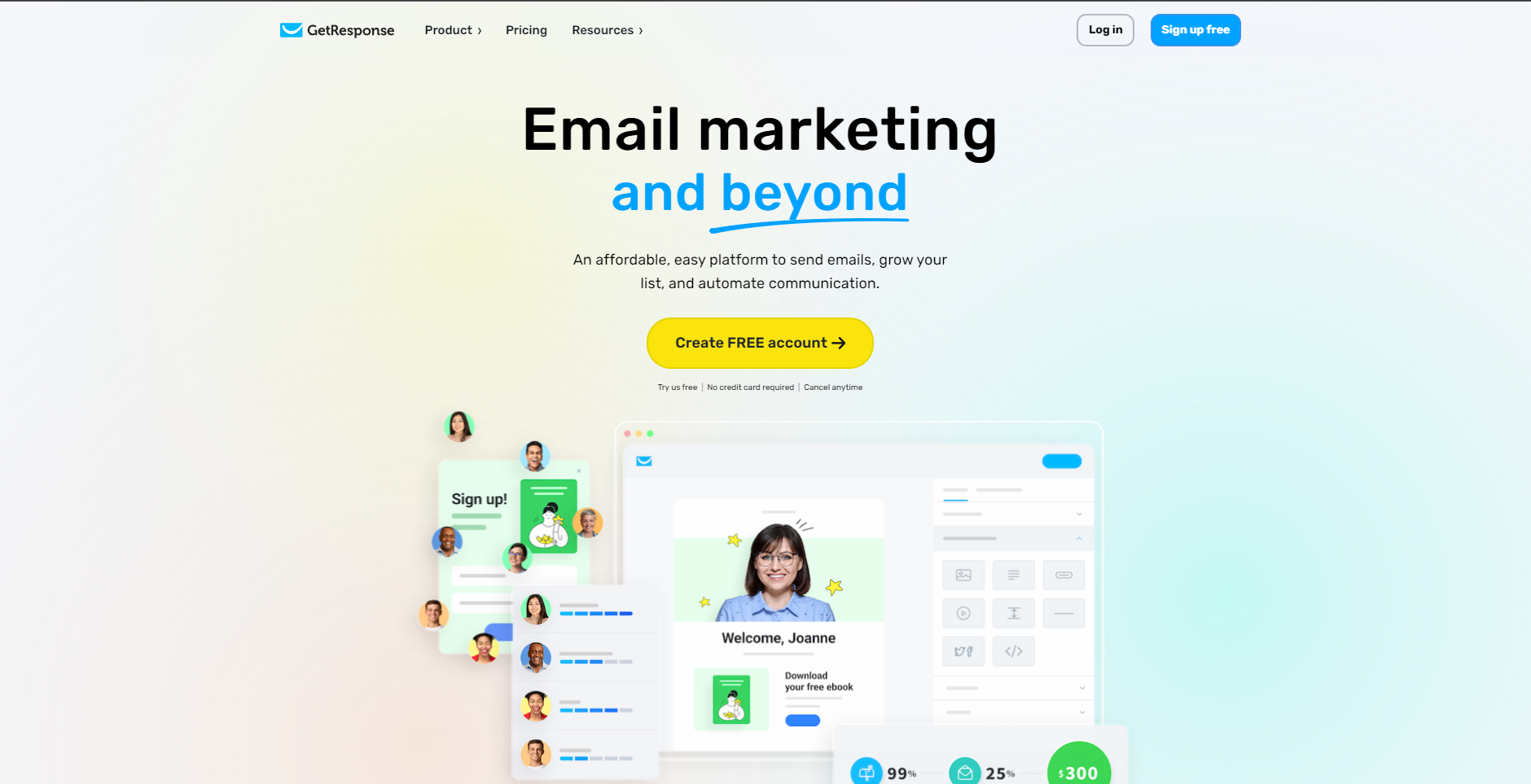 GetResponse provides a robust email marketing platform focused on conversion-centric email creation, automation, and superior list management capabilities.
It helps small and mid-size businesses design effective campaigns, segment contacts, and drive conversions.
This popular email marketing platform makes it easy to send automated emails thanks to the beginner-friendly user interface. In addition to advanced tools for automated response sequences, you also get robust contact management features, email support, and live chat support.
What makes GetResponse a better alternative than Tinyemail:
GetResponse offers multi-step journeys and powerful email automation to turn subscribers into customers. Tinyemail has limited email automation.
It provides superior A/B testing capabilities to optimize campaigns via the easy-to-use interface. This feature is missing in Tinyemail.
GetResponse has extensive landing page and forms integrations to help you build professional looking emails. Tinyemail does not provide these lead-gen features.
Detailed list management and contact profile tools help segment and organize contacts. Tinyemail has a basic list of features.
GetResponse analytics provide clear insights into email marketing ROI. Tinyemail has limited campaign performance reporting.
---
Best for Tech-Savvy Marketers Wanting Extensive Delivery Features (Free, then $15/month)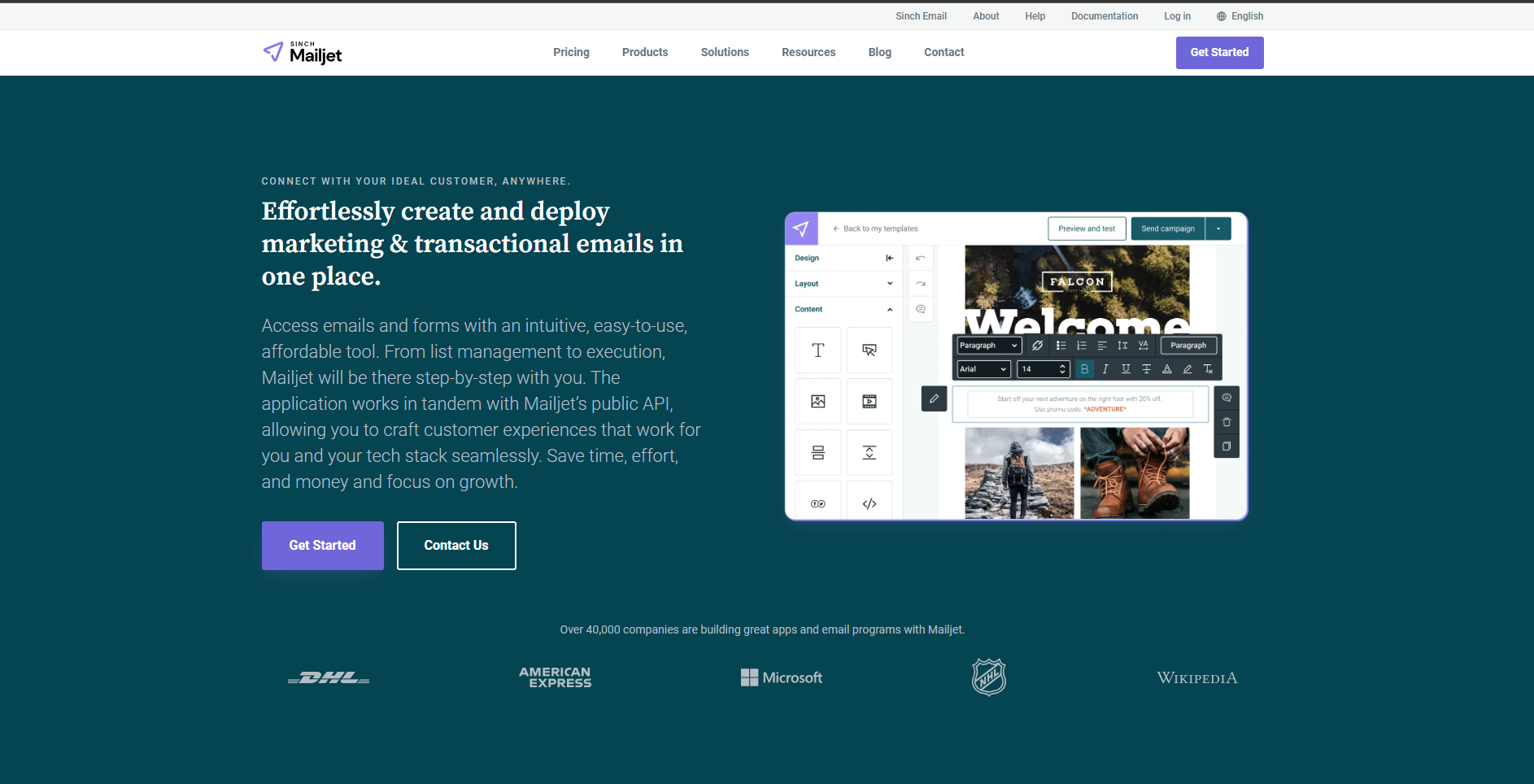 Mailjet provides a powerful email service focused on deliverability, detailed analytics, and automation. Advanced users love Mailjet for its granular data, flexible API, and expertise in delivering to inboxes.
You even get suggestions for crafting effective subject lines, which isn't a feature you see among a lot of email service providers. The online store integrations make it ideal for e-commerce user, and you can also integrate Google Analytics to get in-depth audience insights.
No technical skills are required, and once you sign up, you'll be able to send relevant messages to your subscribers in no time.
What makes Mailjet a better alternative than Tinyemail:
Mailjet offers superior deliverability and routing tools to reach inboxes globally. Tinyemail users report frequent spam folder delivery.
It provides an API and webhooks for connecting advanced email automation and custom integrations. Tinyemail lacks API capabilities.
The platform supplies in-depth engagement and campaign analytics for maximizing ROI. Tinyemail has basic reporting, although you can get more information by integrating Google Analytics.
Mailjet enables sending at a massive scale with dedicated IPs and expert deliverability monitoring. Tinyemail caps basic paid plans at 500 subscribers.
Customers praise Mailjet's technical expertise and dedicated support. Tinyemail relies on form-based support.
---
Features to Consider For a TinyEmail Alternative
1. Ease of Use
Ease of use is an important factor when evaluating email marketing platforms because it impacts your team's ability to create an effective email campaign and manage subscriber lists on an ongoing basis. A user-friendly platform has an intuitive interface that offers:
Less training and onboarding time to get your team up to speed. Complex platforms have steep learning curves for email automation.
The ability to quickly build professional emails and landing pages without coding skills or design expertise. Clunky, restrictive builders can limit creativity.
Straightforward list and contact management. Complicated interfaces make organizing and segmenting subscribers frustrating.
Accessible educational resources and stellar customer support in case you need help. Limited or poor help content and assistance can make an already difficult platform even harder to use.
If your team finds the platform overly complex, it can stall your email marketing efforts. Prioritize ease of use and an intuitive interface so sending and creating effective campaigns is a smooth, simple process.
2. Design and Customization
The design and customization capabilities of an email marketing platform are important considerations because they impact your ability to create branded, visually engaging campaigns that reflect your brand identity. When evaluating options, keep these factors in mind:
Templates should be professionally designed, mobile-responsive, and make it easy to quickly build emails. Outdated, non-mobile responsive templates will turn off subscribers.
Opt for ample design personalization and branding controls over fonts, colors, content blocks, and layouts. Locked-down templates limit your ability to stand out.
Look for a rich text editor or easy drag-and-drop builder for formatting and designing your emails. Restrictive systems hinder creativity.
Consider whether the platform allows CSS editing and coding customizations for advanced design. Lack of coding access constrains technical users.
Prioritizing a platform with modern, customizable templates and sufficient design personalization tools will help you craft emails and landing pages that reflect your brand vision and style.
3. Blogging Tools
Integrated blogging capabilities are a useful factor when selecting an email service because they allow you to easily repurpose quality content into your email campaigns. Here's what to look for:
A built-in blogging editor makes creating content quick without external tools. Lacking this means copying/pasting content from other sources.
Repurposing blog posts into emails or newsletters saves time over starting from scratch. Easy repurposing is more efficient.
Blog post automation can automatically notify subscribers when you publish new content. Manual notifications are time-consuming.
Analytics provides insight into how blog content performs in email campaigns. This data helps optimize content.
RSS feed capabilities to update external sites when you publish new posts. Driving traffic requires manual updates without this.
Having your blog and email marketing together in one platform boosts efficiency. Evaluate how well-integrated blogging features are before deciding on a provider.
4. E-commerce Capabilities
For online businesses, having robust e-commerce capabilities should be a major priority when selecting an email marketing platform. Key factors to consider include:
Seamless integration with your e-commerce store, shopping cart, and payment processor to sync customer data. Manual updates are time-consuming.
Automated abandoned cart flows to recover lost sales when customers don't complete purchases. Lacking this means lost revenue.
Customer segmentation by past purchase behavior, order history, product interest, and other e-commerce data. Generic blasts ignore customer nuances.
Personalized recommendations or displays of product collections customers might like based on past purchases. This provides a tailored experience.
Analytics connecting email performance to e-commerce metrics like revenue driven and conversions. Isolated email data misses the bigger picture.
Prioritizing a platform with deep e-commerce integrations and customization ensures your email program amplifies your online business goals rather than operating in a silo.
5. SEO Tools
Built-in SEO capabilities are valuable in an email platform because they help your campaigns get found by interested prospects online. Useful features include:
Auto-generated SEO titles and meta descriptions for landing pages and opt-in forms. This saves manual optimization work.
Indexing tools to make landing pages visible to search engines like Google. Missing this hampers discovery.
Link click-tracking shows the most clicked pages and anchor text. This data informs future content and keywords.
Third-party integrations with SEO platforms like Yoast to transfer analytics data. Isolated platforms lack the big picture.
Suggested keywords and tags to optimize campaigns for findability. DIY optimization is time-intensive.
By handling basic on-page SEO tasks automatically and providing data-driven keyword suggestions, the right email platform saves time while ensuring your campaigns can be discovered. Evaluate SEO capabilities when selecting a provider.
6. Integrations
The integrations an email automation platform offers with other software and apps should factor into your buying decision because they enable seamless connectivity across your tech stack. Ideal third-party integrations integrations provide:
CRM integration to synchronize subscriber and customer data between systems. Lack of CRM connections causes silos.
Integration with your website, forum, directory, or other platforms to embed opt-in forms. This simplifies list building.
eCommerce platform integration to share customer and order data. Manual entry leads to errors and outdated records.
Ability to connect workflows and campaigns to other software through Zapier or native integrations. Standalone platforms limit options.
Analytics integration provides a single dashboard view. Switching between platforms gives an incomplete picture.
Evaluating integration capabilities prevents your email marketing from operating in a vacuum. Look for platforms enabling extensive connectivity to fully leverage subscriber data.
7. Analytics and Reporting
Robust analytics and reporting capabilities should be a priority when selecting an email service because they enable you to gain clear, actionable insights into your campaigns' performance. Key features include:
Open and click-through rates to optimize content, headlines, and send times. Guessing without data leaves engagement to chance.
Unsubscribe monitoring to identify issues with content or oversending early. Ignoring unsubscribe data risks losing more subscribers.
Spam test results and inbox placement data to improve future deliverability. Lacking this causes deliverability issues.
Email attribution and integrations with web analytics to track ROI and conversions driven by email. No connected data provides an incomplete view.
Visualized reports and dashboards for at-a-glance data insights. Raw data without visualization is hard to digest.
Robust analytics inform your decision-making and strategy. Prioritize a platform providing accessible, clear, visually compelling reporting.
8. Customer Support and Community
The quality of customer support and community an email marketing platform provides should be evaluated closely during your selection process. Consider these factors:
Review response time and communication channels like live chat, phone, and ticketing to ensure timely answers. Unreliable support causes frustration.
Knowledgeable support representatives who can provide personalized guidance. Cut-and-paste responses deliver no value.
Educational resources like how-to articles, ebooks, guides, and videos for self-service learning. Lack of resources leads to dead ends.
Community forums to connect with other users and learn from their experiences. No community limits troubleshooting.
Proactive account management and onboarding assistance for complex issues or launches. DIY onboarding causes missteps.
Stellar support and an engaged community ecosystem provide assistance in navigating platform challenges that arise. Don't underestimate this factor during your evaluation.
9. Pricing
When selecting an email marketing platform, pricing should be evaluated closely to ensure the solution aligns with your budgetary needs both now and as your program scales. Key considerations include:
Free or low-cost tiers for early testing and getting started. Options with only costly paid plans limit trialability.
Cost per month and contacts to determine affordability for your list size. High per-subscriber costs can add up rapidly.
Potential for negotiated custom enterprise pricing for high-volume senders. Lack of flexibility caps cost-savings.
Pay-as-you-go scalability versus locked-in contracts. Fixed pricing hampers adapting as needs change.
Segmented pricing based on features like automation and integrations. One-size-fits-all paid plans have unnecessary costs.
Selecting the right pricing model prevents surprise costs from cropping up as your email marketing matures. Seek options providing value, flexibility, and transparent pricing that works with your budget.
10. Reviews and Reputation
The reviews, reputation, and testimonials an email platform has earned should carry weight in your buying decision because they offer unbiased insights into real customer experiences. Make sure to evaluate:
Online reviews on trusted sites like G2, Capterra, and TrustRadius for candid feedback. The lack of reviews hides potential issues.
Product ratings for email marketing specifically, not just the brand overall. Low email program ratings warrant caution.
Customer case studies detailing first-hand experiences with the platform. Generic overviews provide little value.
Reputation for deliverability, inbox placement, and sender credibility. Many complaints about spam filtering are a red flag.
Client list and years in business as markers of stability and experience. Unproven newcomers carry risk.
Let other customers' experiences guide your selection process. Favor solutions with overwhelmingly positive recent reviews specific to their email capabilities and deliverability.
Summary and Top Picks
While Tinyemail provides a basic email marketing solution, there are many alternative email marketing platforms worth considering that offer expanded features, capabilities, and overall value tailored to different use cases.
Throughout this article, we covered over 10 leading Tinyemail alternatives and saw how they compare in areas like:
Ease of use and intuitiveness
Design customization and branding
Built-in blogging and content tools
E-commerce integrations and segmentation
Analytics and actionable reporting
Reliable deliverability and spam prevention
Automation workflows and personalization
Scalability and pricing flexibility
While every brand's needs are unique, evaluating these key alternatives to Tinyemail will allow you to find the right fit providing the capabilities, integrations, and performance your email marketing program requires.
Each platform excels in specific areas, so consider which strengths align best with your strategies before deciding.
The table below shows my top five alternatives, and why they are the top choices: