Choosing the right email marketing platform is crucial for reaching customers and growing your business. Campaign Monitor and TinyEmail are two of the top contenders.
Campaign Monitor is an established leader known for its powerful features and excellent deliverability. TinyEmail is a newer, more affordable option gaining popularity for its simplicity and ease of use. But which one is right for your business?
In this comprehensive Campaign Monitor vs TinyEmail comparison guide, we'll evaluate both platforms across key criteria such as market position, ease of use, design customization, features and functionality like blogging, ecommerce, and SEO to help you choose the best email marketing platform for your unique business needs.
1. Understanding the Basics
Campaign Monitor was founded in 2004 by designers Ben Richardson and David Greiner. It has grown into one of the most widely used email marketing platforms, with over 150,000 customers worldwide. Campaign Monitor holds a 9% market share in the email marketing industry.
TinyEmail began in 2020 as a side project by founder Seamas Egan. Within two years, TinyEmail grew rapidly to serve over 10,000 happy customers. It has captured a 2% market share among email service providers.
Both platforms have active user communities on Facebook:
These groups allow users to connect, ask questions, and share best practices for getting the most out of each platform. If you need additional support from other users, we recommend joining the relevant Facebook group.
2. Features and Functionality
Automation
Campaign Monitor has robust automation tools to help streamline your email marketing workflows. You can create triggers based on user actions like opening an email, clicking a link, or filling out a form.
This email marketing tool has workflows that can be arranged in sequences, allowing you to send a series of automated emails over time. For example, you could set up a 5-email nurture sequence to engage new subscribers.
Advanced options include setting delays, adding conditional logic, and importing data from CSV. Campaign Monitor also offers tags and segments for more targeted automation based on user attributes and behaviors.
Overall, Campaign Monitor provides extensive options for automation without requiring code. Their simple visual workflow builder makes it easy to set up complex campaigns.
TinyEmail has basic automation functionality to help you send emails based on user actions. You can create sequences to send a series of pre-written emails on a schedule. Triggers are limited to new subscribers, email opens, link clicks, and a few other basic options.
There is no visual workflow builder in TinyEmail. Instead, you build sequences using a rule-based system which can be confusing for beginners.
While TinyEmail automation covers the basics, the platform lacks more advanced options offered by Campaign Monitor. TinyEmail does not support conditional logic, customized delays, importing subscriber data, or segmentation. The automation tool feels simplistic compared to Campaign Monitor's robust feature set.
Campaign Monitor is the clear winner when it comes to email automation and workflows. TinyEmail's tool is serviceable for basic sequences, but Campaign Monitor offers far greater flexibility through its intuitive drag-and-drop builder, conditional logic, and many trigger options. For businesses who want to create sophisticated automated campaigns, Campaign Monitor is the top choice.
Email Templates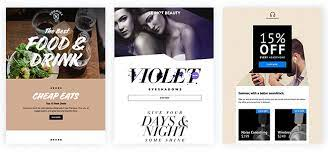 Campaign Monitor offers hundreds of professionally designed email templates to choose from. Templates are organized by industry and campaign type, making it easy to find relevant options.
Drag-and-drop customization allows you to tweak templates by adding/removing elements, changing colors, and modifying layouts. You can also build templates from scratch using a responsive email builder.
Loaded templates help you quickly create beautiful emails that render well across devices. Campaign Monitor also provides the ability to save custom templates and reuse them for future campaigns. Overall, their template library is robust and highly customizable for your brand.
TinyEmail has a small collection of about 30 basic email templates. They cover common use cases like promotions, newsletters, and announcements. While professionally designed, the selection is limited compared to Campaign Monitor. Customization options are also lacking – you can only change colors rather than modify layouts.
Building new templates in TinyEmail must be done from scratch using their drag-and-drop editor. While functional, it is missing advanced features like responsive design tools that Campaign Monitor includes. The TinyEmail template experience feels basic compared to the expansive capabilities of Campaign Monitor.
With its vast template library and extensive customization options, Campaign Monitor clearly beats TinyEmail for email templates and design. While TinyEmail covers the fundamentals, Campaign Monitor offers far more choice plus the flexibility to tailor templates to your brand. For creating stunning, professional emails, Campaign Monitor is the winner.
Segmentation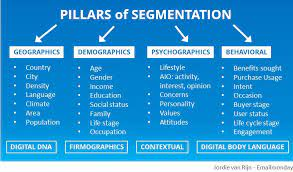 Campaign Monitor provides powerful segmentation options to target your audiences. You can create segments based on a wide range of criteria like email activity, engagement metrics, geographic data, user profiles, and more. Segment conditions can be combined using AND/OR logic to zero in on specific groups.
Once created, segments can be leveraged across your account for more personalized emails. Apply them to automation, send targeted standalone campaigns, or use them to customize content blocks. Campaign Monitor makes it easy to segment cold vs warm vs hot leads, tailor messages by location, send re-engagement emails, and more.
Overall, Campaign Monitor offers robust, customizable segmentation suitable for advanced email marketers. The visual segment builder simplifies the creation of even complex segments.
TinyEmail has basic segmentation capabilities based on email opens, clicks, and a handful of other criteria. You can target new subscribers or design segments based on simple conditional logic. However, TinyEmail lacks more advanced segmentation options compared to Campaign Monitor.
The process of building segments in TinyEmail feels limited – you cannot combine multiple conditions or segment contacts by user attributes like demographics or purchase history. The tool is barebones and may not support more sophisticated segmenting needs. While usable for simple requirements, power users may find TinyEmail segmentation lacking.
With its advanced segment builder, customizable conditions, and breadth of targeting options, Campaign Monitor easily wins for segmentation features. TinyEmail covers the fundamentals but cannot match the robust flexibility of Campaign Monitor's tool. For precision email targeting, Campaign Monitor is the clear choice.
Analytics
Campaign Monitor provides powerful email analytics to track and optimize your campaigns. Key metrics like open rate, click rate, bounce rate, and unsubscribes are reported in real time. You can segment analytics by campaign, link, template, or custom parameters to get a deeper view of performance.
The platform offers robust segmentation so you can analyze how emails resonate with different user groups. A/B testing capabilities let you directly compare subject lines, content, layouts, and more. Campaign Monitor integrates with Google Analytics for expanded insights. Detailed campaign reports can be scheduled and exported. Overall, Campaign Monitor has enterprise-level analytics.
TinyEmail provides basic email analytics covering opens, clicks, and unsubscribes. You can view real-time stats for each campaign and segment data by links or subscriber segments. However, compared to Campaign Monitor, analytics functionality feels light.
There are no options for A/B testing or tying email data to Google Analytics. The reporting lacks depth – you cannot compare campaign metrics or analyze trends over time. TinyEmail analytics get the job done on a surface level but lack robust features offered by Campaign Monitor.
With its superior reporting depth, segmentation, A/B testing, and Google Analytics integration, Campaign Monitor clearly wins for its email analytics capabilities. TinyEmail only covers basic metrics without the ability to dive deeper. For comprehensive email optimization, Campaign Monitor is the top choice.
Unique Features
Campaign Monitor offers some standout capabilities like multi-brand management, account teams, transactional email, and SMS marketing.
The multi-brand feature allows you to easily manage multiple brand accounts from a single dashboard. Keep campaigns separated across brands or allow brands to collaborate as needed.
The account teams function enables assigning team members specific roles and permissions within accounts for improved collaboration while maintaining control.
Transactional email is also included, which enables sending automated order confirmations, receipts, password reset emails, and more using handlebars templates.
Finally, Campaign Monitor offers integrated SMS messaging to expand reach beyond email.
TinyEmail also provides useful unique features. This includes free custom domain support, mail merge tags for personalization without coding, advanced email scheduling, saved responses for support tickets, and email parsing.
With free custom domains, you can use your own branded domain name at no cost. Mail merge tags allow you to personalize your emails through merge tags without any coding dynamically.
TinyEmail also enables scheduling emails up to 3 months in advance. Saved responses help you quickly respond to support tickets using canned responses you've created.
Finally, the platform offers email parsing to automatically extract key data from incoming emails.
Winner: Draw
Both Campaign Monitor and TinyEmail offer useful unique features that cater to different needs. For those managing multiple brands or teams, Campaign Monitor is stronger. But TinyEmail includes nice perks for savvy solopreneurs on a budget. This one's a draw based on the different strengths of each platform.
3. Ease of Use
Campaign Monitor provides a user-friendly interface with an intuitive drag-and-drop interface that makes it easy for beginners to start creating email campaigns. The dashboard is clean and organized with clear navigational menus. Core functions like building emails, creating automation, and segmenting your list are simple to set up.
The platform uses a visual workflow builder for designing automation that simplifies your email marketing efforts. Templates and customization tools streamline designing attractive emails without coding skills.
Overall, CampaignMonitor is an intuitive email marketing software with a user experience that is smooth and user-friendly. The learning curve is reasonable for any beginner or small business owner who wants to run basic email marketing campaigns. Detailed help docs and webinars help shorten the ramp-up time.
TinyEmail uses a basic but functional interface. The dashboard guides you clearly through core tasks like creating subscriber lists, building templates, and sending broadcasts. TinyEmail's UI is easy to navigate for email marketing newcomers.
However, certain areas feel less intuitive. Building sequences requires configuring rules which takes more learning. The template editor is also stripped down compared to Campaign Monitor. Expect a minor learning curve in understanding TinyEmail's approach to automation and some design tools. But overall, it's simple for novices to get started.
With its polished and intuitive interface, Campaign Monitor wins for overall ease of use and user experience. TinyEmail is relatively simple to navigate, but Campaign Monitor does more to streamline common email marketing tasks under one visual, user-friendly roof. For the most seamless UX, Campaign Monitor comes out ahead.
4. Email Deliverability
Campaign Monitor has excellent email deliverability with average rates above 95%. They maintain strong relationships with major ISPs like Gmail and Outlook through their Sender Score program. Users benefit from Campaign Monitor's trusted sending reputation.
The platform also provides deliverability tools like link tracking, bounce management, and detailed ISP feedback. You can optimize your campaigns to improve deliverability over time. Transactional email and dedicated IPs help enhance the reputation of high-volume senders.
As a newer and smaller provider, TinyEmail has solid though not stellar email deliverability. Average rates fall around 85-90%, which is decent but trails leaders like Campaign Monitor. The platform lacks mature relationships with big ISPs.
TinyEmail does offer basic deliverability features like bounce handling and mailbox provider reports. But you miss out on more advanced optimization tools that Campaign Monitor provides. Deliverability will likely improve over time as TinyEmail's sending volume and reputation grow. But for now, performance lags behind.
With its established sending reputation and robust optimization tools, Campaign Monitor easily wins for superior email deliverability. TinyEmail can get emails to the inbox, but higher-volume senders would benefit from Campaign Monitor's proven deliverability rates. For reliability, Campaign Monitor is the leader.
5. Customer Support and Community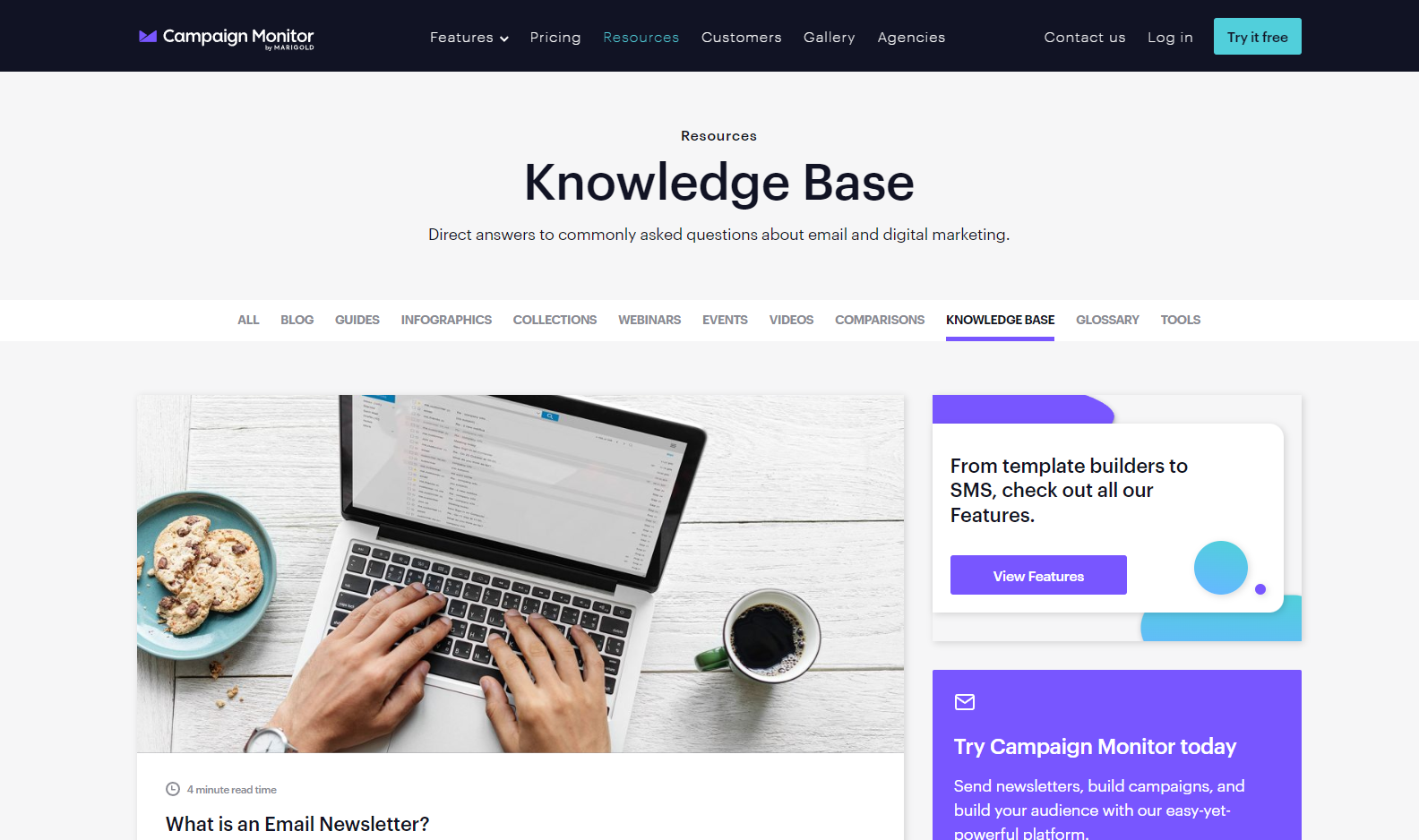 Campaign Monitor provides 24/7 customer support via live chat, email, and phone. They also offer an extensive library of tutorials, docs, and webinars for self-service help. Users praise Campaign Monitor's responsive and knowledgeable support team.
For community assistance, customers can join the Campaign Monitor Community Group on Facebook, which has over 27,000 engaged members willing to help answer questions.
TinyEmail offers email-based customer support during US business hours with slower 1-2 day response times. Self-help resources are relatively limited compared to leaders like Campaign Monitor.
Users can connect with other TinyEmail customers through the TinyEmail Users Facebook page, but its smaller size of just over 1,000 members reduces community support.
With 24/7 multi-channel support and a thriving user community of over 27,000 people, Campaign Monitor easily wins for best customer service and community resources. TinyEmail covers the basics but can't match Campaign Monitor's level of responsive assistance and peer networking.
6. Integrations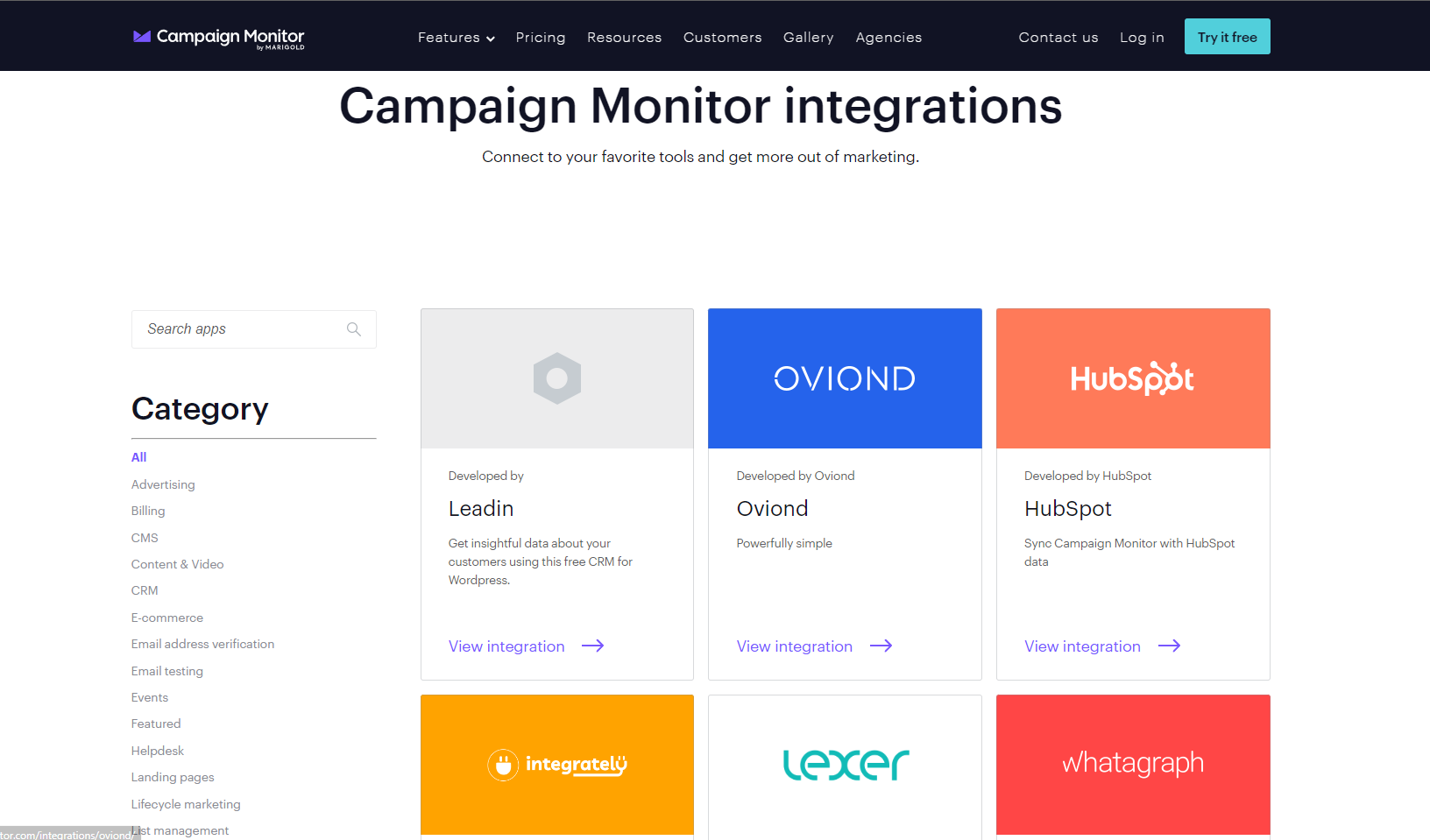 Campaign Monitor integrates with over 200 third-party apps and services through their Connect platform. Key integrations include major marketing and ecommerce tools like CRMs such as Salesforce, HubSpot, and ActiveCampaign.
It also integrates with top ecommerce platforms including Shopify, WooCommerce, and Magento. For marketing automation, Campaign Monitor connects with Marketo, Eloqua, and more.
Analytics integrations are available as well with tools like Google Analytics, Mixpanel, and Heap. Social media integrations include Facebook and Twitter.
These integrations allow you to import data, automate workflows, track online activity, and more across your marketing stack directly from Campaign Monitor.
TinyEmail has about 30 native integrations with systems like Mailchimp, Gmail, and Calendly. There is basic CRM support offered for tools such as HubSpot and Ontraport.
For other connections beyond that, TinyEmail requires using Zapier which involves more manual setup. Compared to Campaign Monitor's 200+ direct integrations, TinyEmail's ecosystem is much smaller. Some users may miss having turnkey integration with a popular tool.
With its vast library of over 200 direct integrations, Campaign Monitor clearly dominates in offering deep connectivity across all types of marketing and ecommerce tools. TinyEmail only supports basic connections. For seamless integration, Campaign Monitor is the winner.
7. Pricing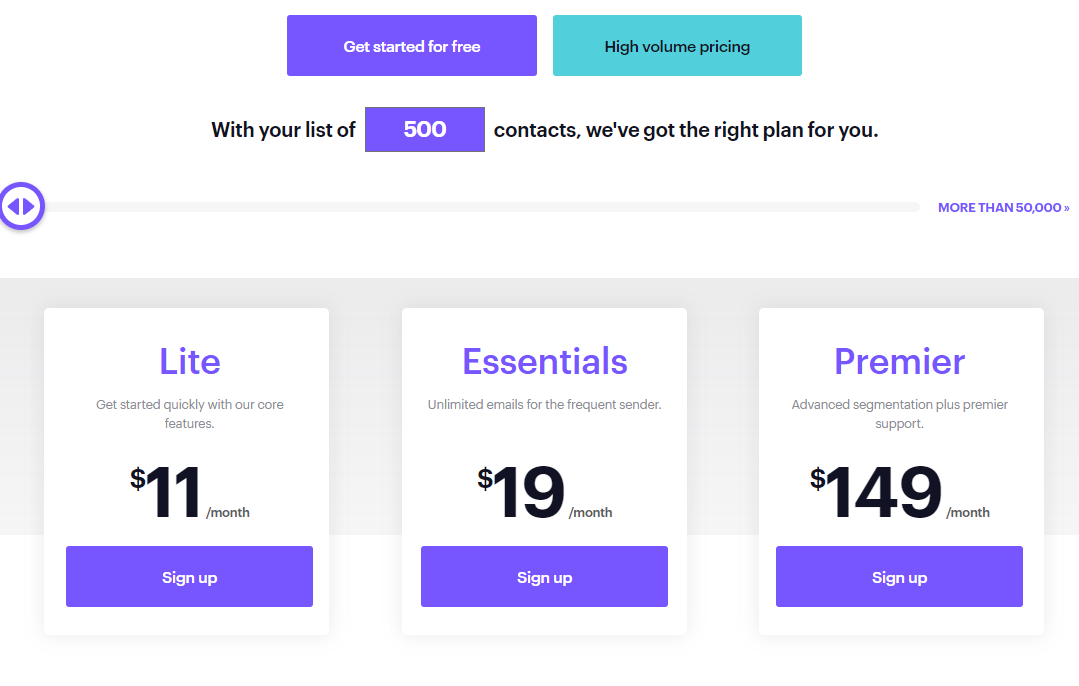 Campaign Monitor pricing plans depend on your number of email contacts and are designed to scale up to add more features like automation, reporting, and design services.
Here are some key pricing highlights for a list of 500 contacts:
Lite Plan: $11/month. Access the platform's core features and send up to 2,500 emails.
Essentials: $19/month. Send unlimited emails and get advanced automation features, including engagement segments and time zone sending.
Premier Plan: $149/month. Get advanced segmentation plus SMS marketing, and premier support.
For a list with 2,500 contacts, you can expect to pay $39, $59, and $149/month respectively for the same features. Volume discounts are available. Campaign Monitor provides a free trial to test drive their platform as well. Pricing is competitive for the robust capabilities provided.
TinyEmail offers affordable pricing, with plans starting at just $15/month for unlimited subscribers. Here are some pricing details:
Free – $0/mo for 500 contacts
Standard – $15/mo for unlimited subscribers
Pro – $65/mo for additional features and advanced functionality
Enterprise – Custom pricing for all the platform's core features and unlimited resources
Lower pricing matches TinyEmail's positioning as an entry-level email platform focused on core features. Budget-conscious users will find TinyEmail's rates more accessible than its counterpart.
Higher tiers provide more contacts, sequences, and premium integrations. All plans include core features, though some advanced options like A/B testing require Pro or Enterprise plans.
Add-ons like text message credits are available for additional fees. TinyEmail provides free trials for all paid plans as well.
With tiny entry-level plans starting at just $15/month, it's hard to beat TinyEmail's affordable pricing, especially for small businesses just getting started. Campaign Monitor offers generous free trials, but paid plans are costlier at scale. For budget-friendly email marketing, TinyEmail wins for best pricing.
8. Reviews and Reputation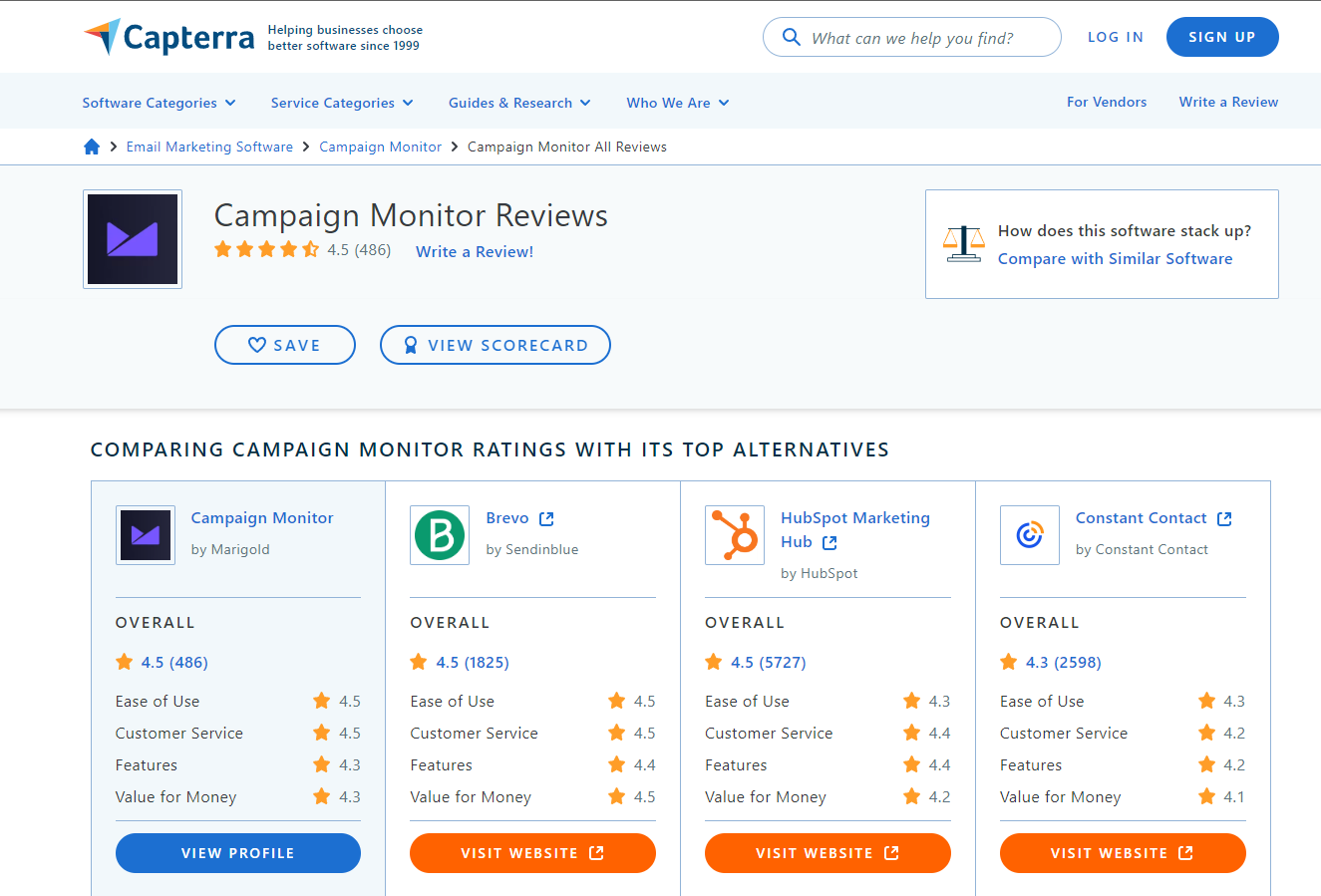 Campaign Monitor has an overall rating of 4.1/5 stars on G2. Users praise the platform for its intuitive interface, excellent templates, and great analytics. Some downsides mentioned include the relatively high pricing and occasional deliverability issues.
On Capterra, Campaign Monitor rates 4.5/5 stars. Positive feedback covers the segmentation tools, automation, and top-notch support. Complaints focus on some difficulties with advanced functions having a learning curve.
Overall, reviews indicate Campaign Monitor is powerful but comes with a steeper price tag than some competitors.
TinyEmail earns positive reviews as well, with a 4.8/5 average rating on Trustpilot. Users highlight the easy-to-use interface, affordability, and great support as advantages. Drawbacks include occasional deliverability problems and a lack of advanced features.
Some reviews praise the intuitive workflow builder and drag-and-drop editor. Some note limitations for larger email lists and enterprise-level functionality.
Generally, TinyEmail is seen as an affordable alternative for basic email needs. But it lacks capabilities for more sophisticated users.
Winner: Draw
Both platforms earn strong reviews for ease of use and customer support. Campaign Monitor is better for advanced needs but at a higher price. TinyEmail offers core features affordably but trails in power user functionality. For reputation and satisfaction, this one's a draw.
9. FAQ's
What is the learning curve like?

Campaign Monitor is quite intuitive and user-friendly. Most basic functions can be learned quickly, but expect some ramp-up time to master advanced features.
How many contacts can I store?

Campaign Monitor has no limit on contact database size, though contacts over plan limits incur overage fees.
Is Campaign Monitor GDPR compliant?

Yes, Campaign Monitor helps users comply with GDPR regulations around data privacy.
Does Campaign Monitor have ecommerce features?

Yes, Campaign Monitor integrates with ecommerce platforms and offers tags/triggers to customize post-purchase emails.
What analytics are included?

Very robust analytics are offered including opens, clicks, unsubscribes, location data, link tracking, and more.
How easy is it for beginners?

The interface is simple and intuitive enough for email marketing newcomers to grasp quickly.
What integrations are available?

Around 30 native integrations, mostly for email and basic CRM tools. Zapier can connect unsupported apps.
Is there a limit on contacts?

No cap on contacts, but plans over 50K contacts require enterprise pricing.
Can I send SMS messages?

No, TinyEmail focuses solely on email marketing.
Is there A/B testing?

A/B testing is not included natively but can be achieved through third-party apps.
Final Thoughts
Campaign Monitor is a great choice for medium to large businesses ready to invest in a powerful email marketing platform. It's feature-rich with excellent deliverability, making it well-suited for established brands planning to scale. The extensive automation and integrations also appeal to advanced marketers. If you need an enterprise-level solution and robust analytics, choose Campaign Monitor.
TinyEmail is ideal for small businesses, startups, and solopreneurs looking for an affordable but capable platform. It covers all the email marketing basics without overwhelming new users. The lower pricing and intuitive interface make it friendly for new email marketers as well. If you want great value and simplicity, opt for TinyEmail.
If you aren't sure if TinyEmail is right for you, consider reading my favorite TinyEmail Alternatives.
Choosing the right email marketing platform is critical – it should align with your budget, business size, and feature needs. If you have any other questions about Campaign Monitor vs TinyEmail, please ask in the comments below! We're happy to provide additional guidance to help you select the best solution.