Choosing the right email marketing platform is crucial for business owners looking to build meaningful relationships with customers. ConvertKit and TinyEmail are two popular options, each with unique strengths.
ConvertKit is a robust platform focused on creators and online course businesses, while TinyEmail takes a simpler approach tailored for small shops and blogs.
In this ConvertKit vs TinyEmail comparison, we will evaluate key factors to consider when selecting an email service provider, including market position, ease of use, customization, features, website performance, customer support, pricing, and reputation. Examining these criteria will provide the insight needed to determine which platform best aligns with your business goals and audience needs.
1. Understanding the Basics
Founded in 2013 by Nathan Barry, ConvertKit is one of the most popular email service providers catering to online creators and course creators. With over 30,000 active paying customers, ConvertKit has established itself as a leader in the market.
TinyEmail entered the industry in 2020. The Australia-based company was founded by Seamas Egan from Toronto to offer a simplified email marketing solution for smaller businesses. TinyEmail has a small but growing user base.
Both platforms have active Facebook communities:
These communities allow users to connect, share tips, and get feedback from fellow customers. With over 11,000 members, the ConvertKit Community reflects the platform's significant market presence. The TinyEmail Page is still new, with only 1,1K followers, but it provides a space for its users to support each other.
When it comes to market position, ConvertKit definitely has the edge in terms of size and popularity within its target creator niche. However, TinyEmail fills an important role for smaller operations looking for an intuitive email solution. Both have carved out solid positions, albeit very different ones.
2. Features and Functionality
From deliverability rates to integration capabilities, the nuances between these two competitors can make or break your email marketing campaigns.
Our side-by-side analysis will help you understand where ConvertKit and TinyEmail overlap and where they diverge so you can confidently choose the best solution to drive business growth through more impactful email campaigns. With the right platform choice, you'll be on your way to nurturing lasting customer relationships.
Automation
ConvertKit offers a visual automation builder with robust automation with tags, segments, and sequences. Users can create complex workflows to customize subscriber journeys and enhance their email marketing efforts.
The platform has landing page integrations and forms to capture leads. New subscribers can automatically be tagged and entered into sequences. Advanced options like multi-path sequences, tags with multiple criteria, and conditional content provide deep personalization.
With ConvertKit, businesses can set up automation like welcome campaigns, browse abandonment flows, and email nurturing sequences. Workflows can be based on criteria like email engagement, purchase activity, and date-based events.
TinyEmail lacks the advanced automation features you'll find on an email marketing tool like ConvertKit, but it has basic features like welcome emails and RSS-to-email campaigns. Users can create segments and set up sequences based on subscriber actions.
The platform offers landing page integrations to capture leads from forms. New subscribers can be tagged and added to sequences. Options are relatively simple, with basic segmentation and sequential messaging.
TinyEmail automations include things like post-purchase confirmation emails, subscriber win-back flows, and anniversary promotions. Criteria options are limited to opens, clicks, and date-based triggers. Complex multi-path journeys are not supported.
With its advanced segmentation, conditional logic, and intricate sequences, ConvertKit is the clear winner when it comes to email automation capabilities.
The platform provides the tools needed to create personalized experiences that convert at scale. TinyEmail has potential but currently lacks the sophistication required for complex automation.
Email Templates
ConvertKit has a template library with over 100 responsive email templates. These include basic templates for announcements, promotions, newsletters, and more.
Users can customize templates by editing layouts, changing colors, adding images, and modifying text. For more advanced customization, HTML and CSS coding can be used.
ConvertKit also offers landing page templates that match email designs for a cohesive brand experience. Subscribers see familiar styling across channels.
TinyEmail provides around 70 responsive email templates spanning categories like marketing, sales, announcements, newsletters, and more.
While TinyEmail templates cannot be edited visually, users can modify HTML/CSS code or use a coding platform like Pagemodo for changes. The level of customization is relatively limited.
Matching landing page templates are not offered. Subscribers will see different styling on opt-in forms versus emails.
With its expansive gallery of customizable templates, ConvertKit wins for email design flexibility. Users can tailor templates to their brand visual style without coding expertise. TinyEmail templates have less modification potential for non-coders. Consistent styling across channels gives ConvertKit another advantage.
Segmentation
ConvertKit has robust segmentation options for group subscribers. Users can create segments based on email engagement, tags, purchase history, referral source, geography, and more.
Conditional logic lets you combine multiple criteria to target specific segments like "Opened Email A AND Clicked Link B". ConvertKit offers unlimited segments without extra fees.
Segment insights provide data like open and click rates to optimize campaigns. You can send sequences or one-time broadcasts to highly targeted segments.
TinyEmail allows basic subscriber grouping into segments by email opens, clicks, tags, and dates like sign-up dates. You cannot combine multiple conditions like with ConvertKit.
While segments are unlimited, data insights are lacking. TinyEmail does not provide open or click rates for segments to inform targeting. Sending options are limited as well.
Overall, TinyEmail segmentation is fairly basic without the detail and flexibility of ConvertKit for advanced subscriber personalization.
With its powerful conditional segmentation, unlimited groups, and insightful data, ConvertKit is better equipped for targeting subscribers. TinyEmail takes a simpler approach that limits advanced personalization potential.
Analytics
ConvertKit provides robust email analytics with campaigns, automation, and segment reporting. Users can view high-level metrics or drill into details.
Key stats include sends, opens, clicks, unsubscribes, and spam complaints. ConvertKit integrates with Google Analytics for expanded insights.
The platform generates visual reports on email performance over time. Users can export CSV data. Real-time stats are also available.
TinyEmail has basic email analytics covering sends, opens, click-through rates, and unsubscribes. Reporting lacks segmentation breakdowns.
There are no visual reports for easily digesting performance over time. To get expanded insights, TinyEmail must be connected to third-party analytics like Google Analytics.
Overall, TinyEmail's analytics are functional yet limited compared to the robust reporting ConvertKit provides out-of-the-box. Less detail is available without third-party integration.
With its thorough campaign statistics, visual reporting, and segmentation insights, ConvertKit is the winner for email analytics. TinyEmail's offering covers the basics but lacks the deeper functionality expected from top-tier email platforms.
Unique Features
ConvertKit has a few standout unique features, including built-in course creator tools like drip content emailing and course landing pages to support online course businesses. Automated webinar follow-ups also help capture leads.
Users can optimize campaigns with split testing for subject lines, "from" names, and email content. For team collaboration, ConvertKit offers email drafts and approvals. An email copywriting assistant generates subject line ideas as well.
These specialized tools cater to ConvertKit's core online creator audience and enhance workflows for course businesses.
TinyEmail does not have many unique features that differentiate it. One offering that sets it apart is RSS-to-email for turning blog posts into email newsletters. This can save time for bloggers looking to recycle content. But for most users, TinyEmail does not offer standout functionality beyond expected email features.
With its suite of creator-focused tools, ConvertKit takes the crown for unique features. Additions like split testing and team collaboration demonstrate ConvertKit's understanding of their core users' needs. TinyEmail's only standout is RSS-to-email for bloggers.
3. Ease of Use
ConvertKit has a clean, modern interface with intuitive navigation. The dashboard provides quick access to key features and campaign insights.
For beginners, ConvertKit offers detailed help docs and an email course on getting started. The visual editor and template selection simplifies email creation.
While automation and advanced features have learning curves, the core email editor, subscriber management, and basic workflows are easy to pick up. The user experience is smooth.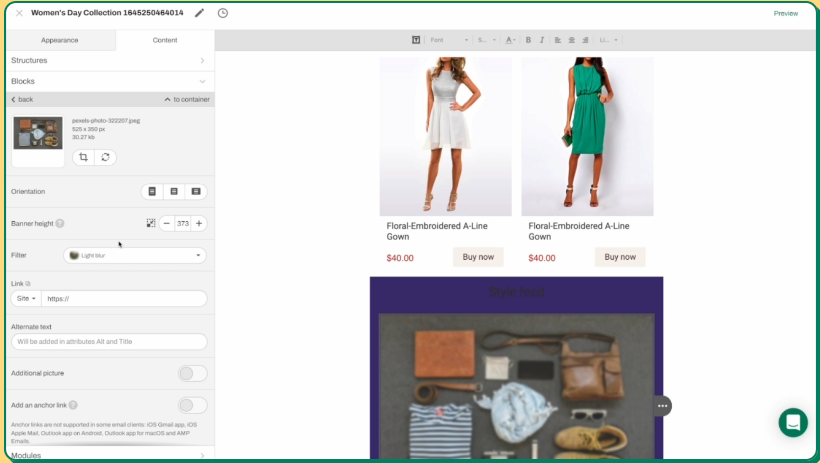 TinyEmail also has a simple, user-friendly interface. Key information is displayed upfront on the dashboard. The tooltips and knowledge base articles assist new users.
Building emails is straightforward with pre-designed templates. Subscriber management options are more limited but simple to operate.
Overall, TinyEmail delivers on its promise of ease of use, especially for those with basic email marketing needs. There is less complexity compared to ConvertKit.
With its pared-down approach focused on simplicity, TinyEmail wins for overall ease of use and quickest path to proficiency. While ConvertKit is powerful, it requires more learning investment. TinyEmail's simplicity reduces the barrier to entry.
4. Email Deliverability
ConvertKit focuses heavily on deliverability with dedicated IP addresses and inbox placement tools. The platform maintains an excellent sender reputation.
ConvertKit inboxes at over 99% on average and offers deliverability guarantees. Emails comply with CAN-SPAM and GDPR regulations.
For advanced deliverability, ConvertKit provides ISP relationship management and inbox rendering previews. Overall, deliverability is a clear priority.
TinyEmail does not publish detailed deliverability metrics but states that inboxing rates average over 90%.
The platform handles compliance standards but does not have established relationships with major ISPs like ConvertKit.
Features to improve deliverability are limited for TinyEmail users. The lack of the sender's reputation history also puts them at a disadvantage.
With its dedicated deliverability tools and expertise, 99%+ inboxing rates, and established sender reputation, ConvertKit is the clear winner for email deliverability. TinyEmail's shorter history puts them behind on optimizing for the inbox.
5. Customer Support and Community
ConvertKit offers email support, live chat, phone support, and an extensive knowledge base for self-service help. Users praise the timely, high-quality support.
The platform also has an active ConvertKit Community Facebook group with over 25,000 members. Users connect and share advice.
ConvertKit's combo of stellar direct support and a robust user community provides multiple options for assistance. Resources abound for troubleshooting or maximizing the use of the platform.
TinyEmail provides email support and a knowledge base library. Direct support receives mixed reviews, with some users reporting slow response times.
The TinyEmail Community Facebook page is relatively small but growing. Members help each other with questions.
While TinyEmail's support channels have potential, they currently lack the responsiveness and breadth of ConvertKit's well-rounded support ecosystem. There is room for improvement.
With its multi-channel support, top-rated representatives, and highly engaged Facebook community, ConvertKit is the winner for customer support and resources. The wealth of help options surpass TinyEmail's still-developing support ecosystem.
6. Integrations
ConvertKit offers hundreds of third-party integrations via Zapier and their own integration partnerships.
Key integrations include CRMs like ActiveCampaign, Ontraport, and Drip, e-commerce platforms like Shopify, WooCommerce, and SamCart, webinar software like GoToWebinar, EverWebinar, and Demio, and marketing tools like Facebook Ads, Mailchimp, and Sumo.
These expansive options make ConvertKit a connector hub for centralizing data and workflows.
TinyEmail has over 50 native integrations with apps like CRMs including MailerLite, HubSpot, and Keap, e-commerce platforms such as Wix and PayHip, social media tools like Facebook and Twitter, and analytics through Google Analytics and Mixpanel. While TinyEmail covers the basics, ConvertKit offers far more integration possibilities for high-level automation.
With 5X more integrations, ConvertKit is the winner for connectivity. Their vast app and platform partnerships provide the tools to sync data across marketing tech stacks in a smoother workflow.
7. Pricing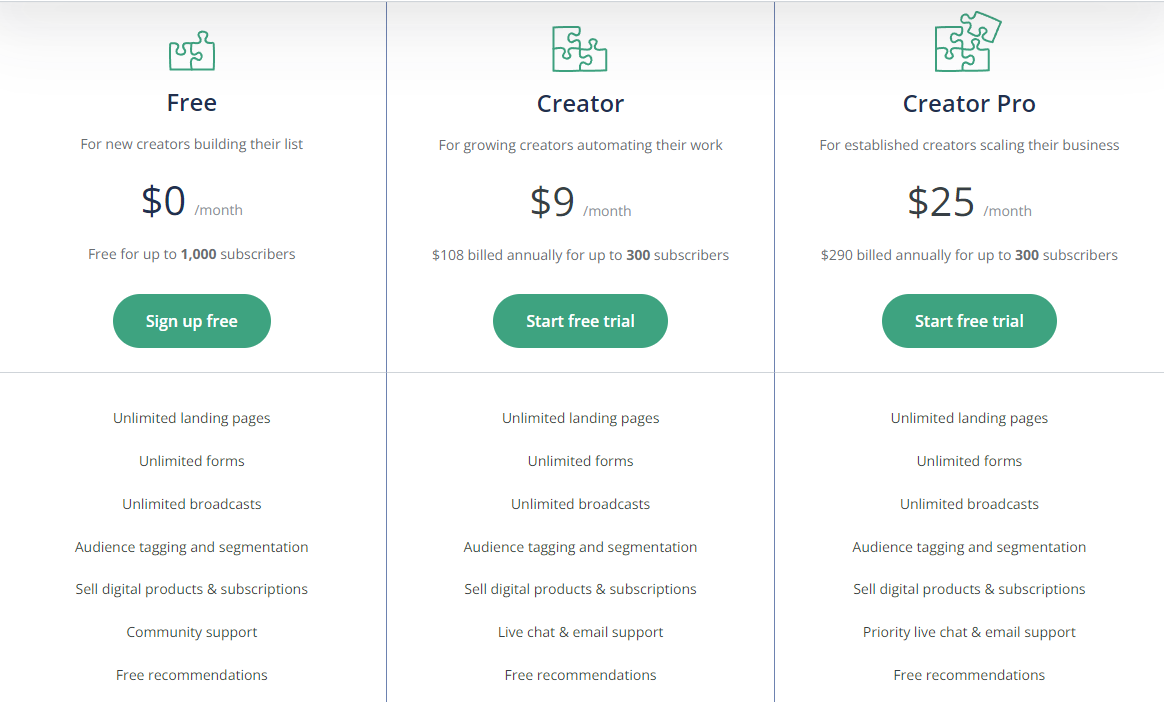 ConvertKit has a free plan for up to 1,000 subscribers, and three paid plans which are as follows:
Creator Plan – $9/month with unlimited forms, landing pages, and broadcasts for up to 300 subscribers.
Creator Pro Plan – $25/month for up to 300 subscribers. It comes with additional features to sell digital products and subscriptions, as well as audience tagging and segmentation tools.
Additional subscribers can be added for a per-subscriber rate. Features like landing pages, automation, and integrations are included at all plan levels.
ConvertKit pricing offers a generous free trial and transparent pricing without surprise fees. The platform is affordably priced for creators and small businesses, which simplifies the work of choosing email marketing software for your business.
Tinyemail offers 4 pricing tiers based on the number of emails you'll send and the desired functionality.
Plans range from free which has basic email marketing for up to 500 subscribers, to $65/month for the Pro plan which has unlimited subscribers and includes advanced features like A/B testing. Custom enterprise quotes are available.
For the lowest tiers, some features like automation and integrations require add-on fees. Unlimited emails are only included on the Enterprise plan.
With super affordable entry pricing but piecemeal add-ons, TinyEmail is budget-friendly for very small lists. But costs scale fast for more subscribers and functionality.
While TinyEmail is temptingly cheap upfront, ConvertKit's transparent pricing wins out long-term by bundling robust features into each plan. Unlimited emails and full functionality make ConvertKit a higher lifetime value.
8. Reviews and Reputation
ConvertKit earns positive reviews for its power and customization for creators. Users praise the automation, integrations, and deliverability.
Common downsides mentioned include the learning curve and having features tailored more for online course creators versus general email marketing.
On review sites like G2 and Capterra, ConvertKit averages around 4 out of 5 stars. The platform enjoys a strong reputation, particularly with its target creator niche.
TinyEmail gets mixed reviews. Users highlight the platform's affordability and ease of use but complain about limitations for growing businesses.
Potential issues mentioned include a lack of advanced features, customer support delays, and inconsistent deliverability. The TrustPilotratings tend to be more mediocre.
As a newer and smaller provider, TinyEmail does not have the long-standing reputation of ConvertKit. There is room for growth to better serve users.
With its excellent ratings among creators and more established industry reputation, ConvertKit emerges as the winner for reviews and regard. While economical, TinyEmail has progress to make before it earns acclaim.
9. FAQ's
What types of businesses use ConvertKit?

ConvertKit is popular among online course creators, coaches, influencers, authors, and other digital subscription businesses that need advanced email marketing tools.
Does ConvertKit have email templates?

Yes, ConvertKit offers over 100 professionally designed, mobile-responsive email templates that you can customize to match your brand.
Can ConvertKit integrate with webinar software?

Yes, ConvertKit seamlessly integrates with webinar platforms like GoToWebinar, EverWebinar, Demio, and more to capture leads.
Is ConvertKit easy to use for beginners?

While ConvertKit has a learning curve for its advanced features, the platform is designed to be intuitive for email marketing beginners to learn.
How much does ConvertKit cost?

Pricing starts at $29/month for up to 1,000 subscribers. All plans include unlimited emails, automation, and integrations.
What types of businesses use TinyEmail?

TinyEmail is designed for very small businesses, online shops, and bloggers who need an affordable introductory email marketing solution.
Does TinyEmail have pre-designed email templates?

Yes, TinyEmail has around 70 basic email templates spanning different categories that users can customize through code.
Can I connect TinyEmail to my website?

Yes, TinyEmail offers forms and integrations to connect your website for capturing subscriber emails.
Is TinyEmail easy to use?

With its simple interface focused on core email capabilities, TinyEmail is easy for beginners to start sending emails.
How much does TinyEmail cost?

Pricing starts at just $5/month for up to 150 subscribers. Additional features incur fees and higher subscriptions are required for more contacts.
Final Thoughts
ConvertKit is the best choice for creators, online course businesses, digital subscription services, and other mid-large size operations that need sophisticated email marketing tools.
With its automation, integrations, deliverability expertise, and creator-focused features, ConvertKit provides the firepower required as your business scales. The investment pays off with the platform's capabilities to turn subscribers into loyal customers.
TinyEmail is ideal for very small businesses, online shops, bloggers, and startups that want an affordable introduction to email marketing.
The platform makes it easy to set up basic email newsletters, announcements, promotions, and follow-up sequences without complex functionality. TinyEmail keeps costs low for those with smaller lists and basic email needs.
If you aren't sure if TinyEmail is right for you, consider reading my favorite TinyEmail Alternatives.
Choosing the right email marketing platform for your business needs and goals is critical. If you have any questions about whether ConvertKit or TinyEmail is better suited for you, please ask them in the comments! We're happy to provide personalized advice to help you maximize your email marketing success.