Choosing the right email marketing platform is a crucial decision for any business owner. Omnisend and TinyEmail are two powerful options, but they have key differences in features and capabilities.
In this side-by-side Omnisend vs TinyEmail comparison, we'll evaluate how these platforms stack up across factors that matter most: market position, ease of use, design customization, functionality, website performance, customer support, pricing, and reputation.
By the end, you'll have the insights needed to determine which platform aligns with your priorities so you can grow your business and get real value from your investment.
1. Understanding the Basics
Omnisend was founded in 2014 by Rytis Lauris. The company has quickly grown in popularity, now serving over 8,000 customers in 87 countries. Omnisend has established itself as one of the top mid-market email service providers.
TinyEmail began in 2020, created by Seamas Egan. It has a smaller but loyal customer base of businesses seeking an affordable, no-frills email marketing solution.
Omnisend has more brand recognition and a larger market share. But TinyEmail appeals to solopreneurs and small teams wanting basic email functionality without breaking the bank.
Both marketing tools have active Facebook communities:
Connecting with fellow users in these groups can provide tips, feedback, and support for getting the most from both email marketing platforms.
2. Features and Functionality
Automation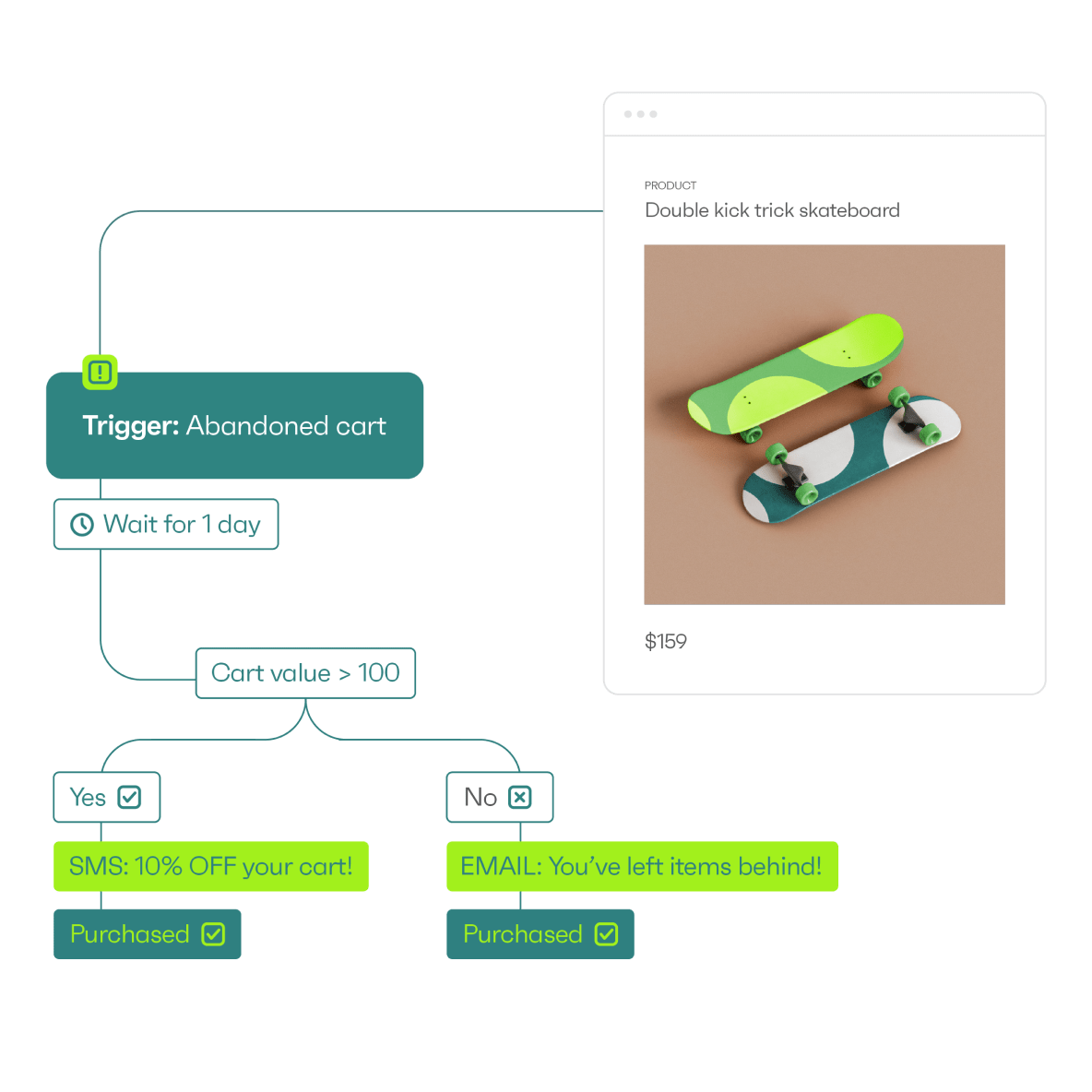 Omnisend enables the creation of multi-step workflows and sequences with its visual drag-and-drop automation builder. You can set up welcome sequences, abandoned cart flows, browse abandonment automation, and subscriber lifecycle campaigns.
Automations are highly customizable with options to segment contacts, set delays, create conditional logic, and more. For example, you can send a follow-up email to subscribers who don't open the initial email after 3 days – or segment customers who abandoned a cart by cart value and send targeted offers.
Unique automation available includes SMS automation, Facebook retargeting flows, and integrations with platforms like Google Analytics and Slack. Overall, Omnisend provides robust automation capabilities for complex nurturing journeys.
TinyEmail has a simple automation builder perfect for basic sequences like welcome emails and abandoned cart reminders. You can set delays between emails and create segments based on actions like email opens.
However, TinyEmail lacks more advanced automation options seen in Omnisend. There is no visual workflow builder, and you cannot create conditional logic or multi-branch sequences. The automation tool is straightforward to use for simple nurturing needs but lacks the complexity for sophisticated lifecycle campaigns.
Omnisend is the clear winner when it comes to automation capabilities. Its visual workflow builder and advanced options like SMS sequencing and unlimited web push notifications give Omnisend the edge for creating personalized cross-channel journeys. TinyEmail automation operates at a more basic level better suited for simple sequences only.
Email Templates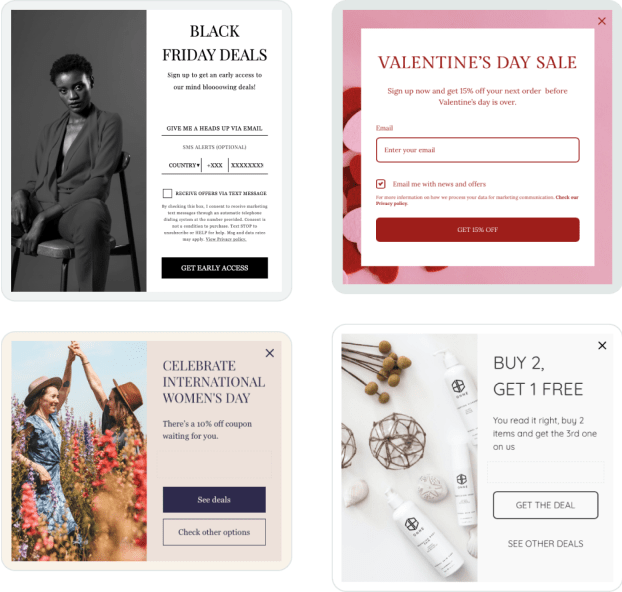 Omnisend provides hundreds of professionally designed email templates optimized for mobile and easy to customize. Templates are organized by category, like Welcome Series, Promotions, Holidays, and more.
The template editor has a drag-and-drop builder and image library, and you can edit templates directly in the Omnisend editor. All templates are mobile-responsive out of the box. You can create your own custom templates from scratch or duplicate existing templates to make edits.
TinyEmail has a small library of basic email templates to choose from for your email marketing strategy. The templates are mobile-friendly but look a bit dated in their design.
There is no drag-and-drop editor – you must edit the template HTML code directly. Creating new custom templates is possible but will require HTML skills. Overall, the template options are sufficient but limited compared to Omnisend.
Omnisend wins for email templates thanks to its modern, professionally designed template library and easy-to-use drag-and-drop editor. TinyEmail's basic templates may cover the basics, but Omnisend makes it much easier to create beautiful, customized email designs compared to other marketing tools.
Segmentation

Omnisend provides advanced segmentation options to target your emails. You can create segments based on subscriber attributes, behaviors, activity metrics, custom fields, and more.
Segments update dynamically as subscribers meet the criteria. Omnisend lets you combine multiple conditions with AND/OR logic to define granular segments. You can then target these segments with emails, automation, and personalized content.
TinyEmail has basic segmentation capabilities based on email opens/clicks, location, and signed-up date. You can target segments with specific emails but cannot use them within automation.
The email marketing tool has segmentation options that are fairly limited compared to Omnisend. TinyEmail lacks the ability to create custom field segments or combine multiple criteria. Segmentation works for basic targeting needs but lacks more advanced functionality.
With its extensive segmentation options and ability to combine multiple criteria, Omnisend is better equipped for sending highly personalized, targeted emails. TinyEmail segmentation covers the basics but lacks the sophistication to define granular user groups.
Analytics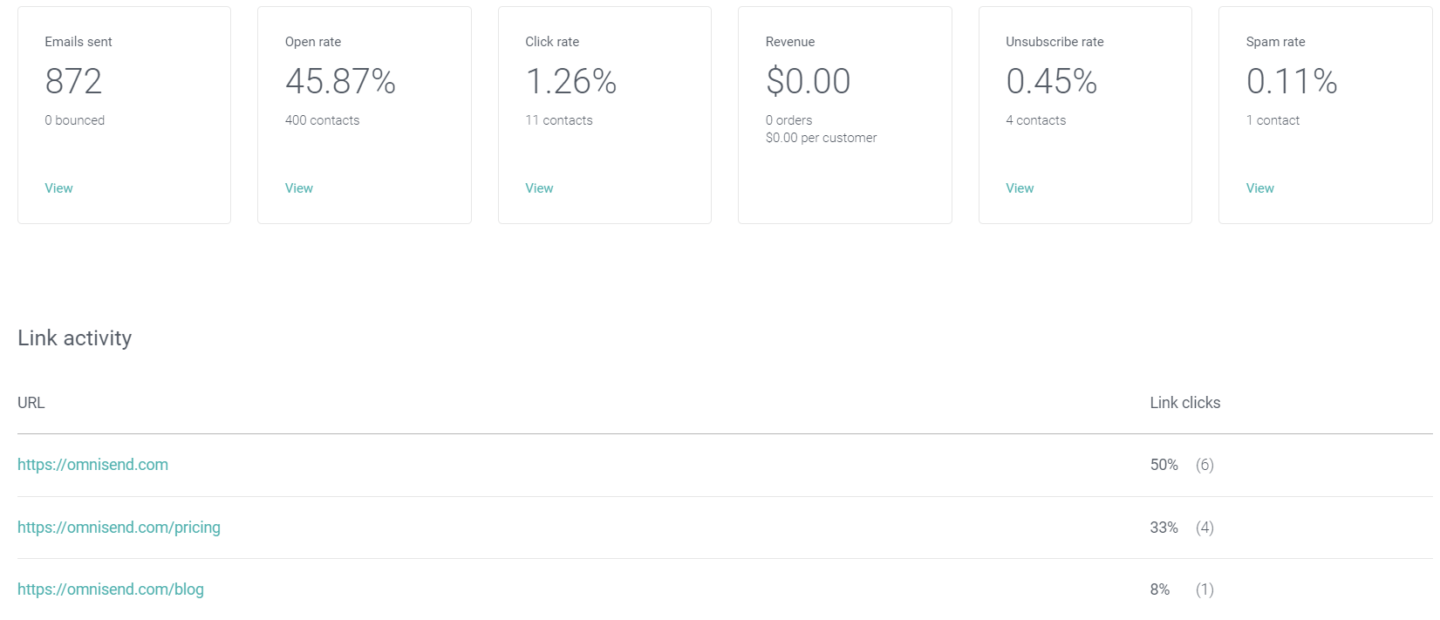 Omnisend provides powerful analytics to track email performance. You get real-time reports on opens, clicks, conversions, unsubscribes, spam complaints, and more.
The dashboard displays quick overview stats as well as the ability to dive deeper into data with filtering and segmentation. You can view analytics for individual campaigns or automation and compare performance across email activities.
Omnisend integrates with Google Analytics to connect email data with your website stats. The reports are easy to customize to focus on the KPIs most important for your strategy.
TinyEmail analytics cover the basics like open and click rates, unsubscribes, and spam reports. The reporting lacks segmentation capabilities or integration with external platforms.
The analytics are easy to understand but don't allow for deeper analysis or customization. You get sufficient high-level data but may need to export and process reports further to gain additional insights.
With its real-time, customizable, and integrated analytics, Omnisend is better equipped for both high-level and granular analysis of email performance and engagement. TinyEmail provides sufficient basic reporting but lacks the depth for advanced optimization.
Unique Features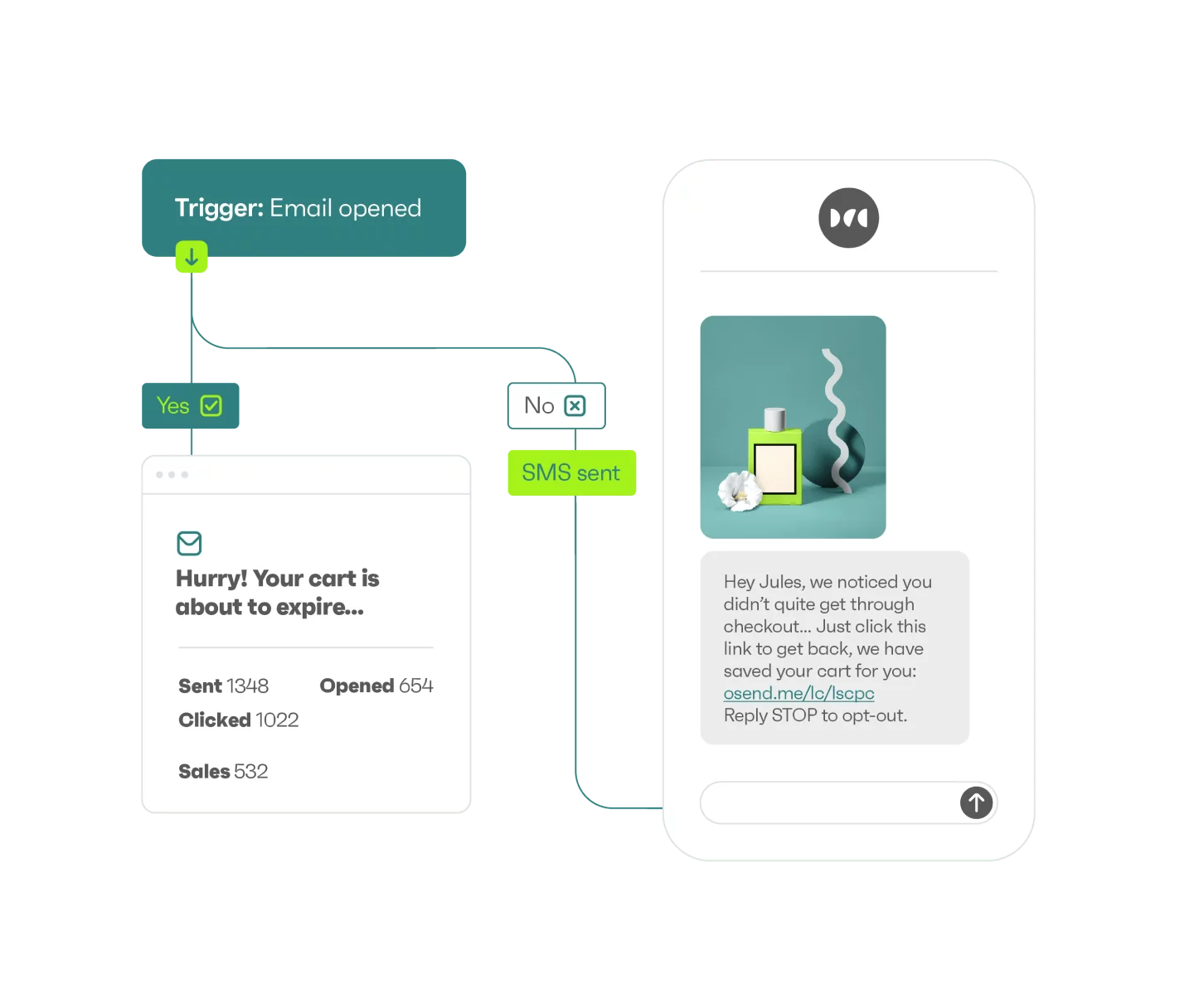 Omnisend has a few standout unique features:
SMS marketing – Send SMS campaigns and set up SMS automation integrated with your email.
Social integrations – Sync email subscriber data with Facebook and Instagram for cross-channel marketing.
Surveys – Create, send, and analyze surveys to gain subscriber insights.
Slack integration – Get notifications and alerts in Slack for key email performance metrics.
Website personalization – Customize website content for each visitor based on their email engagement.
TinyEmail doesn't have many extra capabilities beyond core email marketing features. One unique option is:
Email append – Match your subscribers against a database to append contact info like full name, location, and company name. This can enhance subscriber profiles.
With innovative features like SMS campaigns, social syncs, surveys, and personalization, Omnisend edges out TinyEmail for unique functionality. TinyEmail lacks any special capabilities beyond basic email marketing.
3. Ease of Use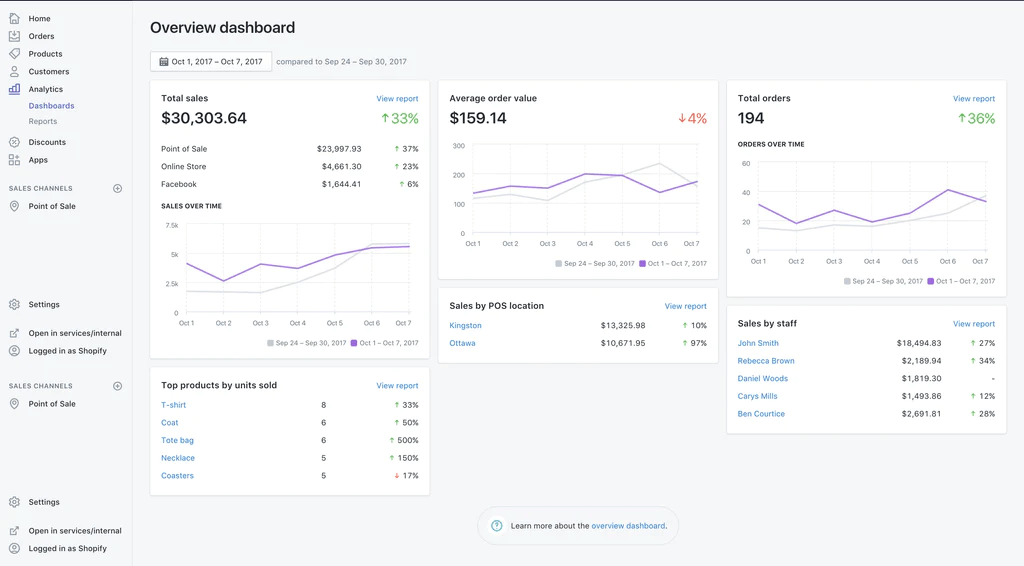 Omnisend has a clean, modern, and user-friendly interface that is intuitive to navigate. The dashboard provides clear overviews of campaign performance and subscriber engagement.
Key features like creating emails, automation, and segments are accessible in the main menu. Omnisend's drag-and-drop editor makes building emails visually easy.
The platform is beginner-friendly with prompts guiding you through the initial setup. Helpful tooltips explain features to support the learning curve. The interface feels polished and well-designed for a smooth user experience.
TinyEmail has an outdated interface that feels clunky to use. The dashboard lacks visual appeal and navigation can feel unintuitive.
Creating emails involves editing HTML code, which is difficult for beginners. Building automation and segments involves filling out technical forms. TinyEmail lacks drag-and-drop editors that simplify the process.
The learning curve is steep because TinyEmail lacks modern guidance in the product. The interface feels dated compared to more polished platforms.
With its clean interface, beginner-friendly onboarding, and visual editors, Omnisend is easier to use than TinyEmail for email marketers at any skill level. TinyEmail's dated UI and lack of intuitive editing underdeliver on usability.
4. Email Deliverability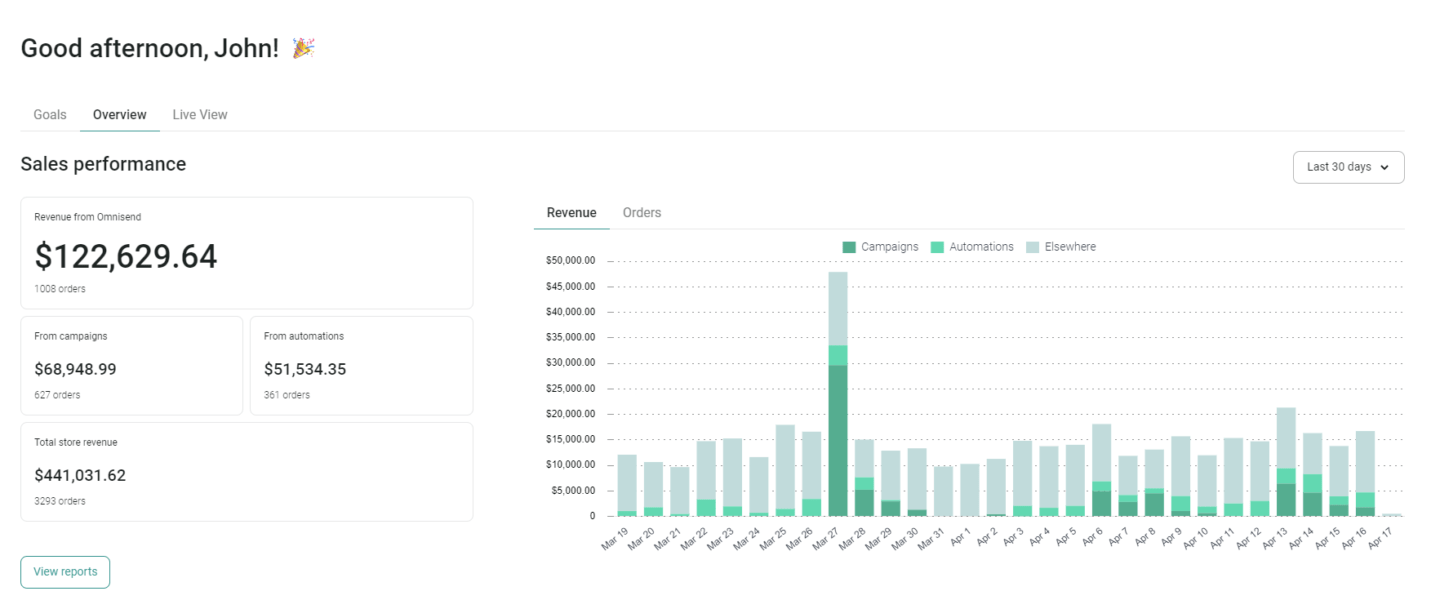 Omnisend has excellent deliverability with above-average inbox placement rates. They maintain sender reputations with major ISPs to ensure emails reliably reach subscribers' inboxes.
Omnisend provides deliverability monitoring tools to track key metrics like spam complaints, blocks, and bounces. You can dig into delivery issues and troubleshoot problems proactively.
Features like link blacklisting, spam checkers, and list cleaning help improve deliverability. Omnisend also lets you preview your emails across different email clients to optimize inbox compatibility.
TinyEmail has average deliverability rates but lacks robust monitoring capabilities. There is limited visibility into critical metrics like blocks and spam reports.
You don't have much control over optimizing deliverability beyond list cleaning. TinyEmail does not let you preview inbox rendering either.
Small seasonal deliverability drops are not uncommon due to weaker relationships with major email providers. Deliverability is sufficient but could be improved.
With its stellar inbox placement rates, deliverability tools, and inbox previews, Omnisend is better equipped to optimize and monitor email deliverability. TinyEmail trails behind in managing sender reputation and providing deliverability insights.
5. Customer Support and Community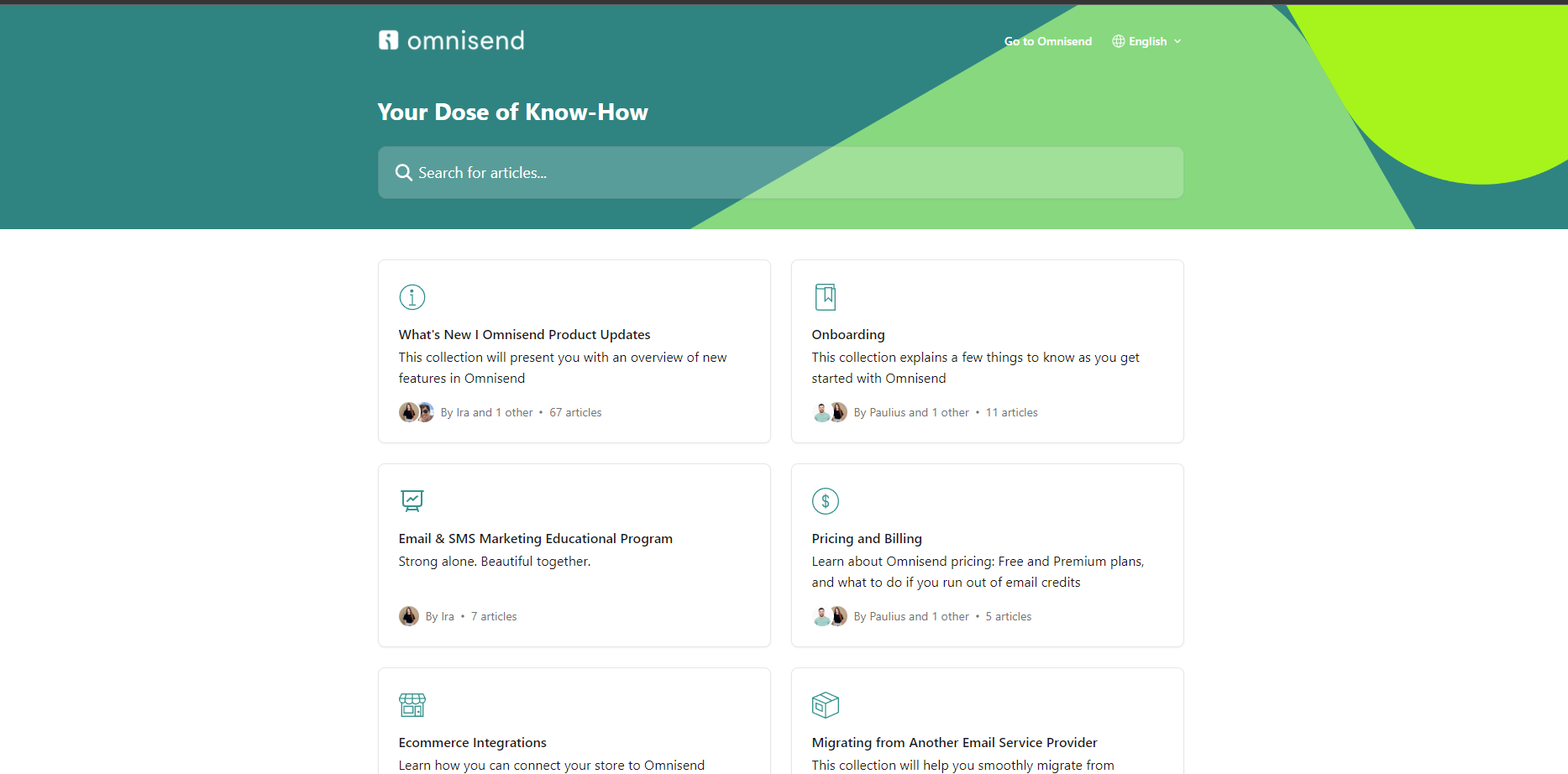 Omnisend provides 24/7 email and live chat support. Support reps are responsive, knowledgeable, and provide high-quality assistance.
The help center contains extensive self-help resources like setup guides, FAQs, and video tutorials. Omnisend's active Facebook community of over 5,000 members is another valuable support resource.
TinyEmail offers email support during business hours with slower response times averaging 24-48 hours. Phone support is not available.
The help center has a limited FAQ and lacks tutorials or setup guides. Their Facebook page of 1,100+ members provides community support, but not from TinyEmail reps.
With round-the-clock live chat, detailed self-help content, and an engaged user community, Omnisend offers superior customer support. TinyEmail trails with slower, limited email-only assistance and fewer educational resources.
6. Integrations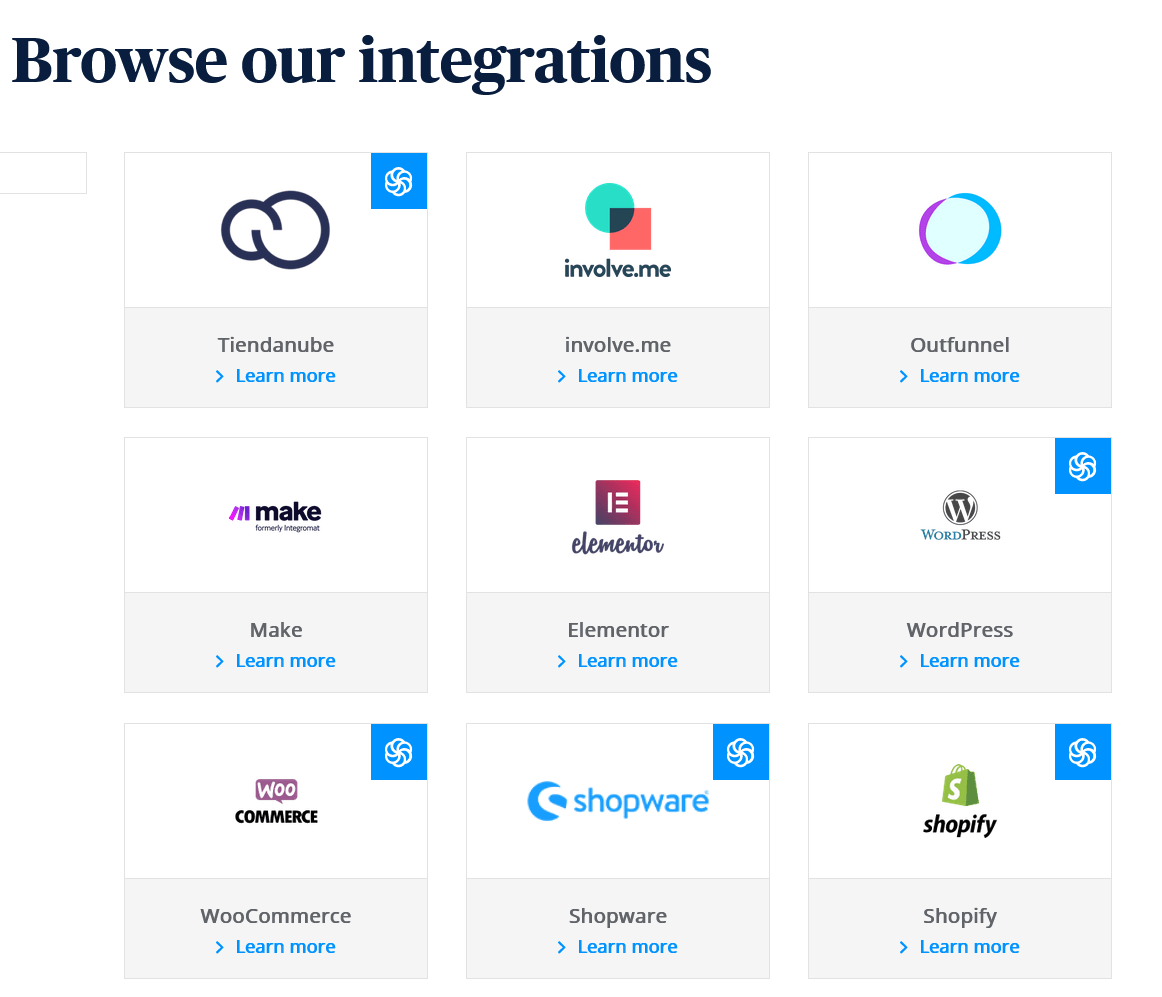 Omnisend integrates with over 1,000+ applications via Zapier, including customer relationship management tools. Omnisend also offers native integrations with several popular platforms including Shopify, WooCommerce, WordPress, Google Analytics, Facebook, and Slack.
Having robust integrations makes it easy to connect your email campaigns with data from other systems. For example, you can trigger automation in Omnisend based on ecommerce transactions from your Shopify store, subscriber activity on your WordPress site, or new social media follows on Facebook.
TinyEmail only provides a handful of native integrations, which include Mailchimp, Zapier, Shopify, and WooCommerce.
While the Zapier integration allows connecting TinyEmail with hundreds of apps, the setup requires strong technical skills. The out-of-the-box integrations offered by TinyEmail are very limited compared to Omnisend.
With its extensive native and Zapier integrations, Omnisend makes it much easier to seamlessly connect your email marketing efforts with other important business platforms and tools. TinyEmail has major gaps when it comes to its integrations and partnerships.
7. Pricing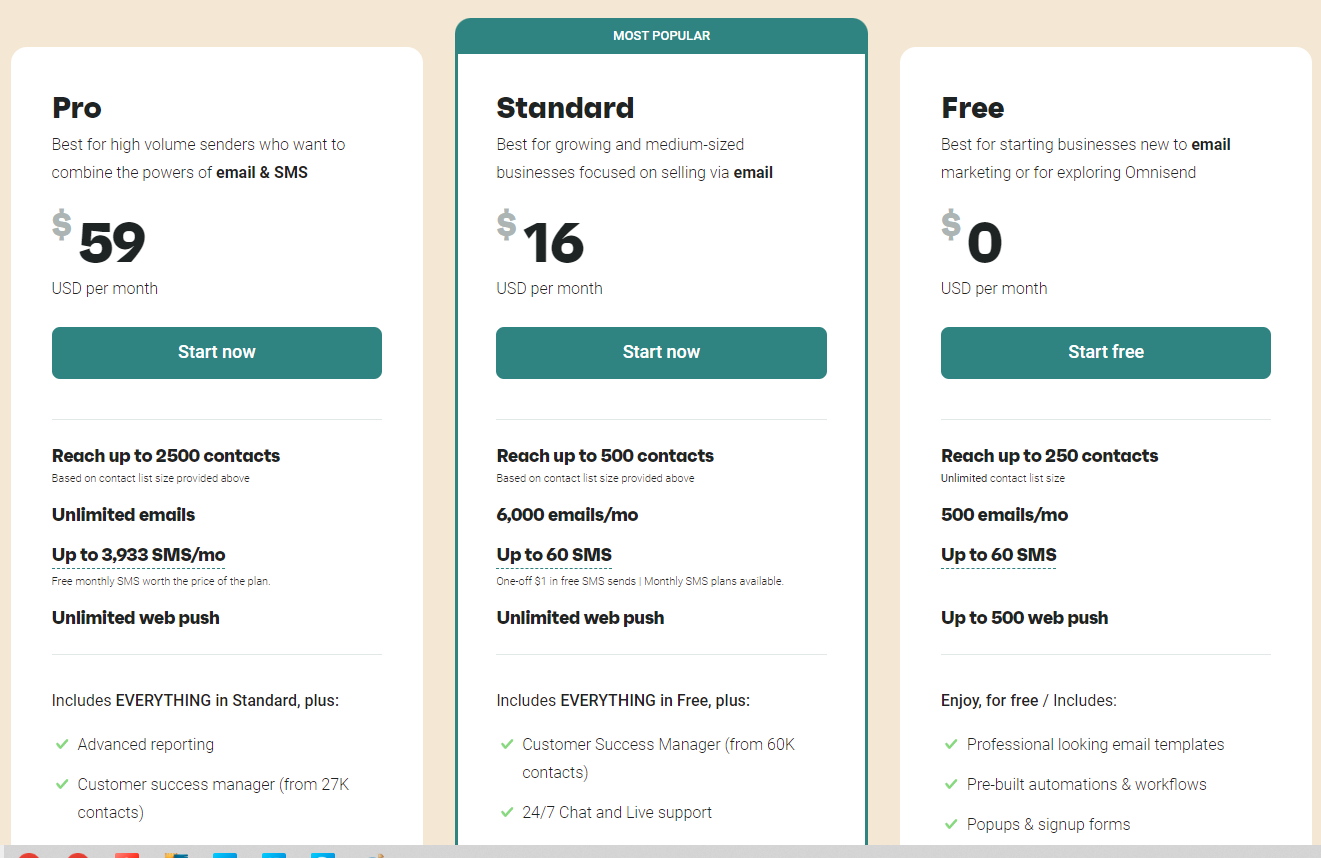 Omnisend offers 3 plans:
Free – up to 250 contacts and 500 emails/month
Standard – $16/month for up to 500 contacts and 6,000 emails.
Pro – $59/month for up to 2,500 contacts and unlimited emails.
Custom enterprise plans are also available for unlimited subscribers. Overall, Omnisend is affordably priced for small and medium businesses, and e-commerce platforms. You get a generous free plan to test it out.
TinyEmail has a free version and 3 paid plans ranging from $15 – $65 monthly.
TinyEmail is free to send automated emails to up to 500 contacts.
Paid plans start at $15/month for unlimited contacts.
The Pro plan is $65/month and comes with additional resources and advanced email automation features like pre-built segments, custom segments, and an AI subject line assistant.
For small lists under 500, the TinyEmail free plan provides strong value. However, those needing advanced automation capabilities may find the pricing limiting. TinyEmail pricing works best for smaller email lists and basic email marketing campaigns.
Discounts are offered for annual billing. TinyEmail pricing is slightly more affordable than Omnisend at the lowest tiers but less cost-effective for larger email lists.
Winner: Tie
Both Omnisend and TinyEmail offer competitive pricing appropriate for small businesses. Omnisend provides better value for larger contact lists. But TinyEmail edges out at the starter plan level. For budget-conscious businesses, either solution could fit the bill.
8. Reviews and Reputation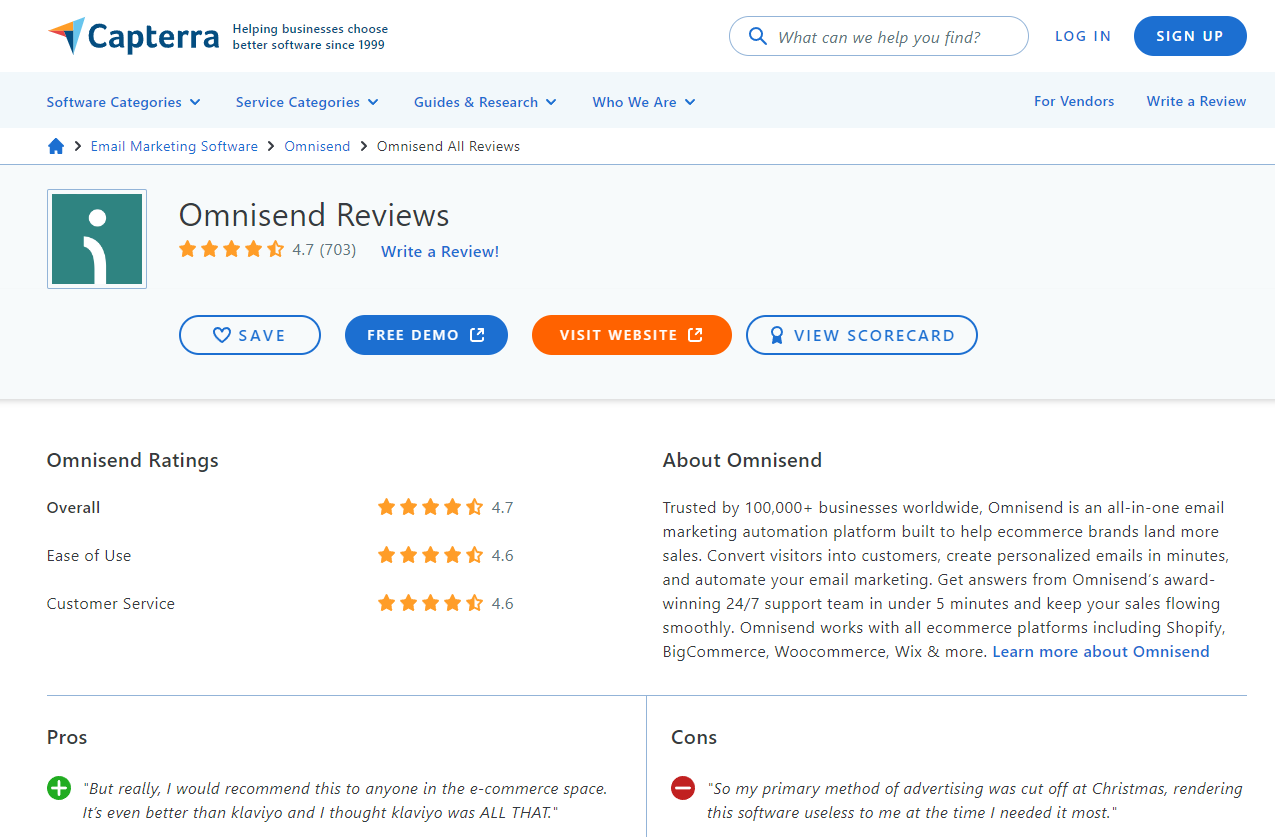 Omnisend earns positive reviews for its ease of use, automation capabilities, and excellent customer support. Users praise the intuitive drag-and-drop editor and advanced features like SMS marketing.
Some disadvantages mentioned include the occasional buggy behavior when working with automation and workflow capabilities, a lack of telephone support, and steep learning curve for advanced functions. But most reviews rate Omnisend highly for being beginner-friendly yet powerful.
See Omnisend reviews on Capterra and TrustRadius.
The top pros for TinyEmail are the simple interface and very affordable pricing. Users mention it's easy to create basic email campaigns without complex features quickly.
Cons often cited are the dated UI, lack of robust automation, and limited integrations. It meets basic email needs but lacks more advanced capabilities found in competitors.
See TinyEmail reviews on Trustpilot
With mostly positive feedback on usability and features, Omnisend is the reputation winner. TinyEmail garners mixed reviews for its limitations despite the low cost. For powerful email marketing, reviewers prefer Omnisend.
9. FAQ's
What kind of automation is available in Omnisend?

Omnisend provides multi-step visual automation workflows with options like segmented journeys, conditional logic, delays, and more.
Does Omnisend integrate with social media?

Yes, Omnisend offers native integrations with Facebook and Instagram to sync subscriber data for cross-channel campaigns.
Is Omnisend GDPR compliant?

Yes, Omnisend enables GDPR compliance by offering double opt-in signup, consent tracking, the right to be forgotten, and more.
Does Omnisend have an email append?

No, Omnisend does not provide email append or enrichment capabilities.
What level of support does Omnisend offer?

Omnisend provides 24/7 live chat and email support as well as an extensive self-help knowledge base.
What kind of automation is available in TinyEmail?

TinyEmail offers basic single-track automation for things like welcome emails and abandoned cart flows.
Does TinyEmail integrate with social media?

No, TinyEmail does not offer any native social media integrations.
Is TinyEmail GDPR compliant?

TinyEmail enables GDPR compliance features like double opt-in, consent tracking, and the right to erase data.
Does TinyEmail have an email append?

Yes, TinyEmail provides an email append to add contact details from a database.
What level of support does TinyEmail offer?

TinyEmail provides email support during business hours with slower response times around 24-48 hours.
Final Thoughts
Omnisend is a great choice if you want powerful features like multi-step automation, SMS marketing, and robust analytics. It's perfect for established ecommerce brands ready to scale and optimize their email marketing. Beginners will also appreciate the intuitive interface. While pricing is affordable, Omnisend is ideal for businesses willing to invest more in enterprise-level capabilities.
TinyEmail suits solopreneurs, small teams, and bootstrapped startups that need an inexpensive option that covers email marketing basics. While TinyEmail lacks advanced features, its simple editor and pre-designed templates make it easy for novices to get started. If you just need basic list management, campaigns, and reporting, TinyEmail delivers at a fraction of the cost.
If you aren't sure if TinyEmail is right for you, consider reading my favorite TinyEmail Alternatives.
Selecting the right email marketing platform is critical for the success of your business. Take time to thoroughly assess your unique needs and priorities before deciding which solution fits best. Feel free to ask any questions in the comments and I'll help guide you towards the optimal platform.