When it comes to marketing success, running A/B tests and multivariate tests is crucial for success. Whether you're a seasoned marketer who's always been good at optimizing conversion rates, or a one-person show trying to get people to convert to an email subscriber, conducting multiple tests is crucial to your success.
According to CXL, 68% of businesses are doing at least four tests per month.
If you're serious about increasing your business's conversions to positively impact revenue, you need A/B testing tools to help.
In today's post, I'm going to explain what A/B testing platforms are the best based on my decade of experience as an online entrepreneur and internet marketing expert.
What Are The Best A/B Testing Tools?
A/B testing is a method of comparing different variations of an app or web page to determine which version performs better. It's essentially an experiment involving two or more different versions of a page that are shown to users at random. Statistical analysis is then used to find out which variant is better for a particular conversion goal.
After testing many of these different A/B testing tools at various companies throughout my career, I've been able to break my list down to my top A/B testing platforms on the market.
If you aren't sure what you need in an A/B testing tool, I recommend that you click here.
Here is my list of the best A/B testing software tools on the market right now.
Kameleoon is a fast-growing, feature-rich, and easy-to-use A/B testing tool. (Price Available on Request).
Categorized by Forrester as a challenger in the latest Experience Optimization Platforms (EOP) wave, the Kameleoon basically offers everything Optimizely does, but isn't nearly as expensive. It's also HIPAA compliant.
This testing tool allows you to quickly and easily run advanced A/B tests, split tests, and multivariate test variations. Since it has a strong personalization solution, Kameleoon has more than 45 native segmentation criteria to help you target users based on their behavior, location, acquisition channel, and much more. You can easily link your customer data platform to Kameleoon, to create highly individualized and optimized experiences.
In addition to client-side A/B/n testing, Kameleoon offers a full-stack solution and AI-powered personalization for enterprise brands, which means you can start with one software and easily add on others as your program matures. Everything is managed and organized in one dashboard, making it easy for marketers, product managers, and developers to maximize engagement and conversion.
Experts in A/B testing and CRO highlight that Kameleoon makes it easy to test often and that it's constantly innovating. For instance, its full stack software also offers feature management and feature flags solutions. One of Kameleoon's success stories generated 97% more leads thanks to its AI, which predicts who will convert and when your site should trigger a targeted action.
Best for: Medium-sized and large businesses or for any team that is serious about its optimization work and cares about value, data security, and scalability.
Key Features:
Fast and flicker-free script that weighs in at 37 KB.
Robust QA mode that allows users to send previews of tests via URL (no login required)
Drag n' drop segmentation editor and targeting
Code editor and integration with Git, so developers can work in their environment
Dynamic traffic allocation (a multi-armed bandit)
Native integrations with Shopify, Segment, Tealium, Hotjar, and Mixpanel
Customizable dashboards and filters that display the ROI and performance of your experiments and personalization.
Pros of Kameleoon:
No limitations when it comes to subdomains, testing traffic size, or number of variations or tests. Pricing stays fixed for the year.
Super easy to use and powerful compared to other tools. Launch tests in minutes.
Made for all teams,
Works well on advanced websites, digital products and mobile apps e.g. single page applications (SPA)
Easy to scale from client side to server side testing (full stack)
Has AI that is conversion-focused
Large SDK and integration library
HIPAA, GDPR, and CCPA compliant
Pricing:
Kameleoon pricing depends on your traffic size over the last year (to account for seasonality). Once you have a price, it's locked in for a year. So if you grow, you won't have to pay more. There are no hidden fees for user seats or caps on testing traffic sizes.
What Are People Saying?
"Kameleoon helps us target visitors precisely according to their interest in particular models and also saves us a lot
"Kameleoon is easy to use, works in all environments, and has less impact on page load," says Peter Ernst, Providence's Digital Innovation Group Senior Optimization Manager
"Partnering with a platform with knowledgeable experts who are technical and CRO like-minded was very important," says Larissa Enright from The Wine Collective.
"Kameleoon gives marketers, developers, and product managers a powerful tool to help brands build impactful customer experience optimization programs." – Ben Labay, MD, Speero by CXL.
A powerful suite of website conversion tools to help you convert daily ($25/month).
This a/b testing tool has a core visitor intelligence technology that uses predictive analysis to come up with actionable insights to help you make better-informed marketing decisions. With JustUno's A/B testing tool, you will be able to improve user experience and increase your website's traffic conversion.
Despite its low price, this tool offers a way for marketers to get powerful and lasting test results from the data provided. By combining user sessions with your audience's micro-interactions, JustUno layers intelligent data into each product and feature to help you find hidden segments and discover new opportunities to grow your business.
Best for: Digital marketers, eCommerce, Publishing, and SaaS companies who want to increase conversions, get new leads, generate more sales using targeted messaging and website promotions.
Key Features:
A/B Testing: Test design and content variations to discover the one that resonates with your visitors.
Omni-Channel Messaging: Deliver targeted messaging that has a unified brand voice.
Audience Segmentation: Intelligent segmentation allows you to divide visitors into sub-groups for more relevant messaging.
Advanced Targeting: Laser-focused behavioral targeting rules for easy segmentation of your audience's behavior patterns.
Analytics: Data completeness and quality give a solid competitive edge to marketers.
Pros of JustUno
The platform is extremely easy to use, even for total beginners to A/B testing.
Works perfectly for cart recovery, improving sales, and boosting subscribers.
Features pop-up offers to help you capture new leads and customers.
It allows you to target specific customers on your website with customized messaging.
Multiple templates to choose from when running campaigns.
Pricing:
JustUno starts at just $25/month. There is also a 14-day free trial as well as a version that' absolutely free.
What Are People Saying?
"I use Justuno for website overlays, and for the most part, the software does what I expect." Jeremy L., VP of Business Development.
"Justuno has increased our conversions tremendously. We are thankful we found this application." Jaime D., Marketing Coordinator, Entertainment.
"Justuno has made a big difference in our shop's banners and email capture." – Andrew P., Founder & Creative Director.
All-purpose software designed for small businesses with limited funds ($39/month).
Zoho PageSence lets you measure your website's key metrics so that you can understand the behavior of your online visitors. This allows you to give them a more personalized website experience that will ultimately boost your conversions. With this tool, you will be able to complete A/B tests and conduct effective conversion rate optimization for your website.
The platform is equipped with an intuitive user interface and an impressively wide array of features, considering the low price. PageSense makes it easy and effortless for businesses to streamline the CRO process.
Best for: Zoho PageSense is ideal for small and medium-sized businesses that provide services. Travel websites, SaaS companies, eCommerce, and digital marketing agencies.
Key Features:
A/B Testing: Test small changes to your websites for a large impact on your bottom line.
Split URL Testing: Change your website's layout entirely to identify the best version.
Personalize: Create unique and personalized experiences for individual visitors.
Goal Tracking: Set goals for your website and measure your business's objectives.
Funnel Analysis: Add and optimize pages that enhance your visitor-to-customer journey.
Pros of Zoho PageSense:
With this tool, each visitor can interact with your web pages quickly and easily.
Wide assortment of tools and features, including heatmaps, form analytics and test scheduling.
The A/B testing tool is great for gaining deep visitor behavior insights.
Simple, easy to use visual editor requires no developers or technical know-how.
Inexpensive pricing puts Zoho PageSense within range for all types of businesses.
Pricing:
Zoho PageSense has a free version and offers a free trial for the paid version, which starts at $17/month.
What Are People Saying?
"Zoho PageSense is the single best tool I've found to measure my website's effectiveness." – Bill Hall, President, Simulation Studios.
"I was impressed by how powerful yet easy to use, Zoho PageSense was. The interface was so intuitive I was able to set up an experiment right away." – Peep Laja, Founder and CEO of CXL and Copytesting.
"This year we canceled our Hotjar account and now totally rely on PageSense. It's an amazing tool that has already paid for itself within the very first month." – Steve Woody, Director, Online Mastery.
Get Started With Zoho PageSense
The A/B testing platform that helps you find the highest-converting landing pages ($79/month).
Unbounce is a popular landing page creator that offers powerful A/B testing tools to help you find the best-performing pages on your website. The testing tool helps you convert more of your website visitors into leads, customers, and sales. The tool has a simple drag and drop editor that allows you to build and publish your own landing web pages quickly and easily, without the need for a developer.
The testing tool provides you with conversion intelligence insights that enhance your skills and intuition, delivering the best performance for every campaign. Unbounce is designed to do one thing: help you create and optimize your website's landing pages, and they do it extremely well.
Best for: Marketers, agencies, eCommerce, SaaS businesses looking for a landing page solution that is easy to use and helps maximize conversions.
Key Features:
A/B Testing: One of the most popular landing page testing solutions on the market.
Landing Pages: Build, customize, convert, and optimize your pages.
Popups and Sticky Bars: Create, target, and trigger these to increase conversions.
Integrations: Unbounce works with many other marketing automation and CRM tools.
Account Management: Helps big teams or agencies to stay organized.
Pros of Unbounce:
Landing page templates offer a convenient resource for those starting from scratch.
Solid split testing capabilities for quick and effective results.
The user interface is simple and easy to use, great for beginners.
Designed to integrate smoothly with various other testing and marketing software.
Unbounce allows agencies to share capabilities with their clients.
Pricing:
Unbounce plans start at $79/month. You can also get a free 14-day trial.
What Are People Saying?
"We've seen conversion increases of over 70%, just by switching a client's landing page over to Unbounce. We're also able to test and iterate more rapidly, which is a win for everyone." – Nicholas Scalice, Founder of Earnworthy.
"Unbounce is the tool you've been looking for." – Ashley Mumm, Branding Consultant, Ashley Mumm Marketing.
"Unbounce is a cost-effective tool for landing pages and site messaging." – Michael Dell'Arciprete, Director of Customer Acquisition, People's Trust Insurance Company.
A popular platform for AI-powered A/B testing and targeting (price available on request).
Adobe Target is an enterprise tool that provides rule-based testing and personalization. It can integrate with multiple platforms such as Google Analytics to create reports that you can use for UX testing, personalization, and making marketing offers. This powerful tool increased Sprint's order conversion by 22%.
With it, you will be able to figure out the offers, experiences, and messages that engage your audience the most. The tool walks you through a simple 3-step workflow for creating the variant, targeting it according to visitor segmentation, and customizing the test goals and settings. The emphasis is on targeting, which is evident from the tool's exciting automated personalization feature.
Best for: This enterprise A/B testing and personalization platform is best for medium to large businesses with requirements for large-scale, high-powered testing.
Key Features:
Multivariate Testing: Adobe Target lets you test different combinations of your segmented audience using their visual editor.
Multi-Armed Bandit Testing: This feature allows you to automatically allocate traffic to your most successful experience.
AI-Powered Personalization: Easily automate content and product recommendations with Adobe Sensei.
Mobile App Optimization: This tool will help you carry out website optimization and the different layouts combinations to attract more customers to your website.
Enhanced Reporting: You can integrate Adobe Analytics for enhanced reporting.
Pros of Adobe Target:
This tool is part of the Adobe Suite.
It allows you to create one profile in Adobe Marketing Cloud that you can share between solutions.
Adobe has deep insight reports for offers, audiences, and influencers.
It's easy to create personalized content for complex audiences.
Geolocation data for testing and optimizing mobile and web experiences.
Pricing:
Adobe Target pricing is available on request.
What Are People Saying?
"What's in our Adobe stack? It's easier to tell you what we're not using right now." – Rob Roy, Chief Digital Officer, Sprint.
"Adobe is the foundation for all that we do in the digital space." – Travis Trembath, VP of Fan Engagement, PGA TOUR.
"We wouldn't be The Home Depot if we didn't embrace change. It's in our DNA." – Jose D., Director of Online Creative & CRM, Home Depot.
This is a cloud-based solution for performing A/B tests (Price Available on Request).
Visual Website Optimizer (VWO) offers A/B testing as part of a larger service. The platform is used by over 5,000 enterprise brands, including Target, eBay, and Virgin Holidays. It is specifically tailored for enterprise brands and the suite allows you to create and run A/B tests, multivariate tests, and split URL tests using a drag and drop editor.
The cloud-based solution allows you to perform test variations on campaigns, products, features, apps, and websites. You can analyze the test results via the robust dashboard. There's also a SmartStats feature that uses Bayesian statistics to assist you in running faster tests. This gives you more control of your A/B tests and helps you arrive at more accurate conclusions.
Best for: VWO is most helpful for marketers, developers, UX/UI professionals, and website teams that are serious about split testing and personalization but have smaller budgets.
Key Features:
Heat Maps: The Visual Website Optimizer offers a simple visual representation of your data using color-coding to show you how visitors browse through your site.
Visitor Segmentation: Easily determine which segment a visitor qualifies for so you can run appropriate tests and gain deeper insights on user behavior.
Goal Tracking: Use specific goals like page visits and clicks to track qualifying visitors and measure the performance of test campaign variations.
Data Export: VWO's data export services allow you to quickly and easily access all your event data.
Traffic Allocation: Dynamic traffic allocation helps you achieve statistical significance much faster.
Session Recording: VWO allows you to turn on recording of user sessions so you better understand how they navigate your website.
Multiple tests: You can easily run multiple tests simultaneously since it has both the code and visual editor.
Pros of VWO Testing:
VWO offers many enterprise features normally found in much larger tools, for a lower price tag.
Serves an experimentation platform to do A/B tests on websites, applications or products.
Deep segmentation lets you segment traffic by devices, location, campaigns and this in turn helps you to quickly achieve statistical significance.
This software goes beyond the usual 50-50 traffic division by offering variant percentage segmentation.
Heat maps and form analytics are included with all A/B tests to give you a clear visual picture of how your page is performing.
Features are arranged in a very simple manner that is easy to understand.
Pricing:
Pricing is based on traffic and features, and it ranges from $199/month to $467/month.
What Are People Saying?
"GREAT VALUE FOR MONEY. The VWO team has really focused on delivering a ton of valuable features for a lower cost than some competitors (which we also have a lot of experience with)." Ethology.
"UNMATCHED CUSTOMER SUPPORT. The support is A+, and whenever we've had questions or concerns, all issues are resolved or we're provided hand-holding almost immediately." – FramesDirect.com.
"EASY TO USE. VWO is a very simplistic and sleek platform. Even those without previous experience can really set up any test and implement any changes." – Contour.
Optimizely is a powerful A/B testing tool that also offers headless CMS solutions. (Price available on request).
This digital experimentation software is among the industry's leading A/B testing tool and CRO (conversion rate optimization) platforms. Used by enterprise marketing, engineering, and product teams, this tool offers solutions that help you meet your website optimization needs as your business grows. You don't have to be a tech savvy to navigate this software since it's quite user friendly and can be used on mobile apps, but features such as advanced targeting, segmentation come in handy.
With Optimizely, you have powerful A/B and multivariate testing tools at your disposal. You can conduct multiple experiments on a single page, all at the same time, giving you the ability to test different variables of your app or web design.
Best for: The experimentation platform is aimed exclusively at enterprise customers which makes Optimizely perfect for medium to large businesses with a large volume of traffic.
Key Features:
Multivariate Testing: Quickly determine the combination of variations that perform the best.
Experiment Scheduler: Start and stop campaigns at specific times.
Engagement Tracking: Discover how actively involved your audience is with your content.
Image Hosting: Convenient image hosting service for easy optimization.
Traffic Allocation: Send the desired percentage of eligible traffic to your experiment.
Pros of Optimizely:
Get tests set up and running in just 5 minutes
After publishing an experiment, it's live immediately
It's an experimentation platform designed for web, mobile, television, game consoles,etc
No need for developers when conducting tests
Convenient Customer Success Managers
Ideal for placing hotfixes on your website
Pricing:
Optimizely pricing is available on request.
What Are People Saying?
"Virtually no change will go live on the website just like that. Everything is tested." – Sebastian Fallert. General Manager, Secret Escapes.
"I always want to know more about our audience and learn more about what they want so we can build product experiences that will keep them engaged." – Jennifer Laughlin, Director of Product, FullScreen.
"We all have strong opinions and ideas about how things should be done. Optimizely tells us, out of this mix, which is the best way forward." – Andrew Ng, User Experience Designer, Movember.
The free solution for most of your business's A/B testing tool needs ($0/month).
Google Optimize is the free version of Optimize 360, an A/B testing tool that allows you to create and test different website variations. It is built on analytics that google provides, which you need to be able to use the tool.
Although free, the tool is undoubtedly a robust option. With it, you can run simple A/B tests, multivariate tests, and split-page tests using the visual editor. You also have access to rich behavioral insights and the ability to target any valuable audience segments that you discover using Analytics. In fact, it's amazing just how much a business can get done with this free tool.
Best for: Businesses of all sizes who want to get started in split testing and conversion rate optimization.
Key Features:
A/B Testing: Find the best performing page from multiple versions.
Multivariate Testing: Experiment to find the best combination by testing multiple elements.
Targeting: Segment the website visitors you send to your experiments.
Personalizations: Send 100% of eligible traffic to your winning variation.
Visual and Code Editor: Choose between simple visual edits and advanced code changes.
Pros of Google Optimize:
It's a free A/B testing tool from a big name with a user interface that is already familiar to most marketers.
Once set up, the data kit is extremely powerful and will allow you to find all the information you need.
It allows you to make a note natively about any spikes and troughs so you can view data in context.
Very easy to set up and begin gathering insightful data which makes it very helpful for newbies.
Tons of user attribute and geo customization features allow you to drill down to a specific target audience.
Pricing:
You can try out Optimize for free, but if there are limitations for your business, you can easily upgrade to Google Optimize 360 to get enterprise-level testing capabilities and personalization for your website.
What Are People Saying?
"I've found that WYSIWYG editors of other paid tools can be really buggy, but I haven't run into any issues with Optimize." Kristian B., Head of Marketing.
"The redirect tests are helpful for testing conversion experiences. It is linked to Google Analytics so we can dive deeper into the data, such as looking at the breakdown between mobile/desktop conversion rates." – Mary O., Digital Marketer.
"Google Optimize is very tightly integrated with Google Analytics and Adwords. This allows running A/B tests, split URL tests, and multivariate tests for different Google Adwords Campaign that we run." – Swapnil S., Product Marketing Manager.
Get Started With Google Optimize
Convert is a robust A/B testing tool and personalization tool ($699/Month).
Convert has an intuitive system that allows you to easily create A/B, multipage, multivariate, and split tests using a simple drag and drop system. You can also use the advanced style sheet editor to test more dynamic pages. This gives you more control of your content and boosts the smooth onboarding of your eCommerce platform or CMS (content management system).
You'll also be able to easily integrate Google Analytics and build customer profiles with over 35 different elements. Convert's testing tool is growing in popularity thanks to its exceptional live chat customer support.
Best for: Small to medium-size businesses doing in-house optimization.
Key Features:
A/B Testing: Includes landing page testing and website conversion rate optimization.
Split Testing: Helps you easily determine which page elements deliver the best results.
Multivariate Testing: You can change various elements on different pages and run unlimited tests to find the combination with the highest performance.
Multipage Experiments: Make different changes on linked pages in order to optimize the entire website or funnel simultaneously.
Personalization: Convert has amazing personalization features that allow you to optimize your visitors' online experiences.
Pros of Convert:
Easy setup with many of the options already pre-configured in the test setup.
Awesome support team with a very fast response time.
Unique unlimited tests snapshots feature, unlike many other testing tools.
Simple, easy to read data representation helps you make informed changes to your website.
Built-in audiences to capture mobile users vs desktop users, or to only perform tests during business hours.
Create test variations and dynamic pages using the drag and drop inbuilt editor.
Pricing:
Pricing is based on traffic, with the most basic plan starting at $599/month. For enterprise plans, you have to contact sales.
What Are People Saying?
"Leveraging Convert's platform we are regularly able to help dozens of companies increase their conversions by 20%, 30%, 50% or more" – Justin Christianson, Conversion Fanatics.
"Convert a/b testing tool is the only piece of software that has critical features like blink handling, advanced editing, and breakdown of conversion patterns – that I have not been able to find anywhere else." – Francis Teo, Director & Lead Consultant.
"Convert's support team are awesome—whether we're sanity checking with George or Claudiu, or discussing audience configurations with Dionysia or Alex, we always get the support we and our clients need." – Sean Clanchy, at Swanky Agency.
EngageBay is an affordable all-in-one marketing, sales, and service platform geared towards small and medium businesses. ($29.99/month).
EngageBay's marketing platform offers a powerful Email A/B Testing (Split Testing) feature for optimum outreach. This feature allows you to test multiple variations of an email with different subject lines till you find the best possible variant. This improves user experience, getting visitors to open your email and consequently reducing bounce rates.
Moreover, it enhances the CTR (Click-Through Rates) substantially. Moreover, with EngageBay's A/B Testing tool, you can test two separate images that you feel your audience may find attractive and then use the one that generates the higher click-through rate.
Now, you can automate tests and be free of manual repetition. Pre-set the criteria around which you would like to measure different campaigns by, and let EngageBay's email marketing automation take care of the rest.
Best for: Startups and small to medium businesses, agencies, solopreneurs, etc.
Key Features:
A/B Testing: Allows you to determine how variations perform on multiple devices.
Split Testing: Split traffic between the control page and different variations.
Multivariate Testing: Experiment to find the best combination by testing multiple elements.
Targeting: Segment the website visitors you send to your experiments.
Personalizations: Send 100% of eligible traffic to your winning variation.
Goal Tracking: Use specific goals like page visits and clicks to track qualifying visitors and measure the performance of test campaign variations.
Pricing:
Pricing is highly competitive and the Marketing stack can be purchased as a standalone software, with the most basic plan starting at $7.99/month. It increases as you scale, but is still one of the most affordable solutions in the market today.
What Are People Saying?
"The software is easy to set up and implement. I feel EngageBay is quickly becoming a marketing automation competitor to premium SAAS offering. EngageBay's customer support has been very responsive and helped me resolve an implementation issue almost immediately." Shawn L – Marketing Manager, List Biological Laboratories, Inc.
"This product is just like HubSpot. I cannot believe the price, so far I've used it for 2 weeks and those guys have added 2 features more." Ivana B – Founder, New Marketing Agency
"EngageBay has got to be the most powerful all-in-one tool for small businesses: you just don't get this level of features with many tools (and trust me when I say I tried so many) its even difficult to calculate how many essential business tools and software you are effectively replacing with just one software." Lilach Bullock – Business Coach, Top Women Social Media Influencer.
A testing tool for unique insights for the right conversions from the right audience ($219/month).
Freshmarketer is part of the impressive array of marketing tools by Freshworks. It is focused on A/B testing, split URL testing, and conversion rate optimization. This tool integrates with Analytics from google to test, target, and validate experiments. It even tracks the revenue generated by your experiments.
With Freshmarketer's split URL testing tool, you can test multiple pages and easily turn winning variations into real web pages. The tool lets you see the effectiveness of your designs using heatmaps of each test variation. The package also includes page editing, personalization, and many other CRO features.
Best for: Freshmarketer is the ideal A/B testing tool solution for goal-oriented agencies, small businesses, and digital marketers.
Key Features:
Activity Dashboard: This is an all in one conversion optimization tool that lets you do everything in one convenient place.
Customizable Templates: Get your marketing automation running in no time with customizable templates.
Drag and Drop Interface: Extremely easy to use drag and drop interface lets you try out different styles and layouts.
Engagement Analytics: Find out how well your audience is engaging with your business.
Real-Time Analytics: Make better marketing decisions based on real-time data reporting.
Pros of Freshmarketer:
Multiple features and apps all in one convenient place.
Intuitive interface and clean workflow.
Great for onboarding funneling.
Effective heat maps for clear visual of experiment variations.
Integrated form analysis lets you create custom funnels.
Pricing:
Pricing starts at $219/month. Freshmarketer also offers a free option for businesses with less than 10,000 monthly visitors.
What Are People Saying?
"Freshmarketer and the Freshworks suite has allowed Knose to match an arguable leapfrog the incumbent's customer engagement." – Nathan Harris, Co-founder & COO, Knose.
"Freshmarketer has been integral for the success of many of our campaigns. It's enabled us to carry out extensive testing and gather insights very quickly, which we can then scale-up and roll out easily." – Phillip Casey, Digital Marketing Specialist, UNICEF, New Zealand.
"It's a bang for your buck. You get the same feature set as that of other highly-priced CRO tools in the market. Freshmarketer is my all-in-one CRO hub." – Marco Ponce, Senior Marketing Manager, LeadsMarket.
Get Started With Freshmarketer
Real-time personalization that is driven by powerful machine learning (price on request).
Integration Studio is focused on experimentation and personalization that is powered by machine learning. The tool is quite similar to Adobe Target, which might be beyond the needs of many small to medium businesses.
Having said that, the A/B testing tool is ideal for you if you want to create the ultimate experiences for your customers based on all the user behavior data at your disposal. Integration Studio empowers you to build unique individual experiences across multiple platforms so you can meet your customers' specific needs and expectations.
It crunches the vital data, tracks user actions, and automates optimizations based on user patterns.
Best for: Integration Studio's advanced A/B testing features are ideal for technology, retail, and financial services companies.
Key Features:
A/B and Multivariate Testing: Test multiple variations at one time and compare experiences.
Unified Customer Profiles: Evergage's data platform lets you aggregate behavior and manage your customer profiles in one place.
Segmentation: Build segments in real-time using various data sources.
Triggered Messaging: Create experiences and messages based on specific behaviors and actions.
3rd-Party Integrations: Integrations with tools like Google Analytics are available so you can analyze the results of your campaign across various channels.
Pros of Integration Studio:
Build detailed audience profiles using data from various sources.
The tool facilitates data management and allows you to base campaigns on highly-targeted segments.
Multi-channel personalization allows you to deliver a unified customer experience.
Integration Studio also allows personalization of search and navigation.
Managed services for customers looking for ongoing support on campaign development.
Pricing:
Pricing for Integration Studio is available on request, but they do provide a free demo so you can determine whether or not the testing tool is a good fit for your business.
What Are People Saying?
"We evaluated a couple of different platforms to decide which was going to be the best for us, but Integration Studio really just stood out from the rest. And the support team was amazing." – Melinda Cormier, Senior Director, Digital Marketing & Brand Strategy, Nuxeo.
"With Integration Studio, we can easily set up, test, and adjust our campaigns to improve conversion rate & revenue per user." – Jennifer Liu, Sr. Project Manager, NeweggFlash.
"Partnering with Integration Studio has enabled us to interact on a more personal level with new visitors as well as those who are already engaged, leading to a sizable increase in conversions and a great ROI." – Sal Tripi, Digital Operations, Publishers Clearing House.
Get Started With Integration Studio
13. Dynamic Yield ((a McDonald's corporation)
This is one of the most powerful omnichannel personalization platforms (price available on request).
Dynamic Yield is among the most powerful and scalable testing and personalization tools available on the market. It's a one-stop-shop that offers a scalable solution for a wide range of use cases. The tool works in real-time across multiple channels.
Its customer segmentation engine uses machine learning to come up with segments, which are then addressed through A/B tests, personalizations, content and product recommendations, and real-time messaging. It's important to note that Dynamic Yield only focuses on a few industries, such as gaming, media, travel, and B2C marketers.
Best for: UX experts, web analysts, A/B testing professionals, and eCommerce brands with annual revenue of over 3 million USD.
Key Features:
A/B Testing: Dynamic Yield allows you to use predictive tests for multiple variations.
Omnichannel Personalization: Build seamless customer experiences across channels.
Behavioral Messaging: This allows you to create messages that are relevant to individual visitors.
WYSIWYG editor: the modernized editor helps to create test variations, including split test, layout, design, location, widgets header, etc
Customized Recommendations: The machine-learning engine follows custom rules.
Ad Personalization: Helps you create targeted landing pages at a larger scale.
Pros of Dynamic Yield
Dynamic Yield is a well-known A/B testing software trusted by many global brands.
Comprehensive list of features to help you optimize your entire funnel.
Powerful tool with a wide range of features on a single platform.
Multiple solutions for different verticals give you the ability to customize thoroughly.
Offers personalization on mobile web or apps.
Allocates traffic automatically to the best performing variations, maximizing on conversions during the test and achieving statistical significance effectively.
Pricing:
Dynamic Yield pricing is available on request.
What Are People Saying?
"Our entire Homepage is powered by Dynamic Yield and is continuously optimized and personalized." – Andy Mueller, Director of Digital Analytics, Apmex.
"We're running hundreds of personalization campaigns at any given time." – Benjamin Ludigs, CRO, Lamoda.
"Our non-technical eCommerce manager is able to launch experiments on her own on a daily basis." – Megan Whitman, Chief Digital Officer.
Get Started With Dynamic Yield
Fast-growing provider of AI-powered A/B testing and personalization solutions (Price available on request).
Trusted by many large brands, AB Tasty has proven itself to be a leading software in conversion rate optimization. According to the gourmet marketplace, Pour de Bon, AB Tasty helped them achieve a 25% increase in total revenue. This is unsurprising when you consider the number of tools packed into one CRO package.
With AB Tasty, you get A/B testing tool, multivariate testing, marketing tools, funnel tests, personalization tools, split url testing, and in-depth data insights. You can also leverage AB Tasty's advanced targeting to test different criteria, such as URL, geolocation, and much more. To assist in validating your tests, the tool provides real-time displays of your tests, as well as their confidence levels.
Best for: Businesses of all sizes. Plans are flexible to accommodate the business's specific needs and if you new to A/B testing, you don't necessarily need additional capabilities found in other tools .
Key Features:
A/B Testing: Pick the best version by comparing two different variations of the same page.
Multivariate Testing: Modify many different page elements at the same time and provides an interesting funnel testing feature.
Heatmap: Effective visual showing you how users are interacting with your website.
Cross-Device Optimization: AB Tasty supports websites, apps, and content.
Funnel Tests: You can run funnel tests across multiple pages to optimize your funnel using their visual editor.
Advanced targeting: the advanced targeting feature is used to test different criteria such as geolocation, URLs, etc.
Pros of AB Tasty:
Predictive data is extremely helpful to marketers.
Intuitive interface and easy-to-use code and visual editor
Offers easy modification of HTML and CSS, as well as direct implementation of JS.
Targeting based on different criteria and existing data.
Customer support is responsive and knowledgeable.
Pricing:
AB Tasty offers custom quotes for individual businesses.
What Are People Saying?
"AB Tasty allows us to build advanced personalization scenarios. The platform is very easy to use, and we've been able to put in place our campaigns very quickly thanks to the availability of AB Tasty's customer success manager and support teams." – Kamran Shaikh, Senior Digital Marketing Manager at Discovery.
"AB Tasty is delicious. It has a great graphical user interface, fantastic support, great pricing structure, and we are able to work on almost all dynamic content through GUI." – Matt Sparks, Ecommerce Optimization Manager at AshleyFurniture.
"AB Tasty is currently the best tool, given our maturity level in A/B testing. The support is very efficient and we can influence the tool roadmap thanks to our needs." – Sylvain Duthilleul, Web Analyst, A/B Testing & Customization at Decathlon.
Great tool for measuring web performance for data-driven growth ($167/month).
Omniconvert offers A/B testing as part of its conversion rate optimization package. The platform also includes survey, personalization, overlay, segmentation, and various other tools. With Omniconvert's testing tool, you will be able to run A/B tests on mobile, desktop, and tablet devices.
Furthermore, you will have the ability to turn winning versions of any of your A/B tests into a control version for future tests. The Bayesian and Frequentist statistics offer an effective way to validate the tests you run. With over 40 parameters for segmentation, including traffic source, geolocation, and visitor behavior, you'll be able to improve user experience on your website in no time.
Best for: This is an ideal A/B testing solution for digital marketing agencies, medium-sized businesses, and online marketers that are in charge of eCommerce websites.
Key Features:
A/B Testing: Allows you to determine how variations perform on multiple devices.
Split Testing: Split traffic between the control page and different variations.
Testing Schedule: You have full control when deciding when to run tests.
Behavioral Targeting: Segment traffic based on over 40 criteria for deeper insights.
Visual Editor: Quickly and easily edit the visual aspects of each page and its variations.
Pros of Omniconvert:
Great customer service with quick response times.
Extremely easy setup, good for those who are just getting started.
Pop-ups and widget surveys to help you learn more about your visitors.
Detailed reporting and lots of 3rd-party integrations.
Plugins for WordPress, Joomla, Drupal, and PrestaShop.
Pricing:
Omniconvert pricing starts at $167/month specifically for A/B testing and rises from there.
What Are People Saying?
"Omniconvert has the tools to eliminate guessing." – Brian Massey, Conversion Scientist at Conversion Sciences.
"The support team is unreal – they are always very thorough, responsive, and helpful. They are more than willing to assist in coding issues or weird glitches, and never nickel and dime over those hours." – Eliza S., HelpSystems.
"What I like best is that this product does more than just A/B test. Qualitative data is crucial, and the tool helps you gather this vital information." – Justin Rondeau, Director of Optimization at Digital Marketer.
Intellimize offers predictive personalization to convert more website traffic (Price Available on Request).
Not your traditional A/B testing tools, Intellimize uses machine learning to help you get more traffic to your website . The platform conveniently automates a lot of the time-consuming aspects of creating and running A/B tests. It automatically tests websites and personalizes them to drive customer acquisition and boost revenue.
This dynamic personalization of websites and landing pages in real-time is something that can take away many of the laborious tasks marketers spend most of their time on. According to Intellimize, their customers have achieved an average 46% increase in conversions.
Best for: eCommerce and B2B companies that want to accelerate learning and get faster results.
Key Features:
A/B Testing: Quickly and easily administer page changes to a portion of visitors and measure conversion.
Multivariate Testing: Direct traffic to a random combination of changes to test many different changes at once.
Conversion Goal: Set up various user actions as test conversion goals.
Traffic Percentage: Adjust percentage and proportion of testing traffic for each page variant.
Confidence Level: It gives you the ability to view and adjust the test's confidence level.
Pros of Intellimize:
Intellimize A/B testing comes with the development of ideas.
Quicker learning and results than typical A/B testing.
Machine learning discovers the best performing variations 25x faster.
The shared experience of countless other tests helps marketers test better ideas.
Effective personalization shows different images and messages to different visitors.
Pricing:
Intellimize pricing can be obtained by contacting the company via the website.
What Are People Saying?
"We saw a 52% increase in conversions on the shopping cart. We love this because that's new revenue." – Meera Bhatia, Chief Operating Officer, Stella & Dot.
"My web optimization team estimated they had 10x more time to work on other demand generation activities. We completed years of testing in just a few quarters." – Shilpa Narwade, Head of Global Demand Generation, Looker.
"We tested 105 different ideas in 3 months. When you calculate it out, we tested 4.5 billion combinations of the page and we would never have been able to do this ourselves." – Guillaume Cabane, VP Growth.
There are other platforms out there that can help such as:
Oracle Maxymiser (known for website testing)
Sitespect
HubSpot software (uniquely known for it's marketing hub)
Crazy Egg
Monetate
What Features Should You Look For in A/B Testing Tools?
Pricing
This is the first thing most people consider when deciding on a new A/B testing tool. The next thing they think about is how easy it will be to use. However, if you are serious about using A/B testing as a long-term strategy to help you improve conversions in shopping carts like SamCart and ThriveCart, there are many other technical specifications and features you must take into consideration. The best tools I recommend are the perfect combination of utility, performance, and value.
Performance
A big fear of marketers is that their website page load speeds slow down because of the A/B testing or optimization tool they're using. Besides dampening the customer experience, it also hurts your SEO ranking. Script performance is something that businesses need to be wary of when investing in the solution. The script needs to be light, fast, powerful and most importantly, flicker-free (flicker is when a user sees the control before the experiment is displayed).
Scalability
Marketers need to find a platform that allows them to scale as their A/B testing program evolves. You may start out only needing a graphical editor (a WYSIWYG). But as your tests grow in complexity, you'll also want a code editor. Many businesses start with A/B testing copy and UX before moving into server-side testing i.e. testing on the backend e.g. functionalities like search and product recommendation. Or they may start with A/B testing and then want to move on to personalization. The experience optimization software scales with your needs and maturity.
Integration library and software development kits (SDKs)
Integrations with customer data platforms (CDP), content management systems (CMS), email, analytics tools and even, productivity apps will help you get more value (and save you time) with your A/B testing tools. It's important that brands choose the A/B testing tool that integrates with the martech tools they use most the most. For those doing in-app testing and server-side testing, choose a testing tool that already has your (updated) SDK.
A/B or A/B/C Testing
This is a must-have feature for any tool you choose. A/B testing means that your visitor sees one version or the other. Some testing tools offer A/B/C tests where there are three different page variations. However, with A/B/n testing, the test has 'n' different versions, and this is a feature that will help you achieve faster results.
Smart Editor
Some A/B testing tools have built-in platforms, similar to a WordPress interface, where you can create and edit web pages. These can prove particularly useful for small businesses and marketers who don't have an IT team.
Autopilot Mode
This feature is extremely important because if your campaign's conversion rate suddenly changes, a fast response is needed in order to avoid sending valuable traffic to a poor-performing page. Autopilot mode will instantly divert your visitors to the page with the best results.
Multi-Armed Bandit
This feature, which is more of a 'nice-to-have', is an algorithm that allows the Autopilot to finish tests quickly while sending visitors to the best-performing pages. Many testing tools have an even allocation of traffic between the A and B variations. This means directing half the website's traffic to a page that is converting poorly. The Multi-Armed Bandit prevents that from happening, saving companies a lot of money.
Multivariate Testing
(Source)
Multivariable, or MVT tests are ones where you carry out A/B or A/B/n tests on many independent page elements at the same time hence achieving statistical significance faster. You can choose full factorial MVT testing, which involves showing every possible combination of the page elements, or you can opt for fractional factorial testing, where only a fraction of the elements is shown. Marketing teams focused on data, can use funnel optimization, predictive analytics, and advanced targeting to maximize on their research.
A/B Testing Ideas Library
Yet another luxury feature is the library of testing ideas. This will come in handy any time you come up blank as to what to test next. It's not really necessary, but it can prove extremely helpful for busy marketers who must constantly come up with new hypotheses to test.
Client-Side
This technical specification has to do with how A/B testing tools work. In essence, the software tells the internet browser how the page should be displayed. It does this by using several Javascript lines to 'tag' the page. Whenever the page is loaded, specific content is displayed according to instructions from the back-office system. This feature also keeps track of the conversions and gain customers experience insights from the usability testing tools.
Server Side
(Source)
Still on the technical side of things, A/B testing software runs on the same server that compiles the page. After its compilation, the finished page is then displayed by the browser. Just as some computer software is available for Windows only and other software for Macs, it is the same with server-side software that is only available for specific servers, like PHP.
All of the functionality above is extremely important and I wouldn't necessarily say one factor is more important than the others.
Open Source vs. Closed Source: While this isn't' the biggest issue, it is a factor for many. Open source code is code you can look at to investigate what's really going on when you use the tool. It's a great way to make sure that there is no malicious code, which in turn may make you safer. However, bad actors can see the code as well and may be able to more easily devise ways to victimize the users of the platform.
A/B Testing Q&A
What Are CRO Tools?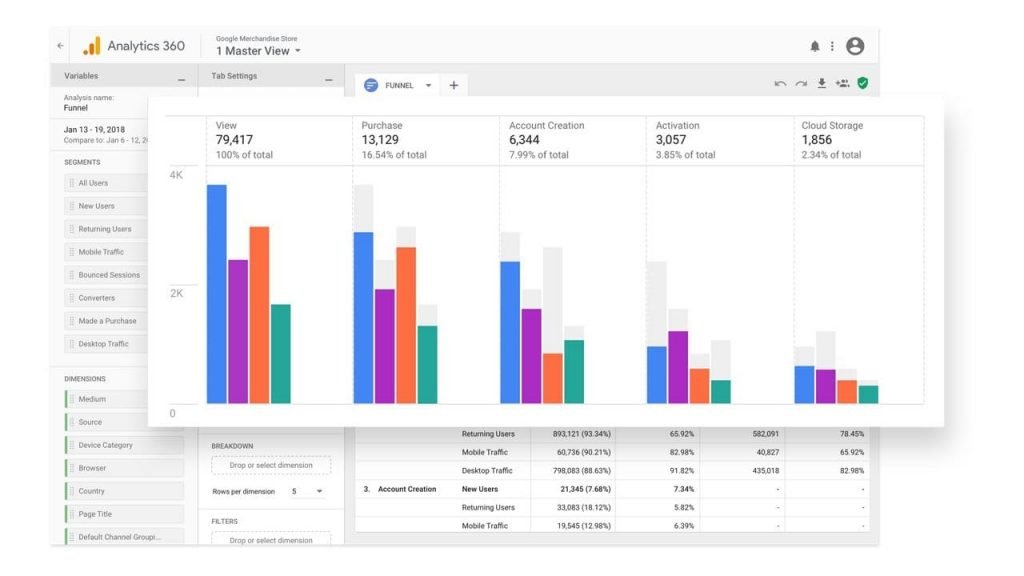 (Source)
When someone is looking to test pages or designs against each other to see how well they convert on a website, they'll use "CRO" tools. CRO stands for Conversion Rate Optimization and the idea is that you run variations of a page against each other to see which one converts the best. While this may not seem like it can make a difference, it absolutely does and that's why companies like Facebook uses A/B testing to analyze site usability and Amazon uses A/B testing to make the checkout process as seamless as possible.
How do You Analyze an A/B test?
(Source)
In an A/B test, you'll have two specific variations of a page or variable on a page of your website. While running the test with these tools is straightforward, analyzing those results can be tricky. In order to complete a full analysis on the test, you'll need to understand what you're trying to achieve.
For instance, if you're trying to increase sales on the site, you'll want to review metrics like cart abandonment rate, bounce rate, upsell conversion rate, and really all of the engagement metrics in your marketing funnel.
You'll compare variation 1 vs variation 2 to determine which version has more favorable metrics to positively impact conversion.
How Effective is A/B Testing?
(Source)
A/B testing does a lot more than just helping individuals, teams, and companies to answer one-off questions about what works better. It allows them to also understand why certain elements impact user behavior. That's why A/B testing has proven to be extremely effective when it comes to consistently improving conversion rates over time.
eConsultancy studies show that A/B testing generates 25% more leads for eCommerce websites and up to 40% more leads for B2B sites.
For instance, testing ad copy can help marketers discover which version leads to more clicks. Testing the elements of the subsequent landing page will provide insights on which layout is best for converting visitors to customers.
Introducing changes throughout the user experience allows effective optimization of the experience in order to achieve the desired outcome while decreasing the overall spend on the marketing campaign. This is crucial to the success of any marketing campaign.
Is A/B Testing Dead?
I've used A/B testing tools since I began my career in digital marketing and it's just as important than ever. If anything, it's become more important with all of the variations of devices like computers, tablets, and mobile phones. Anyone that argues that A/B testing is dead doesn't fully understand the value of these tests. While they may seem inconsequential, a small 7% increase in conversion rate can mean extreme growth in overall company revenue.
Summary
As you can see, whether you're a marketer, product manager, or UX designer, there is no shortage of A/B testing software tools on the market. On our list of the top 15 A/B testing software tools, you'll find something for everyone, including some budget, mid-range, and high-priced options.
To help you pick the right tool for your needs, here are my recommendations:
The best solution for large websites with teams of marketers, product managers, and developers looking to build powerful A/B testing programs that can scale: Kameleoon, Adobe Target, or Optimizely.
The best testing tools solution for marketing teams looking for a powerful user-friendly and easy-to-use A/B testing solution: Kameleoon, Convert, or VWO.
The best testing tools for brands looking to scale A/B testing to include personalization, server-side testing, and feature management: Kameleoon, Optimizely, and AB Tasty.
The best solution for beginners just getting started with A/B testing: Google Optimize (free, but limited). .
The best solution for small businesses looking to optimize landing pages: Unbounce.