Choosing the right email marketing platform is a crucial decision for any business owner looking to grow their customer base and sales. Moosend and TinyEmail are two popular options, but they have key differences that entrepreneurs should understand before deciding which one best fits their needs.
In this comprehensive Moosend vs TinyEmail comparison guide, we will evaluate the two email marketing platforms across several criteria that matter most to small business owners and marketers.
We will look at the market position, ease of use, design customization, features and functionality like ease of use, templates, integrations, customer support, pricing, reviews, and reputation. Our goal is to provide an objective overview of the pros, and cons to help you determine which solution is the best fit for your business goals and audience.
1. Understanding the Basics
Moosend was founded in 2011 by Panos Melissaropoulos and Yannis Psarras. It has quickly grown in popularity, now with over 1 million users worldwide. Moosend is well-established as one of the top email service providers globally.
TinyEmail began in 2020 and was created by Seamas Egan. Though newer than Moosend, TinyEmail has also gained a strong following especially among small businesses and startups. It has over 200,000 users.
Both platforms have active Facebook communities:
These groups allow users to connect, ask questions, and share advice about using each platform. Moosend's group has over 1,3K members while TinyEmail's page has over 1,1K followers.
In terms of market position, Moosend is the larger player while TinyEmail takes a niche approach. However, both are reputable platforms with growing user bases worldwide.
2. Features and Functionality
Automation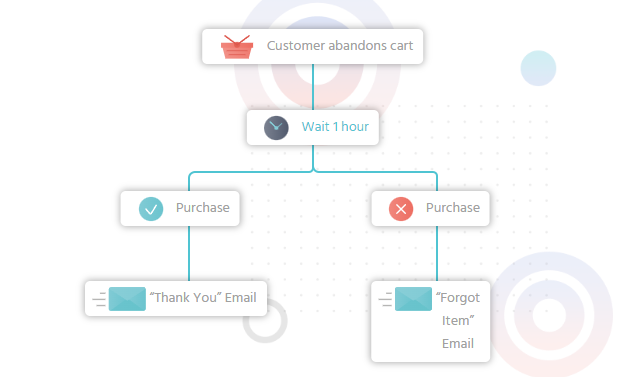 Moosend has a visual drag-and-drop automation builder that makes it easy to create workflows and run successful email marketing campaigns. You can set up welcome sequences, cart abandonment flows, subscriber re-engagement campaigns, and more without coding.
With Moosend's branching feature, you can segment contacts based on behavior and send them down customized paths in your workflow. For example, you can send specific follow-up emails to subscribers who opened but didn't click your first message.
Other key automation features include scheduled emailing, RSS-triggered campaigns, and integration with services like Zapier and Integromat for expanded workflows. You can also set up autoresponders, create timed drips, and customize sends based on actions or inaction.
Overall, Moosend has robust automation capabilities for marketers with no technical skills required. The visual builder and branching make complex sequences simple to execute.
TinyEmail takes a more basic approach to automation. You can set up welcome emails and autoresponders, but there is no drag-and-drop workflow builder. TinyEmail lacks more advanced options like segmentation, branching logic, and connections to Zapier/Integromat.
On the positive side, TinyEmail does allow timed email drips and some basic RSS automation. Creating autoresponders is easy with a visual editor.
For users with basic automation needs, TinyEmail delivers. But those wanting more complex sequences, branching, and integrations will find Moosend's automation capabilities superior. TinyEmail's automation features still have room to mature.
Moosend is the clear winner for its advanced automation capabilities. The drag-and-drop workflow builder, branching, and Zapier/Integromat integrations provide far more customization for creating sophisticated automation sequences compared to TinyEmail's more basic feature set.
For both simple and complex needs, Moosend is considered to be among the best email marketing tools that enable strong automation without coding required.
Email Templates
Moosend provides hundreds of professionally designed email templates that you can fully customize to match your brand. There are templates for welcome emails, promotions, newsletters, holidays, and more.
The template editor makes it easy to change colors, and fonts, add images, adjust layouts, and insert your own text/content blocks without coding. Templates are mobile-responsive out of the box.
Users can also build custom templates from scratch using a drag-and-drop editor. Overall, Moosend gives excellent options for either starting from professionally designed templates or custom builds.
TinyEmail has a smaller library of email templates compared to Moosend. There are around 70 free templates covering basics like welcome emails, newsletters, and promotions.
The templates are customizable with the ability to modify colors, fonts, add images, etc. You can also create new templates from scratch with drag-and-drop editing.
While TinyEmail's templates cover the fundamentals, Moosend simply provides more pre-designed options across wider use cases. TinyEmail's template capabilities get the job done but come up short versus Moosend.
Moosend wins for email templates thanks to having a significantly larger library of professionally designed, customizable templates. The volume and variety give users more options to choose from for their specific needs rather than settling. For those wanting quality templates out of the box, Moosend is superior.
Segmentation
Moosend provides robust options for segmenting your subscriber list. You can create segments based on email metrics like opens, clicks, and bounces. Segments can also be built based on subscriber attributes and behaviors like demographics, purchase history, engagement with links/content, and more.
Segment matching is dynamic – when a subscriber meets the criteria for a segment they are automatically added. You can combine multiple rules to target segments precisely.
Built-in integrations with ecommerce platforms like Shopify allow segmenting by customer data. Moosend makes complex subscriber segmentation accessible without technical skills.
TinyEmail has basic segmentation features for dividing subscribers. You can create groups based on email metrics, subscriber attributes, and some behaviors like link clicks.
However, TinyEmail lacks robust conditional logic for building segments. There is no visual segmentation builder and the rules you can set up are limited compared to Moosend.
While TinyEmail covers the fundamentals, Moosend simply provides far more advanced and customizable segmentation. You can get much more granular with your subscriber groups in Moosend.
Moosend wins for its flexible segmentation tools that allow both simple and advanced subscriber grouping. TinyEmail's segmentation feels basic and limited by comparison. If you want to send highly targeted, personalized messages, Moosend is superior.
Analytics
Moosend provides powerful analytics to track and optimize your email marketing performance. There are pre-built reports covering opens, clicks, bounces, unsubscribes, conversions, and more. You can segment your data by campaigns, lists, templates, and other parameters.
The reporting dashboard lets you visualize key metrics like opens over time, most clicked links, and subscriber engagement. You can also export raw data to CSV/Excel for custom analysis.
Useful features include A/B testing campaign variants to determine optimal messaging. There is also real-time alerting for metrics like unsubscribes exceeding a threshold.
Overall, Moosend has robust analytics options for both high-level and detailed evaluation of email performance.
TinyEmail provides basic email analytics covering opens, clicks, unsubscribes, and bounces. You can segment analytics by campaign and view reports on an individual or aggregated basis.
However, customization is limited compared to Moosend. There are fewer pre-built reports and visualization options. TinyEmail lacks advanced features like A/B testing or real-time alerts.
While TinyEmail covers analytics fundamentals, Moosend simply provides more powerful, customizable reporting and analysis functionality.
Moosend wins for its superior email analytics capabilities. The wide range of pre-built reports, customization in data views, advanced features like A/B testing, and real-time alerts surpass TinyEmail's more basic analytics. For maximizing the impact of your email marketing, Moosend has superior insights.
Unique Features
One of Moosend's standout features is its e-commerce AI which allows you to send personalized product recommendations to customers.
Moosend also offers multilingual campaigns. You can easily create emails translated into different languages, customize them for each locale, and automatically send them to subscribers based on their set language.
Moosend also provides SMS marketing capabilities along with email. You can send SMS messages to subscribers who opt in and track performance.
A/B testing is another advanced feature that lets you scientifically determine the optimal messaging and content for your audience.
TinyEmail offers a unique free email address aliasing feature for all users. This lets you create unlimited custom @yourdomain email addresses to protect your personal email.
TinyEmail also has a free shared inbox feature that provides one central inbox for your whole team to collaborate and manage incoming emails together.
Winner: Tie
Both Moosend and TinyEmail have unique features that set them apart. Moosend's multilingual support, SMS capabilities, and A/B testing provide powerful options for marketers. TinyEmail's free custom email aliases and shared team inbox also deliver useful capabilities. There is no clear winner – the "best" depends on your specific needs. Both platforms bring something unique to the table.
3. Ease of Use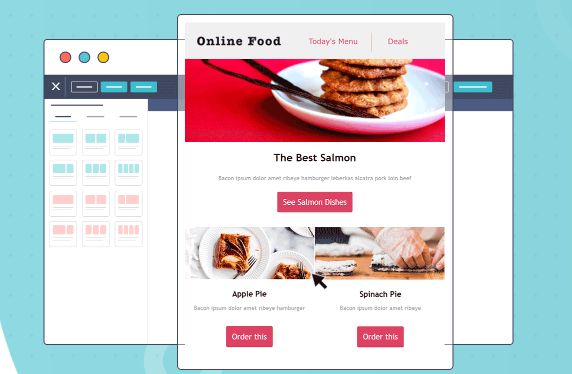 Moosend has a modern and user-friendly interface that is easy to navigate. The dashboard uses clear menus, icons, and visual graphs to surface key information, making your email marketing efforts simpler.
For beginners, Moosend's interface is straightforward to get started thanks to prompts, tooltip hints, and simple menu flows for building your first campaign. The platform feels designed for simplicity.
Overall, Moosend provides an excellent user experience. Workflows for sending campaigns, automation, analytics reports, and other tasks are streamlined. The interface is responsive for use on any device.
The learning curve is not steep thanks to the user-friendly design. Moosend has sufficient help resources like docs, videos, and guides to ramp up quickly.
TinyEmail has a functional but very basic user interface. The dashboard layout is a bit dated compared to Moosend. Navigation and workflows feel more cumbersome.
For beginners, TinyEmail is reasonably easy to pick up for sending basic campaigns. However, completing more complex tasks around automation, segmentation, and reporting lacks intuitiveness.
The user experience of this email marketing tool feels a bit choppy and inconsistent across TinyEmail. Speed can also lag at times. The interface is not optimized for mobile use.
Expect a steeper learning curve with TinyEmail. Documentation is light, so prepared to learn by trial-and-error. TinyEmail's UI needs modernization.
Moosend wins for superior ease of use with its modern, intuitive interface that both beginners and experts can use efficiently. TinyEmail's dated UI feels clunky by comparison. For the best user experience, Moosend is the preferable choice.
4. Email Deliverability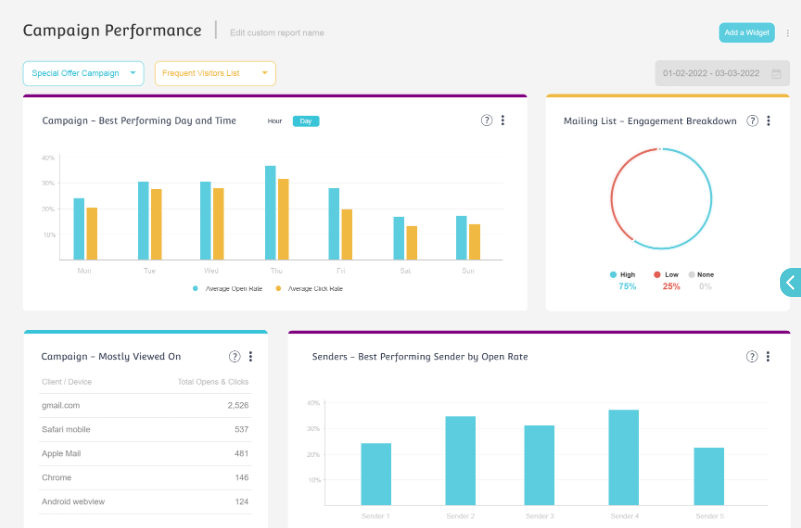 Moosend has excellent email deliverability thanks to advanced features that maximize inbox placement.
To avoid spam filters, Moosend offers sender authentication including SPF, DKIM, and DMARC. There are also dedicated IP options to maintain your sending reputation.
Moosend's deliverability team actively monitors block lists and works to keep your IP off them. Their automated warm-up feature gradually increases sending volume to maintain deliverability.
For subscribers, Moosend provides automated bounced and complaint handling to keep your list clean. Overall, Moosend has robust deliverability protections to supercharge your email marketing strategy.
TinyEmail provides basic deliverability features like SPF and DKIM authentication. Shared IP plans can have deliverability issues at higher volumes.
TinyEmail lacks more advanced protections than Moosend like automated warming, block list monitoring, and bounced/complaint processing. Deliverability management feels manual vs automated.
While TinyEmail covers the fundamentals, its deliverability capabilities don't seem as mature. Moosend outshines with more advanced protections.
Moosend wins for superior email deliverability. Its automated features like warming, block list monitoring, bounce/complaint handling, and dedicated IPs show expertise that surpass TinyEmail's basic protections. For the best inbox placement, Moosend is preferable.
5. Customer Support and Community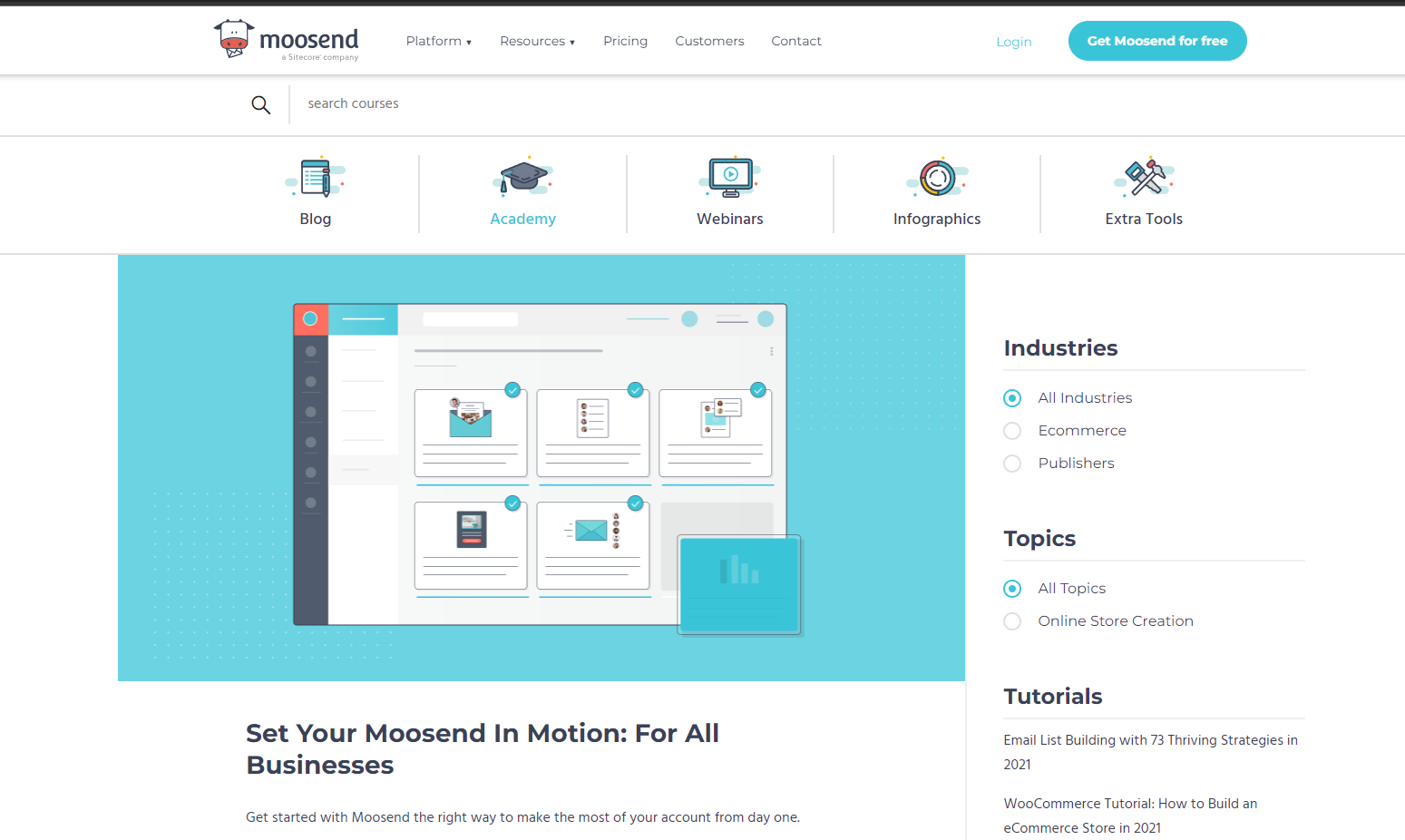 Moosend provides 24/7 customer support via live chat, email, and support tickets. Response times are generally fast, with many issues resolved in under an hour. There is also an extensive help center with tutorials, docs, and webinars.
For community support, Moosend has an active Facebook group with over 1.3K members. Users frequently discuss best practices and get advice.
Overall, Moosend's stellar customer support and engaged community resources make it easy to get help when needed.
TinyEmail offers email and in-app support with slower response times than Moosend. Phone support is not available. The online knowledge base has limited help articles.
TinyEmail's Facebook page has some community activity, but less user discussion than Moosend's group.
While you can get assistance with TinyEmail, support, and community options lag behind Moosend's more robust offerings. Expect slower resolutions to issues.
Moosend wins for better customer support and community resources. Faster, multi-channel support and a large active user community surpass TinyEmail's lighter-weight options. For quick help from staff or fellow users, Moosend is superior.
6. Integrations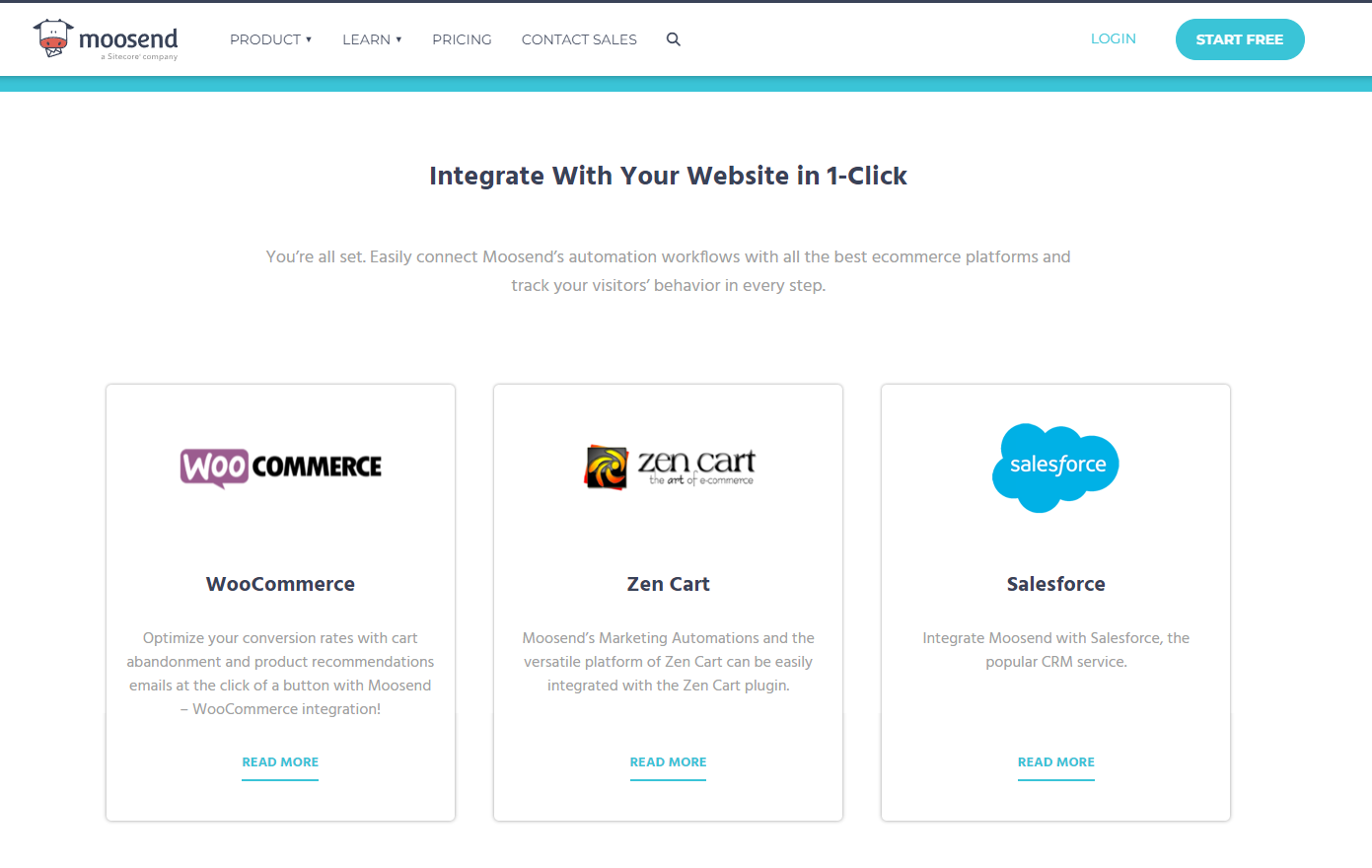 Moosend integrates with over 1,000+ third-party platforms via Zapier and Integromat. This allows connecting Moosend workflows with tools like Mailchimp, Shopify, WordPress, Facebook, and more.
There are also deep direct integrations available for major platforms like Shopify, WooCommerce, WordPress, Magento, and others.
For CRMs, Moosend connects with Salesforce, HubSpot, ActiveCampaign, and other top tools. Overall, Moosend plays well with all the marketing, ecommerce, and business systems you need.
TinyEmail has Zapier integration to connect with hundreds of apps, but support for Integromat is missing. Shopify is its only major direct ecommerce integration.
CRM (customer relationship management) integrations are limited primarily to Zoho CRM, with no direct Salesforce, HubSpot, or ActiveCampaign compatibility.
While TinyEmail covers the basics through Zapier, its direct integrations with major platforms are lacking compared to Moosend. You'll have less flexibility in tying together marketing stacks.
Moosend wins for its expansive app integration capabilities, both through Zapier and deep direct connections with major platforms. TinyEmail trails significantly in integrating with critical tools for marketing workflows. For seamless tech stacks, Moosend is the choice.
7. Pricing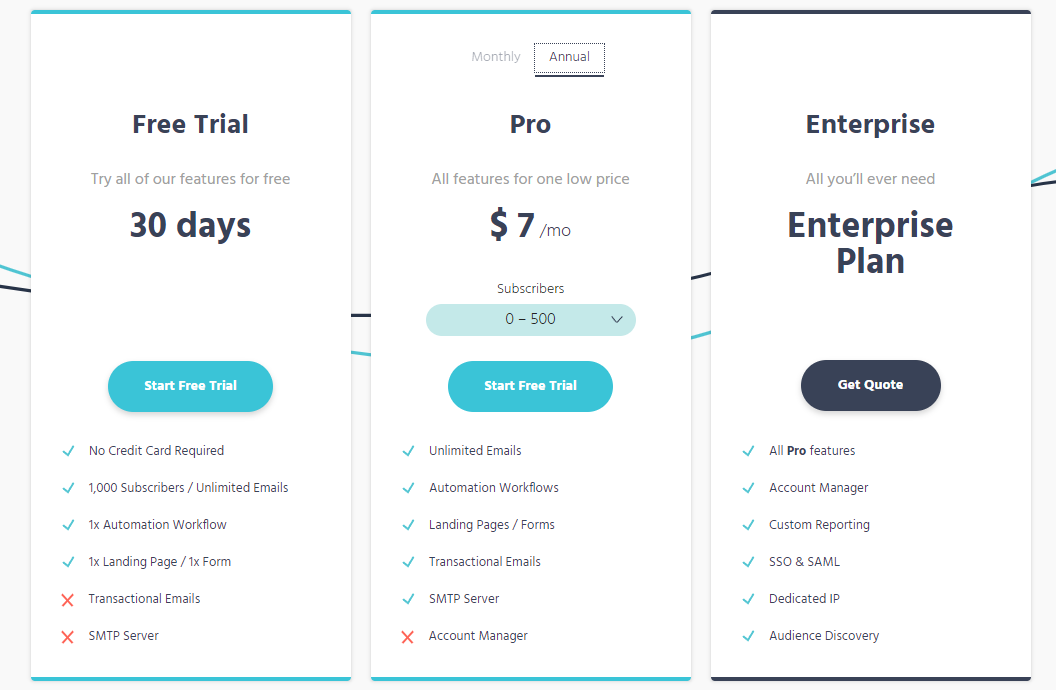 Moosend has a simple pricing structure:
Free Trial – $0/month with no credit card required. Test out the platform's features and send unlimited emails to up to 1,000 subscribers.
Pro Plan – $7/month for up to 500 subscribers. Additional features include automation workflows, landing pages/forms, and transactional emails.
Enterprise Plan – Custom pricing. Includes all the Pro features, as well as an account manager, custom reporting, and dedicated IP.
Each plan includes unlimited emails, drag-and-drop editor, automation, segments, basic analytics, etc. Advanced features like SMS, landing pages, and priority support require higher tiers.
Overall, Moosend is competitively priced, and its tiers scale nicely for growing email list sizes. Credits for sending additional emails beyond plan limits can also be purchased.
TinyEmail is free to send automated emails to up to 500 contacts. Paid plans start at $15/month for unlimited contacts.
The Pro plan is $65/month and comes with additional resources and advanced email automation features like pre-built segments, custom segments, and an AI subject line assistant.
Volume discounts are not available, so the per-contact price is higher with TinyEmail for larger lists compared to Mailchimp.
Some features like automation, custom domains, or API access need higher tiers. TinyEmail pricing is very affordable but limits like email credits can get costly with growth.
For small lists under 500, the TinyEmail free plan provides strong value. However, experienced marketers and businesses that outgrow those limits may find better long-term pricing with Moosend.
Winner: Tie
Moosend offers more advanced features and support in its pricing, while TinyEmail is cheaper for basic email needs. For those wanting robust functionality as they scale, Moosend provides better value. But TinyEmail excels for budget-conscious users with smaller lists. Both have competitive and fair pricing models.
8. Reviews and Reputation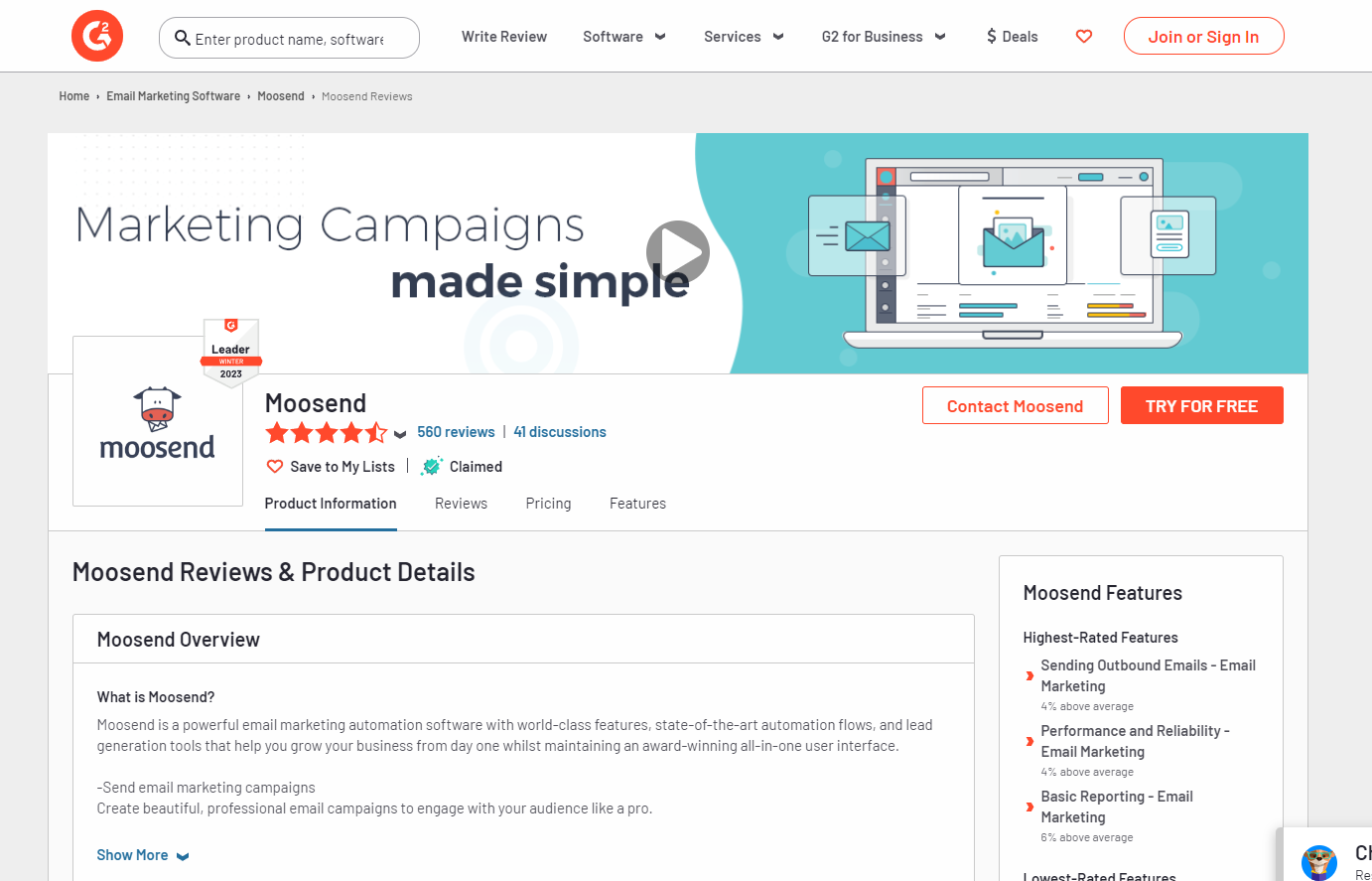 Moosend earns positive reviews for its wide range of email marketing features, automation, integrations, analytics, and deliverability capabilities. Users praise the intuitive interface, segmentation tools, and quality designs and templates.
Cons mentioned include some limitations for free/starter plans and customer support response times varying at times. However, most reviews indicate that Moosend provides excellent overall value for the price.
On Capterra, Moosend rates 4.7/5 stars based on 190+ reviews. See other Moosend reviews on G2 and TrustRadius.
TinyEmail garners positive feedback for its affordability, ease of use for basic email functions, and features like shared inboxes and alias creation. The simple editor and process for creating campaigns appeals to new email marketers.
However, many users cite a lack of automation, analytics, integrations, and deliverability management as weaknesses. The dated interface also draws criticism. Reviews suggest it works well for smaller needs but may not scale.
TinyEmail rates 3.5/5 on Trustpilot based on 280+ reviews.
Based on in-depth user reviews, Moosend emerges as the winner for delivering a more robust and full-featured platform suited for both beginners and advanced users. TinyEmail receives mixed reviews highlighting its limitations beyond basic email functions. For best-in-class email marketing capabilities, Moosend wins out.
9. FAQ's
What is the monthly sending limit?

There are no monthly sending limits, you can send unlimited emails based on your subscriber tier.
Is there a free trial?

Yes, Moosend offers a fully featured 30-day free trial.
What integrations are available?

Moosend offers 100+ integrations via Zapier and Integromat, and deep integrations with platforms like Shopify, WooCommerce, WordPress, and more.
Is there drag-and-drop template editing?

Yes, Moosend has a visual drag-and-drop editor to customize templates or create your own.
How responsive is customer support?

Support is available 24/7 via live chat, email, and tickets with most queries resolved in under an hour.
What is the monthly sending limit?

Sending limits depend on your pricing plan, extra credits can be purchased if exceeded.
Is there a free trial?

No, but there is a basic free forever plan with up to 500 subscribers.
What integrations are available?

TinyEmail integrates with Zapier Plus and has a Shopify integration. CRM and other platform support is limited.
Are there pre-designed templates?

Yes, TinyEmail offers around 70 free customizable templates for basic use cases.
How responsive is customer support?

Support response times are slower compared to Moosend, with email and in-app tickets being the only options.
Final Thoughts
Moosend is the best choice if you want a fully-featured email marketing platform with powerful deliverability protections, automation, detailed analytics, and deep integrations with other marketing and ecommerce tools.
It's ideal for established businesses ready to scale their email strategy and campaigns. The array of capabilities like multilingual campaigns, SMS marketing, and advanced segmentation make Moosend superior for more sophisticated needs.
TinyEmail is better suited for solopreneurs, startups, and smaller businesses with basic email marketing needs. It delivers on ease of use, affordability, and core email capabilities.
But those wanting advanced features like complex automation, custom analytics, or broad platform integrations may outgrow TinyEmail quickly. It fills a niche for entry-level email marketers.
If you aren't sure if TinyEmail is right for you, consider reading my favorite TinyEmail Alternatives.
Choosing the right email marketing platform is critical for your business growth. Be sure to consider your specific needs – and feel free to ask any questions in the comments! We're happy to offer guidance to help you maximize your email strategy with the ideal solution.