Choosing the right email marketing platform is crucial for connecting with customers and growing your business. In this comparison, we'll examine two popular options—MailPoet and TinyEmail—to help you determine the best fit.
MailPoet and TinyEmail are both easy-to-use email marketing solutions built for WordPress users. However, they differ in features, functionality, and pricing. We'll compare them across key criteria like market position, ease of use, customization, blogging and ecommerce capabilities, analytics, reliability, support, reputation, and cost.
By the end, you'll have a clear picture of the strengths and weaknesses of MailPoet vs. TinyEmail so you can choose the best email marketing platform to take your business to the next level.
1. Understanding the Basics
MailPoet was founded in 2011 by Kim Gjerstad. It quickly became the most popular newsletter plugin for a WordPress site, now active on over 1 million websites. MailPoet has a leading market share among email marketing plugins.
TinyEmail entered the market in 2020, founded by Seamas Egan. It has a smaller user base than MailPoet but is growing in popularity.
MailPoet has an active Facebook community with over 7,300 members.
TinyEmail also has a Facebook group for users to connect and get help.
Both plugins boast strong user bases, but MailPoet is more widely adopted overall. It dominates the WordPress plugin space for newsletters. TinyEmail offers stiffer competition focused on delivering ease of use and great support. Understanding their market position provides helpful context for this comparison.
2. Features and Functionality
Automation
MailPoet enables users to set up automated email workflows based on subscriber actions and events. You can create welcome emails to greet new subscribers, cart abandonment emails when someone leaves items in their cart, weekly digests to recap content, and more.
Automations are configured through a visual drag-and-drop workflow builder, making it easy to set triggers and define the content for each automated email. For example, you can send an automated email to subscribers who have been inactive for 3 months to re-engage them with this email marketing tool.
MailPoet also offers RSS-to-email automation. You can automatically send new blog posts or content from an RSS feed to subscribers on a schedule. This saves time and helps drive traffic to new content.
Overall, MailPoet provides robust automation features perfect for ecommerce sites, blogs, and any business wanting to leverage behavioral data to send timely, relevant emails. The workflow builder makes it simple for anyone to create automated sequences without coding.
TinyEmail also provides automation capabilities through its visual Automated Messages builder. You can set up welcome sequences, notifications for new content, and emails based on user actions like cart abandonment. The workflows support multiple conditions and complex triggers beyond basics like date-based emails.
However, TinyEmail has fewer specific automation email templates compared to MailPoet. While you can create automated cart abandonment emails, TinyEmail doesn't have pre-built templates for that exact use case as MailPoet does.
TinyEmail's RSS automation is also more limited. It doesn't allow you to customize the format or content of RSS emails. MailPoet gives more flexibility, like adding your own headers, banners, and styling.
Overall, TinyEmail provides decent automation features for basic email workflows. But the options lag behind MailPoet, which offers more advanced behavioral automation and finer control over things like RSS emails.
Both email marketing tools have much to offer. However, MailPoet wins for its wider range of automation types, including automated welcome emails. It also offers granular control over automated email content and formatting. The powerful drag-and-drop workflow builder makes it easy for any skill level to create targeted emails that convert.
Email Templates
MailPoet provides hundreds of professionally designed email templates that make it easy to create stylish and effective newsletters.
The template options range from basic templates for welcome emails and announcements to more advanced templates for promotions, holidays, and complex multi-page emails. There are mobile-optimized templates as well as templates compliant with CAN-SPAM regulations.
All of MailPoet's templates are editable, allowing you to customize colors, fonts, and layouts. You can also easily add your own images, text blocks, buttons, dividers, and other design elements.
MailPoet has a template editor that makes it simple for anyone to tweak templates without coding knowledge. You can preview templates to see how they render across different email clients too.
Overall, MailPoet shines when it comes to providing an extensive library of polished email templates suitable for any newsletter campaign.
TinyEmail also includes a selection of email templates ranging from simple one-column layouts to more visual templates with images and multiple columns.
However, TinyEmail offers a smaller selection compared to MailPoet. There are around 30 free templates to choose from. The options cover basic use cases like promotions, newsletters, and announcements but lack more advanced, niche templates.
The templates are customizable, allowing changes to font styles, colors, and layouts. But TinyEmail's template editing capabilities are not as robust as MailPoet's dedicated template editor.
While TinyEmail provides email templates to get started, the selection is quite limited. You may need to create custom templates from scratch if you want more creative or complex newsletter designs.
The two email marketing platforms have robust template options to run successful email marketing campaigns. MailPoet wins for its vast library of professionally designed email templates in a wide variety of styles and formats. The powerful template editing tools also make customization easy for any user. TinyEmail simply can't compete with the polish and breadth of MailPoet's template collection.
Segmentation
MailPoet enables highly targeted email marketing through its subscriber segmentation tools. You can create unlimited segments based on subscriber data like email activity, purchase history, logged-in status, geolocation, and more.
For example, you can set up segments to target subscribers who opened a product announcement email but didn't purchase. Or subscribers in a certain city. The segmentation combos are endless.
MailPoet makes it easy to build segments with drag-and-drop filtering or by manually selecting subscribers. Complex segments can be created using custom fields and progressive conditions.
Segments are also dynamic – subscribers automatically move between segments based on their data. You don't have to manually maintain lists.
With robust segmentation, MailPoet allows you to personalize content and send hyper-targeted emails driving better engagement and conversions.
TinyEmail provides basic subscriber segmentation capabilities. You can group subscribers based on criteria like email activity, membership level, recent purchases, and more.
However, TinyEmail has fewer options for custom and progressive segmentation compared to MailPoet. There is no drag-and-drop interface for building segments. You must apply filters manually.
The maximum number of segments is also limited to 15 unless you upgrade to a Premium plan. So if you need to create highly targeted segments for sending emails, you'll quickly run up against limits.
While TinyEmail covers the basics of subscriber segmentation, it lacks the more advanced options you get with MailPoet. Segment building is clunkier and limits are restrictive on lower plans.
MailPoet is the clear winner for its robust, easy-to-use subscriber segmentation tools. The drag-and-drop interface, unlimited segments, and automatic syncing provide unmatched targeting options to personalize and optimize your email campaigns.
Analytics
MailPoet provides robust email analytics to help you track and optimize your campaigns.
The centralized dashboard clearly displays key metrics like open rate, click rate, unsubscribes, top links, and subscriber engagement over time.
You can drill down to analyze stats for individual emails and segments. Heatmaps show where subscribers clicked and scrolled in each email.
MailPoet integrates with Google Analytics to connect email data with your website stats. This provides insights like your top referred URLs and conversion paths from emails.
The platform also offers A/B testing capabilities to experiment with subject lines, content, and design to boost email performance. Tests are easy to set up without coding knowledge.
With its detailed analytics and testing options, MailPoet empowers users to continually refine and improve email campaigns.
TinyEmail provides basic email analytics like open and click rates, along with metrics on unsubscribes, spam reports, and email shares.
However, TinyEmail has limited segmentation capabilities. You can't break down stats by custom segments. This restricts how granular you can get with your email performance analysis.
There are also no heat maps, A/B testing, or Google Analytics integration features. TinyEmail lacks the advanced analytics and optimization tools included in MailPoet.
While TinyEmail covers the email marketing essentials, its barebones reporting leaves much to be desired compared to MailPoet's extensive analytics.
MailPoet wins for its comprehensive email analytics, heatmaps, A/B testing, and Google Analytics integration. TinyEmail simply doesn't provide the tools needed for in-depth analysis and optimization of email campaigns.
Unique Features
A few features that set MailPoet apart are its deep WooCommerce integration enabling automated cart abandonment emails and other marketing tied to customer store activity. MailPoet also provides full multilingual support with easy tools for sending localized, translated newsletters.
Other differentiators include advanced deliverability features like heartbeat technology to minimize spam folder filtering and bounced emails. MailPoet also offers a Sending Service add-on that routes emails through a dedicated IP and infrastructure for maximum reliability.
Overall, MailPoet stands out for its tight WooCommerce integration and multilingual capabilities, along with a suite of pro features to maximize email deliverability.
One way TinyEmail differentiates itself is its capabilities for SMS marketing. In addition to email, TinyEmail enables sending promotional SMS messages to contacts who opt-in.
TinyEmail also integrates with webinar services like GoToWebinar for automated webinar marketing flows. Even on free plans, it allows the use of custom CSS in emails for greater design flexibility.
Additionally, TinyEmail recipients can override preset email delivery schedules to receive future messages on demand.
While TinyEmail lacks MailPoet's robust WooCommerce features, it provides unique value through SMS marketing, webinar promotions, subscriber schedule control, and more.
Winner: Tie
Both MailPoet and TinyEmail have unique strengths setting them apart. MailPoet excels at deep WooCommerce integration and multilingual email marketing, while TinyEmail offers compelling features like SMS, webinar marketing, and subscriber schedule overriding. There is no clear singular winner.
3. Ease of Use
MailPoet is known for its intuitive and easy-to-use interface which comes with all the features to run successful campaigns. The dashboard uses a clean layout with clearly labeled icons that enable you to quickly access key features.
For beginners, MailPoet's dashboard widgets provide helpful prompts guiding you to complete initial setup steps like importing contacts, configuring your first newsletter, and publishing your first post notification email.
The drag-and-drop email designer allows anyone to create stylish emails without coding skills. All the tools are accessible from a handy left sidebar while you design.
MailPoet also has thorough tutorials, documentation, and blog tips to aid the learning process. Between the straightforward interface and abundant educational resources, the platform is easy for novices to master.
Experienced users can also appreciate MailPoet's thoughtful design. Key settings and options are conveniently located, so you don't have to hunt through menus.
TinyEmail also touts an intuitive interface designed for simplicity. The left-side menu provides clear access to all features.
However, TinyEmail's dashboard is more text-heavy compared to MailPoet. Beginners may find it slightly overwhelming to know where to start. Tutorials and help resources are lacking.
The email editor is fairly easy to use for basic newsletters. But more advanced designs and formatting require learning where tools are located across the top toolbar. The interface takes a bit more learning compared to MailPoet.
While TinyEmail delivers a decent user experience, MailPoet offers better polish and simplicity all around for beginners and experienced users alike.
With its clean layout, thoughtful onboarding, intuitive email designer, and ample learning resources, MailPoet provides superior ease of use. TinyEmail lacks MailPoet's polish and educational materials to help users of all skill levels quickly master the platform.
4. Email Deliverability
MailPoet uses advanced deliverability features and tools to maximize email reliability.
The platform provides granular inbox placement diagnostics. You can see if emails are landing in the primary inbox vs. tabs or spam folders across major ISPs.
MailPoet also offers Sender Score metrics analyzing your reputation with ISPs. This helps identify any deliverability issues.
To guard against getting blacklisted, MailPoet uses proprietary heartbeat technology and spoofing protection. This maintains your sender's credibility.
For ultimate deliverability, MailPoet's Sending Service routes emails through dedicated IPs and infrastructure optimized for delivery. Engagement Tracking allows seeing real-time email opens and click activity.
Together, these robust tools help MailPoet users achieve inbox placement and engagement rates above industry averages.
TinyEmail provides basic deliverability features like monitoring bounce and spam rates. You can also check inbox placement rates for your top ISPs.
However, TinyEmail lacks more advanced diagnostics of potential issues that may compromise deliverability. There are no Sender Score-type ratings to guard against blacklisting.
TinyEmail currently does not offer a dedicated delivery infrastructure comparable to MailPoet's Sending Service. Users must rely on proper email authentication setups to maintain deliverability.
While TinyEmail covers the fundamentals, MailPoet simply provides more powerful tools and diagnostics for achieving optimal inbox placement and engagement.
MailPoet is the clear winner when it comes to maximizing email deliverability. Robust diagnostic tools like granular inbox placement metrics and Sender Scores enable users to proactively identify and resolve any deliverability threats.
5. Customer Support and Community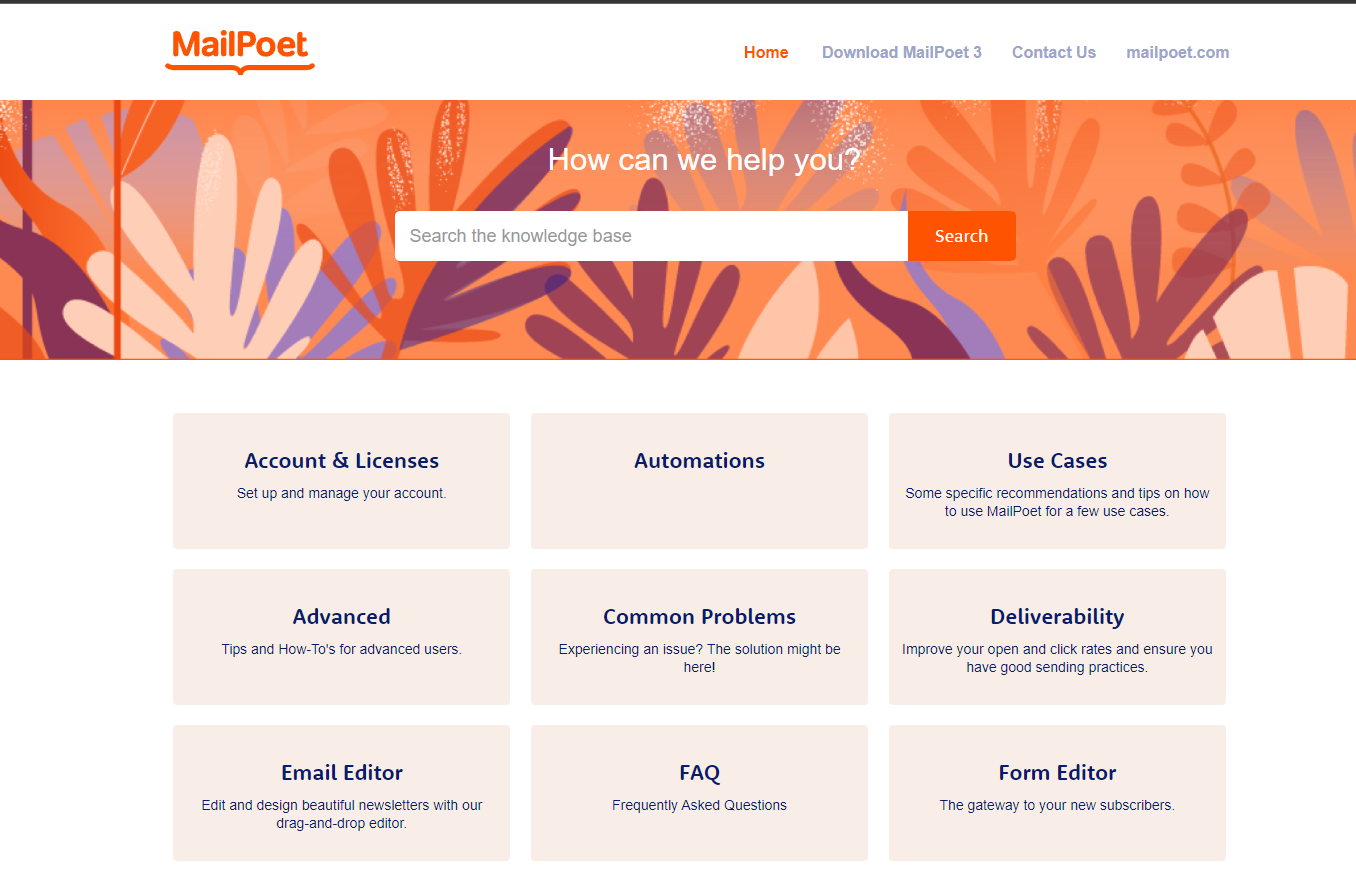 MailPoet offers email, in-platform chat, and phone support. Paid users get priority support with faster response times.
The website also provides an extensive knowledge base with manuals, troubleshooting guides, and FAQs to solve common issues.
For community support, MailPoet has an active User Forum for posing questions and an Ambassador-moderated Facebook Group.
Between prompt official support channels and a thriving online community, MailPoet users can easily get help when needed.
TinyEmail provides email-based customer support with fairly fast response times. However, there is no live chat or phone support option.
The online knowledge base offers limited troubleshooting content and tutorials. It lacks the breadth of MailPoet's help documentation.
TinyEmail does have an engaged Facebook User Page with over 1,100 members for community support.
While TinyEmail delivers reasonable support, MailPoet simply provides more options through channels like live chat and more robust self-help resources.
MailPoet wins for providing excellent customer support through email, chat, phone, online knowledge base articles, and an active user community forum. TinyEmail relies predominantly on email and Facebook community support, which is decent but not as robust overall.
6. Integrations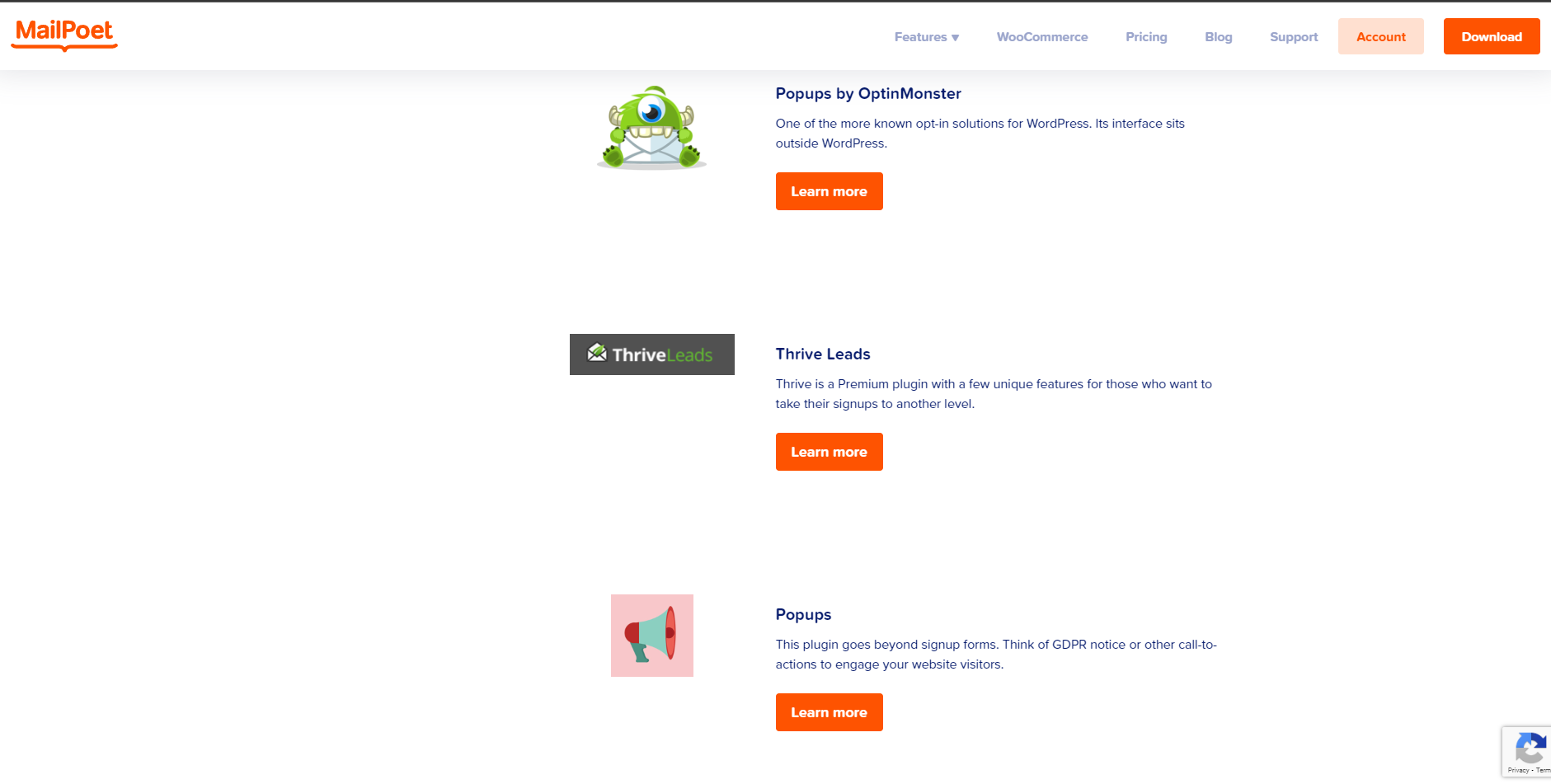 MailPoet integrates natively with over a dozen major platforms. This includes deep WooCommerce integration for sending automated post-purchase and abandoned cart emails. MailPoet also allows sending new posts from WordPress websites and page notifications to subscribers.
Other key integrations are with Google Analytics to track campaign data like links clicked and conversions, Zapier to connect with apps like MailChimp and PayPal, Amazon SES for email sending infrastructure, and Facebook for importing followers.
With its array of native integrations, MailPoet seamlessly connects with all the tools modern businesses rely on for marketing automation and analytics.
TinyEmail offers a handful of third-party integrations, including WooCommerce for store order notifications and abandoned cart emails. It also connects with Zapier for linking popular apps like MailChimp, Constant Contact, YouTube, and others.
Additionally, TinyEmail partners with webinar services for automated email workflows tied to webinars. However, it has fewer native integrations compared to MailPoet, lacking first-party support for platforms like Google Analytics or Facebook.
MailPoet wins for providing an extensive set of native integrations with essential platforms like a WordPress website, WooCommerce, Google Analytics, Facebook, and more. TinyEmail has fewer built-in integrations and more limited third-party connections.
7. Pricing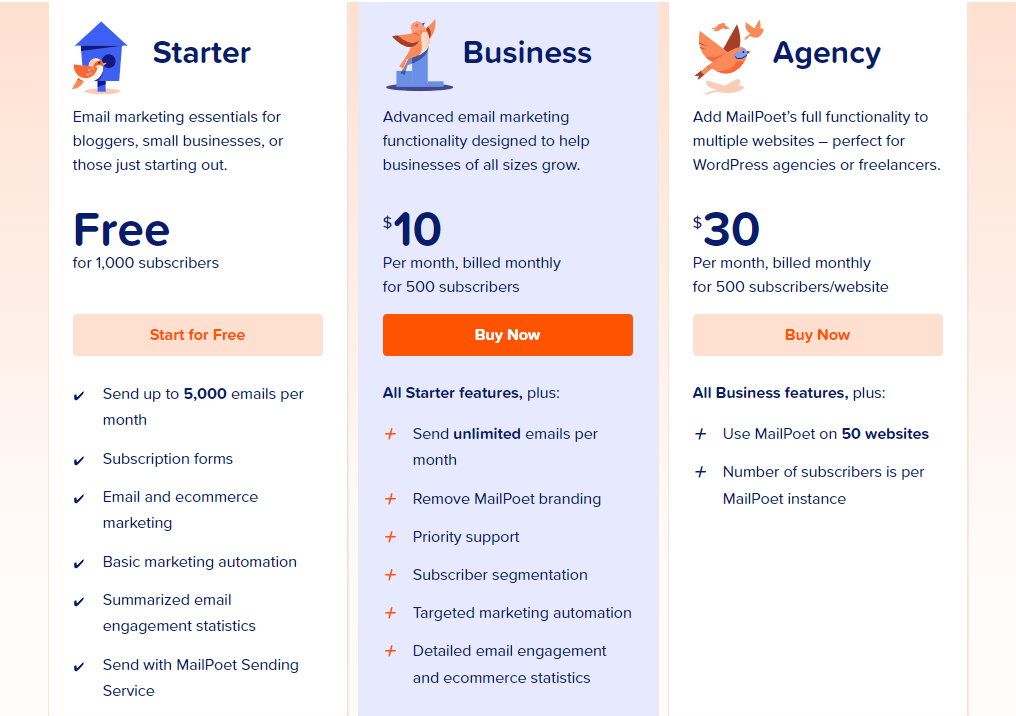 MailPoet offers a free forever plan including:
Emails to 5,000 subscribers
Basic templates and customization
Standard features like segmentation and automation features.
Paid plans start at $10/month for 500 subscribers. Premium plans scale up to 100,000+ subscribers.
Key paid features include advanced analytics, priority support, additional design tools, and the Sending Service for dedicated deliverability.
Overall, MailPoet provides substantial value and capabilities even in its free plan. Reasonably priced upgrades provide more advanced features, such as unlimited emails for businesses scaling their email marketing.
TinyEmail has a free version and 3 paid plans ranging from $15 – $65 monthly.
TinyEmail is free to send automated emails to up to 500 contacts. Paid plans start at $15/month for unlimited contacts. The Pro plan is $65/month and comes with additional resources and advanced email automation features like pre-built segments, custom segments, and an AI subject line assistant.
Volume discounts are not available, so the per-contact price is higher with TinyEmail for larger lists compared to Mailpoet.
For small lists under 500, the TinyEmail free plan provides strong value. However, those needing advanced capabilities may find the pricing limiting. TinyEmail pricing works best for smaller email lists.
MailPoet wins for providing excellent features for up to 2,000 subscribers for free forever. TinyEmail's free plan is limited to only 5,000 subscribers and restricts key features. Both platforms are affordable, but MailPoet's free version outshines TinyEmail.
8. Reviews and Reputation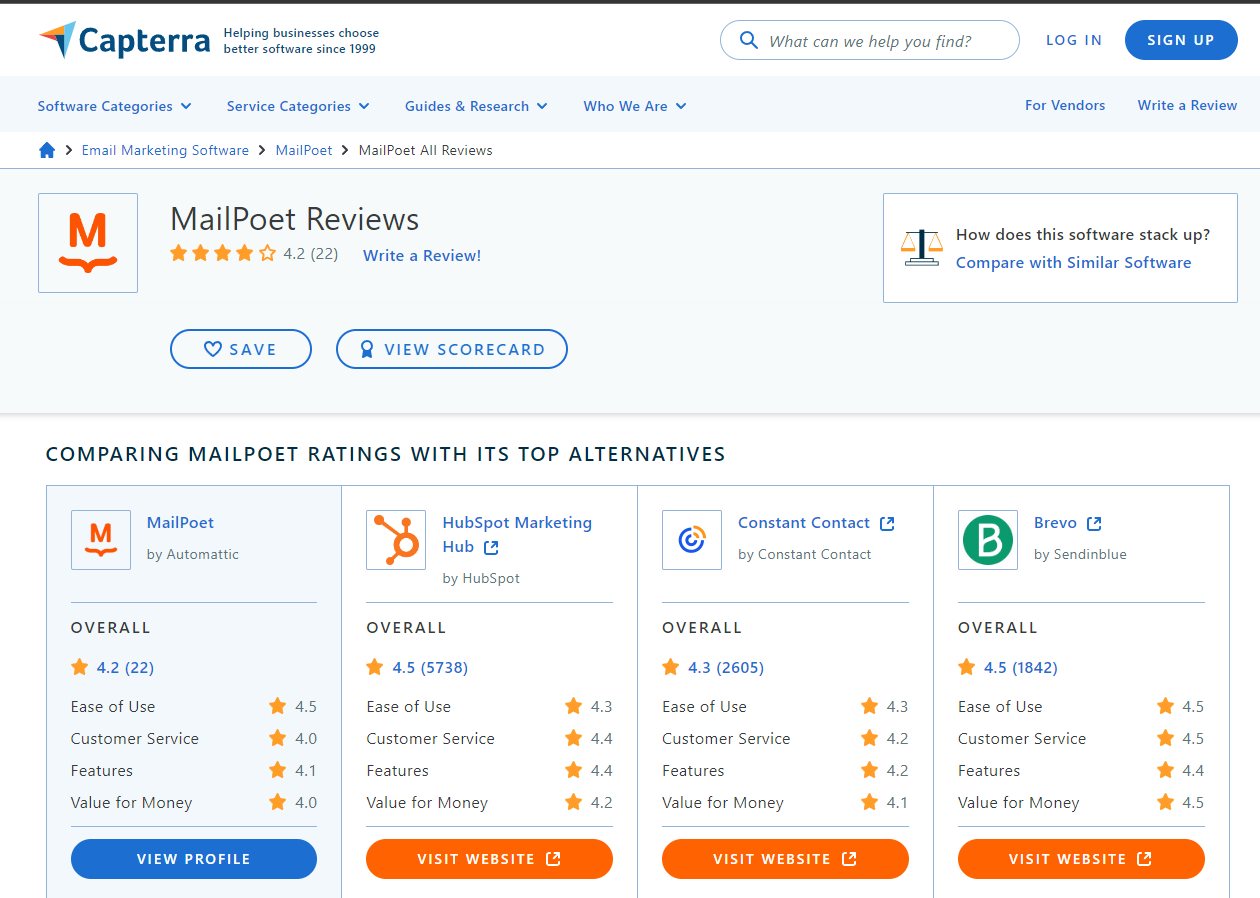 MailPoet earns stellar reviews as the leading email marketing plugin for your WordPress dashboard. It holds a 4.5/5 rating based on 700+ reviews on WordPress.org.
Users consistently praise the platform for its easy-to-use drag-and-drop editor, extensive features, and great templates. Many love how intuitive MailPoet makes creating beautiful, engaging emails.
Some negatives mentioned include occasional glitches with the mobile editor and wanting more template options. But most agree MailPoet is a top-notch solution.
Capterra reviewers give MailPoet a 4.2/5, complimenting the segmentation capabilities, automation, and thorough reporting.
With overwhelmingly positive feedback, MailPoet has earned its reputation as a premier email marketing platform.
TinyEmail earns positive but more mixed reviews, averaging around 4.8/5 across sites like Trustpilot.
Users mention the platform is easy to use with a simple editor. The affordable pricing also appeals to small businesses.
However, some find the features limited compared to competitors. Reviewers want more templates, stronger analytics, and better documentation.
The reviews show that TinyEmail satisfies email marketing basics. However, there are clear areas for improvement around features and support identified by users.
With glowing reviews praising its usability and capabilities, MailPoet emerges as the winner for reputation. TinyEmail earns decent feedback but falls short of MailPoet's stellar ratings and reputation as the market's leading email solution.
9. FAQ's
What types of email campaigns can I create?

MailPoet allows sending a wide range of campaigns from simple newsletters to complex triggered/automated emails like cart abandonment emails.
Is there a limit on subscribers for free accounts?

Yes, the free MailPoet plan includes up to 1,000 subscribers. Paid plans support up to 100,000+ subscribers.
Can I switch email service providers?

Yes, MailPoet integrates with providers like SendGrid and Amazon SES, making it easy to switch ESPs as needed.
Does MailPoet work with WooCommerce?

Yes, MailPoet offers deep integration with WooCommerce for ecommerce email marketing.
Is it easy to customize templates?

Yes, MailPoet's template editor makes customizing fonts, colors, layouts, images, and other design elements simple.
What are the maximum subscribers on free plans?

TinyEmail's free plan supports up to 500 subscribers. Paid plans support up to 100,000 subscribers.
Can I send SMS messages?

Yes, one unique feature of TinyEmail is the ability to send SMS marketing messages.
Is TinyEmail GDPR compliant?

Yes, TinyEmail enables easy GDPR compliance with preference management and consent tracking tools.
Does TinyEmail integrate with my CRM?

TinyEmail offers Zapier integration to connect with many popular CRMs like Salesforce, HubSpot, and more.
How do I improve deliverability?

TinyEmail recommends properly configuring SPF/DKIM records and monitoring inbox placement rates to maintain deliverability.
Final Thoughts
MailPoet is the ideal choice if you want a fully-featured email marketing platform with powerful segmentation, automation, and analytics. It's great for ecommerce businesses thanks to deep WooCommerce integration. The extensive templates, drag-and-drop editor, and multilingual capabilities also make MailPoet a top choice for creative marketing agencies. With a free forever plan and affordable upgrades, MailPoet suits most budgets.
TinyEmail is a great option if you want an easy-to-use email editor at an affordable price. The platform works well for small business owners, bloggers, local businesses, and anyone needing straightforward email marketing and good deliverability without advanced features. Unique capabilities like SMS marketing and webinar promotions add value for some as well.
If you aren't sure if TinyEmail is right for you, consider reading my favorite TinyEmail Alternatives.
Choosing the right email marketing platform is critical for your business growth. Both MailPoet and TinyEmail have their strengths and ideal use cases. We hope this comparison gave you clarity. Feel free to ask any other questions below, and we'll help you determine the best solution for your needs!