Choosing the right website platform is a critical decision for any business owner. Strikingly and WordPress are two of the most popular options in the world. Each has an impressive suite of tools to take your website from idea to creation.
Strikingly is an easy-to-use website builder designed for small businesses, while WordPress is an open-source content management system used by companies and organizations of all sizes.
In this comprehensive Strikingly vs WordPress comparison, we will evaluate how these platforms stack up across key criteria like features, customization, performance, support, and pricing. Understanding the strengths and limitations of Strikingly and WordPress will empower entrepreneurs to select the best platform for their specific needs and goals.
1. Understanding the Basics
Strikingly was founded in 2012 by CEO David Chen, CPO Danyang Liu, and CTO Lei Han. It has quickly grown to become one of the most popular website builders designed for small businesses and entrepreneurs. Strikingly claims over 2 million users and a leading market share in the website builder space.
WordPress launched in 2003 and was co-created by Matt Mullenweg and Mike Little. It now powers over 43% of all websites globally, making it the most widely-used CMS. The platform has an incredibly strong community, as evidenced by the WordPress Facebook group with over 96.2K members.
Both Strikingly and WordPress have become go-to solutions for creating websites. Strikingly simplifies the process for novices while WordPress offers expanded capabilities for larger, more complex sites. Their popularity and market penetration provide credibility to both platforms.
2. Ease of Use
Strikingly prioritizes usability and has an interface designed for simplicity. This is a feature that you'll value as a small business owner. The platform uses a block-based editor that allows users to drag and drop sections to build their site. Minimal technical skills are required.
Strikingly's intuitive dashboard features clear menus and options to guide users. Helpful tooltips explain each step for beginners. Users can easily add pages, multimedia, contact forms, and other elements in just a few clicks. Strikingly also offers numerous templates and themes for quick setup. Its simplicity makes Strikingly easy for novices to start using right away.
The streamlined editor reduces the learning curve substantially compared to traditional CMS platforms. Users don't need to know HTML or coding to build robust sites on Strikingly.
The platform is geared towards small business owners and entrepreneurs who want an easy way to establish an online presence. Strikingly's straightforward approach excels for anyone looking to create a simple website without web development expertise.
WordPress offers a more complex user experience that can challenge beginners. While the core WordPress platform is open source, beginners typically opt for the WordPress.com-hosted solution. This simplifies setup but still involves navigating menus and customization options that may seem overwhelming initially.
Operating WordPress requires understanding concepts like plugins, themes, widgets, and blocks. There is a steeper learning curve compared to dedicated website builders.
While WordPress offers hundreds of themes, beginners may find it difficult to customize them to match their vision. The platform is highly flexible but requires greater effort and technical know-how to mold it to specific needs.
WordPress gives users more power and control compared to Strikingly but isn't as immediately intuitive for novices. Some coding and troubleshooting skills help manage the intricacies of WordPress. Hands-on learning and trial-and-error are required to master WordPress.
Strikingly is the clear winner for ease of use and beginner-friendliness. Its streamlined interface and simplified editor allow you to launch your own website with no coding skills. WordPress offers greater long-term flexibility but requires more effort to utilize effectively.
3. Design and Customization
Strikingly provides users with professionally designed templates to kickstart the website-building process. Whether for business or personal use, you'll find what you need. There are over 100 free templates optimized for industries like fashion, restaurants, agencies, portfolios, and more.
Users can easily customize templates by modifying colors, fonts, and layouts with the built-in builder tool. The editor makes it simple to arrange and style sections without coding. However, Strikingly templates are more constrained compared to WordPress themes. There are limits to how much existing templates can be modified.
While Strikingly prioritizes simplicity, users have options to enhance customization like adding CSS or HTML code on individual pages. Strikingly also automatically optimizes websites for mobile responsiveness across devices. Users don't have to take special steps to ensure their site looks good on smartphones. Overall, Strikingly offers a simplified design configuration compared to other platforms.
WordPress users can access thousands of customizable themes to make their sites unique. Both free and premium themes exist, many with multiple style and layout options. Users can fine-tune everything from color palettes to fonts to page widths. For maximum flexibility, experienced users can edit theme code and CSS. WordPress makes it easy to create nearly any design imaginable.
In terms of mobile optimization, WordPress responsiveness depends on the theme. Some are device-ready while others require extra configuration. Users may need to tweak theme settings or use plugins to enable responsive features. While Strikingly handles mobile optimization automatically, WordPress gives users more control over the process.
Both WordPress and Strikingly have a lot to offer, but WordPress is the clear winner for design flexibility and customization. Its expansive theme library and editable code base allow for personalized sites. Strikingly provides easier point-and-click modification but cannot match the nearly endless possibilities of WordPress design. Also, WordPress is mobile friendly and comes with simple plugins for ecommerce and service tools.
4. Features and Functionality
Blogging Tools
Strikingly enables users to create blog posts as part of their website. The platform allows you to choose a relevant blogging template and supports standard blogging features like categorization, tagging, and formatting to help you create the best website possible.
Users can write posts using Strikingly's visual editor which allows for basic text styling and multimedia embedding. There is also a basic WYSIWYG editor to craft blog content quickly.
However, Strikingly's blogging capabilities are quite limited compared to dedicated CMS platforms. For example, there is little ability to customize the blog section design or layout in Strikingly's website builder tool. Features like comments, RSS, and newsletters are not supported natively but can be added through third-party integrations. Overall, Strikingly offers a streamlined but constrained blogging experience.
Blogging is the core strength of WordPress. The platform offers robust tools and customization for building feature-rich blogs. Users have control over blog post layouts, designs, menus, sidebars, and more. WordPress supports commenting, subscriptions, user roles, and any other functionality expected from a premium blogging platform.
Thousands of free plugins extend WordPress' blogging capabilities even further. There are SEO and social sharing plugins, related posts widgets, contact forms, newsletter integrations, and everything else needed to cultivate an audience. For serious blogging, WordPress is hard to beat.
WordPress vs Strikingly: Which is better for blogging? With its deep blogging tools, WordPress is the clear winner for content creation functionality. Strikingly offers only basic blogging capabilities as it is geared more towards simple websites. For anyone wanting to launch a blog, WordPress offers vastly superior features and customization to Strikingly.
E-commerce Capabilities
Strikingly provides basic e-commerce functionality for users looking to sell products or services on their site. Its built-in store capabilities allow users to add a shopping cart, manage inventory, process orders, and collect payments. Strikingly also includes mobile commerce support.
However, Strikingly's e-commerce features are quite limited. The platform only supports 10 product types and does not handle complex catalog management well. There are few customization options for store design or layouts. Promotions, discounts, and advanced shipping options are lacking. Strikingly is suitable for very small shops but lacks the robust features expected from dedicated e-commerce platforms.
Transforming a WordPress site into a fully-featured online store requires installing a separate e-commerce plugin. Popular options like WooCommerce and Easy Digital Downloads integrate tightly with WordPress. Once activated, users gain access to detailed product pages, carts, promo tools, gateways, and sophisticated shipping capabilities.
Thousands of free and paid add-ons further expand WordPress' e-commerce powers. The platform can scale to handle huge product catalogs and complex B2B and B2C storefronts. WordPress offers unmatched flexibility and control for users wanting to deeply customize their online shops. It excels as an e-commerce platform.
WordPress is the clear winner for e-commerce functionality thanks to its expansive capabilities provided through plugins like WooCommerce. Strikingly simply cannot match the powerful catalog management, promotions, product videos, galleries, and customization WordPress enables. For any online merchant, WordPress is a superior choice over Strikingly.
SEO Tools
Strikingly provides basic built-in SEO features like meta title and description tags, alt text for images, and 301 redirects. It also offers sitemaps and automatically optimized page URLs. However, Strikingly lacks more advanced optimizations seen in WordPress. There are limited options for structural markup, XML sitemaps, or custom canonical tags.
Integrating third-party SEO tools with Strikingly can be challenging. The platform does not make it easy to insert custom JavaScript tracking code. Strikingly is suitable for covering the basics of on-page optimization but falls short of serious SEO enhancement. It caters more to novice users than marketing experts.
In contrast, WordPress offers robust SEO capabilities out of the box. It supports advanced functionality like XML sitemaps, customizable meta tags, and rich snippets markup. WordPress also makes it easy to deploy optimization plugins for things like site search, broken link checking, SEO-friendly URLs, and more.
Thousands of SEO plugins exist for WordPress, enabling marketers to incorporate anything from schema markup to API integrations. It integrates seamlessly with analytics platforms. The customizable nature of WordPress means developers can augment SEO capabilities however they choose.
With its expansive SEO toolset and plugin ecosystem, WordPress easily bests Strikingly for search optimization features. Strikingly only supports limited basic metadata options. For anyone serious about SEO, WordPress offers far greater optimization potential than Strikingly.
Integrations
Strikingly offers a small selection of integrations with third-party tools like email marketing, analytics, payments, and live chat platforms. Users can connect their Strikingly site with solutions like MailChimp, Google Analytics, PayPal, and Tidio chat. However, integration options are limited compared to WordPress.
Strikingly does not provide much customization or control over how integrations are implemented. Support for Zapier and webhooks is lacking. Experienced users may find Strikingly's integrations insufficient for complex needs or advanced workflows. The platform caters more towards enabling basic functionality over robust customization.
With WordPress, users can augment their site experience through thousands of plugins. Integrations exist for email marketing, SEO, analytics, payments, forms, live chat, and countless other tools. Leading platforms like MailChimp, Google Analytics, Zapier, and Pabbly all integrate seamlessly with WordPress sites.
Experienced developers can also build custom integrations tailored to specific needs. WordPress makes it easy to embed external tools, leverage APIs, and connect systems exactly how users require. Its flexibility provides nearly unlimited options for third-party integrations.
WordPress is the clear winner for its vast integration ecosystem. Strikingly only supports connecting basic, common tools in pre-defined ways. You can build a simple store, but with WordPress, anything is possible thanks to extensive plugins and custom integration capabilities. It outshines Strikingly for weaving external tools into site experiences.
Analytics and Reporting
Strikingly provides basic built-in analytics to help users understand traffic to their site. Its dashboard displays top-level visits, page views, and referral data. Users can view popular pages and content on their site. Strikingly also integrates with Google Analytics for more detailed reporting.
However, Strikingly lacks the advanced analytics functionality seen in WordPress. There are no custom dashboards, in-depth behavior tracking, or data exports. All reporting is handled through the Strikingly dashboard which is constrained in scope. Experienced users may find analytics capabilities limited.
WordPress enables robust analytics tracking through plugins like Google Analytics by MonsterInsights. This provides in-depth behavior data, campaign tracking, custom dashboards, and other powerful reporting functionality. Thousands of other analytics integrations are also available.
For technical users, WordPress makes it easy to add custom tracking scripts or leverage analytics APIs. Developers can pull data directly from the WP database to craft custom reports. WordPress can be augmented to capture and expose analytics as needed. Data accessibility is unmatched.
WordPress vs Strikingly: Who has more robust analytics? With its vast analytics integrations and custom reporting capabilities, WordPress easily bests Strikingly for insights. Strikingly only provides high-level built-in tracking. For in-depth analytics, WordPress' flexibility and developer access enable far deeper insights than Strikingly can offer.
5. Website Performance
Website Speed and Load Times
Strikingly builds all sites on its proprietary CDN which automatically optimizes sites for fast performance. Pages are served from nearby servers to reduce latency. Strikingly also handles image compression, minification, caching, and other optimizations automatically in the background.
Average load times for Strikingly sites are quite fast, often under 2 seconds according to third-party tests. However, users have little control over how sites are optimized. There are no options for caching plugins, custom CDN configuration, or modifying server behavior. Performance is simplified but less customizable.
In WordPress, site performance depends greatly on hosting setup and configuration. Optimizing WordPress load times requires choosing fast web hosting and implementing performance best practices manually. Caching and CDN plugins can significantly improve WordPress speed.
Experienced WordPress users can fine-tune server caches, leverage cloud CDNs, enable HTTP/2, minify assets, and use many other advanced optimization techniques. While more hands-on effort is required, ultimate performance potential surpasses Strikingly.
Winner: Tie
Strikingly and WordPress offer fast performance but with a different approach. Strikingly simplifies optimization on their proprietary infrastructure while WordPress offers greater customization and scalability. For most mainstream use cases, speed should not be an issue on either platform. This results in an effective tie between Strikingly and WordPress for site performance.
Website Reliability and Uptime
As a hosted website builder, Strikingly handles all reliability and uptime management for users. Sites are hosted on Strikingly's cloud infrastructure which is designed for high availability. Historical uptime rates exceed 99.9% according to Strikingly's published stats.
However, users have no visibility or control over the hosting environment. There are no options for custom domains, backups, or moving sites off of Strikingly's platform. Users must depend entirely on Strikingly for continuous uptime. A major outage could take down all of a user's sites. Reliability is non-transparent.
With WordPress, reliability depends heavily on the hosting provider chosen. Top-tier hosts can deliver excellent uptime with redundancies across data centers. Many also enable automated backups, disaster recovery protections, and easy site migration.
Experienced WordPress users can further enhance reliability through caching, performance optimizations, and following hosting best practices. While more hands-on effort is required, WordPress sites can be made highly resilient through careful infrastructure decisions.
WordPress offers greater transparency and control over reliability. Strikingly uptime may be adequate but lacks visibility. With WordPress, users can assess hosting quality and implement customized reliability enhancements as needed. This hands-on flexibility delivers an uptime advantage over Strikingly's one-size-fits-all infrastructure.
6. Customer Support and Community
Strikingly provides customer support through email and an online knowledge base. Support is limited to paying Strikingly users only. Average response times are 1-2 business days. Phone and live chat support are not available, only email. Resources like documentation, tutorials, and webinars exist but can be limited.
The Strikingly user community is relatively small. A few groups exist on Facebook but most have less than 1,000 members. There is no central hub or forum space for Strikingly customers to connect and get peer assistance. Support depends heavily on Strikingly's in-house team.
WordPress offers various tiers of customer support depending on the provider. Hosts like WordPress.com have 24/7 live chat while self-hosted WordPress requires do-it-yourself troubleshooting. There is extensive official documentation and guides for self-help.
The WordPress community is massive, with places like the WordPress Support Forums and WordPress Stack Exchange fielding millions of questions. The open-source nature of WordPress fosters a vibrant user community supporting each other.
WordPress vs Strikingly: Which platform offers better customer support? WordPress edges out Strikingly when it comes to customer support, thanks mainly to its enormous community resources. While official support quality varies, the breadth of community-created solutions makes solving nearly any WordPress issue possible. Strikingly's smaller user base cannot match this.
7. Pricing
Strikingly offers free and paid website builder plans. The free option allows one site with basic features while paid plans unlock more sites, storage, custom domains, and advanced features. Pricing ranges from $8 to $49 per month depending on needs. All Strikingly plans include hosting.
One downside is that users cannot access their Strikingly site's files or data if they cancel their subscriptions. The ease of use comes at the cost of vendor lock-in. Overall pricing is competitive for an all-in-one website builder solution.
WordPress.org open source software is entirely free to download and use. However, users must arrange their own web hosting which has additional costs. Shared hosting plans typically start around $5 – $10 monthly. Factor in domain registration, security, and performance enhancements, and expenses can rise.
The flexibility of WordPress.org comes at a higher time and money investment. However, skilled users can optimize infrastructure to efficiently operate sites. Self-hosted WordPress can be very cost-effective at scale.
Winner: Tie
For simple personal sites, Strikingly has more predictable costs while serious publishers may minimize expenses through WordPress.org optimization. Different use cases lend themselves to either solution – Strong small business websites can be developed within Strikingly's constraints at reasonable costs for most users. This results in a pricing tie.
8. Reviews and Reputation
Strikingly earns positive reviews for its ease of use and simplified site-building process. Many reviewers on sites like TrustRadius and Capterra praise the platform for enabling novices to quickly launch sites. The modern templates and UI are also frequently highlighted as strengths.
Many people who use Strikingly compare WordPress and provide feedback centers around its limited customization options compared to its counterpart. Reviewers note it works best for simple sites, not advanced use cases. There are also complaints about high pricing for additional features. But overall, Strikingly maintains a strong reputation.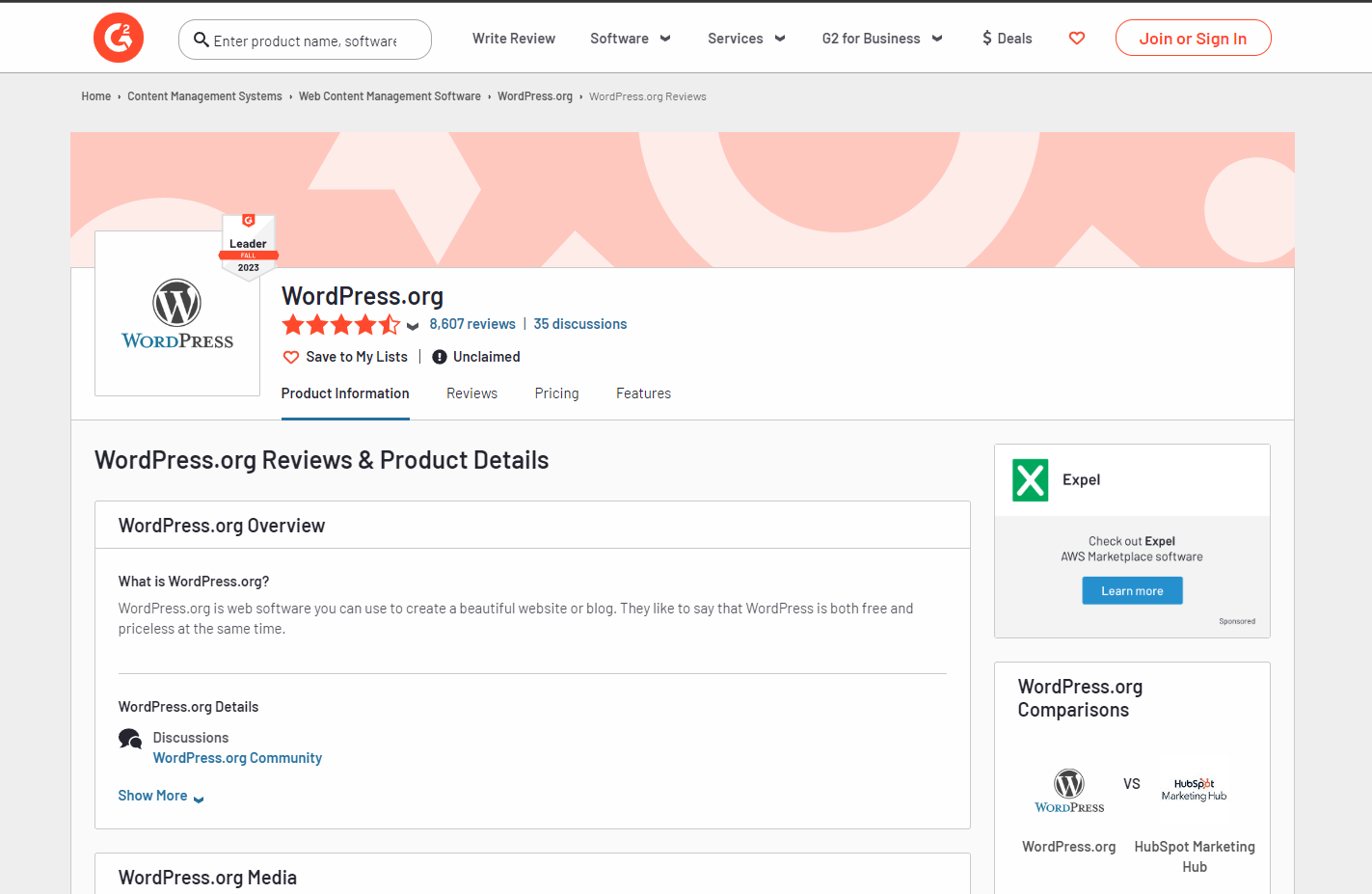 Across Capterra, G2, and other sites, WordPress garners outstanding reviews for its customization capabilities, open-source model, vast plugin selection, and value delivered. Users repeatedly praise its flexibility and virtually endless feature potential.
Common complaints focus on WordPress's steep learning curve for novices. Without development skills, building complex sites on WordPress can prove challenging according to some reviews. But for most use cases, WordPress satisfies users with its expansive possibilities. The platform carries strong brand recognition and reputation.
Winner: Tie
WordPress vs Strikingly – Which platform has better online reviews? Both Strikingly and WordPress maintain excellent reputations and satisfy users needing different things. Strikingly's simplicity wins fans while WordPress's customization does the same. Both platforms have high customer satisfaction scores across review sites. This results in an effective tie.
9. Website Builder FAQs
What is Strikingly best suited for? Strikingly is optimized for simple, elegant sites like personal portfolios, small business websites, and basic online stores. It's beginner-friendly but lacks advanced functionality.
Does Strikingly have e-commerce features? Yes, Strikingly provides basic store capabilities like a shopping cart and payment processing. However, catalog management and promotions are limited compared to dedicated e-commerce platforms.
Is Strikingly really free to use? Strikingly offers a free plan but it only allows one site. Multiple sites, custom domains, advanced features, and greater storage require upgraded paid plans.
Is WordPress easy for beginners to use? WordPress has a steeper learning curve compared to dedicated website builders like Strikingly. Leveraging its full capabilities requires technical expertise.
Can WordPress be used for e-commerce? Yes, WordPress can power robust online stores through plugins like WooCommerce. Its customization and scalability make it a top choice for e-commerce sites.
Does WordPress have free options? The open-source WordPress software is free, but users need web hosting. WordPress.com offers free plans with limits, while self-hosting is more flexible but requires server costs.
Final Thoughts
I hope this WordPress vs Strikingly review has helped you determine the right choice for you. If you're still not sure, here are my recommendations.
Strikingly is the best choice for beginners who want a simple, elegant site up and running quickly. With its drag-and-drop editor, premade templates, and intuitive interface, non-technical users can easily build a professional online presence. Strikingly works well for personal sites, blogs, and basic online stores.
If you'd like to learn more about this website builder, check out my Strikingly review for more info.
Alternatively, take a look at how Strikingly compares against other site builders:
WordPress is the superior option for advanced users wanting maximum control over their website. Its open-source flexibility and vast plugin ecosystem enable everything from advanced blogging to customizable e-commerce stores. Technical expertise helps unlock WordPress' vast possibilities.
Also, make sure to check my WordPress comparison articles for more info:
Selecting the right platform is critical for meeting online business needs and goals. Carefully consider the use case, required features, and level of customization desired. Both Strikingly and WordPress can be great solutions for different audiences. Please ask any questions in the comments and we're happy to provide personalized recommendations!