Choosing the right website builder is one of the most important decisions an entrepreneur makes when starting a business online. With so many options on the market, settling on the best platform for your needs can feel overwhelming.
In this Webflow vs Strikingly comparison, we'll be looking at two popular and capable options—Webflow and Strikingly—to help you determine which is the better choice for your business website. Webflow and Strikingly are two leading website builders that make it easy to create beautiful, functional sites without needing to code.
They share some common strengths but also have key differences that impact their suitability for different types of web designers. We'll be comparing them across criteria including market position, ease of use, customization options, built-in features, performance, customer support, pricing, and reputation.
1. Understanding the Basics
Webflow was founded in 2012 by Vlad Magdalin, Sergie Magdalin, and Bryant Chou. It quickly became a leader in no-code web design, empowering entrepreneurs to create custom, professional websites without coding.
With over 4 million users as of 2022, Webflow holds a strong position in the website builder market. Some popular Webflow community groups on Facebook include Webflow Masters with over 13,000 members and Webflow Experts with over 5,000 members.
Strikingly launched in 2012 as well, founded by David Chen, Danyang Lin, and Timo Tao. It has attracted over 1 million users globally, establishing itself as a major player for business website builders. Strikingly has an active Facebook group called Strikingly Users with close to 3,000 members.
Both platforms have been around for over a decade and built large user bases of business owners, designers, and developers attracted to their no-code web creation capabilities. Webflow does have the edge when it comes to popularity and market share.
However, Strikingly maintains an engaged community of loyal users. Joining relevant Facebook groups can connect entrepreneurs to helpful discussions and resources around either platform.
2. Ease of Use
Webflow utilizes a visual editor that allows users to add and customize elements by dragging and dropping. This intuitive WYSIWYG (what you see is what you get) interface is great for beginners who want to jump right into designing sites. No coding knowledge is required to start building on Webflow. The learning curve is relatively low, especially compared to traditional web development.
The Webflow interface provides clear menus and options so users can easily access the tools they need. Webflow also has a "Show Me How" feature with handy tutorial videos for performing common tasks like adding content or setting up e-commerce. Overall, Webflow offers a user-friendly experience that makes website creation highly accessible.
Strikingly also uses a visual drag-and-drop editor to help users build professional sites without coding. The intuitive interface allows even total beginners to start creating pages and adding content quickly. Strikingly's guided setup helps you through initial steps like selecting templates, and colors, and arranging basic page elements.
However, Strikingly provides less flexibility for customization compared to Webflow. The range of options can feel limiting for designers who want more creative control. The interface can also sometimes feel cluttered with ads for premium upgrades. Strikingly is easy to use for launching simple sites, but provides a less streamlined experience than Webflow overall.
So, which is the best website builder in terms of ease of use? Webflow comes out ahead with regard to user experience. The interface is polished, and uncluttered, and offers a wider range of customization options compared to Strikingly.
Webflow's drag-and-drop editor empowers beginners to build websites intuitively while also providing advanced functionality for experienced users. The learning curve is minimal, allowing users to be productive faster.
3. Design and Customization
Webflow offers a wide selection of professionally designed templates to choose from across over a dozen categories. Users can browse templates for specific industries like restaurants, fashion, and more. The templates are highly customizable – Webflow allows you to change colors, fonts, and layouts and add your own branding elements with just a few clicks.
Webflow also makes it easy to create completely custom designs and web pages from scratch using its intuitive drag-and-drop editor. You have full control over each element on the page. Webflow was built mobile-first and automatically optimizes websites to look great on all devices. You can visually design mobile menus and review mobile previews.
Strikingly provides templates aimed at small businesses and online stores. The template selection is more limited compared to Webflow, with less ability to heavily customize the initial designs. There are only basic options for changing colors, fonts, and arranging elements offered.
Strikingly does optimize for mobile, ensuring sites look presentable on phones. However, advanced mobile design functionality like movable elements or responsive breakpoints is lacking. The customization and design features cater more to beginners seeking a quick simple site.
Webflow is the clear winner when it comes to design flexibility and customization capabilities. The web hosting platform has an extensive template library and offers the freedom to individually style elements using the visual editor. This makes it easy to create on-brand, professional designs. Webflow also has superior mobile design features like movable elements and responsive breakpoints. For business owners who value design, Webflow is the preferable choice.
4. Features and Functionality
Blogging Tools
Webflow includes built-in support for adding blog posts and creating multi-author blogs. The blog post editor uses Webflow's intuitive visual interface, allowing you to style posts with images, videos, custom fonts, and other media. Posts are easily optimized for SEO as well with customizable URLs, meta descriptions, and structured data.
Webflow blogs have features important for professional sites like categories/tags, author pages, comment moderation, and newsletter integration. Webflow also enables bloggers to publish directly to Contentful or WordPress with the click of a button. Compared to other website builders, Webflow provides a full-featured blogging solution that doesn't require coding knowledge.
Strikingly has basic blogging capabilities for adding blog posts to your site. You can include images and other media in posts with the visual editor. However, advanced blog functionality like post scheduling, categories, SEO optimization, and newsletter integration is lacking compared to Webflow.
Strikingly's blogging features cater more towards personal blog sites vs professional multi-author blogs. Those needing to manage complex blogs with many contributors may find Strikingly's tools too limited. But for simple business blogs, Strikingly provides enough to get started.
Webflow is the clear winner for built-in blogging capabilities. It enables powerful, customizable blogs perfect for businesses needing professional features like multi-author management, SEO optimization, scheduling, and integration with email marketing platforms. Strikingly offers a more basic blogging solution suitable for personal sites or very simple business blogs.
E-commerce Capabilities
Webflow provides robust built-in e-commerce functionality to create full-featured online stores without coding. You can add shoppable product galleries, customizable cart and checkout pages, and multiple payment options like Stripe, PayPal, and Square.
Other seller-focused features include coupon codes, customer accounts, inventory management, shipping calculators, and the ability to highlight sales, new arrivals, and best sellers. Webflow also makes it easy to manage orders and fulfillment. This means you can run and manage your entire online business from one place. No need to hire an expensive web designer or integrate additional tools.
Overall, the Webflow web design tool supplies everything an online retailer needs to build a complex or simple website and run a professional e-commerce operation right from the user-friendly visual editor.
Strikingly offers simple e-commerce capabilities suitable for small online stores. You can add a product catalog showcasing items available for purchase. Strikingly handles cart management, payments via Stripe, and order tracking.
However, you are limited to Stripe for payments. More advanced e-commerce functionality like coupons, custom checkout processes, and order management capabilities are lacking compared to Webflow.
Strikingly caters more to entrepreneurs interested in supplementing a website with a simple online catalog vs operating a full-scale online storefront.
Webflow is the clear winner when it comes to robust e-commerce features for operating feature-rich online stores. Strikingly only offers basic product catalog capabilities in comparison. For any seller needing professional inventory management, diverse payment options, and customizable cart/checkout processes, Webflow is the preferable choice.
SEO Tools
Webflow makes on-page SEO easy with built-in tools to optimize pages and content for search engines in just a few minutes. You can create human-readable URLs, customizable meta descriptions for better snippet display, and add structured data for improved indexing.
Webflow also provides SEO-friendly blog features like tags. The platform generates clean code and webpages comply with best practices like proper HTML headings tags.
Like most other website builders, Webflow integrates with Google Analytics for monitoring metrics. The Webflow community also shares helpful SEO guides and tips in the Forum section. Overall, Webflow supplies site owners with tools to implement SEO best practices without extra plugins.
Strikingly has basic on-page SEO capabilities like customizable page titles and meta descriptions. However, more advanced features like URL rewriting, blog tags, or structured data integration are lacking compared to Webflow.
Strikingly does not provide much guidance or education around optimizing sites for search. Users may need to depend more on external SEO tools and research to maximize discoverability. But Strikingly covers SEO basics well enough for small sites.
Webflow provides a much more extensive suite of SEO tools out of the box for websites created on the platform. Strikingly sticks to just title and meta description optimization. If you want more in-depth SEO features, you may have to hire a web developer. For business owners who value search discoverability, Webflow's SEO capabilities make optimizing a site far easier.
Integrations
Webflow offers robust integration with hundreds of third-party apps and services via Zapier. This makes it easy to connect Webflow sites with popular tools like MailChimp, Salesforce, Google Sheets, Calendly, and more.
Webflow also has its own dedicated integrations for Webflow CMS and e-commerce. Notable integrations include CMS collections syncing with Airtable or Google Sheets and one-click deployment to WordPress or Netlify.
The Webflow community has built various custom integrations accessible via the Webflow App Store. Overall, Webflow provides excellent integration capabilities to sync sites with other platforms.
Strikingly has limited built-in integration capabilities compared to Webflow. You can connect a Strikingly online store with PayPal for processing payments. Strikingly also enables embedding certain content from YouTube, Google Maps, Calendly, etc.
But advanced integrations with marketing, sales, or database platforms are lacking. Strikingly would likely require a third-party tool like Zapier to connect with other apps, adding complexity for users.
Webflow is the winner for its vast integration possibilities with both first-party integrations and Zapier support. Strikingly falls short on pre-built integrations and would require extra effort to connect with common business apps.
Analytics and Reporting
Webflow provides built-in analytics to track site visitors, traffic sources, page views, and other metrics. The dashboard lets you segment data by time period, traffic type, and more to gain insights. For e-commerce sites, Webflow analytics cover conversion funnels, top products, sales, and revenue reporting.
Webflow also seamlessly integrates Google Analytics for more advanced reporting. The platform makes it easy to connect to Google Analytics in just a few clicks with no coding needed. You can also integrate Facebook Pixel and Segment. Overall, Webflow supplies insightful analytics both natively and through integration.
Strikingly provides basic reporting on traffic and visitor trends through its analytics dashboard. You can view metrics like unique visitors, page views, and referrers over specific date ranges. E-commerce sites can also access reporting on product views, orders, and revenue.
However, Strikingly analytics are limited compared to Webflow and Google Analytics. Fewer segmentation options are available and data exporting is restricted. Those needing advanced behavioral analysis, funnel optimization, or segmented reporting may find Strikingly analytics inadequate. But for basic site traffic stats, Strikingly reporting is reasonably robust.
Webflow wins for offering excellent built-in site analytics in addition to seamless integration with leading analytics platforms like Google Analytics. Strikingly analytics provide a usable but basic reporting experience in comparison. For business owners who rely heavily on analytics data, Webflow is the stronger choice.
5. Website Performance
Website Speed and Load Times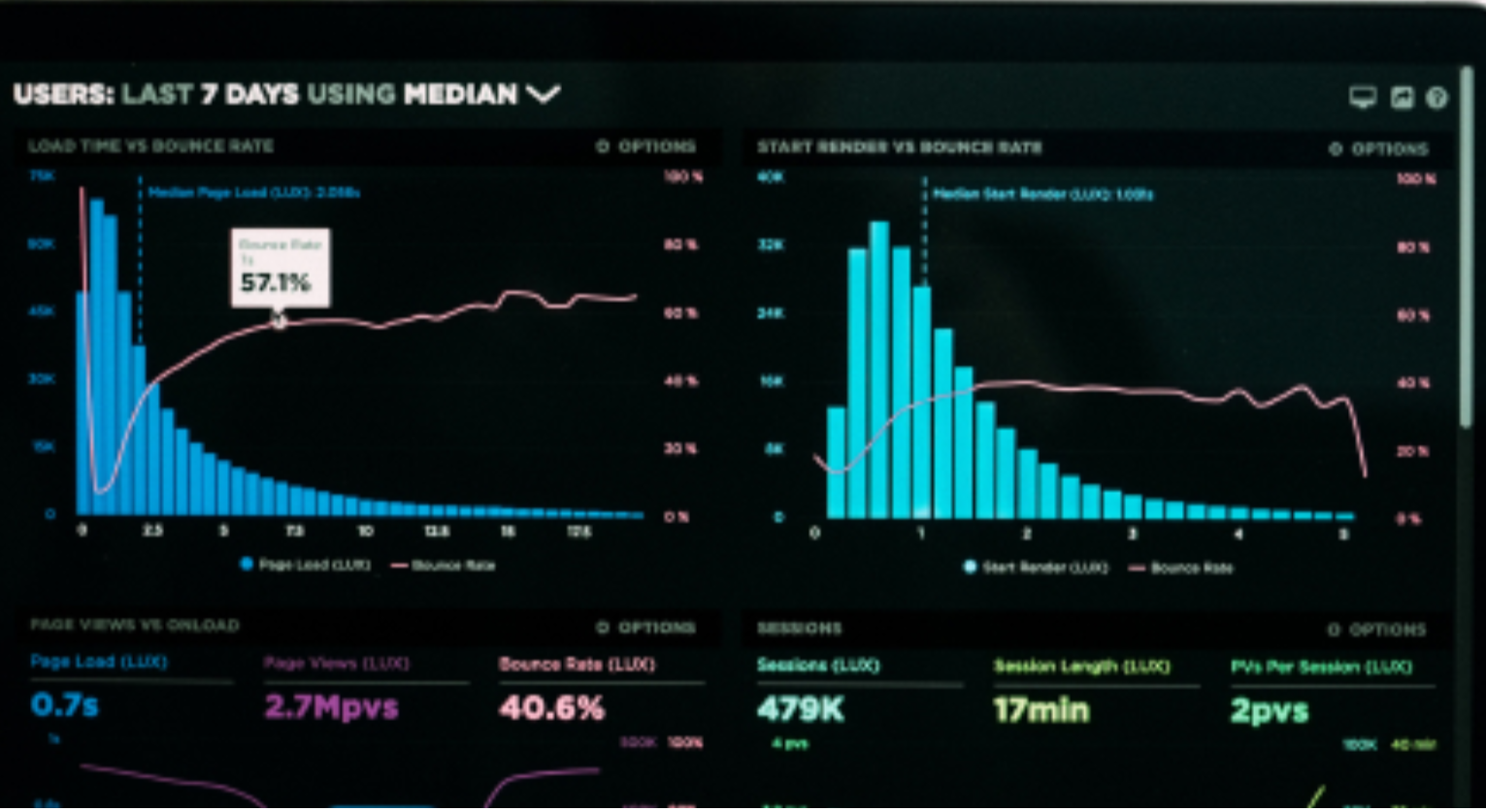 Webflow uses optimized code to deliver excellent page load performance. Pages are served via CDN to enable fast content delivery around the world. Webflow also efficiently loads only critical CSS/JS and defers non-essential elements.
According to Webflow, the platform sees average load times of 1.55s on desktop and 2.51s on mobile. Webflow also earned strong scores of over 90 in performance audits by Google Lighthouse. Overall, Webflow produces highly optimized sites for fast load times.
Strikingly pages load reasonably well, with the platform reporting average load times of 2-3 seconds. However, Strikingly sites are not quite as speed-optimized as Webflow when comparing Google Lighthouse audits.
Strikingly is likely not leveraging deferred non-critical JS or efficient CSS delivery to the same degree as Webflow. Load times are still decent for simple sites, but complex pages with lots of media may load slower.
Webflow emerges as the winner for better-optimized code and faster load times. Webflow sites load quickly thanks to efficient code delivery and worldwide CDNs. For business owners wanting top-notch page speed, Webflow is the best choice.
Website Reliability and Uptime
Webflow promises 99.9% uptime for all customer sites. This high reliability is achieved through hosting sites on enterprise-grade servers and leveraging multiple content delivery networks.
Webflow provides continuous monitoring and redundancy to minimize downtime risks. Historical uptime stats are over 99.95%, reflecting the stability and availability of Webflow sites.
Webflow also has an industry-leading disaster recovery plan, with backups performed every 60 seconds. Overall, Webflow offers excellent reliability you can count on.
Strikingly likewise claims 99.9% uptime for all websites hosted on its platform. Strikingly sites are hosted on cloud infrastructure from major providers like AWS which offer redundancy against outages.
However, Strikingly does not publish historical uptime data for transparency. And its disaster recovery methods are unclear compared to Webflow's real-time backup approach. But there are no prominent complaints about Strikingly downtime.
Webflow emerges as the winner for offering complete transparency around historical uptime and an exceptional disaster recovery methodology. Strikingly also pledges 99.9% but is more opaque about backups and lacks Webflow's track record.
6. Customer Support and Community
Webflow provides 24/7 customer support via live chat, email, and phone. Support agents are knowledgeable about Webflow capabilities and responsive to issues. Webflow also offers a public forum community where users get questions answered quickly.
Active Webflow community Facebook groups exist as well, like Webflow Experts (5,000+ members) and Webflow Masters (13,000+ members). These groups are great sources of inspiration, feedback, and troubleshooting. Overall, Webflow's stellar customer service and engaged community are strong assets.
Strikingly provides customer support during business hours via email tickets. Response times are typically 1 business day. Phone and live chat options are not available, which can frustrate users needing urgent help.
Strikingly does have a modest Facebook user community called Strikingly Users with around 3,000 members. But the group is not very active. Strikingly's customer service gets the job done but lacks Webflow's responsiveness.
Webflow stands out for exceptional 24/7 customer support via multiple channels and a vibrant user community across groups and forums. Strikingly's more limited email-only support and smaller Facebook group are less compelling for users needing assistance.
7. Pricing
Webflow offers 4 paid plans, including a free website plan:
Free Starter Plan ($0/month) – 1 entry-level site, 2 pages, 50 CMS items
Basic Plan ($16/month) – 1 basic site, 150 pages, 500 form submissions
CMS Plan ($23/month) – 1 content-rich site, custom domain, 3 content editors
Business Plan ($39/month) – Business site, 10 content editors, form file upload
Overall, Webflow is competitively priced for the robust feature set included at each tier.
Strikingly has 3 primary plans:
Limited Plan ($8/month) – 1 site, 100MB storage
Pro Plan ($16/month) – 5 sites, 500MB storage
VIP Plan ($49/month) – Unlimited sites, 2GB storage, 0% transaction fees
Strikingly charges add-ons for features like e-commerce that are mostly included with Webflow's core plans.
Webflow wins for providing greater value for the money at competitive price points. Strikingly plans can appear cheaper but nickel-and-dime users need common e-commerce and customization features. Webflow pricing remains honest.
8. Reviews and Reputation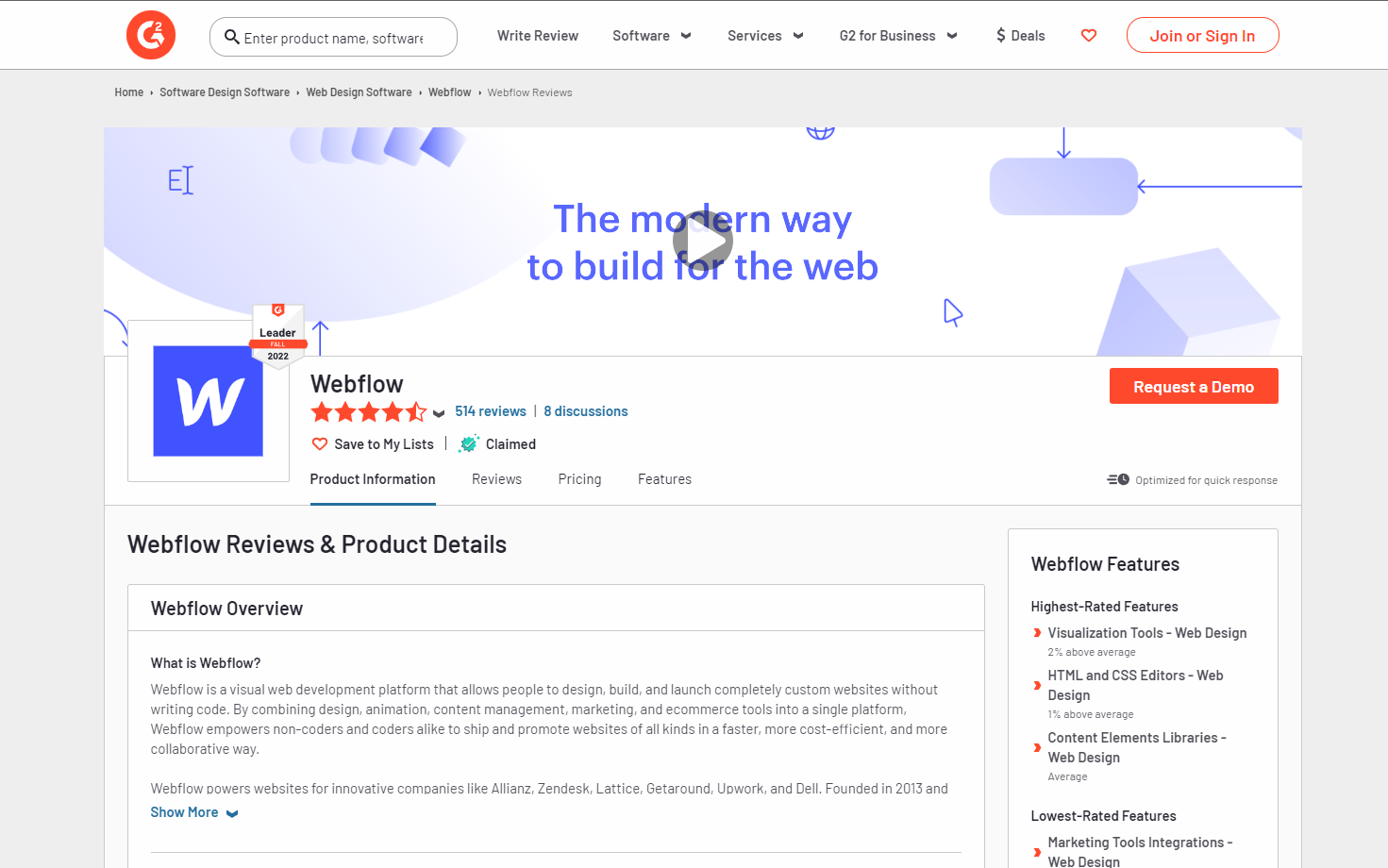 Webflow is highly acclaimed for its visual web-building capabilities and robust feature set. It earns praise for enabling non-coders to create professional, custom sites easily. Users compliment the intuitive drag-and-drop editor and extensive design flexibility.
Webflow is considered a top website builder by reputable review sites like PCMag and TrustRadius, earning high ratings and praise. Users do acknowledge a learning curve but find Webflow's customer support helpful when getting started. Overall, Webflow enjoys a very positive reputation.
Strikingly earns solid reviews as an easy-to-use website builder for launching basic sites quickly. Users like the straightforward editor and polished templates for small business sites. The ability to get online fast is commonly praised.
However, more advanced users find Strikingly's customization and feature limitations too restrictive. There are consistent complaints about upsells for add-ons that competitors include at no extra cost. But for simple sites, Strikingly satisfies many owners.
Based on in-depth reviews, Webflow emerges as the winner for its unmatched design flexibility, robust feature set, and long-term value. Strikingly receives positive feedback but is clearly better suited for simple sites vs advanced functionality.
9. FAQ's
What kind of sites can I build with Webflow?Webflow can create all types of professional websites – business/marketing sites, blogs, online stores, portfolios, and more.
Do I need to know how to code to use Webflow?No coding knowledge is required. Webflow has an intuitive drag-and-drop visual editor for designing sites.
Can I easily customize the templates in Webflow?Yes, Webflow makes it simple to customize colors, fonts, and layouts, add your own branding, and modify other design elements without coding.
How much does Webflow cost?Webflow offers 4 paid plans ranging from $12/month to $36/month based on number of sites, storage space, and features needed.
Does Webflow have good SEO features?Yes, Webflow has built-in tools to optimize for SEO like customizable meta descriptions, blog tags, and more.
What types of websites can I make with Strikingly?Strikingly is designed for simple business/personal websites, online stores, and blogs. It's less ideal for complex portfolios.
Do I need coding experience to use Strikingly?No coding is required. Strikingly has an easy drag-and-drop editor.
Can I extensively customize the template designs in Strikingly?Not as much as other builders. Options are limited to basic edits like color, text, and arrangement.
What does Strikingly cost?Strikingly starts at free and offers paid plans from $8-$16/month. Add-ons cost extra.
Does Strikingly have good SEO optimization?Strikingly covers basics like customizable page titles and meta descriptions but lacks advanced SEO functionality.
Final Thoughts
Webflow is the best choice for entrepreneurs and designers wanting maximum creative freedom to build custom, professional websites. With its intuitive drag-and-drop editor and vast capabilities, Webflow empowers you to bring any design vision to life without coding. It's the ideal platform for business owners who value flexible, robust tools to build high-performing marketing sites, e-commerce stores, blogs, and more.
Take a look at my Webflow review if you'd like to learn more about this site builder.
Also, these comparisons may help you understand how Webflow performs against other website builders:
Strikingly is a great option for entrepreneurs focused on launching a simple, beautiful website quickly and easily. With its stylish templates and straightforward editor, you can get a polished small business or personal site up and running very rapidly. It's perfect for owners who want a fast online presence without dealing with advanced functionality and customization.
As with Webflow, you can go through my Strikingly review to understand the full capabilities of this website builder.
Alternatively, check out how Strikingly compares against other site builders:
Choosing the right website builder for your business goals and technical needs is critical to success. If you have any other questions after reading this comparison, please ask them in the comments section below! We're happy to provide additional guidance to help you select the ideal platform and get your website successfully up and running.