The days of using stock photos are over. Today, your followers and fans demand the best images. Fortunately, my team and I have tested dozens of image and vector editing tools and have discovered the best graphic design software currently available:
Graphic design is all about creating visual content to communicate a message.
Graphic design software refers to the tools used in creating and editing different visual materials, from small postcards, invitations, and posters to websites, brochures, books, and magazines.
The current market size for global graphic designers is estimated at $43.4 billion and is slated to grow in the future. However, countless graphic design tools are on the market, and choosing the best graphic design software can be surprisingly tricky.
That's why I've written this article.
I have used many different graphic design software tools, including numerous website builders, including those designed for graphic designers, while building my blog and online business. I've used my experience to research and put together my top picks to make it easier for you to choose the best graphic design software for your needs. When you have the right graphic design software, the limitations are endless.
I analyzed the design tools, interface, special features, and price.
What is the Best Graphic Design Software?
I've mixed in free and paid graphic design software in this list. Keep in mind that, unlike the paid-for programs, free graphic design software may not have the powerful features that you need to create stunning visuals.
Best overall graphic design software ($20.99/month)
Adobe Photoshop provides robust photo editing tools for graphics and photos. It has all the essential tools in the pro version, such as text overlay and complex features like file size control.
This Adobe software works on Windows and Mac and has a bit of a steep learning curve compared to drag-and-drop software – but it also has a broader range of functionality and control.
In short, Adobe photoshop is the best imaging and graphic design software with a wide range of graphic design elements. As a result, it is at the core of virtually all creative projects – from image editing and compositing to animation, digital painting, and graphic design.
They allow users to join the "Adobe Creative Cloud," which includes Photoshop along with Adobe Illustrator, InDesign, Premiere Pro, XD and Acrobat DC. Considering the price, the suite of Adobe products gives users targeted workspace layouts, which is an absolute steal for serious graphic designers.
Key Features:
Robust Design Tools: Work in 3-D, create custom brushes, isolate elements from the background, raster, layer editing capabilities, etc.
Open Source Gimp Software: Technically-inclined users can download and install the free graphic design software.
Flexible Features: In addition to image editing, the software also allows you to create naturalistic artwork and compositions for the paid and free version of the software.
Photoshop on iPad: Incredible photoshop features that create, edit, and beautiful composite art, regular and vector graphics, and images on your iPad.
Massive Cloud Storage: Adobe Photoshop packages come with 1 TB of creative cloud express storage that can store approximately 20,000 raw DSLR or 200,000 JPEG images.
Pros of Adobe Photoshop:
Slick and friendly user interface editing interface
No lag or performance issues
3-D design capabilities, i.e.,
Multiple responsive web design layouts.
Define the size of the canvas
Pricing: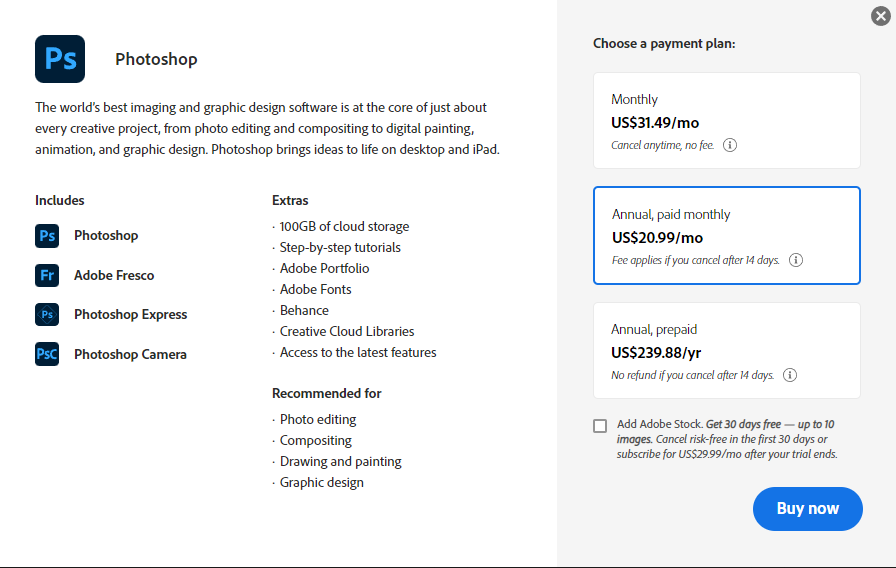 Adobe Photoshop offers a free version with a 30-day trial, and if you want to upgrade, paid plans are as follows:
Annual plan, paid monthly: $20.99/month.
Annual plan, prepaid: $239.88/year.
Monthly plan: $31.49/month.
Each of the plans includes:
Access to all the latest updates and features as they are released
At least 100 GB of full creative cloud storage
Photoshop on desktop as well as iPad with integration to other Adobe Creative Cloud products
Adobe Portfolio, Adobe Fresco, Adobe Fonts, and Adobe Spark
---
Best for vector editing and illustration ($20.99/month)
Adobe Illustrator is an industry-standard vector images app that lets you create icons, create logos, typography, drawings, and illustrations for web, print, video, and mobile. As with Photoshop, it's also a part of the Adobe Creative Cloud suite.
It's a true graphic design tool for Windows and Mac, with comprehensive features to help you create artwork and captivating visuals for your brand.
As you can see from this list, Adobe offers multiple graphic design tools, each amazing.
That's one of the reasons the company has become such a big name as one of the best graphic design software options.
Key Features:
Freehand Design: Adobe Illustrator's freehand design feature helps you bring your artwork to life on the screen.
Upload or Create New Fonts: The platform lets you create unique text never seen before.
Full Creative Control: Whether you are creating simple and vector graphics for social media or your company's logo, you get granular control with this professional software.
Perfect Scalability: A vector image editing feature that allows you to turn colors and shapes into icons and logos quickly.
Adobe Sensei: Create faster and wiser with Adobe's Sensei AI automatically extracts colors from photos and adds them to your design.
Pros of Adobe Illustrator:
Killer vector design capabilities
Simplified free transform tool
Excellent Touch Type feature
Constant updates and improvements to existing features from the robust community of developers.
Puppet Warp feature to transform selected parts of illustrations
Adobe Illustrator on the iPad
As part of all Adobe plans that include Illustrator, you also get Illustrator on the iPad.
Pricing:
Adobe Illustrator offers a free 30-day trial, after which you can sign up for the premium plans, which are as follows:
Annual plan, paid monthly: $20.99/month.
Annual plan, prepaid: $239.88/year.
Monthly plan: $31.49/month.
Each of the plans comes with:
Illustrator on desktop and iPad
Adobe Creative Cloud offers at least 100 GB of storage
Adobe Spark, Adobe Fonts, Adobe Portfolio (with Adobe creative cloud)
Access to all the latest updates
---
Best premium graphic design software with one-time cost ($79.99)
PaintShop Pro is the best graphic design software available for a one-off payment.
It's easy to use and comes with a decent assortment of graphic design tools geared toward enhancing portraits.
One of the best software has a simple and intuitive interface, allowing beginners to quickly learn to edit images and unlock more powerful features as their skills advance.
Once a Windows PC staple, PaintShop Pro is now Mac-compatible.
Key Features:
Robust Tools: The platform has an amazing and versatile range of photography tools and features, including essential tools, adjustment tools, selection, and correction tools.
RAW and HDR Camera Support: Manage and save metadata in raw files, correct problem areas, create stunning HDR photos, and more.
Time-Saving Tools: Scripts help you reduce repetition to accelerate complex photo editing tasks. In addition, they have an export for screens feature that improves the workflow to create assets of different sizes quickly and easily with a single action.
Smart Solutions: The platform has tools to help you enhance your photos with machine learning technology and artificial intelligence.
Multiple Workspaces: With PaintShop Pro, you can choose from multiple workspaces and customize them to help you work more efficiently.
Pros of Corel PaintShop Pro:
An impressively broad range of photo editor and Photoshop-like tools
Easy to learn and grow with
Automatic noise removal
Great selection of vector drawing tools
Powerful tools for editing and effects
Can create keyboard shortcuts and macros to better compliment the designer's workflow
Pricing:
The PaintShop Pro: You can get PaintShop Pro for a one-time fee of $79.99,perfect for anyone who wants to avoid being locked into a subscription.
The PaintShop Pro Ultimate: For just $20 more, you can upgrade to PaintShop Pro Ultimate, which comes with many creative extras.
The Photo Video Bundle Ultimate: The Photo Video Bundle Ultimate costs $179.99, and it comes with a powerful 2-in-one photo-video editor.
However, discounts are often like the one seen in the image above.
---
Best graphic design platform for Windows users ($249/year)
The CorelDraw Graphics Suite was built for Windows OS, but the graphic design program is now available for Mac users.
It comes with powerful design tools to help you work faster and wiser.
You can create professional vector illustrations. The graphic design program has a wide range of customization options to make your work easier, designing logos, websites, or print projects.
Key Features:
AI Technology: It offers a "LiveSketch" feature for converting sketches into accurate vector curves with vector software.
Editing and Font Management: The platform comes with Corel Font Manager and PhotoPaint tools.
Impressive File Compatibility: The program supports more than 100 file formats, including Adobe Illustrator, AutoCAD, PDF, HTML, JPG, PNG, SVG, and EPS.
Collaboration Tools: Easily share files with your team or clients and other real-time feedback from reviewers.
All-in One-Platform: CorelDraw has all the design and layout tools you need to tackle any project
Pros of CorelDraw Graphics Suite:
Fun, easy instant-gratification effects
New Progressive image editing feature
Highly customizable interface
Capable professional-level features
Unique native capabilities to rival Adobe Illustrator
Pricing:
This product is offered at a one-time fee of $499.
Alternatively, you can sign up for the yearly subscription at $249/year.
The platform offers a 15-day free trial, so you can test drive the software before committing to a paid plan.
---
Easy-to-use graphic design software (Starts from Free)
If you are a marketer or content creator, you need to create many documents daily. Be it a flyer or poster to market your offerings or social media posts to engage your audience, you probably spend a significant amount of money and time designing these documents.
Often, your ideas get lost in transit, and the dreaded design changes take up a lot of time. What if you could translate your ideas into beautiful designs all by yourself? DocHipo lets you do just that.
Choose from a massive collection of beautifully designed templates for infographics, flyers, posters, web banners, social graphics, and various other document types. The templates are available by industry, occasion, and so on with scalable graphics.
Select the template you like the most and customize it using DocHipo's drag-and-drop editor. Change the color, tailor the message, and use beautiful illustrations, stickers, animations, and other design assets to create a stunning design.
You can download the design in JPG, PNG, PDF, MP4, or GIF format and use them offline or publish them on your favorite social channels and any leading digital publisher right from DocHipo itself.
Key Features:
Drag-and-drop Editor: The intuitive editor makes it easy for everyone to create stunning designs
Ready-to-use Templates: Massive collection of templates across various document types
Beautiful Design Assets: Premium quality illustrations, stickers, and animations that help you create memorable designs
One-click Background Removal: Ability to remove background from a picture in one click
Smart Resize: Ability to resize a document into multiple other dimensions in just one click
Mailchimp Integration: Ability to save a design directly to Mailchimp
Multiple File Formats: Download a design in JPG, PNG, PDF, MP4, and GIF
Pros of DocHipo:
DocHipo offers a free edition. There is no credit card required to sign up
Even if you are on the free edition, there is no water-mark whatsoever on the downloaded designs
The free edition supports smart resize. i.e., the ability to resize a document into multiple other dimensions in just one click
DocHipo supports real-time collaboration amongst multiple users while designing a document
Award-winning in-house artists create beautiful design assets at DocHipo. So, you would not find these elsewhere
DocHipo offers multi-company capability, i.e., a user can be part of multiple companies under one log-in
Pricing:
You can sign up to DocHipo for free and start creating stunning designs. However, upgrading to the Pro edition only at USD 7.50/month provides you with the ability to create unlimited documents, access to all the premium templates and design assets, download a document in PDF, MP4, and GIF format, the ability to remove background from pictures, add multiple users, restore a document to a previous version, and so much more.
---
Best Graphic Design Software for Beginners (Free to use).
Lunacy is one of the best graphic design software for beginners as it has a very simple and intuitive interface, but at the same time offers professional design tools. Moreover, it has built-in graphics, such as photos, illustrations, and icons.
Lunacy is an app, which is nice because it can work in both online and offline modes. It's a great tool to create UI/UX design with ready to use UI kit and placeholder text and user avatar generators. In addition, it can be also used for photo editing with AI-powered tools, including an awesome background remover and image upscale. Lunacy also has a nice feature where you can work in real-time with up to 100 teammates, which can help with collaborative graphic design projects>

Lunacy uses .sketch format, which means that these files can be easily imported to other graphic design software tools. Moreover, individual elements from artboard can be imported separately in PNG, JPG and SVG formats.

Key Features:
Built-in graphics: Lunacy offers ready-to-use photos, illustrations, and icons.
4 AI-powered tools: the software gives an opportunity to remove background from your images, upscale them or automatically create placeholder texts and user avatars for user interfaces.
Collaborative work with your team: you can invite up to 100 people to work together and exchange comments.
Pros of Lunacy:
The library of built-in graphics
Ready to use UI kit
Online and offline working mode
Available for macOS, Windows and Linux
Built with Teamwork in mind
Pricing:
Lunacy is an absolutely free editor: no hidden charges, no ads, no locked features. You can purchase built-in graphics (icons, photos and illustrations) in high quality if you need them for your project, but the base platform is free to use.
---
Best web-based graphic design tools for beginners (Starts from Free)
The Canva is a free graphic design software designed for amateur graphic designers and experts alike. However, it is often the best free graphic design software for beginners with a straightforward user interface.
The software has an intuitive interface and an impressive editor, making it easy for beginners with a steep learning curve.
A free software version is excellent for anyone who doesn't have a graphic design budget. This has tools perfect for small, entry-level design jobs that need just a photo editor and to design web pages. Since this graphics software is user-friendly and offers a wide range of templates, you can even use it for your social media posts.
The premium version offers many amazing advanced graphic design tools and an interface design ideal for professional designers.
You can use Canva on your web browser, Android, or iOS.
Key Features:
Drag-And-Drop Functionality: The platform's interface makes it easy for those with little to no previous experience in design.
Free Templates and Elements: Canva free graphic design software comes with lots of templates, fonts, images, create vector graphics, vector illustrations, vector images, etc., many of which are free to use.
Advanced Texture Feature: This allows you to apply texture for a homey, lived-in design when flat color just won't do.
Premium Tools and Content: The software has scheduling tools, stock photos, videos, audio, graphics, etc., to make designing as easy as possible.
Text Animations: Send messages across kinetic typography and allow your words to flow using canvas robust text animations tool.
Pros of Canva:
Canva offers a free version with a ton of helpful tools and elements
It's an easy to use, web-based design app for both beginners and experts
The platform has a massive collection of pre-created templates
You have the option to choose and buy individual graphics
The Premium version is affordably priced
Works great on mobile (Android and Apple devices)
Pricing:
You can use Canva graphic design app free software version. But, if you want to unlock more advanced design elements and features, you can sign up for the Pro account, which costs $12.99/per month.
You get over 75 million premium stock images, videos, graphics, and audio on this plan. There are also more templates to choose from.
The Pro plan also has unlimited use of background remover, photo manipulation, resizing multiple objects infinitely, and saving them as templates for your team to use.
---
The ideal graphic design platform for Mac users ($9/month)
Sketch is a reliable platform for digital design. Designed exclusively for Mac users, the software is considered a leader in the market, particularly for UX and UI experts.
With this tool, you can create clickable product prototypes and wireframes. Sketch also makes it easy to design a usable model before developing an application or website.
In addition to design tools, the platform also has in-built features for collaboration. It provides you with one workspace with unlimited possibilities and allows you to put design at the heart of your business.
Key Features:
Vector-Based Tool: Sketch offers perfect vectors for UI and pixel-precise icons.
Ideal for Mobile and Web: The software ensures perfect responsive design across multiple screen sizes and different resolutions.
Custom Plugins: There are tons of custom plugins available that designers can use for specific tasks.
Boolean Operations: You can work with Boolean operations that are editable, non-destructive, and easy for you to combine.
Easy Exports: The platform's export options are supercharged to allow you to get the perfect assets every single time.
Pros of Sketch:
A streamlined set of tools
Focuses mainly on UI and icon design
App and website prototyping
Suitable for beginners
Extremely affordable pricing
Pricing:
Sketch offers a free trial for 30 days. No credit card is required to sign up, and if you decide to upgrade, you can get Sketch for just $9/month per editor, with unlimited free viewers.
---
Most extensive graphic design assets library (Starts from Free)
The VistaCreate is a popular web-based graphic design software that has positively influenced the era of beginner-friendly, no-brainer design customization environments.
It introduces loads of practical approaches to creating stunning designs for whatever purpose quickly, easily, and authentically with pre-made templates.
There is a ready-to-go solution for every need, ranging from Instagram post formats to logos, designs for print, website sections, blog banners, Youtube video thumbnails, and infographics, to name just a few – and you can print designs on any paper, merchandise and more.
You can access thousands of templates, 1M+ creative assets (such as royalty-free photos, videos, and vectors), font choice, music, animations, and excellent background customization options even on a free plan.
Once you get started with VistaCreate and use its pre-optimized formats along with dozens of customization options, it empowers you to create studio-level designs from day one.
Key Features:
For Non-techs: It's a life-saver tool for marketers, social media managers, solopreneurs, and creatives who need to make a lot of good-looking visual content by themselves regularly.
Intuitive Design Editor: Resize your design, add elements and shapes, tailor transparency, animate objects, and do more in a handy visual editor.
50K+ Design Templates: Get a perfect design match in a few clicks, with dimensions ready for particular social media and other platforms.
One-click Background Removal: A fantastic productivity tool that helps you erase image backgrounds and build new tailored ones in a few seconds.
Pros of VistaCreate
Beautiful filters and many image optimization effects for your site, social media pages, and more
10 GB storage for files and projects within a free plan
Integrated Full HD video clips and animations
Mobile compatible graphic design apps for iOS and Android
Affordable paid versions
Collaborative tools (in premium plans)
Pricing:
You can reach great results, access the most extensive library of creative designs, store data, and even stay on a free plan.
But signing up for a premium account and getting way more productivity, design, and brand kit tools will cost you just $10 per month. The most transparent and affordable pricing model ever made.
---
Best for Organizing Photos and Other Files (30 days Free Trial then $29.95 One-Time Fee)
Eagle App is a digital asset management software made for creative professionals and small business owners to manage images and other files. It also comes with an extension plugin to satisfy your need of collecting online photos, memes, screenshots or URLs across online platforms.
It supports preview images, RAW, gif, video, audio, office files and proprietary format like photoshop, ai and more! which comes in handy for those who mange more than just photo files.
For viewing photos, it offers viewing modes like waterfall, justified, grid, list options. Eagle even has the ability to export images into a specific formats or dimensions directly.
With Eagle App, you can easily collect, search, organize and browse all your photo and files, it also integrates well with other design tools or note-taking tools.
Key Features:
Robust tagging system: Able to give tag suggestions, add many tag all at once, or sort tags by groups.
File organization: Able to organize files in many different ways such as tag, rating, dimension, shapes, size, annotation, smart folders or even color palette.
Batch rename and convert files: It provides batch rename files and folders, able to convert files in 4 different formats: JPG, PNG, WebP and BMP.
Pros of Eagle App:
Comprehensive organizational capabilities and filters
Fast speed performance
Beautiful user interface
Support over 81+ formats previewing
Support cloud connection
Pricing:
Eagle App is an affordable on premise software, it offers a 30-day free trial, each license can pair with two devices doesn't matter Mac or Windows, including free lifetime updates. All for only $29.95 one time purchase. You can purchase additional seats for other device for $14.98. Educational discount available for students and teachers.
---
Free vector design platform (Free)
Inkscape is the best free alternative design software that provides a wide range of features to cater to the needs of designers, illustrators, and web designers.
As one of the best free graphic design software works, it is on Windows, Mac, and Linux OS and comes with flexible tools, which helps shorten the steep learning curve for beginners.
Users can also access advanced features such as the free vector software and a powerful text tool that allows experienced professionals to create graphic design projects easily and efficiently.
Key Features:
Advanced Features: The platform is online graphic design software with a drawing tool, text tool, embedded bitmaps, clones, etc., to help you create and manipulate objects.
Lots of Filters: The software provides many filters to help you create stunning and unique images.
Helpful Community: Inkscape has one of the largest and most active communities where users can find support.
Pros of Inkscape:
Powerful and reliable design tool
Wide range of flexible training tools
Bezier and spiro curves
Compatibility with multiple file formats
Multiline text and full on-canvas editing
Pricing:
You can download and use this powerful design tool for free.
Choose which version to download, and you will be able to start using the professional vector graphics editor immediately.
---
Built by professionals for professionals ($89.69/year)
If you're looking for a platform where you can create all your branding designs, Placeit is a great tool! With more than 50K templates and a growing library of designs made by professionals each day, you can create eye-catching images. Make everything from logos and videos to your social campaign with branded images in minutes.
Just select your favorite video template, customize your text, change the color of backgrounds and shapes, and add your images or video clips. Customize your text, change the color of backgrounds and shapes, and add your images or video clips.
A professional team makes all their videos, so you can rely on them being eye-catching templates for your campaigns. Once you have customized your template, simply click the download button.
Key Features:
Unlimited downloads. Keep creating. You get to have the unlimited downloads you need for your brand.
Fonts and audio selection. You can also customize the playback speed and quantity of slides to make a short or long video.
New templates every day. Designers are always in the loop for trends, and they create beautiful assets every day.
Easy-to-use. With no technical skills, you can create tons of designs, arts, videos, demos, Instagram stories, and social media marketing assets.
Professional graphics. An experienced team makes all graphics, so you can rely on them being eye-catching templates for your campaigns.
Pros of Placeit:
Wide range of graphic libraries.
You can choose between tons of videos formats for your marketing arsenal.
Constant updates of the graphics and the tools
Free tools available for everyone
High-resolution graphics
Pricing:
Basic: Free
Monthly: $14.95 per month, Annually: $89.69 per year
---
Powerful software for publication layout and graphic design ($20.99/month)
The Adobe InDesign CC is yet another software from Adobe. The main difference between this and the other Adobe tools on our list is that InDesign primarily focuses on the publishing industry and has a low learning curve.
It's one of the best page design and layout apps that you can use to create, preflight, and publish stunning documents for both print and digital media.
This tool has everything you need to design posters, books, eBooks, brochures, info sheets, digital magazines, interactive PDFs, etc.
The "properties" panel gives you intuitive control over all the platform's tools, and there is Sensei AI technology integrated for automatic resizing and arrangement of images.
Key Features:
Adjust Layout: With this helpful feature, you can alter your document text, and the entire graphic will adjust accordingly.
Collaboration Tools: InDesign has built-in tools such as "Share for Review" for sharing designs with your team so you can all be on the same page and stored in Adobe Creative Cloud Express.
Immersive Experiences: You can manage your design elements in many formats, including video, audio, slideshows, and animations for dazzling interactions. However, animation software may be a better alternative if this is a focus for you.
Unique Print Tools: The platform has professional typesetting and layout tools for stylish typography and rich graphics with Adobe Creative Cloud Express.
HSB Support: Select or create HSB values in any area where color values can be set, including the color panel, color picker, and new Swatch dialog box.
Pros of Adobe InDesign CC:
Well-balanced user interface
Feature for automatic global page adjustments
Massive selection of downloadable fonts
Contextual information is available to you
Subject-aware text wrapping
Pricing:
The Adobe InDesign CC offers a free 30-day trial, after which you can sign up for one of the premium plans to unlock more advanced features.
As with the other Adobe tools, plans start at $20.99/month on the annual plan.
The InDesign Adobe graphic design software is one of the premium software that also has access to all the latest updates, 100 GB of Adobe creative cloud storage, and other creative tools. This includes Adobe Fonts, Adobe Spark, and Adobe Portfolio, though some of these tools have a less intuitive user interface and may make new users feel overwhelmed.
---
Best for graphic T-shirt design ($24.99, one-time fee)
The Affinity Designer is yet another leading graphic design tool designed for Windows, Mac, and iPad.
It was created with each professional graphic designer in mind, putting it in the same category as Adobe products regarding features and costs.
The toolbar allows you to do everything from cropping and resizing images to text overlay. It can even be used as t-shirt design software.
Key Features:
Dual Environment: Affinity Designer allows users to work in vector art environments and pixel art environments.
Snapping Option: Designers can lock and position elements and objects depending on shapes, alignment guides, etc.
Zoom Feature: The zoom feature goes as far as 1,000,000%, allowing designers to have laser accuracy and precision.
Pros of Affinity Designer:
Wide selection of colors for enhancing designs
Boolean operation for combining, moving, and editing shapes
Dynamic on-screen guides for accurate alignment
Rope and window stabilizers for smooth curves
Powerful iPad app to match desktop application
Optimized to work well with both Vector illustration and Raster workspaces
Pricing:
The Affinity Designer has three pricing plans, each of which is a one-time purchase:
Windows: $24.99 (discounted from $49.99)
Mac: $24.99 (discounted from $49.99)
iPad: $9.99 (from $19.99)
You can sign up for a free 90-day trial for Windows and Mac and try out the software to see if it's a good fit for you.
---
All-in-one graphic design tool for professional designers ($199/year)
The Xara Designer Pro X is a fully integrated, single-package solution that will cover all of the best free graphic design requirements for both web and print.
The software is built for both vectors and bitmaps. The platform can handle everything in one place – from photo editing, illustration, DTP (desktop publishing), and document creation to websites, web graphics, and more.
Designed for Windows OS, the program comes with hundreds of the best free graphic design elements, template layouts, and a photo archive with over a million images to help you get started quickly.
Key Features:
Drag-And-Drop Functionality: This time-saving feature is perfect for amateur designers and facilitates quicker execution for experienced users.
Faster Performance: The platform has a sophisticated, superfast vector rendering engine that allows designers to create complex graphic designs efficiently.
Direct Action Tools: This set of tools offers robust capabilities and stable functionalities, making it ideal for general user
Pros of Xara Designer Pro X:
Designers can zoom up to 25,601%
Sync files with Google Drive and Dropbox
Supports a wide range of file formats
Import and export Adobe PST files
Anti-aliasing tool to improve on-screen images
Pricing:
The company's flagship product includes all the templates and features of the following tools in one convenient, fully integrated package solution:
Photo & Graphic Designer
Web Designer Premium
Page & Layout Designer
You can get all of this for $199/year (discounted from the regular price of $299).
---
A reliable, open-source image editor for all platforms (Free)
The GNU image manipulation program works on all major platforms, including Windows, Mac, and Linux.
It's an open-source program that offers many of Photoshop's features for free and lets developers change the source code and distribute the program.
While many people think of it as a simple photo editor, it has many customization features. You can also use third-party plugins to improve the platform's functionality, boost your productivity, and create exceptional designs.
Key Features:
GEGL Scripts: GIMP is an open platform that allows designers to process images and create unique artworks from scratch.
Flexibility: This tool is more than just an editor to retouch images. It also provides multiple professional quality features as well.
Compatibility: The software is compatible with many operating systems, including Windows, Mac OS, Linux, Solaris, and BDS.
Pros of GIMP:
GIMP's platform has an active community of developers
The software and software tools are regularly updated with new features added
Robust sketching tools, including pencil, airbrush, and cloning
Work on modular or single-window interface
Optimal use of computing resources for speedy performance
Pricing:
This is an open-source platform, and it is completely free for designers to download and use the software.
---
Free, beginner-friendly drag-and-drop graphic design software (Starts from Free)
The Gravit Designer is one of the best free graphic design software in multiple categories. The platform employs a freemium model, and you can use it on Windows, Mac, Linux, or Chrome OS.
The software allows you to apply several targeted workspace layouts, textures, gradients, borders, blending modes, and effects to any object.
The Gravit Designer is also a robust editor, making this the perfect tool for amateur designers to create content such as social media posts. More advanced artists can unlock tools like the pen tool for drawing unique graphics by upgrading to Gravit Designer Pro as one of the best graphic design software options.
Key Features:
Unique Functions: Gravit Designer offers tools to create animations, borders, and other shaping functions.
Customizable Interface: You can fully customize the software according to your needs and make your workspace your own.
Portability: The software tools offer cross-platform portability so designers can work efficiently from any machine.
Pros of Gravit Designer:
Supports multiple file formats for import and export
Modern, fully customizable user interface
The Pro version comes with unlimited cloud storage
Easily edit scalable vector graphics
Flexibility through desktop and web versions
Pricing:
You can use Gravit Designer for free. However, if you want to unlock additional features such as work off-line, touchscreen support, unlimited cloud storage, and version history, you need to upgrade to the paid-for plan, which costs $49/year (discounted from $99).
---
Best image editing software to fix and enhance photos (Free)
This is yet another free graphic design app that offers a wide range of indispensable features to help you edit and manage your images.
It's perfect for beginners because it comes with a wide range of tools, such as page, batch editor, viewer, and screen capture, and is free.
There are tons of advanced editing tools, making this software perfect for experienced designers.
Key Features:
Multilingual Interface: As one of the best graphic design software platforms as it allows designers access to over 30 languages through downloadable modules.
Design Module: This packs a lot of new features, including adjustments for color, size, gamma, backlight, brightness, and resolution.
Robust Editing Features: On the platform, you'll find well-labeled features, including splitter, color picker, raw converter, face search, and auto-contrast.
Pros of Photoscape
Simple, beginner-friendly interface
Highly responsive and lightweight
Includes free Photoscape X Edition for Windows 10
Cross-platform app compatible with Windows, Mac, and Linux
Open raw photos and convert them to JPEG easily
Pricing:
You can get Photoscape free of charge. Download it from the website, and you will be able to start using the photo editing software to fix and enhance your images.
---
Additional Graphic Design Software
Here are a few other graphic design platforms that aren't included in our list but are worth mentioning:
What Features to Look For in Graphic Design Software
Not all software is built the same. Some may work better for you than others, depending on the features on offer.
For instance, the software can be priced at the low end of the spectrum but lacks many features for speed and creative control.
On the other hand, you may find top-of-the-line design software with a wide range of advanced tools – but it has a considerable learning curve and is unsuitable for beginners.
Below, I've listed some of the most essential features to consider before choosing the best graphic design software to suit your needs.
Read through the list, and, depending on your priorities, you will be better able to pinpoint the best option to help you bring your vision to life.
1. Ease of Use
As much graphic design software comes with a learning curve, which is to be expected. However, suppose you're new at this. In that case, it's important to ensure that the platform you choose makes it as easy as possible for beginners to get up and running using the program's image editing and illustration tools.
Look for a simple and intuitive user interface and documentation and tutorials for how to get started quickly and easily.
2. Templates
(Souce)
Creating anything using graphic design usually takes time and talent to produce the desired result. That's why it's always a good idea to look for graphic design software that comes with a wide selection of pre-fabricated templates.
These will give you a foundation to start creating your visuals and help you save a lot of time on your projects.
3. Effects
For the most part, the best graphic design software on the market comes with basic tools for creating significant effects. But, some outshine others by providing advanced photo editing features to create unique and dramatic effects on your digital images.
So, if this is an essential feature for you, consider how many image filters the software offers. Some programs have dozens of filters, like Photoshop and Corel Paint Shop Pro.
(Source)
4. Illustration Tools
Choosing the best graphic design software with the right illustration tools, such as vector brushes or the pen tool, is important if you do a lot of work with graphics, gradients, and shapes.
The software you choose should allow you to complete your tasks and create design elements quickly while producing high-quality results.
5. Image Database
If you have to do a photoshoot for each project, it can adversely impact productivity and effectiveness. The best graphic design software will help you with numerous images to use.
However, with an extensive image database of high-quality, industry-specific illustrations and photos, at your fingertips, you will be able to work faster and produce improved results.
6. Customizable Workspace
In addition to having all the tools you require to create unique designs, you also need to set them in your workspace in a way that makes sense to you.
Workspaces differ from one software to the next. But, the best graphic design software will allow you to easily customize your workspace so you can navigate the software more efficiently.
7. Collaboration Tools such as Adobe Creative Cloud
Using old-fashioned methods for file sharing invariably creates problems with lost information, revision tracking, confusion, and a host of other issues.
If you work with a team, you need to choose a paid or free graphic design software solution with built-in collaboration tools to make your work easier and boost productivity and accountability. This can be especially important if you're using social media management tools to manage your online presence.
8. Printing Features
Depending on how important the finished product is, you want to choose the best graphic design program with printing features that allow you to present your finished work to others.
For instance, if dealing with printed articles, you might want features that allow you to set up the page to "bleed" so the creases of the magazine appear continuous and colored.
You may also want the option of showing your printer's marks to enhance the package-and-print process.
Yet another important printing feature is the "prepress support." This feature automatically ensures that there aren't any errors before the finished project goes to the printer.
9. Importing and Exporting Files
If you intend to use different files on your graphic design software, you must ensure compatibility.
The last thing you want is to be unable to open shared files on your program. So make sure the software you choose supports the files you typically use on your projects, including common ones like PDF, JPEG, and BMP.
Why Should You Use Graphic Design Software
You may be wondering why it's even necessary to use graphic design software.
Well, the answer is simple.
Having the best graphic design software will help you create stunning visuals quickly and easily. The right tools not only make life a lot easier for graphic designers, but they also come with other benefits, such as:
Time-Saving: The best graphic design software and templates give you a head start when creating visually stunning graphics. It saves a lot of time when you don't have to start from scratch.
Cost-Efficient: Whether you use free or paid tools for designing your visuals, being able to leverage the best graphic design software will help you bring down expenses by removing the need to show true objects.
Scalability: The leading design software features let you export files in multiple formats and efficiently distribute them on different marketing platforms.
Branding: Organizations can use the best graphic design apps to maintain their brand positioning through watermarks and embedded logos on marketing materials. Saving templates on the software can help keep the design, style, image size, etc.
Flexibility: Choosing the right one from the best graphic design apps will allow you to create beautiful graphics and images in one convenient place without using many different tools.
Improved Results: Using the best graphic design software helps you create better visuals that result in higher levels of engagement from your audience whether it be on an email list or while they're enrolled in an online course you've built. Ultimately, this contributes towards a variety of other marketing goals, and it can significantly impact your bottom line.
How to Master Graphic Design Software
Mastering graphic design software comes down to two things: learning and practicing. Here are a few things to improve your skills and produce better results.
1. Sign up for trails for free graphic design software
If you want to achieve better results with the software, there are some steps you can take, such as signing up for free trials and trying out as many different graphic design apps as possible.
In time, this will help you create stunning digital art quickly and efficiently, and you will be able to express yourself in distinctive new ways.
2. Learn through YouTube video tutorials
Alternatively, you might look to learn through YouTube video tutorials. There are tons of great YouTube channels where you can learn everything you need to know about graphic design from experienced tutors.
Here are some of the most popular channels with a wealth of information to help you sharpen your design skills:
3. Sign up for courses or classes online
You can also sign up for free or paid courses on online learning platforms like Skillshare and Udemy.
Here are a few examples of courses from Udemy that are designed to help you master graphic design and software by doing practical, real-world projects:
Learn what you need to know to break into graphic design.
Lessons include how to create eBook Cover, Icon Set Design, Social Media Design, Digitizing Sketches, WordPress Web Design, GIFS, Adobe Xd, and more!
Project-Based Learning For Beginners: Learn Photoshop and Illustrator by creating posters.
These courses will teach you everything you need to become confident using your online graphic design software or installed software with online sources and storage.
You will create different visuals and bring all your visions to life with ease.
Whichever avenue you follow, the trick is to continually learn and practice your skills. That is the only way to grow as a graphic designer so you can get the most from your graphic design software.
Graphic Design Software — Summary and Top Picks
Whether you are an amateur designer or a digital artist with years of experience, it's crucial to choose the right tools if you want to bring out your creative flair and promote your brand effectively.
The best graphic design software includes high-quality image editing features, vector editing functionality, 3D and AI tools, editing images with different file formats, cloud storage, elements for branding and logo design, and a price tag that doesn't break the bank.
Here Is My Top Recommended Graphic Design Software: