The Technology Industry Trend Report states that most businesses use an average of 175 different tools and software in their day-to-day operations.
To be honest, it can be VERY overwhelming at times.
There is a tool for every part of your digital marketing mix. Tools for email marketing software, website builders, landing page builders, podcast hosting, keyword rank tracking, webinar software, and so much more.
Fortunately, there are platforms like System.io, a single platform with a suite of tools that allows you to build sales funnels, manage affiliate programs, automate various parts of your marketing strategy, and so much more.
When I first heard about Systeme.io, I was skeptical about how well it would work, and I figured it would be pricey considering its functionality.
But after a short time, I found a solid product that does save me money and the time it takes to bounce around between a bunch of different tools, apps, plugins, and other software.
But is it the best all-in-one platform for digital marketers and online businesses? Check out my Systeme.io review below to find out.
What is Systeme.io?
Systeme.io is an all-in-one solution for everything you need to run your online business. It's a full marketing platform created by Aurelien Amacker, a tech expert who started as a consultant running a highly successful coaching business online.
He got frustrated by having to deal with dozens of different tools while working on his clients' blogs and decided to create his own platform that would take care of all the other processes without jumping from one tool to another.
Since its launch in France in 2010, Systeme.io has grown to become a massive hit with thousands of customers in different countries across the globe.
Ron's Thoughts
Systeme.io is an All-in-One solution for all your marketing and sales needs that comes in at a fraction of the price you'd usually pay for all the tools it has. If you are a beginner don't worry – the Systeme.io platform features numerous in-depth tutorials that contain all kinds of information about the software and how to use it. Systeme.io is great for people who are just starting their online business and want a cost-effective marketing and sales software solution.
Biggest Pro:

All-in-One Marketing & Sales Tool

Biggest Con:

Lack of Third-Party Integrations

Annual Discount:

Yes - Up to 30% Off

Price:

Starts at $27/Month

Promotion:
Please read the rest of this Systeme.io review to discover everything you need to know about the platform, including its features, functionality, pros and cons, pricing, and support. Or, watch this video below.
Is Systeme.io Worth it?
For most people who are just getting started online, the biggest obstacle to success is fully understanding how many tools are required to run an online business effectively.
Even with an understanding of all the different apps and software required, many still don't have the time or the bandwidth to figure out exactly how to get the most from each of those tools individually.
Without the relevant technical knowledge and background, they wind up paying for tons of features that they never get to use and ultimately experience dismal results, which often leads to frustration.
That's what makes a tool like Systeme.io worth it.
It takes away the need for you to figure out (and pay for) all these different platforms and gives you all the functionality you need in one place.
Some of the System.io features include a sales funnel builder, an email campaign manager, the ability to create and implement your own affiliate program and marketing strategies, set marketing automation rules across your digital marketing channels, and much more.
Having a single interface where you can easily manage everything takes away much of the learning curve, making it perfect for beginners.
Also, since you're getting everything for a fraction of the price you'd typically pay for the tools individually, there is no doubt that Systeme.io is worth it for anyone looking to run a successful online business without breaking the bank.
Who is Systeme.io Good For?
Systeme.io is perfect for anyone who wants to run a profitable online business without paying for the dozens of different tools that will make success possible.
It's ideal for beginner bloggers, marketers, any online entrepreneur, small business owners, etc. who want to engage in any marketing and sales activity that includes the use of the following:
Sales Funnels
Email Marketing
Online Courses
Drop-Shipping
Evergreen Webinars
Blogging
ECommerce Integrations
Building Your own Affiliate Program
A/B Testing
Business Automation
…and much more!
We will understand in this Systeme.io review how it can provide you with a hassle-free experience with all the tools that work smoothly together under one roof and software.
When the applications you use to handle various aspects of your entire business are decentralized, integrating them can take a tremendous amount of time and effort.
But, Systeme.io brings it all together in an effortless way, with all the tools seamlessly coming together to provide you with a great user experience.
That means no more tech headaches from trying to integrate different apps and tools.
There isn't any need to integrate with third parties since everything you need is available on the platform.
Systeme.io Functionality
Systeme.io is a multifunctional software that brings many different features into one user-friendly interface.
Each of these features is relevant to the process of running a thriving online business, and you won't find any useless fluff on the platform.
Here, we're going to take a look at some of the critical functionality of the platform.
1. Sales Funnels for Online Business
Any marketer will tell you just how difficult it can be to build an effective sales funnel. In this Systeme.io review, let us dig deeper into how the platform can help to create high-quality funnels with just a few clicks.
There are pre-built pages that are expertly designed to give you more conversions to sell more with less effort.
Here's an example of how to create a sales funnel on the platform:
Using pages like these, you'll be able to manage your own business's marketing platform, whether you're selling digital or physical goods.
The templates let you build eye-catching, professional sales pages without guessing at the process.
For instance, you will easily create landing pages, sales pages, and integrate thank you pages with a few clicks.
Alternatively, with the platform funnel builder, you can even take your visitors through a more protracted process by adding other steps to your funnel without the need for separate software.
Thanks to the intuitive user interface and drag-and-drop editor, all this can be completed in just minutes.
2. Email Marketing Platform
Email marketing is a big part of any online business's success. You need to have a reliable platform that will allow you to get your message into your subscribers' inboxes in the most efficient way. We will also explore in this Systeme.io review how it can help you with email marketing.
It offers a multifunctional marketing software designed and built-in on the platform that will let you send personalized emails, increase email subscribers to your newsletters, and even scale and automate the entire process easily with autoresponders and follow-up emails.
Creating squeeze pages with a wide selection of squeeze page templates is also straightforward. Squeeze pages are an incredibly effective part of email marketing for those who don't know. They are pages on a website designed to solicit prospective subscribers to sign up for the email marketing list.
You can create unlimited emails using Systeme.io's intuitive interface. So whether you are campaigning for one of your products or services, or if you want to broadcast an event or send auto-responses, you can do it all with email marketing tools on the platform.
When you can set up effective email marketing with just a few clicks, it frees up your time so you can then focus your attention on more important things that will help you grow your business.
3. eCommerce Functionality
Selling all of your services and products is easy with the eCommerce functionality of Systeme.io.
Instead of using third-party eCommerce platforms, you can create an online store right on your own website.
Whether you're selling digital products or physical products, you can easily sell products, convert leads, and increase upsells with this platform's built-in eCommerce functionality.
There is no need to worry about integrating third-party tools or payment processors; everything is available in one dashboard and can be activated with just a few clicks.
4. Online Courses
You can use Systeme.io to build and launch an online course quickly and easily without having to search for a ton of additional third-party tools and apps.
The platform also has all the tools you need to market and sell your course, which means that all your management will be conducted from one convenient dashboard.
You can easily accept payment via PayPal, Stripe, and all the most popular debit and credit cards.
You can even manage affiliates for your courses from the same place, allowing you to supercharge your marketing and sales results with no additional effort.
5. Drop Shipping
If your business involves drop shipping, the platform has all the tools you need, such as funnel builder to build high converting funnels to sell your physical products quickly.
6. Blogging Platform
These days, it's hard to compete online unless you have a reliable way to bring in organic traffic.
A blog can help you do that, and Systeme.io makes it easy to launch a blog and get your content visible online with just a few clicks.
You'll be able to create eye-catching blogs to help you boost your brand reputation and attract more potential customers to your content.
Thanks to the platform's intuitive content management tools, updating your content is a breeze. In addition, you can simplify your content creation and publishing processes by using the many expertly designed templates available to you.
7. Evergreen Webinars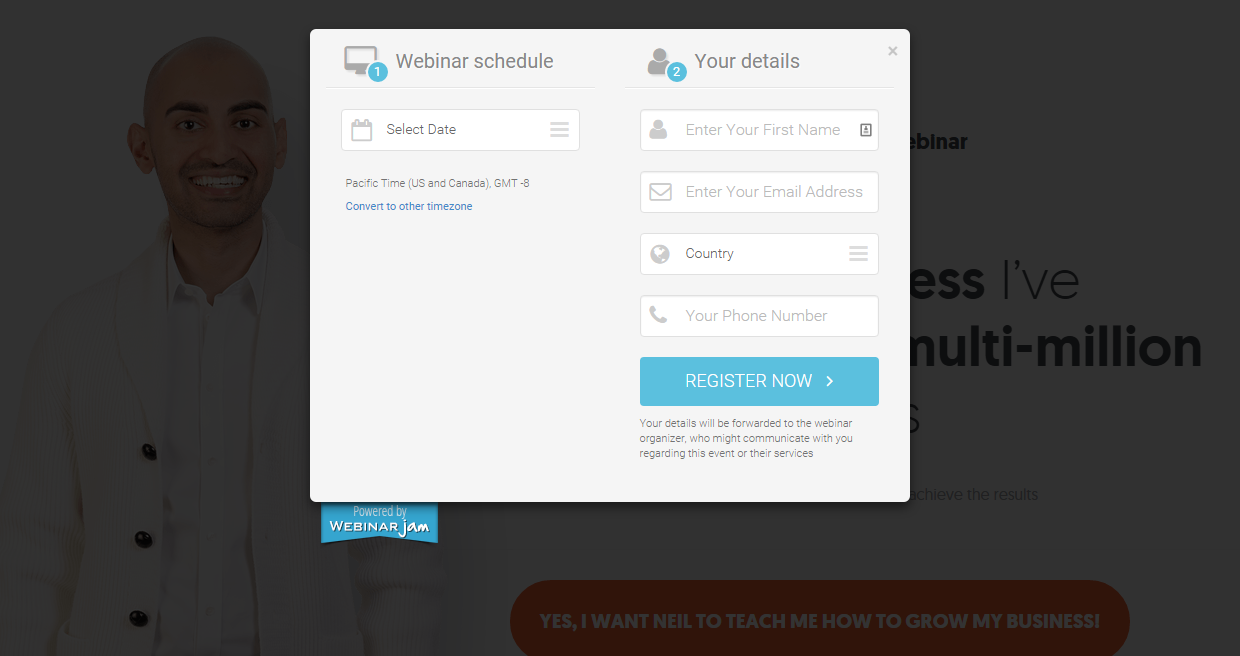 If you've been online for any length of time, then you've likely come across evergreen webinars in different industries. These are effective for building email lists and making sales while you sleep.
Having the right webinar software can be a game-changer in your space, and Systeme.io has the exact tools you need.
The platform makes it extremely easy to run evergreen webinars to generate leads and sales continuously. You can build your email list and sell your products or services on autopilot.
8. Create an Affiliate Program
Systeme.io can help you create effective affiliate programs for your products and services so you can generate more sales each month.
If your business lends itself well to this model, you can create your own customized programs to gain more visibility for your product and brand while increasing traffic to your website and making more sales.
You can set up a multi-tiered commission-based affiliate program so you can immediately begin increasing your profits. There is no need to integrate any other software to start seeing results.
9. Membership Sites for Small Business Owners
Even if you've never built a website before, in this Systeme io review, let's explore how it helps you build a fully functional membership site in minutes that was proved to be helpful by many online business owners.
We will understand in this Systeme.io review why there are no coding skills necessary for business owners and users when using Systeme.io. Because with the platform's integrated features, you can create a fully functional membership website by simply drag-and-dropping the elements you want to have on your pages, and you can even choose from pre-built templates, so you don't have to start from scratch.
10. Automation Tools
One of the primary keys to successfully scaling your online business is to automate as many of its operations as possible.
Systeme.io makes it easy to dynamically automate a wide range of processes so you can have more time freedom while growing your entire online business.
You can automate everything from communication and project management to launching your online business, selling your products and services, collecting leads, and much much more.
And that's not all.
There is so much more you can do with this platform.
It'll help you:
Optimize sales
Improve your brand image
A/B test your designs
Regularly update your content
Contact Management
Content Marketing
Manage workflows
… and much more.
The features mentioned above are just a glimpse into how much power is packed into this multifunctional software program.
Systeme.io vs. Competitors
As you've seen, Systeme.io is a full marketing solution designed to provide you with an impressive range of reliable tools and apps to launch and run your entire online business.
There are many other multifunctional software programs out there that can provide viable alternatives to Systeme.io.
In this Systeme.io review, let's have a quick look at the top three platforms currently out there and how they compare:
Systeme.io review vs. ClickFunnels
Both of these platforms are effective for helping you build lead generation pages and create effective sales funnels to grow your business online.
However, one of the main differences between the two is the price. ClickFunnels offers many of the features you'll find on Systeme.io, but the most basic package costs $97/month (compared to Systeme.io's $27/month) – and that doesn't even include everything on the platform.
Systeme.io offers much better value for money for beginners since it provides you with all the tools you need to launch and run your business. So why pay more?
Systeme.io review vs. HubSpot Marketing Hub
HubSpot Marketing Hub is an all-in-one inbound marketing software with all the tools for brands and marketing professionals to build and launch successful campaigns that get their businesses noticed online.
This includes blog creation, SEO, web content creation (CMS), and more. As a result, HubSpot can help your team grow traffic and convert more leads.
You'll also be able to track and manage your funnels in one convenient place. But HubSpot's starting price is $50/month, which makes Systeme.io the better option for beginners and small businesses on a budget.
Systeme.io review vs. Kartra
When comparing Kartra to Systeme.io, it's clear that both platforms offer many of the same features. As a result, each one is just as effective as the other for helping you run your online business.
The most significant difference between the two has to do with the ease of use of the platforms. Systeme.io is significantly more straightforward with a more intuitive user interface than Kartra.
Also, you get much better page templates, and although Kartra is known for its affordability, Systeme.io is offered at even lower prices, making it the more prudent choice.
Systeme.io review vs. WordPress
It's no surprise that WordPress is one of the leading website builders on the market. It includes a comprehensive suite of plugins, add-ons, widgets, and tools, but they are must be integrated into WordPress to function correctly.
While email marketing, sales funnel building, digital marketing automation, social media management, and more can be accomplished with WordPress, and you have to use a bunch of different tools to accomplish each of them.
This is precisely the problem System.io was developed to solve. It removes the need to use many third-party tools that are almost required to effectively use WordPress, Wix, Weebly, or any other of the most popular website builders.
Systeme.io Pros and Cons
There is no denying that Systeme.io has an impressive number of features and holds its own against competitors.
However, no software comes without drawbacks. So now let's take a look and explore this system.io review the pros and cons of the platform so you have a better understanding of what the tool can and cannot do.
Pros:
Great for Beginners
The platform is designed to make it as easy as possible for anyone to use all of its tools – even with no prior experience or technical knowledge.
Effective Tutorials
Upon signing up, you will receive in-depth email tutorials to boost your understanding of making optimal use of the software.
Seamless Processes
Since everything is built into one platform, everything works seamlessly together, making your job a lot easier.
Business Automation
The marketing automation features on the platform make it simple for you to automate many of your tasks, a lot of which can be difficult or repetitive.
All-in-One Tool
You'll be able to save time and money by getting all your tools in one convenient place and at one affordable price.
Cons:
Complicated Platform
The sheer number of features available on the platform can be a blessing and a curse since many beginners might find them a bit overwhelming.
No Third-Party Integrations
If there's a particular tool that you like to use as part of your marketing or sales processes, you won't be able to integrate it into this platform.
Limited Design Freedom
The platform offers limited design flexibility, which may be off-putting to more experienced users who want to customize different aspects of their pages.
Pricing
You don't have to risk anything to get started with Systeme.io. Sign up for a free trial (no credit card required), and you can start using the platform's features at no cost.
To unlock the full power of the software, upgrade to one of the premium plans on offer.
Systeme.io has a very transparent pricing model with paid plans that are as follows:
Free Account ($0/month)
Of course, in this Systeme io review, we will explore the Free plan that comes with 1,000 contacts, three sales funnels and unlimited emails, one membership site, and marketing automation, among other features. However, it doesn't include custom domains or evergreen webinars.
Startup ($27/month)
This plan comes with 5,000 contacts, ten sales funnels, unlimited emails, five membership sites, and marketing automation, among other features. It includes one custom domain.
Webinars ($47/month)
This plan has 10,000 contacts, and you can create 50 sales funnels and send unlimited emails. It also comes with 20 membership sites, ten webinars, 50 coupon codes, and ten custom domains.
Enterprise ($97/month)
This plan gives you 15,000 contacts, unlimited emails, funnels, and membership sites. You also get unlimited webinars, members, and file storage space, as well as unlimited custom domains.
Also, in this Systeme.io review, let's see what sets the Enterprise plan apart? Aside from unlimited access to everything, you get one-hour one-on-one coaching so you can hit the ground running and get the most from this platform.
Product Support
Systeme.io offers robust and friendly customer support in a variety of ways:
Knowledge Base
A quick search on the website's knowledge base will provide you with answers to virtually any question you might have about using the platform.
Video Tutorials
In addition to the articles and guides on the website, you'll also find a ton of video tutorials on YouTube about how you can use the different features on the platform to build and scale your business quickly and easily.
Online Coaching
If you sign up for the Enterprise plan, you'll get one-on-one coaching from the platform's experts, who will work with you to ensure you get started on the right foot.
Customer Support Team
You can experience great customer service from the platform's helpful and knowledgeable customer support agents who are available 24/7 to assist you.
Facebook Community
The platform has a growing base of users on Facebook, and you can get community-based support for any queries you may have.
Integrations
Systeme io doesn't offer any integrations to third-party tools and apps.
The platform developers are trying to create an indeed all-in-one solution where there is no need to consider using outside tools.
Some experienced users who already have particular preferences for specific tools may present a problem since they won't be able to integrate with those tools on this platform.
But, for beginners, this doesn't have to be an issue since Systeme.io has ALL the tools you need to run your online business.
Is Systeme.io Legit?
Systeme.io is a robust and reliable platform designed with ease of use and simplicity in mind. It will help you quickly scale your online business and give you the edge in today's ultra-competitive arena.
We have explored all the platform features in this Systeme.io review and how it helps to set up complete sales and marketing funnels for your products or services within minutes – regardless of your prior experience – not only that.
But you can also send emails to your subscribers, host webinars, create membership websites, run affiliate programs, and much more.
The all-in-one platform is perfect for beginners but can also provide a lot of value for more experienced marketers and businesses of all types and sizes.
There is no denying that taking this route is significantly more economical than trying to integrate dozens of individual software systems, each of which comes with its own price tag.
You can test the software out by signing up for a 14-day free trial, so you can get a feel of the platform's powerful functionality and how it can save you time and money while helping you grow your online business.
Still not sure what platform is for you? Check out my reviews below or my roundup of the best online course platforms.