The US eLearning industry is currently valued at $90 billion, and the global market is set to reach $457 billion by 2026.
This means that if you've been thinking about creating a course of your own, there has never been a better time than now to do it.
You can join the countless teachers, coaches, entrepreneurs, and businesses that have created sources of reliable income from selling education online. All you need to get started is a course platform like Thinkific.
Thinkificis a popular course creation platform that lets you easily create and fully customize the look and functionality of your online course business.
The platform has award-winning support and powerful, yet intuitive tools that make it easy even for complete beginners to create and market their courses successfully.
The software program, which was created in 2012, is currently used by thousands of course creators from across the globe, from huge enterprises like Hubspot, Intuit, and York University to individuals, entrepreneurs, and everyone in between.
Read the rest of this Thinkific review to discover more about this software, its functions and features, pricing, support, and all the other important things you need to know.
Is Thinkific Worth it?
Thinkific has a wide range of basic features and plenty of tutorials and courses outlining the step-by-step process to help beginners build and market successful courses.
The intuitive platform also comes with a ton of advanced features, which makes it ideal for experienced course creators.
To help you understand Thinkific even better, below is a quick tutorial I created of the platform.
Thinkific makes it so that skilled users can sign up for the plans with advanced features while novices can learn at their own pace, start building their course, and unlock more features as their knowledge grows.
With the number of features provided on the platform, Thinkific is definitely worth it from an ROI (return on investment) standpoint.
It's an all-in-one course creation software, which means it will save you a lot of time and additional costs by providing you with all the tools you need for designing, creating, marketing, and managing your course – all in one convenient dashboard.
Who is Thinkific Good For?
The platform's ease of use and award-winning customer support make it ideal for all types of users, regardless of their skill levels.
It's a great option for anyone who wants to build a professional-looking course or online learning website that aligns with their brand. In other words, Thinkific is ideal for:
Entrepreneurs
Large enterprises
Coaches
Creatives
Consultants
Authors
Industry experts
Academies
Hobbyists, etc.
Here are a few use cases to help you understand how Thinkific can help different types of creators.
1. All-in-One Platform for Edupreneurs
Thinkific is very simple to set up and has no video limits which means teachers can upload unlimited courses, track course progress, make changes on the go, and much more without having to integrate any other third-party tools.
2. Internal Training in Companies
Thinkific is a solid tool for employee training so you can ensure greater quality of work from your workforce. You can deliver multimodal training opportunities with live sessions, videos, writing assignments, quizzes, and much more. Thinkific does it all.
3. Connecting with Clients Online
Thinkific integrates easily with WordPress, which makes it perfect for coaches, consultants, authors, etc. who want to build an online course business on their native site and then use WordPress as the front-end sales segment of their website.
4. Creating Learning Environments for Schools
The platform has excellent student management and communication modules. Its aim is to power online course businesses and education empires for teachers who want to create a better student experience.
Building Your School Website With Thinkific
Over the years, Thinkific has proven itself to be one of the best online teaching platforms out there. There's a lot you can do with the platform, and in the section below, we are going to explore the dashboard so you can get a good idea of all that you can accomplish with it – starting with building your school website with Thinkific.
1. Ready-to-Use Templates
You don't need any specialist knowledge to create your school page with all the functions you and your students need.
You don't even need an external site. Thinkific provides you with everything you need to build a stunning school website with unlimited pages, including custom site themes and course landing pages.
You can choose from 10 custom theme presets and 6 professionally designed website pages to speed up lesson creation.
With just a few clicks of the mouse, you can create stunning pages with great content layouts and interactive features for maximum student engagement. You'll be able to build as many custom pages for your school website as you need.
2. Simple, Intuitive Editor
Thinkific has an easy-to-use interface with a lot of valuable features, one of which is a drag-and-drop editor.
Thanks to the visual site builder, you'll find it extremely easy to edit pages and create great-looking, branded student experiences.
You can create new users with the click of a button and organizing content on your school website is straightforward. All you have to do is drag and drop different elements to wherever you want them on a page.
There is also a live preview feature that lets you see how your course will be displayed to viewers before you hit publish. This way, you will always be in control of what your customers and students see.
3. Full Customization Features
Thinkific lets you get creative as an educator. You can set up your lessons and courses however you want, allowing you to make a great experience for all participants.
Build a future-ready study and learning space with powerful features to give your students the best chance of success.
Additionally, you can use other site design and customization features like HTML/CSS/Liquid for fast customization. This gives you full access to the theme code and the ability to add sections, layouts, snippets, pages, styles, and custom assets.
Course Creation Capabilities
The platform's course creation module is extremely simple to use. It's powerful without being complicated and makes the entire course creation process seamless.
There are dozens, of course, templates to choose from, each of which is designed to help you build more effective online courses faster. You can customize every step of the process, and choose from over a dozen types of entities for use in the different parts of your course.
Thinkific also offers unlimited hosting for videos, PDFs, and various other types of content. You can break up your course content into lessons and chapters, and add a comment area on each page.
Here's a look at a few other special functions for creating courses on Thinkific:
1. Slideshows and Presentations
Create voiceover slides presentations directly from within the platform. You can record the audio for each of your uploaded slide decks, and save the presentation in your library for use in one or more of your courses.
2. Surveys
Within your Thinkific school, you can easily survey students using a variety of ways, including:
Single answer questions
Multi answer questions
Rating questions
Scale questions
Longform response questions
These surveys are ideal for goal tracking, instructor feedback, long-form exams, and more.
3. Multimedia-Enabled Quizzes
You can include quizzes and exams with multimedia, and these can be graded easily, saving you hours of manual marking. You can also allow multiple tracked attempts and include an explanation of the correct answer.
Draw your quizzes from randomized question banks, each of which can be easily uploaded with the click of a mouse.
Optionally, you can integrate third-party exam providers or use the platform's Survey tool to help you create teacher-graded style tests for your learners.
4. Duplicating Lessons for Easy Build-Out
The ability to copy lessons will make your job as a course creator a lot easier. You can move videos, images, and text between courses with the click of a button.
You can also import quizzes and create student surveys and custom presentations, as well as manage and reuse video content through the platform's video library.
Marketing and Selling Your Courses
Once your course has been created, you need to find effective ways to get it in front of the eyes of your target students. Fortunately, Thinkific has powerful marketing and sales tools that will make your job a lot easier.
Let's take a look at some of the key marketing capabilities of the platform.
1. Google-Friendly Course Reviews
This feature will help you market and sell your course more effectively. You can automatically collect reviews from students and display them on any of your course landing pages as social proof.
The star ratings will appear in search listings, which will help increase click-throughs and boost organic traffic to your course website.
2. Course Expiration/Time-Limited Course Access
This is yet another helpful feature on the platform. It allows you to specify the number of days that a student will have access to the course content.
Optionally, you can offer your students different access periods to your course material for varying price points.
3. Bundles and Memberships
Thinkific has robust bundles that allow you to sell combinations of your courses or memberships as a way to entice more students to enroll in one or more of your course offerings.
4. SEO Sitemaps
You can generate search engine-friendly site maps that are automatically updated to keep your site search engine ready.
5. Limited-Time Free Trials, Coupons, and Upsells
The platform has a wide range of tools that will help you improve your sales, such as time-limited free trials for use with recurring billing or memberships. This feature allows you to collect credit card information upfront so billing can happen automatically after the completion of a free trial.
Offer upsells to prompt your students to purchase your next course using course completion emails, individual course sales pages, fully customizable sitewide thank you page templates, etc.
Finally, you can use the coupon feature to discount your course in any way you'd like. For instance, you might offer sitewide discounts based on a specific dollar amount or create multiple unique codes for advanced discounting.
6. Paid Custom Pages
Create custom pages for your course and specify the students who have access to them. You can also make your pages accessible to the public or sell them with course purchases.
The platform also lets you use custom pages to create sales funnels that effectively guide your visitors through the buying journey. These pages can help you seamlessly deliver things such as:
Non-course content
Pre-sell landing pages
Resource libraries
Booking details for consulting work
Membership resource library
… and much more.
The tools listed above are just some of the many options available on Thinkific to help you market and sell your course.
There are also a ton of integrations with third-party apps and tools, as well as other built-in features like countdown timers for use on your landing pages, checkout pages, or anywhere else where you want to increase urgency on your offers.
All these can be added to your site with one click and there is no need to have any coding knowledge.
Thinkific also offers custom payment terms and pricing flexibility.
You can offer a single payment, fixed payment plans, or monthly/annual subscriptions. Additionally, you can set free trial periods in days or even months and use price to specify enrollment duration.
Alternatively, you can set a custom figure for the first payment, which means the price for the first month's subscription can be different from subsequent months.
Furthermore, Thinkific has white-labeled URLs which helps to build trust with your visitors.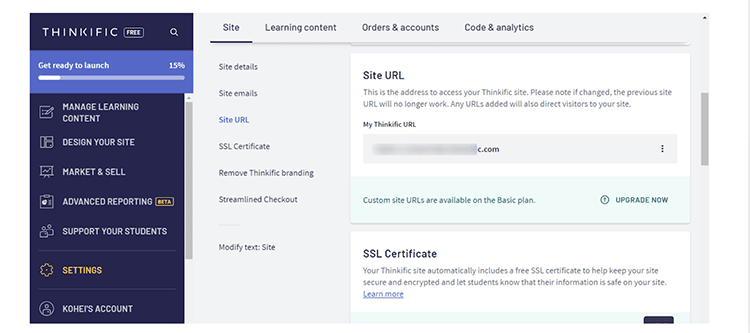 These days, everyone knows to watch the website URL to ensure that they are on the page they expect. This is particularly important with regards to online payments, and Thinkific URLs always show your website address, providing a seamless experience for your students.
Instructor Support
Thinkific has a customer service team that is knowledgeable and accommodating. From finance to software development, and everywhere in between, customer support is at the heart of what this platform does.
You can get help at any stage of your course creation or marketing, and there are also a ton of helpful tools to help you get the best results from your efforts.
For instance, there are robust membership website features, such as non-course content on paid custom pages, group sales, and various direct integrations with your existing business tools.
Other great features include the following:
1. On-Demand Platform Training
Thinkific has training courses designed to help you succeed as an online course creator. These are free of charge, and the lessons cover every aspect of building and running an eLearning business for beginners and experienced users alike.
2. Support Channels and Hours
Users on the free plan can get support through phone and email. Premium Members also get live chat support, and Pro plan members get priority support.
3. Additional Support Available
Depending on your plan, you can also get one-on-one onboarding support, migration support, account managers, and even launch preparedness calls.
Student Management and Support
In addition to providing instructor support to ensure your success as an online course creator, Thinkific also focuses on providing an exceptional learning experience for students.
The user-friendly platform gives you the means to set learners up for success thanks to a wide range of features, such as easy social logins, automated course welcome emails, completion emails and certifications, a student dashboard with member-only content, and much more.
Here's a closer look at the different tools for delivering a spectacular student experience.
1. Easy Social Logins
This feature allows you to provide your students with quick and easy ways to log on to your course platform using their social media. For instance, students can log in using LinkedIn, Google, or Facebook.
2. Course Prerequisite Feature
This special function allows you to ensure that your students get the right course content. The course prerequisite or content locking feature will let you set one or more lessons as prerequisites in your course to prevent students from skipping ahead.
This way, they will only be able to access the following content if they have completed the previous lessons.
3. Automated Course Welcome & Completion Emails
Send automated welcome emails, as well as course completion emails to your students, which saves you a lot of time and effort of sending each email individually.
You can create custom emails for each of your courses or customize the same emails for different offerings.
4. Course Completion Page
Creates custom pages to congratulate students who complete your courses. In addition to congratulating them on their achievement, you can also use the course completion pages as a way to enhance your marketing and sales strategy by including a prompt for them to join your next course, as well as an upsell offer.
5. Mobile Access
Thinkific's website is designed to be fully mobile responsive so your students can easily transition between desktop and smartphones, tablets, and other devices. There will be complete and seamless access and progress tracking in your course.
6. Custom Student Dashboard
Your signed-in student experience can be fully customized completely with videos, PDFs, and custom pages only visible to your members. This allows you to turn your Thinkific school into a fully functional membership portal.
7. Language Translation
The entire platform has been professionally translated into over three dozen languages, allowing you to deliver your courses to wherever your students are across the globe. Languages include:
English
Dutch
Danish
French
German
Spanish
Japanese
Polish
Hindi
… and 30 others.
Thinkific Integrations
Thinkific has a ton of integrations that will help you streamline your work. For instance, the one-click multimedia feature lets you quickly add multimedia content without having to deal with complicated code or embedding, which is great for one-step multimedia lessons.
This includes things such as:
Google Docs
Webinar links
Forms
Appointment booking tools, etc.
Listed below are a few additional integrations for the platform. I've broken them down into 4 categories to make it easier for you to find the best apps for you. The categories are as follows:
Student Experience: Improve your school or online learning platform by customizing each student's learning experience.
Selling Courses: Expand your offerings and sell more courses with the best marketing and sales tools in the business.
Tracking: Get deeper insights about the performance of your online school and content so you can find opportunities for improvement.
Email Automation: The best mailing tools to reach your target audience with the right message at the right time.
1. Student Experience
Accredible: A digital certificate generator to increase student motivation and boost completion rates.
Adaptive SimpleSim: An effective way to set up test preparation simulations in under five minutes.
Beastnotes: A tool to empower students to engage more effectively with your course content and take better notes.
2. Selling Courses
Capture: Grow your email list by attracting and engaging website visitors with quizzes, pop-ups, etc.
CartStack: Drive new sales automatically through targeted emails, SMS messages, and web push reminders.
DropInBlog: Add a blog to your website in just three minutes to grow your SEO and get more targeted traffic to your course.
3. Tracking
Google Analytics: Gain insight into your customers activity through in-depth analytics using this powerful free tool.
Segment: Clean, collect and control your customer data so you can better market your course.
Facebook Pixel: Use this powerful app to track conversions from your Facebook Ads and grow your audience to optimize ads.
4. Email Automation
Active Campaign: A powerful email marketing and CRM tool for managing contacts for sales and marketing.
Aweber: An affordable and easy-to-use email marketing solution for businesses of all sizes.
Mailchimp: Bring your audience data, insights, and marketing channels together to supercharge your email campaigns.
Student Reporting
As a marketer, you understand the importance of reporting as part of your business strategy, which is why this is a crucial feature in a course-building platform.
Fortunately, Thinkific has powerful reporting and analytics tools designed to help you manage a more engaged user base. Here's what you'll find in the software's reporting dashboard:
1. User Reports
Use this feature to easily view information regarding your students and choose which data you want to be displayed whenever you visit your reports dashboard (for example, course creation date, number of enrollments, etc.)
You can segment different lists of users through the filter section of the user report. Filters include:
Course admin
Email
Amount spent
Enrolled in
Enrollment status
Group analyst
External source
Has purchased
Group name
Progress
Last sign in
Role
Referral
Used coupon
Filter course progress
2. Progress Reports
Progress reports give you an insight into how your students are doing with your course. You can view the activity they've completed and see exactly where they are. You also have access to start and completion dates, and much more.
Progress reports also include Cohort reports where you can compare student completion rates for a group of students with a common start date. For instance, all your students that signed up in April would be part of your April Cohort, which makes it easier for you to make comparisons by month.
3. Group Reports
Group reports are similar to progress reports except that they show you information related to specific groups.
This way, you'll find it easier to organize and track your students, as well as market to them as a group. You'll be able to easily see details for all students in the group, such as their names, emails, course completion rates, etc.
This is a particularly handy feature for course creators who sell to organizations.
Thinkific Pricing
Thinkific has a free version that gives you access to various aspects of the online course creation software.
It gives you a lot of control to allow you to gain important insights into the strengths and weaknesses of the course-building platform so you can make a more informed decision about whether or not it meets your needs.
The platform's plans are as follows:
Free Plan ($0/month)
Limited courses and unlimited students
1 Site Admin account
Full eCommerce features
Website templates + drag-and-drop builder
Email and Phone Support
Basic Plan ($39/month)
Everything in the "Free" plan +
Unlimited courses, content, and students
Live Chat Support
Custom Domain
Coupons and Promotions
One-to-one student email
Drip (scheduled) content
Thinkific Academy basic courses
Thinkific App Store
Pro Plan ($79/month)
Everything in the "Basic" plan +
2 site admin accounts
Priority support
Private and hidden courses
Subscription and flexible pricing
Completion certificates
Single communities
Live lessons
Advanced course building
Thinkific Academy Pro course
Premier Plan ($399/month)
Everything in the "Pro" plan +
5 site admin accounts
Groups
Onboarding package
Single sign-on (SSO)
15 group analysts
Unlimited communities
Brillium exams integration
White labeling
API access
Pros and Cons
There's no denying that this is a powerful course creation platform that will make short work of your first online course launch and allow you to create an amazing student experience.
However, like all other software, Thinkific comes with its own set of pros and cons, which are as follows.
Pros:
1. All-In-One Course Platform: With Thinkific, you can design, create, and deliver a stunning course on your own branded site.
2. Easy to Use: If you are not at all techy, you'll love this software. It makes it easy for you to upload content and build your course.
3. Quick Video Uploads: Thinkific allows you to upload videos directly to the platform and they are all kept in the library which means you can use the same videos for different courses.
4. Interactive Tools: Thinkific has interactive tools and features such as the quiz builder that you can use to boost engagement and give your course a high chance of being completed.
5. Supports Multiple Languages: The platform supports a wide range of languages, including English, Danish, Greek, German, French, Spanish, and Chinese.
6. Robust Support: The platform has best-in-class networking, community support, mentorship resources, and various other tools to help ensure your success online.
7. Offers Free Version: You can give Thinkific a try with the free version which has no time limit and will provide you with a good idea of whether or not it's a great fit for you.
8. Advanced Features for Power Users: Thinkific gives you full access to the HTML/CSS editing environment, SSO, theme importer, and API for developers.
Cons:
1. Lack of Features in Lower-Tier Plans: Many of the platform's features are only available with the higher-priced plans, which puts them out of reach of users with small budgets. While the lowest plan will work for those just starting out, those other features would be nice.
2. Poor Formatting: Some of the formatting for landing pages does not display very well, which can make the creation process a little frustrating and require some extra tweaks.
3. Potential Content Pirating: According to some reports online, paid subscribers can access content URLs via "view HTML" and share those with anyone. While this isn't a huge problem because most people don't even understand how it works, it can lead to some course piracy.
Not sure how Thinkific measures up to competitors?
Read also
Is Thinkific Legit?
Thinkific is a purpose-built course-building software with all the features you need to create and manage your course, offer support to students, and effectively market your courses online.
It's a user-friendly platform with a high degree of customization. With this software, it has never been easier to transform your knowledge and expertise into an online course. You don't have to start from scratch, and the custom course templates will speed up your course creation while allowing you to learn from best practices in course design.
The platform has a great layout, robust security, and powerful back-office features, such as monitoring and moderation access to materials. You also get marketing tools to help you get your course in front of your target students quickly.
Furthermore, Thinkific also has affordable, growth-focused premium plans that make it easy for smaller businesses to scale quickly.
All in all, this is a powerful tool that will allow you to create a comprehensive and immersive learning experience for your employees, students, and customers. It's in a league of its own and I would recommend it for any course creators who are serious about building, marketing, and selling world-class education.
The best part is that you can sign up for the free version of Thinkific so you can test-drive the software's core features and discover its possibilities risk-free with a FREE 30-day trial today.
Still not sure what platform is for you? Check out my individual reviews below or my roundup of the best online course platforms.