Online courses are a fast-growing popular alternative to traditional education. More and more people are choosing them as an option for all educational levels.
According to recent statistics on eLearning in the US, the online course market could be worth a whopping $25.33 billion by 2025, which means now is a great time to get started for anyone who wants to profit from selling their knowledge and skills online.
But, with the fierce level of competition out there, it's important to have the right tools that will ensure your success as an online course creator, which brings us to Teachable.
Teachable is an online course creation software designed to make it easy for creators, entrepreneurs, and businesses of all sizes to build and sell personalized engaging courses, as well as coaching products complete with lectures, quizzes, videos, etc. 
Founded by Ankur Nagpal in 2014, this all-in-one platform provides you with all the tools you need to design, create, and promote your course.
You'll also be able to collect payments, track sales, and get feedback and analytics that will provide you with insights into sold courses.
Read the rest of this Teachable review to discover more about this popular online course creation platform so you can determine whether or not it's a great fit for you.
If you do try Teachable, I'd be grateful if you supported me by clicking on this link to start a free trial.
Is Teachable Worth it?
If you want a tool for building and selling courses that will handle all the nitty-gritty involved in the process, including things like affiliates, email automation, VAT, taxes, author payments, etc., then Teachable is a great option for you to consider.
You'll be able to run your knowledge business with zero tech headaches thanks to the intuitive unified dashboard.
The platform comes with an impressive range of features, including:
Synchronous and Asynchronous Learning
Blended Learning
Built-in Course Authoring
Course Publishing
Data Import/Export
eCommerce Management
eLearning Companies
Instructor-Led Courses
Learner Portal
Mobile Learning
Progress Tracking
Surveys and Quizzes
Self-Paced Courses
Tests/Assessments
Videoconferencing
Storyboarding
You get all of these features and more for one affordable price, which offers you spectacular ROI (return on investment).
If you had to get all these different tools separately, it would not only cost you a lot more and take up much more of your time when you have to jump from one tool to the other, but it would also be a headache trying to get all the different tools to work together seamlessly.
With Teachable, you don't have to worry about any of this because you get all the built-in features in one place and there are a ton of additional integrations for other third-party tools and apps that you may already be using. 
Who is Teachable Good For?
Teachable is best for creators, entrepreneurs, and small business owners who want to earn money by sharing what they know through coaching and online courses. It's also a great tool for educational institutions and even large corporations looking to train employees in a more convenient way.
Here are a few use cases to help you understand how the platform provides value to different types of creators.
Entrepreneurs: As an online entrepreneur, you will be able to reach clients from all over the world with your educational courses.
Small Businesses: This simple yet powerful, no-code software is perfect for small businesses on a budget, as well as individuals with limited tech knowledge.
Large Corporations: Teachable is an excellent way for large organizations to conduct employee training and onboarding.
Educational Institutions: You can build a stunning and fully functional school website with this platform.
Non Profit Organizations: Get your message across to your donors, volunteers, and other stakeholders with this software's powerful features.
As you can see, Teachable is perfect for everyone from content creators and bloggers to industry professionals and even hobbyists.
If you want to create an online course, build an online school, or offer coaching services, this platform, which is used by thousands of businesses and millions of students worldwide, might be right for you.
Building Your School Website With Teachable
Teachable has features that make it perfect for academic/educational purposes. You can create a stunning school website with full functionality in just minutes – even with no prior experience.
You don't need an external site to build your school site. Everything you need is on the platform, and all of it is designed to be user-friendly and affordable for educational institutions.
Here's a look at some of Teachable's top functions that make it such a great option for building school websites.
1. Tons of Themes and Templates to Choose From
Building the pages of your school website, including sales pages, lesson pages, checkout pages, etc. is a breeze thanks to the wide range of pre-designed themes and templates available to choose from.
You can select the most appealing templates and customize them by uploading your logo, thumbnail, and favicon.
You can easily add things like discounts and coupons to your sales pages to entice more people to sign up for your online school.
All in all, you will love the platform's aesthetic and user interface. It's clean and modern and makes for comfortable use.
2. Ease of Use
Teachable is extremely user-friendly. If you are not a very technically-inclined person, this program will give you the keys you need to set up your digital classroom.
As you can see from the image below, its interface is easy to navigate and you'll be able to find the features you need at a glance.
You'll be able to easily upload content and add your curriculum videos, PDFs, quizzes, etc. with just the click of a button.
This feature is one of the main reasons why Teachable is the preferred option for beginners who have never used any eCourse software before.
3. Intuitive Drag and Drop Editor
The simplicity of the page builder is yet another feature that makes Teachable one of the best online course platforms around.
In addition to having tons of themes and templates to choose from for building your online school, you can also customize these fully so you can achieve the look and feel you want for your educational portal.
This way, you'll be able to create a learning environment that matches your brand perfectly – and all you have to do is drag and drop the elements you want, including text, images, videos, etc. onto the page and then change colors, fonts, etc. to suit your tastes and preferences.
You can customize your online school experience using the power editor which will allow you to create engaging multimedia videos, lectures, and coaching sessions.
4. Unlimited Everything
The platform offers unlimited video bandwidth and unlimited students on all paid plans. This means you can have as many lessons and students at your school as you want, which is great because your plan will stay the same even as your school continues to grow.
Your school can have as many webinar sessions, presentations, and lectures as you need, and you never have to worry about a limitation on bandwidth.
Teachable Course Creation Capabilities
Whether you want to create online courses, webinars, or offer coaching, Teachable has all the features you need to get started.
Here's a look at some of the platforms top functionality for creating online courses:
1. Easy to Set Up
Teachable is easy to navigate and set up for course creators. You can upload videos, create landing pages, and add different types of functionalities to each page.
You can also add a blog to your site and expand your webpage beyond just your online courses.
There are a ton of plugins that let you connect with popular marketing tools and email software at the click of a button.
Take a look at the simple step-by-step process for getting started on Teachable:
Step #1: Name Your School/Online Course
After signing up on the platform, you'll be taken to the page shown below where you can name your new online school or course:
Step #2: Enter Additional Details
Next, you'll be prompted to enter a few more details about yourself to help the platform build an experience that is aligned with your specific needs:
Step #3: Create Your School/Course
Afterward, you'll be taken to the dashboard which looks like this: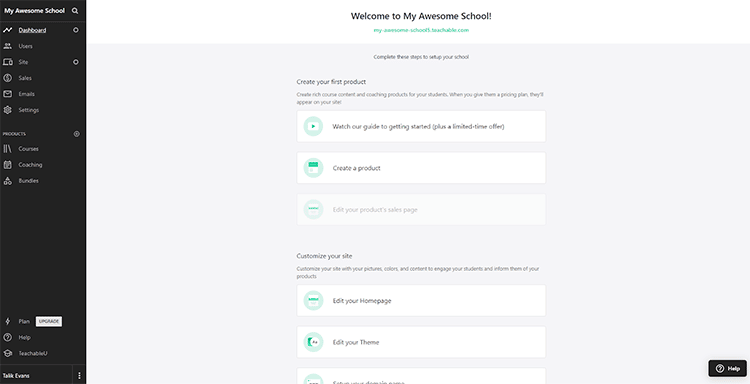 On the page, you'll find a quick guide to help you get started creating your first product.
On the left-hand side of the page, you'll see the tabs for:
Users
Site
Sales
Emails
Settings
You'll also find the Products section with your Courses, Coaching, and Bundles tabs.
You can now begin creating or uploading your course pages, including lessons, sales page, checkout, etc.
Simply choose the appropriate option from the menu and follow the prompts to select templates and customize them to suit your needs.
From this page, you can choose to:
Watch the "Getting Started" tutorial
Create a product
Edit your homepage
Edit your theme
Set up your domain name
Learn how to build your audience
2. Build Beautiful Course Pages
Teachable has a lot of beautiful, expertly-designed course pages that you can customize for your own course website.

There's no need to hire expensive developers to design your pages or spend countless hours trying to figure out how to do it yourself.
As soon as you log in, you'll find all the simple-to-use boxes where you can just click on a button and be able to add testimonials, hero images, text, change fonts and colors, etc.
Everything you need is right there in front of you, making this one of the easiest and most intuitive page builders to use.
3. Upload Files Easily
This is yet another exciting feature from Teachable. You can upload as many files as you want including videos, PDFs, spreadsheets, etc.
Use the drag-and-drop functionality and the bulk upload option to make this task a breeze.
You can also work seamlessly with Google Drive, Dropbox, and cloud storage, which gives the platform an added advantage.
4. Connect Your Own Custom Domain
You can use Teachable's domain to connect to your own. It's easy to link your existing site to the platform using your chosen domain, and this plays a huge part in helping you strengthen your brand and build trust with the audience.
Marketing and Selling Your Courses With Teachable
Your skills and experiences are valuable and unique. With Teachable, you'll be able to easily build a beautiful course website so you can share your knowledge with the world and be rewarded for it.
Let's take a look at some of the platform's powerful features for marketing and selling your course.
1. Gorgeous Sales Pages
Teachable makes it easy for you to create stunning, money-making sales pages thanks to the flexible page editor.
Simply click on the block you want to add (image, text, button, video, banner, etc.), and then edit it to your liking.
2. Flexible Payment Features
The platform's payments feature allows you to earn with ease. This is one of the places where Teachable really shines, and the platform provides you with money solutions that make your life a lot easier.
For instance, you have the flexibility of offering coupons and advanced pricing options to your students. This includes:
Memberships
Subscriptions
Course bundles
One-time payments
…and much more.
3. Affiliate Marketing Tools
Get the word out about your online school or course by using the affiliate marketing feature that allows you to add affiliates who will spread the word about your business.
The feature also makes it easy to pay your affiliates from one convenient dashboard, and you can even set different commission rates for different affiliates.
With automatic payouts for your team, it means less paperwork for you and fewer administrative headaches.
You can enable the BackOffice feature for an additional 2% fee on each transaction to automate things such as:
Author revenue share
Affiliate commissions payout
1099 tax form filing
… and much more.
4. Simple, Reliable Checkout
The Teachable team monitors for optimal checkout performance. Any technical issues are addressed immediately to ensure that your business runs smoothly.
Teachable has payment solutions for all course creators, and the platform lets you accept global payments in over 130 currencies.
Receive instant payment for your online school, course, or coaching services. You can accept all major payment methods, including credit card, debit card, Apple Pay, Google Pay, and PayPal.
In short, there are a ton of different payment methods tailored to your specific audience, that allow you to sell your online courses more effectively and grow your business revenue.
Also, when you sell through Teachable gateways, everything is taken care of, including the EU VAT.
The platform allows you to follow the money and handles conversions pixel support, author payouts, affiliate payouts, and first and last-touch attribution, etc.
There's also a robust fraud protection feature that gives you the peace of mind to focus on running your business without having to worry about these types of threats to your business.
Teachable will also help you handle chargebacks so you can protect your bottom line.
5. Additional Sales and Marketing Features
If you offer more than one course on the platform, you can use the following advanced sales features to boost your conversions.
One-Click Upsells: Once a student is enrolled for one of your courses, you can offer them a chance to purchase another course at a discount on your thank-you page.
Bundles: You can bundle one or more of your courses together and offer them at a discounted price to entice more students to enroll.
Discounts: You can set up discount coupons for each of your courses, and students can either enter coupon code or use a custom link generated on Teachable, and this will be applied to the next payment.
Multiple Pricing Plans: You also have the ability to offer different pricing plans for each of your online courses to give your students a variety of options to choose from.
Teachable Instructor Support
Teachable offers award-winning support for creators and businesses. You can get help in a number of ways, including:
Email/Help Desk: The platform has a helpful and responsible customer support team that you can reach by email and they will help you find solutions to any of your problems. Emails are generally responded to within 24 hours on the site.
Live Chat: This feature makes it easy for you to get help while working on your online course without having to leave the site.
Knowledge Base and FAQs: Here you'll find a ton of value-packed guides to help you go from idea to execution very quickly so you can start making sales online fast. There are also a ton of articles on troubleshooting, which might save you the effort of having to send an email to the support team.
Online Training: Teachable has tutorials on every aspect of the online course creation and selling process. With the paid plans, you also get access to Teachable U, where there's a huge collection of both live and recorded webinars, online lessons, videos, documentation, and various other resources to support you on your online course creation journey.
Blog: On Teachable, you'll find a helpful blog filled with tons of articles, best practices, tips, and tricks for getting the most from this platform.
Community: There's also a forum with a vast community of users who are always there to assist new users with any questions or queries they may have.
Suffice it to say that on this platform, you'll find all the help you need to begin as a founder, become an innovator, and grow to be a leader and proven expert in your space.
Teachable Student Management and Support
This course creation site provides you with all the tools you need to create an exceptional learning experience for your students.
There are a ton of options for displaying and presenting your course material in the most effective way, and the platform makes it easy for students to navigate your courses and lessons.
Here's a look at some of the more prominent functionalities for student management and support:
1. Collect Feedback with Surveys and Forms
Feedback is fundamental to the success of your online learning business. You can easily collect student feedback using third-party surveys and forms on your website.
You can integrate with Google Forms or other third-party tools like SurveyMonkey
2. Offer Next-Level Support
Easily integrate with Zapier to help you take your student support to the next level using tools like Intercom, Olark, and Zendesk, among many others.
3. Talk to Your Students Live
On Teachable, you can run one-on-one sessions with easy-to-build features, such as call hosting, milestones, and task features.
Communicating with your students is easy via the built-in email service. You can welcome, reach out, request feedback, or provide updates using individual emails.
Alternatively, you can broadcast emails to all your students at the same time, which is a great tool for marketing and advertising your content on the platform.
You can also enable the lecture comments features to allow students to share comments on each of the lectures and stimulate meaningful discussions.
Go to Settings > Notifications and you will be alerted anytime something happens, for example:
Someone read the comment
A student joins your course
Someone enrolls in your school
Enrollment is canceled
Comments require moderation
… and so on.
You can also use the Schedule and Host feature to seamlessly take coaching clients from booking to intake and then to scheduling and learning thanks to the native Calendly integration.
4. Engage Students with Quizzes
Keep your students engaged and eager to learn with high-quality quizzes that don't require any coding knowledge to create.
Everyone loves a graded quiz and it's one of the best ways to test your students' knowledge as they go. It's also a great way to motivate them to complete lessons.
You can use a multiple-choice-answer quiz at the end of each lesson, and students will receive a grade (and an optional certificate of completion) at the end of it.
5. Offer Course Completion Certificates
When students complete your course, send them course completion certificates to reward them for their hard work.
There are different templates to choose from, and you can customize them by changing the certificate color, adding a logo and signature, or even customizing the HTML.
*Note that this feature is only available with the Professional and Business plans.
You also have the course compliance controls at your disposal. These require students to finish the course before they can move on, which helps to ensure transformation and boost your course completion rate. 
Teachable Integrations
Teachable has tons of integration options that make it easy for users to get started with all the tools they need. Whichever integration you want to use, you can be sure that the platform supports it.
The list of Teachable's partners is exhaustive and includes integrations for the following:
1. Student Experience
These integrations help you provide an improved student experience so your learners will be more engaged and motivated to complete your courses.
Student experience integrations include:
2. Selling Courses
With the right integrations, you have the tools you need to market and sell your courses to a global audience.
Integrations for selling courses include:
SalesForce
Hubspot
ClickFunnels
3. Tracking
With these integrations, you'll know your numbers so you can find opportunities to make improvements to your online course business.
Tracking integrations include:
Google Analytics
Sumo
Segment
4. Email Automation
These integrations will help you easily automate your email campaigns and newsletter, and offer you a way to communicate effectively with your students.
Email automation integrations on Teachable include:
Teachable Student Reporting
Teachable has powerful monitoring and analytics capabilities. The platform's comprehensive dashboard lets you track course sales and student insights so you can make better-informed decisions to move your business forward.
You'll be able to create more success stories thanks to the insights you get from this feature.
From your Teachable dashboard, you can view the number of enrollments, as well as your earnings for any given period.
You can monitor the progress of your course and see metrics for student engagement.
You'll get reporting that is easy to comprehend with details on the number of students in each course, the revenue generated, and other information to help you stay on top of your game.
You can also integrate Google Analytics, conversion pixels, and other tools to help you monitor where your traffic originates from, and get a better understanding of which types of content are most popular with your students so you can create more courses with relevant content that ensures student engagement and success.
Teachable Pricing
Teachable has a flexible pricing scale which makes it easy for beginners to get the features they need at a reasonable price and be able to unlock additional features as their online course business grows.
The platform's plans are as follows:
Free Plan: $0/month

Unlimited students
$1+10% per transaction
Instant payouts
Unlimited courses
Product bundles
Unlimited coaching services
Course design templates
1 admin level user
Basic quizzes
Product support
Third-party integration

Basic Plan: $39/month

Everything in the "Free" plan +
5% per transaction
Members-only community
2 admin-level users
Course creator training
Custom domain support
Drip course content
Coupon codes
Third-party integrations
Built-in email marketing
Private student community

Pro Plan: $119/month

Everything in the "Basic" plan +
No transaction fees
5 admin-level users
Priority product support
Graded quizzes
Unbranded website
Advanced reports
Course completion certificates
Integrated affiliate marketing
Course compliance
Group coaching calls

Business Plan: $299/month

Everything in the "Pro" plan +
20 admin-level users
Manual student imports
Bulk student enrollments
Advanced theme customization
Custom user roles
You can save up to 20% on each plan by paying annually.
All plans include unlimited video, products, and hosting. You also get integrated payment processing, student management, and lecture comments.
There are no fees on free products and VAT (value-added tax) for the EU is calculated automatically.
Teachable Pros and Cons
No software is perfect, and Teachable is no different. While it does come with an impressive range of features, it also has a few drawbacks. Let's take a look at some of its main pros and cons.
Pros:
All-in-One Platform: Rather than having to find, pay for, and use multiple tools, Teachable has everything you need to design, build, market, and sell your online course from one convenient dashboard.
Free Version Offered: Teachable has a free version that allows you to have unlimited students. This is a unique feature that you won't find in most other online course creation platforms.
Robust Security: The platform takes its business seriously and has a killer fraud team on staff to fight fraudsters on your behalf.
Built-In Email Automation: The platform has a powerful email marketing feature that lets you communicate directly with your students without having to integrate a third-party email tool.
Wide Range of Marketing Options: On Teachable, you get coupon codes, affiliate marketing, email marketing, and a variety of other marketing tools to help you get your courses in front of your target audience.
Cons:
No Phone Support: Teachable only provides support via email and chat and lacks phone support, which is not ideal for most users.
Global Payout Options: The payout options offered on the platform are not ideal for all users from outside the US.
Limited Multilingual Support: The platform does not support many of the most commonly used languages. 
Is Teachable Legit?
Teachable is a powerful platform that will let you create your own online school and teach or sell courses directly from your own site.
It has tons of features for both basic and advanced users. It's affordable and cuts down on the learning curve thanks to the intuitive user interface.
Here's what other Teachable users had to say about the course creation software:
You'll be able to learn with ease and get started building your online course right away. As your skills grow, you will be able to unlock even more advanced functionality from the platform so you can scale your business by providing an improved learning experience for students.
And, with features like payout management, tax support, and compliance, you'll be able to grow and scale your business with no additional integrations or headaches.
So, if you're ready to share your mad talents with skill seekers across the globe, sign up for a free trial to test out the platform's features and see how well they work for you.
Still not sure what platform is for you? Check out my individual reviews below or my roundup of the best online course platforms.