Running an online business requires tons of different tools, including web hosting, list building, email marketing, page building, creating a landing page, and lead management tools, among many others.
The best option is to choose an all-in-one marketing automation platform with all the tools you need in one convenient place.
One such tool is Kartra.
Read the rest of this Kartra review to discover everything you need to know about Kartra including who the tool is good for, its functionalities and features, its pros and cons, and its integration support.
Ron's Thoughts
Choosing Kartra for your marketing automation needs will set your online business up for life. This incredible automation platform has everything a business owner requires to automate their marketing campaigns, processes, and more. The 'Done-For-You' Campaigns are highly detailed and fully capable of boosting your marketing efforts, as are the hundreds of gorgeous templates to choose from.
Biggest Pro:

All-In-One Marketing Automation Tool

Biggest Con:

Occasional Email Deliverability Issues

Annual Discount:

Yes - 25% Off

Price:

Starts at $99/Month

Promotion:
Is Kartra Worth it?
Kartra isn't just a shopping cart system. It's an all-inclusive business management platform with tools for email marketing automation, web hosting, list building, page creation (including landing page), etc.
Kartra's features are designed not just for internet marketers and online businesses.
Kartra platform also connects seamlessly to thousands of other marketing apps and tools, all of which you can access from a single, easy-to-navigate dashboard.
The mobile-optimized platform gives you all the tools for effective online marketing, including landing pages and forms, funnels, dynamic content, etc.
You do not have to be a marketing genius because with Kartra, get robust lead management and campaign management tools, basic reporting, unlimited products, and web analytics tools so you won't waste your marketing efforts.
While these built-in tools and integrations mean that there is a bit of a learning curve, this platform will become your most treasured online business tool once you get the hang of it.
So, in answer to the question, "Is Kartra worth it?" it will save you tons of time, money, and effort and provide you with a fantastic return on your investment.
Who is Kartra Good For?
This Kartra review will explore how Kartra is ideal for all types of online businesses, including enterprise companies, solopreneurs, and marketers looking for a marketing all-in-one platform with all the tools they need to simplify their workflow and automate as many of their marketing tasks as possible.
Here are a few use cases to help you better.
Online Marketing All-In-One Solution
Kartra offers the ability to build customized landing pages and create unique lead capture forms to help you capture the correct qualifying information to maximize conversions on specific marketing campaigns.
Lead Management and Nurturing
Kartra offers a marketing lead database with a robust record system for your leads and contacts.
You can also automate drip marketing campaigns to send relevant messages to your leads over time, helping you nurture them effectively.
Campaign Management for Online Business
Kartra's all-in-one platform has calendaring and program management tools to run marketing campaigns across multiple channels, including video campaigns, online ads, social media platforms (other than Facebook group marketing), mobile, and virtual events.
In addition, you can create landing pages, email marketing, automated funnels, and much more.
ROI Analytics
Measure leads and prospects generated, as well as pipeline, revenue, and the ROI of each marketing campaign.
Many online businesses have used the Kartra analytics feature.
It allows you to see which marketing investments are bringing you the greatest return on your investment to allocate your marketing budget in the future better.
Kartra Functionality
This Kartra review will explore the platform's functionality and how you can use it as an all-in-one marketing platform to help you run your online business in the most effective way possible.
With it, you'll be able to cut out hours of repetitive daily work and streamline your efforts with advanced automation to earn money around the clock.
You can turn on a host of automation systems according to the behavior of your site visitors, such as opening an email, watching a video, etc.
Then the platform will automatically send follow-up emails and messages, assign tags, add or remove subscribers to your email list, or include them in marketing sequences.
And that barely scratches the surface of what this popular platform can do with its dozens of powerful software tools – take a look:
There are far too many features to look at in a single review, so we'll cover the top functionalities of the software to understand better what Kartra can do for you and all the features you need.
1. Ease of Use
Before starting our Kartra review and looking at some of its core functionality, let's look at how easy it is to get started on the platform.
One of the very best things about Kartra is that it's surprisingly easy to use for such a powerful platform.
It has an intuitive interface, and you will get step-by-step instructions to guide you every step of the way (if you require it).
Once you log in, on the left-hand side of the page, you will see the following tabs:
My Products
My Communications
My Pages
My Forms
My Memberships
My Videos
My Calendars
My Helpdesks
My Campaigns
My Integrations
My Affiliate Promos
Kartra Academy
Each tab will take you to a new page with even more easy options to help you achieve your objective with this platform.
For instance, under the "My Pages" tab, you'll see the "Block Templates," where you'll find the following tabs:
Settings
Styles
Sections
Components
Pop Window
Alert Bar
HelpDesk
Your Code
Regardless of what you want to achieve, from creating pages to setting up email marketing campaigns and everything in between, you'll easily navigate to the links you need via the well-designed dashboard.
2. Kartra Page Builder
This Kartra review shows how Kartra Pages is unparalleled in its functionality.
With Kartra Page Builder, some may know it as a landing page builder, with a record of unlimited pages created, like landing pages and sales pages, Kartra page proves to be an excellent page builder.
This all-new, all-in-one app and page builder has the features to create gorgeous-looking web pages by simply clicking the mouse to move elements onto a page.
This fantastic drag-and-drop interface editor lets you build stunning web pages with zero graphic design or web development experience.
There are hundreds of professionally-designed templates.
However, if you do not want to maximize the drag and drop builders feature, they are fully mobile-optimized for your convenience and ease.
Once you launch the page builder, you'll see dozens of expertly designed templates to choose from, each designed to take your page building to the next level.
With Kartra page builder, website pages are straightforward to create. They are also trackable with just a few clicks of the mouse.
In Kartra page builder, no additional setup or coding is necessary. Everything you need is right there within reach on your dashboard.
You can start from scratch or choose one of the dozens of high-converting web page templates like this Video Sales Page Template:
The Kartra page builder and editor are simple to use, and they will transform the way you present your physical and online business to the world.
You'll be able to add a wide range of elements to your landing pages, including:
Mockup Compositions
Carousels
Icons
Lists
Videos
On the templates page, you'll see the following options:
Blank Canvas
My Templates
Squeeze Pages
Video Sales Pages
Thank You Pages
Long Sales Pages
Coming Soon Pages
Product Launch Pages
Product Review Pages
… and much more.
There are dozens of pre-designed templates to cover every website page you may want to create, from the homepage to the Error 404 page and everything in between.
All of them are tested and optimized to increase your conversions.
As you can see from the template below, all you have to do is swap your text, images, videos, etc.
Then, your page will be ready to go in just minutes, without the need for technical knowledge.
The platform even has a library of high-quality royalty-free images that you can use for your pages, like the one used in the "Coming Soon" page template below:
3. Email Marketing Strategy with Kartra Mail
If you want to succeed online, you need to communicate effectively with your customers and clients.
Therefore, you have a robust email marketing platform that lets you connect with and engage your user base through automated emails, and Kartra can provide you with that.
Next in this Kartra review, see how there's no need to set up a professional email account.
And you never have to worry about sending each email manually because you can easily set up an email marketing campaign using an email automation system.
Rather than looking for different tools for all these tasks, you can just get it all done with Kartra Email, an app available to you as soon as you sign up with Kartra.
With one affordable subscription, you can collect and send emails with the industry's most straightforward communication tool designed to make it as easy as possible for anyone without technical skills and knowledge.
With Kartra Email's integrated workflows, you'll be able to capture leads, tag prospects, and communicate effortlessly with all your email list subscribers.
It has never been this easy to manage an email list using Kartra Mail.
Here are just a few things you can do with your contacts from your dashboard:
Subscribe to list
Unsubscribe from list
Assign tag
Unassigned tag
Subscribe to sequence
You can segment your visitors any way you like, whether by their position in the customer journey or by tagging them in some way, such as VIP, return visitors, etc.
In addition to sending emails to tagged contacts, you can also choose to send an email to everyone in your database.
Alternatively, you can send messages only to those subscribed to your list. Finally, you can even send emails to just the not subscribed people.
In short, Kartra's email tool gives you a ton of flexibility about how you run your email campaigns, making it an excellent alternative to some of the more expensive email marketing tools out there.
The software also lets you add elements to instill a sense of urgency in your emails, such as countdown timers:
Furthermore, you can clone previous broadcasts to send to the people in your email list for recurring events.
This saves you a ton of time from creating new broadcasts each time.
The Kartra Mail tool also provides helpful templates that make it easy for you to write compelling email copy even if you aren't an expert copywriter for your email marketing campaigns…
With most other email marketing systems, you can send an email and see who opened it, how many clicks it got, etc.
But, with Kartra's dashboard and its interconnected system, you will know exactly how much you make from each email you send to your recipients.
Here's a quick summary of Kartra's email marketing services features:
Building and Personalizing Emails
Sending Outbound Emails
Managing Email Deliverability
Automated Email Responses
Beautiful conversion-optimized opt-in forms
4. Automated Funnels
Next in our Kartra review, explore how Kartra Funnels is another exciting feature that sets this platform apart from all the rest.
With it, you can engineer multi-page sales funnel flows to help you convert visitors into loyal customers.
The platform has an AI as a sales funnel builder to help you prebuilt sales funnels, marketing, and automation.
Although it's among the industry's most powerful marketing machines, it's also straightforward for simple and complex sales funnels.
Regardless of your skill level, or the type of online business, product, or service you offer, you'll be able to hit the ground running on launch day.
With Kartra, you can create sales funnel and marketing funnels as short or as long as possible.
The intuitive platform guides you through setting triggers for specific actions, such as sending thank you emails, sales emails, cart abandonment emails, etc.
You can choose from a wide range of prebuilt panels or create your own from scratch. All your campaign assets will be neatly organized on your dashboard.
These include:
Pages
Tags
Lists
Products
Automation
Sequences
Forms
Videos
Memberships, etc.
With these tools at your disposal, there's no automation or campaign you cannot create with Kartra Campaigns.
5. Kartra Membership Sites
Deliver your course, content, or training material with Kartra's professionally-designed, drag-and-drop membership platform portal creator.
Whether you want to create membership sites for your online business's clients or train students and employees internally, you'll find all the tools you need here.
If you are ready to share your knowledge with the world, you can use the Kartra Membership site and page builder to host your product with customizable landing pages.
These sales and landing pages are just what you need for setting up your online business course or training.
In addition, you have the option to create quizzes, and you can even decide on the frequency with which your content is released to your students.
In addition to drip content to your learners, you can also offer one or multiple access levels to your unlimited membership sites and portal.
For instance, you might offer bronze, silver, gold, or diamond Kartra membership levels at different Kartra pricing plans, as shown in the image below: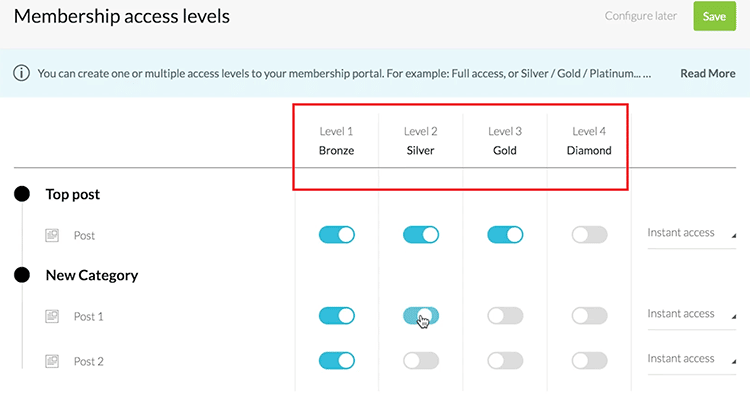 6. Kartra Video
This is a feature that video marketers will love. You can add offers midway through your video and inject forms for lead capture.
You can also add multi-video playlists and much more with Kartra Video.
Video hosting has never been this powerful.
With this platform, you can host videos that use dynamic integrated marketing features like lead tagging, advanced video options, and even on-screen calls to action.
For instance, you can use the video tagging feature to assign a tag:
Whenever a lead visits the video page;
At a specific time during the video; or
When a lead triggers a call to action.
The video options allow you to:
Upload and add a splash image in JPG, PNG, and GIF formats
Include a logo watermark on your videos
Show controls
Mute on start
Select skin color
Autoplay on load
… and many other essential settings.
Best of all, the platform has easy-to-read video analytics that shows you at a glance how each of your videos is doing.
You'll know how many visitors viewed it, the number of plays the video got, how many videos were viewed to completion, the average watch time of each one, who clicked on the CTA, and many other important metrics.
You can also use the Engagement feature to see how many people watched your video, who made it to the end, and, more importantly, where dropouts happen so you can take the necessary steps to improve your average watch time.
7. Affiliates
This Kartra review will not be completed with its phenomenal affiliate marketing program. With it, you can build an army of affiliates and sales teams to help you take your online business to the next level.
With the Kartra affiliate management tool, you'll be able to efficiently recruit, manage, and track the affiliates who promote your products.
In addition, there are flexible payment milestones, commissions, etc.
This powerful feature will help you grow your online business without investing anything.
If your business requires an affiliate management tool.
Rather than paying for third-party integrations to integrate your website, use Kartra's built-in tool to help you find and manage high-quality affiliates to generate massive profits for your physical or online business.
8. Done-For-You Campaigns
Experts have designed the done-for-you campaigns on the Kartra team, and they will make your life a whole lot easier.
All you have to do is choose one aligned with your goals, and you can immediately begin to guide your customers step-by-step on their journey toward a concrete plan, which is to make a sale.
There's no need to worry about designing a sequence for yourself with these-built sales funnels.
Everything is done for you, and all you have to do is input your campaign details into the ready-to-use campaign.
This is an excellent alternative to building your own sales funnel, although Kartra certainly makes it easy to do so if that's what you choose to do.
9. Reporting and Kartra Analytics
Kartra has advanced tools to track your customers and leads across various Kartra apps.
You'll find everything in one convenient place, including visitors, revenue, sales, sales funnel, rebills, refunds, and cancellations.
You'll be able to see things such as:
Active Subscriptions
Average Retention
Customer Value
Total Revenue, etc.
On your dashboard, you'll be shown metrics for:
Sales and Rebills
Refunds
Cancellations
Total Revenue
Customer Value
… among many other things.
From here, you'll also have easy access to your video analytics,
Here, you can quickly check things like:
Average retention time
Average member content progress
Subscription and cancellation rates
The average time it takes members to complete a course
With this data at your fingertips, you can make timely and valuable changes to your material whenever necessary, ultimately boosting your revenue and sales.

10. Kartra Helpdesk
Kartra all in one platform comes with a full helpdesk system that makes for happy and satisfied customers.
With Kartra Helpdesk, every one of Kartra users can offer world-class customer support through the platform's robust ticketing system – all the while having full access to the user's history.
Kartra Helpdesk is a powerful portal with support ticketing and live chat functionality. In addition, it's fully integrated with the checkout feature, so you can also provide billing support.
Suppose your business has different departments, shifts, agents, etc.
In that case, you can benefit from using a help desk tool that allows you to assign tickets to your customer inquiries and then automatically direct them to the relevant staff members.
This way, you'll be able to deal with all your problems, feedback, complaints, etc., quickly and effectively.
Kartra Pros and Cons
Like all software programs and tools on the market, Kartra has its own unique set of pros and cons. Here are some of the most prominent ones:
Pros:
All-in-One Solution: With Kartra, right now an agency solution – you can house all your marketing tools and apps in one place, so you don't have to keep jumping from one tool to the other.
Done-For-You Campaigns: These save you a ton of time by providing expertly designed campaigns to boost your marketing efforts.
Beautiful Templates: There are hundreds of beautiful, optimized templates from Kartra Pages you can use for any page, like landing pages that you might think to create.
Internal Video Hosting: Kartra has powerful video hosting capabilities that make this platform a marketer's dream.
Helpful and Knowledgeable Support: They are always available to onboard you and provide you with the support you need to get the most from the platform.
Cons:
Email Deliverability Issues: There have been some reports of people facing deliverability issues when sending large numbers of emails at one time.
No Whitelabel Functionality: The platform doesn't offer white labeling functionality, although there are reports that the team is currently working on it.
The Kartra team is always working to evolve the product, and many of the little minor things that count as "cons" are usually fixed in a timely way.

Kartra Competitors
There's no denying that Kartra is a great marketing platform, but it's not the only one available out there. If you've been wondering about other all-in-one marketing platforms that are similar, here are the top 3 Kartra alternatives:
1. Keap (Formerly Infusionsoft)
This tool is designed for solopreneurs and new businesses focused on long-term growth. It comes with a core CRM, automation tools, and email marketing software tools that allow you to get organized and automate all your follow-up tasks to close more deals.
Some of the main features include:
Client management (CRM)
Contact Segmentation
Appointments
Payments, invoices, quotes, etc.
Text messaging and business phone line
Data Migration
Internal Opt-In Forms
Reminders, etc.
Starting from $79/month, Keap's plans are priced similarly to Kartra's. As a result, the two platforms have more or less the same features. However, Keap offers a free trial, whereas Kartra does not.
2. ActiveCampaign
ActiveCampaign is used primarily for creating and managing targeted email marketing campaigns.
It has powerful digital marketing automation tools for eCommerce stores.
Still, its functionality doesn't come close to Kartra, which is more of an all-in-one marketing platform with everything from email marketing to split testing.
Page building to unlimited membership sites, videos, automated sales funnels, and even creating email campaigns and a sales funnel for eCommerce stores- there is much more you can do with the Kartra cloud-based software platform.
Some of ActiveCampaign's main features include:
Email Marketing Services
Unlimited Newsletters
Subscription Forms
Marketing Automation
3 Team Members included
You get these on the "Lite" plan for just $15/month, but there are many other plans, products, and features that you can unlock by upgrading to the higher-priced plans.
3. Hubspot Marketing Hub for Online Businesses
This platform is for marketers of big or small business owners who want to generate website leads and track contact activity. Hubspot Marketing Hub helps you in your digital marketing strategy and marketing automation. The website says the software is "powerful, not overpowering."
The great thing about Hubspot Marketing Hub is that you can use the software for free and only upgrade if you require additional features.
Here are some of its main features:
Contact activity and management
Contact and company insights
Forms and Opt-In Forms
Ad management
Team email
Conversations inbox
Live chat
Chatbots
Reporting dashboards
Read also
Kartra Pricing
Kartra pricing is among the most competitive on the market. You can sign up for the Kartra Starter plan (with an easy sign-up process), which includes all the core features and no add-ons, for just $79/month. The Kartra price for its all-in-one tools is much lower and worth it than competitors. If you want to unlock more features and functionality, you can upgrade to one of the higher-tier plans and improve Kartra ecosystem and features to help you sell online courses and more – create a one-stop shop for products, videos, courses, and more!
Here's what the different plans entail:
Starter Plan: $99/month ($79/month when billed annually).
Up to 2,500 Leads
One custom domain
15,000 emails/month
50 GB bandwidth
Host 100 pages
Host 50 videos
Sell 20 products
Build two membership sites
Add one additional team member
Connect one helpdesk
Agency not included
Silver Plan: $149/month
Up to 12,500 Leads
Three custom domains
Unlimited emails
Unlimited bandwidth
Unlimited pages
Unlimited videos
Unlimited products
Unlimited membership sites
Unlimited team members
Unlimited helpdesk
Gold Plan: $229/month
Everything in the "Silver" plan +
Up to 25,000 Leads
5 Custom domains
Platinum Plan: $379/month
Everything in the "Gold" plan +
Up to 50,000 Leads
10 Custom domains
If you want to try out Kartra for 14 days, you can do so by paying $1 by using exit intent and acting like you're leaving the site.
This gives you access to all the platform's features with no limitations, so you can see whether or not this is an excellent fit for your business online.
You can save up to 25% by paying annually, and the Silver, Gold, and Platinum plans come with a bonus: Kartra Agency is included free of charge.
If for any reason, you are not satisfied with this marketing platform, you can request a full refund within 30 days by messaging the customer support team.

Product Support
Among most Kartra online reviews, one common thing is that the platform's support is rapid to respond.
You can get support in several ways:
Email/Help Desk
Email the Kartra support team anytime, and you will get a timely response, typically within a few hours.
Meanwhile, Katra offers unlimited helpdesk portals too for big and small business owners like you.
Phone Support
Alternatively, you can call the support team to get instant answers to your questions and help you reach your market effectively, even if you are not tech-savvy.
24/7 Live Chat
Kartra also offers round-the-clock live chat support, so you are never stuck when using the software.
Many online businesses and Kartra users have found 27/7 Live Chat and customer service team support very helpful for their
Knowledge Base
On the website, Kartra offers documentation, videos, and webinars to guide you at every step of the way.
Kartra also provides live online courses training to help users get the most out of the Kartra software.
Tutorials and Guides
There are hundreds of tutorials and guides in Kartra Academy to help you learn everything you need to know to create, edit, and publish.
Regardless of your skill level, you'll find tons of value here and get all the support you need to help you take your product or service to the world.
Integrations
In this Kartra review, we found that Kartra has a wide range of integrations with some of the most popular tools and apps for marketing, sales, and customer service in the following categories:
1. Recurring Payment and Payment Gateways
2. Membership Site
3. Email
4. SMS
5. Hub
The platform integrates with a wide range of third-party tools and apps to help you work faster, like Kartra Mail, Nexmo, MailGun, and more, including the following:
Kartra Mail
Stripe
Digital Access Pass
aMember
Elastic Email
Braintree
Kajabi
MailGun
Nexmo
Optimizepress
PayPal
Plivo
Postmark
s2Member
Teachable
WordPress Site and WordPress Blog
These are just a few Kartra integrations tools. As cloud-based software, you may run multiple integrations and have peace of mind knowing that all the Kartra apps in the Kartra marketplace will seamlessly integrate.
Kartra offers all-in-one tools integrated into other apps and tools from the Kartra Marketplace.
In addition, you can search for even more done-for-you campaigns to help you work faster by eliminating many of your time-consuming tasks.
Is Kartra Legit?
So, is Kartra the best marketing software to build your online business? In my opinion, it is.
As an all-in-one platform in our Kartra review conclusion, a single Kartra subscription gives you access to all of the tools mentioned in this review, designed to help you skyrocket your sales.
The Kartra integrations and platform come with over a dozen software tools, but you might not need all of them, depending on your business model.
However, it's always good to know that in addition to the many built-in tools, you can also add as many tools and apps as you need to run your online business from one place without worrying about getting all the different tools to work together correctly.
Many online businesses have found features of Kartra helpful, like a custom app framework, Kartra templates for your split testing, and help in creating sales funnels. selling online courses, payment gateways, recurring payment for subscriptions, video hosting services, eCommerce stores, generating more leads, reaching your many client accounts, multiple membership tiers, creating a membership site, and more!
In addition, the Kartra pricing on its subscriptions, Kartra cost is much lower than any competitor and Kartra alternatives.
That's taken care of automatically with the hundreds of integrations on the platform.
Kartra's features give you every advantage possible to ensure your success.
There's CRM software that's constantly gathering information for you.
As a result, you'll have everything you need to build and run a profitable online business, from the massive range of marketing and sales features to individualized customer support.
Take a look at what other Kartra users had to say about this all-in-one platform for marketing, lead generation, and more:
If you're ready to get started with Kartra, sign up for a free trial and enjoy the benefits from this all-in-one solution for all your marketing, like split testing, CRM, lead generation, and sales needs.
Still not sure what platform is for you? Check out my reviews below or my roundup of the best online course platforms.