Have you ever thought about channeling your passion for fashion into a creative and exciting outlet?
Perhaps you've wondered how to start a fashion blog but weren't quite sure where to begin.
Don't fret – I'm here to help you.
In this guide, I'll walk you through every step of starting a fashion blog that accurately represents your style and vision.
Editors Note
---
This guide is extremely DETAILED and explains everything you need to start a Fashion blog. I've been at this blogging stuff for over 8 years and have built a business making $20,000 per month, so I have a lot of helpful advice for you newbies out there.
If you get stuck or need advice, I HIGHLY recommend that you get my 100% FREE blogging course by clicking here. If that doesn't help please contact me directly and I'll help you out for free.
How to Start a Fashion Blog in 10 Steps:
If you just need someone to walk you through the process of setting up your successful blog quickly and easily, check out step 5.
People start blogging for all kinds of reasons. Some have a specific topic they are interested in, while others love talking about all things fashion.
Over the past few years, thousands of fashion blogs have popped up, but only a few have been successful and profitable.
The reason for that is they're built following a solid, step-by-step strategy for creating a blog which includes using the right tools, setting up your blog the right way, promoting it effectively, and finding the best ways to monetize it.
Some other reasons to start fashion blogging include:
Make Money
Get Free Products
Grow a Following
Share Experiences
Grow Your Credibility
Build a Community
Regardless of your reasons for wanting to start a fashion blog, here are the steps to help you do so in a way that will set you up for success from day one.
Step 1: Decide the Focus of Your Fashion Blog
The first thing you need to do when deciding how to start a fashion blog is the focus or direction of your new blog.
Your blog can be whatever you want it to be, but it must have a clear purpose if you're going to be able to build an engaged audience.
So, rather than focusing on everything to do with fashion, you must decide how to position your blog, guiding the rest of your blog creation process.
Here are a few ideas for the main focus of your fashion blog:
To make money from your passion.
To build credibility in the fashion industry and be with the top fashion bloggers.
To build a community of like-minded individuals with fans and fashion bloggers.
To share your knowledge with the fashion trends and fashion world.
To teach others what you know about the fashion industry.
To be a trendsetter on the leading edge of fashion and be one of many fashion influencers.
Having a clear focus for your blog will make it easier to pick topics and create content your audience will find relevant and engaging and share your unique voice. Something that I'll expand on in the next step.
Step 2: Choose Your Niche
Step number two of starting a fashion blog involves choosing your niche for your own fashion blog. A niche is simply a smaller subset of your market that you will focus on when you start a fashion blog.
You can choose absolutely any niche you like, but if there's something that you're exceptionally skilled, experienced, or knowledgeable about, then I believe that's the niche you should choose.
It is not like a drop-down menu where you can choose your niche instantly, but it's so much easier to create content while fashion blogging and positioning yourself as an expert when you know what you're talking about.
Here's a list of a few different types of successful fashion blog niches you might consider:
Fashion Advice
Fashion Hacks
Fashion Diary
DIY Fashion projects
Outfit of the Day
Celebrity Fashion
Fashion for Moms
Fashion Journey
Bad Fashion, etc.
Crafting fashion pieces
The best part about choosing a niche is that you can combine two or more niches to create your own unique niche that will help you stand out from all the other online fashion blogs.
Step 3: Choose Your Blogging Platform
Before you can get your blog online, you need to choose a blogging platform. There are free (hosted) platforms and paid (premium or self-hosted) ones.
Free blogging platforms like Wix, Squarespace, and Blogger may seem appealing to beginner bloggers, but they have many drawbacks.
For instance:
They offer poor customization, which means your website will look the same as everyone else's.
They have an unprofessional look (e.g., "MyFashionBlog.Squarespace (dot) com" instead of "MyFashionBlog (dot) com").
They have limited web hosting features, and you won't have eCommerce, email tools, custom themes, etc.
Even the best web hosting free platforms also have low monetization potential, which means you'll have difficulty making money from your fashion blog like other bloggers.
There is also a lack of control for free domain and free themes. The site never really belongs to you; you will lose all your content if something happens to the host.
On the other hand, self-hosted platforms offer many benefits that free domain does not have.
You have total control over your website and content, but you can customize every aspect to make it look and feel how you want to share your unique voice.
You can build a strong brand and sell products on your website to keep all your profit.
Here are a few additional reasons you must choose a self-hosted WordPress fashion blog over free blogging platforms.
Why Choose Self-Hosted WordPress?
The WordPress web hosting software is user-friendly and great for beginners with no coding experience.
WordPress software is free to use and installs in one click
The WordPress web hosting comes with tons of plugins for adding site functionality
WordPress editor also integrates with a ton of other apps and services
There's a huge community of developers and users to provide support when choosing a WordPress web hosting service.
WordPress web hosting gives you much flexibility in monetizing your fashion blog niche.
The free WordPress dashboard lets you see your website stats and insights for your traffic.
Now that you know why you should choose a premium WordPress site over hosted options, it's time to move on to the next step, which is to choose your own domain name.
How to Start a Fashion Blog For Free
If you're still interested in learning how to start a fashion blog for free, there are a couple of things you should know. For starters, free website hosting is not all bad; there are a couple of benefits as well.
First off, they provide good testing grounds for some basic functions and modifications. If you start feeling overwhelmed by all the stuff you need to do to start a fashion blog, free hosting can be a good idea to help you get started.
You'll also get acquainted with some of the tools that you'll probably use in paid web hosting regardless. This helps if you have a great idea and want to realize it using some of the tools at your disposal.
Overall, you can start a fashion blog for free but it isn't profitable in the long run (unless you switch to paid hosting) and doesn't offer the same versatility that paid hosting does.
Step 4: Decide Your Domain Name
Choosing a new fashion blog name isn't just about picking the first name that comes to mind.
This article I wrote goes into detail on how to choose a domain name, with 11 things you must know.
But before we get into the list of tips, here are some lists I put together that might help:
Here's a quick look at some of the important tips to consider when deciding on a name for a fashion blog.
1. Choose .com: Although there are many fashion-centric domain extensions (e.g., .fashion, .style, etc.), it's always best to buy a ".com" domain name as this is the easiest for everyone to remember.
2. Choose a Broad Name: Don't make your name too specific, as this will limit the types of content you can create for your blog.
So, for instance, instead of calling your fashion blog "Winter Boots Blog," you might call it something like "Boot Barn" instead. This will allow you to focus on a wider range of shoes.
3. Keep It Short and Sweet: Your domain name should be short and easy to remember. Do your best to keep it to just two or three words, four at the maximum. So, for instance, a name like "GetaHotFashionMakeoverinThreeWeeks (dot) com" is way too long (not to mention super spammy).
But, you might choose something like "MakeoverMaven (dot) com," which makes way more sense and is easier for your audience to remember and type into their browsers.
4. Use Alliteration: Alliteration is when you use two or more words that sound the same or start with the same letter. Examples of alliteration names are Fashion Fiesta, Cool Canvas, Heels, and Heights.
5. Use Creativity: You can use creativity to find similar-sounding phrases or words with the same meaning.
Use an online thesaurus to help you develop great alternatives and synonyms for the name you want.
6. Add Extra Words: If all else fails, and you still can't get the name you want, simply add more words like "the," "with," "club," "fashion world," etc. For instance, if you wanted a name like "Girl Curves," you might consider "Girl with Curves" instead.
7. Think of the Concept: To help you brainstorm ideas for your fashion blog name, try to think of the concept around your blog. Ask yourself what it could be branded as and how it could grow in the future.
This will help you think of great ideas for names when you can imagine the possibilities for your blog.
8. Use Name Generation Tools: If you find yourself stuck, plenty of free domain name generator tools help you develop an excellent domain name.
Two of my favorite tools I like to use are Instant Domain Search and Lean Domain Search.
9. Don't Buy a Domain Name: You might have found a name for your fashion blog, but it costs hundreds or thousands of dollars. Don't be tempted to buy a domain name for sale. It's not worth it at this point.
Instead, look for a different name or a variation of that name available for purchase at the regular price and use that money to create content to grow your new fashion blog instead.
10. Don't Get Stuck Here: Most people obsess over getting the perfect domain name. They never move past this stage. Don't let that happen to you.
Spend a couple of hours at most, pick a name you're happy with, and move on to the next step.
Examples of Successful Fashion Blog Names (and why they make sense)
To help with your brainstorming process, I've listed a few examples of popular names of top fashion bloggers' websites already out there, with a short explanation of why the domain names make sense.
1. Her Bones: This is a very clever name and usage of branding. With this site, the idea is that beauty and fashion run more than skin deep, hence the "Her Bones" name.
2. Harper and Harley: This fashion blog uses alliteration for a unique and memorable name.
3. Elle: Short and sweet – need we say more?
4. Who What Wear: This clever play on words makes for a unique blog name.
5. Fashion Gone Rogue: This celebrity outfit review blog has a unique and descriptive name.
6. Gal Meets Glam: This is yet another example of alliteration for a fashion blog name that is easy to remember.
Step 5: Buy Your Domain Name and Hosting
Now that you've picked out a great name for your new blog, it's time to purchase that domain name and the web hosting. Starting a fashion blog without a proper domain name will be problematic in the long run so take some time with this step.
Your blog domain name is like your address on the internet. It's what visitors will type into their browsers to get to your blog, which can be likened to your house online.
The web hosting company is a domain registrar that is the real estate on which your house sits. It's an online service that "hosts" your website files and ensures that your site is always online and available for visitors.
I've created a detailed walk-through of the entire process of purchasing your domain name and reliable web host company for your hosting service.
First, click this link to visit Bluehost and follow along with the tutorial below:
Step 1: If you haven't yet, click on this link, and you'll be brought to the WordPress Hosting page you see below.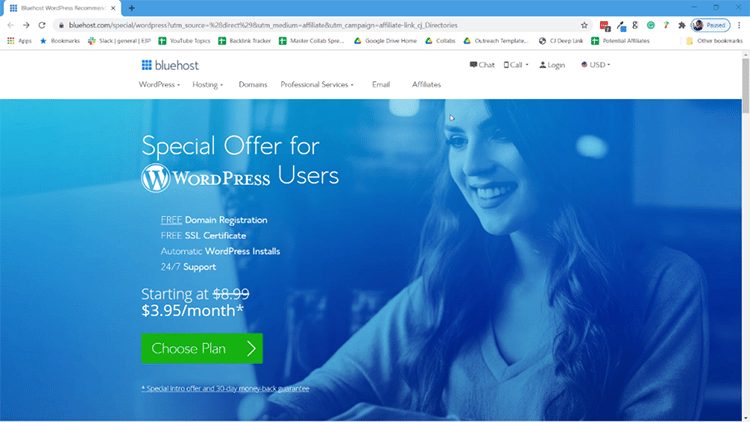 Step 2: You'll be brought to the hosting plan page next. You could choose a web host plan to get a "Plus" or "Choice Plus" plan, but that's not a requirement.
The Startup plan is the cheapest at $2.95/month through my link vs. the normal $8.99/month.
This plan has everything you need for starting a fashion blog, including 50GB of webspace (plenty of room for your files), a free domain for a year, plus other standard features like a free SSL and security when you install WordPress.
Feel free to browse a bit to decide on the right plan, but rest assured that Basic will work fine if you want to minimize your investment.
Step 3: After clicking on the plan, you'll be brought to the next page where you will type in your new domain, or you can choose "I'll create my domain later" if you haven't decided yet.
The domain is the URL people will type into a browser to view your website in the future.
Step 4: The next page will ask for your information once you submit it. That will start with your web hosting account information, which is self-explanatory.
Step 5: Next, you'll have to input your Package Information. This is to choose how long you want the basic plan to go. I advise you to choose 24 months to get the discount and save some money, but you can go as low as 12 months.
Step 6: You'll have to choose what "Package Extras" you want. You can scroll over "More Information" to understand each item, but here is my advice.
I would get the "Domain Privacy + Protection." This makes it so that no one can tie your name to the domain name you create.
The only other one worth considering is "Codeguard Basic." The other two I wouldn't personally get. But choose what is best for you.
Step 7: The next step is Payment Information, which is self-explanatory.
Step 8: The last signup step is to confirm that you read and understand the Bluehost Terms of Service, Cancellation Policy, and Privacy Notice. Click the check button and then click "Submit."
Step 9: Next, you'll be prompted to create an account and password. You'll use this information to log in to the Bluehost platform to manage your site and account info.
Step 10: At this point, Bluehost puts you through a short questionnaire to better understand your scenario.
You can answer these questions or click "Skip this Step" at the bottom. If you're a newbie, I advise you to answer the questions as it'll help your onboarding experience.
Step 11: After doing that, you'll be advised to choose a theme. For now, you can choose to use a free blog theme. But, of course, you can always replace the theme later if you'd like.
Step 12: You'll be brought into the backend of WordPress in the admin panel. This is where you'll manage your site from.
You can add many or few posts/pages as you see fit, but click on the blue button that says "Launch Your Site when you're ready."
Step 13 (Final): Your blog is LIVE. Just go to a browser and type in your domain name. Once you do this, you'll be able to access your website!
Congrats! You officially have a website.
Now that you have your home on the internet, it's time to decorate it and make it look good. For that, you need a theme.
Step 6: Choose and Install a Theme For Your Fashion Blog
Once you've purchased your domain name and hosting, you'll be prompted to install WordPress in one click. You'll notice that WordPress comes with a default theme when this is done.
A theme is a software that dictates how your WordPress blog looks. It determines things such as layouts, colors, fonts, etc.
This is a very important step in understanding how to start a fashion blog if you want to develop and design your website akin to successful fashion blogs and fashion brands.
You need to swap the default WordPress themes for something more visually appealing.
When choosing WordPress themes, you have thousands of options, but it's always a good idea to pick a premium WordPress theme like many WordPress experts use, that has the following characteristics:
What to Consider When Choosing a WordPress Themes
Mobile Responsiveness: The WordPress theme you choose should be mobile responsive (aka mobile-friendly) to make it look great on all devices.
Speed: Choose the WordPress theme built for speed, so you don't have to worry about slow loading pages on your website.
Easy Customization: Your theme should offer you complete customization capabilities to make your fashion blog look and feel the way you want it. Not all themes have reliable customization options, even for WordPress experts.
Beautiful Design: Choose a perfect theme that has beautiful, modern, sleek designs that allow you to showcase your fashion knowledge in a visually appealing way.
Reliable Customer Support: Make sure your theme offers robust support conveniently so you can get help anytime you need it.
Trusted Brand: You're better off going with themes from trusted brands with longevity in the market.
Excellent Online Ratings: Check online for reviews, ratings, and third-party websites to see whether or not your theme satisfies users' needs.
Premium themes have the advantage of being updated frequently.
They are also more secure and provide more flexibility and easy customizability.
Now that you know what to look for in a good theme, let's look at a few great themes for fashion blogs.
Fashion Blog Theme Options for WordPress
This is a modern and responsive theme with the sole focus of helping you present your fashion content in the best way possible on devices of all screen sizes.
It comes with a clean layout combined with beautiful typography to draw and keep readers attention to the most important parts of your content.
You can choose from 6 blog layouts for custom page templates and various page options to create a website that looks and feels the way you choose for your specific niche with the perfect theme with the latest fashion trends and your own products.
There are so many ways fashion bloggers will love this premium WordPress theme.
It allows you to quickly build a clean, modern, beautiful website or blog that lets you share your lifestyle with others in a visually appealing with all the features for your personal branding and customization options in the theme.
It has features like full-version post carousels, widgets, masonry layout, etc., and is extremely easy to customize. The theme is also fully responsive and SEO-friendly (like the Yoast SEO plugin), with excellent website performance.
This theme is fast and reliable, with a knowledgeable support team to provide professional assistance to all its users.
It comes with advanced theme options and a powerful admin panel that makes it easy to navigate all the different features that make your blog unique and extremely useful.
The intuitive admin panel allows you to set up and use the theme quickly and get perfect demo content that gives you the chance to create stunning websites even with zero technical knowledge.
This stylish collection of pre-designed pages will help you build an attractive blog to showcase your fashion knowledge.
You can import full demo content with a single click.
All of it is easily customizable, and you get a comprehensive set of intuitive options so you can transform your blog and make it truly unique and on-brand.
One notable feature of this blog is its elegant blog sliders that let you highlight your content effectively to ensure that your blog posts get their attention.
This theme is beautiful in its simplicity. It's fully responsive with features designed specifically for personal style publishers.
Everything is kept simple to ensure that every fashion blogger can use the theme, even those with no IT background.
The theme feels fluid, light, and intuitive, and you'll get clean code and detailed designs for each of your website pages.
Step 7: Create Essential Pages and a Logo
Every website requires a set of essential pages that provide visitors with important information and resources. Starting a fashion blog without these is not a good idea.
For your new fashion blog, you need an About page, Contact page, and Privacy Policy page.
Depending on your needs, you can add other pages, but these three are essential before launching your WordPress blog.
Let's take a closer look at what each page entails – a vital process on how to make a fashion blog.
About Page
The About page is where readers learn more about you, the person behind the blog.
Many of your readers will click on the About page to discover more details about you, so include everything you think they might want to know, including your name, how old you are, where you live, and a bit of history about yourself.
You might also add an image of yourself on this page. Make sure you include information about the reason for starting a fashion blog and what you hope to achieve with it in the future.
Use the same style and tone of voice that readers can expect throughout the rest of your blog.
Contact Page
Your website also needs a Contact page with details for readers who want to get in touch with you. This can be your email address, social media profiles, phone number, Whatsapp, Skype, etc.
Add whatever you deem relevant to provide your visitors with a convenient way to send you messages.
It's also a good idea to include a contact form on this page to make it easy for visitors to get in touch with you instantly.
Privacy Policy Page
A Privacy Policy lets readers know about the types of information you collect and how you intend to use the data.
It's a crucial page, mainly if your fashion blog attracts readers from jurisdictions with privacy laws.
Check out my list of privacy policy generators for free and paid options to help.
Alternatively, you can enlist the services of a legal professional to draft your Privacy Policy and other legal pages for your website, such as Terms and Conditions, Cookie policy, Disclosures and Disclaimers, and so on.
Create a Logo
After you've published the essential pages of your website, it's time to create a logo for your fashion blog.
A logo will make your website instantly recognizable to your audience. You can also use it on social media and various other places to help strengthen your brand.
Use one of these logo makers to begin. If you require high-resolution logo files, you can pay a minimal fee to access them.
Step 8: Begin Blogging
Now that your fashion blog is built, we've covered most of the intricacies to help you understand how to start a fashion blog. Depending on your niche, you have a wide range of options for the type of content you can make for your fashion blog with free access to blogs on your site.
Here are a few ideas for the different types of posts that do well online:
List Posts: For example, "100 Style Tips to Make You Stand out in 2022."
How-to Posts: For example, "How to Find Flattering Jeans for Your Body Shape."
Roundup Posts: For example, "21 Brilliant Fashion Bloggers You Must Following 2022."
Industry News Posts: Share the latest relevant news from your industry.
Interview Posts: This is where you interview other aspiring fashion bloggers, experts, or audience members in your niche.
You can also create a welcome series outlining your blogging journey toward starting a fashion blog. You can talk about how you did it, why, and so on.
You can even share behind-the-scenes information to give your audience a peek into how you do things. The options are endless – many larger websites post bulk blogs, but you do not need that to succeed online.
Make sure you stick to your chosen niche when choosing topics to write about. Also, write informational and the fashion content you want to focus on.
This will help you bring more to your website.
If you have difficulty coming up with topics for your blog, browse through other blogs in your perfect niche to see what they typically write about.
Check out their posts on social media and see which topics get the most engagement.
This will give you an idea of where to start creating content for your blog.
The next step involves promoting your fashion blog, but you must make sure you have at least ten posts written and published on your blog before you start promoting anything.
This ensures that people don't land on a sparsely populated blog, which would make you look like an amateur.
Also, when you have many different posts on offer, it gives people stuff to browse and something to look forward to when they come back to your blog.
Step 9: Promoting Your Fashion Blog
Everything is set up, but you still need people to come to your blog. This is where blog promotion comes in.
There are many different ways to promote your blog, some more effective than others. It's best to do this soon after starting a fashion blog so you can reap the benefits of blog promotion as soon as possible.
Listed below are some of the most effective ways to promote your fashion blog so you can bring more eyes to your content.
Tell Friends and Family About Your Fashion Blogs
Once your blog is live, the first thing you should do is share it with your family and friends. Ask them to visit your blog, read your posts, and share your content with other people on their social networks.
This will provide you with exposure to new audiences, and your family and friends can provide you with valuable feedback that will help you improve your new fashion blog even more.
Leverage Social Media
Social media platforms are a powerful tool for blog promotion. Simply share the link to your blog on all your social media profiles using social media plugins and ask your connections to visit your blog.
You can take this a step further by joining relevant groups in the fashion community and sharing your link there. You can also promote your online store on your YouTube channel or social media channels, such as your Instagram feed. You can also add a social sharing plugin for your blog to help viewers share your content almost instantaneously to other social media accounts.
Remember not to spam people with your blog link and Instagram posts, but rather provide value first by reading and replying to other people's comments before asking them to check out your blog.
Use Paid Ads
(Source)
In particular, paid ads (social media ads) are a great way to get a reliable, steady stream of traffic to your new blog.
Many people shy away from spending any money on their fashion startups and online business, but if you want to experience success, this can help you get there faster.
The best part is that you don't have to spend a lot of money to get started with Facebook ads, Instagram ads, Twitter ads, etc. For as little as $5 per day, you can begin to drive instant, targeted traffic to your fashion blog and e-commerce store.
Focus on Search Engines Optimization (SEO)
Search engine optimization is among the most effective ways to get targeted traffic to your website without paying any money and reach your target audience. This is especially true for fashion blogging since you have to be better and more visible to the public than your competitors.
It would help to focus on essential keywords in your niche, including those in your content, a Search Engines Optimization (SEO) plugin, and many SEO best practices. Then, Google will reward you with free traffic.
The more high-quality content you post with Search Engines Optimization (SEO), the more traffic you'll get to your fashion blog.
Guest Posting With Other Fashion Bloggers
Writing guest posts for other blogs in your industry is a simple yet wildly effective way to drive traffic to your own site.
Seek out other fashion blogs in your niche, particularly ones already popular, and submit content with a link back to your own website. You can also collaborate with different fashion and style influencers and many fashion bloggers that will help you create a personal brand and reach your target audience.
This will expose you to brand new audiences, and you'll soon see a steadily growing traffic flow to your blog.
Join Fashion Forums
You can join groups and forums that are focused on the type of fashion niche you are in.
Here, you'll be able to meet like-minded individuals and make connections with other people and brands that can get you in front of new audiences and possibly lead to lucrative collaborations in the future.
Step 10: Start Making Money
Now comes the fun part: how to make a fashion blog and make money from your fashion blog. As with blog promotion techniques, there are various ways to monetize your website traffic.
So how do fashion bloggers make money and how much do fashion bloggers make?
Well, according to ZipRecruiter, the average yearly salary of fashion bloggers is between $37,500 and $88,000. Keep in mind that they also receive free products to promote the brands they're partnered with, as well as the occasional gift from said brands.
It's a great way to make some income on the side, but it can also turn into a fully-fledged career if your blog starts breaking through and becoming more and more popular.
Below, I've listed some of the best ways to monetize a fashion blog, but you can always read my blog post that explains how to make money blogging.
Affiliate Marketing
(Source)
Affiliate marketing is among the best ways to make money online. It works straightforwardly. You have to join an affiliate network and affiliate program and recommend other people's products and services to your own audience with affiliate products.
You'll be paid a commission for each sale generated on your affiliate products.
Successful fashion bloggers, in particular, benefit significantly from this blog monetization method because there is a wide range of fashion-related products to choose from on affiliate networks like Look At Me, New Chic, and RewardStyle which you can also do after you start a fashion blog.
Display Ads When Fashion Blogging
Display ads are a great way to generate passive income on your blog.
To start earning ad revenue, you can join Google AdSense or other ad networks like Newor Media (Read my Newor Media review here), Media (dot) net, Adsterra, etc. Once your account is approved, the ad network will show ads to your blog visitors. You'll then be paid for each ad view or click.
Unfortunately, you have to have a large audience to start earning a full-time income from an ad network like Google AdSense.
This means that you might not see much revenue from using the Newor Media or Google AdSense monetization method during your first days as a fashion blogger.
Consulting
Consulting is an excellent way to monetize your new fashion blog because you can start benefiting from it even while your traffic numbers are still low.
Offer your services as a fashion consultant for a particular niche. For instance, you might become a style consultant for expecting mothers.
Whatever your expertise, there's a way to package and monetize it by offering your services to relevant people who have a need.
Create Information Products
Digital or information products are a great way to monetize any type of website.
You only have to create the product once, and you can sell it as many times as you wish.
Also, there's low overhead, and you get to keep all the profits.
As a fashion blogger, you might create products like fashion calendars, dressing apps, eBooks, patterns, digital clothing, photos, principles, designs for print-on-demand T-shirts, etc.
You can also sell fashion products and do marketing campaigns (like social media marketing using compelling content) with relevant hashtags and post on your Instagram feed.
Create Instagram posts to sell your entire site content, products, and more about fashion using your own voice to give and share tips like shopping tips for the fashion industry.
After starting a fashion blog, you can even create online courses to share knowledge and informative ideas and teach others what you know about fashion other than your blogging efforts for content on your perfect niche.
Accept Sponsored Posts
Fashion blogs typically get many free products, and they write sponsored posts in return for free things.
However, you can also charge brands a certain amount for each sponsored post to help you generate more income on your blog like most fashion bloggers.
Before you started reading this guide, you were wondering, "How do I start a fashion blog?". And now, when you've reached the end of this fashion blogging course, you're fully equipped to start and maintain your fashion blog. From thinking of a domain name to learning how to monetize a fashion blog, we've covered it all.
Good luck and remember – don't give up until you achieve your dreams! If it's not going as well as you're hoping, try to figure out what needs to improve and you'll start seeing results. Starting, growing, and maintaining a blog requires constant attention so if you keep at it, you won't have to worry as much.