Finding a suitable theme for your website can be challenging. You don't just want your site to look nice, but you also want to make sure that the theme has built-in tools that can help you increase traffic and keep people on your site longer.
If you're using WordPress, this can be even harder because there are a lot of themes you can use on your site. Some are good, others are terrible. Very few qualify as exceptional.
One of the few genuinely exceptional WordPress themes is the Astra Theme. It's a super-fast, highly customizable, and SEO-friendly plug-in that does everything you need and more. There's a reason why over 2.4 million websites use Astra.
I've created this extensive Astra Theme review to help you understand who it's good for, theme features, its pros and cons, and whether or not it's worth it for your business.
Ron's Thoughts
I enjoyed Astra Theme greatly due to its simplicity and numerous design options. However, what makes it unique is its free version which is more powerful than other plugins' free versions. Additionally, Astra is truly a 'bang for your buck' choice thanks to its affordable price and plenty of features. And, if you ever find yourself in a bind while configuring your theme, their customer support team is available 24/7.
Biggest Pro:

Excellent Value-For-Money

Biggest Con:

Plugin Update and Support Fees

Annual Discount:

No

Price:

Starts at $59/Year

Promotion:
Is Astra Worth it?
The Astra WordPress Theme is part of a suite of WordPress plugins developed by Brainstorm Force. These page builder plugins include:
Convert Pro: An email-opt-in and lead generation plugin
Schema Pro: A Schema markup plugin
WP Portfolio: A portfolio plugin
So before even looking at the free WordPress theme, I was already impressed.
Brainstorm Force has been developing plugins for the WordPress site for quite some time and has been successful. So when I began the theme review, I was expecting something impressive.
And I was pleasantly surprised with this WP Portfolio plugin: it was even better than I thought it would be!
This multipurpose WordPress theme is built with WordPress sites and performance in mind. As a result, it's stable, lightweight, and loads in under half a second.
In addition, it's designed to be SEO-friendly to make your work a lot easier when ranking high in search engines.
The theme has two versions, Astra— freely available to download from WordPress.org and Astra Pro — which you can purchase from their website and WordPress Repository.
The free version of the theme is generously packed with features that let you build just about any website using WordPress.
The free WordPress theme also has many features (many of which we'll look at below), and it is competitively priced, making it worth buying for anyone who wants to build a high-quality, fast-loading, and unique website or blog.
One of the significant benefits of using Astra is that it works with all the popular WordPress page builders like Elementor, BeaverBuilder, and Brizy.
In addition, it works well with the Gutenberg WordPress Block editor.
This case study from Mustaasam Saleem of Cloudways shows how they used the WP Astra Theme to create a successful hosting company website that loads in 37ms on an optimized WordPress hosting stack.
The famous digital marketing blog also has an equally impressive case study. Blogging X and both sites tout the many beautiful features that led them to choose Astra over many WordPress themes.
Here are their essential features for choosing a WordPress theme:
Lightweight
Clean code
Support
Compatibility
Updates
Pricing
And Astra meets them all – and more!
Here's what Mustaasam from Cloudways had to say about Astra:
"It's worth mentioning that whenever one thinks of an optimized WordPress theme, Astra is the one theme that comes to my mind." Mustaasam Saleem – Cloudways
Big names in the WordPress industry like Chris Lema, Syed Balkhi, Justin Ferriman, Harsh Agarwal, and others recommend the Astra WordPress theme because it is lightweight, customizable, and full of features.
Who is Astra Good For?
Astra's excellent features include pre-built starter templates, versatile and fully customizable themes, mobile friendliness, and its focus on speed and SEO.
This theme is ideal for bloggers, business owners, freelancers, and eCommerce retailers.
It's an excellent theme for you if:
You are looking for a super-fast theme
You want to build a fully functioning website in just a few clicks
You need a site that can grow without sacrificing your loading speed
You're eager for a theme that is compatible with all leading page builders
You want extensive customization options to create a truly unique website
If that's you, Astra Theme (and Astra Pro, in particular) has all the features and tools you need.
Upgrading to Astra Pro is highly affordable, but the theme comes with a free version that you can use to get started building your websites online.
This means anyone can afford to create a professional-looking website since the theme removes any need for expensive developers.
Furthermore, the pre-built starter templates make it easy for complete beginners to create and launch a website in minutes, including Astra Starter sites with customization options and easy digital downloads.
And for those who prefer to code their own sites or build complex websites, Astra also comes with a ton of built-in developer functionality.
Long story short, both the free and premium versions of Astra are suitable for anyone who wants to build a portfolio blog, eLearning portal, business website, or eCommerce store.
You can get started for free or upgrade to the theme's Pro version if you want to extend your website's functionality.
With Astra Pro, you get access to over 40+ more features and expert support from the team that built the Astra Theme.
Some of the features that you get with the pro version are:
Advanced Builder for Header and Footer Bars
Advanced blog layouts
Sticky header
Advanced Footer Builder
Custom layouts and hooks
Advanced typography
Advance color options, including customization of Mega Menu
Industry-leading breadcrumb support
Mega Menu
Modify Featured Image Easily
Easy to Use for SEO Purposes
WooCommerce controls
Native AMP support
Product updates
Premium support
Doesn't Use jQuery
Unlimited website usage
Astra Starter Sites Plugin
Astra Pros and Cons
As you've already seen, Astra is a great theme that is worth buying regardless of the type of website you want to build.
However, like all other themes, Astra has its own set of pros and cons, which we will look at Astra WordPress theme review below.
Astra Pros
Easy to Use: Astra's intuitive and straightforward user interface allows even total beginners to get a website up and running in hours instead of days.
Website Layouts: Astra Pro has a site layout module that gives you complete control over the layout of your website (for example, boxed, full, fluid, etc.)
Load Time: WP Astra is lightweight and uses Vanilla JavaScript to enhance speed and performance, loading in under 0.5 seconds.
Page Builder Support: Astra integrates with all page builders (such as WordPress page builder), so you can create a professional website without coding knowledge.
Design Options: The Astra Theme free version comes with over 20 free starter templates on the free version and is WooCommerce-ready so that you can launch your online store in minutes. Additionally, the Astra Starter Sites plugin allows you to import many pre-built website design templates to easily personalize the theme for your purposes.
Customer Support: Astra Pro offers dedicated 24/7 support through live chat. There is also a vast knowledge base with many in-depth articles and video tutorials.


SEO-Friendly: This theme is completely responsive and optimized for SEO. It works perfectly with all WordPress plugins and has integrated SEO schema code.
Developer and Non-Developer Friendly: Astra's code follows the best coding standards and is designed to make web developers' work more accessible. You can easily code websites using CSS and webpages using HTML if you choose. However, non-developers can also build websites quickly with pre-built designs, easy drag and drop features, and extensive integration options.
Free Version: Astra Free is a free version of the Astra Theme, which has all the features you need to build a unique, responsive, and fast website. However, it lacks some of the features of the premium version.
Generous Pricing: An Astra Pro license costs only $47/year or $249 for a lifetime, unlimited websites, and access to premium support. This is an excellent price for such a popular theme.
Astra Cons
For a theme that is used on over 1.6 million WordPress websites, there are a few cons to the Astra Theme that we will explore in this Astra WordPress theme review…
Limited Free Version: Astra's core theme, which is offered for free, is quite limited, which means that you have to upgrade to Pro to unlock more features to grow your site. However, the free version is much more impressive than some other themes like OceanWP,
Basic Styling For Some Elements: Out of the box, you may find styling options a bit lacking in the free version. But this can be easily overcome using page builders or addons for Gutenberg or Elementor. Archive pages, blog comments, and blog posts page are all pretty basic and could upgrade to make them look more modern.
Update and Support Fees: To get updates and support, you are required to pay annual fees like many other site builders. Additionally, there are different premium themes like GeneratePress, which are much less expensive than Astra.
Top Astra Functionality
The premium version of the theme includes 18 Pro modules, which is one of the reasons why Astra's popularity is growing so fast.
These modules will help you extend the functionality available in the theme customizer on WordPress (native WordPress customizer), and you can easily activate or deactivate modules according to your needs.
In this section of our Astra Theme review, we will look at some of the top features and functions that Astra has.
Built-in Page Builder Compatibility
Astra Theme is highly compatible with the top page builders on the market.
Moreover, it's built with page builder compatibility from the get-go, which is very convenient for busy agencies and users with less experience.
Most of the starter site templates are built with Beaver Builder and Elementor, some of the most popular page builders.
You can either control Astra via its WordPress Customizer panel or a page builder, such as Elementor, Divi Builder, Thrive Architect, Brizy, Gutenberg, WPBakery Page Builder, Beaver Builder, and others.
Either way, the theme will work seamlessly!
Powerful Starter Sites
Astra has a library of over 200 demo websites or starter sites to choose the perfect theme to start your project.
These demo sites can be installed quickly and easily via the importer. When you install the Starter Sites and Templates module on your site, you'll be able to easily import all your favorite templates using the helpful Astra Sites plugin.
To get started, you must choose a template category and a page builder type to filter the results from dozens of options.
There are three types of starter sites that you can use even without a page builder including demos made with Beaver Builder and Elementor.
With just a click of the button, you can have a demo site from Beaver Builder installed and swap the demo content for your featured image, own images, text, and videos.
You can then add your logo and customize elements such as fonts, colors, design layout, etc.
In short, you have complete control over the look and feel of your website, and you don't need to be an experienced website developer to design, create and launch a gorgeous website in just minutes.
Custom Layouts for Pages and Posts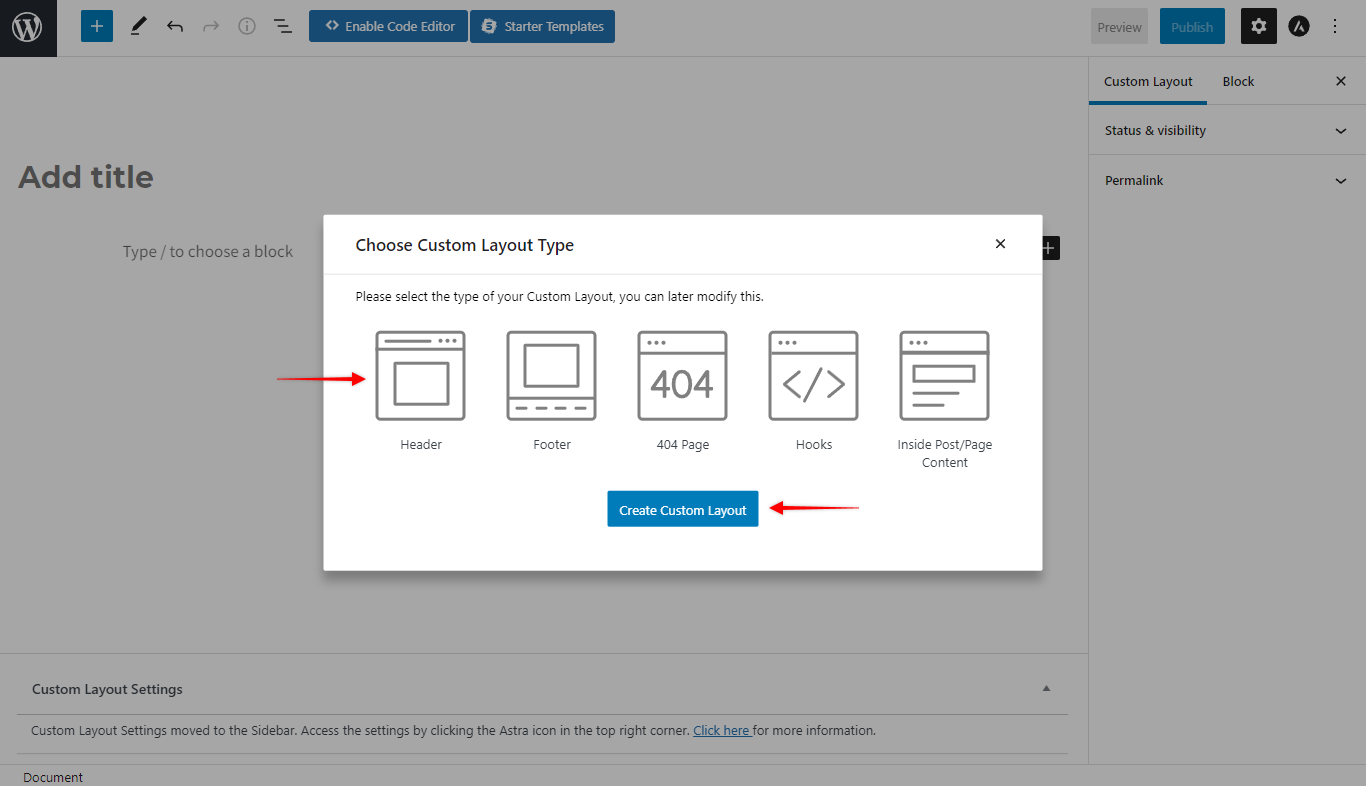 Custom layouts are another vital feature that makes this theme a firm favorite for so many users.
There are more than 55 full layout options for all websites, including blogs, online shops, eLearning, and business websites.
These layouts (which include over 20 Astra Pro templates for footer and header layout) offer infinite opportunities to create a website with posts and pages that look exactly the way you want them to.
Although such a feature is typically reserved for premium themes, Astra offers plenty of custom layout customizations in its free version.
For instance, you can easily choose an off-canvas sidebar on some of your blog posts while others are full width.
Or, you might decide to put your sidebar on the right for one post and the left for another post.
You can also hide headers on any page by ticking a box, a super simple and convenient feature that bloggers will appreciate.
Sidebar Manager, Headers, and Footers
These are a few more useful plugins from Astra. The sidebar manager is a lightweight solution that helps to simplify the process of creating and managing your sidebars.
There's also a plugin to help you easily customize the header widgets and sticky header.
Between Astra's transparent header, you can create a custom header, a custom layout, and custom page headers for your funnels and pages.
You can use page builder plugins, Astra advanced features, a header bar for your custom header layout, and a footer bar.
It's equally easy to customize your custom headers and footers to include more information about you or display some essential resources and ensure that they show up on every page.
You can find the options for the footer widgets in the "footer" section of the Astra customizer settings.
With the Astra Pro advanced features, you can convert your footer into a dynamic four-column widget area with the free version of Astra.
Additional options will be shown when you upgrade to Astra Pro.
With the Astra Pro Header & Footer builder – you can quickly build multiple menus and sections. It's as easy as it gets.
You can either add widgets, use the block editor and even customize the headers or footers as you please.
WooCommerce-Ready Astra Theme Templates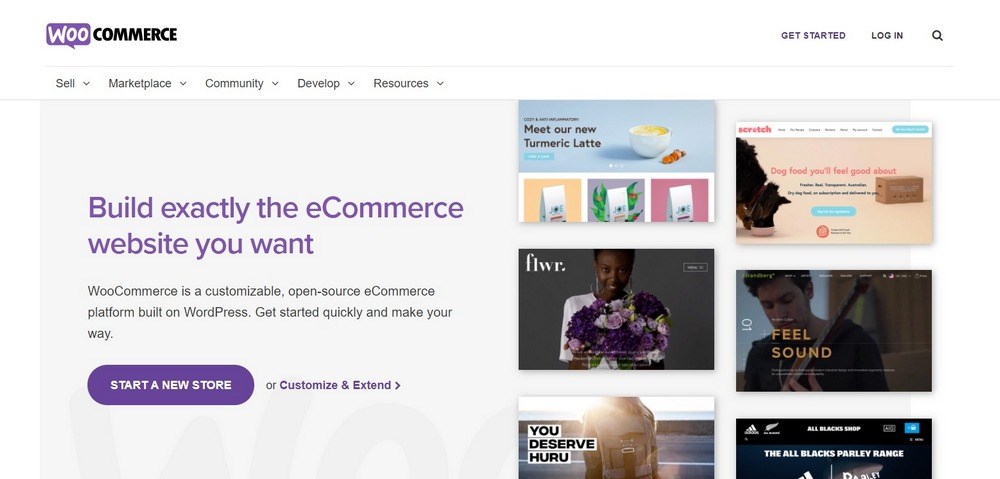 Astra Pro comes with native support for WooCommerce.
The theme's Web Shops feature will let you set up your shop and sell anything online with just a few clicks of the mouse.
There are tons of customization options for your online store, and in addition to the default options that come pre-installed with WooCommerce, there are also extended features from Astra Pro.
You can access these Astra Pro features by clicking "WooCommerce" in the WordPress customizer menu, as shown below:
You will find plenty of quick tutorials on the platform to help you set up an eCommerce shop in under half an hour using two free options, Astra Theme, and Brizy Page Builder.
Everything is simplified to make it as easy as possible – even for less experienced users who have never built a website before.
You can make your webshop look modern and unique using a range of options such as:
Infinite scroll
Off-canvas sidebar
Quickview
Dropdown cart
Adaptable grid settings
…and many other features.
The Astra Pro theme is also optimized to help you achieve more conversions for your online store and generate more sales.
The theme is fully responsive, making it look great on devices of all sizes.
You can also adjust checkout pages to optimize for conversions and boost sales.
As any marketer will tell you, poorly optimized checkout pages are one of the main reasons for low conversions.
That's why it's essential to have the ability to tweak and optimize your checkout pages if you want to increase your sales.
Furthermore, it will be super-fast when you build your webshop with Astra Pro.
Tests were conducted, which show that online shops with a WordPress site built with Astra Pro are a lot faster than 50 of the top themes in the same category.
This is an important factor because, as you well know, a fast-loading webshop is essential if you want to enhance the user experience and get good rankings for your eCommerce store on Google and other search engines.
Theme Customizer Options
WordPress customizer is designed for ease of use since Astra integrates with your entire website and builder plugins.
It's a beginner-friendly interface that offers easy customization and lets you design and build your pages and posts without the need for code.
It doesn't matter if you had never built websites before or created your starter sites, all you need to do is point-and-click, and you'll be able to change different elements on pages, including colors, layout options, blog layouts, sidebar options, and much more.
With Astra, you get a theme customizer built with page builder compatibility in mind.
You can mix and match Astra's customizer settings with the page builder's settings using a page builder.
But, even if you don't want to use a page builder (such as Beaver Builder), you can simply use the default Astra Theme on its own and alter the different elements of your website using the theme's powerful customizer features.
The extensive customizer expands the default WordPress customization capabilities.
In addition, it provides you with many new, easily accessible options that allow you to make real-time changes to any website element.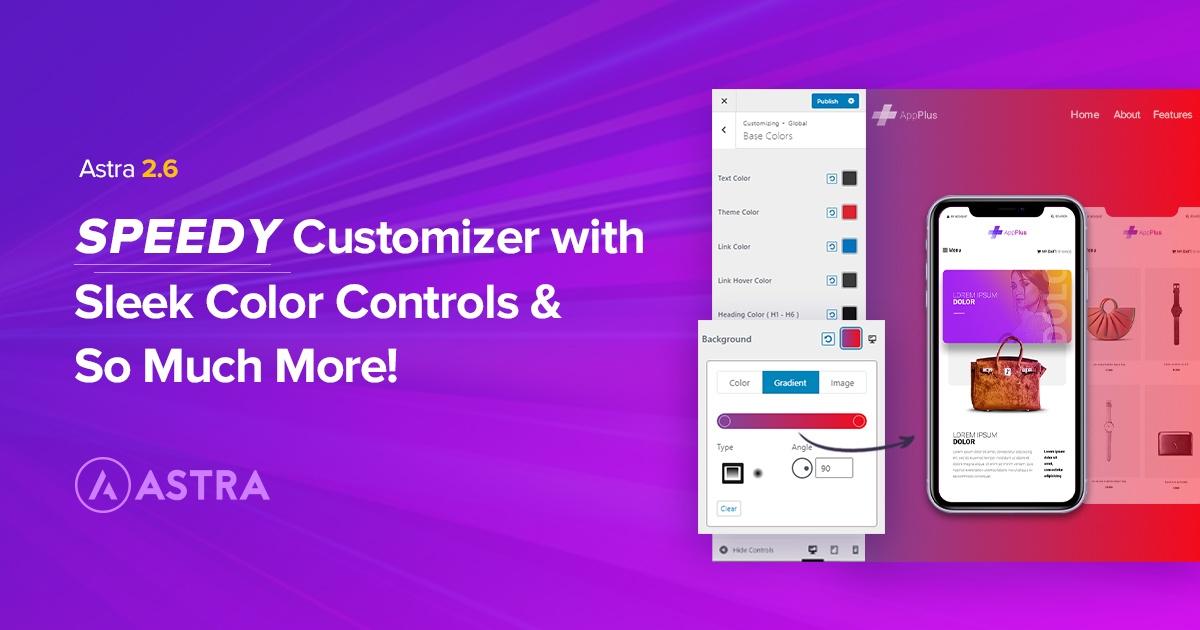 Astra's unlimited customization options will let you manage every part of your website, including:
Colors and backgrounds
Header sections
Mobile header
Navigation menu
Typography
Spacing
Blog Pro
… and more.
After activating Astra's core theme, you will be able to see the added customization options on your WordPress dashboard under Appearance > Astra options.
But, with the Astra Pro plugin, you can take the theme customizer options to the next level.
You don't have to activate all the modules that come with Astra. Instead, simply activate the ones you require to change default settings.
In the end, Astra is a powerful and adaptable WordPress theme that offers site owners an easy way to customize pages and build the perfect website.
Hooks & Filters
Astra Hooks is a simple plugin that gives you the ability to insert shortcode, custom code and tracking scripts in different parts of your website.
Brainstorm Force developed this free plugin to make it easy to add content, shortcodes, and JavaScript from the page title header through to the footer.
Once you activate Astra Hooks with Brainstorm Force, it will add a new section to the WordPress theme customizer, and you can open it anytime you need to insert codes into your theme.
As you can see from the image above, there are a ton of other free plugins that you can use to get additional functionality from your Astra Theme.
It's beyond the scope of this review article to look at them all, but suffice it to say, you will be able to find the perfect plugin to take care of virtually every need on your website – with Astra and Brainstorm Force.
And while some people argue for integrating this extra functionality into Astra's main theme, it's necessary to keep it separate to maintain a lightweight (and therefore faster-loading) core version of the theme.
Astra Schema Markup
Astra is schema-ready straight out the box. Schema refers to short information snippets that you add to pages to help search engines better understand the exact content on that page.
Adding schema is a great way to make your content stand out on Google and rewards you with an improved display of your website in the search results.
Astra Theme automatically adds schema markup to all your website pages, saving you the trouble of manually doing so.
Solid Security
Astra is a clean, well-coded theme that follows the best coding standards to ensure that your website is compatible with the latest WordPress versions and safe.
The theme has constant updates and integrations with security plugins like Wordfence to help you run your blog, website, or online store without fear.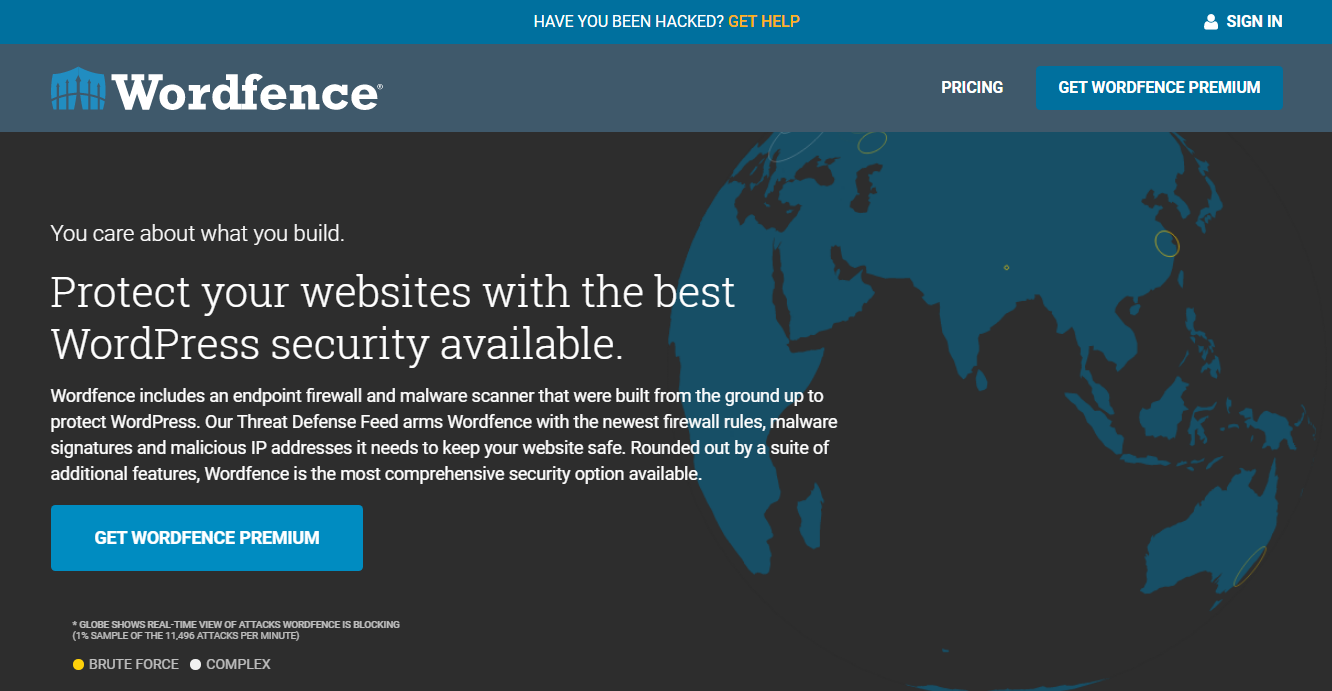 In addition to excellent code quality, Astra also offers exceptional one-to-one customer support through a reliable ticketing system.
You can be sure of getting assistance anytime you need it if you ever come across any security issues on your website.
White-Label Option
This theme comes with an option for white-label, which is rarely seen in a Pro version of themes and is extremely helpful for agencies that focus on custom branding with its advanced mini agency bundle for starter sites and a builder plugin.
Being able to white-label your work and offer it to clients is especially helpful for agencies and freelancers that provide WordPress website development services.
Although we were not able to cover all the features of the Astra Theme (this would take forever), the ones we did look at should give you a good idea of what Astra has to offer.
Most of all, you should now have a firm understanding of the scope of extensibility options offered by this powerful multipurpose theme.
Usable With Multiple Domains
While some themes require you to pay per website, this is something you don't have to worry about with Astra.
You can use this theme on as many sites as you want to without paying extra. This provides excellent value for money, especially if you plan to run multiple websites.
When you upgrade to the Astra Pro version, you can still enjoy those additional features on many different sites.
Astra Alternatives
Astra Theme is one of the most popular WordPress themes currently available. Regardless of the type of site you want to create, it's an easy and affordable way to get the best results for both professionals and beginners alike.
But, as great as it is, it's far from the only theme that can help you build a stylish website that oozes creativity, and we will explore these alternatives in this Astra Theme review.
Here are 4 Astra alternatives you might like to consider:
1. Astra vs. Kadence Theme
Kadence is one of the most feature-rich and free WordPress themes (with free plugins) that has ever been released. With the theme's Pro version, you can take innovation even further thanks to the impressive range of features to rival the Astra Pro theme.
Kadence has an intuitive Hooked Elements feature that lets you build better websites faster, even with zero web development or coding knowledge. It also has a header builder (sticky header, page headers, transparent header) and robust eCommerce integration perfect for building a unique and fully customized online shop.
Kadence Theme Pros:
Globally-linked color palette
Multiple starter Astra Theme templates
Deep integration with LifterLMS and LearnDash
Lightweight and fast despite extra functionality
Powerful eCommerce functionality
Kadence Theme Cons:
Documentation could use some improvement
Needs conditional headers
No white label option is available
2. Astra vs. Thrive Theme Builder
Thrive Theme Builder gives you complete control over the design and layout of your entire website.
It's a front-end editor that lets you visually design and create a functional WordPress theme without the need to hire developers.
In principle, Thrive and Astra Themes complement each other quite well for your WordPress theme. But, the main difference between the two is that Thrive is more focused on getting people to take action on your website to boost your conversions and get more leads.
Thrive Theme Builder Pros:
Completely customize every area of your site
Top-notch onboarding process
It comes with a suite of tools from Thrive Themes
Thrive Theme Builder Cons:
Theme builders can be a bit complex
No support for WooCommerce
3. Astra vs. Page Builder Framework
Page Builder Framework is a free theme designed to build WordPress websites. It works with your page builder seamlessly and is extremely fast.
The theme focuses on speed, flexibility, and convenience, which developers like to hear. There is also a premium add-on for the theme, with additional features.
In comparison, Astra is specifically made to work with page builders and is incredibly fast. It focuses on speed and flexibility, which will also make developers happy. There is also a premium add-on available for purchase.
When used as a stand-alone theme, Astra has many more features than Page Builder Framework. However, both themes would work great to serve your purposes when building a website or blog.
Page Builder Framework Pros:
Impressively fast theme
Developer-friendly and easy to use
Works seamlessly with all page-building tools
Page Builder Framework Cons:
It does not include free templates
Development feels a little slow
4. Astra vs Avada Theme
Avada is the number-one selling WordPress theme on ThemeForest. It's been around for a few years and has proven to be a powerful, multi-purpose theme.
It's a strong contender for the title of the most popular theme. It comes with many pre-built designs that you can easily customize thanks to the live customizers that rival Astra's theme, including default WordPress data and options.
But, with these great features comes a matching price tag. Avada theme is priced higher than Astra, and the free version has fewer pre-made designs.
Avada Theme Pros:
Includes powerful front-end page builders (for headers and page title, and page layout)
It comes with 38 demo site templates to help you get started
Convenient WooCommerce integration
Avada Theme Cons:
The theme is priced per website, which makes it more expensive than Astra
Only six months of support included (after which you pay $80/year for each site if you want to continue getting updates and support)
Astra Website Speed
Astra is a lightweight, super-fast theme that excels in speed and is fully optimized for top performance. The default version of Astra is just a few kilobytes with a very low number of requests, so it provides a solid foundation to build a complex WordPress website.
According to recent tests, Astra takes the lead as a fast-loading multipurpose theme.
As you can see from the image above, Astra has impressively fast loading times – even when all the theme's modules are enabled.
The results are precise, regardless of where you run the tests: Google, Pingdom, GtMetrix, or Y-Slow.
Thanks to Astra's featherlight, these phenomenal load-time scores use less than 50 KB of resources, whereas most other WordPress themes require 300 KBs or more.
The team behind Astra also makes consistent theme updates and frequently adds new features to maximize website performance.
Astra Integrations
Astra was designed to work seamlessly with all of WordPress' plugins. It also works well with all page builder plugins, including:
Gutenberg
Elementor
Visual Composer
Beaver Builder
Site Origin
Thrive Suite
Divi, etc.
Astra also has compatibility with LMS solutions like Learndash, LifterLMS, and eCommerce plugins like WooCommerce and Easy Digital Downloads.
Brainstorm Force's mission is to enable people to build beautiful websites faster. To fulfill that mission, the team behind the Astra WordPress theme also offers a multitude of other WordPress plugins that are very popular in the WordPress ecosystem.
Some of them include:
Ultimate Gutenberg Blocks Library: You can use Astra with the Ultimate Gutenberg Blocks Library to utilize the powerful WordPress editor to customize your website.
You can add elements like buttons, information boxes, price lists, social share buttons, team sections, and testimonials without using code.
Ultimate Add-Ons for Beaver Builder: Another integration you can use with Astra is Ultimate Add-Ons for Beaver Builder, which comes with over 60 modules and 100-page templates.
With this tool, you can fully customize your website, and it comes with a convenient white label feature which is crucial for building a reputable agency.
Ultimate Add-Ons for Elementor: The Ultimate Add-Ons for Elementor is a plugin that works the same way as the other two.
The main difference is that this one focuses on adding functionality to your website to help improve user experience and increase conversions. It also has WooCommerce compatibility and is translation-ready.
Pricing
Astra has a free version and a premium version.
The core theme is free to use. It has been installed on over 1.6 million websites and offers a great selection of designs for blogs, eLearning websites, business websites, and online stores.
With the Astra free version, you also get additional free plugins that you can use to extend your website's functionality further. This free version of the theme with free starter Astra Theme templates is enough to create a professional-grade website without the need to upgrade.
However, it has a few limitations that make it unsuited for big businesses. So if you have plans to scale your website and want to unlock the full potential of Astra, you must upgrade to the premium version.
Astra has annual and lifetime plans that are divided as follows:
Astra Pro: $59/year ($249 Lifetime).
Mini Agency Bundle: $169/year ($499 Lifetime).
Agency Bundle: $249/year ($699 Lifetime).
When you upgrade, you unlock many new features via the 18 Astra Pro modules.
You also receive priority support from developers.
By purchasing one of the bundle packages, you also get access to the entire starter site design library.
Important Notes:
If you intend to use Astra for your next WordPress site and in the long term, it is not recommended to purchase an annual subscription. It will be a lot cheaper, in the long run, to get a lifetime license.
If you pay for the annual license, you don't have to renew your subscription after the initial purchase unless you want to continue receiving updates and support.
Astra offers a 100% no-risk money-back guarantee when you sign up for one of the premium plans. If you are not happy with any aspect of the theme, you can request a refund within 14 days.
Product Support
Astra offers support through a reliable ticketing system and in-depth documentation. When you access their support page, you will be greeted by this message:
The support page first attempts to direct you to the documentation to help answer your question or solve your problem.
But, if there are no beneficial results to your question, you can access the support page, where you can open a ticket. The button for submitting a ticket will still be visible even if the search results for your question.
Unfortunately, there is no way to access the support page directly. You must first take the extra step of typing something into the search box before the "submit a ticket" button will appear.
Astra Documentation
Regardless of how great any theme is, users will always have questions, and it's essential to have extensive documentation (videos and articles) to provide satisfactory replies.
Astra's team is dedicated to helping their customers get the most from the theme.
On the Astra sites, you'll find many in-depth guides and tutorials that are well written to make it easy for beginners to understand the answers provided.
The content is put together in a simple way to navigate and helps users quickly find what they're looking for.
There's a search form, sidebar, and a categorized grid of menus on the index page.
Astra Community
You can also join Astra's Facebook community and Facebook page, with thousands of helpful Astra users. Simply log in, say hello, and ask your question. You'll receive a ton of feedback from others, and you can also answer questions from other users.
FAQ
Is Astra one of the good WordPress themes on the market?
Astra is an excellent theme for blogs. It's super lightweight and fast loading, so your blog will deliver ultimate performance on desktop and mobile devices. 

It's a clean theme built with Vanilla JavaScript for a smooth loading experience. It also has SEO-friendly features that make it ideal for blogs and other types of websites, including online stores and eLearning portals.
Is the Astra WordPress Theme Good for an eCommerce Website?
Astra Theme is perfect for eCommerce websites. It's fast, highly customizable, and designed to work seamlessly with WooCommerce. With Astra, you will be able to build a high-converting online store that will boost your website's performance online and, therefore, your sales.
What Builders Works with the Astra Theme?
Astra integrates perfectly with all significant WordPress page builders, including Gutenberg, Elementor, Beaver Builder, Site Origin, Thrive Suite, Visual Composer, and Divi. The theme's website demos are built with Elementor, Gutenberg, and Beaver Builder.
Is Astra a Free WordPress Theme?
Astra is a free theme for WordPress websites. It has everything you need to build a successful blog, learning website, or online store. But, if you want to unleash the full capability of the theme and grow your website, you can sign up for the Astra Pro premium plan for $59/year or $249 for life.
Is Astra Legit?
Astra Theme is undoubtedly one of the best WordPress themes you'll find on the market now. Definitely 5 out of 5-star rating.

The best thing about it is that it's free to use forever, and you only need to upgrade if you want to unlock additional features to grow your site.

This makes it perfect for beginners as well as experienced website builders.

The theme has a strong focus on website speed, design, and SEO to ensure that your site performs exceptionally.

You can easily import dozens of professionally designed website templates and choose your very own Astra free theme to expand your website's functionality further.
The bottom line is there's no denying that the Astra free version is solid, but I would recommend upgrading to Astra Pro so you can get the premium support, as well as hundreds of unique styling and layout options. Click here to try Astra today.