I remember when I was a young child. My mother would have her friends over to the house almost everyday. They would gossip and share motherly advice with one another. It was really quite a community, and I remember those days fondly.
But times have changed, and with the rise of social media, those social gatherings just don't happen as much anymore. While those times will be missed, technology has enabled everyone (including you) to make it simple to create a mom blog of your own and connect with other mothers, most of them outside of your primary social circle — and also make a little extra money.
See, marketers have realized that moms really do know everything, and people take their opinions very seriously. So some of the biggest brands on the market are paying mothers to discuss their products on their blogs, and that's only one of the many ways to earn income
That said, there's a lot of moms already out there in the blogging world. So you need a strong strategy before you dive in. If you're ready to take the leap, read on and learn to start a mom blog and make extra money.
Editors Note
---
This guide is extremely DETAILED and explains everything you need to start a mom blog. I've been at this blogging stuff for over 8 years and have built a business making $20,000 per month, so I have a lot of helpful advice for you newbies out there.
If you get stuck or need advice, I HIGHLY recommend that you get my 100% FREE blogging course by clicking here. If that doesn't help please contact me directly and I'll help you out for free.
How to Start a Mom Blog in 10 Steps:
If you just need someone to walk you through the process of setting up your blog quickly and easily, check out step 5.
People start blogs for all kinds of reasons. For instance, some moms start blogs as a way to stay at home and homeschool their kids, while for others it's about sharing what they've learned about parenting with other moms.
Here are a few other reasons for starting a mom blog:
Hone Your Writing Skills: Starting a blog is a great way to improve your writing skills while doing something you love.
Get Free Products: Mom bloggers often get a lot of free products from brands in their niche.
Make Money Online: Starting a mom blog can help you bring in some extra cash every month, and possibly even turn into a full-time income.
Build a Following: You can build and connect with an audience of people with whom you can share information, parenting advice, and stories.
Share Experiences: As a mom, sharing your own experiences can help you maintain your sanity while at home with the kids.
Grow Community: You can create your own support group of like-minded individuals to encourage you on your important endeavors.
If you are a stay-at-home mom looking for ways to start a blog, it's probably for at least one of these reasons.
But, regardless of what your reasons are, the important thing is to get started right now.
1. Decide the Focus of Your Mom Blog
The first step in building a successful blog is to decide on the focus or direction your blog will take. In other words, what type of blog do you want to create?
You might choose to start a collaborative blog. Or, you might want to build a community blog for mothers where they can come together to share experiences and ideas.
Alternatively, you might even want to build a money-making blog that is solely focused on creating a source of income for you.
Whatever it is, you must choose a specific focus for your blog. This is important and it will help guide you as you complete the rest of the steps below.
Remember, unless you are a celebrity, the people who read your blog will want to do so because it helps THEM.
So make sure your blog will help your audience to solve a legitimate problem.
But, for this to work, you need to be very clear about the problem you are trying to solve – which brings us to our next step.
2. Choose Your Niche
A niche is a targeted segment of the population that your blog will serve particularly well. The mom blog niche is targeted toward moms.
However, the blog niche for moms is very broad. To help create a more specific focus, its helpful to choose a few sub-niches, such as the ones listed below:
Making money as a mother
Balancing work with kids
Pregnancy/Baby
Parenting advice
Homeschooling
Budgeting and money-saving advice
Cooking and baking
Organization/Cleaning
Crafts (Quilting, sewing, crochet, etc.)
Self-employment
Traveling (My list of affiliate programs for travel bloggers may help if you write about this)
Health and Fitness
Fashion and Beauty
Weight loss
DIY
Home decor
Lifestyle
Photography
As you can see, there are many different aspects of motherhood to choose from.
Here are some popular mom blogs in different niches from which you can draw inspiration:
Making Money as a Mother: Twins Mommy
Cooking and Recipes: What Moms Love
Frugal Living: This Tiny Blue House
3. Choose Your Blogging Platform
Once you have chosen your niche, it's time to pick a blogging platform.
Your blogging platform is the system that allows you to publish your content online so it can be found by your readers.
There are many blogging platforms to choose from. Some of them are free and others cost money.
Free options include platforms like:
Before you consider choosing any of these, it's important to keep in mind that although they are free, in the long run, they will cost you a lot of money in lost profits.
That's because free blogging platforms come with a lot of drawbacks, such as limiting your ability to monetize your mom blog in the future.
If you are serious about building a successful and profitable mom blog, then your only option is to choose a self-hosted blogging platform, such as WordPress.
WordPress is an open-source content management system (CMS). You can use the software for free as long as you pay for your own web hosting and domain (we'll look at these later on).
Aside from being the most popular blogging platform, WordPress also comes with a lot of benefits.
NOTE: There are two WordPresses. Make sure you use wordpress.org not wordpress.com.
Benefits Of Using Self Hosted WordPress
WordPress is free for anyone to download and use
It gives you total control over your website
You own everything on your website, including all the data
You can customize your site any way you like
There are tons of WordPress plug-ins to improve your website's functionality
You can monetize your blog in a variety of ways
And if that's not enough to convince you that self-hosted WordPress is the best option for you, here are some more reasons to install WordPress:
WordPress powers over 39.6% of websites on the Internet
WordPress websites receive over 400 million visitors every month
661 WordPress websites are created every day
You can choose from over 50,000 plug-ins for your sites
A third of e-commerce goes through WooCommerce
I use WordPress for my websites for the simple reason that it is the best option available for bloggers.
I hope by now I've convinced you that when it comes to free vs. self-hosted alternatives, it's always best to choose a premier solution, such as WordPress.org.
4. Decide on The Domain Name for Your Mom Blog
Your next step is to decide on your domain name.
Your domain name is simply what you are going to call your new mom blog. It's what your readers are going to type into their browsers whenever they want to visit your blog.
So, make sure you choose something that is short, memorable, and easy to type.
For most people, choosing a name for their new blog can be a challenging task. They spend so long on this part that they never actually get around to starting their blog.
To help you avoid getting stuck here, I've included some tips that you can use for choosing a great name for your mom blog.
You can also read this article I wrote which contains more in-depth information on the topic of choosing a domain name.
1. Purchase a ".com" Domain Name: These days, you'll find tons of domain extensions for all types of blogs. For instance, for mom blogs, there are ".mom" extensions.
However, it's always a good idea to choose ".com" because this is what the internet is built on and it's what your audience will remember most easily.
2. Choose a Broad Name: Choosing a domain name that is too specific will make it harder for you to expand your mom blog in the future.
For example, a name like "Teething Toddlers" will limit your ability to grow, whereas a name like "Mommy and Toddler" will make it easy for you to expand into a broader variety of topics (other than teething babies).
3. Keep It Short and Sweet: A shorter blog name will be easier for your readers to remember and type into the browser without misspelling it.
Do your best to keep your blog name under four words. Two words would be more ideal.
For example, instead of having a name like "Daily Life in New Motherhood", which would be a nightmare for readers to type on mobile devices, you might consider something shorter, such as "Motherhood Daily", instead.
4. Make use of Alliteration: Alliteration refers to two or more words that start with the same letter or sound. For instance, "Merry Mama", or "Bouncy Babies", and so on. This helps to make the name more memorable and easier to remember.
5. Get Creative: You may find that the name you want for your blog has already been taken. If that is the case, simply look for synonyms or words with similar meanings.
For example, say you wanted the name "Mom Charm", but it is already taken. You might consider a name like "Mom Glamour", instead.
You might even use words from a foreign language to come up with a creative and unique name for your new blog.
6. Add Extra Words: If everything else fails, you can add extra words to the name you want, such as "the", "home", "blog", etc.
For instance, the name "Modern Mom" would become "The Modern Mom", or "Modern Mom Blog".
7. Think of a Concept: Another way to help you brainstorm great names for your new blog is to come up with a concept around your domain name.
For example, think about how your blog could be branded and how it might expand in the future. This will help you come up with names that are aligned with your blog's true purpose.
8. Use a Name Generator: There are tons of name generation tools online to help you come up with unique names for your new blog. My favorites are Lean Domain Search and Instant Domain Search.
All you have to do is insert a few keywords pertaining to your blog topic or niche and the tool will present you with dozens of ideas to choose from.
9. Don't Buy a Domain Name: If the name you want is already taken, you may find it up for sale for significantly more than what standard domains cost. It's never a good idea to purchase an expensive domain name when you are just getting started.
Rather, buy a standard domain name and use that money to create content so you can quickly grow your blog and your audience.
10. Avoid Getting Stuck Here: As I mentioned before, a lot of people get stuck at this point and never make it past choosing a name for their blog.
Don't let that happen to you. Set aside a couple of hours and then follow these steps to help you choose a great blog name. Pick one that you like, and move on to the next step.
To help jumpstart your brainstorming process, below I've listed 5 examples of mom blogs already out there with an explanation of why their names make sense.
Examples of Mom Blogs (and why their names make sense)
1. Rookie Moms: This name makes sense because it's short, easy to remember, and it makes it clear exactly who this blog is targeted toward – new moms.
2. Tech Savvy Mama: This is another example of a blog name that is descriptive and memorable.
3. Struggles of a Fit Mom: This blog name resonates with the majority of new mothers who struggle to keep fit after having a baby.
4. Kids Eat in Color: This blog name is unique and memorable. It's descriptive of this type of blog that helps mothers create fun, colorful food for kids.
5. Baby Bonds: This blog name uses alliteration for a simple name that is easy to remember.
5. Buy Your Domain Name and Hosting
Now that you've chosen a name for your new blog, your next step is to actually purchase the domain name and hosting.
The domain name is your address on the internet. So, for instance, if your blog name is "Mad Money Mama", you would purchase the domain name "MadMoneyMama.com".
The domain hosting is your blog's home. It's the online real estate on which you will build your blog (using WordPress).
There are web hosting companies that provide a hosting service to keep your website files on their servers. They make sure that your blog is online and available to your readers at all times.
I recommend using BlueHost as your web hosting provider.
The company offers reliable services and affordable beginner hosting plans for new bloggers. They also have different tier plans to cater to growing blogs.
A lot of people start to panic when they get to this stage, especially those without any technical knowledge whatsoever.
But don't worry, I have created a simple step-by-step walk-through – complete with videos, to help you through the entire process.
Click this link to visit BlueHost and then follow along with the tutorial below.
Step 1: If you haven't yet, click on this link and you'll be brought to the WordPress Hosting page that you see below.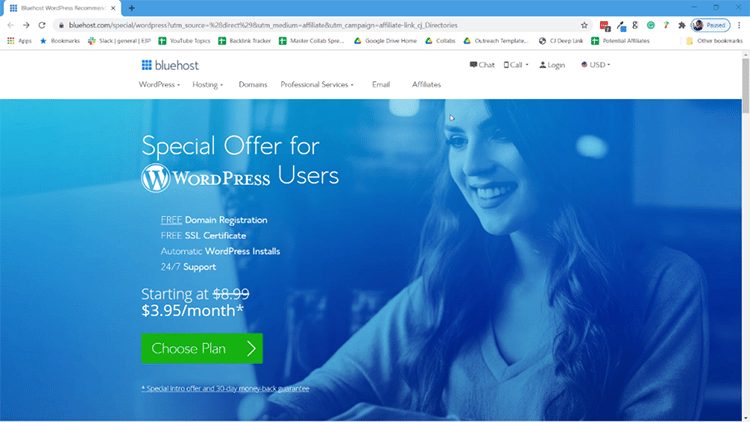 Step 2: Next, you'll be brought to the hosting plan page. You could choose to get a "Plus" or "Choice Plus" plan, but honestly, that's not a requirement.
The Startup plan is the cheapest at $2.95/month through my link vs. the normal $8.99/month.
This plan has everything you need including 50GB of webspace (plenty of room for your files), a free domain for a year, plus other standard features like a free SSL and a secure WordPress install. Feel free to browse a bit to decide the right plan for you, but rest assured that Basic will work just fine if you want to minimize your investment.
Step 3: After clicking into the plan, you'll be brought to the next page where you will type-in your new domain, or you can just choose "I'll create my domain later" if you haven't decided on one yet. The domain is the URL people will type into a browser to view your website in the future.
Step 4: Once you submit, the next page will ask for all of your information. That will start with your account information, which is self-explanatory.
Step 5: Next, you'll have to input your Package Information. This is to choose how long you want the plan to go for. My advice is that you choose 24 months to get the discount and save some money, but you can go as low 12 months if you want.
Step 6: Next you'll have to choose what "Package Extras" you want. You can scroll over "More Information" to understand what each of these items are, but here is my own advice.
I would get the "Domain Privacy + Protection", this makes it so that no one can tie your name to the domain name you create. To me, the only other one worth considering is "Codeguard Basic". The other two I wouldn't personally get. But choose what is best for you.
Step 7: The next step is Payment Information, which is self-explanatory.
Step 8: And the last step of signup is to confirm that you read and understand the Bluehost Terms of Service, Cancellation Policy, and Privacy Notice. Click the check button and then click "Submit".
Step 9: Next you'll be prompted to create an account and password. This is the information that you'll use to login to the Bluehost platform to manage your site and account info.
Step 10: At this point Bluehost puts you through a short questionnaire to better understand your scenario. You can answer all of these questions, or click "Skip this Step" on the bottom. If you're a newbie, I advise you to answer the questions as it'll help your onboarding experience.
Step 11: After you're done with that you'll be advised to choose a theme. For now, you can just choose to use a free theme. You can always replace the theme later if you'd like.
Step 12: From there, you'll be brought into the backend of WordPress in the admin panel. This is where you'll manage your site from. You can add posts/pages as you see fit, but when you're ready click on the blue button that says "Launch Your Site".
Step 13 (Final): Your blog is LIVE. Just go to a browser and type in your domain name. Once you do this, you'll be able to access your website!
Congrats! You officially have a website.
If you're wondering how to edit things on the website, all you have to do from here is go to your website URL with /wp-admin at the end in a browser and login.
There are also many other hosts you can use including SiteGround, A2 Hosting, InMotion, and many others.
Example: http://mostawesomewebsiteever.com/wp-admin
And don't worry, we cover how to edit things more in the rest of this guide as well. So please continue reading.
6. Choose and Install a Theme For Your Mom Blog
If you have followed the steps above, you have your WordPress domain set up by this point.
Now it's time to pick a theme for your new blog.
A theme is a piece of software that alters the way content is displayed on your website. If your blog is your content's "home" on the internet, the theme can be likened to your home's interior decor.
There are tons of themes to choose from, some free, and others paid. I would advise against using free themes because they come with a lot of drawbacks.
For example:
Free themes have limited support options
Customizing a free theme may require coding knowledge
Free themes have similar designs meaning your blog will not be unique
They also lack much of the functionality required for running a successful blog
Worst of all, sometimes free themes are bundled up with malicious software that could potentially harm your blog.
So, rather than using the free theme, choose a high-quality premium WordPress theme so you can build a unique, professional-looking mom blog.
Benefits of Using a Premium WordPress Theme
Responsive Design: Premium themes from WordPress are designed to look great on any device
SEO Friendly: Clean code makes the themes super fast so they rank high in the search engines
User-Friendly: WordPress themes are built for complete ease of use, especially for beginners
Tech Support: There is a robust system of support available for WordPress users
Inbuilt Security: WordPress themes are secure and help to fight off malicious code
Unique Designs: Full customization features allow you to build unique websites unlike any other online
As you can see, a premium WordPress theme is best for you if you want to build a unique, professional-looking blog that will attract and capture the attention of your ideal audience.
What to Look for in a Good Theme
Not all themes are created the same, and the one you choose should meet the following criteria:
Speed
Mobile responsiveness
Beautiful designs and templates
Easy customization features
Prompt tech support
Well-established brand
Great ratings and reviews
The good news is, all WordPress premium themes below meet the criteria above.
Mom Blog Theme Options for WordPress
Personally, I always recommend Thrive Theme Builder to people. Why? Because it's completely customizable and you can adjust your blog to look exactly how you want by pointing/clicking as opposed to hiring a developer.
In fact, this blog was build using Thrive Theme Builder and I'm absolutely thrilled with the result. Long term? I think this is the most cost-effective theme you'll find.
Click the image below to watch a video and learn more about Thrive Theme Builder.
And, if you'd like to watch an extremely detailed tutorial you can watch this playlist on YouTube.
If you feel Thrive Theme Builder isn't for you, here are some other theme options that are perfect for a Mom blog.
This theme has everything you need to build an awesome mom blog, including photos, graphics, fonts, etc. There is nothing else you need to buy.
It comes with many different templates to choose from, as well as detailed content pages to make it easy for you to layout your images and text.
This multi-concept WordPress theme is perfect for new bloggers. It has a well-thought-out structure that will impress readers with a clear, crisp, and responsive design.
It also comes with a variety of blogging tools and elements, such as layout templates, sliders, subscription boxes, etc. to help you create an immersive visitor experience.
This theme is perfect for mom bloggers with a focus on cooking or crafts. It comes with pre-built templates so you can layout your content and images in optimized ways for both SEO and readability.
You have custom branding and unlimited color choices, which means you can easily customize your pages to suit your tastes and preferences.
This is a simple, affordable theme for mom blogs that are focused on arts and crafts. It's easy to use and requires zero coding knowledge. It has a powerful admin panel, and you can take care of all your blogging tasks from one convenient place.
The theme also comes with a WooCommerce widget to make it easy for you to sell products and services directly from your blog.
This is a great-looking baby Shopify theme that is perfect for mom blogs that sell toys, baby clothes, babysitting services, and even digital products, such as e-books, printable posters, baby yoga courses, etc.
The theme is simple and clean, which ensures high-speed performance. It also has a mobile-friendly design, which is essential for an online shop.
The 5 themes above are just a few of the many mom blog-focused themes available to you.
If you don't find any of these appealing, you can simply search through theme marketplaces like ThemeForest.com to find one that matches your style.
7. Create Essential Pages & Logo
Now that everything is in place for your blog, it's time to get your blog set up.
We'll start with your blog's essential pages, which are:
About Page
This page contains all the information readers need to know about you.
Many of the people who come to your blog will be curious to know more about the person behind the posts they are reading.
So, on this page, make sure you include whatever information you think they might want to know, such as:
Your name
Your age
A bit of history about yourself
An image of yourself
Why you started the blog
Who your blog serves
… and so on.
The About page is one of the most trafficked pages on your website, so it's prime real estate. To make the most of it, you might also include an opt-in form for your blog newsletter so readers can join your email list.
Contact Page
Many of your readers will want to connect with you online. They may want to ask questions or leave comments or provide feedback on your blog.
Whatever the case, you should have a dedicated page to make it as easy and convenient as possible for them to reach you.
Furthermore, as your blog grows in popularity, brands and companies will seek you out to collaborate with you.
That's why it's important to ensure you have clear contact information that is easy to find on the page.
Here are some details to include:
Your email address
Phone number
Company address
The location where you operate from
Social media buttons for all the platforms where you are active
As with the About page, you can leverage your Contact page to add to your email subscriber base by including a sign-up form for visitors to subscribe to your blog newsletter.
Privacy Policy Page
Every blog needs a Privacy Policy page. If your mom blog attracts readers from any jurisdictions where there are privacy laws (and it probably will), then you need this page to make sure that you comply with the regulations that protect the privacy rights of your readers.
You can get a Privacy Policy drafted online for free, or you can have a qualified professional draft this and other legal pages for your site, such as the Terms and Conditions, Disclosures and Disclaimers, and so on.
Create a Logo
Once you're done with the essential pages of your blog, it's time to create a logo.
Your logo will brand your mom blog and make it easier for your audience to recognize it.
Gone are the days when you had to pay for expensive graphic designers to create your blog logo. These days, there are tools like this free online logo creator which you can use to create a professional-looking logo in just minutes.
8. Begin Blogging
Your blog is built and you have your essential pages in place.
Now you are ready to create your first blog post.
But what exactly are you going to write about?
This will depend on the niche you chose. Your first step will be to break down the niche topic into smaller subtopics.
For example, if your chosen niche is "losing belly fat", a few blog post ideas might include:
Recipes for healthy eating
Quick workouts
Intermittent fasting
Healthy and effective detoxes
Tips to cut down on sugar
… and so on.
You can then find topics to write about under each of those categories.
There are many types of posts you can write, including:
How to posts/guides, e.g. How to Stop Eating Sugar in 30 Days
List posts, e.g. 10 Easy Workouts for Reducing Belly Fat
Review posts, e.g. Best Convertible Car Seat for Toddlers
Comparison posts, e.g. Intermittent Fasting vs. Calorie Restriction Diet
News posts sharing the latest news new industry
You can also write checklists, cheat sheets, or infographics posts (or other image-driven posts).
Alternatively, you can choose interviews, or allow other bloggers to publish guest posts on your blog.
To add a bit of variety to your blog, make sure you also include posts with personal stories, as well as case studies.
As you can see, there are a ton of ways you can pick topics to write about on your new mom blog.
Just make sure that each topic you choose falls under at least one of the categories on your blog.
Important Note: Make sure you have at least 10 posts published on your blog before you start promoting anything.
The last thing you want is to send people to a blog that is sparsely populated. When visitors arrive at your blog, they should be met with a variety of content that will maintain high levels of engagement and compel them to return for more.
So, make sure those 10 posts are a healthy mix of mom content and informational content using the blog post formats outlined above.
9. Promoting Your Mom Blog
Your next step is to start sharing your new blog with the world. Without a steady stream of visitors to your blog, all the work you've put in will go to waste and you will be unable to build an audience or make money from your blog.
Here are some of the most effective blog promotion methods that work great for mom blogs.
Share Your Blog with Friends and Family
This is one of the easiest ways to gain exposure for your new blog. Tell everyone you know that you are starting a mom blog. Ask your friends and family to read your posts and share them with their own networks on social media to give you even more exposure.
Promote Your Blog on Social Media
Share the link to your new blog on all your social media profiles. Each time you publish a post, share snippets of it on social media and in relevant groups.
Pinterest, in particular, is great for mom blogs and it can bring a flood of traffic, particularly if one of your pins goes viral.
Remember to use eye-catching imagery, a compelling call to action, and relevant hashtags so readers can find your posts. Also, if you're really focused on Social media, it's a good idea to get a social media management tool to help manage everything.
Join Forums and Groups for Moms
Another great way to gain quick exposure for your new blog is to share it in groups and forums that talk about the same topics you write about on your blog.
Just make sure to participate in conversations and offer helpful advice before adding links to your blog posts, otherwise, you may come across as being spammy.
Build an Email List
As a mom blogger, you can build a list of engaged subscribers by using an opt-in form on your blog.
Whenever you publish a new post, simply share it with the people on your email list as a way to send traffic to your blog.
Use Share Buttons on Your Blog
Add sharing buttons on your blog pages so that your readers can share your content easily. Make sure you include a strong call to action to compel them to share your post.
Leverage Search Engine Optimization (SEO)
SEO is one of the primary drivers of traffic to mom blogs. But, it does take hard work and patience before you can start seeing real results.
You must consistently post high-quality, helpful, keyword-optimized content on your blog, and in about 6 to 12 months, you will start to see a steady stream of traffic to your posts.
Connect with Other Mom Bloggers
As a new mom blogger, networking is the greatest resource available to you. Read other mom blogs and leave a comment, share their content on your social media, and integrate yourself with as many peers as you can.
Over time, you will get on their radar and they will want to return the favor and share your content with their audiences, exploding your blog traffic.
Also, building relationships with other mom bloggers will likely result in great opportunities for profitable partnerships in the future.
Try Paid Social Media Ads
A lot of people shy away from this blog promotion method because they assume that it is either too complex or too expensive.
On the contrary, Facebook Ads, Twitter Ads, and Instagram Ads are quite affordable and they will allow you to drive instant, targeted traffic to your new mom blog.
Guest Post on Other Mom Blogs
Submitting guest posts on other popular blogs will give you a broader reach and allow you to put your content in front of brand-new audiences. Reach out to other mommy bloggers and see if they'd be willing to let you guest post. Usually you can even put in a few links to your site and include a bio.
Many blogs which allow guest posting will even share your articles across their social media channel. By guest posting on other mom blogs, you get traffic from her blog over to your own blog.
You can also use guest posting as an opportunity to expand your niche. While mom blogs are, of course, relevant to moms, there are overlapping niches. For example, a lot of moms guest post on various lifestyle blogs. Using these opportunities to diversify your audience is a great way to grow your traffic streams.
10. Make Money as A Mom Blogger
And now comes the fun part: Time to start monetizing your blog traffic.
There are many different ways to make money from your blog, but not all of them may be ideal for a mom blog.
Below is a list of the monetization strategies that have been proven to be effective in helping mom bloggers learn how to make money. Many of these help create a steady stream of passive income, which is perfect for busy moms who have kids to take care of.
Affiliate Marketing
As a new mom blogger, you may not yet have your own products or services to sell. Affiliate marketing provides you with a great way to start making money from your audience by recommending other people's products and services.
You get paid for each sale made from your recommendation. You can become an affiliate on shopping sites like Amazon or join affiliate networks like Flexoffers, Awin, Impactor, or even private affiliate programs.
Display Ads
Consider adding ads to your mom blog by taking part in ad programs like Google AdSense. You can also join ad networks like Media.Net, Infolinks, and Propeller Ads.
Display ads will be shown on your blog and each time visitors view or click on an ad, you will get paid a small fee. Over time, this adds up to a nice source of passive income that grows as your audience grows.
Direct Advertising
Direct advertising is an alternative to using Google AdSense. You can partner with brands to place private ads on your mommy blog.
However, it's important to note that this monetization strategy works effectively once you have built up a strong following on your blog.
Social Selling
Selling on social media is a trend that is becoming more and more popular with mom bloggers. Social media makes it easy to connect with your target audience, and you can sell to them directly on the platform.
You can sell using both a personal and business account in various Facebook groups that are created for your niche. There are all sorts of mom groups on Facebook covering every topic imaginable. Selling gently used baby clothes, toys, cribs, and more is one way to turn parenting into a side hustle.
Sell Your Services on Your Blog
If you have any skills or knowledge that you can share with your audience, this is a great way to monetize your blog.
For instance, you might offer services such as:
Freelance blog writing
Keyword research
Editing and proofreading ebooks
Creating online courses
Graphic design (Pinterest pins, logos, ebook covers, etc.)
Managing email inboxes
Responding to customer emails
Technical services such as fixing websites or editing HTML
…the list goes on.
The types of services you offer on your blog will depend on the skills you possess currently, as well as those you are willing to acquire as you learn more about the blogging business.
Sponsored Content
Another effective way to make money blogging as a mother is to get sponsored content from ad agencies or individual brands in your niche. You can also sometimes have guest writers create sponsored posts. Hosting guest writers is a great way to increase your social reach and build a positive reputation for your brand.
This monetization method can work even while your audience is still relatively small, as long as it's made up of engaged readers.
You can start by reaching out to local companies letting them know that you are available to take on sponsored content for your mom blog.
There are even mom influencers on TikTok and Instagram you might be able to reach out too. If your mom blog becomes big enough, maybe you can be an influencer too.
Create Physical Products
Depending on your niche, there are a lot of physical products you can sell on your blog, such as your own photography, novel items, crafts, branded T-shirts, mugs, and other merchandise.
You can create an eCommerce store on your mommy blog where you can sell your products directly to your audience.
Create Your Own Digital Products
Another great way to monetize your mom blog is to create digital or information products, such as e-books, online courses, printables, templates, etc.
Virtually any product that your audience finds relevant and useful, they will be happy to purchase. The great thing about digital products is that you only have to create them once, and you can sell them forever.