When it comes to building an effective online presence, choosing the right website builder platform is critical for business owners. Instapage and Strikingly are two of the top contenders, both offering intuitive drag-and-drop editors to create professional, high-converting landing pages and websites.
But how do you decide which one is the best fit for your business? In this in-depth Instapage vs Strikingly comparison, we evaluate the two platforms across several key criteria to help you make the right choice.
We will look at market position and popularity, ease of use, design customization options, features and functionality like blogging, e-commerce, SEO, integrations, analytics, speed and uptime, pricing, and customer support to provide you with the comprehensive information you need so you can confidently choose the best website builder for achieving your online business goals. Let's dive in!
1. Understanding the Basics
Instapage was founded in 2012 by Tyson Quick, Adam Circuit, and Grant Dickinson. It is one of the most popular landing page builders with over 15,000 customers. Instapage has a 4.5/5 rating on Capterra and is the leader in the landing page builder space.
Strikingly was founded in 2012 by Dafeng Guo, Teng Bao, and Zuo Pin. It is a website builder used by over 1 million people worldwide. Strikingly is rated 4.7/5 on Capterra and is particularly popular in Asia.
Both Instapage and Strikingly have active Facebook groups where users discuss the platforms and share tips:
Instapage focuses solely on landing pages while Strikingly offers both landing pages and full websites. This means Instapage has more advanced landing page features while Strikingly provides users with an all-in-one website-building solution. When selecting between the two, businesses should consider whether they need high-converting landing pages or a full content management system for their site.
2. Ease of Use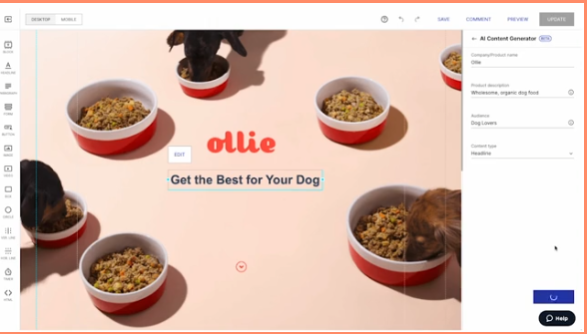 Instapage has a clean, intuitive drag-and-drop editor that makes it easy for beginners to build landing pages. The editor has a familiar WordPress-style interface with a left sidebar containing page elements like text boxes, images, buttons, and more. These elements can be dragged onto the page to start building.
The editing experience is very visual – changes are reflected live as you design. This makes it easy to iterate until you achieve the optimal page layout. Helpful tooltips guide users through the editor as well.
While the interface is easy to navigate, building more advanced landing pages does require learning some of Instapage's terminology. For example, many elements are contained within "Widgets" which allow you to create columns or layered elements. There is a learning curve to using Widgets effectively.
Instapage also provides over 100 templates and 250,000 images to simplify page building. However, uploading your own media requires dealing with the Asset Manager which can be unintuitive.
Overall, Instapage is easy for beginners to pick up but takes time to master some of the more advanced functionality. The learning curve is moderate.
Strikingly has an intuitive drag-and-drop editor as well but with a more website-focused design. Instead of a single column, pages are built on a grid allowing you to customize page width.
The Strikingly editor makes it extremely easy to rearrange sections – pages can be divided into header, body, sidebar, and footer modules that can be moved around seamlessly.
All Strikingly pages are mobile responsive by default unlike Instapage, so beginners don't have to worry about optimizing for mobile. Useful design tips also provide guidance during page building.
However, Strikingly's templates are not as abundant or high-quality as Instapage's. There are also fewer stock photos and graphics to choose from. This means more original design work for the user.
The learning curve with Strikingly is gentle – the platform is extremely beginner-friendly. More advanced users may find it limiting for complex web pages, however.
Strikingly wins for easiest platform for beginners to start with. The interface is intuitive, the templates are modern, and the editing experience is seamless. Users can build professional, mobile-ready pages with minimal learning required. Instapage however does provide more advanced power user features for growth.
3. Design and Customization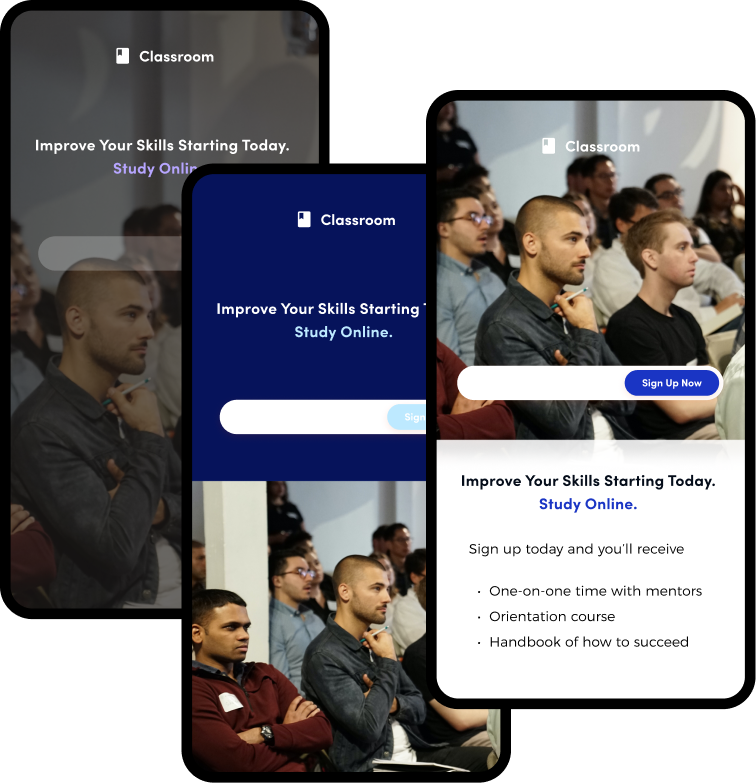 Instapage provides over 100 professional templates spanning multiple industries and niches. It's the perfect solution for anyone who wants the best landing page builder. The template designs are modern and optimized for conversions. You can create a landing page with minimal effort using the prepopulated landing page examples on the site.
Users can fully customize templates by changing colors, fonts, layout, and adding/removing elements to create fully custom landing pages. Add a call to action, create email marketing campaigns with the form builder, or include social media icons and company logos.
Instapage uses a system of Sections and Widgets which allows for extensive customization – elements can be layered, resized, and rearranged seamlessly.
The platform supports custom CSS as well for modifying styles. However, extensive CSS knowledge is required compared to Strikingly's simple customization options.
Instapage has a Style Manager for tweaking design settings like colors, backgrounds, borders, and more. Typography can be customized but font choices are limited compared to Google Fonts integration in Strikingly.
While templates are mobile-responsive, additional work may be required to optimize landing pages for mobile. The mobile editor simplifies this process greatly, however.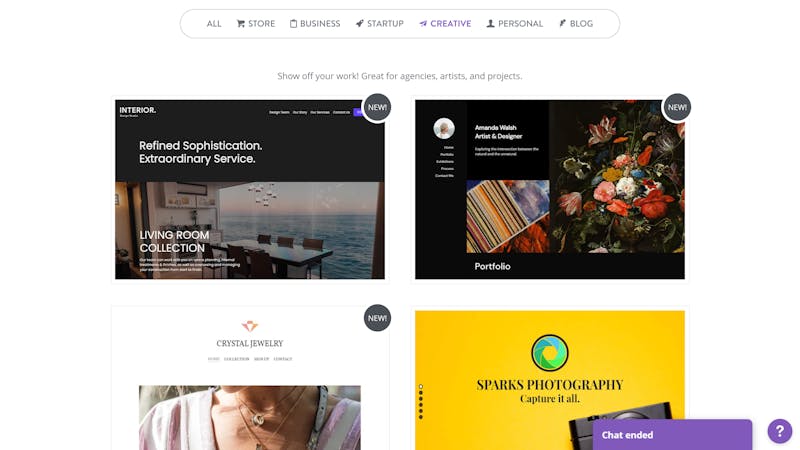 Strikingly provides over 100 mobile-optimized templates suitable for creating landing pages and websites. The templates are modern and visually appealing.
Users can customize colors, fonts, and content layout by using Strikingly's intuitive click-and-edit options. The platform uses a grid-based editor that makes rearrangement easy – website sections can be dragged and dropped as needed.
Strikingly has limited control over CSS but otherwise allows for in-depth design modifications without code. The platform offers Google Fonts integration and visually advanced typography options for body text and headlines.
Where Strikingly falls short is fewer total templates compared to Instapage. However, Strikingly's beautiful templates and simple customization options make it easy for beginners to build free landing pages.
Winner: Tie
Both Instapage and Strikingly are powerful landing page software options that offer modern templates and ample customization options for users who want to build beautiful landing pages. Instapage provides more templates overall while Strikingly makes personalization easier for beginners. For design and customization, it's a tie between the two platforms.
4. Features and Functionality
Blogging Tools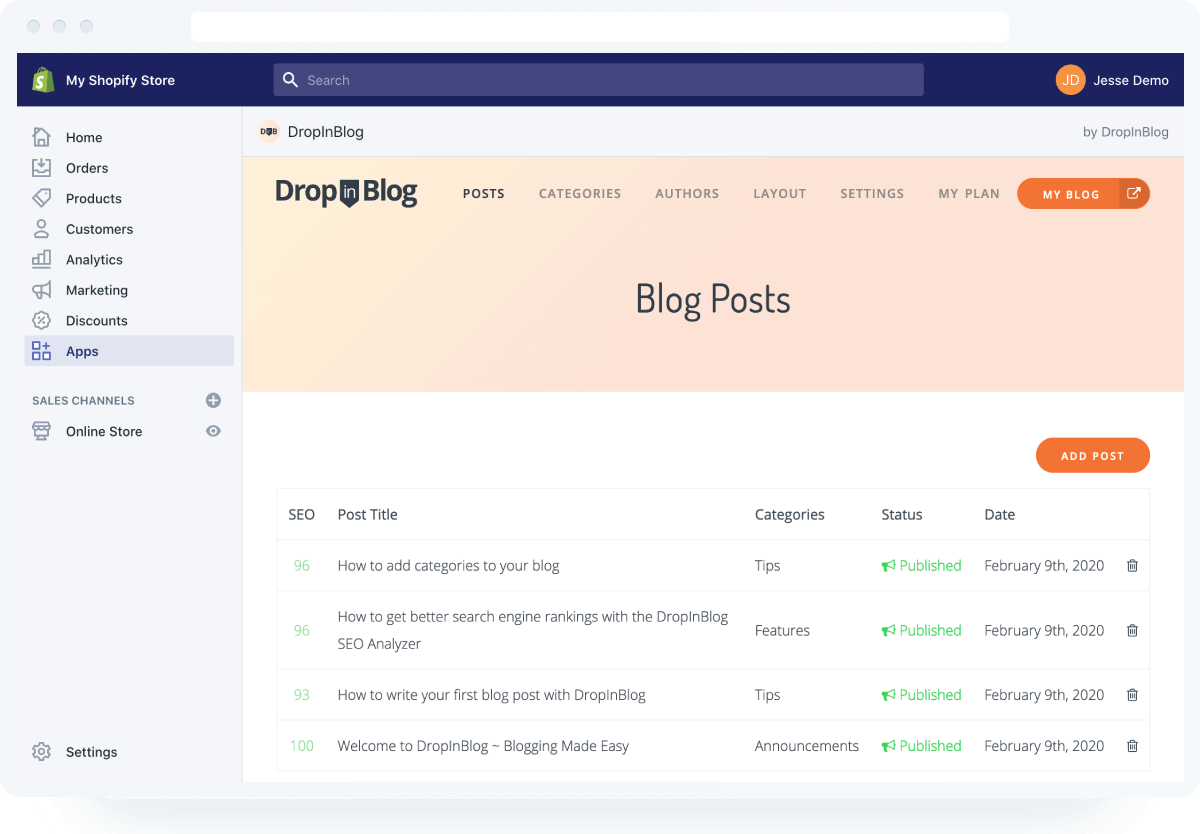 Instapage is focused on landing pages and does not provide built-in blogging features. However, it does integrate with DropInBlog as well as WordPress, allowing users to connect their Instapage landing pages to an existing WordPress site.
Instapage offers a WordPress plugin that allows users to publish landing pages created in Instapage directly to a WordPress site. The landing pages are then hosted by Instapage but accessible from the WordPress site for easy management.
The integration also allows website visitors to be retargeted with Instapage ads and landing pages based on their site behavior for better conversions.
While Instapage itself does not have blogging capabilities, its integration with WordPress bridges the gap effectively for businesses that need both landing pages and blogging on their site.
Strikingly offers built-in blogging capabilities allowing users to manage both their website and blog content in one platform.
Users can create multiple blog pages with the Post Editor. Adding blog posts is simple with options to include photos, videos, tags, comments, and more. Blog pages created can be added to site navigation menus.
The blogging features are easy to use but not as fully featured as WordPress. For example, Strikingly lacks native categories, archives, author profiles, and other advanced WordPress functionality.
However, the convenience of having landing pages, website, and blog management in one integrated platform is a major advantage for small businesses with limited tech resources.
For users who want an integrated blogging solution, Strikingly is the winner over Instapage. Strikingly allows you to create landing pages, websites, and blogs in one place – saving you from managing multiple platforms. While Strikingly lacks the full power of WordPress, its blogging features cover the basics for most small business needs.
E-commerce Capabilities
Instapage is not an e-commerce platform and does not offer built-in features for setting up an online store. Its sole focus is building high-converting landing pages.
However, Instapage integrates with leading e-commerce platforms like Shopify, WooCommerce, and BigCommerce. This allows users to create targeted landing pages to promote their e-commerce store.
For example, Instapage landing pages can be used to advertise special sales, new product launches, promotions, form submissions, and more – driving traffic to the main e-commerce site.
The platform also provides analytics on which landing pages deliver the highest conversion rates. This data can be used to further optimize landing pages and improve sales.
So while Instapage lacks native store capabilities, its flexibility makes it a powerful e-commerce marketing tool.
Strikingly provides built-in e-commerce functionality to create an online store as part of the website. Selling physical and digital products is supported.
It comes with features like customizable store design, product management, inventory tracking, coupons, shipping, and tax tools. Strikingly handles the checkout process and payments.
The platform supports omnichannel selling across in-person, social media, and online channels. Detailed sales analytics provide insight into store performance.
However, Strikingly's e-commerce features are less advanced compared to dedicated platforms like Shopify and WooCommerce. It works well for small catalogs but may be limiting for large, complex product lines.
Winner: Tie
Both Strikingly and Instapage offer value for e-commerce businesses but in different ways. Strikingly allows you to create an online store as part of your site. But Instapage provides superior marketing tools to promote your store and boost sales through high-converting landing pages. We declare this category a tie – combine Instapage with Strikingly or a dedicated e-commerce platform like Shopify for the best results.
SEO Tools

Instapage provides built-in SEO options to optimize landing pages including page titles, meta descriptions, alt text, and URL slugs.
The platform generates keyword-rich URLs for landing pages automatically. URLs can also be customized as needed for better rankings.
However, Instapage lacks advanced XML sitemap generation or indexing tools compared to Strikingly. All landing pages must be manually submitted to search engines.
Instapage integrates with Google Analytics to monitor website traffic and performance. But there is no direct Google Search Console integration.
While Instapage covers the basic on-page SEO best practices, users may need to leverage external tools for technical site optimization and indexing.
Strikingly comes equipped with several built-in SEO tools to maximize search visibility.
The platform allows you to customize page titles, meta descriptions, alt text, and URLs, similar to Instapage. Automatically generated XML sitemaps help index your site pages.
Strikingly also integrates directly with Google Search Console allowing you to monitor index status, optimize content, fix issues, and more from within the platform.
Backlink analysis, SEO audits, and competitor tracking provide additional optimization capabilities lacking in Instapage.
Overall, Strikingly requires less manual effort to optimize technical SEO factors compared to Instapage's purely on-page toolkit.
With its sitemaps, Google Search Console integration, and built-in SEO auditing capabilities, Strikingly comes out ahead for built-in SEO optimization features compared to Instapage. Strikingly handles more of the technical SEO work for you allowing for better search visibility with less effort.
Integrations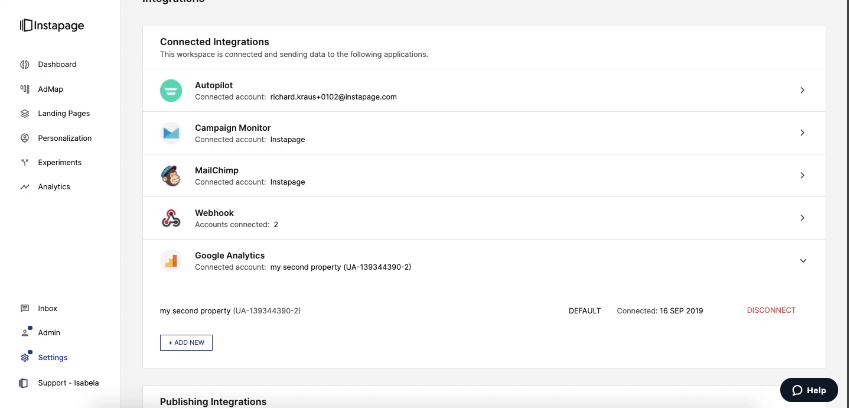 Some of Instapage's top integration partners include:
Email/Marketing Automation: Integrates with email marketing software like MailChimp, ActiveCampaign, Drip, and more to capture leads from landing pages and trigger workflows.
Webinar Software: Integrates with GoToWebinar, WebinarJam, and others to generate leads from webinar promotion pages.
CRM: Integrates with Salesforce, HubSpot CRM, PipeDrive, and other CRMs to send new contacts to your database.
Analytics: Integrates with Google Analytics, Facebook Pixel, and more for event tracking and attribution.
E-commerce: Integrates with Shopify, WooCommerce, and BigCommerce to create targeted landing pages.
A/B Testing: Integrate with Optimizely to test and optimize landing pages and other pages on your site.
Social Media: Leverage Facebook Lead Ads and Instagram shoppable posts powered by Instapage.
With its robust API and integrations marketplace, the free landing page builder connects well with popular marketing and sales tools.
Some of Strikingly's notable integrations include:
While Strikingly covers the basic marketing and analytics integrations, its app ecosystem lacks the breadth of Instapage's 250+ apps.
When it comes to building landing pages and integrating additional features, Instapage is the winner thanks to its extensible API platform and vast app marketplace. Instapage landing page templates connect to far more email, marketing automation, webinars, analytics, social media, and other platforms – providing superior flexibility. Strikingly offers only more limited capabilities to augment its core website builder offering.
Analytics and Reporting
Instapage comes equipped with powerful built-in analytics to optimize landing pages.
Users get access to conversion rate data, traffic sources, visitor demographics, behavior metrics, and more. Instapage's Page Analyzer feature gives a comprehensive report on how to improve page performance.
A/B testing tools allow users to set up split tests to see which page variations perform best. Winning designs can then be launched to maximize conversions.
Users can also integrate Google Analytics for more in-depth tracking of traffic, goals, and custom events on their landing pages and broader websites.
Instapage's analytics provide deep insight into landing page success to further optimize conversion rates over time. All data is presented in easy-to-understand reports and visualizations.
Strikingly provides basic analytics to track traffic and visitor engagement through its built-in dashboard.
The analytics cover key metrics like unique visitors, bounce rates, referring sites, pages per visit, and more. Data can be viewed site-wide or on individual pages.
Strikingly lacks robust statistical analysis of visitor demographics and behavior patterns, however. There are also no built-in A/B testing capabilities.
For deeper analysis, Strikingly integrates with Google Analytics. But this requires configuring Analytics externally and analyzing data separately.
Strikingly's reporting works for monitoring overall site health but lacks Instapage's powerful landing page conversion optimization tools.
With its dedicated conversion analytics, A/B testing, and Page Analyzer, Instapage is the clear winner for actionable analytics to optimize landing pages. Instapage provides the data and insights needed to maximize landing page ROI. Strikingly analytics cover website traffic well but come up short of drilling into landing page performance.
5. Website Performance
Website Speed and Load Times
Instapage uses a custom Content Delivery Network (CDN) tuned for fast delivery of landing pages globally. Pages load incredibly fast with average speeds below 2 seconds.
The platform offers lazy loading of images and code minification out of the box to optimize page speed. Custom JavaScript can also be deferred to prevent blocking page rendering.
Instapage compresses all assets which keeps page sizes very small – generally under 2MB per page. This results in lightning-fast load times.
With website performance a key ranking factor, Instapage ensures your landing pages provide a great experience for visitors. Fast pages equal higher conversions.
Strikingly is powered by Amazon Web Services which provides a fast, reliable CDN for page delivery. Pages load quickly with average speeds of under 3 seconds.
The platform leverages browser caching, image compression, deferred JavaScript, and other optimizations to streamline page performance. Strikingly pages average under 2 MB in size.
Strikingly also uses code minification and lazy loading techniques to reduce file sizes. HTML pages are gzip compressed for smaller footprints.
For added speed, Strikingly offers a CDN platform upgrade to enhance performance in specific regions as needed.
With sub-2 second global page speeds out of the box, Instapage takes the crown for the fastest load times. Instapage's optimized custom CDN and performance features create an incredibly fast experience across devices. While Strikingly pages are speedy as well, Instapage edges them out when it comes to sheer website speed across the board. Faster pages equal more landing page conversions.
Website Reliability and Uptime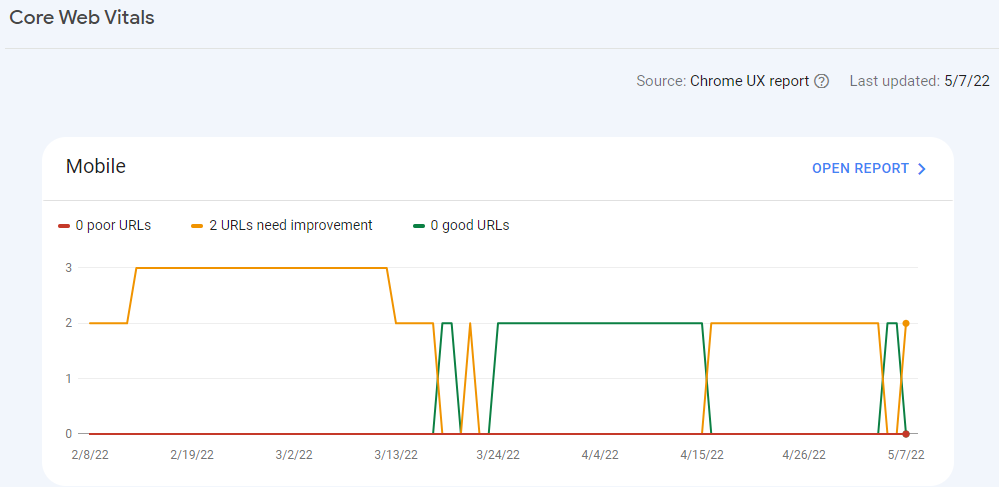 Instapage provides an industry-leading uptime SLA of 99.95% guaranteed. This exceptional level of reliability means virtually no downtime for customers.
The platform runs on a fault-tolerant cloud infrastructure with failover measures in place. Load balancing and redundancy mechanisms ensure maximum uptime.
Instapage offers real-time system status monitoring on its website as well as incident notifications via email, text, or RSS feed. Historical uptime data is also published.
With financial guarantees backing its uptime promise, Instapage delivers outstanding reliability you can count on.
Strikingly guarantees 99.9% uptime for all customers, covering both the website builder and published websites.
The platform runs on Amazon Web Services' cloud hosting which underpins the reliability. AWS data centers provide effective redundancy and failover safeguards.
Strikingly does not provide real-time system status dashboards or historical uptime reporting like Instapage. However, their status page notes any major incidents impacting service availability.
While Strikingly lags slightly behind Instapage's 99.95% gold standard, 99.9% remains a strong uptime commitment for a website builder. Reliability is unlikely to be an issue.
With an industry-leading 99.95% SLA, real-time monitoring, and financial guarantees, Instapage edges out Strikingly for best-in-class website reliability. Instapage's cloud architecture ensures your landing pages are virtually always online and available to convert visitors. Both platforms provide great uptime but Instapage goes the extra mile.
6. Customer Support and Community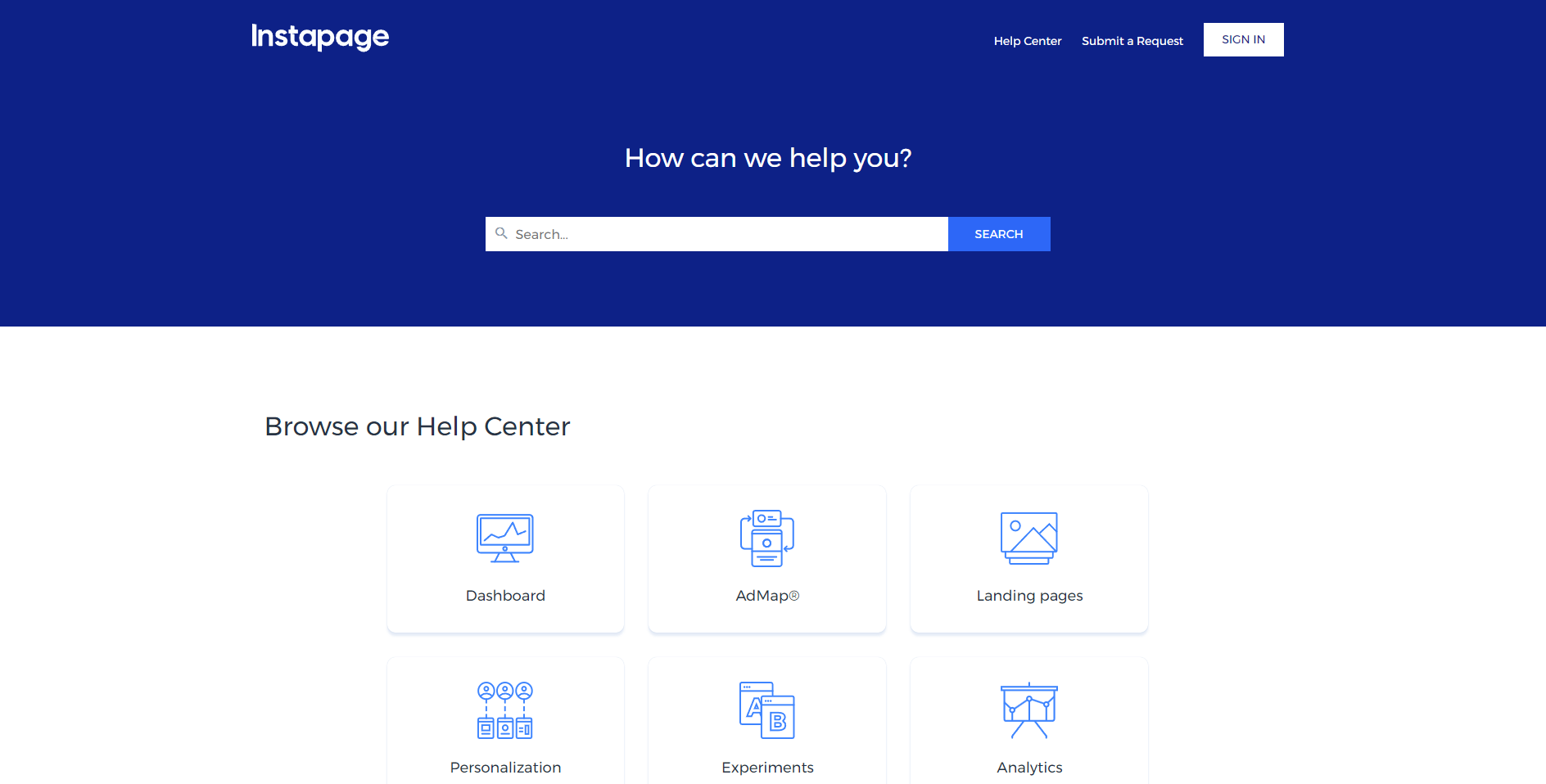 Instapage provides 24/7 customer support via live chat, email, and phone. Priority support options are available for upgraded accounts.
The platform offers an extensive library of tutorials, documentation, and eLearning courses for self-service help. Instapage also hosts regular educational webinars.
Users can connect with other customers and experts through the Instapage Community Facebook group.
Between prompt live support, comprehensive resources, and active peer forums, Instapage customers have access to great assistance when needed.
Strikingly offers 24/5 customer support by email for all users. Live chat is provided during Chinese business hours given the company's origins.
Self-help resources include documentation, tutorials, webinars, and a knowledge base full of articles on using Strikingly's platform features.
The Strikingly Users Facebook group has thousands of engaged members who share tips and assistance for the website builder. However, group activity is relatively low compared to Instapage's thriving forums.
Strikingly provides helpful customer support and an engaged Facebook community. But options lag behind Instapage somewhat due to Strikingly's smaller user base currently.
With round-the-clock live support, a vast library of educational content, and a highly active user community, Instapage offers superior customer support and resources compared to Strikingly. Instapage has invested heavily in customer success which gives its users an advantage. For help building your best landing pages, Instapage has you covered.
7. Pricing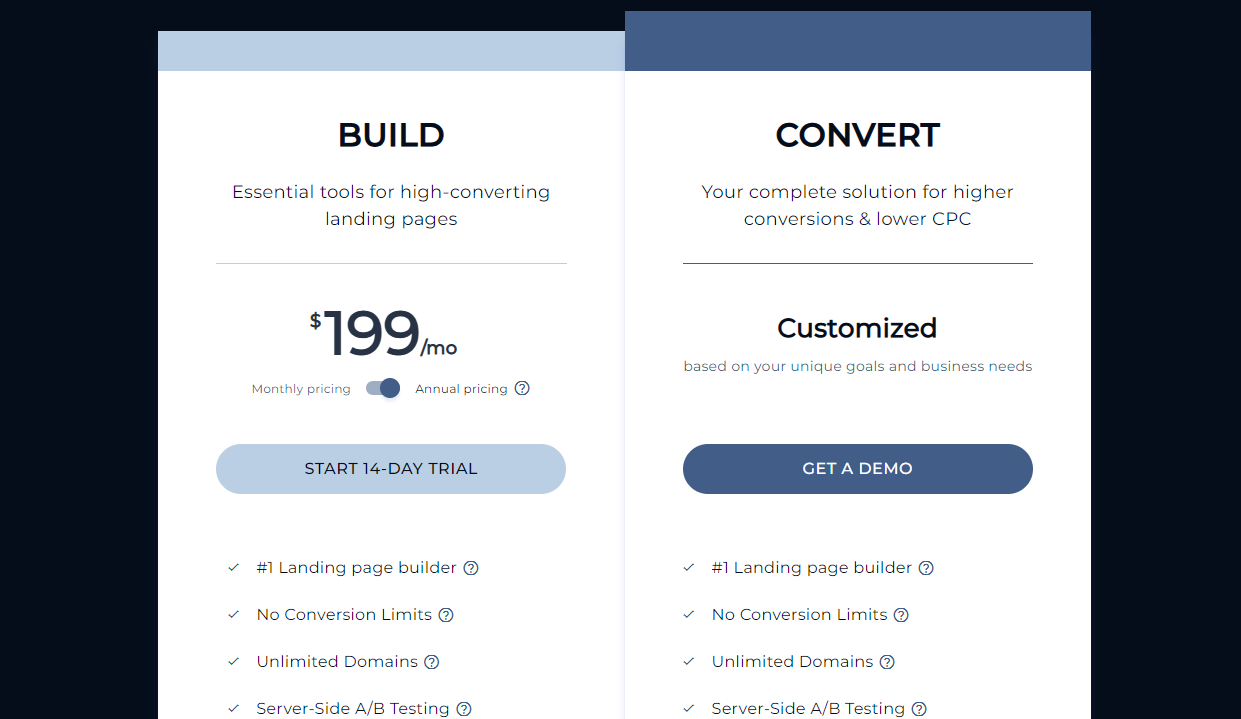 Instapage has a "Build" plan which costs $199/month billed annually. Custom quotes are available based on needs. If you're looking for a freelanding page builder, you can sign up for a free 14-day trial to test out the software.
Instapage starts more expensive than Strikingly but scales higher for more advanced use cases. All plans include your own custom domain, free service for email, AdCred Credits, and unlimited collaborators.
Instapage is affordably priced for professional use and heavy traffic volumes. Enterprises with complex needs get custom quotes.
Strikingly offers a free plan allowing one website with basic features. Paid plans unlock more capabilities starting at $8/month.
The Pro plan ($16/month) includes unlimited sites, Google Analytics, and priority support. The VIP plan ($49/month) adds email marketing and a custom domain name, as well as additional tools to collect leads.
Enterprise pricing is customized for high-traffic needs like priority support, dedicated servers, and API access. All paid plans are annual subscriptions.
Overall, Strikingly provides low-cost scaling from freelancers to funded startups. Competitive pricing makes robust websites accessible.
However, the free plan is limited. Add-ons like e-commerce and custom code are premium-only. Expect fees accruing with expanded capabilities.
Thanks to a Limited plan starting at just $8/month, Strikingly offers unbeatable value. The pricing matches Strikingly's positioning as an affordable, beginner-friendly website builder. Instapage caters more to advanced high-traffic use cases but starts much higher. For budget-conscious users, Strikingly is the winner.
8. Reviews and Reputation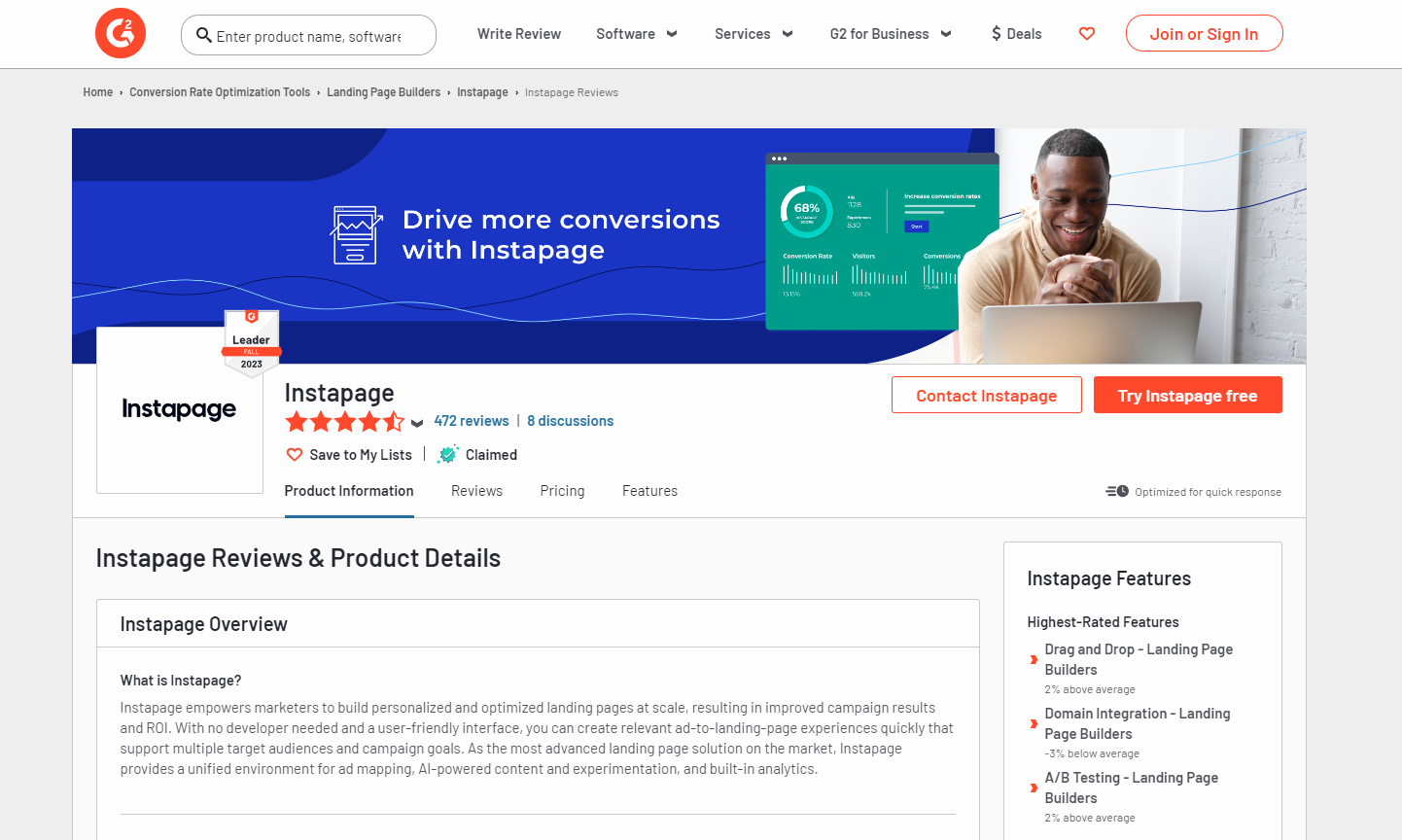 Instapage is highly rated across leading software review platforms. Positive feedback typically praises Instapage's beautiful landing page design capabilities, intuitive drag-and-drop builder, and helpful conversion optimization features.
Negative feedback mostly focuses on the learning curve for more advanced functionality. Some users also find the platform pricey.
Overall though, Instapage earns strong marks from most users, particularly for the landing page builder interface and powerful optimization tools.
Strikingly also maintains high ratings among reviewers. Positive Strikingly reviews highlight the easy drag-and-drop website builder, great templates, and budget-friendly pricing.
Critical feedback centers around limited customization options for advanced users. Reviewers also cite occasional glitches with Strikingly's editor.
However, most reviewers praise Strikingly as an intuitive, affordable website builder for small businesses to quickly create an online presence.
Winner: Tie
Both Instapage and Strikingly earn outstanding reviews from users – averaging between 4-5 stars across major platforms. Instapage gets high marks for landing page power while Strikingly wins on simplicity and value. Both have strong reputations making it too close to call a definitive winner. The right platform depends on your specific needs.
9. FAQ's
What types of sites can I build with Instapage?

Instapage is focused specifically on building high-converting landing pages. It does not offer full website creation capabilities.

Does Instapage provide email marketing features?

No, Instapage specializes in landing pages. Use a dedicated email marketing platform like MailChimp along with Instapage.

Can I create membership sites or online courses with Instapage?

No, Instapage is not suited for building advanced membership or course sites. Use appropriate software like Kajabi instead.

Is there a mobile app for managing Instapage?

Yes, Instapage offers iOS and Android apps for easily accessing and editing your landing pages on the go.
What types of sites can I build with Strikingly?

Strikingly supports building full websites, blogs, online stores, and landing pages. It is an all-in-one website builder.

Does Strikingly allow e-commerce sites?

Yes, Strikingly has built-in e-commerce features to create online stores and sell products.

Is Strikingly better than WordPress?

Strikingly is easier to use than WordPress but less customizable. WordPress offers more power and control if you need it.

Can I upgrade to remove Strikingly branding?

Yes, paying for a Pro plan lets you remove Strikingly footer branding from your site.
Final Thoughts
Instapage is the best choice if you need to create high-converting landing pages and lead gen forms to maximize sales and conversions for your business. It's the cheapest landing page builder with an incredibly intuitive drag-and-drop builder, powerful A/B testing capabilities, and robust integration ecosystem. Instapage is purpose-built for marketers who want to boost their conversion rates. If you need dedicated landing page power to create single page websites, Instapage is the leader.
Strikingly is ideal for entrepreneurs, small businesses, and freelancers who need an affordable, all-in-one website builder to create their online presence quickly and easily. With Strikingly you can build single page sites, multi-page sites, blogs, stores, and landing pages in one seamlessly integrated platform. No need to pay for a separate landing page builder. The easy drag-and-drop editor, modern templates, and budget pricing make Strikingly perfect for beginners wanting to establish and grow their business online.
Alternatively, take a look at my Strikingly review to learn more about this site builder.
You can also check out other Strikingly comparisons I've done:
Choosing the right platform is critical for achieving your online business goals. We hope this comparison has helped provide the information needed to select between Instapage and Strikingly confidently. Please leave any other questions in the comments and we're happy to help further!