If you're having a hard time picking the right website builder for your eCommerce store, you're in the right place. This guide outlines the different features of two popular eCommerce builders: Shopify and Squarespace, to help you make a well-informed decision.
Shopify is an eCommerce platform that is fully focused on providing you with the best eCommerce options. It's ideal for sellers who want to scale their online stores by leveraging powerful marketing and sales tools.
Squarespace is a one-stop website builder with integrated eCommerce features. It's the best choice for users who intend to not only sell products or services online but also add a blog to their website.
Read the rest of this guide to discover the difference between Shopify and Squarespace so you can determine which website builder is ideal for you.
1. Ease of Use
If you're like most people, you want a website builder that allows you to build your store quickly and easily, without the need to handle code. The good news is that both Shopify and Squarespace offer simple, no-code editors that allow even complete beginners to build professional websites in minutes.
Here's how they compare in terms of user-friendliness.
Is Shopify easy to use? The short answer is yes. As soon as you sign up for a free trial, the platform asks you a few short questions to help tailor a better experience when setting up your Shopify site.
Once you're done, Shopify provides you with a complete store that you can then customize to match your needs.
You can edit all the eCommerce-related stuff, including products, orders, analytics, and so on using the built-in store editor. The platform's drag-and-drop functionality means you only have to click, move, and drop different media elements onto a page to build your store.
The eCommerce builder's clear interface, simple language, and intuitive visual cues help even the most tech-challenged user to design and build a professional-looking website. You'll never feel lost when creating your online store, but if you do, Shopify's helpful support team is always on hand to assist you at any time of day or night.
All in all, making money with Shopify is generally easy if you know what you're doing and what you want.
Summary of Shopify's Ease of Use Features:
Guided website setup process ideal for beginners
Streamlined experience for creating an online store
Simple Shopify dashboard that's easy to navigate
Pre-made, 100% customizable store sections
Third-party apps for added website functionality
Squarespace is among the most popular website-building platforms on the market – and with good reason. It's super easy to use, even for those with zero web design experience.
After signing up on Squarespace, you are prompted to answer a few questions pertaining to your website. The platform will then provide you with a curated list of Squarespace site template recommendations. Choose one, and get to work customizing it to match your needs.
Squarespace website templates allow you to create beautiful, full-featured websites in just a few clicks. And, thanks to the platform's drag-and-drop editor, you can do it all without having to deal with any code or technical details. If you run into any issues, Squarespace has superb customer service to help resolve any problems quickly and easily.
All in all, the Squarespace website builder is an excellent solution for anyone who wants to create a professional-looking site and have it published with minimal effort.
Summary of Squarespace's Ease of Use Features:
Guided website setup ideal for beginners
Fully customizable templates for all types of businesses
Drag-and-drop interface and built-in CSS editor
Integration with third-party apps and services
Reliable hosting with built-in security
Shopify is designed to be extremely easy to use, with a simple drag-and-drop editor and pre-configured store templates. However, Squarespace still wins the battle of simplicity and intuitiveness. There's much less to figure out whether you're building a website, blog, or eCommerce store.
Squarespace also has tons of beautiful pre-built templates and a drag-and-drop editor that you can use to customize your pages easily. Many of the processes are done for you which means you simply have to click a button to integrate any type of functionality you want into your Squarespace website.
2. Design and Customization
Having a good-looking website is important if you want to boost your conversions. Not only do you need robust customization options, but you also want a site builder that makes the entire design process as intuitive as possible.
Let's find out which platform performs best when it comes to designing and customizing your new website.
Shopify is perfect for anyone looking for an easy-to-use but powerful eCommerce builder. Its built-in tools are ideal for individuals and businesses of all types and sizes. Whether you want to build a starter eCommerce site or a full-blown one, Shopify has the tools you need to succeed.
Compared to Squarespace, the range of free Shopify templates is severely limited. However, all of them are visually attractive and fully focused on eCommerce.
Of course, you also have the option to choose premium themes from the Shopify marketplace. These cost between $100 and $200 each, and are professionally designed, mobile responsive, and fully customizable.
Shopify also allows you to use a third-party store theme, which is helpful if you prefer a bespoke theme from one of the many theme marketplaces out there. This is a helpful feature that allows eCommerce store owners to choose relevant themes depending on the types of products, styles, and collections they have.
If there's any type of functionality you want that is not available on Shopify, such as live chat functionality or image zoom feature, you can add a third-party app from Shopify's marketplace to bridge the gap.
In addition to using Shopify's drag-and-drop editor to customize your theme, you can also edit HTML and CSS on your Shopify Admin page to get deeper customization for your site. This makes it easy to make quick edits for things like seasonal sales or updates to your product catalog.
In comparison, Squarespace only allows you to work with the themes and templates provided by the platform, which could prove severely limiting when trying to build complex or unique storefronts.
Summary of Shopify's Design and Customization Features:
Easy-to-use eCommerce website builder
Modern store templates with built-in eCommerce features
Free and premium themes are available
Access to HTML and CSS for deeper customization
Integrates easily with other systems
The biggest difference between Squarespace and Shopify lies in each platform's potential for customization.
Squarespace is best for users who want to showcase content, such as creatives. Its all-in-one nature is also ideal for those who want an all-around site builder with built-in eCommerce features.
Since it's not an eCommerce-focused tool (like Shopify), Squarespace is more ideally suited to small to medium-sized businesses. If you're looking to scale, it may not be the best solution for you. With that said, it does have all the features to design and build a professional website, blog, or store.
On Squarespace, you'll find a wide range of templates that cover virtually every industry, including restaurant, DIY, travel, fitness, photography, services, and more. All templates are mobile responsive and look great on screens of all sizes.
They come with a modern design which includes lots of white space, making it easy for you to convey your messages clearly. The minimalistic design also gives you the opportunity to add more page elements like calendars, maps, buttons, etc. to further customize the look and functionality of your website.
Squarespace also allows you to make custom edits to further personalize your eCommerce store. You can edit HTML on your website using a Code Block, and you can edit CSS using the CSS Editor.
Like Shopify, Squarespace offers third-party apps (called Extensions) to take care of any functionality that is not provided on the platform. You can use these to change the layout and functionality of your site, depending on your needs. For instance, you can add a Squarespace extension to add dropshipping functionality to your new site or connect to an online marketplace like eBay.
Summary of Squarespace's Design and Customization Features:
Wide range of templates available, including eCommerce-focused options
Third-party integrations available for expanded store functionality
All templates are mobile-responsive
Edit CSS and HTML on your website
Perfect site builder for showcasing creative works
In terms of design and customizability, Squarespace wins by virtue of having better quality templates and more customization options. You get professional-quality websites with zero coding required. Squarespace themes are sleek and modern. They cover a wide range of industries and are extremely easy to customize to help you entice more customers.
3. eCommerce Capabilities
Sales tools are an important consideration for anyone who wants to sell online. In addition to the basic features to cover product images, prices, discounts, etc., you also need specialized features depending on what you sell (physical products, digital products, services, subscriptions, etc.)
Let's find out which site builder is better in terms of eCommerce.
Shopify is a top-rated eCommerce site builder with a range of integrated tools to simplify selling online. It has what you need in all key areas of selling online. Once you sign up, you get instant access to a comprehensive set of tools and apps to help you sell digital, physical, and service products across different platforms. However, you should note that you will have to install a third-party app to sell digital downloads on Shopify.
The platform has over 100 payment gateways, including PayPal, Stripe, Apple Pay, Amazon Pay, Square, etc., and even accepts cryptocurrency. If you use Shopify's own payment gateway, Shopify Payments, you pay zero transaction fees.
Shopify also has strong shipping features to provide you with everything you need to deliver your products, including printable shipping labels, drop shipping, and integration with UPS or NHL.
There are built-in inventory management and tax calculation tools. You'll be able to upload new items, manage stock levels, view revenue reports, and more from your dashboard. You can also leverage other eCommerce tools like gift cards, automatic discounts, and various sales channels to help you deliver an exceptional user experience.
Both Shopify and Squarespace allow you to sell on Facebook and Instagram. But, Shopify goes a step further by making it possible for you to sell on Amazon, Walmart, Google, Snapchat, and Pinterest.
If your business sells and ships products to individual customers, or if you frequently list products on social media, third-party marketplaces, and other online platforms, then Shopify is a great option for you to consider.
Summary of Shopify's eCommerce Capabilities:
eCommerce-focused platform with built-in payment tools
Shopify POS system to sell offline
Add single or bulk items to your store
Get in-house revenue reports to monitor performance
Wide range of third-party apps to extend store functionality
And now to answer the big question on everyone's mind: Is Squarespace as good as Shopify when it comes to eCommerce?
As previously noted, Squarespace is an all-around site builder that comes with added eCommerce features for those looking to sell online. Unlike Shopify, there's no need to integrate a third-party sales tool to sell digital products.
However, the built-in eCommerce tools are no match for the eCommerce-focused Shopify platform – although having an all-in-one platform does make Squarespace more affordable. Also, Squarespace has tons of beautiful template designs to help you build an online store without having to go through a steep learning curve.
Moreover, many of the Squarespace eCommerce templates are expertly designed to help your products stand out thanks to eCommerce features like product zoom that lets you turn your images into videos so you can show customers a 360-degree visual experience. There's also a multiple variants feature to show different colors and sizes.
These built-in features not only provide you with exceptional product presentation but also help you avoid wasting time trying to get different apps to work together seamlessly on Squarespace.
All in all, Squarespace is a good option to consider if you are looking to sell just a few products online. It's also ideal for businesses that want to book appointments and earn revenue from exclusive content and memberships.
Summary of Squarespace's eCommerce Capabilities:
All-in-one site builder with built-in eCommerce features
Optimized templates suited specifically for eCommerce
Integration with Square to sell offline
Sell unlimited products
Direct email alerts for low-stock
Of the two platforms, Shopify is the clear winner if you're solely focused on eCommerce. But, there are some standout features on Squarespace, such as product zoom that you won't get on Shopify. Of course, you can still install these types of features using an app like Magic Zoom Plus from Shopify's app marketplace.
While Squarespace makes it possible for you to build a gorgeous website using its wide range of out-of-the-box tools, Shopify has more powerful integrated tools and thousands of apps to enable businesses to sell anywhere with ease.
4. Blogging Tools
Having a blog is a great way to let people know about your store and drive targeted traffic to your products or services. The best website builders offer integrated blogging tools to make it easier for you to publish content on a regular basis. Below we find out if Shopify is as good as Squarespace in terms of blogging functionality.
Shopify's blogging features are lacking compared to Squarespace. The platform doesn't have many of the expected blogging features, such as built-in analytics. However, it does come with blog-specific SEO features, which may be helpful if you intend to add a blog to your eCommerce store.
If you want a more robust blogging engine, you can add a blog to your Shopify store using a third-party app like DropInBlog which instantly creates a complete blogging interface on your website.
The blog automatically takes on your store's look (colors, fonts, etc.) so you can maintain your branding. You'll also get access to features like SEO analysis, product embedding, and more to help you create effective blog posts for your online store.
One good thing about Shopify, with regard to its built-in blogging functionality, is that it comes with built-in email marketing functionality that allows you to share your blog posts and updates easily from your dashboard.
Summary of Shopify's Blogging Tools:
Simple blogging functionality ideal for basic blog
Ability to integrate third-party blogging app
Blog-specific SEO features available
SEO analysis tools available via integration
Built-in email marketing tools
Squarespace has a reliable blogging engine with all the features you need to build a successful blog, including a search feature, archive functionality, built-in blog analytics, and more.
Creating and setting up your blog on Squarespace is just a simple matter of clicking a few buttons and choosing the right template from the dozens of available options. This is one of the many reasons why Squarespace is considered by bloggers to be among the top website builders for beginners.
Once your blog is set up, you'll be able to access features like comments, RSS feeds, and social media sharing tools which are built right into the blog section. Additional features include post-scheduling, multiple authors, and support for AMP (accelerated mobile pages) included out of the box.
You can publish as many blog posts as you want on Squarespace without worrying about hitting page limits. This is perfect for users who intend to publish blog content either on a daily basis or multiple times a week.
Summary of Squarespace's Blogging Tools:
Cloud hosting for your blog
User-friendly blogging and CMS feature
Easy social media sharing tools
Tools to offer premium content on your blog
Built-in SEO features for online visibility
Shopify has basic blogging tools, and if you intend to publish a lot of content on your blog, you'll need to integrate a third-party app. This means you pay an additional fee each month on top of your Shopify subscription.
For this reason, the winner here is Squarespace since it comes with built-in blogging functionality to cater to all your blogging needs without the need to add a third-party tool.
5. Search Engine Optimization Tools
SEO is among the most important marketing tools for your website. Both platforms come with built-in SEO features, as well as integration capabilities to help you rank your website quickly. But, does Shopify have better SEO than Squarespace?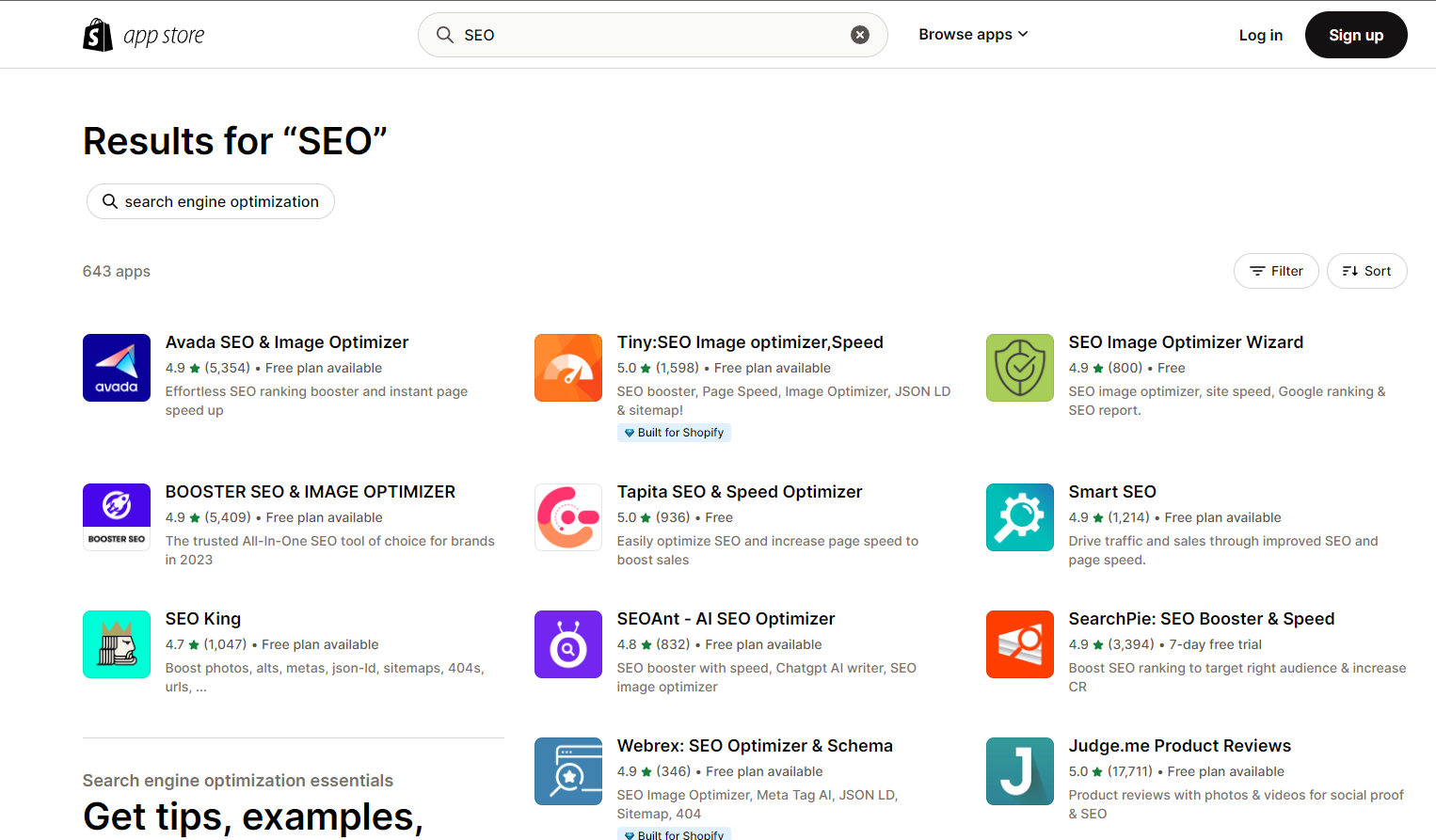 Shopify has built-in SEO tools to help your online store rise in ranking. However, compared to Squarespace, these tools are quite crude. Fortunately, Shopify also has a wide range of SEO apps that you can integrate for even more advanced functionality.
You'll be able to take care of all the basics, such as page titles, meta descriptions, header tags, alt tags, etc. with the built-in SEO functionality on Shopify. You can also take care of some advanced SEO settings, like 301 redirects, with apps like the SEO Optimizer for Shopify stores.
You'll even get automated SEO optimization just by installing the app on your website. Once installed, it will monitor and optimize your store according to Google's current best practices.
Furthermore, Shopify users get assistance from the platform's AI which provides best practice prompts when you upload new stock to your website.
Summary of Shopify's Search Engine Optimization Tools:
Basic SEO settings available on Shopify
Integrate third-party advanced SEO tools
Built-in AI for SEO best practices prompt
Mobile-optimized themes for enhanced SEO
Product page optimization suggestions
Squarespace has many of the basic SEO features you expect from a site builder in its category. It allows you to edit meta-titles and descriptions to ensure that the text shown on Google searches is optimized.
Other basic SEO functions include image alt tags, header tags, page titles, metadata, and URLs. With that said, its SEO features are not as strong as those you'll find on Shopify (using Shopify apps). Of course, you can integrate your own third-party apps to your Squarespace sites, including Google Analytics for deeper SEO insights.
Squarespace also has a wide range of apps for social media marketing and advertising. You can integrate these into your website with a few clicks to promote your products across all major social media platforms and help you run effective marketing campaigns from your dashboard.
You can also create email campaigns using Squarespace's add-on email marketing feature, or one of the platform's many integrations with third-party email providers.
Summary of Squarespace's Search Engine Optimization Tools:
Basic SEO settings built-in to simplify search optimization
Integrated social media and advertising tools
AI-powered SEO checklist to assist beginners
Free SSL certificate for all websites
Robust SEO analytics tools to track website traffic
Shopify has better SEO tools overall. Everything is built to help you get your products in front of your audience as quickly and efficiently as possible, including site speed, auto redirects, and various other SEO tools that you can integrate via the Shopify App Store.
In addition to search engine optimization, Shopify has other powerful marketing tools, such as social media integration and email campaigns to help you attract more customers, build your brand, and grow your store.
Just note that while Shopify's third-party SEO tools outshine Squarespace's fairly decent in-house options, the expense can quickly add up when you have to pay multiple subscriptions each month.
6. Community and Support
Good customer support is crucial when building a website. The last thing you want is for your progress to stall because you can't get assistance when you need it. Fortunately, both platforms offer reliable support through various means. Let's take a look.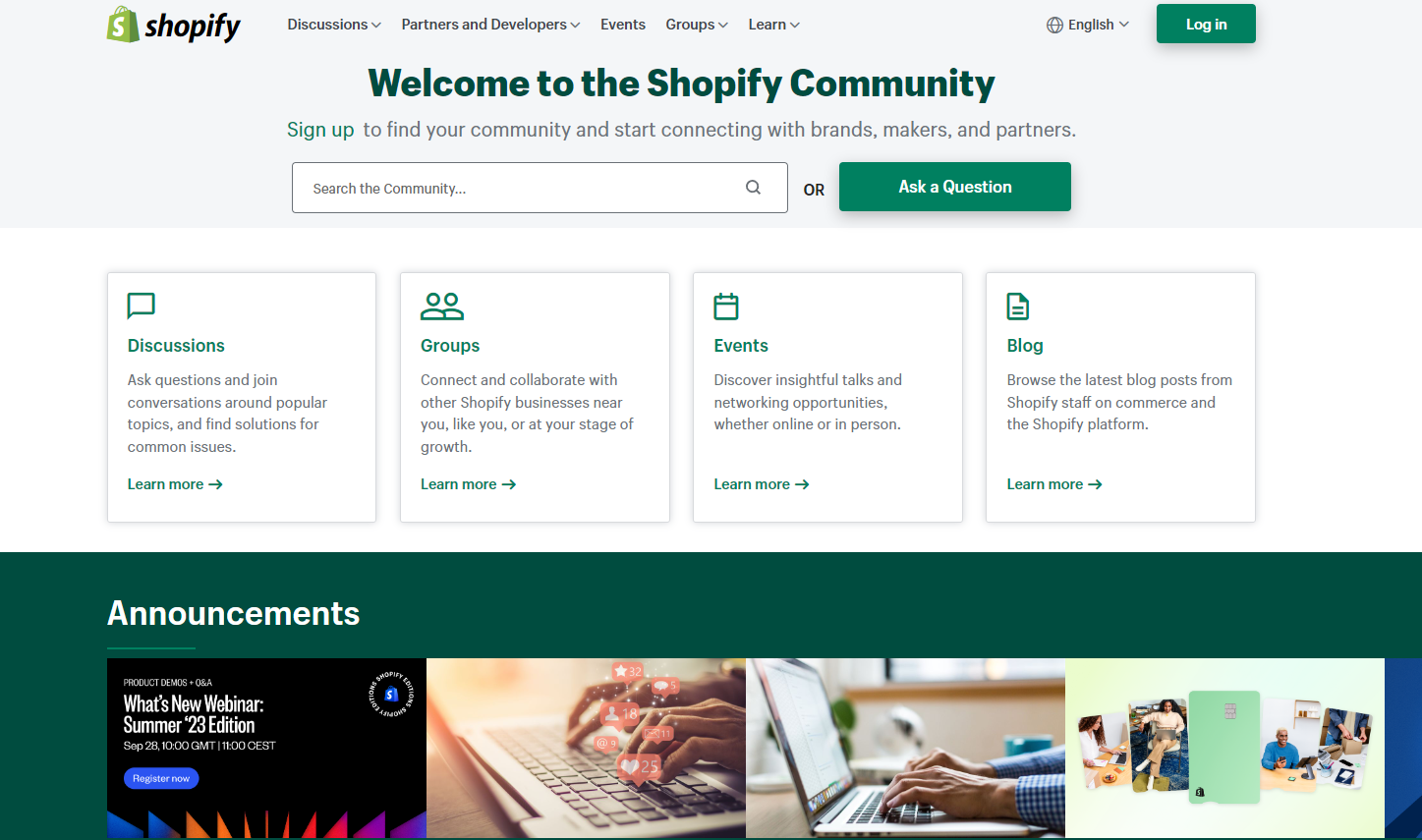 Shopify offers 24/7 email, phone, and live chat support. On the website, you'll find a range of links catering to different types of users, including:
Merchant Support
Help Center
Shopify Blog
Shopify Events
Hire an Expert
Shopify Community
The community, in particular, is super helpful and includes forums, experts, resources, partners, third-party groups, and more in the Shopify ecosystem – all dedicated to helping you build and launch your new store on Shopify.
Shopify goes the extra mile by providing users on higher-tier plans with a dedicated support agent. Additionally, you have the option to hire Shopify Experts to help you design or code your website for a more professional touch as your business grows.
Unlike Shopify, Squarespace does not offer phone support. You can get assistance via email or automated chat on the website. Also, where Shopify offers 24/7 live chat support, Squarespace only offers it Monday to Friday.
You can browse through the platform's knowledge base to find tutorials, guides, videos, webinars, and various other resources to help you get the most from the platform.
There's also a customer support forum where you can connect with other Squarespace users and get advice and guidance on how to build and manage your website.
While both platforms offer timely and knowledgeable customer support to provide answers and help fix your issues, Shopify wins the contest as it offers more help channels, including 24/7 phone support, which Squarespace doesn't.
7. Pricing
The final factor in the Shopify vs. Squarespace comparison is price. Let's find out which website builder offers better value for your money.
Shopify has different monthly plans to suit the size and stage of your business. You can start for free and then enjoy $1/month for 3 months.
Free 3-Day Trial: $0/Month: Shopify offers a 3-day free trial that allows you to test out the different features so you can determine whether or not this is the right software for you before committing to a paid plan. When the free trial ends, you'll have to upgrade to a paid subscription to keep your Shopify website online.
Basic Plan: $29/Month: This plan comes with everything you need to create your online store. It includes features for shipping products, calculating taxes, and processing payments. You also get basic reports, up to 1,000 inventory locations, and 2 staff accounts. Additionally, the plan comes with up to 77% shipping discount and very low credit card rates.
Shopify Plan: $79/Month: This plan includes everything in the "Basic" plan plus professional reports, 5 staff accounts, and up to 88% shipping discount. It's perfect for you if you want to level up your business with professional reporting and additional staff accounts.
Advanced Shopify Plan: $299/Month: This plan is ideal for medium to large businesses that want to leverage the best of Shopify's platform. In addition to all the features in the Shopify plan, it also comes with custom reporting and lowest transaction fees. You get a custom report builder and up to 15 staff accounts.
Squarespace has four growth-focused plans to choose from. They are as follows:
Free Trial: $0/Month: You can sign up for a free trial to test out the platform's core features. No credit card is required, and you can publish a website on a subdomain. However, this free trial has limited features, which is why it's a good idea to upgrade to one of the premium plans if you want to build a professional website.
Personal Plan: $16/Month: If you opt for the annual website plan, you get a free custom domain for the year. This plan also comes with SSL security, unlimited bandwidth, and built-in SEO features for website visibility.
Business Plan: $23/Month: The "Business" plan includes everything in the "Personal" plan plus unlimited contributors, professional email, premium integrations, and promotional banners and pop-ups. You also get access to Squarespace Video Studio App to help you create and share engaging videos.
Basic eCommerce: $27/Month: The Basic eCommerce plan has everything in the "Business" plan. It also comes with 0% transaction fees. Just note that your payment processor might still apply its own transaction fees. This plan also includes product reviews, customer accounts, products on Instagram, and point-of-sale which allows you to sell in person using the Commerce app.
Advanced Commerce: $49/Month: The Advanced Commerce plan has everything in the "Basic eCommerce" plan + abandoned cart recovery features, and the ability to sell subscriptions. You also get advanced discounts, advanced shipping, and commerce APIs.
Price-wise, Squarespace is the clear winner. Its basic plan starts from just $16/month compared to Shopify's basic plan which is $29/month.
However, it's important to note that Shopify offers significantly more inventory locations, as well as other features, such as low credit card rates, shipping discounts, and more. The right plan for you will depend on the features you prioritize to build your online store.
Final Thoughts
So, which is better, Shopify or Squarespace?
Well, as this guide has shown, both platforms have a lot to offer in all key areas of building eCommerce websites. This includes ease of use, design flexibility, sales features, and customer support. However, the differences between the two platforms mean that one will be a better option than the other depending on your specific needs.
There's no doubt that Shopify is the more powerful selling platform, but as with everything else in life, it may not be for everyone. For example, while it may be perfect for sellers looking to build large online stores with complex inventory, it may not be the ideal option for beginners looking to sell just a few items on their website.
Also, Shopify may not be the best option for someone who wants to build a content-focused website using pre-configured templates.
So, with that in mind, here are my recommendations to help simplify this challenging choice.
Choose Shopify if: You want an entire platform that's geared toward helping you sell your products and services online. As a Shopify user, you'll get a comprehensive suite of selling features, even on the basic plan.
These include abandoned cart recovery and multichannel integration. On the higher-tier plans, you'll get advanced eCommerce features, such as professional analytics reports, and more. If your store generates enough revenue, you can even take advantage of the shipping discounts and reduced payment processing fees on Shopify's higher pricing tiers.
Alternatively, check out my Shopify review to learn more about the platform. You may also want to take a look at my Shopify comparison article as well:
Choose Squarespace if: You want a general website builder that comes with built-in eCommerce functionality. Squarespace is ideal if you are looking to sell just a few items and don't need an advanced platform. You'll get beautiful templates to make your store and products stand out. You also get a ton of built-in eCommerce and marketing features to make it easier for you to run your entire business from a single dashboard.
You can learn more about Squarespace in my review, or, if you'd like to see how it compares to other eCommerce platforms, check out my Squarespace vs. Big Cartel, Squarespace vs. Etsy, and Showit vs. Squarespace comparisons.