Choosing the right online platform is a crucial decision for business owners looking to establish an online presence. Etsy and Squarespace are two popular options but have key differences.
Etsy is an e-commerce marketplace focused on handmade, vintage, and craft products. Squarespace offers website-building tools to create all-in-one websites tailored to creative professionals, restaurants, nonprofits, and online stores.
In this Etsy vs. Squarespace comparison, we will evaluate Etsy and Squarespace across several criteria vital for business success, including ease of use, design customization, blogging, e-commerce, and SEO, integrations to help you determine which platform best fits your business needs.
1. Understanding the Basics
Etsy was founded in 2005 in Brooklyn, New York by Robert Kalin, Chris Maguire, Haim Schoppik, and Jared Tarbell. It is an online marketplace focused on handmade, vintage, and creative goods. Etsy went public in 2015 and as of 2022, it has over 90 million registered users and hosts over 5 million active seller accounts.
Etsy has become the dominant marketplace for artisans, crafters, and vintage sellers. It has a dedicated community and active Facebook groups like Etsy Success, Etsy Sellers Support Group, Etsy Teams, and Etsy SEO Community.
Squarespace was founded in 2003 by Anthony Casalena in a dorm room at the University of Maryland. It is a website-building and hosting platform catering to creatives, restaurants, nonprofits, and online stores. Squarespace held its IPO in 2021 and has over 3 million websites hosted on its platform as of 2022.
Squarespace is popular among photographers, designers, writers, and entrepreneurs needing an all-in-one platform for their online presence. Relevant Facebook communities include Squarespace Website Design, Squarespace Ecommerce Sellers, and Squarespace Band Sites.
In terms of market position, Etsy leads for handmade and crafts while Squarespace dominates the website builder space. Both have grown significantly in users and revenue over the past decade.
2. Ease of Use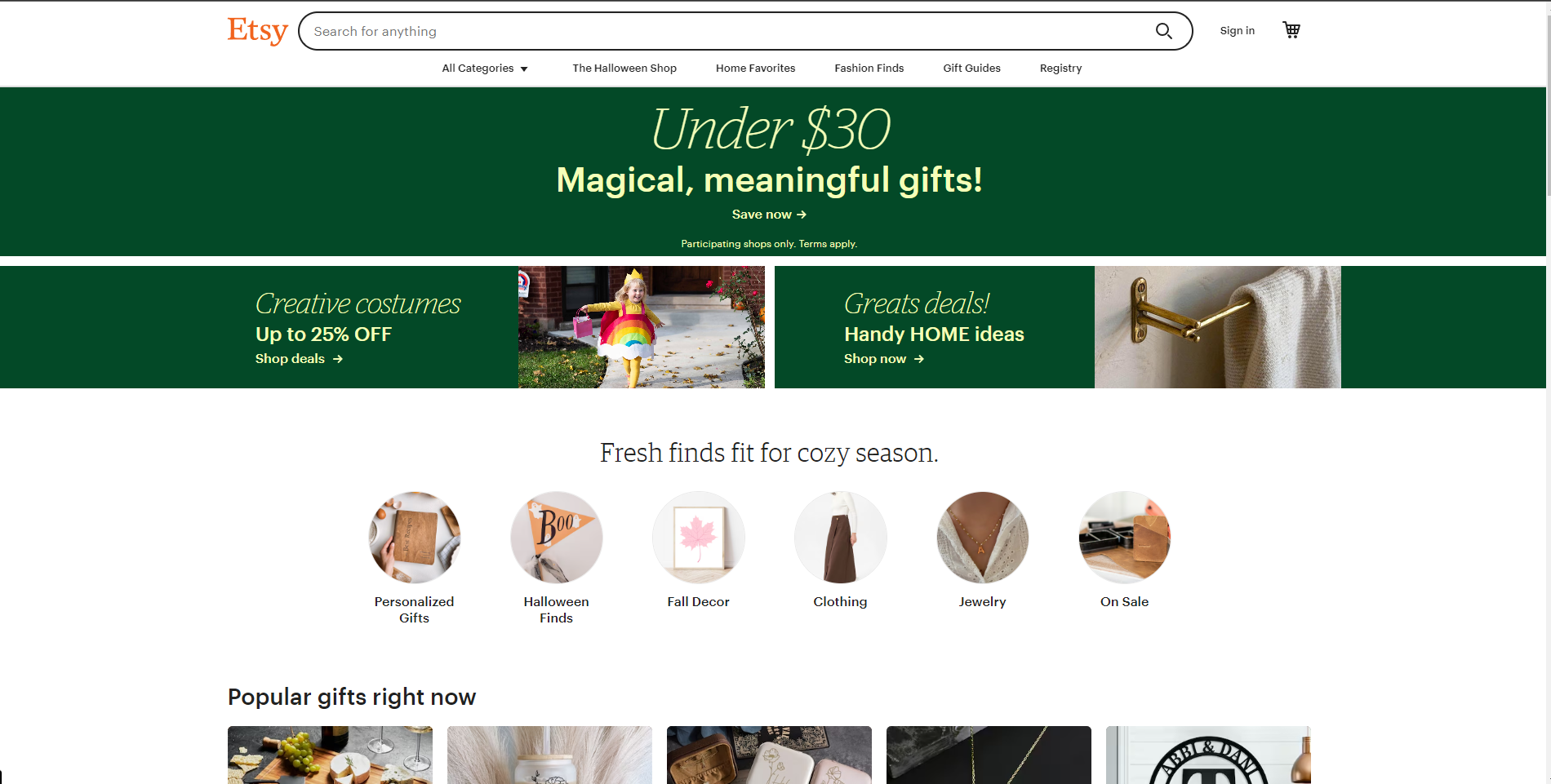 Etsy has a clean, intuitive user interface optimized for browsing and purchasing handmade and vintage items. The homepage highlights curated collections and trending products to quickly orient new users. It comes with a unique shop section feature, clear product photos, prices, shop names, and descriptive titles.
For new sellers, Etsy provides a step-by-step guide to opening an online store. Users can choose a shop name, create listings, upload products, and customize shop branding and policies. Tutorials and help articles walk through listing best practices. The process is designed to be beginner-friendly.
Overall, Etsy has a shallow learning curve. Buyers can start browsing and buying instantly. The Etsy marketplace format means sellers don't have to build their own websites to sell craft supplies. Etsy handles hosting, design, and transaction processing. Less technical expertise is required versus other platforms.
However, Etsy does limit customization compared to standalone websites. Sellers cannot fully control the page design and layout of their online business, as well as all the features for e-commerce, search engine optimization, and sales. Options are predetermined by Etsy store templates. This tradeoff boosts ease of use for less experienced users.
Squarespace emphasizes drag-and-drop simplicity in its website builder. Users choose from a variety of mobile-friendly templates with built-in customization options. Pages, multimedia, and design elements can be added with clicks rather than code.
For those new to website creation, Squarespace offers helpful prompts during setup. Users are guided through choosing a template, adjusting the layout, importing content, and publishing the site. Video tutorials and 24/7 customer support provide additional assistance.
While convenient, Squarespace's simplified approach comes at the cost of design flexibility. Advanced users may feel constrained compared to coding a custom site. There is also a learning curve around using Squarespace's Content Management System (CMS) to update site content.
Overall, Squarespace does enable users of all skill levels to create professional-looking websites. However, leveraging the platform's full capabilities requires time to navigate its interface and options.
Etsy wins for ease of use thanks to its purely e-commerce-focused marketplace model. For sellers, quickly listing products in a few clicks beats having to build and manage an entire website through Squarespace. As an established community, Etsy also offers more built-in guidance for first-time users.
3. Design and Customization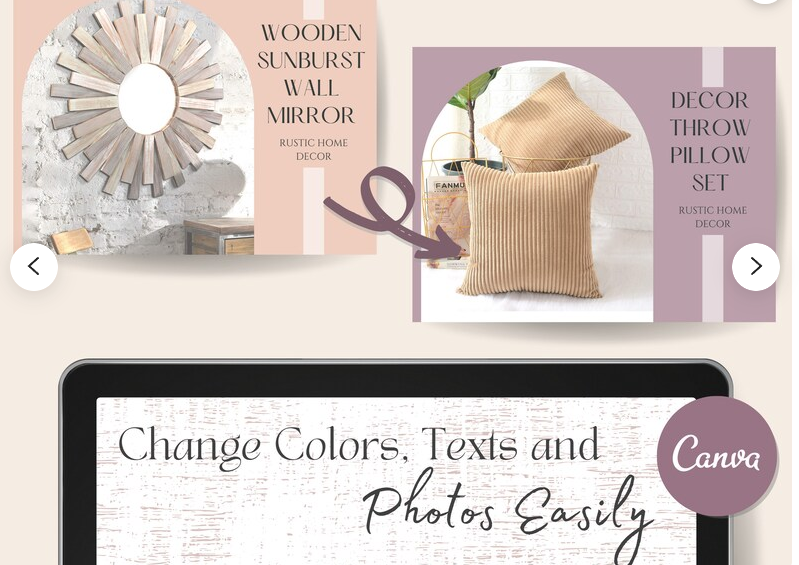 Etsy provides new sellers with over 30 free website templates optimized for product photos and descriptions. The designs are clean, mobile-friendly, and focus on showcasing items in an approachable way.
While templates cannot be extensively edited, sellers can tweak fonts, colors, and branding. Shop banners, logos, and icon graphics can be customized. Sellers can also change the page layout and arrangement of product listings.
On the product level, sellers have control over photo uploads, titles, descriptions, pricing, shipping options, and digital product files if applicable. Variation images can display different angles or colors.
Overall, Etsy's customization works well for showcasing handmade and vintage products within its established marketplace environment. However, sellers cannot deviate from Etsy's core template frameworks. Options are purposefully limited to maintain a consistent user experience across the site.
Squarespace has over 100 designer templates ranging from minimalist to bold and playful. Users can browse by category to find the right fit for portfolios, retail stores, restaurants, and more.
Beyond choosing a template, Squarespace enables extensive customization via its drag-and-drop editor. Users can rearrange page sections, modify layout columns, and add design elements like galleries, feature blocks, and spacers.
Squarespace also includes powerful branding tools for colors, fonts, and logos. CSS editing is available for fine-tuning styles. With its Style Editor, Squarespace balances beginner-friendliness with control for advanced users.
Both desktop and mobile designs can be previewed and tailored as needed. Squarespace's templates and blocks automatically resize for mobile, removing the need for separate mobile themes.
Squarespace wins for design flexibility. Its wide template selection and customizable blocks empower users to craft unique, on-brand sites. While Etsy makes it easy to get up and running, Squarespace delivers more mature design capabilities for sophisticated online presences.
4. Features and Functionality
Blogging Tools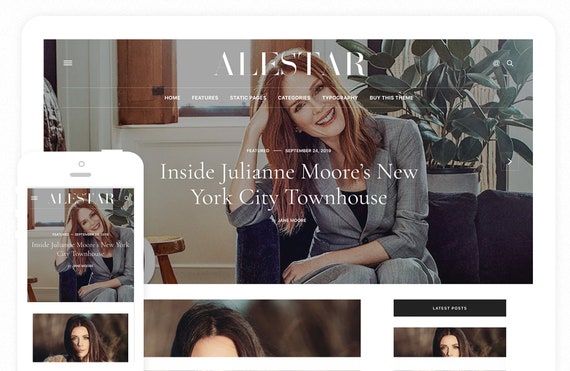 Etsy provides a basic blogging feature called Etsy Stories that lets sellers publish articles related to their products and processes. Posts can include images, video embeds, tags, and relevant shop item links.
Stories are optimized for mobile and prominently displayed on shop homepages to boost engagement. Shop followers can subscribe to receive email notifications when new stories are published.
Formatting options are limited to title, text, and inserting media. Advanced controls like HTML editing are not available. The focus is quick social media-style posts rather than long-form writing.
Etsy Stories integrates tightly with seller profiles and items. Writers can easily cross-link related products and reference previous posts. The blog-to-shop synergy helps conversions and surfaces older content.
However, Etsy Stories lacks key features expected in a full content management system. There are no blog page templates, no blog navigation menu, and no ability to schedule posts. The feature is intentionally basic to keep things simple.
Squarespace provides powerful blogging tools with its Blog module. Users can publish via the integrated WYSIWYG editor with formatting options for headers, quotes, code blocks, and more.
Blog pages are completely customizable with layout controls, design styles, customizable URLs, and archive settings. Navigation menus, categories, tags, and search streamline content discoverability.
Squarespace also enables scheduling, comment moderation, newsletter integration, and contributor management for multi-author blogs. Third-party embeds, videos, and animations enrich posts.
Robust traffic analytics provide insight into popular posts and engagement. RSS feeds allow subscribers to follow blogs outside Squarespace. Overall, it delivers a full-featured, professional blogging platform.
For blogging, Squarespace is the clear winner over Etsy. Squarespace provides a dedicated content platform optimized for SEO, sharing, and reader engagement. Etsy Stories are secondary to product promotion and intentionally basic. Serious bloggers need Squarespace's CMS capabilities.
E-commerce Capabilities
As an e-commerce marketplace, Etsy provides robust tools for sellers to list physical, digital, and services-based products. Listings can contain pinned product variants, customization options, applicable shipping profiles, integrated payment processing, taxes, coupons, and promotion schedules.
Etsy has a discounted shipping service for US-based sellers to lower costs. It also features a built-in personalization engine that integrates with Printful to automate dropshipping. You get customer accounts, phone service, and various other subscription services to run a successful online store.
Buyers can easily browse by category, shop, item type, price, location, and occasion. Filtering and faceted navigation help funnel searches. Shopping carts enable multi-item purchases and saved carts provide for later checkout.
Etsy makes selling online easy by providing you with admin tools for tracking orders, managing disputes, responding to reviews, following up with buyers, and issuing refunds as needed through an integrated dashboard. The platform provides granular control of Etsy shops through the true e-commerce engine.
However, sellers are limited to selling on Etsy's platform rather than their own standalone site. Heavy eBay and Amazon competition also exist in Etsy's marketplace space.
Squarespace Commerce equips websites with full e-commerce functionality including carts, tax calculations, discounts, inventory management, shipping rates from major carriers, and POS integration.
The platform seamlessly blends content pages with product catalogs, category pages, automated email flows for transactions, and customer account portals. Robust analytics provide sales insight.
Stripe and PayPal handle secure payment processing. Products can be physical, digital, donations, or services booked through a scheduling calendar. Squarespace also enables gift cards, coupons, account credits, and automatic upsells.
For physical product sales, Squarespace lacks the deep fulfillment capabilities and wholesale pricing of dedicated e-commerce systems. Setup requires tying separate systems together.
Both Etsy and Squarespace have a lot to offer to help you run a successful ecommerce business. Etsy narrowly beats Squarespace as the best ecommerce platform to create your own store where you can sell physical and digital products.
SEO Tools
Etsy provides basic on-page SEO customization for shop owners. Sellers can optimize shop and item titles, add meta descriptions, incorporate keywords in listings, categorize items, and use descriptive URLs.
The EtsyRank tool analyzes listings for SEO opportunities and monitors keyword positions. Sellers can claim shop ownership in Google and Bing Webmaster Tools for site crawling and performance.
Etsy also auto-generates XML site maps to aid search engine indexing. Blog content surfaces frequently searched long-tail queries. And the marketplace structure means built-in authority sharing across high-traffic category pages.
However, sellers have no control over page templates, markup, technical site optimization, or advanced tracking. SEO capabilities are intentionally limited compared to managing one's own website.
Squarespace includes robust built-in SEO tools accessible through its centralized dashboard. Page titles, meta descriptions, alt text, and URLs can all be customized to match target keywords.
The platform generates XML sitemaps automatically and facilitates site indexing via AJAX crawling. Analytics integrates with Google Search Console for tracking organic traffic and position monitoring.
Squarespace also provides granular control over HTML markup, OpenGraph tags for social sharing, page speed optimizations, image compression, and SSL encryption. Technical barriers to SEO success are eliminated.
As an all-in-one solution, Squarespace consolidates content, commerce, and analytics under one domain—ideal for search authority signals. The power is on par with WordPress for SEO without the workload.
For SEO capabilities, Squarespace clearly outperforms Etsy. Squarespace's website building platform removes technical SEO barriers while empowering owners to optimize pages for search visibility—critical for driving organic traffic.
Integrations
Etsy provides native integration with MailChimp for sending marketing emails to shop subscribers. List segmentation and automation sync directly with Etsy buyer lists and order data.
The platform also integrates with Google Analytics, Heyo, Klaviyo, FeedbackWhiz, Pirate Ship, ShipStation, and others via its API. However, developers are required for advanced custom integrations.
Etsy pattern enables turnkey integration with Printful for automated order fulfillment. Etsy Payments are built-in for streamlined checkout.
Social media selling channels like Instagram and Facebook can be connected to Etsy product catalogs for easier cross-posting. Apps also allow syncing eBay and Amazon listings.
Ultimately, Etsy's closed commerce environment means less connectivity potential versus an open website. The available integrations focus on complementing core marketplace functions.
Squarespace offers a robust integration ecosystem through its App Marketplace. Email marketing, accounting, social media schedulers, forms, polls, calendars, and e-commerce apps enhance websites.
Popular integrations include MailChimp, Constant Contact, Campaign Monitor, Acuity Scheduling, Sumo, Typeform, and Google Workspace. Zapier also enables connecting 1000+ web apps.
For commerce sites, Stripe handles payment processing. Inventory, accounting, fulfillment, and shipping systems can be connected as needed. Squarespace APIs expand custom integration abilities.
The scope of integrations is wider since Squarespace supports full-featured websites. But some apps require Business plan accounts, raising costs. Ease of use varies by app.
Winner: Tie
Etsy and Squarespace offer integrations tailored to their respective e-commerce marketplace and website builder contexts. Etsy simplifies critical sales channels while Squarespace enables broader website extensibility. Both integrate key needs albeit in different spheres.
Analytics and Reporting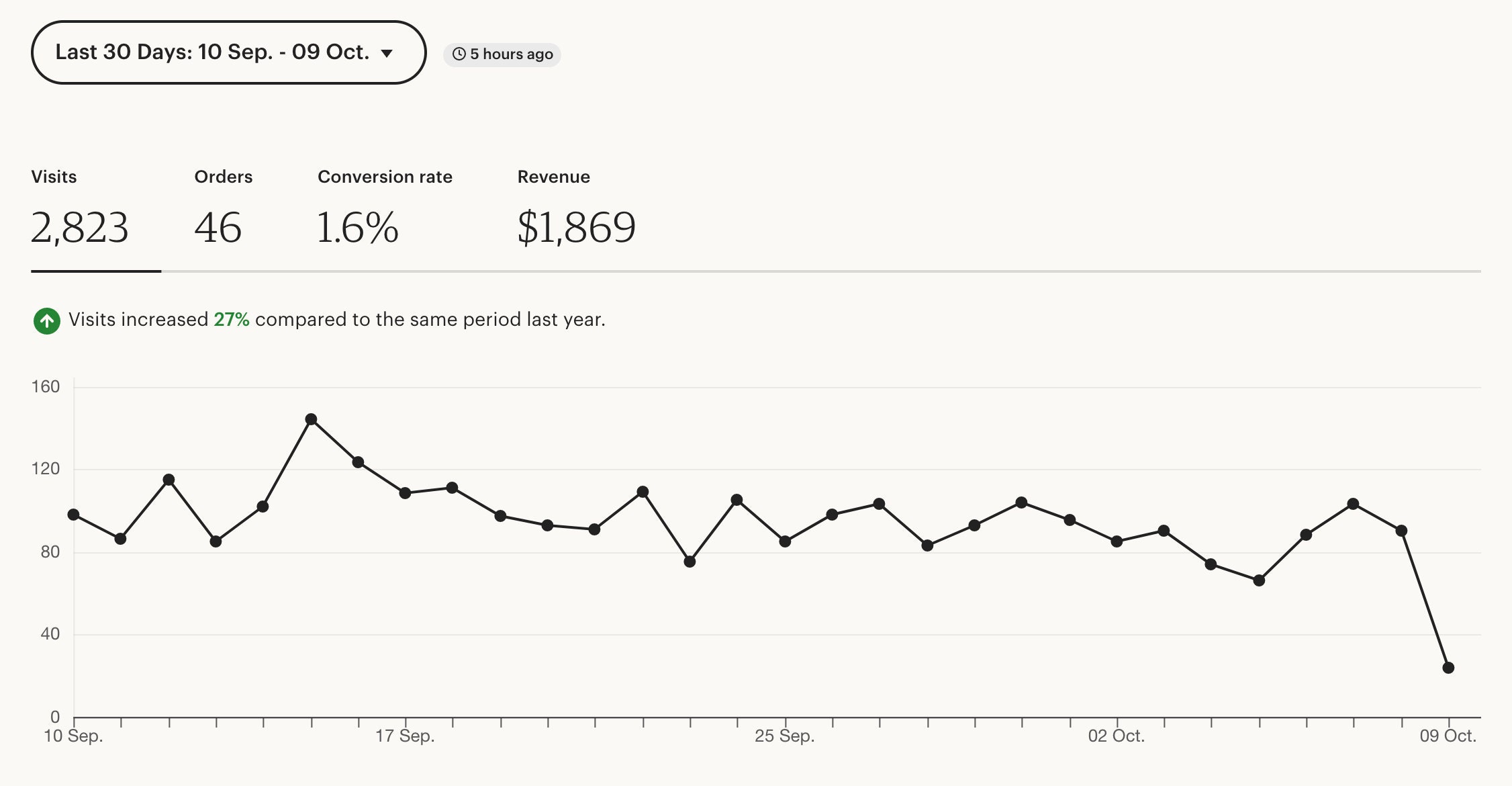 Etsy provides integrated analytics to help sellers track shop performance. Key metrics include views, visits, orders, revenue, conversation rate, traffic sources, geography, and item popularity. Historical data can be charted and filtered by date ranges, items, or other dimensions.
Seller dashboards spotlight actionable insights like top-performing listings, conversions by traffic source, and order notifications. Accounting reports detail fees, taxes, and payments owed to Etsy.
Email reports can be scheduled for traffic overviews, order summaries, and shop stats. However, custom reporting is limited compared to standalone website platforms. Only high-level shop data is available.
Etsy analytics are sufficient for marketplace sellers but lack the depth expected of a dedicated web analytics platform. Those needing detailed customer segmentation, funnel analysis, and other advanced features will be constrained.
Squarespace Analytics integrates Google Analytics for websites hosted on the platform. Users get access to powerful, customized reporting on audience demographics, behavior flow, conversions, acquisition, and remarketing.
Email campaign metrics are available within Squarespace's unified dashboard alongside website stats. Custom dashboards with specific site activity KPIs can be configured. Best-performing pages and content can be identified.
Under Commerce Analytics, e-commerce sites can track customer lifetime value, sales performance, and cohort analysis. Revenue, orders, average order value, conversion rates, and other business metrics are reported in detail.
Overall, Squarespace provides enterprise-grade analytics accessible to users at any level. The technical setup of Google Analytics is handled by the platform.
Squarespace wins for analytics thanks to its robust integration with Google Analytics and e-commerce data. Etsy analytics offer high-level performance reporting but lack the customization and segmentation available in Squarespace.
5. Website Performance
Website Speed and Load Times
As a high-traffic marketplace, Etsy engineers optimized performance to handle millions of monthly visitors. Pages load quickly thanks to minified CSS and JS files, browser caching of static assets, and lightweight UI design.
Etsy scored well on Google PageSpeed Insights with a 99/100 on mobile and 100/100 on desktop. This indicates pages load in under 3 seconds on average. The marketplace structure allows for shared caching and other speed optimizations.
However, sellers have no ability to control page sizes and caching themselves. Product images are compressed automatically which can impact quality. Large shops with thousands of listings may experience slower load times.
While generally fast, Etsy cannot match custom sites fine-tuned for performance. Its centralized architecture means less configurability for sellers with speed needs.
Squarespace builds performance optimization into its templating and hosting infrastructure. All sites are served over a global CDN, websites are AMP-validated for mobile speed, and images are automatically compressed.
Stores benchmark well on PageSpeed Insights with average scores of 95+/100 across desktop and mobile. Squarespace introduces speed tweaks regularly and allows image compression adjustment.
However, larger or highly customized Squarespace sites can encounter performance lags compared to more barebones templated sites. Advanced users sometimes migrate to dedicated hosts for better configuring.
For average use cases, Squarespace delivers excellent load speeds out of the box. However, performance reliability degrades for high-visit volume sites relative to DIY sites.
Winner: Tie
Etsy and Squarespace both deliver fast baseline load speeds for their respective platforms. Etsy's marketplace model allows for greater shared optimization while Squarespace offers streamlined hosting for websites. Performance depends more on on-site complexity versus inherent platform advantages.
Website Reliability and Uptime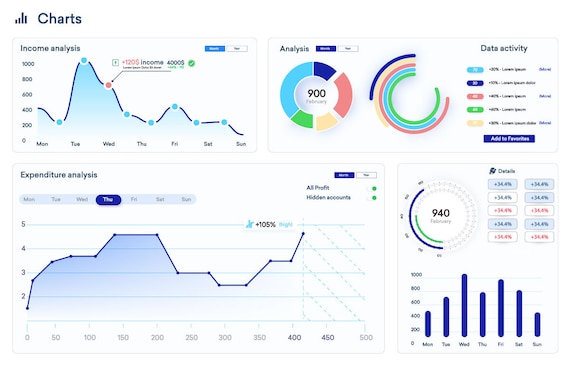 As a massive marketplace platform, Etsy commits to minimal downtime and fast issue resolution. In 2022, it guaranteed 99.9% uptime for sellers. Reliability is critical for supporting millions of active buyers and transactions.
Etsy engineers its systems for redundancy across multiple availability zones. Load balancing prevents traffic spikes from impacting accessibility. Security protections like SSL encryption further boost reliability.
However, sellers have no control over recovery processes. In the event of outages, merchants must rely on Etsy's support team for fixes and cannot migrate content elsewhere. Larger shops may pay for backup hosting as a precaution.
Overall, Etsy's uptime and stability are comparable to top cloud hosts given its resources. However, merchants should acknowledge the centralized infrastructure.
Squarespace promises 99.95% uptime for all customer websites on its platform. To deliver this, it operates on a redundant global hardware cluster while performing constant system testing and upgrades.
Websites are monitored 24/7. Automatic failovers prevent traffic interruptions if servers go down. Disaster recovery systems ensure resilience to outages. Squarespace also provides status pages during incidents.
While reliable, Squarespace does occasionally experience region-specific downtime lasting up to several hours. Support may lag in responding during major issues. Some users choose dedicated or secondary hosting for greater control.
For most use cases, uptime is excellent. But mission-critical sites may justify separate cloud hosting services that offer failover customization.
Etsy wins slightly for greater reliability assurances given its market-leading infrastructure focused solely on its platform. Squarespace delivers excellent but not flawless uptime while lacking Etsy's public cloud-level transparency and controls.
6. Customer Support and Community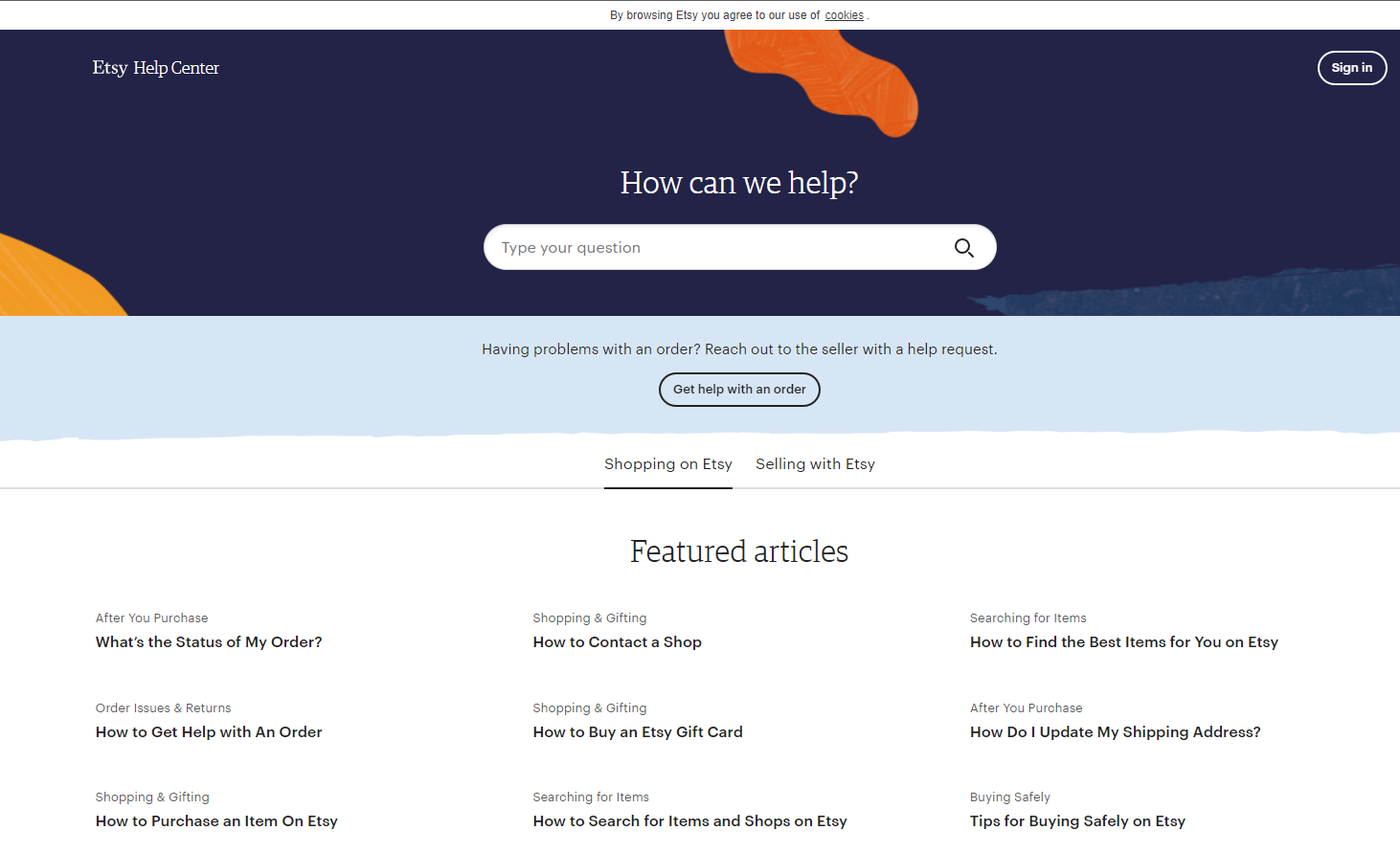 Etsy provides 24/7 customer support via email, live chat, and phone. As a marketplace, it offers specialized agents dedicated to buyers and sellers. Sellers can get help listing products, managing orders, handling cases, and understanding fees.
The Etsy Community Forum allows sellers to get advice from fellow users. Active discussion boards cover topics like SEO, shipping, policies, and accounting. Sellers can also join Etsy-focused groups like Etsy Success Group on Facebook.
However, although Etsy has a large community, its support lacks the 1-on-1 guidance that agencies provide. Response times for non-urgent issues can be slow. Sellers needing high-touch education must invest in coaching separately.
Overall, Etsy's scalable support model suits high-volume marketplace transactions. However, sellers wanting more personalized and in-depth assistance do have limits.
Squarespace offers 24/7 email, chat, and phone support. Agents can assist with website setup, template questions, order issues, account administration, and technical troubleshooting. Phone support is also available for e-commerce stores.
Users can access an extensive knowledge base of DIY help articles and tutorials. The Squarespace Community Answers forum allows users to post questions and crowdsource advice from peers.
However, Squarespace lacks specialized teams for different industry verticals. Support levels vary across basic and business plans. Larger accounts often hire Squarespace developers and experts for more tailored guidance.
For most websites, Squarespace's scalable support resources are sufficient. However, users with complex or unique needs may require premium services.
For customer support and community, Etsy slightly edges Squarespace due to its marketplace-specific assistance. Etsy support better understands the needs of sellers vs. Squarespace servicing a wider range of website owner needs. For e-commerce, Etsy's niche community provides greater insight.
7. Pricing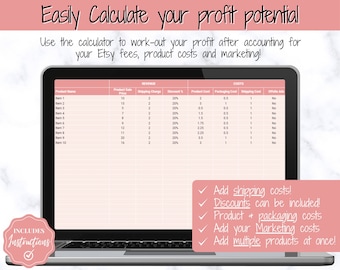 Etsy has a free plan whihc allows you to start selling online immediately. Etsy charges $0.20 per item listing up to 100 listings. After that, five cents per listing. Selling fees are 5% of the item price + payment processing fees. Offsite ad fees are 15-30% of the total sale amount.
Shops opening with basic customization start at $10/month. Plus subscriptions offer more custom branding for $20/month. For custom standalone sites, Pattern by Etsy is $15/month. As an Etsy seller, you can get a discount by opting for the annual plan.
While no inherent hosting fees, or free domain, Etsy sellers typically invest in third-party site hosting or website building platforms as a brand-building companion to their Etsy shop. This can cost $10-$50/month depending on features, such as a custom domain name.
Overall, Etsy is one of the most affordable platforms for small e-commerce. But avoidable fees like offsite ads can eat into profits. Sellers scaling up often diversify across other platforms.
Squarespace charges $16-$49 per month for websites. Features range from basic branding to a custom domain, unlimited bandwidth, and advanced commerce capabilities.
Squarespace Commerce plans start at $27/month with a 3% transaction fee after the first $1,000 in sales. Enterprise sites can pay up to $70/month for scalable e-commerce features and 24/7 phone support.
For online appointments and events, Scheduling and Events plans are $18+ per month. Add-on services like email campaigns, SEO tools, and integrations cost extra.
Compared to basic shared hosting, Squarespace is costlier. But its stylish templates, e-commerce options, and strong uptime justify the premium for many SMB owners.
Squarespace vs. Etsy – Which offers more value? Both Squarespace and Etsy are affordable ecommerce platform, but Etsy wins based on lower fees for very small ecommerce businesses. Up to 100 product listings are free, while Squarespace lacks a free entry point. For sellers with under $1,000 in monthly sales, Etsy has a definite cost advantage.
8. Reviews and Reputation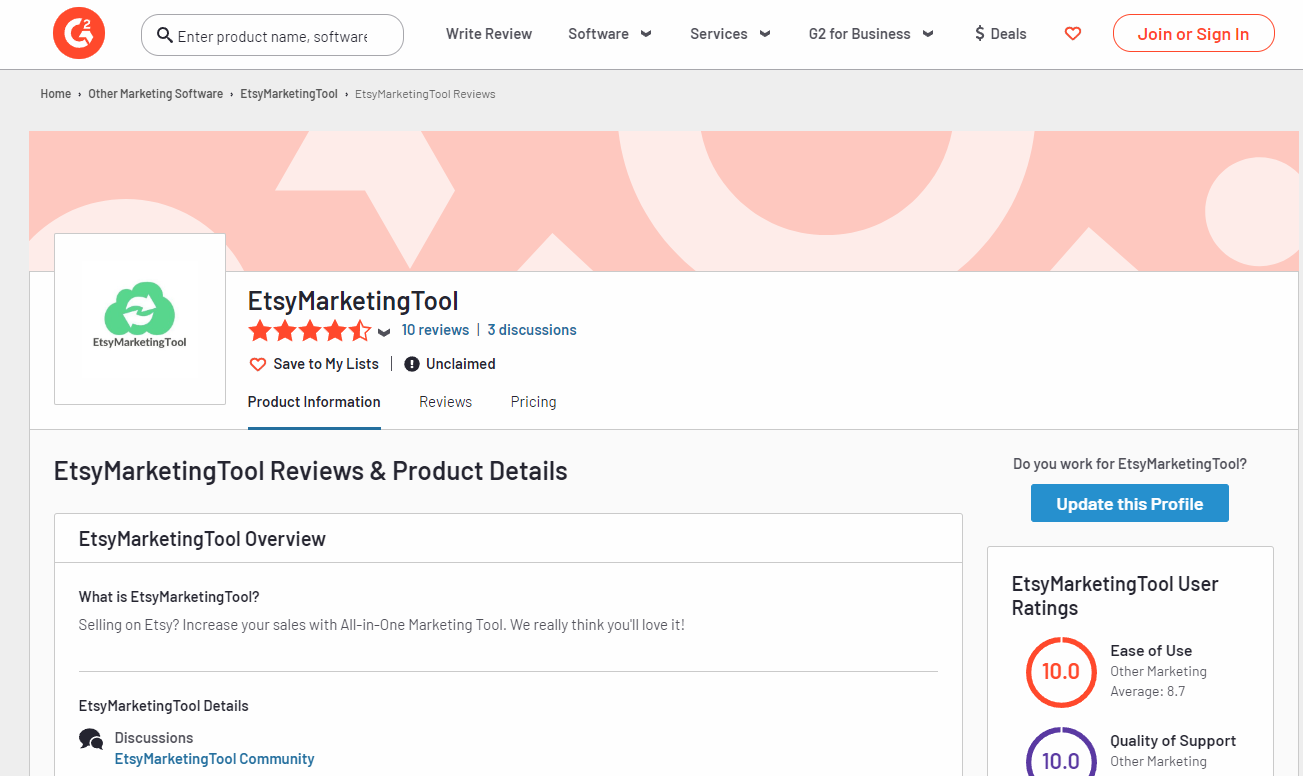 Etsy earns positive reviews for its unique handmade and vintage marketplace. Sellers praise the large buyer audience and friendly community of artisans. Some call Etsy a "must" platform for crafters and artists.
Reviews also highlight Etsy's ease of setup compared to standalone ecommerce sites. Sellers can quickly list products without advanced technical skills.
However, some sellers critique Etsy for allowing manufacturing and dropshipping now. They feel it strays from Etsy's original vision as a strictly handmade marketplace.
Others think Etsy's fees like offsite ads eat into profits too much. Some sellers struggle to stand out among 6 million other shops. But overall, reviews recognize Etsy's strong brand and audience.
Users strongly recommend Squarespace for its modern templates, ease of use, and all-in-one functionality. The website builder is called "brilliant" for creatives and bloggers wanting polished online presence.
Positive reviews also highlight Squarespace's reliable uptime and quality support. The platform makes launching sites accessible for beginners through advanced users alike.
Criticisms of Squarespace mention its limited CSS customization compared to developers coding from scratch. Some users also encounter performance limits on very high-traffic sites.
But for most needs, reviewers praise Squarespace as a quality all-in-one solution for sites not requiring specialized functionality. Its templates and features simplify website creation.
Winner: Tie
The Squarespace Etsy debate cannot be settled easily in this department. Both ecommerce platforms maintain excellent reputations and customer satisfaction. Etsy wins for marketplace selling, while Squarespace dominates website creation. Both succeed in their respective spheres—crowdsourced reviews confirm their capabilities.
9. FAQs
What fees does Etsy charge?

Etsy charges a $0.20 listing fee per item up to 100 listings, then $0.05 per additional listing. They also take a 5% transaction fee from each sale plus payment processing fees. Offsite ads are an additional 15-30% fee.

Can I customize my Etsy shop?

Yes, Etsy provides templates to customize your shop branding with colors, fonts, and layouts. But you cannot completely code or redesign shop pages from scratch.

Is Etsy good for services, appointments, or events?

Etsy works best for selling physical products or digital downloads. For online booking services, appointments, and events, platforms like Squarespace provide more robust options.

How much traffic does Etsy get?

Etsy gets over 60 million unique monthly visitors and over $5 billion in annual sales, making it the leading handmade and vintage marketplace online.

What integrations does Etsy offer?

Etsy offers native integrations with Mailchimp, Google Analytics, and Pattern by Etsy for print fulfillment. It has an API for connecting with additional tools like shipping and accounting systems.
What are Squarespace's main features?

Squarespace offers beautiful templates, powerful e-commerce capabilities, integrated email marketing and analytics, appointment scheduling, blogging, and robust customization features.

How much does Squarespace cost?

Squarespace starts at $12/month for basic websites and up to $40/month for advanced e-commerce sites. Transaction fees are 3% after the first $1,000 in sales.

Can I sell physical or digital products on Squarespace?

Yes, Squarespace supports full e-commerce sites. You can sell physical products, digital downloads, book services or appointments, and accept online payments.

Is Squarespace better than WordPress?

Squarespace is better for beginners thanks to its all-in-one simplicity. WordPress offers more customization but requires more technical expertise.

Does Squarespace have good uptime?

Squarespace guarantees 99.95% uptime for websites on its platform and provides financial credits if downtime exceeds 43 minutes per month.
Final Thoughts
Choose Etsy If…
Etsy is ideal for crafters, artists, and vintage sellers wanting to quickly set up a shop in a high-traffic marketplace. Etsy has an established audience of buyers looking for unique handmade and curated vintage items. The platform makes it easy to create listings and leverage Etsy's built-in tools for payments, marketing, and management. Etsy best serves makers wanting visibility without building their own standalone website.
Squarespace is great for entrepreneurs, bloggers, creatives, restaurants, and businesses who want an all-in-one website and identity online. Squarespace's beautiful templates, e-commerce capabilities, and powerful marketing tools enable users to create an engaging web presence with minimal technical skills required. Squarespace works for a wide range of use cases from portfolios to stores.
Choosing the right e-commerce solution is crucial for setting your business up for success. Evaluate your product type, audience, budget, features needed, and growth goals to determine if Etsy or Squarespace is a better fit. Please ask any questions in the comments and I'm happy to provide additional guidance to help you make the best decision!
If you'd like to learn more about this website builder, check out my Squarespace review. Otherwise, take a look at some other comparisons that I've done: