Successful SEO campaigns require software for tracking keywords and website positions in the search engines.
Without the use of the right tools, you'll find it extremely difficult to monitor and track your keywords on a day-to-day basis, particularly if you have hundreds or even thousands of them.
That's where my favorite rank tracker, Accuranker, comes in.
Accuranker is a keyword rank tracking tool used by a lot of SEO professionals, agencies, and digital marketers to get daily and on-demand keyword rank tracking on Google and Bing.
Since its creation in 2013, the software has grown in popularity and today it's used by over 20,000 companies across the globe like Hubspot, HBO, Ikea, Toyota, and of course, my own website.
If you are looking to improve your organic traffic, this Accuranker review will help you discover everything you need to learn about Accuranker, including its pros and cons, functionality, pricing, and support.
I'll also share some of the best Accuranker alternatives available out there.
By the end of this article, you'll have a very good idea of whether or not this rank tracking software is a good fit for you.
Sidenote: If you do purchase Accuranker, I'd be grateful if you supported me by clicking on this link to purchase.
Is Accuranker Worth it?
The biggest question on your mind right now is probably "Is Accuranker worth the cost?"
In my opinion, this is one of the best tools to help you track all your keywords and websites in an instant and if that is crucial to your small business like it is with mine, then it's absolutely worth it.
The software has all the tools and features you need to monitor and analyze your keyword performance on major search engines, including Google, Bing, Yandex, Baidu, and YouTube.
In my humble opinion, this keyword rank tracking tool will pay for itself and prove the ROI (return on investment), which certainly makes it worth the cost.
I personally use the software and have had a lot of success with it. It has helped me track and analyze important keywords and has helped me understand how my content revisions make an impact on the keyword positions.
Who is Accuranker Good For?
Accuranker is built for agencies, but it's also an incredibly powerful solution for SEO professionals with more than a single site, or those with a site that has a lot of keywords to track.
It's not the cheapest keyword tracking software on the market, but I firmly believe you get what you pay for here.
Accuranker is ideal for not only keeping track of your keywords but also identifying threats and opportunities.
For instance, if your average rank for one of your keywords is dropping, you'll receive a notification as soon as it happens so you can take the appropriate action to avoid losing traffic.
Similarly, if any of your keywords improve, you also be able to see those changes quickly as it may offer an opportunity for even more positive changes. Plus you're able to see your brand's "share of voice" in your respective market, which is great to understand how likely it is your perspective clients will find you based on your SEO strategy.
In short, this keyword ranking tool is ideal for anyone who wants to receive daily and on-demand keyword ranking updates, monitor organic search engine results and analyze landing pages accurately.
This includes agencies, eCommerce businesses, brands, consultants, SEO professionals, digital marketers.
Pros and Cons
Accuranker is a great platform. However, like all other software, it has its own set of pros and cons.
Below, we take a look at some of the benefits and drawbacks of this rank tracking tool so you can make a more informed decision.
Pros:
Robust Integrations: You have the ability to import data from Google Analytics and Google Search Console for advanced, valuable metrics.
Easy-to-Use Interface: Despite its rich feature set, Accuranker has a clean, modern, and intuitive interface that is easy to use, even for complete beginners.
On-Demand Rankings: The tool displays the rank for each of your keywords and lets you tag your most important keywords. You can refresh at any time for accurate rank data.
White-label Capabilities: The premium plans offer professional white-label reports that you can create and send to clients automatically.
Search Volume Estimates: Accuranker provides search volume estimates of each keyword you put into the tool. This is a helpful way to see everything in one interface.
Cons:
Limited Basic Plan: The platform's basic plan lacks some of the key features, like competitor analysis.
Keyword Tracking Only: This is a specialized solution that only offers keyword tracking and none of the other SEO tools required to maintain high visibility online.
Pricing: Accuranker is a full-featured keyword rank tracking solution that is offered at a higher price than some other rank tracking tools.
Functionality
AccuRanker features keyword rank tracking and performance analysis, as well as competitive performance analysis, custom keyword tagging, a report builder, and various integrations with 3rd party tools.
Here are some of the features of Accuranker:
Free Tools including the SERP Checker and Google Grump: They offer two free tools for anyone to use at any time.


First is the SERP checker which allows you to see SERP results for any keyword across any countries.
Second is Google Grump which highlights large fluctuations in Google's results to indicate when a Google algorithm update may be in process.

Google Analytics: Connecting Google Analytics to your Accuranker account allows you to import some of your keywords and track all of the search volume and rankings quickly and easily.
Automatic Monitoring: The platform lets you track all your keywords daily and sends you automatic updates of all their rankings if you choose to get notifications.
Automatic Reporting: When you have to send your progress reports to clients, you can do so easily thanks to the automatic report feature on the platform that is a "set it and forget it" feature.
Data Export: The data export feature lets you analyze your data in-depth. You can export data to various file formats for an even more in-depth look.
Agency-Specific Monitoring: If you have to track a large number of keywords for different clients, on a day-to-day basis, this feature will help you do so efficiently.
Competitor Monitoring: The competitor monitoring feature on Accuranker will help you get a clear view of your SEO performance compared to your competitors.
Share of Voice: This feature, otherwise called SOV, shows you the top 20 keywords so you can monitor yours, as well as the competitors' keywords over time. This is great to see how rankings have impacted overall brand awareness.
SERP Features: One of the things I really like is that not only does Accuranker tell you where you rank for keywords, it also explains if you've captured any search engine result page (SERP) features like featured snippets, FAQ, related searches carousel, reviews, and video carousel.


I've included a snapshot of the SERP features below so you can seewhat it looks like.
Now, let's take a look at how the platform works.
1. Dashboard
When you log onto the platform, you'll see the tabs on the left side of the page. The first one is the "Dashboard" tab, which takes you to Accuranker's main dashboard.
The main dashboard has several tabs, each with valuable keyword research information.

Overview Tab: This tab has several reports. You can filter them using 20 dimensions that include keywords, tags, search engines, locations, and ranks.
Here are the different reports in the overview tab:
Share of Voice: This shows you the percentage of clicks each keyword gets compared to your competitors.
Average Rank: This report gives you the average rank of all your keywords on any particular day.
Top competitors: This includes the most common competitors who rank in the top 10 for your tracked keywords.
Ranking Distribution: This report splits your keywords into different groups depending on their ranking position.
Notifications: You'll receive instant notifications for any significant movement on any of your star-marked keywords.
2. Domain
To set up your keyword rank tracking, you must first add your domain.
The platform has functions that are primarily designed for agencies and others that are ideal for SEO professionals. Usually, the agency functionality is for those who are looking to scale or have multiple sites, like myself.
The navigation panel on the left has some agency functions, such as groups, sub-accounts, accounts, integrations, etc.
Domains makes it so that each website has it's own view in the platform, as you see in the image below.
Once you click into "Domains" you'll see the following tabs:

Add Keywords
Connect to Analytics
Connect to Search Console
Edit Domain
Here's a quick breakdown of each of these sections and why they're important.
Add Keywords
Once you're in "Domains", the next step is to add all the keywords you want to track. You can either upload your keywords manually, or you can integrate Google Search Console, or use a CSV. You can also add tags to your keywords for segmenting analysis.
You'll also be prompted to add your country locale, search engines, and locations, at this point.
Accuranker lets you track performance in Google and Bing for both mobile and desktop. It's important to note that the software counts the same keyword as two keywords "credits" when you track it on two search engines.
The same happens when you track the same keyword for both devices. This means that when you track a keyword for Google, Bing, desktop, and mobile, it will count as 4 keywords.
That said, the ability to monitor on both desktop and mobile is a very unique feature that I personally love as many of the best rank trackers do not offer this. As an agency or website portfolio owner, this feature alone can justify the cost of the platform.
Connect to Analytics
To get the most out of your subscription, it's a good idea to integrate your Google Analytics account, as well as Data Box, Google Sheets, Google Data Studio, and any other third-party analytics tools you may be using.
The "Connect to Analytics" tab allows you to easily connect to Google Analytics or Adobe Analytics.
For all the rest, you can use the API to integrate the tools you want.
Connect to Search Console
The "Connect to Search Console" tab lets you seamlessly integrate Google Search Console so you can start tracking your keywords and websites immediately.
Being able to connect to other analytics apps will help you get more in-depth website data, such as insights on landing pages, the number of visitors brought in by each keyword, and much more.
The platform simplifies the process of integrating third-party tools and apps. But, if you have any trouble, you'll find tons of help on the website, including detailed guides for each of the different integrations. There are also videos to walk you through the process of getting connected.
Edit Domain
This tab lets you edit the domain name or YouTube channel URL. You'll be prompted to enter how you want your domain name to be displayed, as well as your search location, group, Twitter handle, and your Google Business Name, if appropriate.
3. Reporting
Accuranker has automated reporting features that let you create value-packed reports that your clients can easily interpret.
You can customize each report completely using the drag-and-drop editor. You can include only the necessary information in each report, making it as simple as possible to communicate the progress of your keyword ranking campaigns.
All the reports can be white-labeled. You can add your own branding, including text and logos (either your own or your client's).
The platform also has features that allow you to send automated reports to clients on any chosen frequency – daily, weekly, or monthly.
This means you can create a report template once and never have to worry about constantly sending reports. This will free up your time so you can focus on other important areas of your campaigns.
This is yet another feature that makes Accuranker perfect for agencies with lots of websites and keywords to track on a daily basis.
It takes away the hassle of having to manually create reports to send to different clients at different times.
Here's what you can do with Accuranker:
Build customized reports
Automatically send reports to teams or clients
Choose from 4 default report templates
Create your own custom reports from scratch
Specify report file type on your reports (PDF, Excel, CSV, Google Sheets, etc.)
You can also specify the language and delivery schedule, as well as the email list and body, in each of your reports.
Furthermore, you can add data blocks to any report with the simple drag-and-drop editor. Data blocks include rank distribution, average keyword rank, competitor rankings, and more. Lastly, you can also use the tag cloud if needed.
4. Sub-Accounts
Sub-accounts allow you to manage additional Accuranker accounts directly from your main account.
You'll have the ability to choose which one should handle billing, the main account, or the sub-account.
Accuranker vs Competitors
Accuranker vs SEMRush
You'll find SEMRush on many of the lists that turn up when you search for the best keyword rank tracking tools. There is a good reason for this.
SEMRush is a high-quality, multipurpose SEO/SEM tool. Its rank tracking feature is just a small part of a larger package, which means that, unlike Accuranker, you won't have to look for additional tools to take care of your search optimization needs.
Both tools are ideal for individuals and online marketers. However, Accuranker offers more keyword tracking features, as well as agency-specific tools, which makes it the better option for larger organizations.
Accuranker vs Ahrefs
Accuranker is an indispensable tool with a laser focus on keyword tracking. Ahrefs is a full SEO suite that offers rank tracking as part of a broader range of services.
But, when comparing the rank trackers alone, Accuranker offers on-demand rank tracking and search volume, while Ahrefs does not.
With Ahrefs, the number of keywords, and the frequency with which you can get updates, depends on your subscription plan.
However, even with the platform's best option, you'll still only get updates every three days, whereas Accuranker offers daily updates on your keyword rankings.
Accuranker vs Spyfu
One of the main differences between Spyfu and Accuranker is the price. Spyfu is priced significantly lower at $49/month, while Accuranker costs $99/month.
However, Spyfu is better-suited for use by individuals and smaller teams with less than 10 users. Accuranker, on the other hand, is ideal for larger organizations and teams.
Another huge difference between the two is in the number of features offered. Accuranker offers significantly more features than Spyfu. Some features Accuranker offers that you won't find on Spyfu include:
Audit management
Dashboard
Google Analytics integration
Localization automation
Mobile keywords
Accuranker Pricing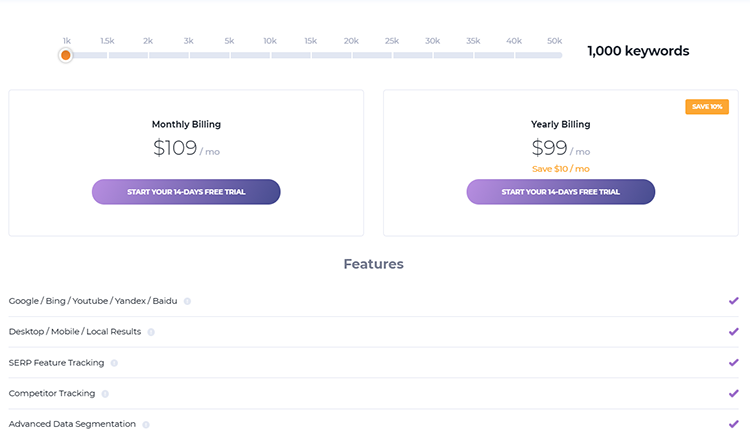 Accuranker offers a 14-day free trial (with no credit card required) so you can test out the software before deciding whether or not it's a good fit for you.
Paid plans start at $109/month or $99/month billed yearly for 1,000 keywords.
That's only 10.9 cents per keyword, which works out to a lot less per keyword compared to many other popular SERP tracking tools.
The cost per keyword goes down as you go higher in subscription plans, placing Accuranker among the most affordable rank tracking tools on the market right now.
This is how the pricing structure looks:
1,000 keywords: $109/month
2,000 keywords: $209/month
5,000 keywords: $429/month
10,000 keywords: $649/month
30,000 keywords: $1449/month
50,000 keywords: $2149/month
When you pay annually, you get an additional 10% discount on the monthly subscription fee. You can upgrade, downgrade, or cancel your plan at any time at no additional cost to you.
Important Note: When using Accuranker, you are not charged each time a keyword is analyzed. This is how other credit-based services like Keywords Everywhere do it, and this can quickly eat up your keyword credits.
With Accuranker, a 1,000-keyword subscription lets you track upwards of 1,000 keywords, whereas on a credit-based system, the 1,000-keyword subscription would be finished quickly with just 10 checks of 100 keywords or 4 checks of 250 keywords, etc.
Product Support
Accuranker offers stellar customer support via three channels: live chat, phone support, and email.
Live Chat Support: The typical response time for the live chat on the website is under one hour. This is a great option to use if you are looking for some quick assistance.
Phone Support: You can get immediate assistance through phone support. But it's only available to residents of the US, UK, and Denmark.
Email Support: You can email the support team at any time and you'll receive knowledgeable, in-depth responses to your questions within 48 business hours.
If you are an agency, you will definitely appreciate Accuranker's fast collection of rank data, and if you have any questions about how the tool works or how to get the most from it, the friendly support team is always eager to assist in either English or Danish.
As far as an agency rank tracker tool, Accuranker is top-notch.
Is Accuranker Legit?
And now to answer the big question: Is Accuranker worth buying?
My opinion is that Accuranker is certainly worth the price for agencies, brands, eCommerce businesses, and consultants.
It has all the tools you need to monitor, analyze, and improve your search engine results.
The tool has the potential to boost your campaigns and its simplicity makes it ideal for everyone from beginners to expert SEO professionals.
It's user-friendly and convenient, with all the features available in one place. You can navigate each keyword and domain quickly, and going through all the data is easy thanks to the well-structured reports.
And while Accuranker only focuses on the keyword ranking aspect of your SEO, it still provides a more complete picture than other platforms that offer all-in-one SEO suites.
Bottom line: I highly recommend Accuranker to any business that requires a specialized keyword tracking tool. Click here to try it for a free 14-day trial.