Ranking your web pages on Google and other search engines for keywords relevant to your site's niche is crucial for reaching a strategically targeted audience with an expressed desire in what you have to offer. But getting your pages first on Google can be difficult, if not impossible, without the right tools. To help make things a bit simpler, my team and I compiled this list of the best keyword research services.
According to research from HubSpot, 61% of marketers state that their top online marketing priority is to grow their organic presence through better search engine optimization (SEO).
To do this, they need a plan for increasing organic traffic which is based on proper keyword research.
Effective keyword research will help you rank your content high on Google and other search engines, but the keyword research process is lengthy and complex.
There's a lot to learn before you can master the art of ranking on Google's first page.
I offer a free foundational keyword research course that will help you learn all the basics to start ranking your content and driving organic traffic to your blog.
However, for most business owners, it's a lot easier to let an experienced professional conduct keyword research for them so they can be sure they're getting the best results to supercharge their SEO purposes.
If that sounds appealing to you, then read the rest of this article to discover the best keyword research services in 2022. I've included the key features and benefits, as well as the pricing of each service so you can make a better-informed decision about which one is right for you.
What is the Best Keyword Research Service?
Best overall keyword research service ($99 one-time fee)
If you need help getting started with your niche, this keyword research service can help by providing you with custom keyword packs and all the data you need to build a profitable niche website.
As any marketer will tell you, keyword research is the most important part of a successful website.
Affiliate sites, in particular, need to target the right keywords and content, which makes a keyword pack service like this one invaluable to help you understand and outrank your competitors, choose the right products, increase your conversion rates, and get more commission revenues.
Key Features:
Hand-Picked Keywords: If you get keywords wrong on your website, then you'll just be wasting your time. This platform gives you a list of hand-picked keywords that are best for starting your website, including a mix of information and buyer-intent keywords.
Ahrefs Keyword List: This is a list of between 200 and 1,000 keywords, depending on the size of your niche. Using Ahrefs, you'd normally pay $99/month for this list, but it's included for free as part of your keyword pack.
Product Selection: Picking the right products to sell on your website is crucial, and that's why your keyword pack will include 100 top-selling Amazon products that will dramatically increase your conversions and commissions.
Competitor Research: If you understand what your competitors rank for, how long their articles are, the keywords they're targeting, etc., it will make it a lot easier for you to find ways to outrank them. This platform provides you with Ahrefs keyword reports for up to 5 competitor websites in your niche.
Pricing:
Human Proof Designs has simple pricing to provide you with everything you need to start and grow your website.
Here's what you get:
Custom Keyword Pack: $99 one-time fee

Ahrefs Keyword List – 1,000 Keywords
8 Recommended Keywords for Niche Website
100 Best Selling Amazon Products in Niche
Competitor Research, including 3,000 keywords with KD values from competitor websites.
---
Best SEO keyword research agency for keyword research ($149 one-time fee)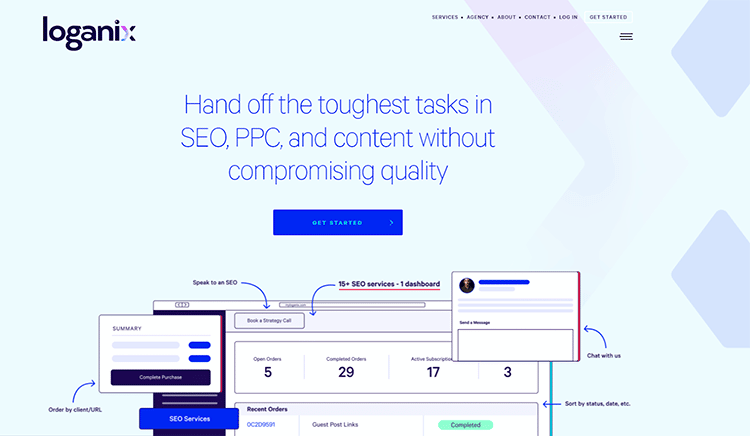 Loganix is an agency that offers a wide range of SEO services. It's a great option to consider if you are looking for an expert to take the lead on your search optimization efforts.
Whether you just want keyword research or full search engine optimization campaigns, you'll be able to scale your SEO efforts without sacrificing quality or breaking the bank.
Keyword research is delivered by seasoned pros whose only goal is to help you uncover relevant keywords aligned with your offer and user intent.
You'll receive research for 5 seed topics of your choice, categorized by search intent to make your work a lot easier. You also get keyword gap analysis to help you unlock additional organic traffic by discovering and filling keyword gaps your competitors are failing to exploit.
Key Features:
Keyword Research: Avoid time-consuming keyword research and let the pros provide you with valuable keywords to kickstart your SEO work and scale your marketing efforts.
Keyword Gap Analysis: Generate dozens of fresh quick-win content ideas with free keyword gap analysis.
Commercial Keywords: Loganix pulls the keyword data, organizes it on a spreadsheet, and conducts search intent analysis, filtering out non-relevant keywords to leave you with high-quality commercial keywords for unlocking more search traffic.
Action-Oriented Reports: This service provides you with detailed reports on new keywords that will save you hours and allow you to unlock additional organic traffic.
Pricing:
As with the other SEO keyword research services on our list, Loganix has a simple pricing structure, which is as follows:
SEO Keyword Research Services: $149 (One-time fee)

5 Topics: Get 5 topics grouped by search intent for ease-of-use
Search Intent: Keywords are categorized by transactional, navigational, informational, etc.
Actionable Data: Receive beautiful, instructional reports assembled by experienced SEO professionals
Fast Turnaround: Get a 2-day turnaround and a timely delivery guarantee
---
Best SEO keyword research agency for outsourcing short-term keyword research tasks (Starts from $5)
Fiverr lets you outsource your keyword research and quickly get a list of highly profitable search terms for your business.
There are many benefits to working with freelancers on this platform. It's cost-effective and provides you with a huge pool of talented service providers. The platform also makes it easy to manage large-scale projects, including local or international SEO campaigns, etc.
You can get special skills on an as-needed basis and you get quality work done quickly by the right sellers. There's also round-the-clock support available if you need help on the platform.
Key Features:
Affordable Services: Fiverr provides cost-effective ways to outsource your SEO tasks so you can increase your rankings and organic traffic – even with a small budget.
Talented Service Providers: The platform has a wide range of skilled SEO professionals to help you build strategic, robust optimization campaigns.
Easy Management: Fiverr makes it easy to manage large-scale projects, which is great if you want to scale your SEO efforts.
Fast Turnaround: On Fiverr, you can get quality work done very quickly. You can find a seller with the right skills and have them start working on your project within just minutes.
Pricing:
Pricing on Fiverr depends on the specific gig you choose and can range from as little as $5 to multiple hundreds or even thousands of dollars, depending on the size of the gig.
For example, the SEO gig shown below starts at $25 for keyword research:
You can order once and get the top 50 golden keywords based on your niche. Alternatively, you can subscribe for 3 months and save 10% each month from your second order.
Here are some things you can expect from SEO keyword research gigs on Fiverr:
Longtail keywords (number dependent on niche)
Golden keywords with low competition
Search volume of each keyword
Secret and hidden keywords of your competitors
Keyword gap analysis to find lucrative keyword opportunities
SEO Keyword research reports in Excel file format
… and much more.
---
Best freelance marketplace for long-term SEO projects (Prices vary)
Upwork is a great place to find highly qualified freelancers to perform all your SEO tasks, including SEO keyword research services and analysis to help supercharge your search optimization campaigns.
Here, you'll be able to hire the best freelance SEO keyword researchers to help you with local or international ranking, and all at an extremely affordable price.
You'll find experts on everything from keyword research to Google Ads, SEO blog writing, copywriting, press release, SEO audits, backlinking, and much more.
Key Features:
Experienced SEO Professionals: On this site, you'll find freelance keyword research experts who can provide you with lucrative keywords that will elevate your website's search engine rankings.
Affordable Services: On Upwork, you'll find SEOs offering services at a wide range of prices, which makes it easy to find the right SEO keyword researcher to fit your budget.
Easy Collaboration: Upwork makes it easy for you to collaborate with freelancers on your projects. You can chat, video call, and share files on the platform and track progress using a handy app.
Simplified Payments: Not only can you post a job for free on Upwork, but payment is also easy. You can receive invoices and make payments (for the work you authorize) through the platform.
Pricing:
As with other freelance marketplaces, Upwork's pricing ranges from one end of the spectrum to the other depending on the size and requirements of your project.
Also, the price you pay might depend on other factors, such as the SEO keyword researcher's experience.
As you can see from the image below, the first SEO freelancer only has 8 jobs completed so far and charges $25/hour. On the other hand, the second, more experienced freelancer with 83 jobs under her belt charges $75/hour for SEO keyword research.
---
Most holistic keyword research service (Pricing not disclosed)
This platform purports to be your blueprint for growth. It offers sustainable link building where you can get backlinks to drive your search rankings, as well as strategic content that is search-focused to earn keyword rankings and support link acquisition.
All of this depends on effective keyword research and the platform has a powerful 6 step keyword research process that includes site review, competitor review, niche review, segmentation, reporting, and consultation.
Once you sign up, the keyword research team uses this process to build you a well-informed foundation for a comprehensive SEO strategy.
You can purchase keyword research as a standalone product or as part of a larger search engine optimization campaign.
Key Features:
Strategic Keyword Analysis: The platform provides you with all the information you need to know about how customers find you and how they find your competitors so you can determine the keywords to use in order to get more website visitors.
Website Audit: The keyword research service also includes an in-depth review of your website's current performance with regard to keyword rankings and organic traffic opportunities.
Industry Research: To ensure that you don't miss any gaps, industry research is conducted to identify niche-specific search terms that are important to your audience.
Manual Keyword Segmentation: Once your niche keywords and themes have been identified, they are manually segmented to maximize organic traffic opportunities for your website and business.
Pricing:
In order to get pricing on the platform's keyword research services, you must submit a form on the website with your name, email, website URL, and your goals. The SEO team will then get back to you to give you an estimate for your project.
---
Additional Options: Keyword Research Tools
Google Keyword Planner
Google Trends
Moz Keyword Explorer
SEMrush
Ahrefs Keywords Explorer
BrightEdge Data Cube
Ubersuggest
KeywordTool.io
Term Explorer
GrowthBar
Accuranker
HubSpot
SerpStat
Spyfu
SEOTesting.com
Answer the Public
What are Keyword Research Services?
Keyword research services are designed to help you discover how customers find you, how they find your competitors, and how you can implement strategies to get customers to find your business and website more often.
Keyword research is a major input in a lot of other marketing processes, such as content marketing, SEO audits, etc.
It's a crucial aspect of search engine optimization, but it's also a time-consuming process, which is why a lot of business owners and marketers tend to outsource their keyword research.
Luckily, there are many agencies and freelancers with the skills to help businesses conduct thorough keyword research and provide strategic analysis that helps to identify valuable opportunities to increase organic traffic to websites.
Types of Keyword Research Services
Because different types of content require different types of keywords, there are different types of keyword research services available. The one you choose will depend on your specific needs and goals for your business.
Here's a quick look at the most common types of keyword research services:
Informational: Informational keywords are those aimed at people who make searches with the intention of learning more about a problem and any possible solutions. They often include "How", "What", "Why", etc. and are designed to answer questions and provide information and solutions to specific queries.
Navigational: Navigational keywords are those users type to get to a specific webpage. For example, if someone types in "Amazon.com" or "OneHourProfessor.com" to get to the website directly, then that's a navigational search.
Transactional: Transactional keywords are targeted at uses whose intention is to complete a purchase. For example, someone who wants to create a Netflix account might search for something like "Netflix sign-up page" or "Stream movies online".
Important Note: While researching keyword research services, you might have come across the term "Golden Keywords".
The Keyword Golden Ration (KGR) is a data-driven method that helps you find great keywords that you can quickly and easily rank for on Google and other search engines.
It's a formula to find quality, low competition keywords in your industry or niche that you can rank for in as little as a few days, and it will help you discover the different types of keywords outlined above.
You can learn more about the golden ratio by reading this article from Doug Cunnington, the creator of the KGR method.
What Features to Look For in Keyword Research Services
There are dozens of keyword research services to choose from, but not all of them are created equal. Considering keyword research is extremely important, it's worth being picky. I suggest reading SaaSlinko's SaaS keyword research guide to learn more about advanced keyword research strategies. It will also help in choosing the best keyword research services.
Some excel in helping you unlock the key to visibility online, while others provide you with tons of information that is impossible to decipher, making it hard for you to get actionable insights from it.
To help you choose the best keyword research services, consider the following factors:
1. Robust Keyword Research: The last thing you want is to target the same keywords as everyone else, so choose a keyword research service that will provide you with so-called Golden Nugget keywords that are more likely to convert.
2. Competitor Analysis: The only way you'll be able to outrank your competitors is if you can discover and understand their keyword strategy, so make sure you choose a service that provides you with this valuable information.
3. Clear Reports: The keyword report you get should be easy for you to read and get actionable insights from. For instance, keywords should be categorized into clear groups or sets of words/phrases relating to different steps in the buyer journey so you know which terms to target, and when.
4. Quick Turnaround: Once you place your order, you'll want timely results on your keyword research request. So, choose a service that offers a quick turnaround so you don't have to delay your SEO campaigns.
5. Affordable Pricing: Pricing is an important factor when choosing the right keyword research services for your business. Fortunately, the five options listed in this article all offer affordable services for your business.
6. Reliable Customer Support: The keyword research service you choose should offer reliable support so you can be sure that you get assistance anytime you need it. The last thing you want is to be stuck trying to make sense of a keyword research or analysis report, and not have anyone on hand to help you get the information you need.
7. Additional Features: You might even consider a keyword research service with special features, such as keyword mapping, keyword funneling, and keyword tracking to make your work even easier. This will save you from having to pay for additional tools or services to get the job done.
Best Keyword Research Services — Summary & Top Picks
We've come to the end of this article on the best keyword research services. You now know the top 5 options currently available on the market, as well as the types of keyword research services there are, how they can help your business, and the features to look for when choosing the right service for your business.
When selecting the best keyword research service, there are a few things to consider: that it's actually a service offered by human experts and not a piece of software, the overall cost of the services, the diversity of SEO and keyword research tasks that the service can complete, and how well they empower you — or the site manager — to better and more cost-effectively complete SEO tasks.
Here Are My Top Picks of the Best Keyword Research Services:
With the right service, you'll never have to spend countless hours trying to determine the best keywords for your business.
Instead, you can sit back and relax while knowledgeable professionals compile an in-depth report with custom keywords for your business, as well as your competitors' keywords and the ones they failed to take advantage of.
I hope this guide has provided you with all the information you need to find the best keyword research services to help you outrank your competitors, get more visitors to your website, and ultimately boost your conversions and sales.