Rank tracking is one of the most crucial processes involved in search engine optimization. It provides vital insight into the performance of a website in the SERPs (search engine results pages).
With the right rank tracking tools, you'll have a very good understanding of any website's visibility based on its target keywords.
That's why a rank tracker is one of the best tools you can invest in if you want to wow your agency clients with well-crafted ranking reports that showcase your success in running their SEO campaigns.
For instance, you'll be able to show granular page rank movement in a way that non-technical clients can understand, so they can verify results and expand their accounts.
If you are ready to get your clients on Google's first page, read the rest of this article to discover the best agency rank tracker tools to choose from.
What are the Best Agency Rank Tracker Tools?
Each of the tools listed below will give you critical insights into your website's performance in the SERPs.
However, some of the rank trackers are standalone tools that exclusively serve one purpose while others are all-in-one SEO packages that perform a lot of other SEO functions.
Take the time to read through all the features so you can choose the tool that's right for you.
Best Overall Rank Tracker Tool Built With Agencies in Mind ($109/month).
Accuranker gets the top spot when it comes to rank tracking tools built for agencies. Not only does the software do the job accurately and consistently, but it allows for things that some of the other tools simply can't.
With Accuranker you can have hundreds of profiles, track both mobile and desktop positions, on-demand position updates, and reporting second-to-none.
As an agency, the #1 goal of any rank tracker tool is to prove the ROI to your clients and Accuranker helps you do this with a plethora of tools and pieces of data that other tools are lacking.
Key Features:
Mobile and Desktop Tracking: Accuranker allows you to track keywords in both mobile and desktop indexes on demand across all major search engines.
Share of Voice Reporting: Beyond simple rank tracking, Accuranker also helps you understand how much of a voice your brand has on the internet within your target keywords. For most clients, this is a crucial metric so that they can justify the spend on an agency.
Featured Snippet Analysis: Allows you to understand when/if your clients have featured snippets in the SERP, what snippets they are, and where they appear.
Reporting Capabilities:
Accuranker has all of the reporting capabilities you need as an agency and all of the reports allow for white-labeling and automatic scheduling.
They've done a great job of providing many metrics such as share of voice and featured snippet placements that other tools don't have, which can make your agency look good as you work with your clients for years to come.
You're able to customize reports entirely with a drag and drop editor as well, so this helps you address the needs of individual clients with their most important KPI's if desired.
Integrations:
As a whole, Accuranker tries to focus on their own core product being the absolute best at one thing, rank tracking.
That said, they do have integrations, but they are a little light in this area. From my research, Accuranker integrates easily with Google Analytics and Google Search Console, but also allows integration with these other platforms:
Swydo
CSV Importer
Databox
Adobe Analytics
3rd Party Importer
Google Sheets
Google Data Studio
Pricing: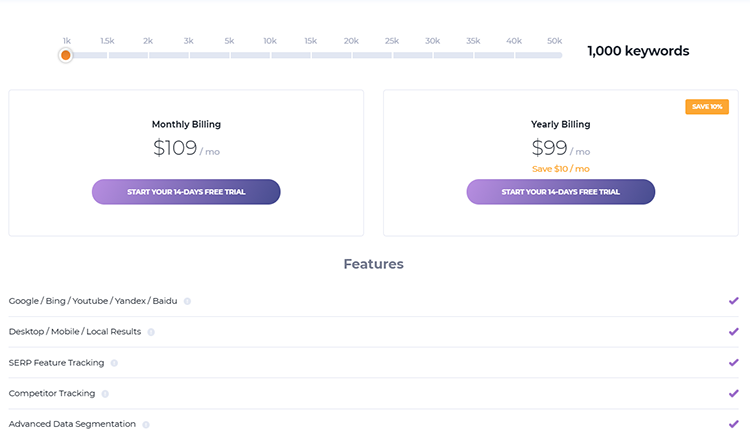 Accuranker allows you to do a free 14-day trial without a credit card and then after that plans start at $109/month or $99/month billed yearly for 1,000 keywords.
At only 10.9 cents per keyword and manual updates to your positions whenever you desire, it's very reasonable.
What Are People Saying?
"AccuRanker is pretty great! It's pretty affordable for the quality of data you receive, and it's especially useful for agencies who track ranking data for clients (like me). Everything is super intuitive and user-friendly, which is exactly what a good SEO tool should be." – Brian B. – Digital Marketing Agency Owner
---
A reliable tool ideal for performing competitive keyword research and Tracking ($119.95/month).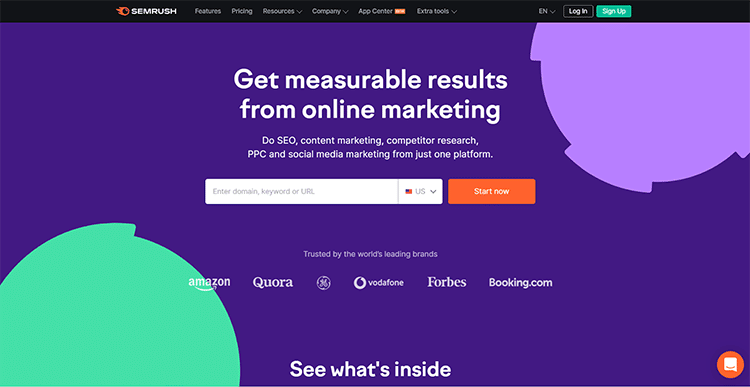 SEMRush is a popular agency rank tracking software that has helped countless SEO professionals and digital marketers get measurable results from their online marketing efforts.
From SEO and content marketing to competitor research, PPC, and social media marketing, you'll be able to do it all from one convenient place.
The platform's SERP tracking tools will help you monitor your performance in the results pages and discover many new opportunities for improving your online presence.
Key Features:
All-in-One Solution: SEMRush is an online visibility management platform with all the tools you need to track your positions, optimize SEO, enhance organic visibility, etc.
Accurate Local Map Rankings: You get accurate reporting on the local map rankings to improve your targeting efforts.
Track Daily Changes: The software lets you track the volatility of Google's SERPs according to daily changes in page rankings.
Reporting Capabilities:
SEMRush has a robust reporting feature that allows you to create, customize, and schedule easy-to-read reports for your clients or boss.
You can report on up to 50 marketing metrics and use fully customizable reporting templates so you can brand your reports.
Moreover, there is a set-and-forget feature that lets you automatically send reports to clients, saving you tons of time so you can focus on more important tasks.
Integrations:
SEMRush offers a wide range of connections to other tools and apps so you can stay organized.
You can easily integrate all the other SEO tools and services you're currently using in order to keep everything in one place.
Integrations include 10 Google products, including Google Analytics, Google Search Console, Google Ads, Google My Business, Gmail, etc. Other integrations include social networks, Zapier, and more.
Pricing:
You can try SEMRush for free for 7 days. Premium plans start at $119.95/month for the Pro plan and you can save up to 17% of the monthly plan price by paying annually.
What Are People Saying?
"Semrush is like a keyword research tool, Google Trends, Moz, Hootsuite, and SimilarWeb in one." Mario León Rojas – Performance Marketing Specialist, Banco del Sol.
---
A reliable agency reporting software trusted by professionals (Starts from $39/month).
DashThis is a marketing reporting platform for SEM, SEO, and analytics. The software is used by a lot of major players who want to gather all the data they need without having to jump from one tool to another.
It has a simple, yet robust analytics dashboard tool that eliminates the need for putting in hours of manual report creation.
The powerful features on the platform will help you save time and scale your business. You'll be able to gather data from a variety of SEO tools, such as Google Search Console, SEMRush, Ahrefs, etc., and create automated, easy-to-read reports for your clients.
Key Features:
Multiple Platforms in One Dashboard: With DashThis, you no longer need to get different marketing dashboards for each data source.
Top-Notch Customer Service: When you sign up for a premium account, you get a dedicated account manager who is an expert in reporting.
Custom Data Sources: The CSV file import system lets you easily add all your proprietary data
Reporting Capabilities:
DashThis is arguably the easiest reporting platform available right now. The software offers automated marketing reporting that will save you hours of work and allow you to create reports in just a few clicks.
Regardless of the type of business, you'll be able to get the ideal reporting solution to meet your needs.
You'll also get ready-made reporting templates so you don't have to start from scratch.
To speed up your reporting, simply pick a preset template, choose the time (monthly, quarterly, etc.), and plug in your data.
Integrations:
DashThis offers 34 easy-to-connect integrations. You'll be able to gather all the data you need in one convenient tool so you don't have to keep jumping from one platform to another.
Everything will be available in one customizable dashboard, and with a custom-data manager, you'll have all your data and KPIs at your fingertips.
If the integrations you want aren't on the list, you can simply use the Google Sheets integration or the CSV file to add any platform.
Pricing:
The platform doesn't charge per client, source, or integration. You simply pay for the number of rows you require. Premium pricing starts at $39/month for 3 dashboards and you can sign up on the website to try out the software for free.
What Are People Saying?
"We've played around with countless reporting tools over the years but none of them come anywhere close to DashThis. The level of integration and customization of reports, as well as their outstanding client support, are unrivaled!" Hadrien Brassens – Director, Reef Digital Agency.
---
Intuitive rank tracking platform ideal for daily keyword tracking ($49/month).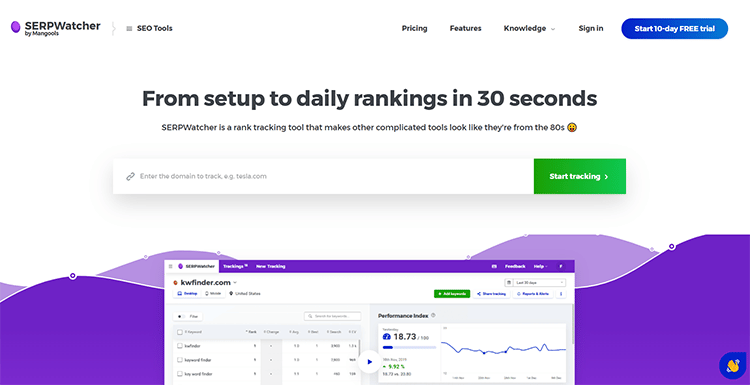 SERPWatcher is a simple yet intuitive rank tracking platform that is designed for use by both beginners and professionals.
It helps you keep an eye on your organic traffic potential by showing you a daily report of your website traffic.
You can start tracking daily rankings in just 30 seconds by simply entering the domain. The platform also provides you with email alerts so you know whenever any significant changes occur in your keywords' ranking positions.
Furthermore, you also get accurate local ranking data for over 50,000 locations, including countries, states, cities, and DMA regions – all of which are crucial for effective rank tracking.
Key Features:
Performance Index: Get a clear picture of how your websites truly perform in the SERPs so you can make the necessary improvements.
Interactive Reports: Share interactive reports with a link and get alerts when any significant changes happen.
Daily Keyword Tracking: You get reliable daily rank updates as well as historical data of all your keywords.
Reporting Capabilities:
Gone are the days when clients were confronted with raw data displayed in unpleasant ways that they didn't understand.
With SERPWatcher, you can log on to the user-friendly interface to create and send well-constructed reports that are easy for clients to consume and interpret.
You'll also be able to save tons of time by sending automated (and fully customized) reports to clients at specified times.
The platform also offers the Dominance Index feature which allows you to see, at a glance, your share of the organic traffic based on the current keyword positions.
Integrations:
SERPWatcher offers SERPChecker integration, which gives you the option to check SERPs for tracked keywords.
The platform also has a wide range of integration features on its to-do list. But, thanks to the Dominance Index, SERPWatcher users can track the overall progress of their keywords with one main metric.
Pricing: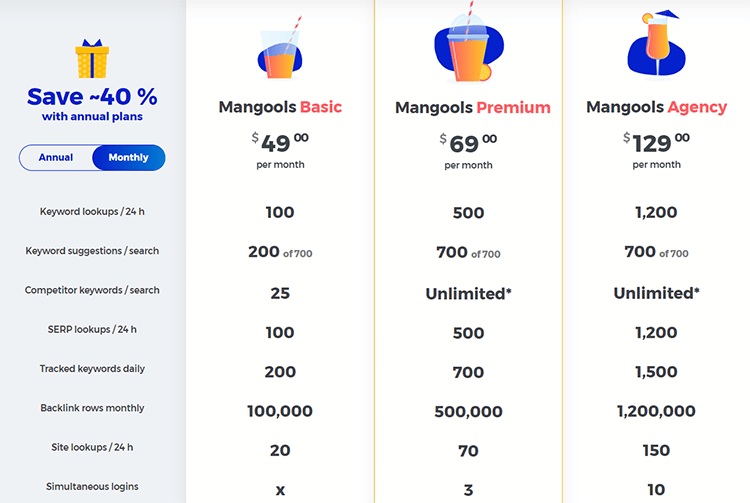 SERPWatcher offers a 10-day free trial with no credit card required. If you decide the software is a great fit for your agency, you can upgrade to the premium plans which start at $49/month. You'll be able to save 40% on the monthly fee if you pay annually.
What Are People Saying?
"In the beginning, you don't need the most complex tools out there. You need an affordable solution that is going to provide data in an understandable form. That's where Mongools excels." Ben Taylor – Founder, Homeworking Club
---
A cost-effective tool for affordable keyword tracking ($34/month).
Wincher is among the most cost-effective rank tracking tools for agencies to follow their SEO progress.
It has all the tools you need to improve your rankings, track your performance, and outrank competitors.
You'll also be able to discover new important keywords so you can snowball your organic volumes.
In short, the platform offers you all the tools you need to get better SEO insights that will help you grow your business.
Key Features:
Track Your Keywords: The rank tracking tool gives you a bird's-eye view of the entire website and the ranks of different keywords.
Discovering New Keywords: There are tools to help you find new, high-volume keywords for increased, high-quality traffic.
Stay Ahead of Competitors: In addition to daily competitor ranking updates, you also get Google alerts when there are ranking changes.
Reporting Capabilities:
Wincher offers an intuitive dashboard where you can get ranking reports and alerts with everything you and your clients need to know.
You can send automated reports as often as you want. The reports are fully customizable, and there are tools to present the data in a way that your clients will easily understand. The business plan offers white-labeled reports so you can present the information in a more professional way.
Integrations:
The platform integrates with a variety of tools, including Google Search Console, Google Data Studio, and more.
This will allow you to import important keywords and create custom dashboards and reports.
You also have API access which means you can access your data through the platform's REST API to create custom tools and integrations.
Pricing:
Wincher has a flexible pricing model with premium plans that start from €29/month (approximately $34/month).
What Are People Saying?
"We use Wincher to keep track of and improve our SEO ranking. The tool is beautiful in its simplicity. It can log in and check our sites and keywords in under a minute. I think Wincher is one of the best values for money of all the SaaS tools we pay for." Zoe du Frenne – Data Marketer, Gladior.
---
Budget-Friendly all-in-one platform ideal for real-time keyword rank tracking ($31/month).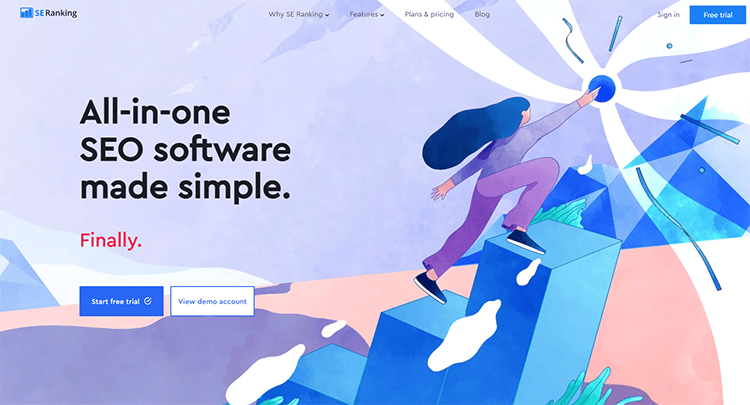 SE Ranking is a complete package that offers all the tools you need to improve the overall SEO performance of your website.
The platform also has features for discovering ads and keywords used by competitors in their organic and paid search campaigns.
You can check rankings for any target location on Google and all other major search engines. The software even checks Google Ads and Google Maps results, as well as featured snippets.
All in all, it gives you all the insight you need to discover who you need to outrank and comes with white-label features, API, and a powerful reporting tool for digital agencies.
This is a powerful agency rank tracker that allows you to measure your SEO success daily, which means that you'll be able to help your customers get to the top of the rankings and keep them on track using the many useful features on the platform.
Key Features:
Accurate Keyword Rank Tracking: SE Ranking offers 100% accurate, real-time ranking positions of your keywords across major search engines.
All-in-One Package: The platform offers all the tools and features for improving a website's overall SEO performance.
Backlinks Checking and Monitoring: You can discover, monitor, and control all backlinks, as well as get data on key parameters on each link.
Reporting Capabilities:
SE Ranking will help you build up your customers' trust with a simple and easy-to-use report builder.
You'll be able to keep your customers posted on what's going on in a way they can easily understand.
The platform allows you to generate templates quickly, set a schedule, and have the reports sent to your clients automatically.
This will save you tons of time, and you can also create a client account so they can access the platform themselves. You'll also be able to create however many client accounts you need, and set up custom access permissions for each one.
Integrations:
Integrations are an important part of your agency rank tracker software. After all, you don't want to have to deal with multiple platforms when trying to complete a single task.
Luckily, SE Ranking has a wide range of integrations available to enable SEO data to flow where and when you need it. These include:
Zapier: This lets you connect SE Ranking with various other apps and services from around the web.
Bitrix24: You can use this to automatically transfer your leads to your CRM.
SEOTools for Excel: Integrating this with SE Ranking allows you to extract website keywords and statistics and create powerful formulas to assist your analysis.
Reportz: Integration between Reportz and SE Ranking allows you to manage website ranking reports, and compare them to your competitors.
Pricing:
SE Ranking offers a free trial for 14 days. The platform has a custom pricing structure in which the amount you pay depends on various factors, such as the number of keywords, the frequency of tool use, and the length of the subscription period.
What Are People Saying?
"I like the competition analysis tools, it provides paid and organic data, which gives me an idea on how to catch up and outrank the immediate competition for my clients. It also provides data for the potential traffic, which helps show clients the potential gains of the campaign. And with the marketing plan, I know what needs to be improved in order to get results for my clients." Joe David – Founder & Marketing Consultant at Rochallor Digital.
---
An advanced agency rank tracker with unique features ($24/month).
Keyword.com is one of the best agency rank tracking tools trusted by some of the top marketing companies to help clients dominate Google search.
The platform gives you a full view of your keyword rankings over time and makes it easy to track each of them so you can discover how you perform against competitors.
You can pinpoint your results by narrowing them down to any market, city, or postal code which makes ranking higher even easier.
Key Features:
Full SERP History: Keyword.com shows you the winners and losers on each day so you have a full view of which keywords moved up or down.
Granular Comparison: On the platform, you can compare keywords on a granular basis, keyword by keyword.
Mindshare Feature: You also get SERP landscape monitoring to help you understand where you are sitting compared to the rest of your competitors in terms of search volume, CTR, etc.
Reporting Capabilities:
You can't measure what you can't track, and Keyword.com offers reporting that generates an ROI. It simplifies the entire process of reporting SEO progress to your clients and decision-makers.
You get one-click shareable reports where clients get a view-only link. You also get hands-off reporting thanks to the set-and-forget email reports that you can send to clients in an automated schedule.
Integrations:
The platform offers seamless integrations with Google Analytics allowing you to quickly integrate organic traffic data so you can immediately start to see the impact of your search engine optimization efforts.
Pricing:
Keyword.com offers a free 7-day trial. Premium plans start at $24/month for the Starter plan and you get a 14-day money-back guarantee if you aren't 100% satisfied with the agency rank tracking software.
What Are People Saying?
"One thing I have always loved about Keyword.com is the amazingly fast on-demand updates and accuracy." Neil Patel – Co-founder of Crazy Egg, KISSmetrics, and Hello Bar.
---
Popular platform best for competitive intelligence and insights ($99/month).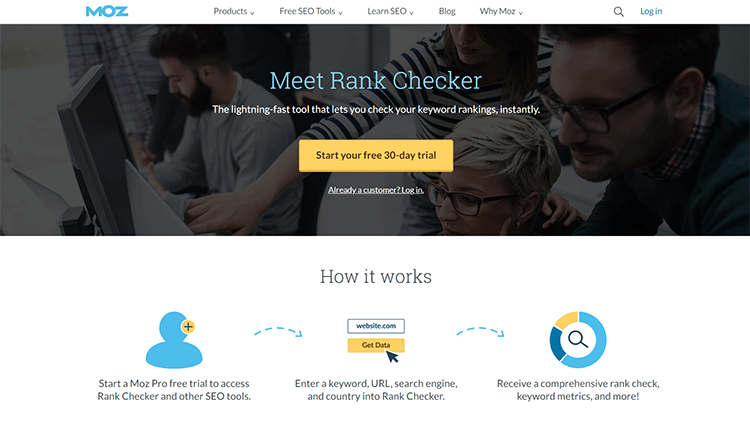 Moz Pro is one of the most trusted SEO analytics platforms currently available. It offers tools to help you propel your search strategy by using competitive intelligence and insights to improve your ROI.
You get a complete view of your search performance as well as a robust keyword research tool so you can identify how a website performs for target keywords within seconds.
You'll also be able to predict keyword search volume for specific phrases and terms with 95% accuracy.
Key Features:
Generate Instant Ranking Reports: With the Moz Pro rank tracker, you can prioritize your SEO strategies and identify your website's performance for keywords in seconds.
Perform Competitive Research: You'll be able to easily see how your competitors rank for each of your most important keywords.
Spotcheck Prospective Keywords: Quickly discover rankings for potential keywords without having to commit.
Reporting Capabilities:
Moz Pro makes your reporting process a lot easier with simple but effective tools that help you uncover, analyze, and report on all types of SEO data.
You can create custom reports to prove the impact of your efforts and communicate the status and value of your work to clients and managers in ways that they can understand and appreciate.
You'll find compelling visual aids that make it a lot easier to translate any wins, losses, or opportunities in the SERPs.
You can also schedule reports to be sent automatically to your clients.
Integrations:
You can integrate Google Analytics, Leader Badge, Google Data Studio, and other tools to get a deeper understanding of your data.
You'll be able to analyze all your business data in one place so you can easily find insights to improve the performance of your marketing and content.
Pricing:
Moz Pro offers a free 30-day trial, and paid plans start at $99/month for the Standard plan. You'll save 20% by paying yearly, and each plan comes with a one-on-one walk-through and 24-hour online support.
What Are People Saying?
"As an SEO Specialist, Moz Pro is a necessity for me. I always use Moz Pro for my various SEO needs, but the main thing that I like about it is keyword research and link analysis. Moz Pro gives us enormous opportunities by comparing various parameters and giving suggestions which lead to the high ranking of the website. With the suggestions given by Moz Pro, I have witnessed high rankings on the search engine results page and high CTR." Abhinav Ranganath P. – Senior SEO Analyst.
Get Started With Moz Pro Rank Tracker
---
An accurate, long-standing rank tracking tool for agencies ($49/month).
Advanced Web Ranking is ideal for agencies that want to tackle on-demand keyword rankings for websites.
With it, you can gather fresh and accurate keyword ranking data across any search engine, language, or device within an hour.
Furthermore, the software helps to create engaging and fully customizable SEO reports that you can share with clients in just minutes via user accounts or links.
Key Features:
Fresh, Accurate Ranking Data: Advanced Web Ranking delivers accurate keyword ranking data that is gathered fresh whenever you ask for it.
Localized Rankings: The customized search engine locations allow you to track local rankings so you can gain the trust of local businesses anywhere in the world.
Mobile Tracking: AWR lets you track and compare the evolution of your keyword rankings across different devices for you and your competitors.
Reporting Capabilities:
With AWR, you can create engaging SEO reports and the whit-label feature allows you to customize the reports to align with your brand.
You can access these ready-to-use reports from any device, mobile or desktop, and easily share them with clients using links or user accounts.
You'll also get relevant rankings that are tailored to your niche, and you can segment data into insightful parts, and create thorough reports that clients love.
Integrations:
Advanced Web Ranking comes with powerful API and data integrations. The platform lets you integrate full SERP data with your current in-house tool thanks to the API and automatic CSV exports that are uploaded straight to FTP.
Alternatively, you can connect AWR to Google Data Studio, as well as other third-party reporting tools.
Pricing: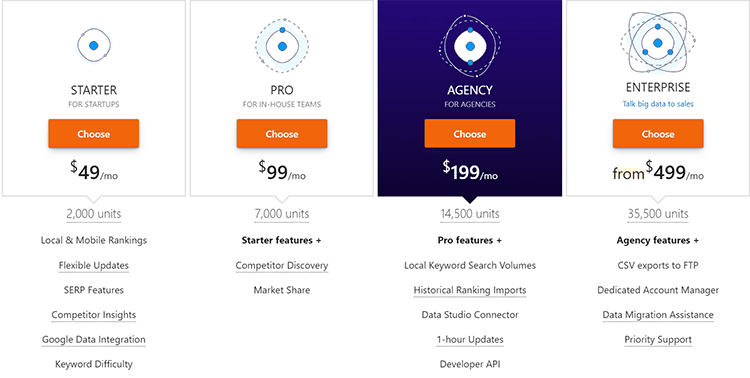 Advanced Web Ranking offers a free 30-day trial, after which you can upgrade to the premium plans which start at $49/month for the Starter plan.

For agencies, you can upgrade to the $199/month plan which comes with Pro features such as local keyword search for names, historical ranking imports, data studio connector, and much more.
What Are People Saying?
"Due to the ability to scale to 10.000 of keywords a day in multiple search engines and specific languages or devices, this is a one-of-a-kind product. It gives me the flexibility and consistent data quality I need to do my job for a broad range of international clients. If I want proper data, this is the tool I go with." Jan-Willem Bobbink – Founder, Notprovided.eu.
Get Started With Advanced Web Ranking
---
A powerful SEO rank tracking software ideal for marketing agencies ($49/month).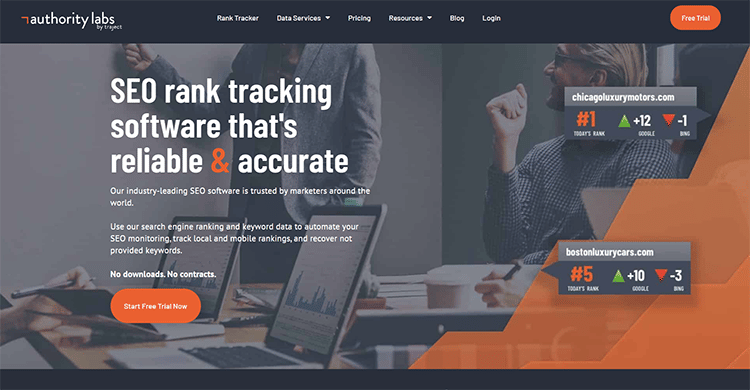 Authoritylabs is a tool used by many agencies to track rankings daily. The tool takes care of everything, all you have to do is add the domains, keywords, and locations, and the software will track all your keywords.
You get automated local, SEO, and mobile tracking and reporting, and the white-label capabilities allow you to create custom reports that make it easy for you and your clients to visualize the performance of any website or keyword.
Key Features:
Daily Data: Daily rank tracking will allow you to keep an eye on where your keywords stand so you can react to changes as they occur.
Local Results: Dive into accurate, granular data by tracking your keyword search results by state, city, postal code, etc.
Device-Specific Data: Get mobile-specific data to track your mobile ranking, as well as keywords used by mobile users.
Reporting Capabilities:
Authoritylabs offers reporting capabilities that cater specifically to the needs of agencies so you can prove to clients that your SEO tactics and strategies are working.
The platform offers white-label features, giving you the ability to send individualized dashboards via links that clients can use to check their rankings each day.
You can create separate logins for unlimited users so that your team, boss, clients, etc. can each have their own login for reporting. You get all of this at no additional cost.
Integrations:
Integrations include Google Search Console, Google Ads, and more. The platform has a brand-new connector that you can use to get your agency's most accurate keyword rank tracker data pulled into third-party reporting tools like Google Data Studio.
You'll be able to build beautifully designed reports for your agency's clients and internal stakeholders. You can also add a logo, brand, palette, etc. to white-label your reports.
Pricing: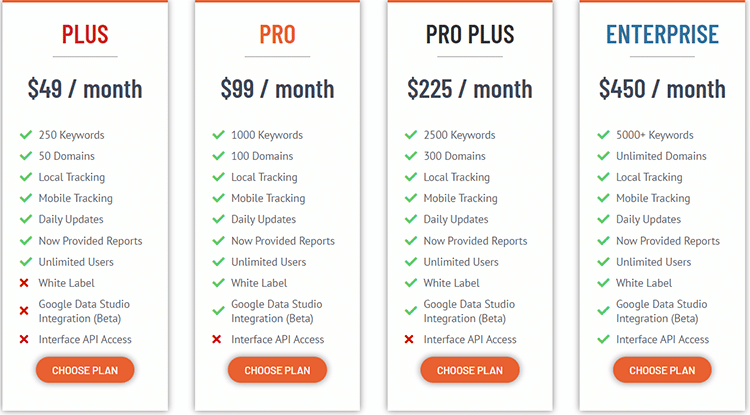 Authoritylabs offers a 14-day free trial and you can upgrade to a premium plan for just $49/month. All plans are risk-free and you can cancel, downgrade, or upgrade at any time.
What Are People Saying?
"Our primary rank tracking solution we use every day to track thousands of rankings. This is one of the simplest rank tracking solutions out there. The interface and UI are fantastic and very easy to read. Pretty much the only reason they have been our rank tracking solution is how user-friendly and easy to understand the dashboard is. We can send the individualized dashboards to clients via a simple URL so they can check their rankings each day which is fantastic." Calin H. – SEO Director.
Get Started With Authoritylabs
---
A platform to help you research your competitors and dominate your niche ($99/month).
Ahrefs Rank Tracker is the favorite tool of many SEO agencies thanks to its many features. When you sign up for a premium plan, you also get a wide range of tools to help you carry out your research, including a Site Explorer, Content Explorer, Keywords Explorer, Site Audit, and Rank Tracker tool.
In short, this platform doesn't just help you track your keywords, it also provides you with all the other tools you need to boost your visibility online.
You'll be able to get data on all the different SERP features, including featured snippets, top stories, shopping results, videos, people also ask, etc.
Set up is extremely easy. All you need to do is import or enter a list of keywords, including your competitors' URLs, and multiple countries per keyword, and the platform will begin tracking data and you will receive regular updates.
Key Features:
Share of Voice Functionality: Get a clearer picture of the websites and pages that are fighting for search traffic from each of your tracked keywords.
Ranking Progress: Get up-to-date progress on how you are stacking up against your competitors for each keyword.
Multiple Filters: The platform has multiple handy filters that allow you to zoom in on your keyword data to get more detailed insights.
Reporting Capabilities:
When you sign up for Ahrefs Rank Tracker, you get advanced metrics right at your fingertips. You'll be able to get up-to-date metrics for all your keywords so you can get deeper insights.
You'll also receive scheduled email reports and be able to create your own detailed reports for clients that include everything from ranking progress, CPC, and estimated search volume, to clicks, return rates, and a lot of other performance data.
Integrations:
The goal of this platform is to create a robust ecosystem that helps you maximize your data.
There are integrations designed for developers to create apps using Ahrefs Index data so they can cater to their clients' needs.
Pricing:
Ahrefs Rank Tracker offers a free plan so you can start to keep an eye on your keyword ranking progress without having to pay a cent.
On the free plan, you can check up to 10 keywords (1 project). You can upgrade to a premium plan for $99/month to unlock more features.
What Are People Saying?
"I've been using Ahrefs for over 8 years and I just can't see myself running our online business without it at this point." Gael Breton – Co-founder, AuthorityHacker.
Get Started With Ahrefs Rank Tracker
---
Types of Agency Rank Tracking Tools
Agency rank tracking tools come in a wide range of forms. They can be classified based on installation type.
The main types of agency rank tracking tools are:
1. Web Browser Plugins
These are add-ons that serve to extend the functionality of your web browser. An example of such a plugin is SEOBook's Firefox Rank Checker Extension.
The advantage of such a plugin for digital marketers is that it can provide you with ranking numbers instantly for any query you make.
However, this type of agency ranking tool is ideal only for small keyword sets (ideally 100 or less), otherwise, you run the risk of getting blocked from search engines by running large numbers of keywords.
2. Desktop Applications
These are standalone programs that are installed on computers and don't require the use of a web browser.
Desktop applications are capable of running much larger keyword lists without risking the wrath of Google. They achieve this in a couple of ways:
First, by emulating human behavior.
They add time and pause between queries. They also copy a web browser user agent, and download all page assets, such as images, instead of just the ranking results.
Secondly, by using a rotating list of IP addresses.
You supply a list of IP addresses, and this allows the rank tracking software to make it look as if the queries originate from different computers across the globe. Examples of desktop applications include:
WebCEO
SEO Smart Suite
Advanced Web Ranking
Although compared to browser plugin tools, desktop applications allow you to run more keywords without running the risk of being blocked by Google, they still have the disadvantage of being difficult to handle, particularly if you're running an agency with multiple SEO clients.
You won't be able to speed up the process since that will counteract the simulation of human use.
3. Web-Based SaaS Solutions
Software as a Service (SaaS) solutions are ideally suited to agency rank tracking software. Such options eliminate the need for having to maintain multiple IP addresses, and since they run on subscription-based servers (instead of your local computer), you can leave the software running overnight, which makes this type of rank tracker the better solution for agencies.
Many of the web-based SaaS solutions offer additional SEO tools in addition to rank tracking, but you'll find a lot of popular tools that are designed specifically for tracking keyword and website rankings on the major search engines.
The advantage of these types of solutions is that they are more stable and require virtually no maintenance. IP rotation is managed for you.
However, these types of tools tend to cost a bit more than browser or desktop applications since they run on servers. Also, you won't get immediate results, for the most part.
What Features to Look For in Agency Rank Tracking tools
With the number of rank tracking tools popping up these days, choosing the right one for you can prove to be an overwhelming task.
To help you in this regard, I've listed all the different features to consider when choosing the best agency rank tracking tool so you can pick the solutions that will cater to your agency's needs.
1. Accurate Data: As an agency, you need to ensure that you have access to accurate keyword rankings data so you know you're sharing up-to-date information with clients. Also, your success depends on being able to pinpoint any wins and losses in the fastest time possible so you can take the necessary actions.
2. Track Keywords Across Locations and Devices: When choosing an agency keyword rank tracker software, you need one that allows you to monitor ranking data in a variety of levels since you'll be working with clients that operate at a local, national, or global level.
3. Monitor Search Engine Rankings: You'll be working with clients in different countries, using different search engines, so you need a rank tracking tool that lets you work with different search engines, such as Google, Bing, Yandex for Russia, Baidu for China, etc.
4. Historical Ranking Performance: Your rank tracking tool should also allow you to view historical ranking performance so you can show the performance of your keywords over time as a way to justify the client's investment in your services. For instance, you want to show clients how the rankings have moved over several time intervals, such as 7 days, 30 days, 60 days, etc., as well as across different devices, locations, and search engines.
5. Organizing Ranking Data: Choose an agency rank tracking software that lets you organize and segment your keyword ranking data. This makes it easier when you are working with multiple campaigns so you can effectively track lots of ranking data and pinpoint issues and meaningful insights even when working with many different clients.
Of course, there may be other factors that are important to you if you're running an agency, such as:
Running competitor comparisons
Monitoring SERP feature movements
Generating white label rank tracking reports
… and various others.
Fortunately, all the agency rank tracking software options listed in this article provide these features and more.
Some even offer additional unique features, such as allowing you to set user access and permissions.
Make sure you go through the features of each software so you know which one has the tools you need for your agency.
How Can Agency Rank Tracking Tools Help Grow Your Business?
It's impossible for agencies to conduct rank tracking manually, and that's why you need agency rank tracking software.
Keyword rank tracking tools can help you grow your business by allowing you to easily track the positions for different websites and keywords for your clients. You'll get a comprehensive analysis of the results pages and the changes over time.
You'll be able to draw valuable insights from all the collected data, allowing you to fine-tune your overall SEO strategy.
You'll also be able to find new competitors, as well as identify opportunities that you otherwise may not have come across thanks to regular notifications whenever the rankings change.
Rank Tracking Q&A
What is SEO Rank Tracking?
SEO rank tracking is all about monitoring the overall progress of your keyword positions, as well as their impact on your website's organic traffic.
How Do Rank Tracking Tools Work?
Rank trackers visit or "crawl" Google results pages to discover which keywords rank at the top for a specific user search, all the while staying invisible to Google to avoid getting blocked.
Why Should You Track the Rankings of Keywords?
Tracking keyword rankings is important so agencies can show clients the improvements that are taking place in their SEO campaigns.
Is Rank Tracking Important for SEO?
Rank tracking is crucial for SEO, and although it's not the only measure of success, it's a great way to show the success of SEO campaigns over time.
Summary
My number one recommendation for the best agency rank tracker software is Accuranker. It's a powerful platform with a specific focus on real-time keyword rank tracking.
Although this article isn't an exhaustive list of all the agency rank tracking tools out there, it will provide you with some of the most essential tools for anyone in the SEO industry.
Use it as your resource to help you discover which of these popular tools will best suit your agency's specific needs so you can start getting improved results from your search optimization efforts.
If you found this post interesting, you may enjoy my best rank tracking software review as well.