One of the things that are of immediate concern to website owners is how they're going to make money. Among the easiest ways is working with an ad platform. Ad platforms are free to join and can make you a steady income depending on your website's traffic. While you've probably heard of Google AdSense before, is it really the best option? Or would a Google AdSense alternative like Adsterra be a better choice? In this comparison, I'll take an in-depth look at Adsterra vs AdSense so you can decide the best option for you.
1. Onboarding Process
An ad platform should make the process easy from the moment you click "Sign Up." They should also be able to approve your account quickly so you can start making ad revenue as soon as possible.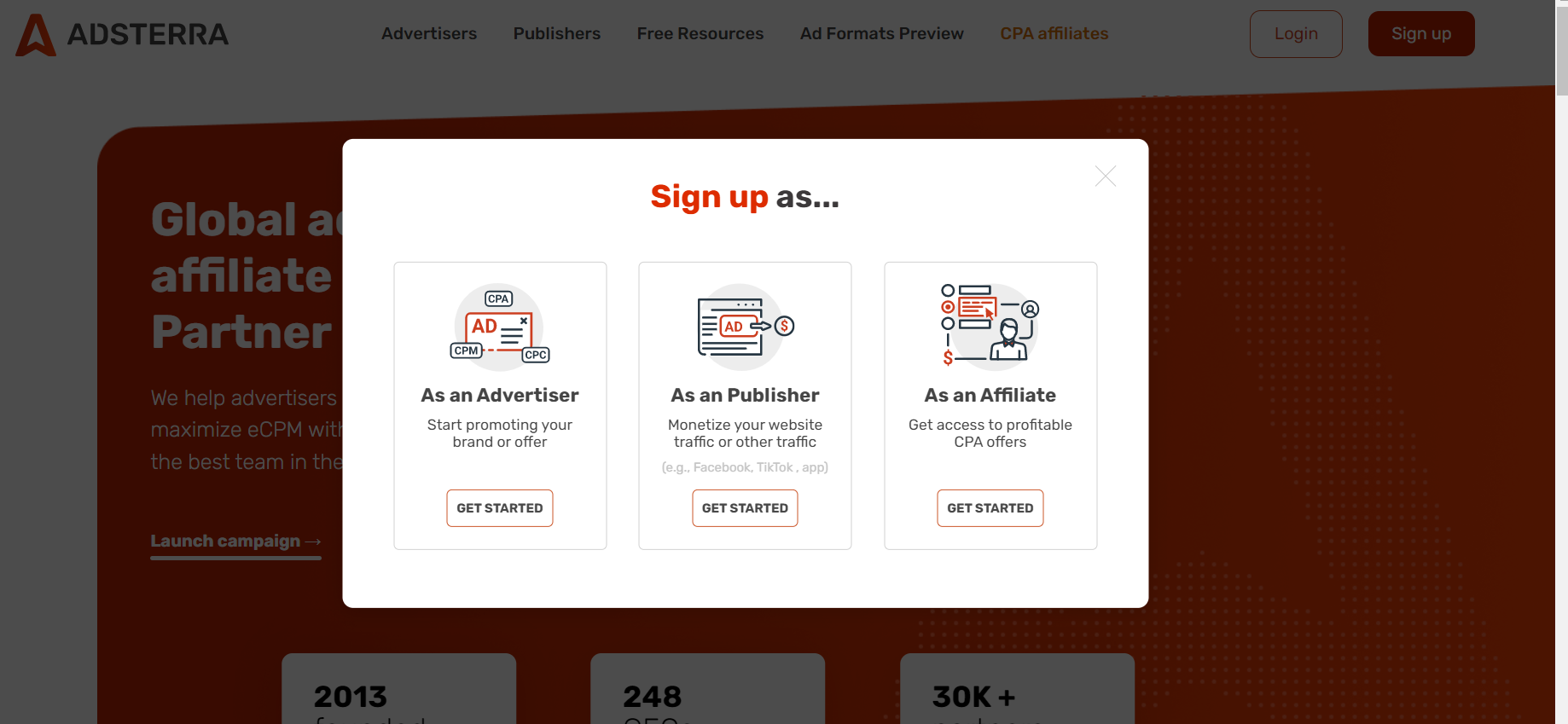 To begin using Adsterra, you'll need to create an account. You have three options for account creation: as an advertiser, publisher, or affiliate.
After that, you'll need to add code to the website on which you want to put ads and wait for it to get approved. The approval process takes up to 3 hours.
After signing up for an account, you can also get a personal manager. A personal manager is there to help whenever you have issues. Since it's a self-service platform, you don't need a manager, but you can request one using the live chat feature in your account.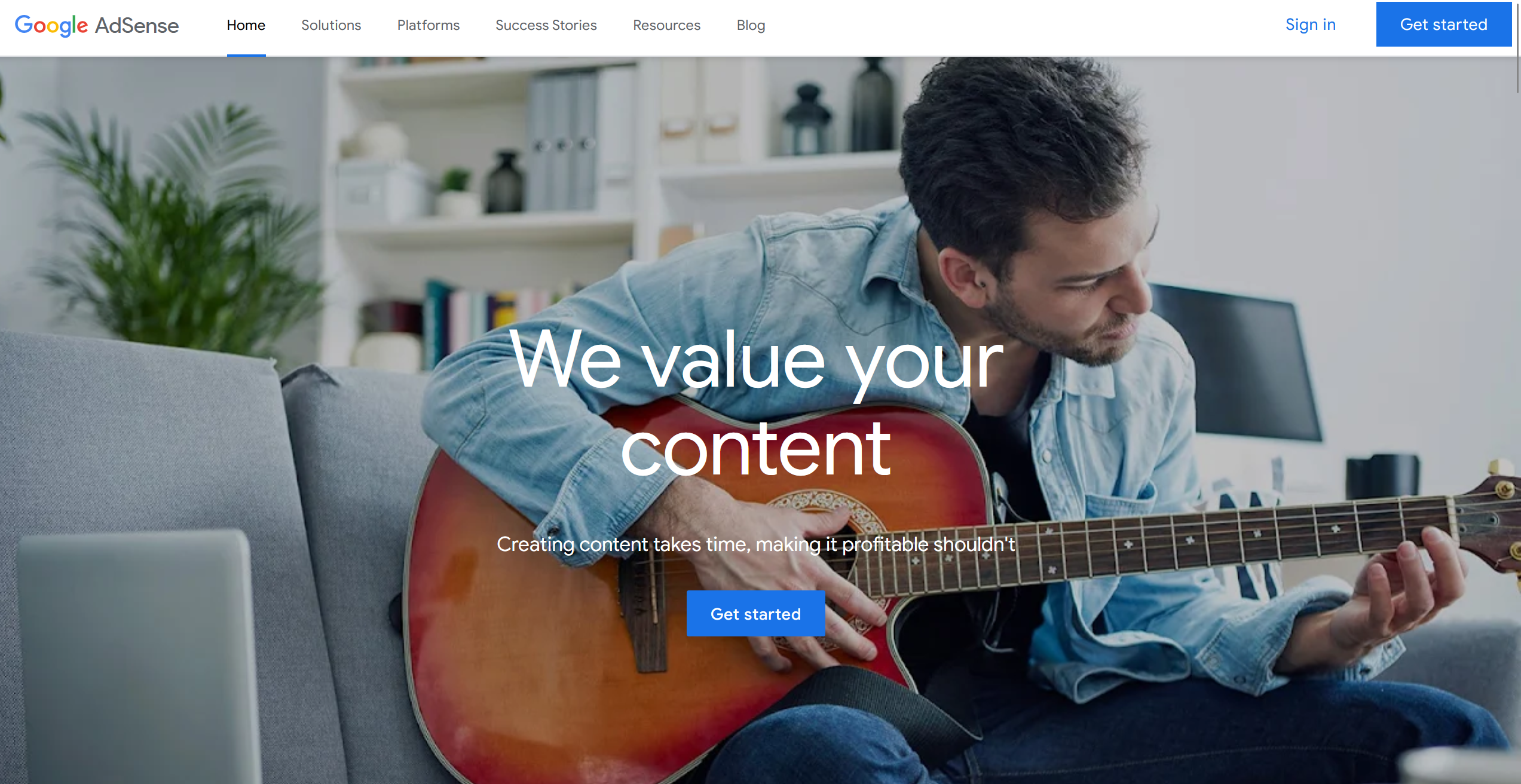 You'll need to create an AdSense account to get started with AdSense. Indicate which site you want to put ads on, then use the provided code and paste it in the <head> section of your site's HTML code.
After this, Google will review your site and make sure it complies with AdSense Program policies. Most of the time, a review takes a few days, but it can take up to 2-4 weeks. On your AdSense homepage, navigate to "Sites" to check the status of the review.
Also, I recommend checking out how the Google Adsense payment process works.
Adsterra is the winner of this category mainly because of the quick approval process. While AdSense can take up to a month to approve your site, Adsterra can do it in a few hours. The option of having a personal manager is also incredibly helpful if you have any issues during the onboarding process.
2. Ongoing Education
One common dilemma you might face after creating an account with an ad platform is, "Now what?" All ad platforms come with a learning curve, and there may be some features you're missing out on for lack of knowledge. Ideally, an ad platform should provide opportunities for ongoing education so you can learn it inside and out.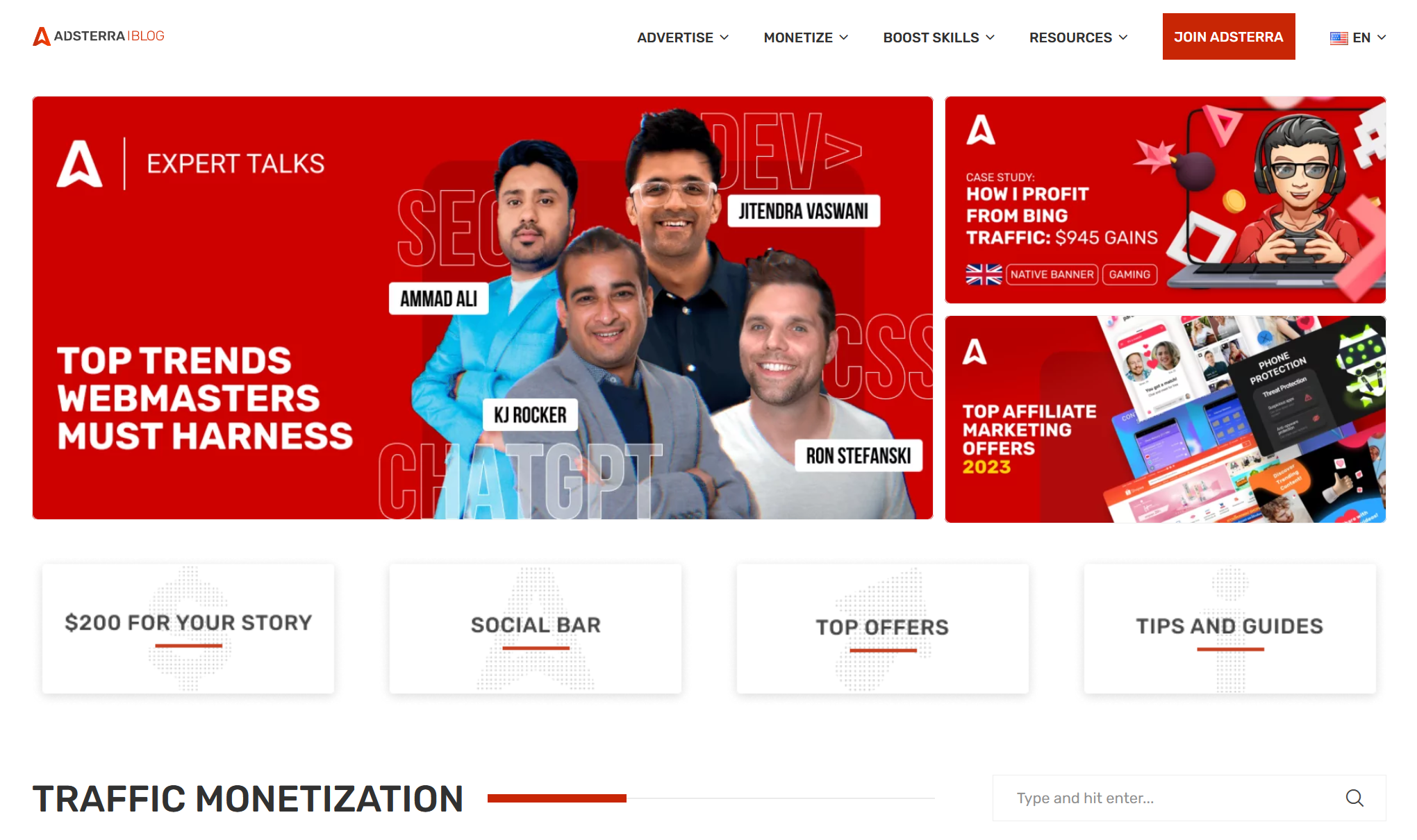 Adsterra offers a regularly updated blog that has a well-rounded approach to ongoing education. You can find posts on everything from navigating affiliate marketing to case studies to the latest industry trends. In total, there are 400+ blog posts for you to read through.
If you're new to the affiliate marketing world or there's just one term you're confused about, you can always consult their glossary of terms. These provide brief yet informative definitions for industry lingo such as above the fold or Robots.txt.
Finally, if you want insights sent directly to your inbox, you can sign up for Adsterra's newsletter. They offer the types of guides and tips you can find on the blog, with the added benefits of webinar invitations and giveaways.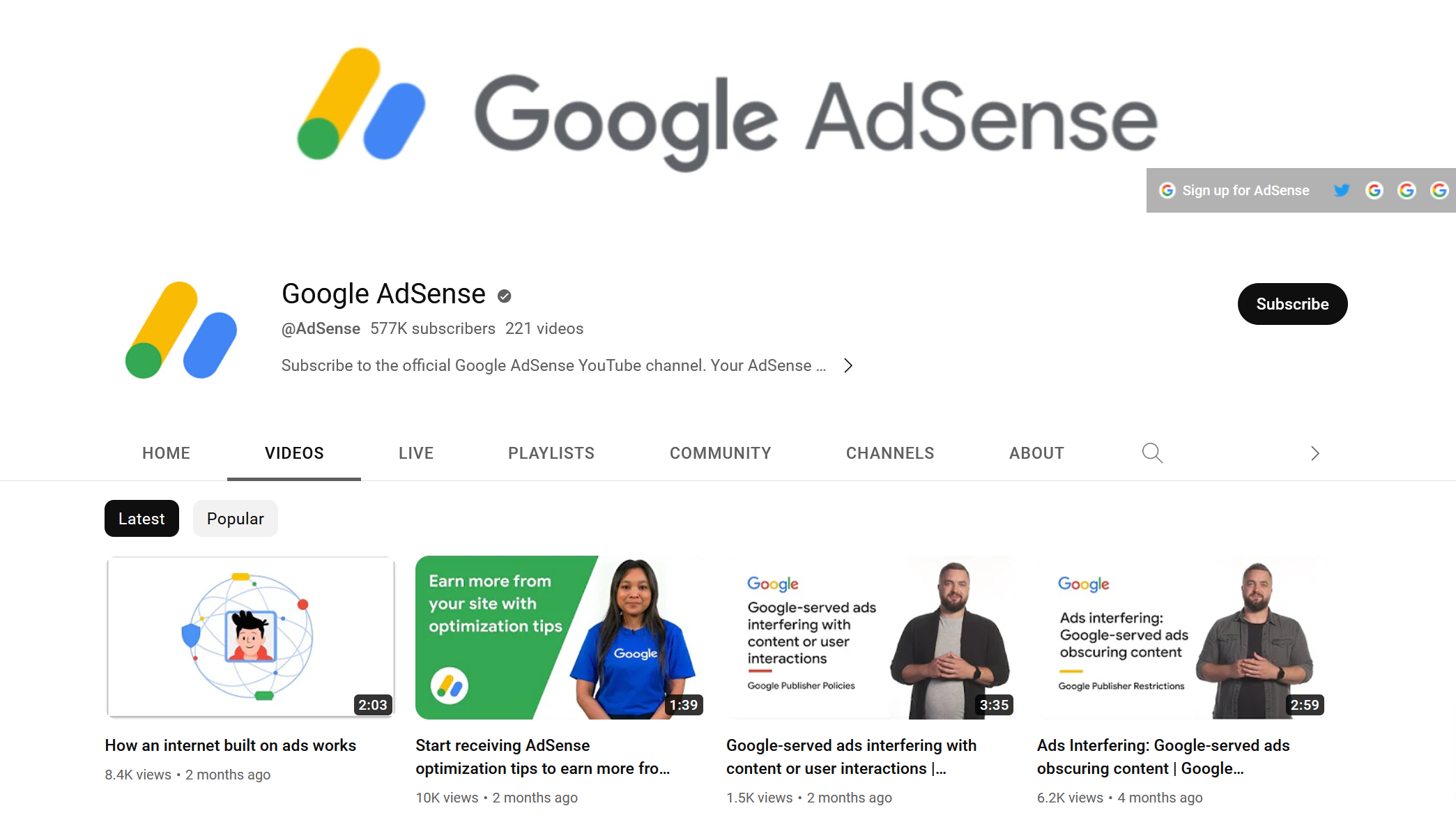 One of the main options for ongoing education is the AdSense YouTube channel. They have 200+ videos and typically post new ones every few months. Most of the videos are part of the "Google Publisher Policies" series. These videos explain what types of content and actions aren't allowed for publishers.
Google also offers a Google Ads Skillshop. This is a series of courses designed to grow your knowledge about the platform and learn its capabilities. Each course varies in length, with the shortest courses being only 20 minutes and the longest ones taking a few hours. They involve brief pre- and post-assessments with a series of videos in between.
While the YouTube channel does contain some helpful information, the heavy focus on the dos and don'ts of the platform makes its 200+ videos seem slightly less impressive. This is especially true if you consider that many of them are common sense — most publishers know they shouldn't deceive their users or promote unethical content. Adsterra's blog provides a broad range of helpful information, and the glossary bridges the industry knowledge gap, especially for new publishers.
3. Support
No matter how great an ad platform is, you're going to hit a snag at some point. Whether it's technical issues or a feature you don't know how to use, you need good customer support to help you out.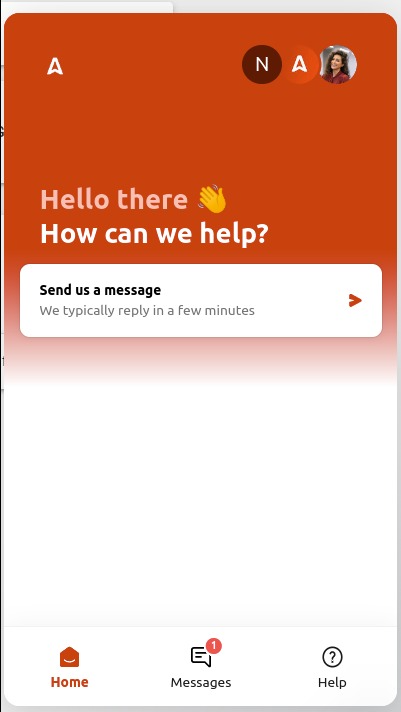 Adsterra support is easy to find. Click "Contact Us" at the bottom of the home page to send them an email message. You can also call them at +35725261070.
If you have an Adsterra account, you'll get access to their online chat, which is available 24/7. Simply log on to your account and click on the chat icon in the lower right corner of the screen.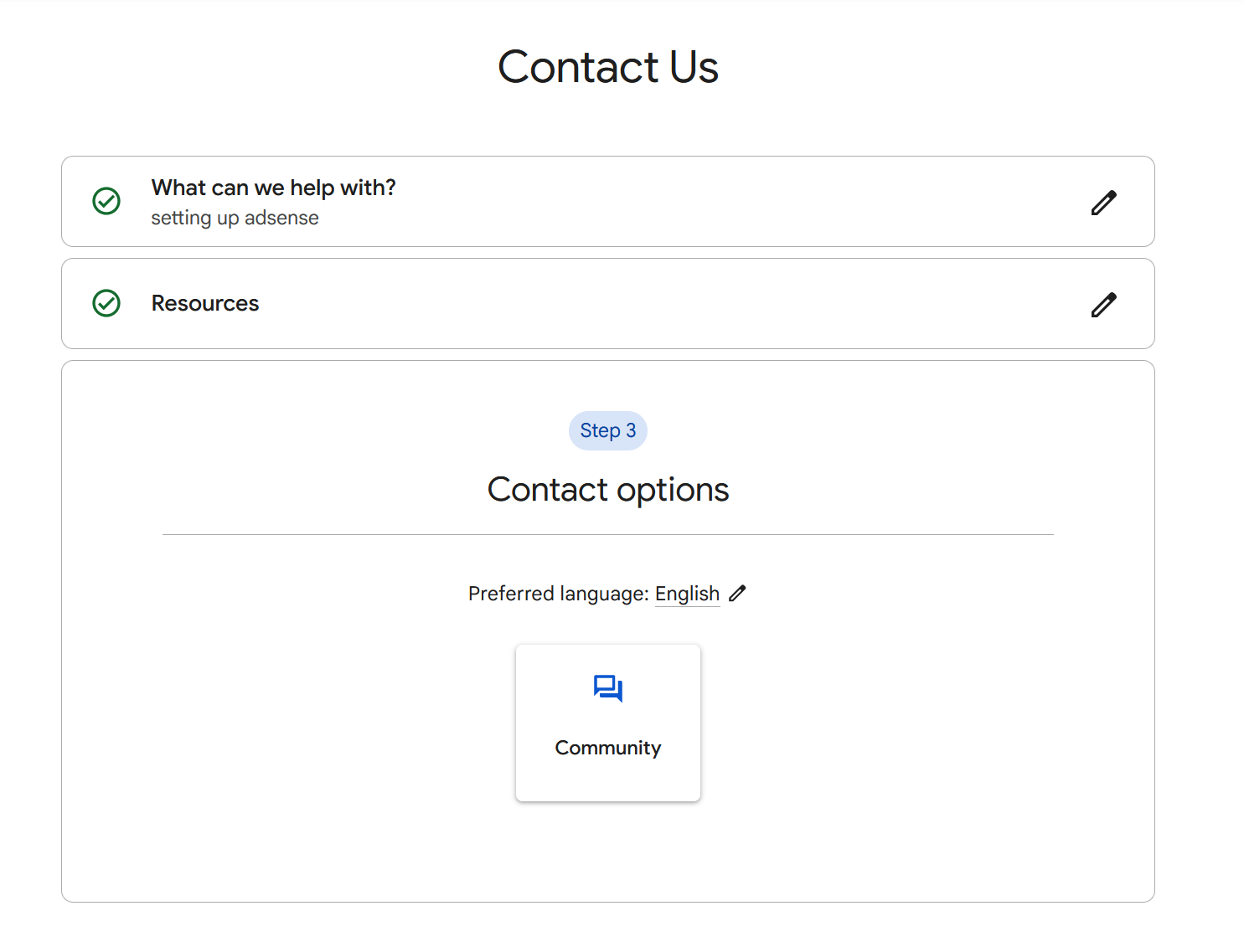 AdSense support is primarily handled through their Get Help page. This page has a three-step process:
Type in the problem. You can only type up to 100 characters.
View resources that may be related to your problem.
Look at contact options.
Most of the time, when you navigate the process, step 3 leads you to the community forum where you can post about your problem and wait for someone to respond. This is rather frustrating considering that on the Help Center, it poses Contact Us and Ask the Help Community as two different options:

Overall, it can be difficult to get ahold of an actual person to contact.
AdSense support can feel rather cryptic at times. Some parts of their site mention an email support line, but the Contact Us form leads you back to the Help Community. By comparison, Adsterra's approach to customer support is straightforward. If you don't have an account, the contact form on the website or their phone number can get you in touch with them. If you do, then the chat widget on the lower right part of the screen is available whenever you need it.
4. Ad Optimization
Ads cost nothing for publishers money-wise, but they can certainly be a waste of time if they aren't optimized. Unoptimized ads will be uninteresting or annoying to users, preventing you from reaching your revenue potential.

Adsterra offers optimization tools using AI. These look at your traffic and pick ads that are likely to garner interest from your specific audience.
There are also many different ad formats you can choose from, including popunder, social bar, push ads, native ads, video ads, and banners. All of these are dynamic and automatically optimized for both desktop and mobile. One highlight of these are social bar ads, which are unique interactive ads that resemble icons or push notifications.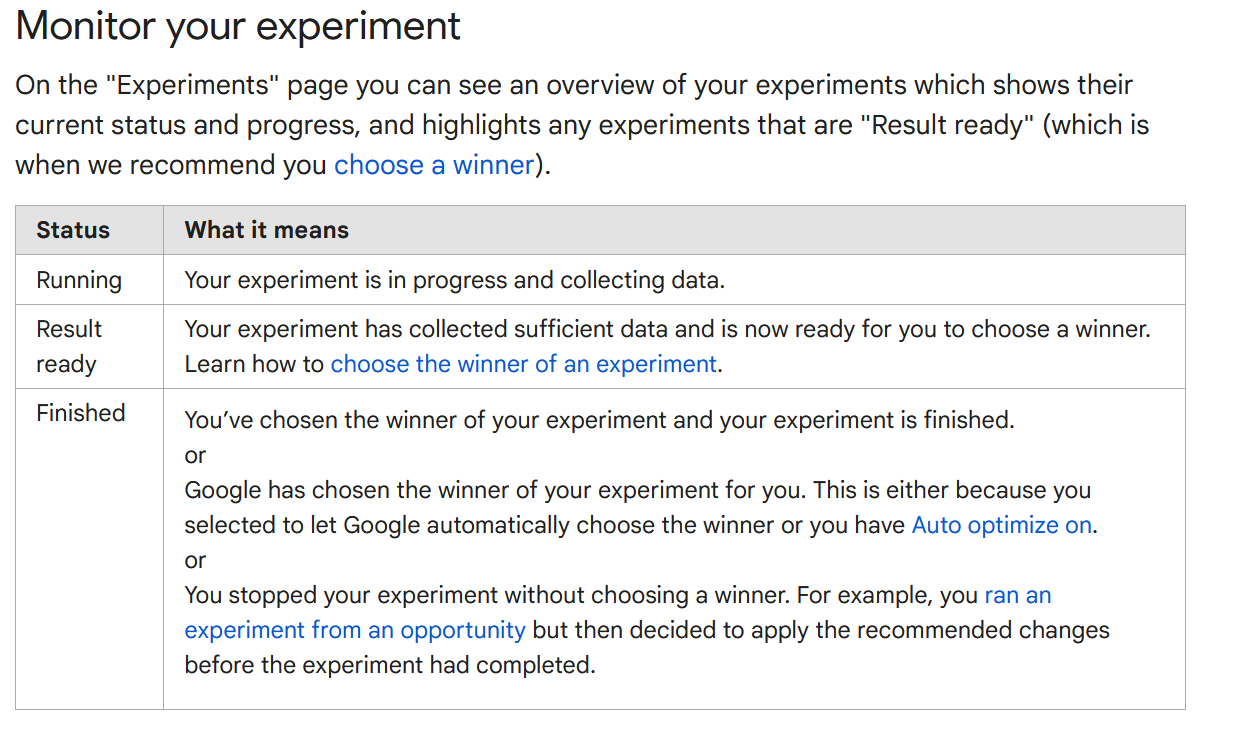 AdSense has an auto ads feature that analyzes your site and automatically puts ads there based on the layout. It will automatically adjust based on the screen size and can add anchor ads or vignettes for mobile users.
In your account you can also check out customized recommendations for optimization and run A/B tests. The A/B feature has an automated version that runs the experiments and will automatically adjust based on the results.
AdSense ads use different formats than Adsterra does. They don't offer popunder ads and in fact will not allow publishers to use AdSense if the site has this format on their site. But for the most part, they are the same. They offer banner ads, video ads, native ads, and so on.
Adsterra's traffic analysis tools are very useful to optimize your ad revenue. And while AdSense and Adsterra offer many of the same ad formats, Adsterra offers a few more like popunder and social bar ads that you can use to increase your revenue further.
5. Pricing
Like most other ad platforms, Adsterra and AdSense are completely free for publishers. Rather than paying money, they pay you to host ads on your website. When and how will they pay you? Let's take a look.

Adsterra offers a few different types of payout methods, including PayPal, wire transfers, and more. If you prefer, they can also pay via cryptocurrency, particularly Tether and Bitcoin.
Adsterra has two payout windows: the 1st-2nd or the 16th-17th. Once you reach the threshold (which varies depending on the payment method, see chart below for details), your money is put on hold for two weeks. After this window, you'll get paid during the soonest available payment window.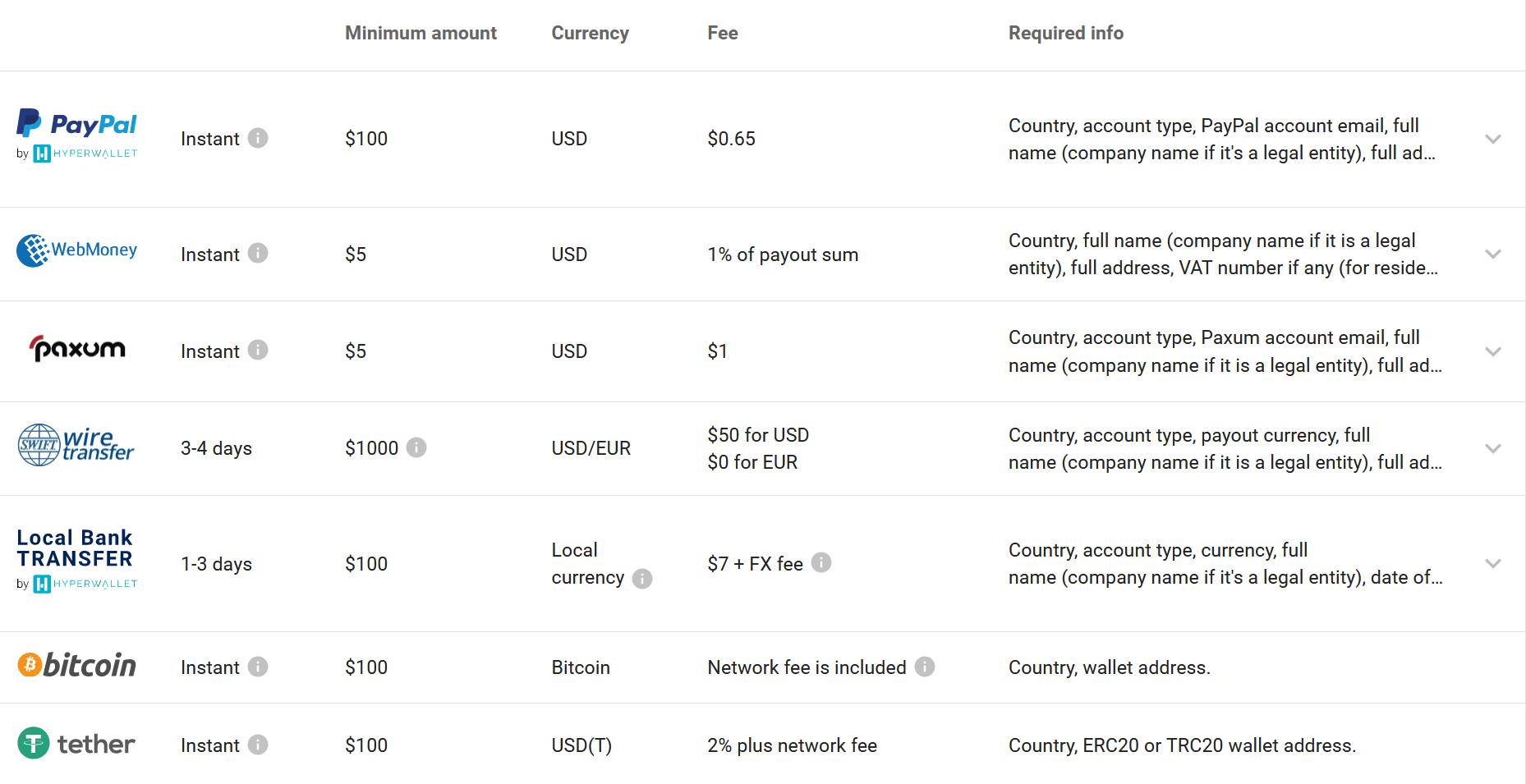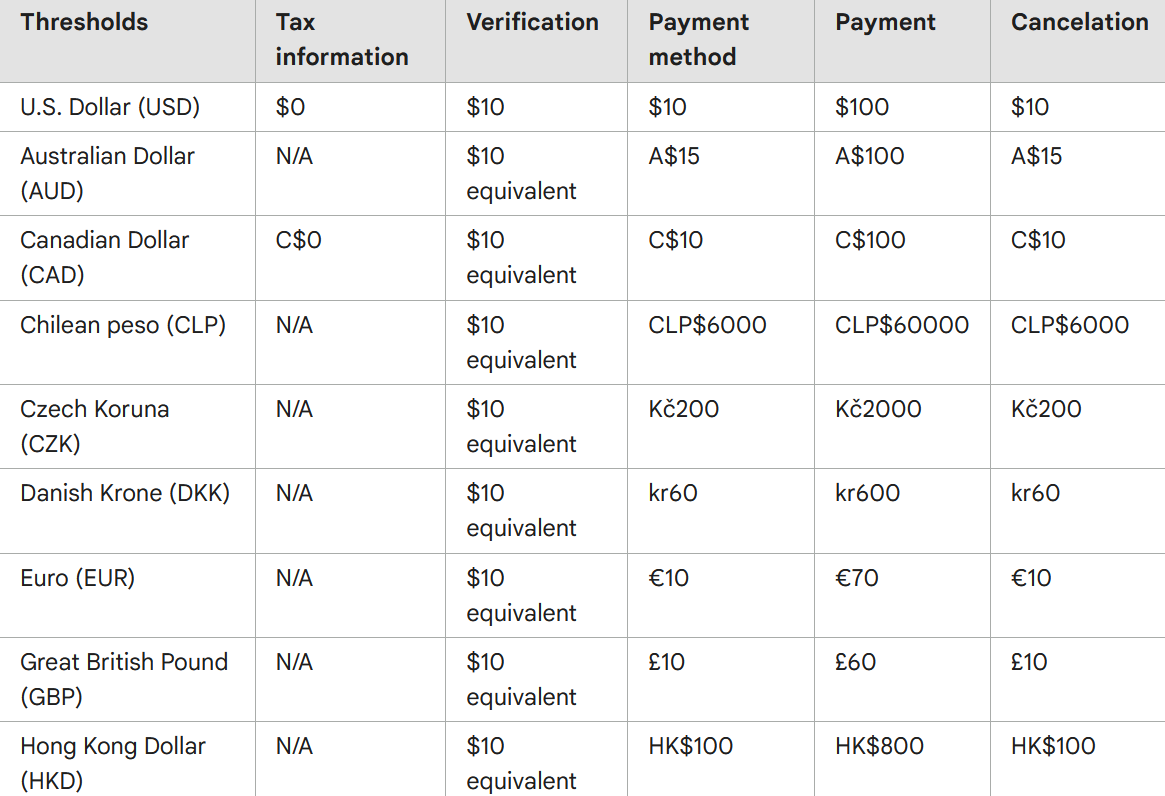 AdSense offers a variety of different payout methods depending on your address, such as a wire transfer or Electronic Funds Transfer (EFT). Payout thresholds are based on your currency. For U.S. dollars, the minimum threshold for payments is $100.
As for the payment timeline, the previous month's earnings are finalized at the beginning of the next month. If these finalized earnings meet the threshold, then you'll get paid at the end of the month between the 21st and the 26th.
When comparing Adsterra vs AdSense in terms of raw pricing alone, this category would be a tie. Both are free and promise payments to publishers that use their platforms successfully. However, Adsterra's more flexible payout windows and payment methods pushed it over the edge.
6. Analytics
Without analytics, it's impossible to know how well your ads are doing. In turn, you can't adjust your strategy accordingly. In most cases, the more data you have, the better.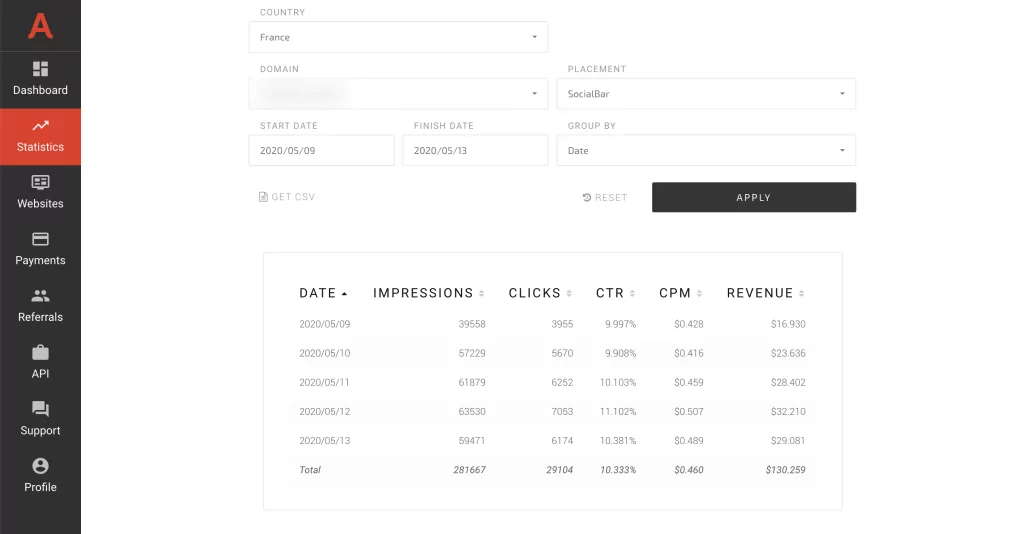 On your Adsterra account, you can access analytics, including:
Impressions
Clicks
Click-through rate (CTR)
Cost-per-mille (CPM)
You can also view your total earnings (including a breakdown of how they're calculated). One of the most useful features is that you can sort your data by country and ad placements. You'll see which ads are the best performers and which countries support your ad revenue the most.
AdSense allows you to connect with Google Analytics to view:
Revenue
Impressions
Ad Units Viewed
You can show a weekly, monthly, and hourly view, and also view a page-by-page breakdown so you can see which pages are netting you the most ad revenue.
AdSense also offers reports inside your account, which gives you more details such as the top countries and ad formats.
If you want to change the way the data is displayed, you can change the chart type or open a table view. You can also filter the data. When you're done customizing the report, you can export it easily.
Also, here's how to see your best-performing pages in Google Adsense.
Much of the data provided in Adsterra is also provided in AdSense, so they are a tie on that front. However, the connection to Google Analytics as well as the report export options make it the winner of this category.
7. Overall Revenue Potential
While the above factors are important, perhaps the most important one is how much money you can actually make from each ad platform. If there isn't much revenue potential, then signing up for an account and setting up your ads is just a waste of time.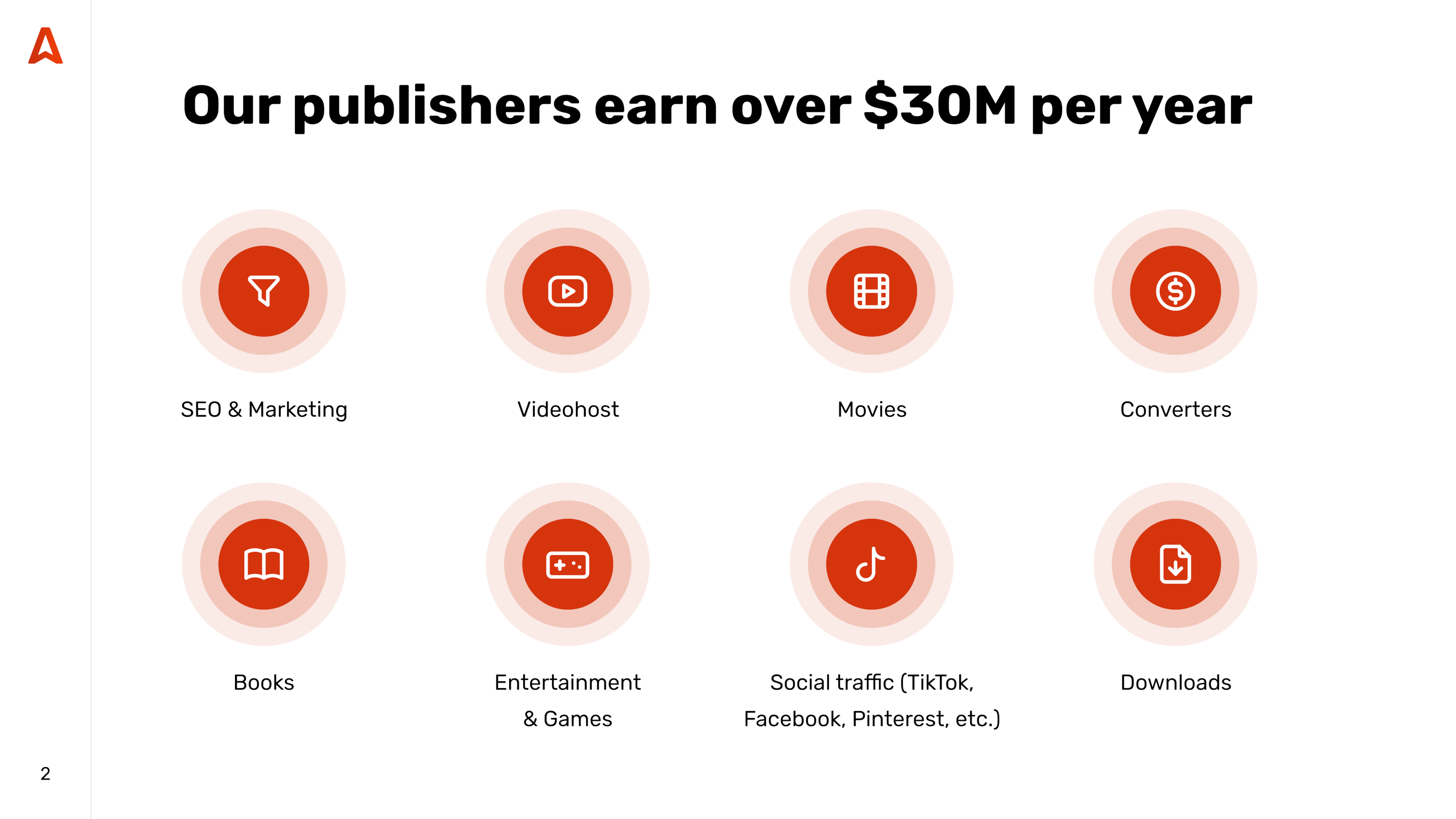 Adsterra offers a number of helpful features that can increase your overall revenue potential. As mentioned, it comes with native AI tools that examine your traffic and choose the best offers based on which ones your audience is most likely to pay attention to.
In addition, there's an anti-adblock solution. If you navigate to Websites in your account, you can request the anti-adblock code to include in your website. You'll get an email whenever the code is updated, so your solutions are always up-to-date. Anti-adblockers are important because adblocking extensions can lead to a major loss of revenue. According to Statisa, adblockers have cost U.S. companies over 12 billion dollars.
Besides the ads themselves, Adsterra also has a referral program for publishers. For each publisher you refer, you'll earn 5% of their revenue. While it can take time to build up publisher referrals, this is an excellent way to make side income on top of the ad revenue you earn on your site.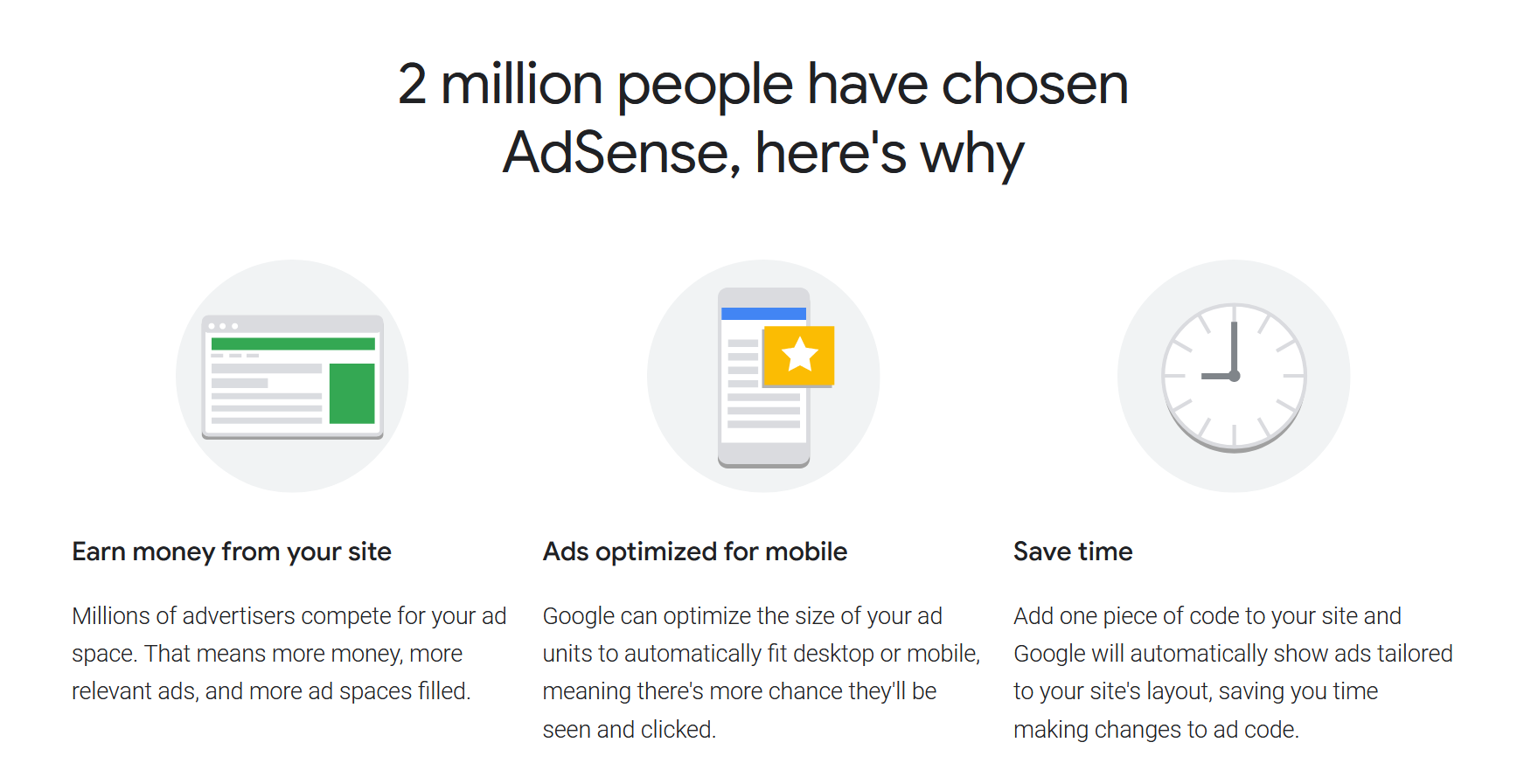 The ad optimization features AdSense offers are also a good way to optimize your revenue. Sometimes it can be difficult to determine where and how many ads should put on your site. The auto ads feature takes out the guesswork so you can focus on creating excellent content.
A/B testing can also help with your revenue potential since you won't waste money on ads that don't get any impressions. And if you implement auto-A/B testing, this process is completely hands-free.
Adsterra is mainly the winner of this category due to the anti-adblocking feature. Publishers can lose a significant amount of revenue from adblockers alone. Regular updates to the code help ensure that this feature is always functional on your website.
If you'd like to learn more about this software, check out my Adsterra review for more info.
Final Thoughts
Adsterra won most of the categories on this list, and for good reason. Between the easily accessible customer support and the quick onboarding process, it's easy to get started. With AI-based optimization tools and ongoing educational resources, you can maximize your revenue. And with the unique anti-adblocking solution, you can retain more of your profits. Overall, it's one of the best Google AdSense alternatives out there.
If you'd like to see some other Adsense alternatives and how they hold up against Adsense, click here.