Over the last several years, I have created many websites and am constantly searching for the best Adsense alternative display ad network. During my digital marketing journey, I discovered Adsterra.
Adsterra is often the easiest way for website publishers to earn money, so I had to check it out. A brief look was promising:
But still, I had to test it for myself to see if it lived up to its reputation. This platform is precious for both publishers like myself and advertisers. So, I decided to create this Adsterra review to help other publishers like myself. So let's dive in, shall we?
Ron's Thoughts
Adsterra is a great ad network that has no minimum traffic requirements. Bloggers, website owners, and other publishers can display ads in all of the most popular formats for both mobile and desktop devices. It also provides three-level anti-fraud and anti-malware protection to keep you and your site visitors safe.
Biggest Pro:

No minimum traffic requirements

Biggest Con:

No demographic targeting (yet)

Annual Discount

None

Price:

Free For Publishers

Promotion:
Is Adsterra Worth it?
Founded in 2013, Adsterra now boasts over 18,000 direct publishers and 12,000 brands, affiliates, media agencies, and ad networks.
The Adsterra ads network is a network that has proven to be highly lucrative for both publishers and advertisers in the 786.2 billion dollar digital advertising and marketing industry.
Known for innovative advertising displays such as banner ads, video ads, landing pages, and more different ad formats.
The platform has no minimum traffic requirements and offers one of the highest cost-per-conversion rates in the industry.
It's a great option to consider whether you want to earn more money from your website traffic or look for more effective Amazon or AdSense alternatives.
It is one of the best Google AdSense alternatives for advertisements.
Adsterra advertising platform and network can reach a wider audience and ultimately boost your profits. Its emphasis on cost-per-action (CPA) marketing campaigns is one of the reasons why so many marketers, website owners, and even media agencies find it so attractive.
Who is Adsterra Good For?
The Adsterra ad network is superb for:
Bloggers looking for easier ways to make money from their blog traffic quality
Website owners looking for better AdSense alternatives
Anyone who wants to use Adsterra's new revolutionary ad format monetizes mainstream and non-mainstream websites, blogs, social networks, binary, and apps install gaming software.
Marketers focused on affiliate offers (VPNs, Utilities, Subscriptions, Sweepstakes, Dating, Gambling, Adult paysites, Cams)
Publishers who want maximum eCPM
Publishers who want brands affiliates media agencies
Advertisers who wish to cheap ways to get brand/product exposure
Advertisers who wish to meet KPIs and grow their ROI
The network knows the space well and has years of experience making offers of this type successful. They also release a lot of case studies showing how the top affiliates make money with the platform.
The intuitive self-serve platform is also straightforward to use and has tons of support available for anyone who needs it.
Add that to the fact that there are no minimum traffic requirements, and you have a vibrant ad network that is ideally suited for almost everyone who wants to monetize the online business.
Pros and Cons
This Adsterra review has shown that the Adsterra network has quite a lot to offer, especially compared to other ad networks in the same category.
Below, I've listed the best things about the Adsterra platform and a few things that could be improved.
Pros
No minimum traffic requirements
Ad networks dealing can run with non-mainstream traffic quality
Multiple Cost Models, including CPM, CPA, RTB, CPC, CPI, CPL
Ad Formats: Popunder ads, In-page Push ads, Banner ads, Native ads, Social bar, Video pre-roll
Offers both mobile and desktop ads
The platform has a 100% fill rate and global coverage with geo-targeted ad impressions.
Ability to monetize popular Facebook Pages (and other social networks)
A wide range of payment options is available
Extremely low minimum payouts ($5)
It can easily be integrated into WordPress
Lucrative referral program earns publishers an extra 5%
Choose from managed services or self-serve platform
Support for multiple languages
24/7 customer support system
20+ filters to target user activity
Real-time reporting system
Easy API and tracking integration
Three-level anti-fraud protection
No traffic exchanges or manipulation allowed.
Malware is strictly prohibited.
Cons
The platform doesn't offer demographic targeting yet
Some payment methods require documentary confirmation
CPM rates may be different depending on the country
Publishers have to go through a manager for significant changes to ad implementation

Ad Network Functionality
In this section, we're going to break down the key features of the Adsterra network so you can find out what makes them different from other ad networks.
1. Automated Self-Service Platform (SSP)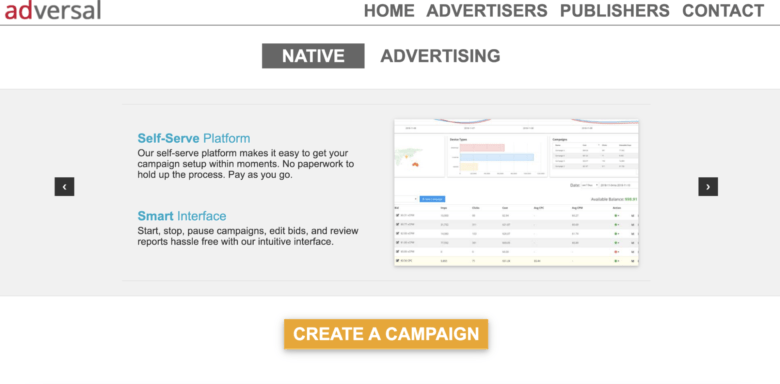 The Adsterra network offers a hassle-free self-service experience to promote your business, product, or app to a broader online audience for those with a limited budget.
You can speed up ad campaign creation, generate ad codes, and maintain 100% control over the ad campaign settings. You can also easily track statistics and monitor ad performance on the intuitive dashboard for all placements.
2. Multiple Ad Formats (Banner ads, Pop-under, Social bar, and more)
Adsterra offers many different ad types, including a wide variety of classic and all-new ad formats in varying sizes for both desktop and mobile:
Leaderboard display banners: 8×60, 728×90, and 320×50
Skyscraper vertical display banners: 160×300 or 160×600
Rectangle display ads: 300×250, 800×440, and 468×60
With the Adsterra network, You can earn money by using the best ad formats quickly and safely. These adapt to all types of website categories and look native:
Popunder: One of the most used native ads. A full-page ad is shown in a new browser and does not overlap your web content. Best for blogs, streaming websites, file hosting, downloads, entertainment, and movies.
Popunder is one of the most popular and profitable formats at Adsterra network allows a unique retargeting feature. It helps to reduce too many ads on your site that may drive traffic away.
It is an excellent alternative to traditional pop-up ads and is rivaled only by the Social Bar ad format, rapidly gaining popularity.
Social Bar: A next-gen and revolutionary ad format developed that offers better engagement than web push ads and does not require subscriptions. The social bar is best for videos, movies, streaming, file hosting, software, file converter, and catalog.
Several factors contribute to Social Bar's success and high profitability.
Firstly, the fact that it's fully customizable – creatives can look precisely the way you want them to, starting from the format (chats, video pre-rolls, etc.) to color, transparency, size, and so on.
This allows Social Bar ads to never stick out like a sore thumb, yet at the same time lets them remain exciting and eye-catching.
Secondly, the highly engaging nature of this format's ads gives clients protection against the notorious "ad blindness" effect. Finally, Social Bar's advantage over its competition is the dynamic iFrames technology that doesn't block web content – non-dynamic iFrames render other page content non-clickable, annoying clients, and causing losses in the long run.
Here are a few examples of social bar ads:
(Source)
Native Ads: These are simple but highly effective ads displayed like editorial content. Their best for personal blogs, books, news, sports, education, games, and finance blogs.
Direct Link Ads: This is a simple URL that you can add to any element of the webpage, including text, images, buttons, etc. Adsterra smart direct link is the easiest way to make money online and is ideal for one-page websites, landing pages, downloads, books, file hosting, webinars, referral link, and catalogs. You can monetize whatever you want with these multiple ad formats, including social networks and apps.
Display of Banner Ads: These are classic Banner ads formats that run on desktop and mobile websites. They are ideal for eshops, news, blogs, webinars, file converters, software, MP3, etc.
Interstitials: These mobile ads cover the whole screen and are commonly used on various apps, especially games.
Video (VAST): VAST videos are integrated into a player's leading video content. These ads are ideal for video hosting, education, sports, and movie sites. In addition, Adsterra offers video pre-roll ads for multiple browser versions.
The ad network has multiple ad types, including CPA and CPM, but the popunders help them stand out.
Publishers can customize popunders, including where the ads appear on the screen, how large the window is, and so on for their advertising campaigns.
3. Support Models
The platform offers multiple cost models, including:
CPM (Cost Per Mille/1,000 impressions)
CPC (Cost Per Click)
CPI (Cost Per Install)
CPA (Cost Per Action)
CPL (Cost Per Lead)
CPV (Cost Per View)
RTB (Real-Time Bidding)
This range of flexible cost models means that publishers can monetize all types of traffic – desktop/mobile traffic, social/mobile app, and web page traffic – and get paid in various ways.
This is great for you if you want to have complete control over the type of ads used on your website to ensure they match your audience's traffic and typical use patterns.
For instance, if you have highly engaged visitors that frequently click links and ads, you may benefit more from CPC or CPA ads on your website. However, for less engaged (but larger) audiences, you may experience better results by monetizing them with CPM ads.
4. Enhanced Security
In this Adsterra review, I wanted to show how they strive to provide publishers with a safe experience by using in-house security software and reliable third-party solutions on fraud detection systems, together with manual services to weed out fraud, malware, unsolicited downloads, and scams.
The company also developed a proprietary Anti-Adblock solution that helps increase publisher revenue by up to 20%, and you can use ad-type filters to match the perfect ads for your site.
5. Smart AI-Powered Optimization Tool
Yet another fantastic feature of this ad network is the intelligent AI-based optimization tool that analyzes your website traffic and selects the most profitable offers suited to your audience.
This ensures effective monetization for your site's landing page and overall website, social media pages, mobile apps, gaming, software, sweepstakes, and other verticals.
You are still in complete control of your ad feed, which means you can adjust the feed settings to choose the verticals you want to exclude.
6. Referral Program
I wanted this Adsterra review to show that they offers an easy and transparent referral program to attract high-quality advertisers that allow publishers to earn an extra 5% of the revenue generated by anyone they refer to the platform. When you sign up as a publisher on the ad network, you're given a unique adsterra.com referral link. You can use it to bring references by blogging about Adsterra, directly sharing the link with others, or inserting the reference link on various social media platforms.
Adsterra vs. Competitors
Adsterra is one of the leading global advertising platforms that provide value to publishers and advertisers. However, it's far from the only ad network available to help you meet your website monetization goals.
Below, I've listed 3 of the top Adsterra alternatives and competitors.
AdMaven
AdMaven is yet another robust ad network that offers advertisers and publishers great-performing ads and high ROI. It's a possible alternative to Adsterra, and the platform supports a wide range of ad formats and cost models for global coverage.
Why Choose AdMaven?
You have a dedicated, round-the-clock support team to help you reach your performance goals.
Flexible pricing models to increase ROI, including CPA, CPM, CPC, etc.
Quickly integrate various ad formats into your site for immediate monetization.
Proprietary optimization tools offer high eCPM and revenues.
Full-screen ads, push ads, and various other ad formats for monetizing your site.
Platform filters out unwanted creatives and malware to keep your site safe and secure.
Traffic Nomads
Traffic Nomads is an ad network that offers an exclusive push ads inventory to run campaigns with the highest conversion rate. In addition, the platform provides cutting-edge ad technology for publishers and advertisers to boost ROI.
Why choose Traffic Nomads?
There are multiple ad formats, including pops, native, calendars, banners, and in-page push.
Select the hottest geographies with the most vital daily impressions.
Alert-style push ads for attracting more visitors and increasing CTR.
High-performing verticals, including sweepstakes, gaming, dating, crypto, and casino.
Intuitive analytics dashboard for optimizing and analyzing campaigns.
Fraud prevention technology is for 100% exclusive push traffic-free from bots.
Datspush
Datspush is an ad network that specializes in push ads in multiple formats, including in-page, popunder, and native. The platform has over 17 billion push impressions from across 250 different countries.
As a publisher, you can easily set up push notifications on this multi-format ad network by simply choosing a design and integrating the scripts into your website. You can then start monetizing your visitors immediately.
Why Choose Datspush?
Reliable, 24/7 support team and dedicated account manager
Low bids, starting at $0.001 with a $50 minimum deposit.
High-performing verticals, including new track, finance, gaming, dating, etc.
Advanced targeting to help you reach broader audiences and boost ROI.
Real-time statistics for analyzing your campaign performance.
Quick and easy account set-ups and daily payouts.
There are many other networks in the running for the top spot in the industry including:
Newor Media (No minimum traffic threshold)
Mediavine
Adthrive
You can also check out how Adsterra compares with Adsense in my Adsterra vs Adsense comparison article.
Payment Policy
Adsterra pays their partners is pretty straightforward from Wire Transfer, Cryptocurrencies, and more. There are multiple payment options, and publishers can choose from the following:
Webmoney: $5 (minimum payment threshold)
Paxum: $5
Bitcoin: $100
PayPal: $100
Tether: $100
Bank Wire Transfer: $1,000
Adsterra offers 15NET regular automated payouts.
Adsterra Pricing
Adsterra provides you with instant income and high CPM rates. This is the number one reason many publishers choose this platform to monetize their blogs, websites, and Facebook pages.
CPM rates depend on many different factors: quality traffic, the amount of advertising on the website, ad placement, seasonality, users' location, audience characteristics: OS of users, their browser, etc.
The best news?
Adsterra doesn't cost publishers anything.
You read that right. Adsterra doesn't charge anything to their publishers because they pass all costs off to advertisers. This alone is a good enough reason to try out their network.
Product Support
If you get anything from this Adsterra review, know that Adsterra prides itself on providing top-tier support. The company has a 95% customer satisfaction score. Adsterra's clients who worked with other ad networks before say that they've never seen managers that are as approachable and helpful as Adsterra's – and none that respond as quickly. All this and more is due partly to our in-house training program, Partner Care, our unique approach to client support.
If you happen to get stuck during any stage, from set-up to tracking ads and anything in between, the platform has a reliable and knowledgeable customer support team that provides personalized and quick support in a variety of ways:
Personal Account Manager: Every new account is assigned the contact details of a personal manager, including a business email to contact them whenever you need help on the platform.
Tickets: Alternatively, you can raise a ticket to get solutions related to any of your account queries and problems.
24/7 Live chat: If you need immediate help, there's always someone available to assist you through the website's live chat feature.
Skype: You can also chat with support on Skype to get help tweaking your ads or campaigns so you can make them profitable from the very start.
Email: You can always get your questions answered via email, although this may have a considerable delay in response time compared to tickets and live chat.
Documentation: The website also has extensive help files, resources, and guides to help everyone from total beginners to more experienced users who want to know how to get the most from the platform.
As you can see, regardless of the type of help you may need, the Adsterra team is always at your disposal, and you can contact them in any way that is convenient to you.
Adsterra Review Q&A
How to get started with Adsterra Ad Networks
Getting started on Adsterra is a simple process. All you have to do is follow these steps:

Step #1: Sign up on Adsterra. Provide your name and email to create an account.

Step #2: Complete registration. Provide the necessary information for the registration process.

Step #3: Log onto your dashboard to check the status of your request.

Step #4: Once the ad network has approved your request, you will receive an email.

Step #5: You will be given a code to add to your website to begin monetizing your traffic immediately when you get the approval.
How to paste Adsterra ads on my blog
Once you have been approved as a publisher on the network, you will be given a piece of code that you must copy and paste onto your website to start showing ads to visitors. Then, follow the prompts on your Adsterra user dashboard to complete the process.
Does Adsterra filter site traffic?
Adsterra has proprietary software designed to help them detect and block fake and bot traffic. In addition, the platform values quality over quantity when it comes to traffic, which means you won't make a lot of money from any manipulative approaches, whether you buy the fake traffic intentionally or if you are a victim of fraud.
How much time does approval take for Adsterra?
According to the website, approval for joining the ad network can take up to 3 hours during working hours. But, website approval can be as quick as one minute so that you can get started instantly with the SSP platform. 

Is Adsterra Legit?
Adsterra is legit, and I hope this Adsterra review helps better explain the platform. It's a great company that offers tons of value to publishers and advertisers.
This ad network is also a great place to start for new marketers and blog owners with very little traffic.
It has advanced API and tracking integration and 24/7 service from the Adsterra support team.
It is known for its intuitive self-to-serve platform in the industry of many other ad serving solutions with easy API integration, IP targeting, multiple level anti-fraud protection.
The emphasis on affiliate offers and high-converting web traffic presents a winning formula that makes the platform particularly lucrative for affiliate marketers.
Although there are a few things that could be improved on the platform, all in all, the ad network does a superb job of maintaining high-quality publishers and advertisers.
Whether you want to use Adsterra as an AdSense alternative or if you're going to use it in conjunction with another network, this is a great ad network to consider for monetizing your traffic.