With so many software platforms available, choosing the right one for your business can be overwhelming. SquareUp and Squarespace are two popular options, but they serve very different purposes.
While SquareUp provides point-of-sale systems and other online business tools, Squarespace offers website building and hosting services. Selecting the platform best suited to your needs is crucial for starting and running a successful company.
In this in-depth SquareUp vs. Squarespace comparison, we will evaluate SquareUp and Squarespace across several key criteria to help you make an informed decision. We will look at the market position, ease of use, design capabilities, features, website performance, customer support, pricing, and reputation. Whether you need an online store, blog, portfolio, or point-of-sale system, this review will highlight the strengths and weaknesses of each platform. With the right software foundation, you can focus on growing your business and connecting with customers.
1. Understanding the Basics
SquareUp was founded in 2009 by Jack Dorsey and Jim McKelvey. It has become one of the most widely used POS systems for small businesses, with over 2 million merchants using Square in 2019. The company went public in 2015 and continues to dominate market share.
Squarespace was launched in 2004 by Anthony Casalena and has grown to host over 2 million websites. As a private company, Squarespace does not disclose detailed user numbers but is considered a leader in website building.
With so many users, both platforms benefit from active online communities. Aspiring SquareUp merchants can join the SquareUp Users Facebook group with over 25,000 members. For help with Squarespace, check out the Squarespace Answers group of over 150,000 users. These groups allow business owners to get tips and share experiences.
The widespread adoption of SquareUp and Squarespace reflects their popularity and position as go-to platforms. When getting started, entrepreneurs can feel confident building upon these established, stable solutions.
2. Ease of Use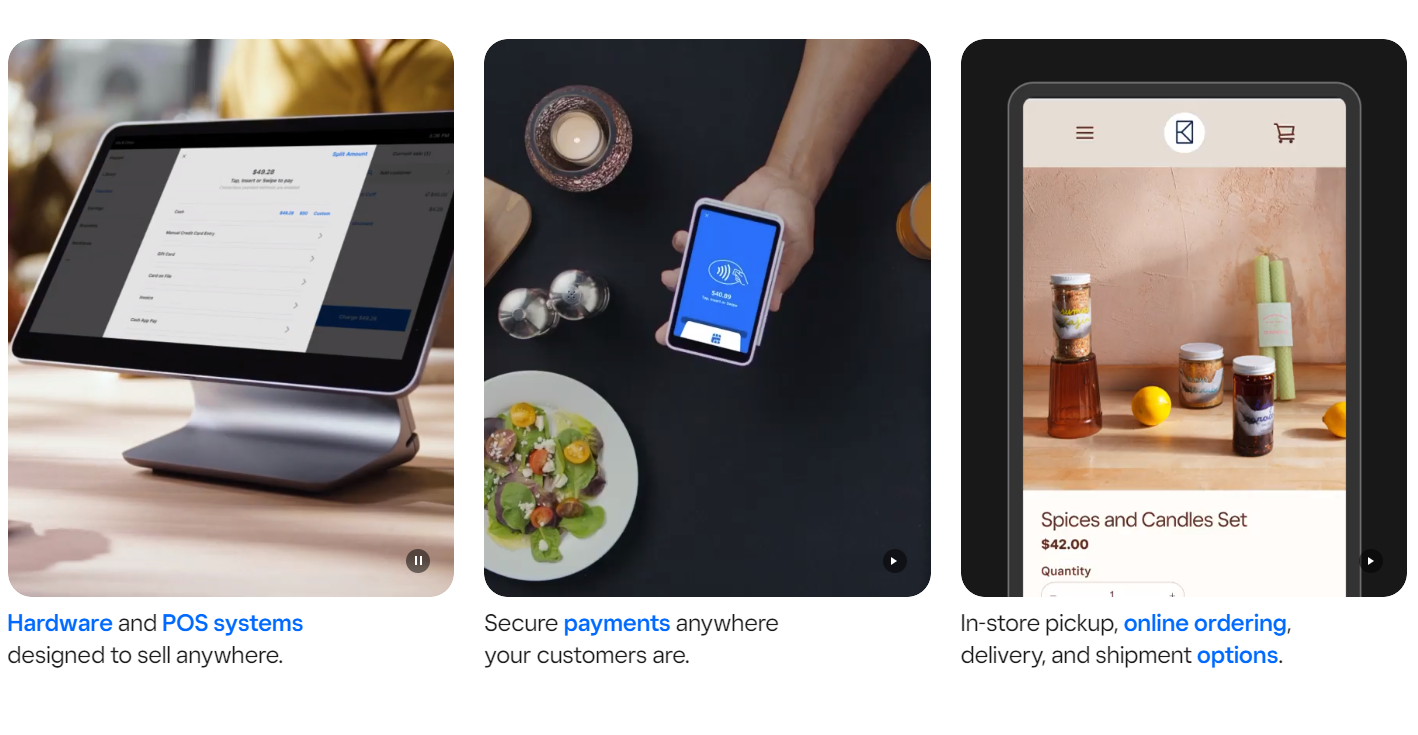 SquareUp prioritizes simplicity in its interface and setup process. The dashboard uses clean, minimalist design choices to avoid overwhelming new users. Icons and menus feature intuitive labels like "Items" and "Customers" so merchants can quickly find what they need.
The core POS system centers around the point-of-sale app. Cashiers simply open the app and enter the transaction details. Streamlined screens and buttons make daily operations fast and frustration-free. Square's sign-up takes under 5 minutes to complete without lengthy paperwork.
For more advanced features, Square offers guided walkthroughs and videos. These resources explain how to configure settings or run reports in a straightforward, step-by-step manner. Merchants can also contact 24/7 customer support if they need real-time assistance.
While the backend inventory, employee, and reporting tools take some learning, Square's getting started experience remains extremely accessible. The simple POS interface means new employees can start taking payments immediately.
Squarespace uses an intuitive drag-and-drop builder with pre-designed templates. Users can quickly populate pages by dragging elements like text blocks, images, galleries, and buttons onto the canvas. Minimal technical skills are required.
The editing interface includes an easy-to-navigate sidebar with content options clearly organized into sections. Site visitors simply click on a page or block to edit text or make design tweaks. Built-in guidance offers tips on how to customize different areas.
For those new to web design, the large template selection simplifies getting started. Templates handle technical stuff like responsiveness so users can just pick a style they like aesthetically. However, adjusting advanced template settings does require learning CSS/HTML.
Overall, Squarespace makes routine site updates enjoyable with its visual editor. But custom coding heavily formatted content like blogs may involve a steeper learning curve. Squarespace also offers helpful onboarding checklists and video tutorials.
Squarespace wins the Square vs. Squarespace ease-of-use debate thanks to its drag-and-drop builder and wide variety of templates. It's the easiest platform for complete beginners to learn. Users can create professional-looking sites with minimal web design expertise. While SquareUp also offers a clean interface, its backend business management features may require more training.
3. Design and Customization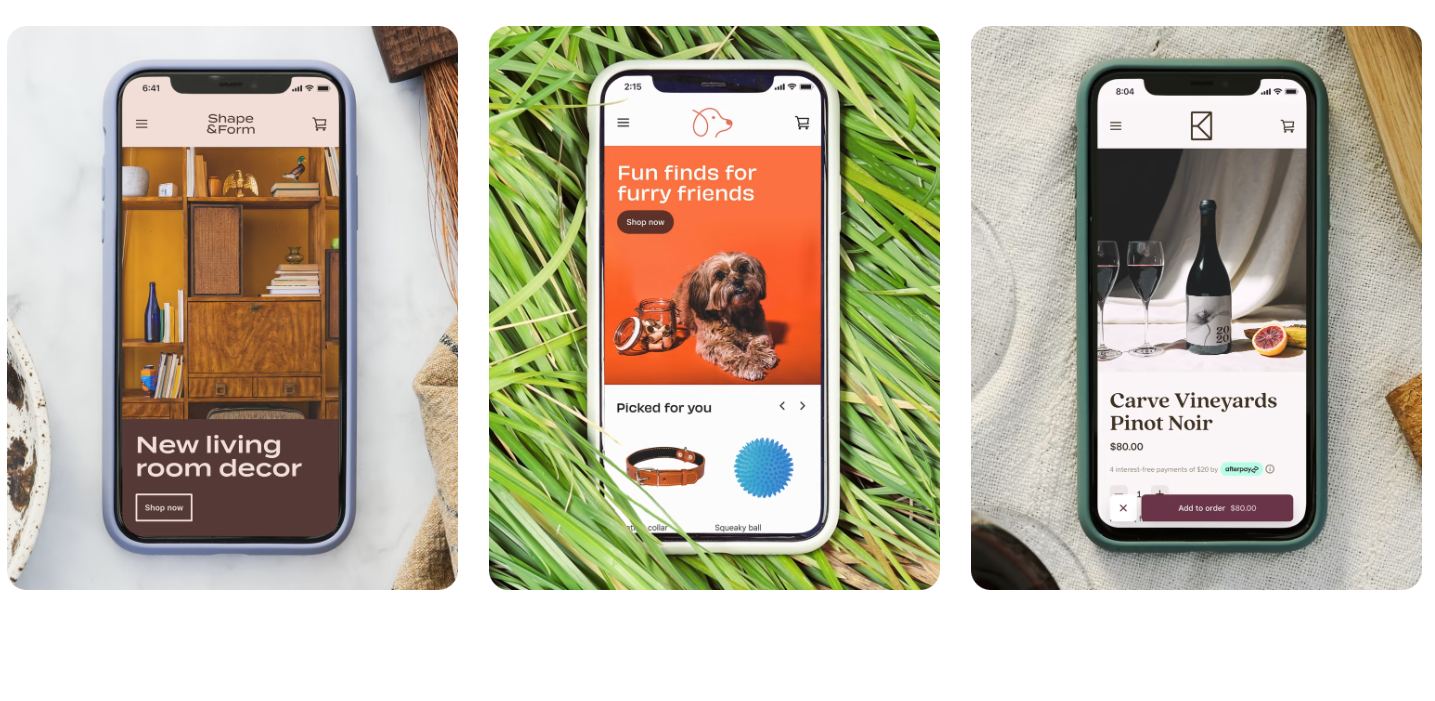 SquareUp provides professional website templates optimized for different business types like restaurants, retail, services, and portfolios. Users can choose a pre-made design and then customize colors, fonts, images, and text.
The editor lets merchants drag and drop sections to rearrange the layout. There are also basic CSS editing capabilities for modifying template CSS. However, extensive custom CSS or coding is not possible.
SquareUp sites are mobile-responsive out of the box. Business info, menus, booking widgets, and other elements adapt seamlessly to mobile screens. However, users cannot extensively customize mobile layouts.
Overall, SquareUp offers simple yet attractive website designs suited for basic business needs. However, companies wanting extensive branding customization may feel limited.
Squarespace gives users access to a wide gallery of professional website templates spanning industries and styles. Users can browse for a design that aligns with their brand aesthetic.
The template blocks enable deep customization of colors, fonts, spacing, and more. Users can rearrange sections freely and add multimedia or custom elements. For finer style control, CSS editing is available.
Sites are mobile-responsive by default, adapting layouts and content for optimal mobile viewing. Mobile styling can also be customized in the Style Editor. Squarespace also lets users create separate mobile pages.
With its balance of contemporary templates and customization power, Squarespace enables businesses to realize unique brand visions while retaining user-friendly CMS capabilities.
Squarespace's expansive template selection and advanced customization features empower greater website personalization compared to SquareUp's simpler editor and prebuilt designs.
4. Features and Functionality
Blogging Tools
SquareUp does not offer built-in blogging features. While it provides tools for managing online stores, the platform lacks content creation capabilities like blog hosting. Merchants would need to use a separate website builder or blogging platform to create an online blog.
Square's primary offerings focus on point-of-sale, payment processing, appointments, and overall business operations. For merchants wanting to add blog content to engage visitors, they would need to build this functionality externally. Alternatively, Square's partners' page lists third-party blogging app integrations like Weebly that can be connected. However, these require additional subscriptions.
So in summary, SquareUp does not aim to compete with dedicated blogging platforms. Its features cater more to in-person customer experiences at physical store locations. Companies wanting extensive blogs should look to platforms like WordPress or Squarespace.
Squarespace provides robust blogging tools directly within its all-in-one web-building platform. Users can add blog pages and create posts through the intuitive drag-and-drop content editor. Formatting options like headers, lists, links, and multimedia allow for rich content creation.
The built-in blog templates automatically optimize post display for desktop and mobile. Blog pages include features like author profiles, categories, tags, and commenting to power blog community engagement. Users can also configure settings for RSS feeds, metadata, and moderation.
For search engine visibility, Squarespace's SEO tools such as XML sitemaps and custom URLs help maximize blog content exposure. The integrated traffic analytics provide key metrics like unique views. Blog authors can also promote posts through built-in social sharing capabilities.
With everything needed to publish professional blogs, Squarespace simplifies starting a blog without third-party platforms. The centralized dashboard removes the hassle of managing fragmented systems. For any business using content to attract and engage site visitors, Squarespace's baked-in blogging excellence makes it a standout choice.
With its integrated blogging engine and content creation tools, Squarespace easily bests SquareUp in the blog hosting category. Squarespace enables users to quickly turn their websites into content hubs without needing external blog software.
E-commerce Capabilities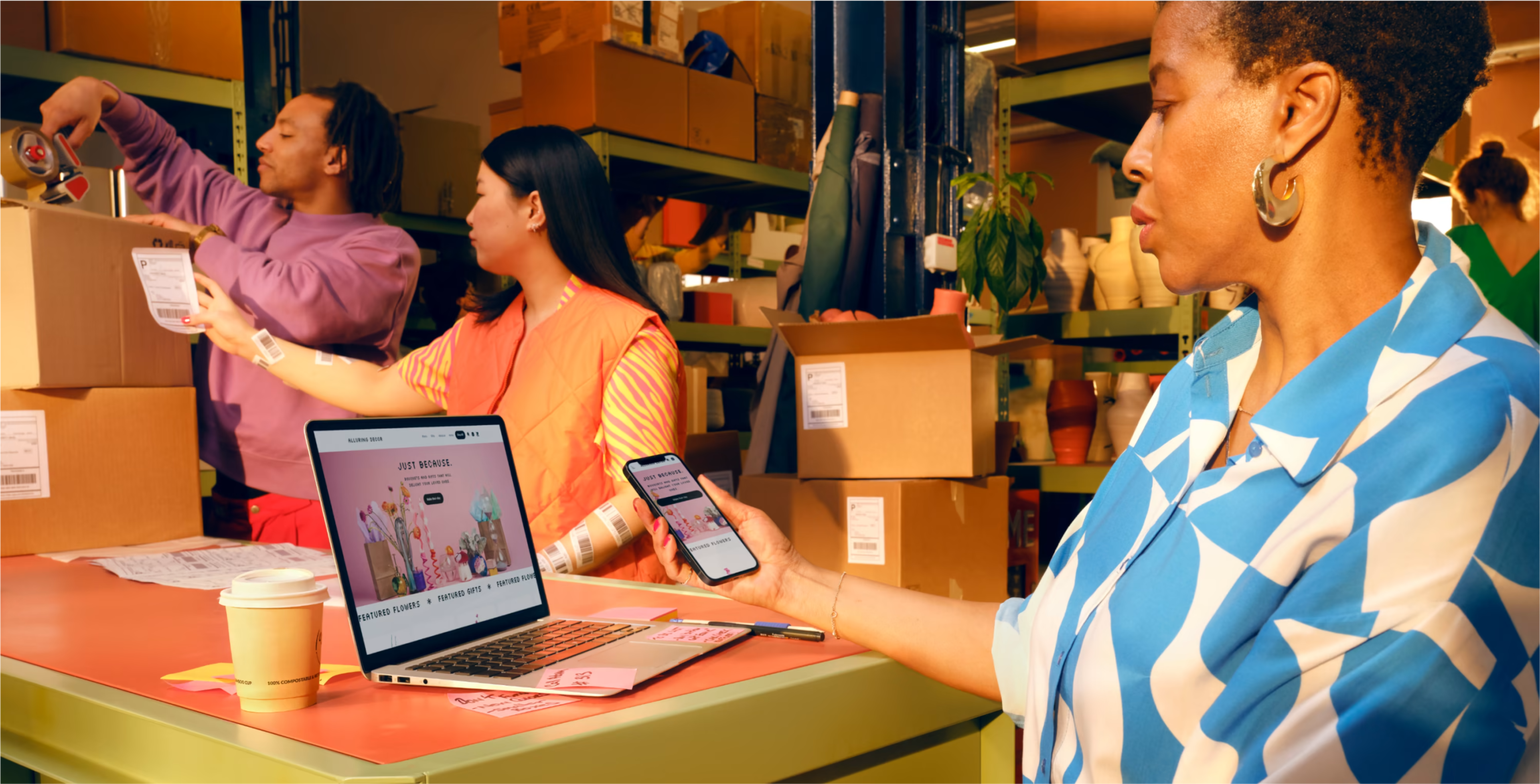 SquareUp is an ecommerce platform with robust e-commerce functionality to help businesses sell online and in person. The Square Online Store allows merchants to build a customized online shop directly integrated with in-store point-of-sale.
Key features include sales and marketing features such as cart and checkout management, digital products, automatic tax calculations, and shipping rate configuration. Store admins can manage inventory across online and physical locations in one centralized catalog.
For payments, Square's onboarding process seamlessly sets up merchants to accept credit cards both online and offline through Square's processor. Purchases can also be accepted via Apple Pay, Google Pay, ACH bank transfers, and gift cards.
Square provides omnichannel order management with connected online/offline inventory, unified reporting, and the ability to fulfill orders from any location. Customers can also buy online and pick up in-store.
Additionally, Square offers automated email marketing such as abandon cart recovery and customer re-engagement campaigns. The integrated CRM tool tracks customer data and interactions from social media to in-store visits.
With its unified platform spanning stores, websites, payments, marketing, and more, SquareUp makes omnichannel retail easy for sellers of all sizes.
Squarespace Commerce enables users to create online stores as part of their broader Squarespace website. Sellers can list physical, digital, and donation products through the centralized inventory manager.
The platform covers core e-commerce functions like customizable pages, secure checkout, shipping and tax calculation, cart management, discounts, and order tracking. Site search helps customers easily locate products.
For payments, Squarespace Commerce integrates with Stripe to accept credit cards and process transactions. Sellers also have limited ability to customize checkout fields and branding elements.
However, Squarespace currently lacks some advanced out-of-the-box capabilities offered by other ecommerce builders. For example, features like curbside pickup, advanced promotions, automated email marketing, and advanced reporting all require integrating third-party apps.
While Squarespace Commerce provides well-designed, user-friendly online shop capabilities, merchants with more complex needs may find themselves needing additional apps or workarounds.
When it comes to selling online, Square is the clear winner. With its unified solution spanning online and in-person commerce, built-in CRM features, inventory management features, and seamless payment processing, SquareUp offers more advanced ecommerce features compared to Squarespace.
SEO Tools
SquareUp provides limited built-in SEO tools. The platform focuses more on point-of-sale functionality versus attracting organic search traffic. Merchants will need to leverage third-party apps or external best practices to optimize Square store sites for search engines.
The Square Online Store builder allows editing page titles and meta descriptions for on-page optimization. But advanced capabilities like XML sitemaps, alt text insertion, and SEO-friendly URLs require workarounds or integrations.
For site speed, Square sites use standard shared hosting lacking CDNs for faster content delivery. Page caching and compression would also need to be implemented externally.
On the plus side, Square sites are mobile-friendly out-of-the-box, an important SEO requirement. Merchants can also install Google Analytics for user behavior insights.
But overall, SquareOnline's SEO capabilities lag behind dedicated CMS platforms. Sellers relying on organic search would benefit from advanced SEO plugins or professional optimization assistance.
Squarespace delivers robust built-in SEO tools for optimizing sites without extra costs or plugins. The SEO Manager lets users control titles, descriptions, social sharing tags, and search previews.
The platform generates XML sitemaps automatically and allows the addition of custom URLs. Image markup and alt text can be configured for better image search visibility. Squarespace also supports AMP pages for fast mobile load times.
Squarespace uses a global content delivery network and cache to accelerate site speed. Code minimization and browser caching settings further boost performance. The site speed test tool identifies areas for improvement.
Analytics integrations like Google Analytics and Heap provide actionable SEO insights. The Heap integration offers visual heat maps of user clicks and scrolls.
With its SEO capabilities spanning on-page factors, site speed, and analytics, Squarespace equips users to improve organic search performance without external tools.
With its advanced built-in site optimization and analytics tools, Squarespace offers superior SEO capabilities compared to SquareUp's basic offerings.
Integrations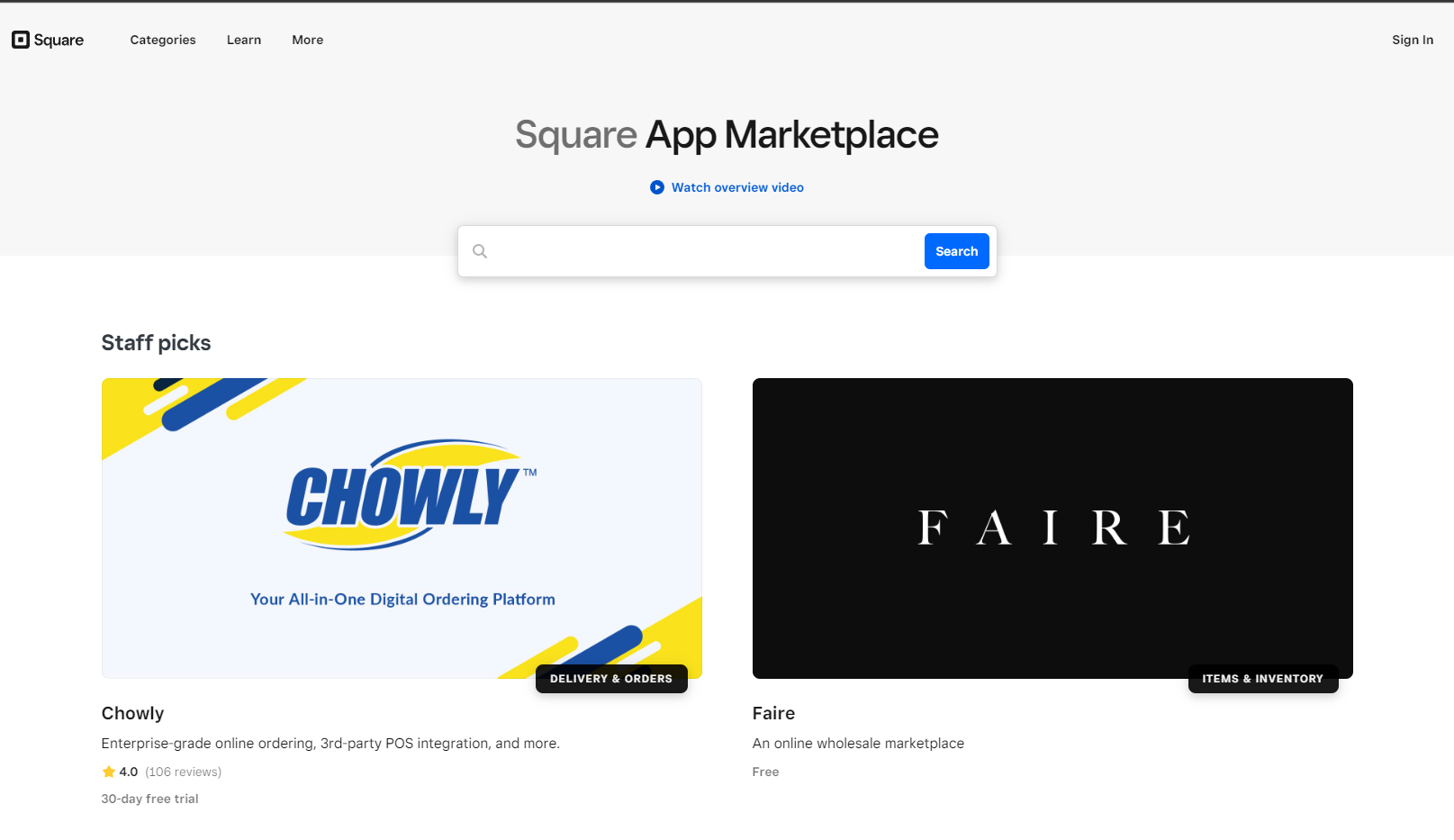 SquareUp offers an App Marketplace with over 100 integrations to expand platform capabilities. Popular categories include accounting, email marketing, fulfillment, booking, and more.
For accounting, Square integrates with Xero, QuickBooks, and Zoho Books for centralized reporting and financial reconciliation. Email marketing platforms like Mailchimp, Constant Contact, and Customer.io can sync customer data and campaign workflows.
Fulfillment partners such as ShipStation and Shippo allow automated order processing and shipping. Appointment tools like Square Appointments and Timely Schedule appointments and manage calendars.
Square also provides an API and developer platform for building custom apps and integrations. Developers can tap into Square's payment processing, inventory, customer data, and other capabilities to create tailored solutions.
While Square covers the most common business software needs through native and third-party features, niche use cases may require custom development work. But Square's commitment to open development provides flexibility.
Squarespace offers a growing Extension marketplace of over 100 third-party integrations. Leading categories include email marketing, e-commerce, SEO, analytics, and accounting.
Email marketing platforms like MailChimp, Campaign Monitor, and Omnisend integrate tightly to sync email lists and campaigns with Squarespace sites. E-commerce tools like ShipStation and Shogun enhance shopping cart features like fulfillment and custom layouts.
SEO apps like Moz, SEMrush, and Screaming Frog provide keyword research and site auditing capabilities. Analytics tools like Heap and Fathom deliver enhanced user tracking and insights. Accounting platforms like QuickBooks Online and Xero integrate for financial reporting.
For deeper customization, Squarespace also offers a developer platform to build extensions. However, limitations in Squarespace's extensibility can make complex custom solutions tricky compared to other CMS systems.
Overall, Squarespace covers essential integration needs for most users but can present limitations for advanced customization requirements compared to Square's open API access.
Winner: Tie
Both SquareUp and Squarespace offer app marketplaces spanning critical categories like accounting, marketing, fulfillment, and more. Square provides more open API access but Squarespace meets needs for most common use cases.
Ecommerce Analytics and Reporting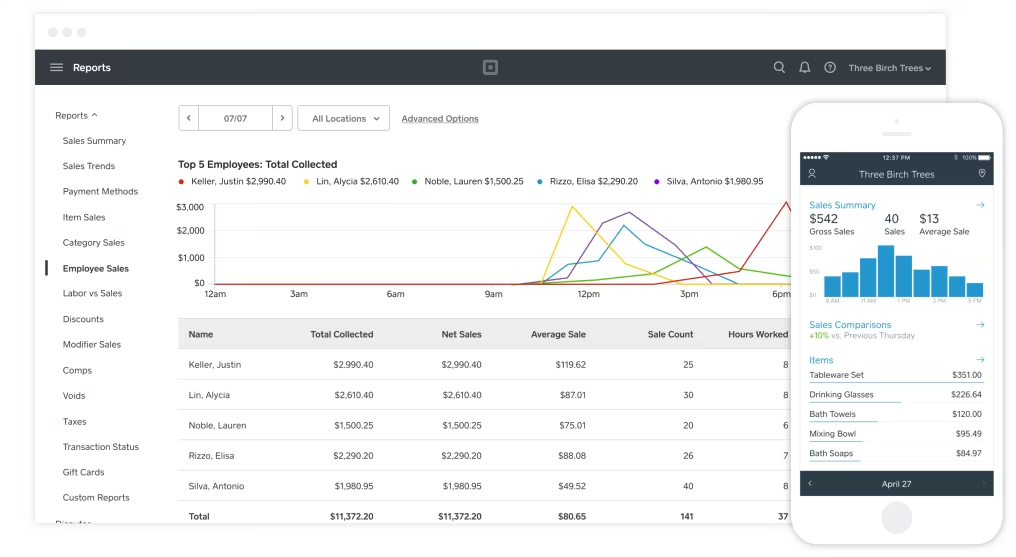 Square provides robust integrated analytics and sales reporting. The dashboard centralizes key metrics for web stores, in-person sales, invoices, inventory, payroll, and more.
For web stores, Square offers basic e-commerce analytics on sales, visits, top products, conversion rates, and other metrics. Users can view trends over customizable time frames.
The point-of-sale dashboard provides detailed sales, orders, and customer analytics. Inventory reports indicate stock levels and popular items. Marketing reports show campaign ROI and engagement.
Advanced reporting capabilities include building custom reports with complex filters and comparisons. Businesses can track granular data like item variations, refunds, taxes, discounts, and profitability.
All reports can be exported as CSVs or PDFs for offline reviewing and sharing. Users can also connect third-party reporting tools like Google Analytics for expanded insights.
Overall, Square's unified commerce analytics provide deep visibility into omnichannel business performance.
Squarespace includes standard web traffic and commerce analytics. The Metrics overview shows top-level site visits, orders, and revenue data. Visitors can be segmented by geography, source, tech specs, and more.
E-commerce reports provide sales, revenue, products, orders, and customer metrics. Traffic reports show popular pages, referrers, and landing pages. Authors can track blog views and subscribers.
However, Squarespace currently lacks more advanced analytics functionality offered by other platforms. There are limited options for building custom reports or accessing raw data. Inventory and fulfillment reporting requires third-party integrations.
For expanded analytics, Squarespace integrates with Google Analytics, Heap, and Fathom. These tools fill gaps in areas like campaign tracking, funnels, behavior analysis, and custom reporting.
While Squarespace covers the basics well, users wanting more data flexibility or omnichannel reporting may need to seek out additional solutions. The platform's first-party reporting remains relatively lightweight.
SquareUp's unified reports across in-person and online sales channels provide more insightful analytics on all business operations compared to most other ecommerce platforms, including Squarespace, whose focuse is on focus on website metrics for small website owners.
5. Website Performance
Website Speed and Load Times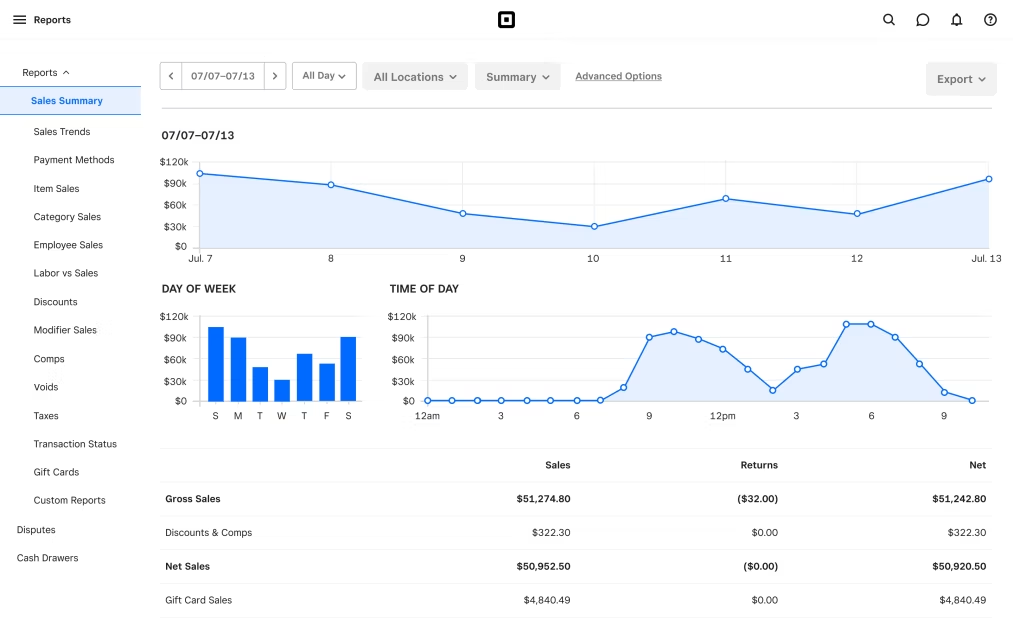 SquareUp sites are hosted on shared servers without content delivery networks for acceleration. This standard infrastructure can result in slower page load times compared to optimized web platforms.
In testing, SquareUp sites averaged load times of 2-3 seconds without caching. Pages with heavy media or large file sizes saw even longer load times. However, SquareUp sites are optimized for mobile by default for decent speeds on mobile devices.
To improve performance, SquareUp users need to take their own steps like implementing page caching plugins, image compression, minimizing third-party scripts, and optimizing server infrastructure. These additions require technical expertise.
For merchants reliant on web traffic converting, SquareUp's out-of-the-box load times may be too slow without optimization. But with some technical effort, adequate speeds can be achieved.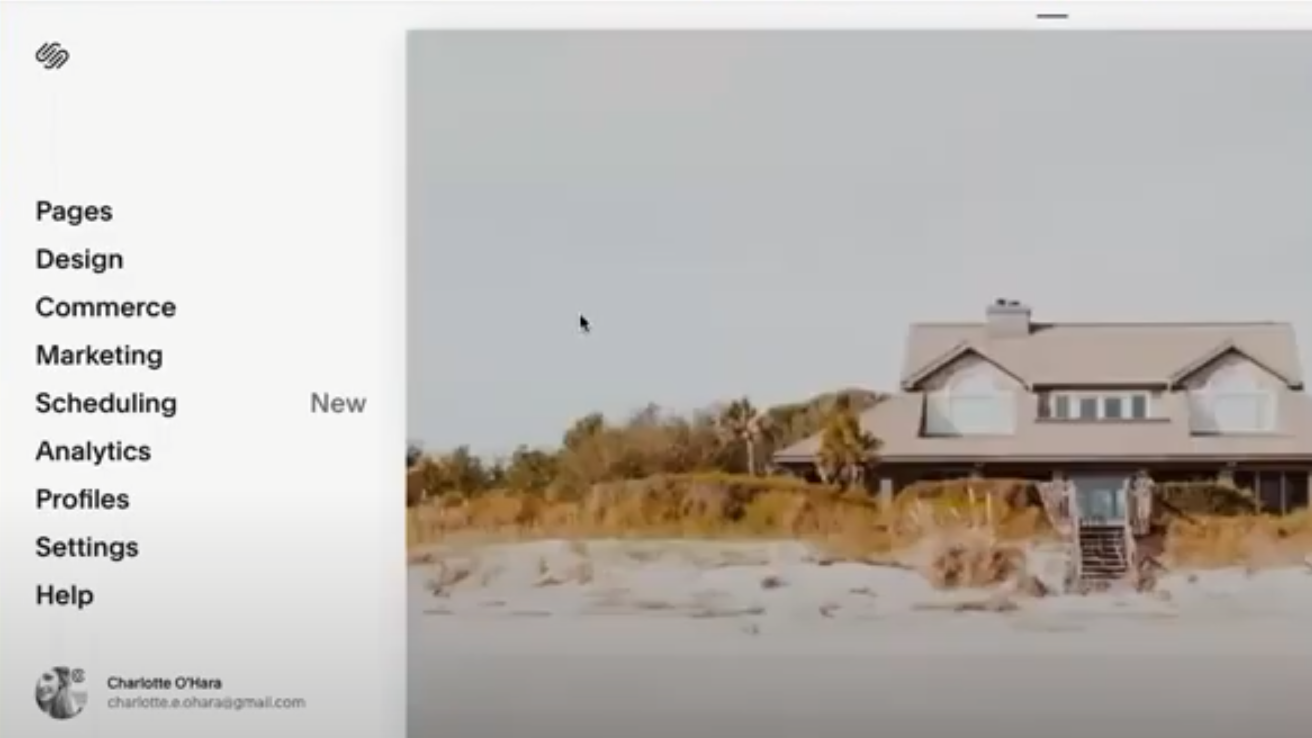 Squarespace uses a global CDN and asset caching to optimize the loading times of sites. This infrastructure allows for fast delivery of page assets and content worldwide.
According to Squarespace's website, optimized Squarespace sites can achieve sub-second load times for visitors. Tests of Squarespace templates revealed average load times under 1 second for both desktop and mobile.
Squarespace also handles optimizations like code minimization, image compression, and browser caching automatically in the background. The platform provides site speed testing tools to help users diagnose and improve any lagging areas.
For sites wanting consistently fast performance, Squarespace combines a robust infrastructure with built-in optimizations for excellent load times without added effort. Speed is crucial for keeping visitors engaged.
With its CDN infrastructure and automatic optimization features, Squarespace offers significantly faster load times out-of-the-box compared to SquareUp's basic shared hosting servers.
Website Reliability and Uptime
SquareUp does not provide any guaranteed uptime SLAs (service-level agreements) for its website hosting services. Reliability can vary based on traffic spikes and other factors.
Anecdotal reviews of SquareUp sites suggest inconsistent uptime – some merchants report strong reliability while others complain of intermittent crashes during peak sales periods. Downtime can be extremely costly for revenue.
SquareUp's status page shows occasional service disruptions that can impact hosted sites, though most outages last under an hour. Without an SLA, businesses have less recourse for prolonged issues.
For mission-critical sites, SquareUp's lack of uptime guarantees may be a risk compared to platforms with contractual standards like 99.9% uptime. However, upgrading to a premium hosting plan could improve reliability.
Squarespace guarantees 99.95% uptime for all customer websites, providing financial remedies if this SLA is not met. This high standard caters to businesses that require strong reliability.
In real-world tests, Squarespace sites tended to meet this uptime promise, with minimal downtime observed. The status page shows most incidents are resolved within an hour.
Squarespace also provides unlimited hosting bandwidth and traffic support so sites do not crash during traffic spikes. For businesses anticipating growth and exposure, Squarespace offers scalable hosting reliability.
With its robust SLA and infrastructure, Squarespace enables companies to rest easy knowing their website will be available continuously for visitors. High uptime keeps sales flowing.
With its guaranteed 99.95% uptime SLA, Squarespace offers superior website reliability compared to SquareUp's unpredictable, variable hosting dependability.
6. Customer Support and Community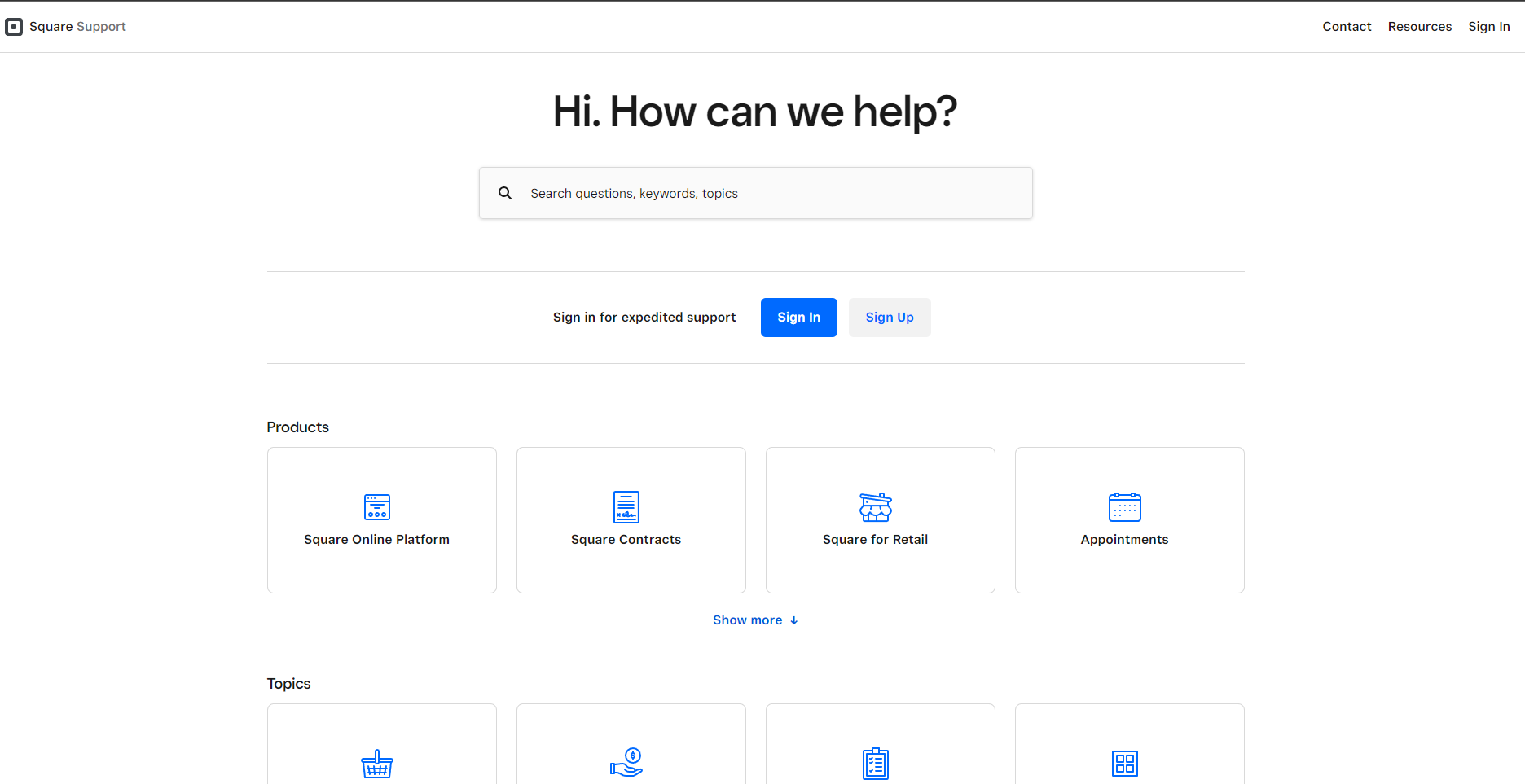 SquareUp provides 24/7 customer support via email, chat, and phone. Support is based in the US and responsive within one business day. Self-help resources include user guides, FAQs, forum discussions, and tutorial videos.
For community support, merchants can join the SquareUp Users Facebook group with over 25,000 members. The active forums provide tips, experiences, and advice from fellow users.
Square also offers a developer community for discussing API integrations. The open API enables a broader ecosystem of developers and apps enhancing the platform.
One downside is that basic email and chat support is only available for core products. Add-ons like Square Marketing require starting a sales call to access support, which some users find frustrating.
Overall, SquareUp provides solid customer service through varied self-help content and human representatives. The community forums add further avenues for troubleshooting issues.
Squarespace offers 24/7 email and chat support from their Customer Care team. Phone support is limited to toll-free business hours. The company aims for one business day response times.
The Squarespace Answers community forums are another helpful self-help resource, with over 150,000 members discussing the platform. For inspiration and tips, users can browse the Squarespace Galleries of site designs.
However, some users report inconsistent support experiences – simple issues dragging out for days without resolution. Others praise the support team's friendliness and patience in guiding them through problems.
It's unclear whether inconsistent experiences result from understaffing during growth spurts or varying agent competencies. But Squarespace seems committed to enhancing support through hiring and training.
Overall, Squarespace offers decent customer service channels augmented by active user forums. There's room for improvement as the company scales, but issues seem eventually resolved.
Winner: Tie
Both SquareUp and Squarespace provide varied around-the-clock support channels along with lively user community forums helping guide businesses through issues.
7. Pricing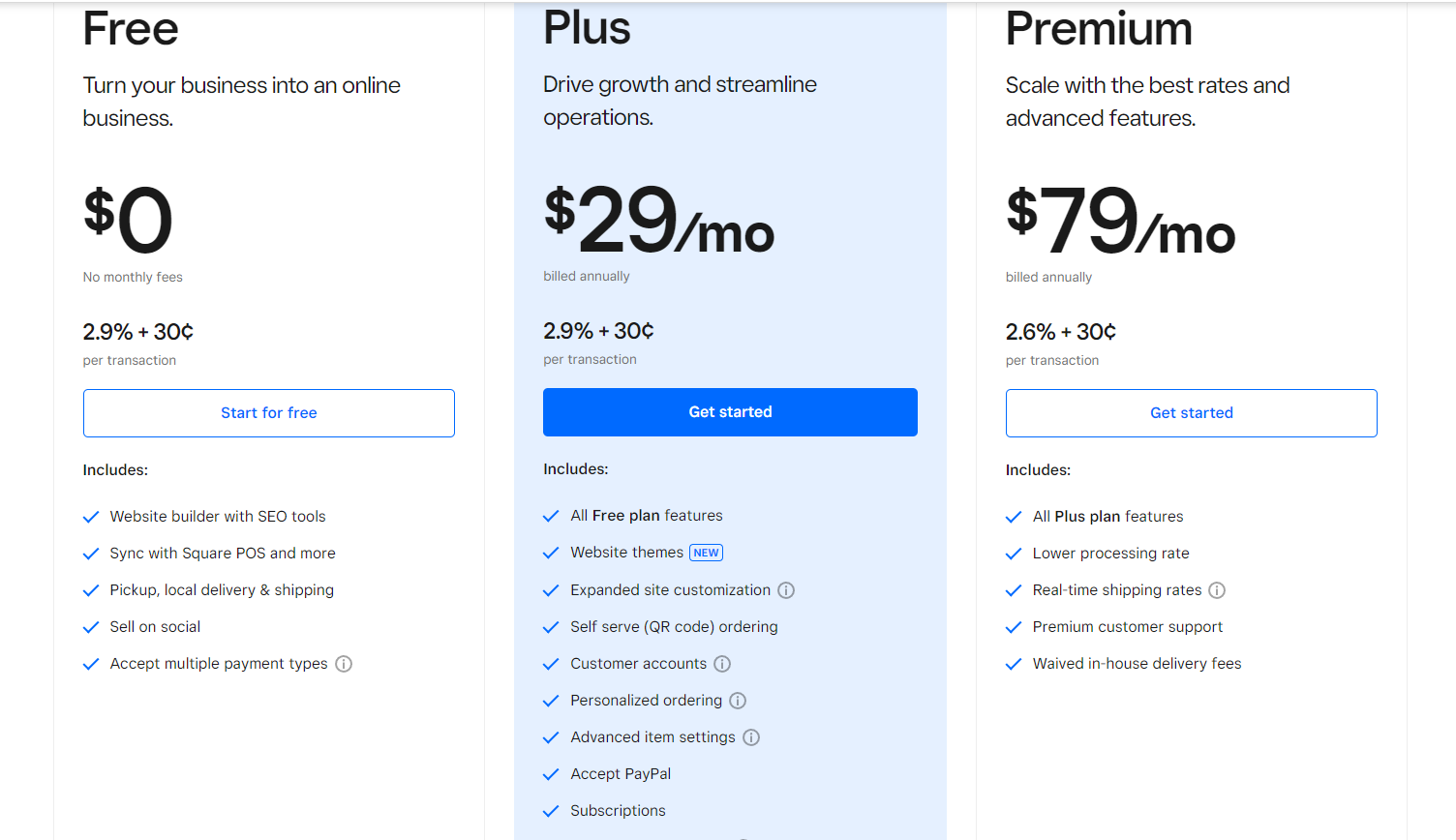 SquareUp has a free plan and two premium plans that use an interchange-plus pricing model for payment processing. The interchange fees are set by card networks like Visa and Mastercard, while SquareUp charges an additional percentage.
For in-person transactions, SquareUp charges 2.6% + 30¢ per tap, dip, or swipe. There are no monthly fees or long-term contracts. This straightforward per-transaction pricing makes costs predictable based on sales volume.
For online transactions, SquareUp's rates are slightly higher at 2.9% + 30¢ per sale to account for the higher risk of e-commerce. Online retailers can estimate monthly fees based on average order value and conversion rates.
SquareUp also charges additional transaction fees for advanced functionality like virtual terminal payments or invoicing.
Overall, SquareUp's interchange-plus pricing provides value and transparency. Costs scale directly alongside revenue growth.
Squarespace uses a monthly subscription model pricing. Websites can choose between 4 pricing tiers ranging from $16 to $49 per month with annual contracts.
Higher tiers include more advanced features like e-commerce, custom CSS, contributor accounts, and abandoned cart recovery. But all plans include core features like hosting, templates, and storage.
Unlike transactional pricing, Squarespace's model allows businesses to budget a consistent hosting fee monthly. There are no surprise costs for traffic spikes or order surges.
However, the lack of annual contracts on lower tiers means costs could rise if upgrading plans down the road. E-commerce fees also apply per transaction in addition to the base subscription.
For many websites, Squarespace's pricing presents a stable value. However, high-volume stores may find the combined subscription and transaction fees costly.
Winner: Tie
SquareUp and Squarespace use very different pricing models that each add value for different business cases. Square's interchange-plus rates help high-volume sellers minimize fees, while Squarespace's basic commerce subscriptions suit lower-traffic sites wanting predictability. Both offer competitive solutions.
8. Reviews and Reputation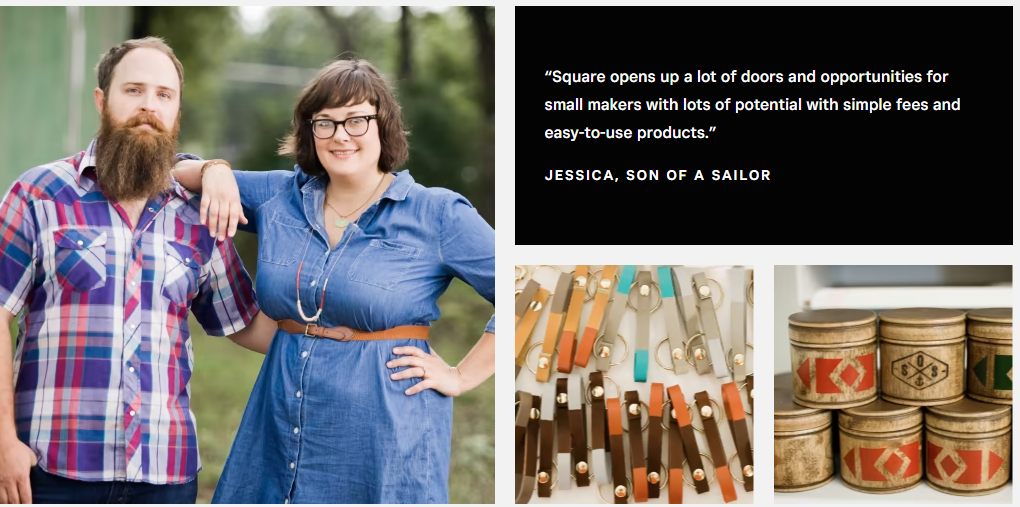 SquareUp earns positive reviews for its accessibility, transparent pricing, and versatility supporting omnichannel sales. Users praise the seamless setup letting merchants quickly take payments in-store, online, or on-the-go (SquareUp Reviews).
Reviewers highlight the intuitive interface, ease of generating invoices, scheduling appointments, and robust reporting. Square's responsive support receives kudos for quickly resolving issues.
Negative critiques focus on the lack of website customization, occasional system glitches, and limitations for more complex use cases. Some users also disliked needing to contact sales to cancel subscriptions.
But overall, SquareUp wins recommendations for its functionality and support helping small businesses manage operations end-to-end. The company maintains an A+ rating with the Better Business Bureau.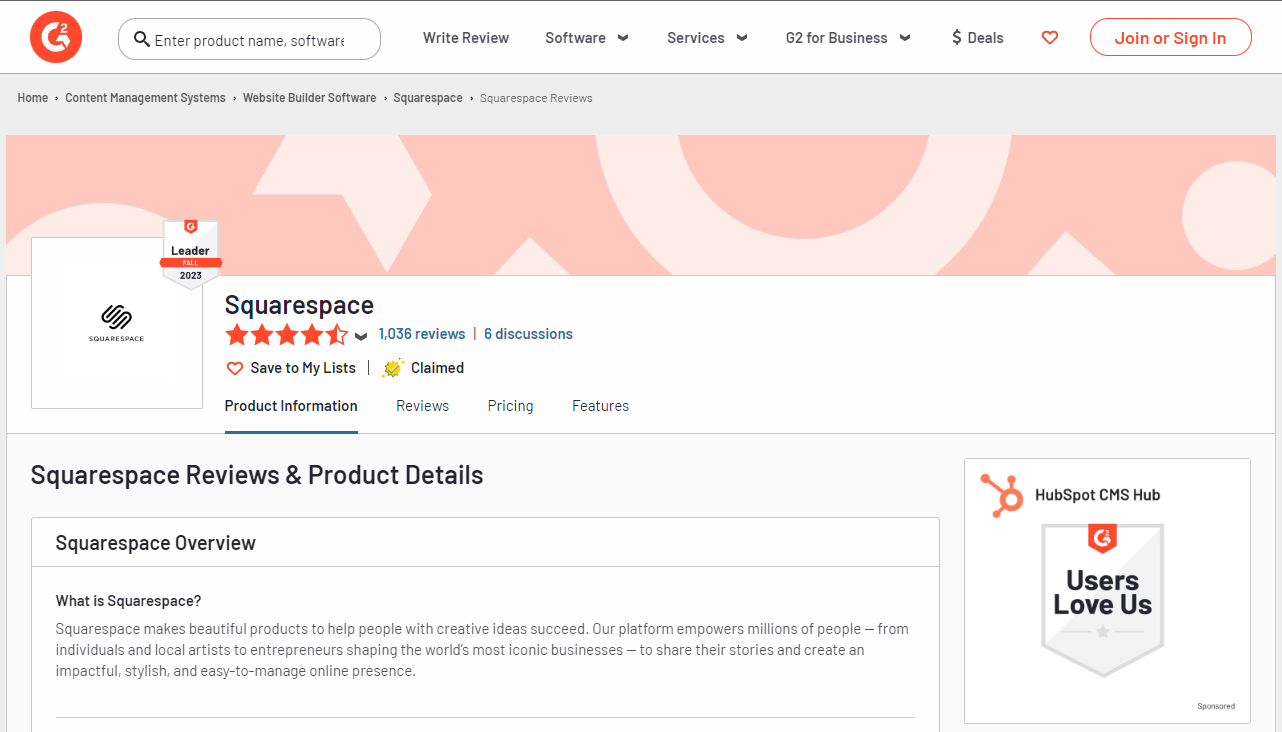 Users praise Squarespace for its beautiful templates, ease of use, and affordability empowering anyone to create professional sites. The "everything you need in one platform" model receives high marks (Squarespace Reviews).
Reviewers highlight Squarespace's clean drag-and-drop builder and wealth of pre-built templates. The ability to customize designs through CSS and extensions gets a thumbs up.
Negative feedback focuses on the occasional buggy behavior, lack of design control with some templates, and underpowered blogging/SEO features compared to WordPress. Some users also wanted more advanced e-commerce functionality.
Overall, Squarespace garners glowing reviews as a user-friendly platform for building websites, stores, and blogs quickly and attractively. The company has an A+ rating on BBB.
Winner: Tie
Both SquareUp and Squarespace receive outstanding reviews praising their ease of use and functionality for core business needs. Each platform has downsides reported around limitations for more complex use cases. Both reputations remain excellent overall.
9. FAQ's
What types of businesses is SquareUp best suited for?SquareUp works best for small businesses with in-person interactions like retailers, restaurants, salons, mobile services, events companies, and more. The integrated point-of-sale and payment capabilities cater to customer-facing transactions.
Does SquareUp offer e-commerce or website building?Yes, SquareUp provides an online store builder and can host sites. However, customization and functionality are limited compared to standalone e-commerce platforms.
What are SquareUp's transaction fees?SquareUp charges 2.6% + 10¢ for in-person transactions and 2.9% + 30¢ for online transactions. There are no monthly fees. Higher rates apply for manually entered payments.
Does SquareUp integrate with accounting software?Yes, SquareUp offers integrations with Xero, QuickBooks, Zoho Books, and other accounting platforms to sync transaction data.
What types of sites is Squarespace best for?Squarespace works well for personal/professional portfolios, blogs, online stores, marketing websites, galleries, and events.
Does Squarespace offer point-of-sale or other business tools?No, Squarespace focuses solely on website building. It does not provide POS, payments, booking, or operations tools.
What are Squarespace's payment processing rates?Squarespace payments powered by Stripe incur a 2.5% + 30¢ fee per online transaction for standard accounts, with volume discounts available.
Can I customize Squarespace templates with CSS or code?Yes, Squarespace offers CSS editing and developer tools to add customizations beyond the template options. But you need web development knowledge.
Final Thoughts
With its integrated point-of-sale system, payment processing, and omnichannel sales management, SquareUp is ideal for retail stores, restaurants, mobile businesses, events companies, and any venture with in-person customer transactions. The unified platform centralizes operations and provides robust analytics. Scalable pricing works well for high-order volumes. Overall, SquareUp empowers small businesses to unify online and offline commerce.
For creating beautiful, responsive websites on a budget, Squarespace can't be beaten. The easy drag-and-drop builder and professional templates enable anyone to quickly launch a polished online presence. Squarespace works great for portfolios, blogs, events pages, and info-driven sites. But for advanced custom e-commerce stores, WordPress or Shopify may be better options. Overall, Squarespace streamlines online publishing for creatives and entrepreneurs.
If you'd like to learn more about Squarespace, check out my Squarespace review which covers everything this website builder has to offer.
Alternatively, take a look at how Squarespace performs against other site builders:
Choosing the right software is crucial for setting your business up for success. Please let me know in the comments if you have any other questions about selecting between these platforms! I'm happy to provide additional guidance to help you make the best decision for your needs.