Teespring — now known simply as Spring — is a popular print-on-demand website where you can design and sell custom t-shirts and other merchandise. What sets Teespring apart from other print-on-demand sites is that entrepreneurs can use it to launch their own t-shirt business without the need for startup cash — it's absolutely free.
When you are selling t-shirts and other merch on Teespring, your job is to advertise your designs and get customers to visit your listings and make a purchase.
Here's how to make money on Teespring by selling t-shirts.
What is Teespring and How Does it Work?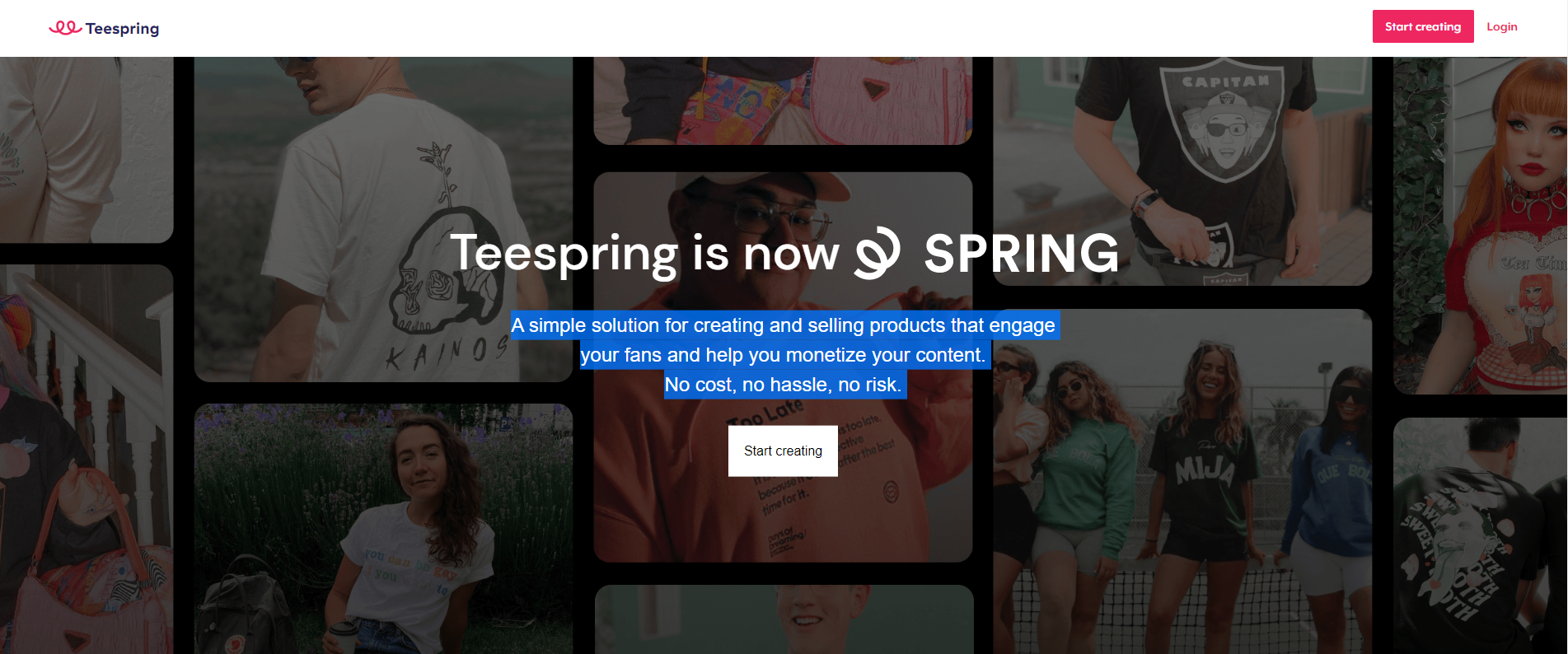 Teespring, or Spring, is an ecommerce platform that was created in 2011 by Evan Stites-Clayton and Walker Williams. The idea was to make it easy and convenient for people to make and sell their own custom merch online to a global audience, regardless of where they were doing business.
More than a decade later, over 11 million people visit Teespring every month. The site is now well known in the print on demand industry as an online market that performs well and delivers exceptional service.
You don't have to build or manage your own website, or order tons of material and supplies. There's no dealing with the logistics of printing or shipping, and you don't have to store inventory. With Teespring, you can make money by simply uploading your custom designs and letting them handle the merchandise and deliver it to your customers.
Teespring is for everyone—from entrepreneurs looking to start their own online business to charities looking for an easy way to raise money. It's also a fantastic tool for content creators who can use the platform as "a simple solution for creating and selling products" that engage fans and help you monetize your content, with "no cost, no hassle, no risk," per their website.
The platform has such a good reputation and is so trusted that Forbes named it one of the best ways to make money online by selling well-made t-shirts and other merch.
Teespring is a free platform where you can create and sell over 50 kinds of products with no upfront costs or risk. They handle everything — from printing to shipping to customer service.
The company's goal is "to empower anyone, anywhere to turn their ideas into products, brands, and businesses." This is why they have taken the hassle out of selling t shirts and other custom merch online, and have made the process as easy as possible.
When using Teespring to sell merchandise, you'll get:
Do you Need to Pay to Use Teespring?
No. Creating a Teespring account is free and selling merchandise on the site requires no upfront costs. All products are made-to-order.
You'll earn profit when you make a sale. If you choose to opt-in to some of the Teespring sales-driving tools, like the Boosted Network, a portion of your profits may be deducted to pay for that service.
How Does Teespring Pay You?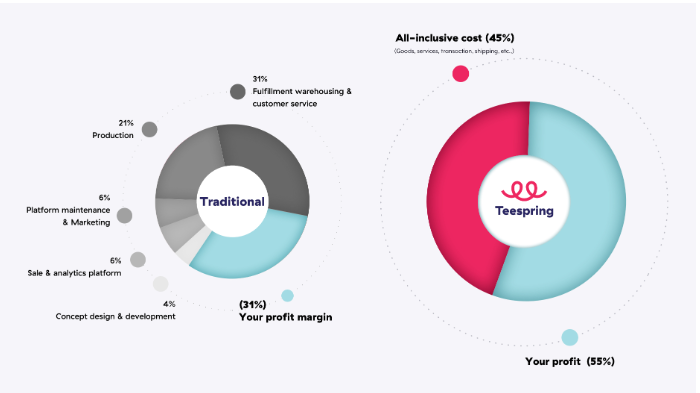 To make money with Teespring, you choose the selling price for all your products. Which means you determine the amount of profit you will earn from each sale. For example, you choose to make a shirt with a base cost of $10 and sell it for $25. That means that every time you sell one of those shirts, you will earn a profit of $15.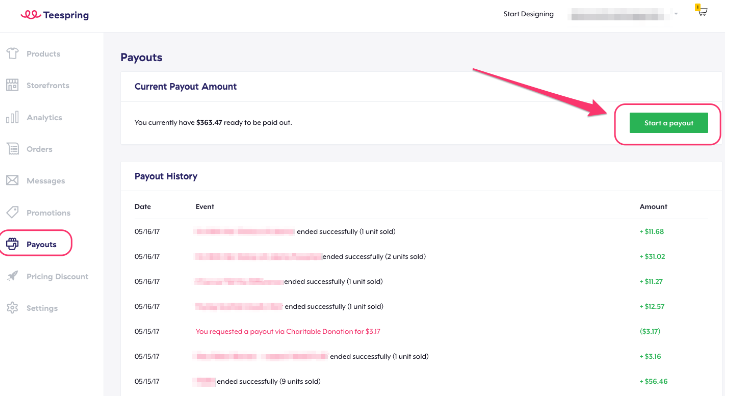 When a product sells and the order is processed, you will be able to withdraw that profit in the Payouts section of your Teespring account.
Teespring takes your payouts very seriously, and they have a complex system of checks and balances that happen before they hit "approve" on a payout. This system does take time, but it can be significantly sped up if you follow their fast-tracking tips.
Sellers who earn pricing discounts every month because of consistent product sales get pushed to the front of the payouts line.
Accounts with an established sales history or numerous processed payouts for a particular payout method are greenlit for faster processing.
Using two-factor authentication helps Teespring ensure your account is legitimate so they can fast-track you for payout approval.
Instead of requesting frequent payments, it's best to group your payouts and request more money at one time. Requesting a payout for every sale slows down their system. So, they recommend waiting until you have accumulated at least $100 in profit before you request a payout.
Payouts requests are processed within one to seven working days.
For security purposes, first-time payout requests usually take seven working days to process.
Sellers can request a payout within 24 – 48 hours of orders being dispatched to buyers.
You can request a payout once a listing's print cycle has ended and the orders are dispatched.
Pending payouts worth less than $100 can be requested every three days.
The payment methods used by Teespring to payout all the profits are Payoneer and Paypal. No matter which method you choose, payouts should be received with 24-48 hours of processing. Before you start making and selling products on Teespring, make sure your Paypal account is set up and verified.
6 Easy Steps to Learn How to Make Money On Teespring
1. Create a Free Teespring Account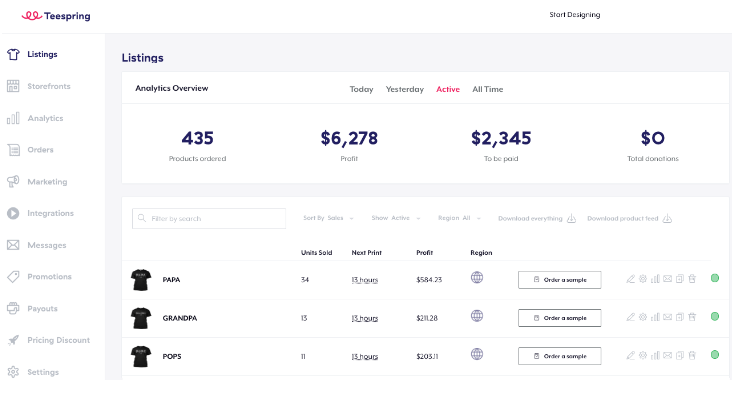 It's completely free to get started on Teespring. You can automatically create an account with your Google or Facebook account, and you can manage your products and sales with the Teespring Seller Dashboard.
This is where you will find helpful insight on your sales trends and monitor your online business.
The Overview section helps you manage your Teespring account "at a glance." You can check on sales performance, find promotional tools, and get company announcements.
In Listings, you can view and edit all of your product listings, order samples, duplicate and archive your listings, and more.

Use the Storefronts Tool to display multiple product listings in one place.
Identify your most popular products and sales channels while gaining valuable insights about your business using Teespring sales analytics.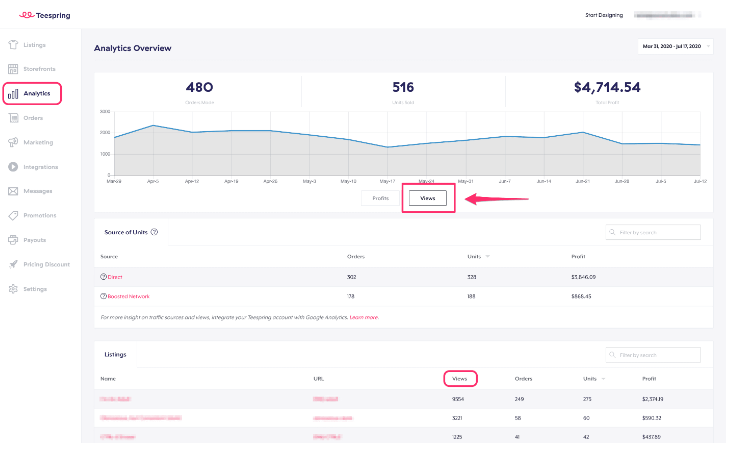 The Orders section lets you keep track of all your personal orders, and you'll be able to see the number of units ordered, purchase amount, order date and number, and delivery status.
The Marketing section lets you add your tracking pixels for other platforms like Google, Twitter, and Facebook.
With Integrations, you can activate and customize Teespring's integrations with YouTube, Twitch, and Streamlabs.
Messages allows you to message buyers through your Teespring account. You can also download buyer emails for marketing, thank you notes, new campaign promotions, and sending out discount codes.
The promotions tool lets Teespring sellers create promo codes for buyers, which can help you increase sales.
The Payouts section of the Seller Dashboard is where you get paid, via Paypal or Payoneer.
The Pricing Discount section is a great tool for when you are first starting out on Teespring and looking for a higher profit margin.
Settings on the Seller Dashboard is where you update your profile information, opt-in to the Boosted Network or other sales-driving services, and add team members to your account if you work with others.
2. Create a T-Shirt Design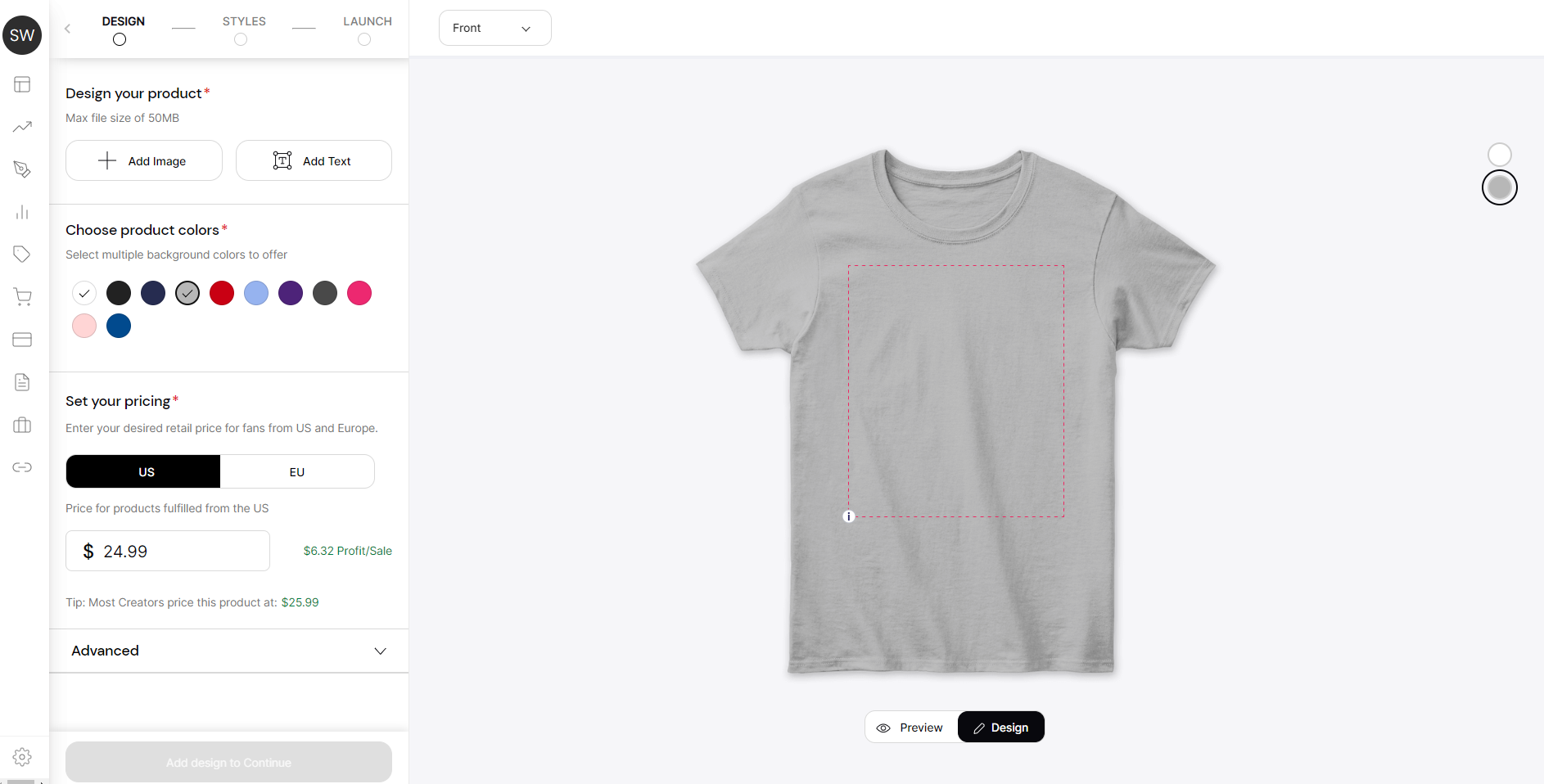 Once you've created your Teespring account, you can start making your own t shirt designs and earning money online. You can use the Teespring tools to create the design for your shirts, or you can upload a logo or design that you've already created using other graphic design software.
Knowing your audience and understanding what they prefer is extremely important in the t shirt design business. Most sellers determine their niche and tailor-fit their designs and styles to match interests in that niche.
Pick the Type of T-Shirt
The Teespring merchandise catalog has many different shirts to choose from, including the classic tee, the comfort tee, the premium tee, the triblend tee, the premium v-neck, all-over unisex, and eco unisex.
3. Choose the Colors and Products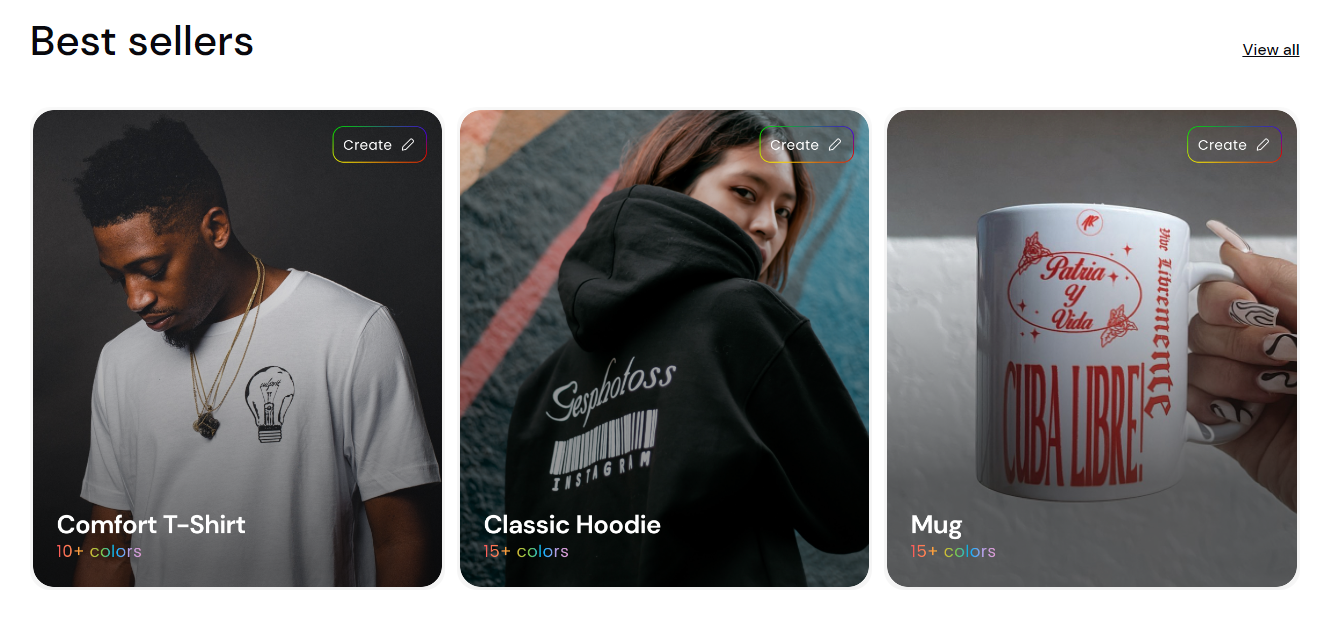 Once you pick the type of t-shirt you want to sell and have added the design, you must choose the colors you want to offer. But, shirts are just the beginning. You can put your designs on other products like coffee mugs, hoodies, accessories, home décor, and specialty products.
4. Set Up the Listings and Add Descriptions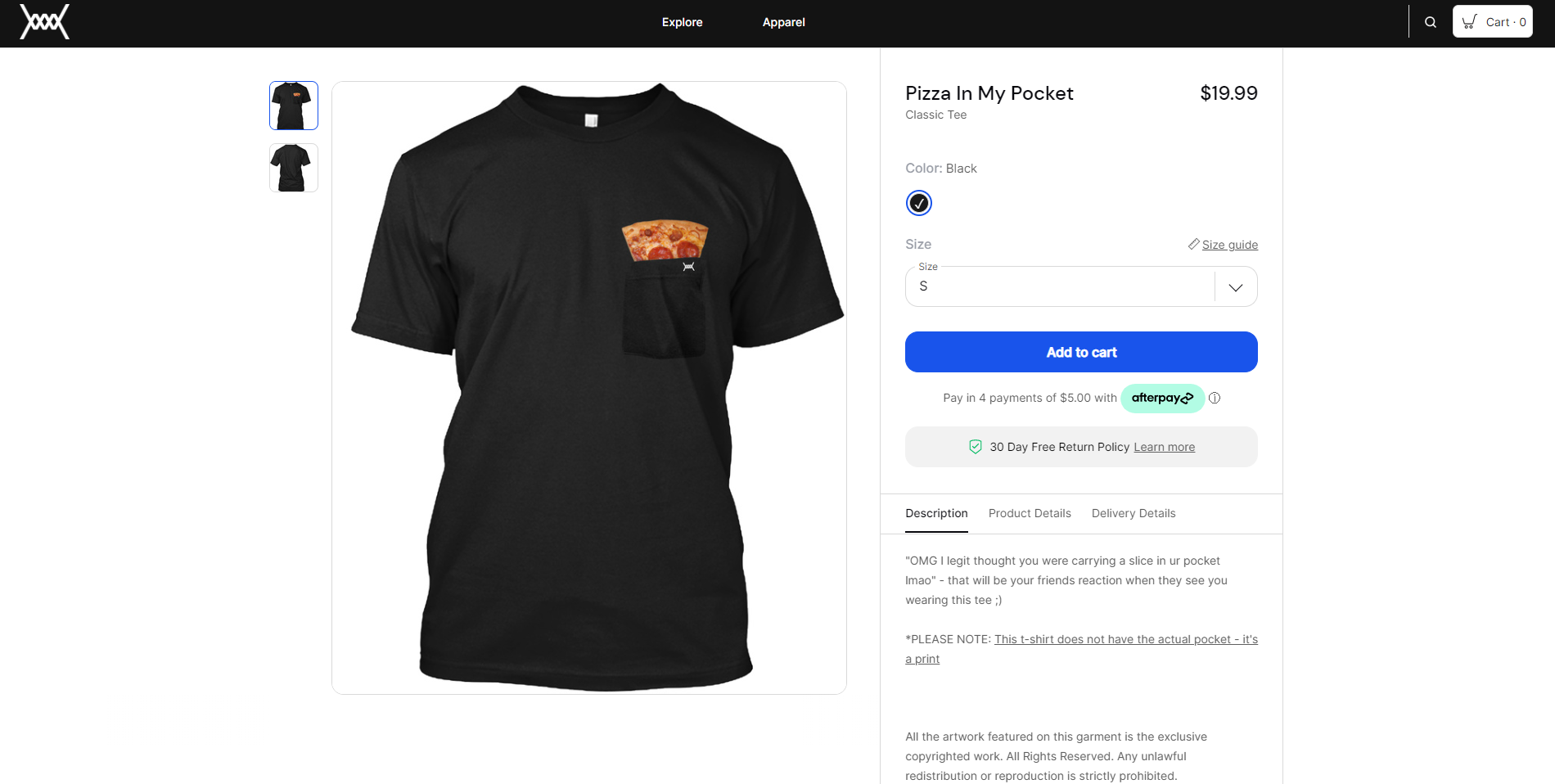 Once you have a design, you need to create the listing. This is how it's going to appear on the store website. You must select a title, a description and a URL. You will also be able to select the type of images that you want to show to your buyers.
Your product listing requires a title, price, item details, and photos. Your listing is how your communicate with your buyers and encourage them to make a purchase. Many of these details are automatically filled in by Teespring.
Sellers should add descriptions to their product listings to share info about the design, including details buyers should know before making a purchase.
Be Creative
Be creative (and honest) with your product descriptions when selling t-shirts online. For example, the "Pizza in My Pocket" tee in the image above has a description that reads:
""OMG I legit thought you were carrying a slice in ur pocket lmao" – that will be your friends reaction when they see you wearing this tee 😉 *PLEASE NOTE: This t-shirt does not have the actual pocket – it's a print."
The 'Listings' section on the Seller Dashboard is where you can view and edit all of your product listings. You'll also get an overview of sales, profit, and the fulfillment region of each listing based on its products.
By clicking the proper buttons and icons in the listings section, you can also access the following tools and customization options:
Order product samples
Edit listings title, details, price, etc.
Update listing settings (schedule end date, print cycle, visibility settings, etc.)
View an individual listing's analytics
Message customers of this listing
Duplicate a listing settings and products
Archive listings to remove them from your dashboard view
Relaunch ended listings to make products available for purchase
5. Publish your Listings
To start making sales, you must publish your product listings. When you publish, the listing will go into your store and then you can start sharing and promoting the link. If needed, you can still go back and make changes or adjustments to the listing after it is published.
As soon as the listing is published, customers will be able to find it and add your products to their cart to make a purchase through your Teespring store. When that order and payment is processed, the profit from the sale will be added to your Teespring payout balance.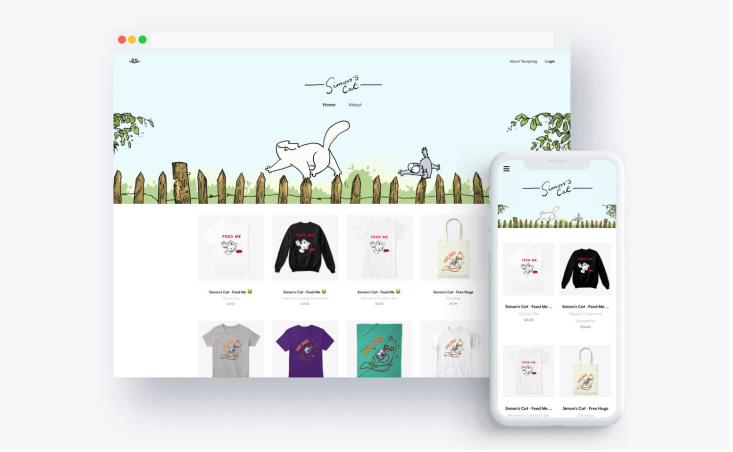 To show off your collection of products, you can open a Teespring Storefront. This is a highly recommended business strategy, as storefronts on the platform tend to get 58% more views on average and sell 20% more units.
Stores can help you unlock more sales and be a valuable brand asset that will encourage buyers to return again and again. To set the mood of your store, choose a logo header and color. You can even create a logo using Teespring's free tools.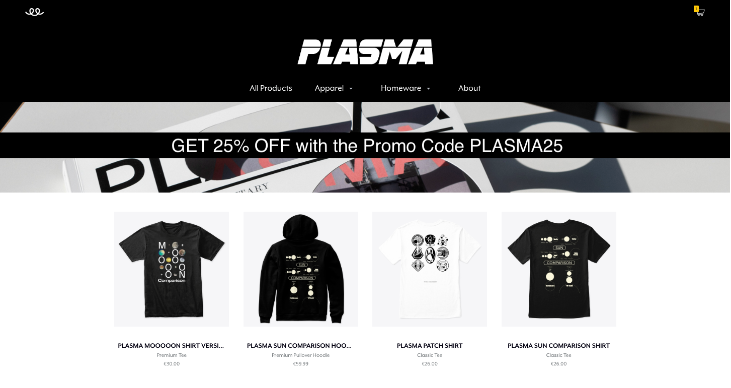 The banner on your storefront works like a Facebook cover photo or YouTube channel banner — it's the first thing your buyers will see when they visit your store. Teespring recommends choosing an image that speaks to your brand, with proper sizing and resolution.
6. Promote your T-Shirts and Listings
Promoting your t-shirts and other merch is how you make money with Teespring, but there is no one-size-fits-all strategy for this. Creating Facebook ad campaigns is an extremely popular method for promoting Teespring products.
Other popular platforms for creating ad campaigns are Twitter, Instagram, and Pinterest. You can also add keywords to your product descriptions to help with product searches.
If you are already a content creator on various social media platforms, you can share your product links in the description of your videos and posts — you can even place them in your bio.
Tell your friends and family and everyone in the different social media groups that you are a part of that you are selling t-shirts, and have that link ready to share in every comments section.
Tips to Maximize Your Sales
Teespring says that sellers who promote real samples of their product see a 50% increase in their sales. Integrating your Teespring store with other platforms is a reliable promotional strategy, and you can do it for free with the Boosted Network (a collection of marketplaces and automated promo tools).
Use the Integrations tab on the Seller Dashboard to activate and customize Teespring's integrations with YouTube, Twitch, and Streamlabs.
If you've got 10k+ YouTube subscribers, you could be eligible to sell your Teespring products on the YouTube merch shelf.
The Teespring x Twitch merch store panel extension gives viewers a fully integrated shopping experience that allows them to purchase your products without having to leave your stream.
Personalized merch alerts on Streamlabs can actually help increase your sales by 30%+ while streaming.
The Teespring x Google Shopping Integration is a must for users who are new to advertising or who have a limited ad budget.
Avoid Trying to Make Perfect Designs and Don't Be Afraid to Make Mistakes
Finding a product that will sell well on Teespring is a process of trial and error. It's very possible that you will design 30 different t-shirts before one of them starts selling and earning you money online.
Making perfect designs isn't the key to success on Teespring. The important thing to remember is to find your niche, keep up with trends, offer many varieties, and learn from your mistakes.
Don't Stop Trying
You can make good money on Teespring, and you don't need any financial capital to get started. However, to succeed in selling t-shirts online, you need fantastic designs, you must be extremely familiar with your niche, and you have to know where your customers are hanging out online and be able to reach them with the proper ad campaign.
Hopefully, this guide has helped you learn how to make money on Teespring.