One of the best ways to start an online business and make money is with the world's largest B2B e-commerce platform — Alibaba.com. This global online marketplace streamlines the buying and selling process by matching suppliers and manufacturers with buyers and retailers.
As a buyer, you can source products at a low price point and sell them for a profit in your own online store.
Alibaba is based in China, but the platform serves over 190 countries. No matter where you are located, you can use Alibaba suppliers to source products for your online business. Currently, the platform has about 779 million customers (buyers and sellers).
How to Start Making Money With Alibaba
The ability to access international suppliers via Alibaba can be the start of a good business idea. It definitely offers the potential of making a lot of sales and profit. However, to sell online and earn money with Alibaba products, you must have an effective business plan and strategy because online sales is an extremely competitive marketplace.
1. Search for Product Ideas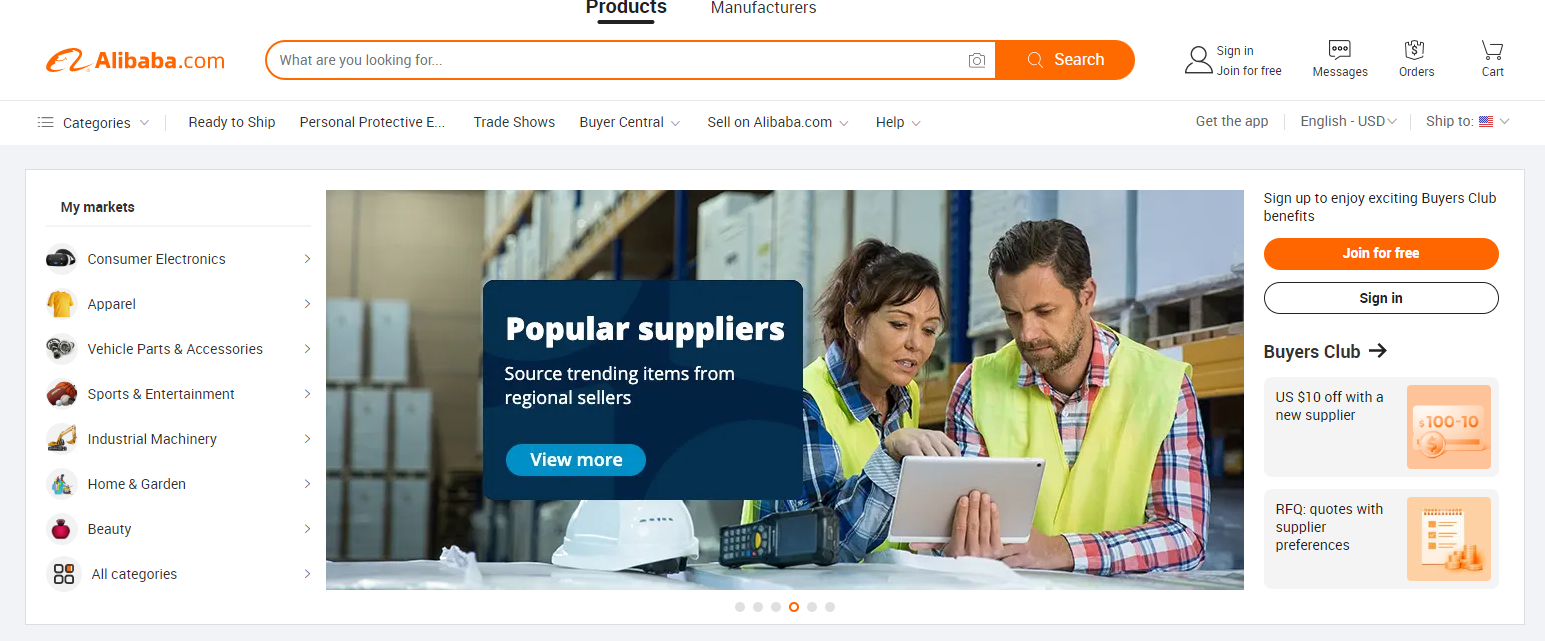 Identifying the right products to sell in your online store is how you make money with Alibaba. As one of the world's largest e commerce platforms — which offers some of the best online selling and marketing tools — people worldwide have made a substantial income using Alibaba. But, there is a method to finding that success — it's all about putting the right products in front of the right audience.
To be successful on Alibaba you must first find the proper niche. There are a few different ways to do this. One method could be to pick a topic or subject to focus on that you are passionate about, and create multiple products around that passion.
For example, say you are obsessed with bulldogs and want to sell products to other bulldog lovers around the world. Create some fun and interesting images and phrases centered around bulldogs using a design tool like Canva, and sell products that features the best ones — hats, t-shirts, keychains, pillows, totes, phone cases, or whatever sells to bulldog lovers the most.
The images and phrases don't even have to be original, but they can't be copyrighted or trademarked. Selling items with anything that has a copyright or trademark will get you into legal trouble very quickly. So, just because you love Harry Potter, that doesn't mean you can open an online store that sells products featuring character images from J.K. Rowling's books.
You could, however, build your own brand of wizard-friendly products to sell in your store. Seriously, there are Alibaba suppliers who sell things like magic wands, house badges, cloaks, and robes.
Instead of building a store around a specific topic, you could settle on a specific slice of the marketplace. Categories like health & beauty, home décor, party favors, or office supplies.
Another way to find a good niche and identify products to sell is to simply start talking to people. Post questions on social media and online forums like Reddit about the items and products they use in their everyday lives. Or, ask them about things they have trouble with or something they think could use improvement. Also, think about a problem that you might have and try to solve it.
Find stores who are doing something similar to what you have in mind and build on that idea. Search through Amazon and eBay. And as you do your research, have a notebook handy or create special Notes in your phone to keep track of your ideas.
With over 150,000 manufacturers, wholesalers, and distributors selling on the Alibaba platform, you can find or create anything you're looking for.
Keep in mind, though, that when you are sourcing products from the Chinese marketplace that you want to keep things simple. You want to focus on items that are lightweight so they don't cost a fortune to ship and are easy to return. You also want to keep things simple and avoid products that have a high probability of error or defect, like electronics.
Also, because most Alibaba suppliers require a minimum order quantity, it's best to look for products that you can comfortably sell in the $10 to $100 price range when you are starting out. You want to keep your startup costs as low as possible, while still being able to earn a considerable profit.
Dealing with trinkets that won't sell for more than a buck or two, or going the other extreme and looking for high end items that you can put a big price tag on, will likely cause you more trouble than they are worth.
2. Research the Potential Success of Your Product Ideas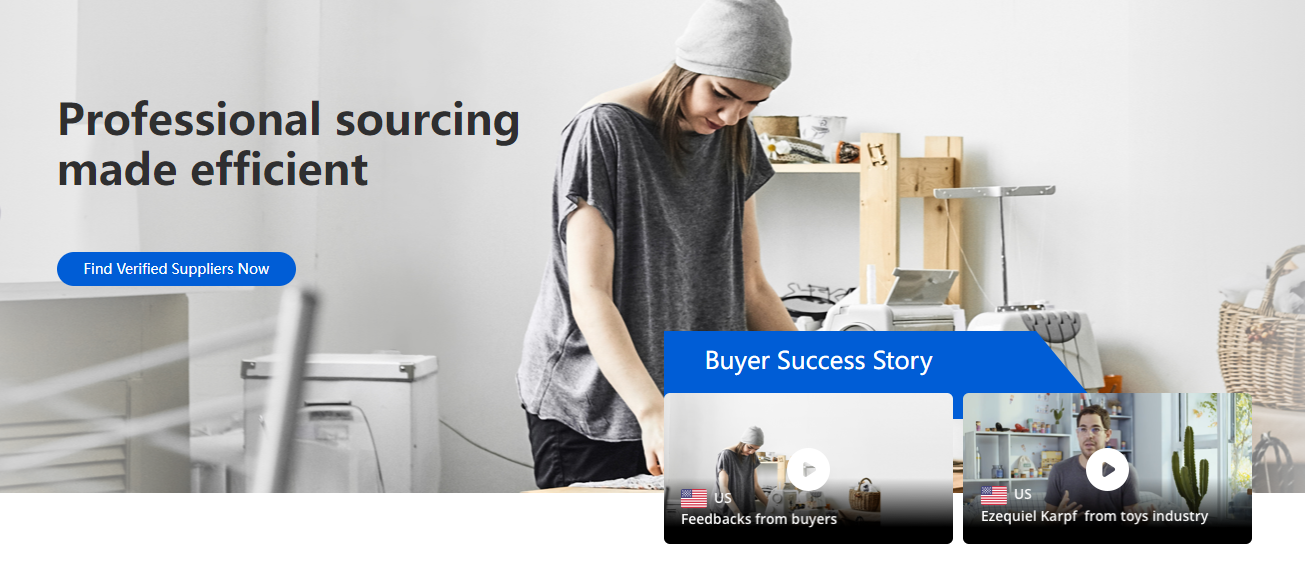 Even though you might like a specific idea or product and you've talked to others who are interested in the same thing, that's not a guarantee of success. You must research the potential success of your product ideas with a tool like CamelCamelCamel (CCC).
CCC is a free Amazon price tracking tool that allows you to examine trends so you can see if the price of a specific item is going up or down. Not only does it give you an idea of pricing trends on Amazon over time, but it also helps you properly price the products that you purchase from Alibaba and sell on Amazon.
Terapeak is an awesome tool that allows you to see how products and categories are performing across all of eBay's marketplaces. Simply input the product you want to research and TeraPeak will provide you with the analytics. You'll get access to years of real-world sales data for millions of items, including:
The number of listings and items sold for particular products
Average sales prices
The conditions of items sold
Sell-through rates
Average shipping costs
The number of listings offering free shipping
Seller and buyer locations
Sales trends over time
Unsold inventory
Listing formats that sellers are using
3. Find Manufacturers on Alibaba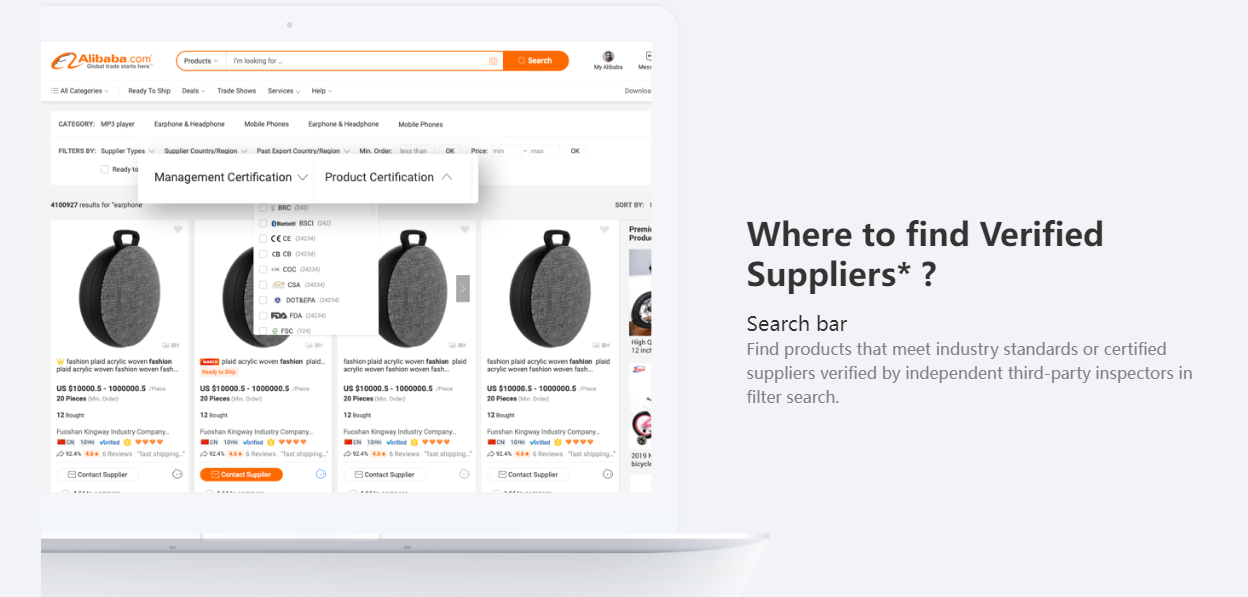 There is no better source online for finding Chinese bulk wholesale factories than Alibaba. However, you must be aware that not every supplier is legit. There are also some serious scammers. Because anyone can open a seller account on Alibaba, it is up to you to vet suppliers and make sure you don't get scammed.
To search for wholesale suppliers on Alibaba, type the name of the product you are looking for into the search bar and use the platform's search engine. Once the results appear, there are ways to weed out the good suppliers from the scammers.
On the left side of the search results page, you can check the boxes for a Verified Supplier and/or a Gold Supplier to filter your results.
Another way to find the right supplier is to go to pavilions and check out the themes ranging from top-ranking products to a specific country's exports. Or, you can send a Request for Quotation (RFQ), which allows you to specify the specific items you're looking for and sellers will bid for your business.
Gold suppliers are assessed and verified by Alibaba with an on-site check, and they accept payment through Alibaba (which enables payment and order protection). But, they do not pay to be part of the Verified Supplier program.
A Trade Assurance Supplier is a gold supplier who accepts payment through Alibaba, enabling payment and order protection.
Companies who qualify as a Verified Supplier have their company profile, production capabilities, products and process controls inspected, assessed and verified by independent third party institutions to assure reputable and consistent expertise on Alibaba.
The verified supplier program is a premium service that manufacturers and wholesalers must pay for. Storefronts who are part of the program will have a "verified" logo on the top left of their main page.

The age of the store is also highlighted, along with badges for different features like "On-site Check" (which means the supplier's company premises has been checked by Alibaba staff to verify operations exist there) and "Trade Assurance" (which protects online orders when payment is made through Alibaba).
Trade Assurance is a guaranteed feature on Alibaba that protects buyers by ensuring secure payments. It also ensures that you receive high-quality goods by holding payment escrow until you receive them. And, if you get defective goods from a supplier with Trade Assurance, Alibaba can intervene.
Your First Message with the Supplier
Unlike other platforms, you can speak one-on-one with Alibaba sellers to customize your order, negotiate prices, and learn more about their business.
To properly assess a seller, you must ask the right questions. Look at the information in their Alibaba profile and dig even deeper by sending the supplier a message. Your initial contact with a Chinese wholesale supplier is extremely important. You want to sound serious and professional, and make a good first impression.
There are many templates available online that you can use to write your first message. It may look something like this:
Hello,
My name is _______, and I am a purchasing agent for (your business name). I am interested in learning more about your company and production capabilities, and would like get some information. If you could send me your product catalogs, MOQ requirements, and any other helpful info I would greatly appreciate it.
I look forward to speaking with you soon.
Sincerely,
Your Name
Other questions you should ask a seller before sourcing a product –to make sure they are trustworthy and can meet your specific needs — include:
Can you provide me with a copy of your business license and necessary certifications?
Can you provide product details? (Ask for specifications, materials used, and packaging. Don't be afraid to ask for pictures and get specific)
How much do samples cost? (A standard practice in B2B sales, any manufacturing company should be willing to send you a sample for a fee so you can inspect it before placing a large order)
What is your MOQ? (The minimum order quantity, or MOQ, is the least number of items you can purchase at one time. This is typically negotiable. And the bigger the order, the lower the cost of each individual unit should be.
What are your shipping terms? (Locking in proper shipping terms will avoid confusion, and define who is at risk for damage during the shipping process)
If you get vague answers, keep pressing until you get the information you are looking for. Don't take a risk and place an order with a wholesaler you don't trust.
Go Slow and Gradually Increase Product Orders
Do not make the mistake of buying a large bulk order from China right away. This is the quickest way to lose money and get scammed. Start by buying a few samples, then sell them and get feedback from your customers. Only then should you move on to the next step.
Building an online business that relies on imports should be slow and methodical at first, then you grow quickly later on.
Lower the Minimum Order Quantity
When you are at the beginning stages of your online business, you don't have to let your Chinese wholesale supplier know this detail. The first thing they will ask you is how many pieces you want to order, and you must answer this question correctly if you want someone to work with you.
Just because they ask you about your monthly sales volume, that doesn't mean you have to say "I haven't sold anything yet" or "I'm just getting started." Instead, you should lean on the "fake it till you make it" strategy and let them know that you won't begin an account with any new supplier until the product has been proven to sell.
You can explain that you have your own method and ask them to lower the minimum order quantity. Like we explained earlier, ask for a few sample items. Then, let them know that you will continue testing with higher quantities. And, if things go well, you will consistently place orders above their MOQ.
Essentially, make them prove themselves to you instead of trying to attempt the other way around.
4. Plan and Coordinate Shipping with the Alibaba Supplier
Importing products from China wholesale is big business, but it's impossible to know everything about the shipping process. It's complicated, as shipping laws and regulations are constantly changing. So, instead of driving yourself crazy trying to learn everything there is to know about shipping from China, it's best to plan and coordinate shipping with your Alibaba supplier.
Be Mindful of Shipping Costs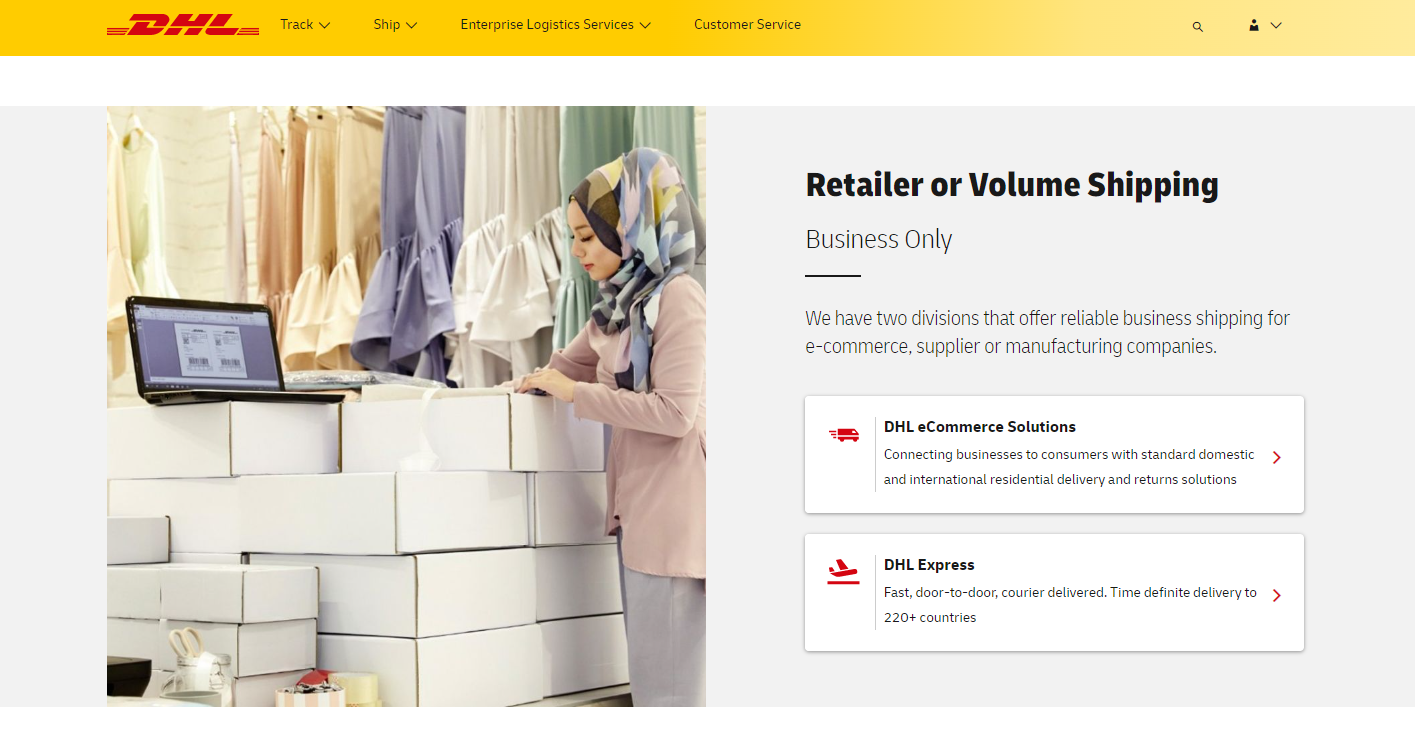 When you use a company like UPS, FedEx, DHL, Kerry Express, or Sure Freight, they will take care of just about everything shipping-related from a Chinese wholesaler. They will make sure your products get from point A to point B with no issues.
Shipping costs do vary, though, so you must be mindful of them and be aware that you will need to pass along this cost to your customers by building it into your prices. Most shipping companies will include taxes and duties in their quotes for an all-in-one fee.
Alibaba shipping hacks:
Remove excess packaging and pieces: Tell the factory to remove any excess and unnecessary packaging or pieces. When shipping by air, you are charged by weight and size.
Experiment with dates: Just like the price of airline tickets, shipping prices can change based on the dates and seasons. So, play with the dates when shipping an order from an Alibaba supplier to see if you can get a lower price.
Check if you Need to Pay an Import Tax
Some shipping companies might make you fill out import tax and customs paperwork and charge you a separate fee. But most will include import taxes and customs in their shipping services and fees.
Be Prepared to Wait
When launching an online business that sells products from the Chinese marketplace, many people will ship by Air, but you can also do it by Sea. This option takes a bit longer, but there are advantages and disadvantages to both. When it comes to bulk orders, the simple fact is that it can take at least three to four weeks for the products to arrive. In some cases, it can take as long as 90 days.
5. Plan Product Inspections
Once you become familiar with buying in bulk from China and the size of your orders grow, you will want to plan product inspections for your shipments to safeguard your investment. You can hire an inspection company (SGS Group, V Trust) that will go through the packaged goods that are ready to ship and check both the product and packaging.
For one day of inspection, a typical inspection company will charge around $300. But when you are ordering thousands of dollars worth of product, an inspection is more than worth it because you will get a detailed report about all major and minor flaws related to your shipment.
6. Sign Up For an Online Marketplace
Once you've chosen the products you want to sell, you'll need to create your online store. You can do this by creating your own website. Or, you can use eCommerce platforms like Amazon and eBay.
Amazon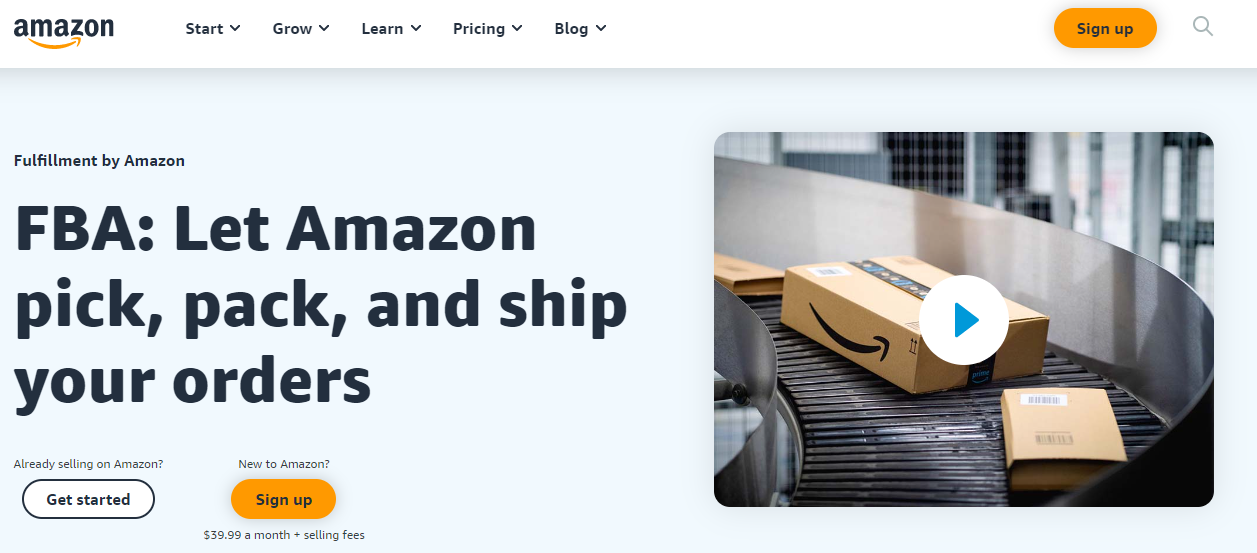 Buying products from Alibaba and selling them on Amazon has become quite the popular business strategy because of the convenience factor and profit margins. With their Fulfillment by Amazon (FBA) program, you can sign up for an Amazon seller account, purchase items in bulk from Alibaba, and have them shipped to an Amazon fulfilment center.
Once a customer places an order, the Amazon fulfillment center will pick, package, and ship the item for you. You can literally make thousands of dollars using this method and never once handle the products yourself.
eBay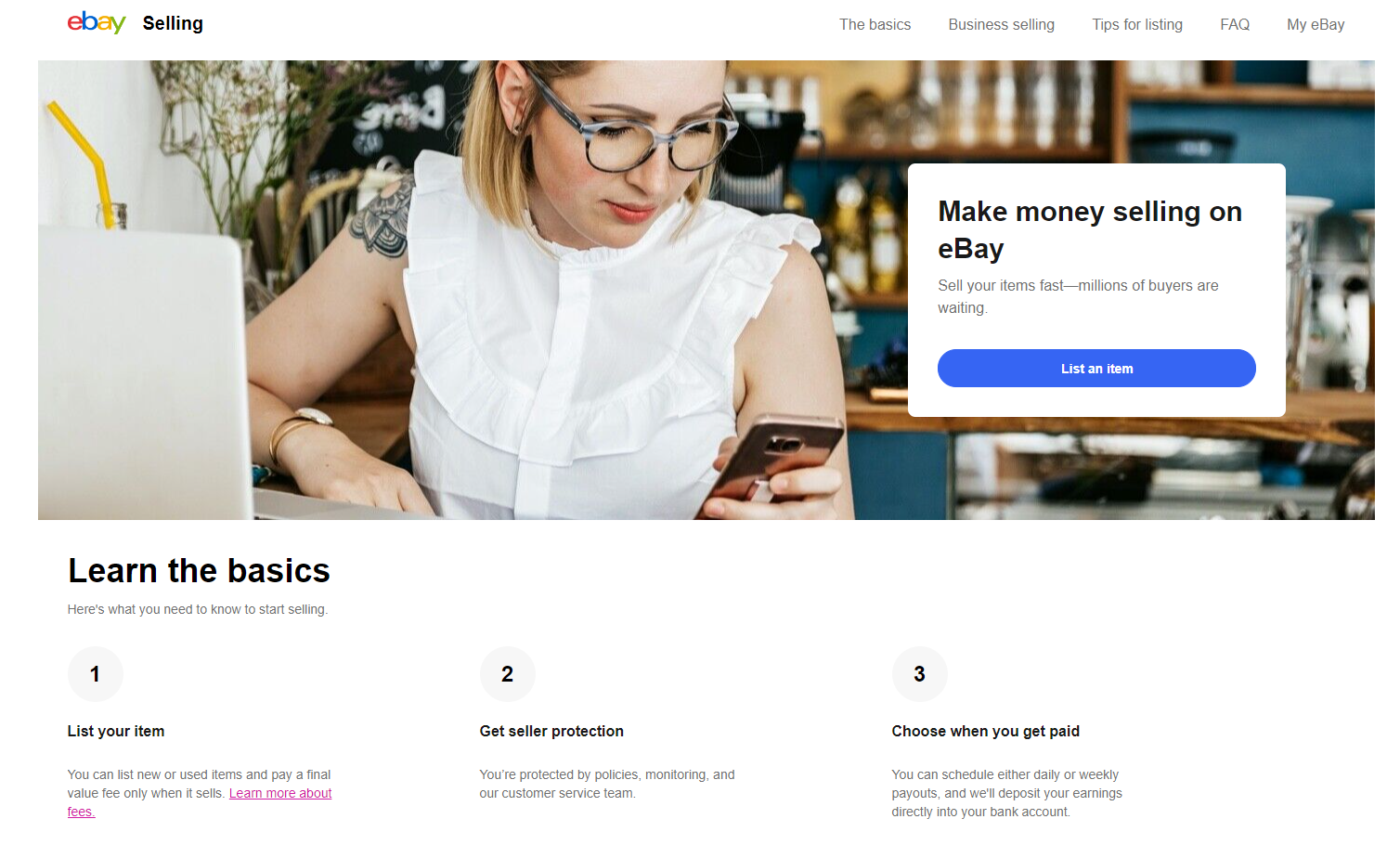 Selling Alibaba products on eBay is also quite easy. Simply open a seller's account, setup your eBay store, and create your listings. However, eBay does not offer a warehouse or fulfillment center for you to store your products.
7. Create your Product Listings
Product listings are important no matter which platform you are selling on because they are your sales pitch. Both Amazon and eBay will give you the option to piggyback on existing listings for the same product. With this option, the product details are already in the description. All you have to do is add the amount you have, choose the dates you want to sell the product, and add your price point.
To create a new product listing, you'll need to take good photos and write a brief product description.
8. Advertise your Products
Once you have your products sourced and your storefront set up, you'll need to find your customers. To do this, consider using advertising and social media to promote your products.
Use Amazon Sponsored Ads
Amazon sponsored ads will make your product extremely visible, and the return on the investment could be extremely high. The returns are based on keywords, you only pay when someone clicks, and your ads will show up under "related products."
Use Facebook Ads
Running Facebook ads to a targeted audience is also a great idea. You can target your advertising on Facebook to the exact users you are looking for because Meta knows everything its users do.
Use Reddit to Promote your Products
Using sites like Reddit — as well as your own social network — can be a great first step for promoting your products. However, don't rely on this method to create hype for your online store. It will take a lot more than a few posts on Instagram or Twitter to get your business going.
Making good money with Alibaba can be done thanks to the great platform, the business model, and all of the potential buyers online. The keys to success are laying the proper foundation by doing the research, knowing your customer, and finding the right niche and products to sell.