Weebly is a website builder that allows users to create professional-looking websites without needing to know how to code. With drag-and-drop functionality and hundreds of templates to choose from, Weebly makes building a site easy for anyone.
However, some users find that Weebly has limitations when it comes to ecommerce features, flexibility in design, and overall control in building a site. This has led many entrepreneurs and small business owners to seek out alternatives to Weebly that may better suit their needs.
In this article, we will explore alternatives to Weebly that provide more advanced features, greater design customization, and more versatility for users. Whether you need robust ecommerce capabilities, want more template options, or are seeking a platform that will grow with your business over time, you're likely to find one among these website builders to meet your website-building needs.
Wix is best for beginners looking for an easy drag-and-drop builder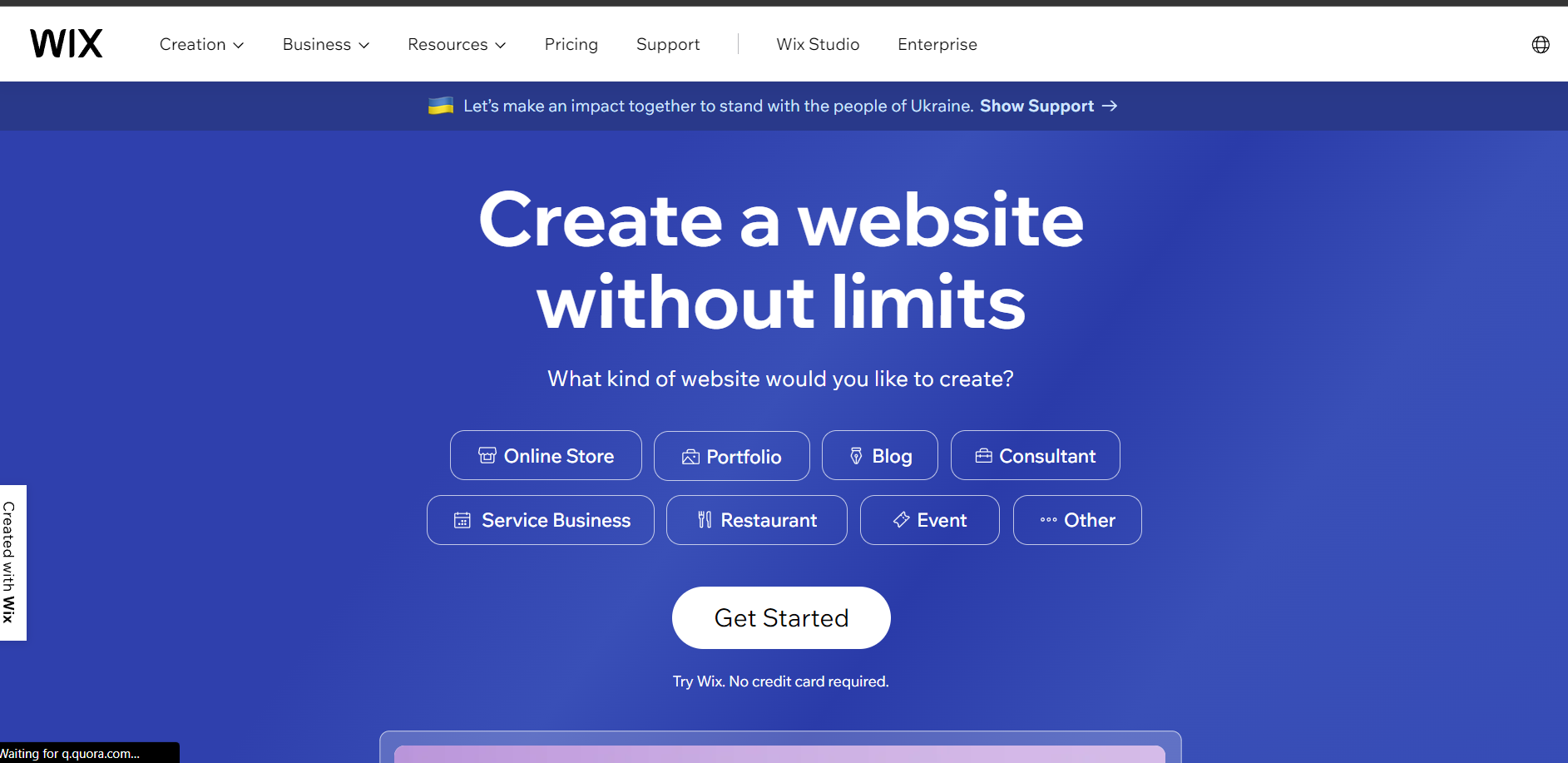 Wix is the best Weebly alternative overall. The platform has a user-friendly website builder that allows anyone to create a professional-looking website through an intuitive drag-and-drop editor. With over 500 designer-made templates to choose from, you can easily find a design suited for your industry and customize it to match your brand.
Wix also has built-in ecommerce functionality, making it easy to set up an online store. Their App Market provides access to hundreds of apps and integrations to enhance your site's capabilities.
What makes Wix a better alternative than Weebly:
More template options – Wix offers over 500 templates while Weebly has around 30 responsive templates. This gives Wix users far more starting points for design.
Better customization – Wix makes it easy to fully customize template designs, colors, fonts, and layouts to create a unique site. Weebly templates are more restrictive.
Integrated ecommerce – Wix has built-in ecommerce capabilities while Weebly requires a premium plan for ecommerce features.
Mobile optimization – All Wix templates are optimized for mobile while some older Weebly templates are not mobile-friendly.
Room to grow – Wix offers robust features for growing businesses such as blog, forums, email marketing, and more. Weebly can feel limiting over time.
---
Hostinger is best for those looking for affordable and fast WordPress hosting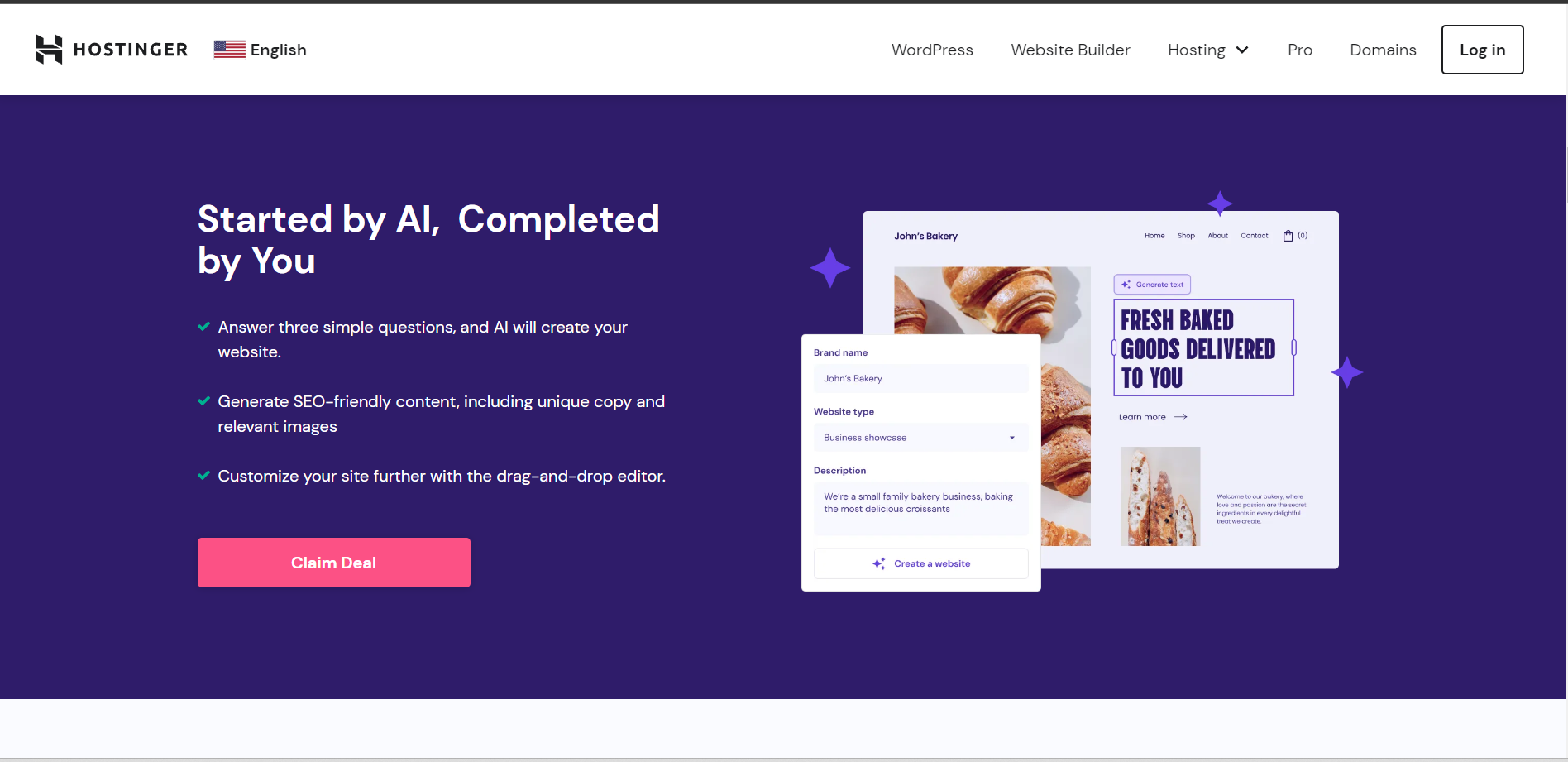 Hostinger provides high-speed WordPress hosting starting at just $1.99/month. With powerful servers optimized for WordPress, sites load extremely quickly. Hostinger handles WordPress installs, updates, and migrations for you, making setup simple. Their plans offer unlimited bandwidth, SSD storage, free SSL certificates, and a free domain.
What makes Hostinger a better alternative than Weebly:
Cost-effective WordPress site hosting – Hostinger offers affordable managed WordPress hosting. Weebly's plans are more expensive.
Speed optimization – Hostinger fine-tunes servers for fast WordPress performance. Weebly sites can be slower.
Free site migration – Hostinger will migrate your Weebly site to WordPress for free. Weebly charges for migrations.
No transaction fees – Hostinger has no transaction fees for online payments. Weebly charges transaction fees.
White label – Hostinger allows removing branding from sites. Weebly sites show a branded footer.
---
Squarespace is best for creative professionals looking for stylish designs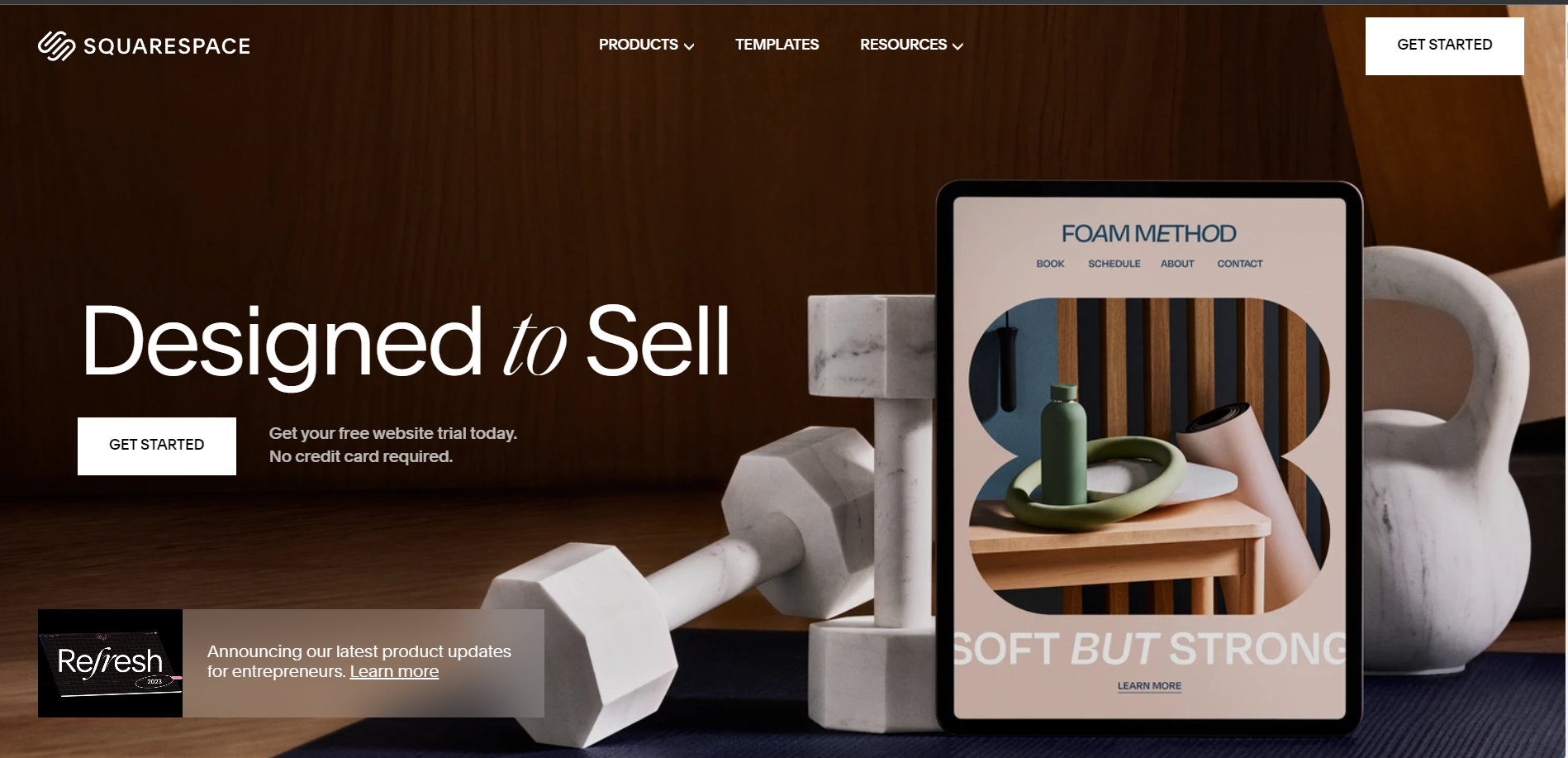 Squarespace provides beautiful templates designed for portfolios, retail, restaurants, events, and more. With powerful customization options, you can tailor site designs to match your brand aesthetic using custom fonts, colors, and layouts.
Squarespace also makes it easy to showcase visual content like large images and galleries. Built-in commerce tools let you sell products, services, or tickets directly through your site.
What makes Squarespace a better alternative than Weebly:
Design quality – Squarespace templates are known for their modern, stylish designs while Weebly's templates can look more generic.
Custom fonts – Squarespace allows the use of custom Google Fonts to brand your site. Weebly has limited font options.
Powerful gallery features – Squarespace offers robust gallery creation tools to beautifully showcase visual content. Weebly's gallery options are basic.
Scheduling capabilities – Users can schedule online appointments, classes, and events through Squarespace. This is not possible with Weebly.
Built-in marketing tools – Email campaigns, pop-ups, and Google/Facebook Ads can be managed directly in Squarespace. Weebly has no native marketing features.
---
Shopify is ideal for ecommerce businesses that want a powerful online store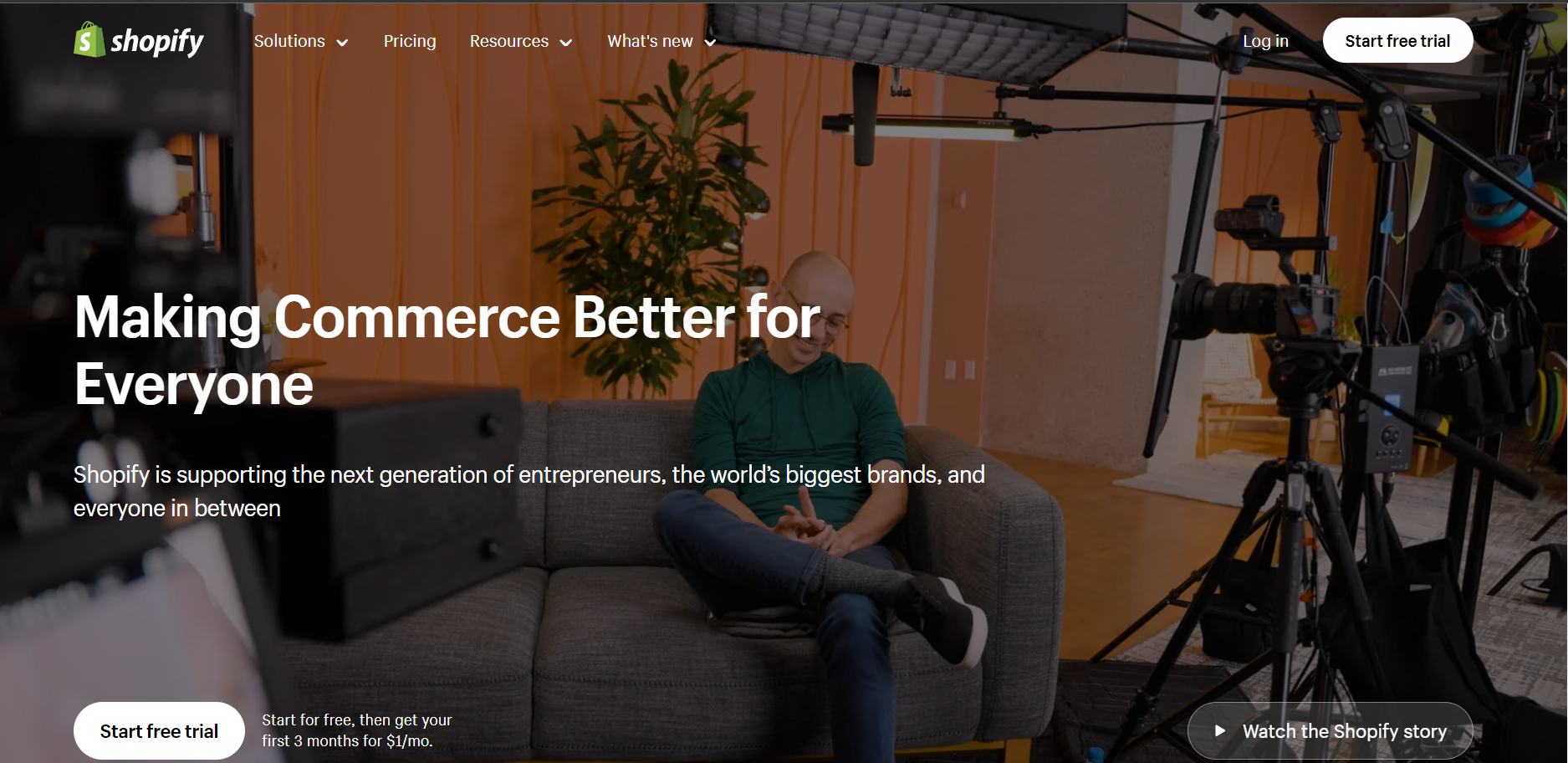 Shopify is among the best Weebly alternatives for e-commerce. The software makes it easy to set up and run a high-converting online store. You can start selling online in minutes.
The platform offers hundreds of professional themes optimized for product display and sales. Built-in tools like payment processing, shipping calculators, and inventory management simplify running an ecommerce operation.
Shopify also provides marketing tools like email campaigns, promotions, and Facebook/Instagram ad management. For those wanting a full-service solution, Shopify offers this all-in-one platform.
What makes Shopify a better alternative than Weebly:
Focus on ecommerce – Shopify is purpose-built for ecommerce while Weebly's ecommerce features are limited.
More payment gateways – Shopify integrates with over 100 payment gateways. Weebly only supports a few.
Lower transaction fees – Shopify's transaction fees are lower compared to Weebly.
Built-in shipping – Shopify has native shipping features like calculated rates and labels. Weebly requires 3rd party apps.
Reporting – Shopify provides advanced sales, financial, inventory, and other reports. Weebly has basic reporting.
---
Strikingly is ideal for quickly launching simple, stylish sites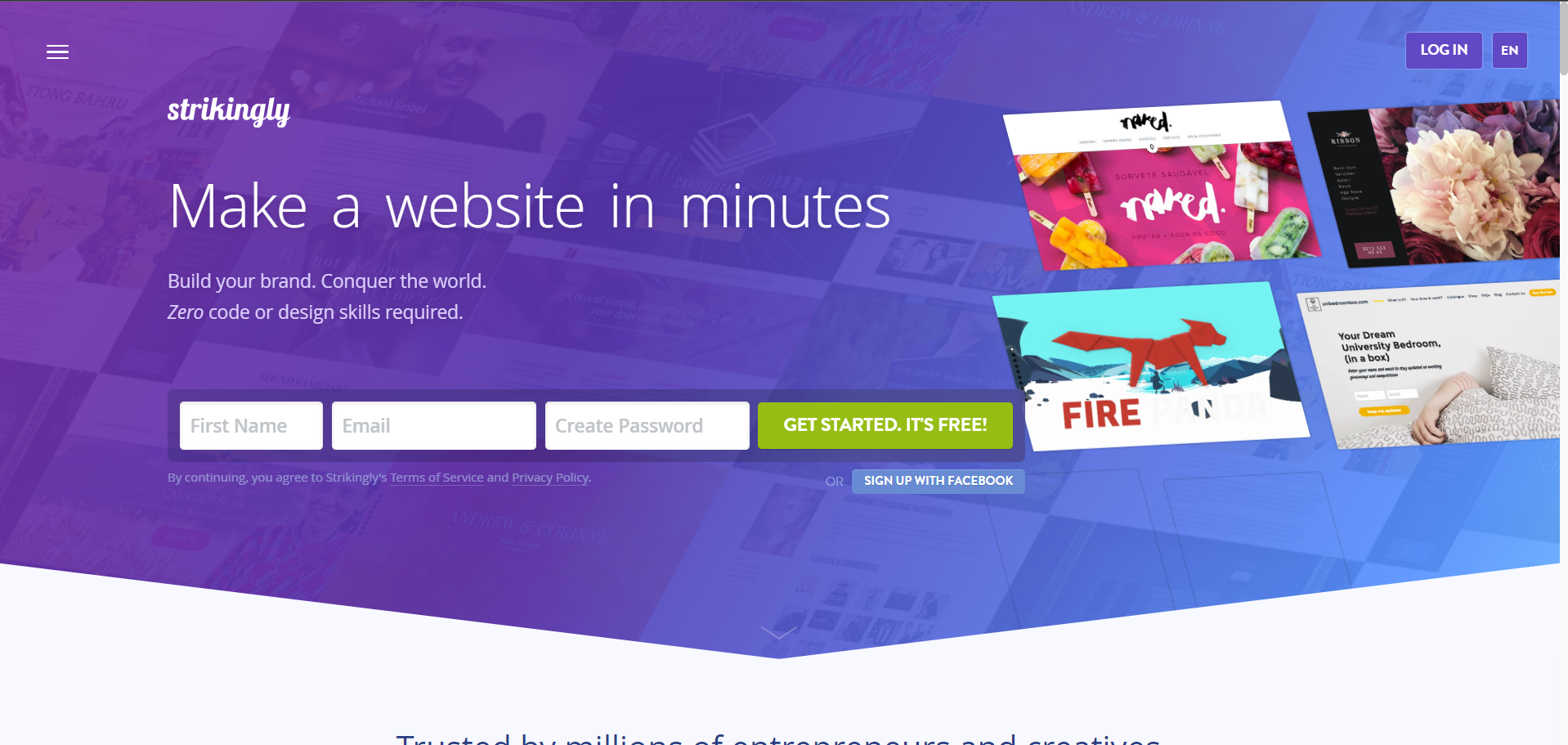 Another worthy mention on the list of Weebly competitors is Strikingly. The site builder makes it incredibly easy to create a beautiful one-page website in just minutes. It offers modern, professional templates that are optimized for mobile. Strikingly sites also load extremely fast due to the one-page design.
While capabilities are more limited than traditional builders, you can still add an online store, blog, custom domain, and more. The platform is great for launching brochure-type sites quickly.
What makes Strikingly a better alternative than Weebly:
Speed – Strikingly sites load faster given the one-page design versus Weebly's multi-page sites.
Simplicity – Strikingly focuses on simplicity and ease of use versus Weebly's more robust but complex interface.
Mobile-friendliness – Strikingly sites are completely responsive and function seamlessly on mobile. Weebly sites can have mobile issues.
SEO – Strikingly sites naturally score higher on page speed and mobile optimization, helping SEO.
Restriction-free – Strikingly has no storage limits, bandwidth caps, or other restrictions that Weebly imposes.
---
Webnode is ideal for beginners wanting an easy, free website builder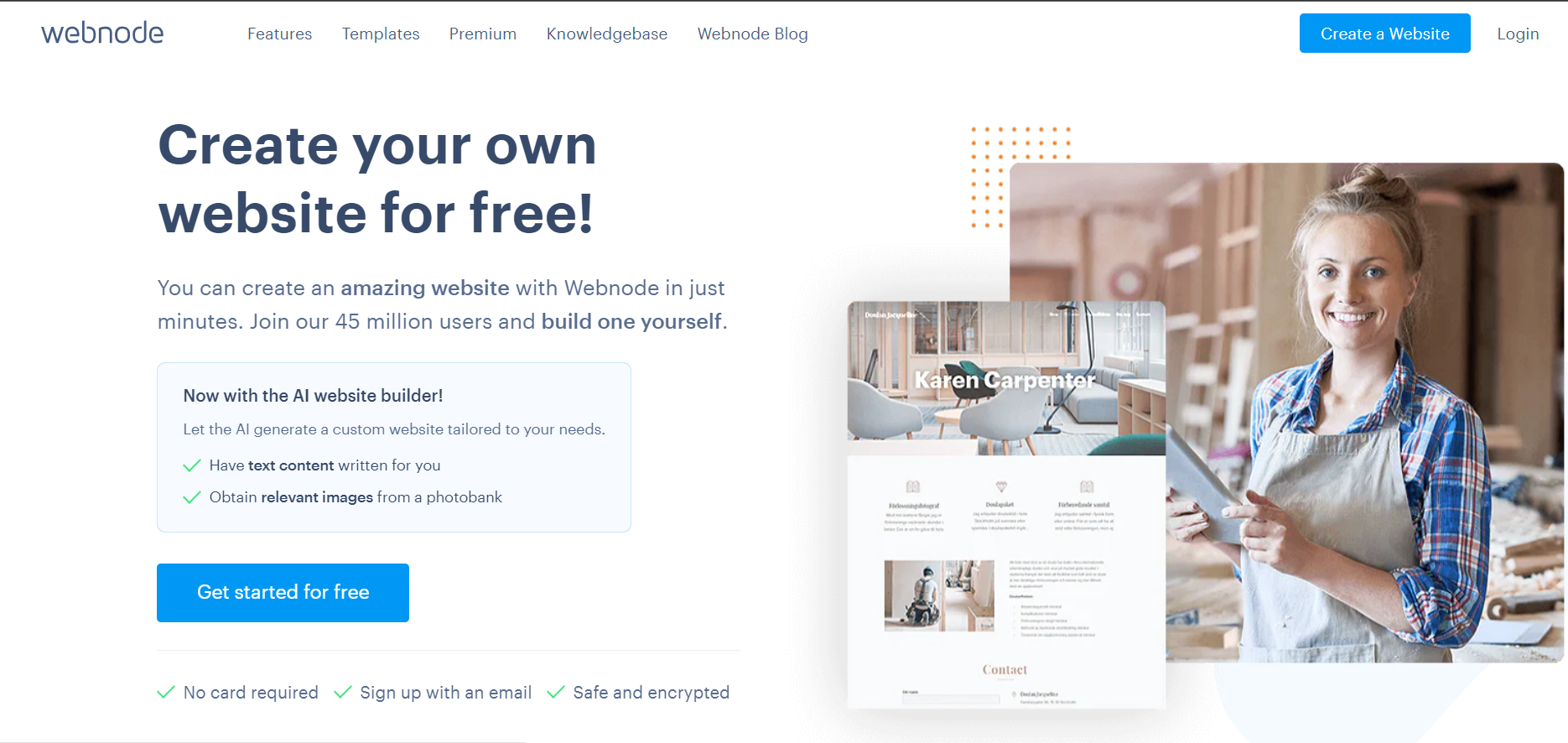 Webnode is another great alternative to Weebly. It offers a free, user-friendly drag-and-drop website builder. While limited compared to paid builders, it provides enough features for simple sites. Templates accommodate blogs, portfolios, listings, and online stores.
Free users get 500MB of storage, five pages, and basic search engine optimization tools. Upgrading unlocks unlimited pages, storage, ecommerce tools, domain mapping, and more. Overall, Webnode is a great free starting point.
What makes Webnode a better alternative than Weebly:
Free tier – Webnode offers a robust free plan while Weebly's free plan is very limited.
No ads on the free tier – Webnode's free sites are ad-free. Weebly injects ads on free sites.
Domain mapping – Even the free plan allows connecting a custom domain. Weebly requires a paid plan.
No transaction fees – Webnode has no transaction fees for its ecommerce features. Weebly charges them.
Multilingual – Webnode supports building sites in multiple languages. Weebly does not have multilingual capabilities.
---
Webflow is ideal for designers and developers wanting total customization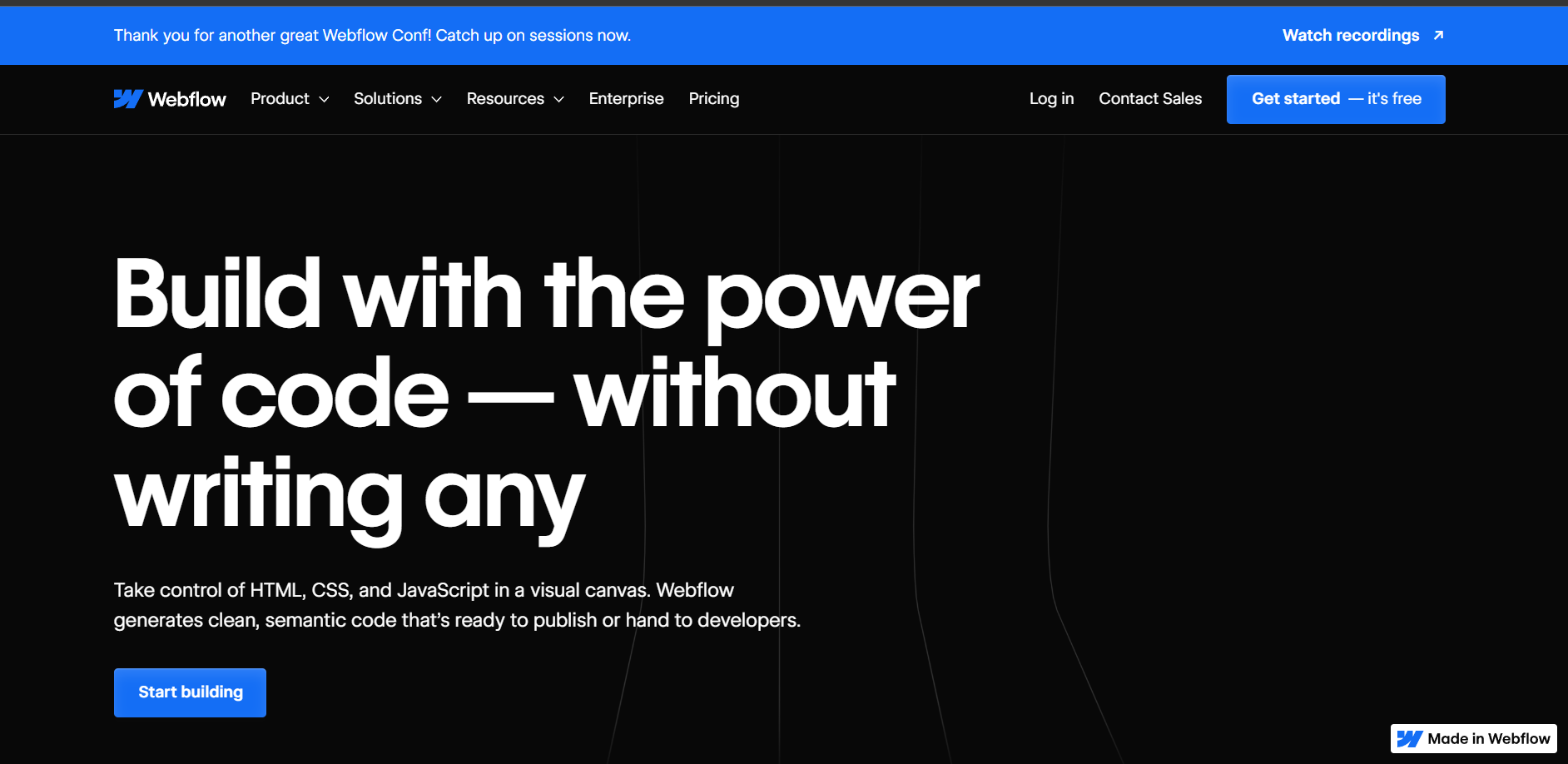 Webflow provides a robust drag-and-drop visual builder along with granular HTML, CSS, and JavaScript control. This combination allows designers to create completely custom, one-of-a-kind sites not possible with traditional builders.
Animation capabilities bring sites to life. Integrations with CMSs and ecommerce platforms allow advanced functionality. Overall, Webflow offers unparalleled creative freedom.
What makes Webflow a better alternative than Weebly:
Design freedom – Webflow allows full customization with code vs Weebly's restrictive templates.
Animation – Webflow lets you add animated elements for engaging sites. No animation with Weebly.
CMS integration – Webflow sites can integrate with CMSs like WordPress and Contentful. Not possible with Weebly.
Developer capabilities – Web developers can work directly with Webflow's code for advanced customization.
Exportable code – Webflow allows exporting clean code for full ownership. Weebly sites are locked in.
---
WordPress.org is ideal for sites needing ultimate flexibility and advanced features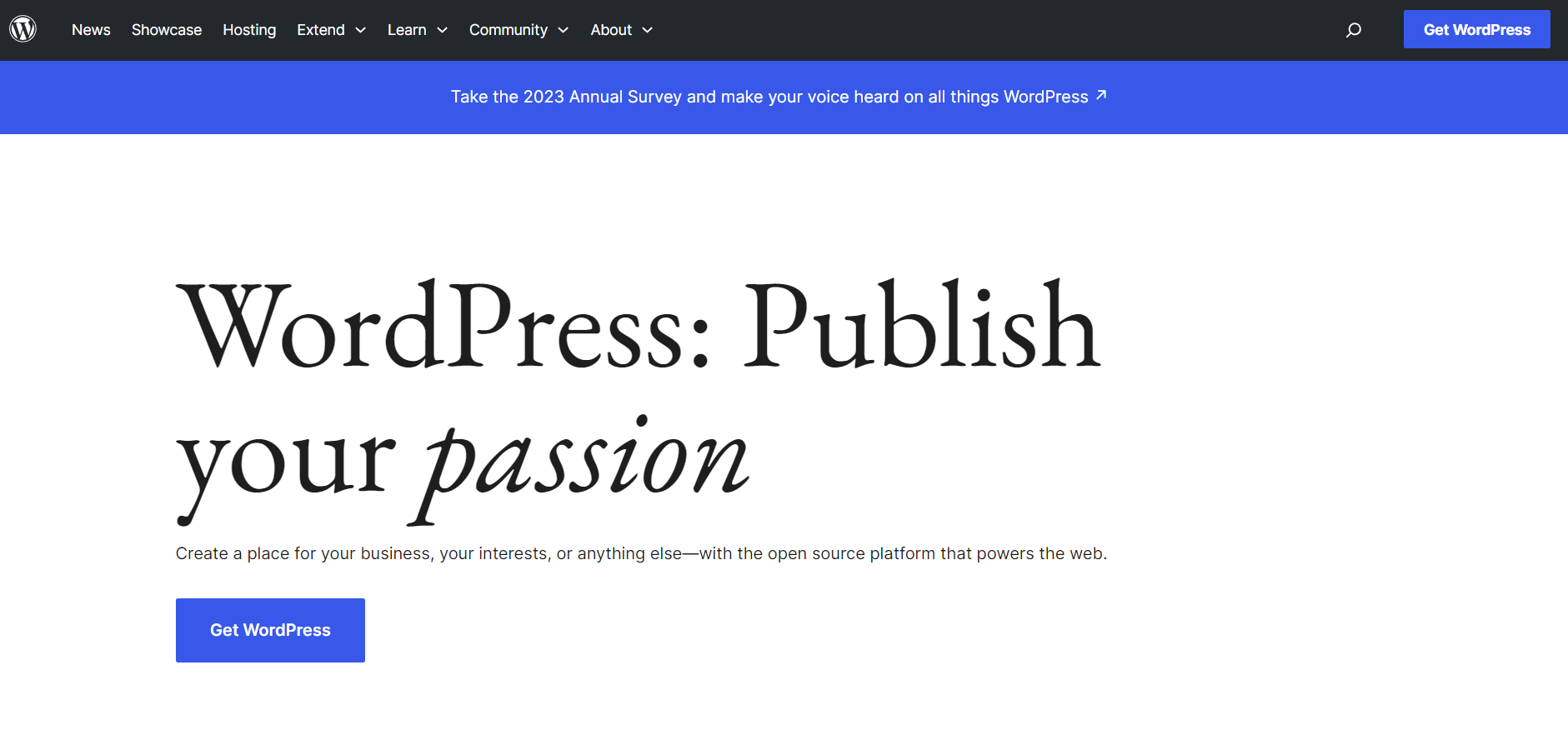 WordPress.org lets you fully customize sites with thousands of themes, plugins, and widgets. As an open-source CMS, you or developers can modify WordPress code as needed. This flexibility allows the implementation of advanced functionality like forums, memberships, LMSs, and more.
WordPress is also highly scalable, powering the largest news sites. While more complex than turnkey site builders, WordPress's capabilities are unmatched.
What makes WordPress.org a better alternative than Weebly:
WordPress.org is highly customizable with plugins, themes, and code customization whereas Weebly is quite restrictive.
WordPress can scale to power large enterprise sites and handle huge traffic loads. Weebly sites can struggle when traffic scales up.
For SEO, WordPress has unmatched capabilities through plugins like Yoast SEO. Weebly's built-in SEO features are basic in comparison.
WordPress works seamlessly with thousands of plugins and third-party services. Weebly has limited integrations.
Lastly, WordPress gives you full ownership over your content and allows you to export your site. With Weebly, you are locked into their platform.
---
BoldGrid is ideal for WordPress users wanting an easy drag-and-drop builder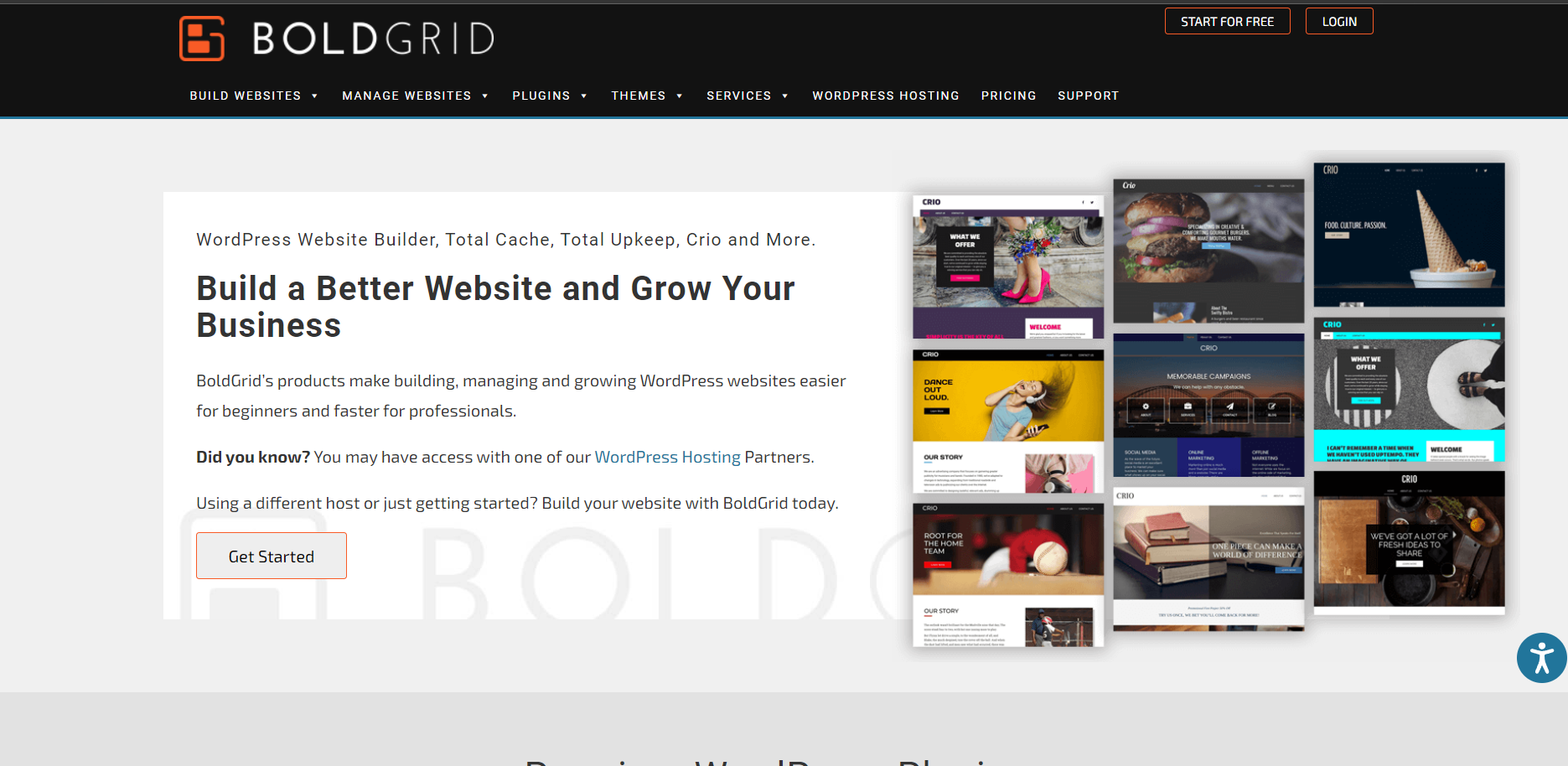 BoldGrid offers a drag-and-drop editor that seamlessly integrates with WordPress. It allows you to easily create pages and layouts visually while still having full access to WordPress functionality underneath. BoldGrid uses BoldBlocks, modular content sections you can rearrange.
Hundreds of professionally-designed templates are available suited for business, portfolio, agency, or blogging sites. Overall, BoldGrid brings an accessible site-building experience to powerful WordPress sites.
What makes BoldGrid a better alternative than Weebly:
BoldGrid provides the simplicity of drag-and-drop building while retaining the flexibility and extensibility of WordPress. In contrast, Weebly sites lack capabilities for advanced customization.
As a WordPress extension, BoldGrid enables the use of any WordPress plugins and themes. Weebly does not integrate with WordPress.
BoldGrid sites remain fully editable in standard WordPress for a seamless transition between the drag-and-drop editor and WordPress backend. Weebly locks you into its closed system.
Lastly, BoldGrid was built specifically for WordPress whereas Weebly takes you away from WordPress into its proprietary platform.
---
Duda is ideal for web professionals who want an advanced, customizable builder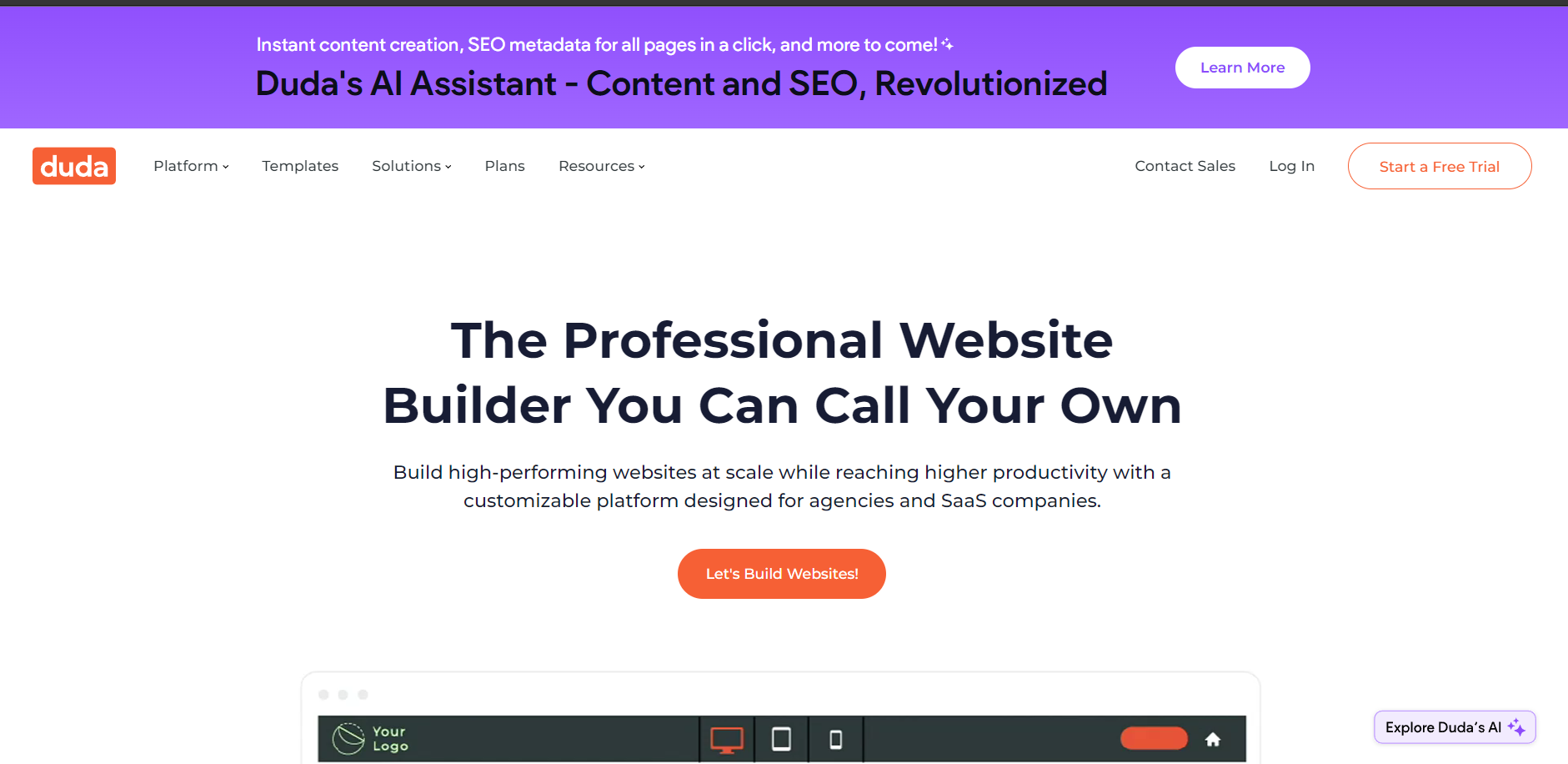 Duda provides a customizable drag-and-drop builder packed with advanced features. Users have granular control over page layouts and design elements using CSS/HTML editing. Advanced features like multi-lingual sites, white labeling, conditional logic, APIs, and ecommerce integration give professionals robust options.
Duda also seamlessly integrates with WordPress. For those wanting more control than turnkey site builders provide, Duda hits the sweet spot.
What makes Duda a better alternative than Weebly:
Duda enables full customization of site design and layouts with code editing access. Weebly has set templates and very limited customization capabilities.
Duda integrates tightly with WordPress, allowing you to manage your WordPress site's front end with Duda. Weebly is a closed system with no WordPress integration.
Duda provides white-label options to remove their branding from your sites completely. Weebly does not offer true white labeling.
Duda sites can be built in multiple languages while Weebly does not support multilingual sites.
Lastly, Duda offers built-in tools that are only available via third-party apps on Weebly like heat maps, advanced forms, and surveys.
---
IM Creator is ideal for building responsive sites quickly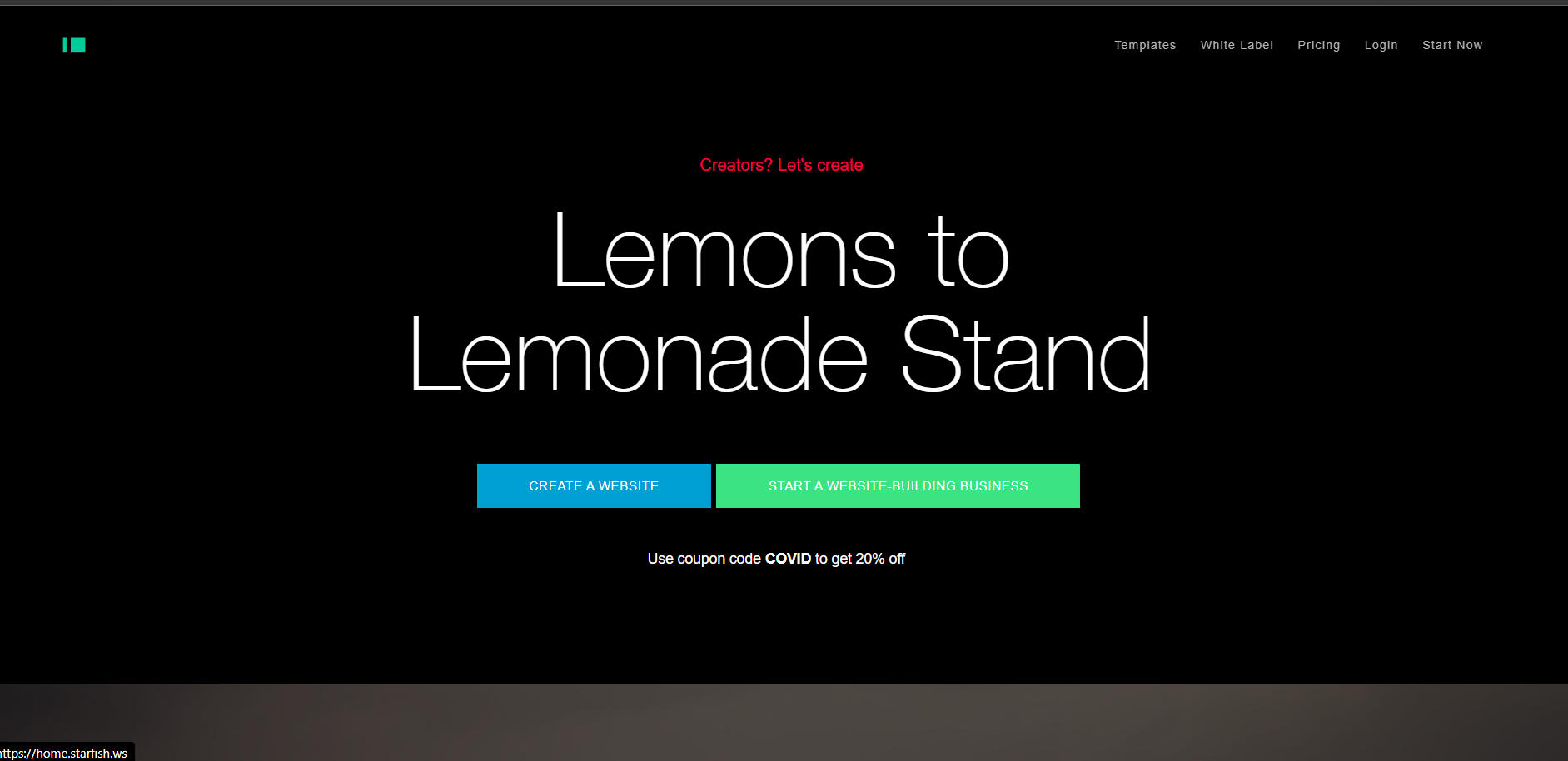 IM Creator makes responsive web design easy through pre-designed blocks that reformat for desktop, tablet, and mobile. Simply drag and drop blocks into place that contain images, text, counters, maps, and other elements. Change colors, fonts, and other styles to customize the look.
While not as complex for e-commerce as some builders, IM Creator lets you easily create a beautiful, functional site that looks great on all devices.
What makes IM Creator a better alternative than Weebly:
IM Creator simplifies building responsive, mobile-friendly sites using its pre-designed blocks that reformat for each device. With Weebly, you must build the desktop and mobile versions separately.
IM Creator's style editing tools make it easy to quickly customize your design. Weebly is more restrictive in stylistic changes you can make.
While Weebly offers blogging capabilities, blogs created in IM Creator convert into responsive pages automatically for better mobile optimization.
IM Creator also integrates with email marketing and survey tools while Weebly lacks such native integrations.
Lastly, IM Creator sites load faster than multi-page Weebly sites.
---
Zyro is ideal for launching basic, budget-friendly sites quickly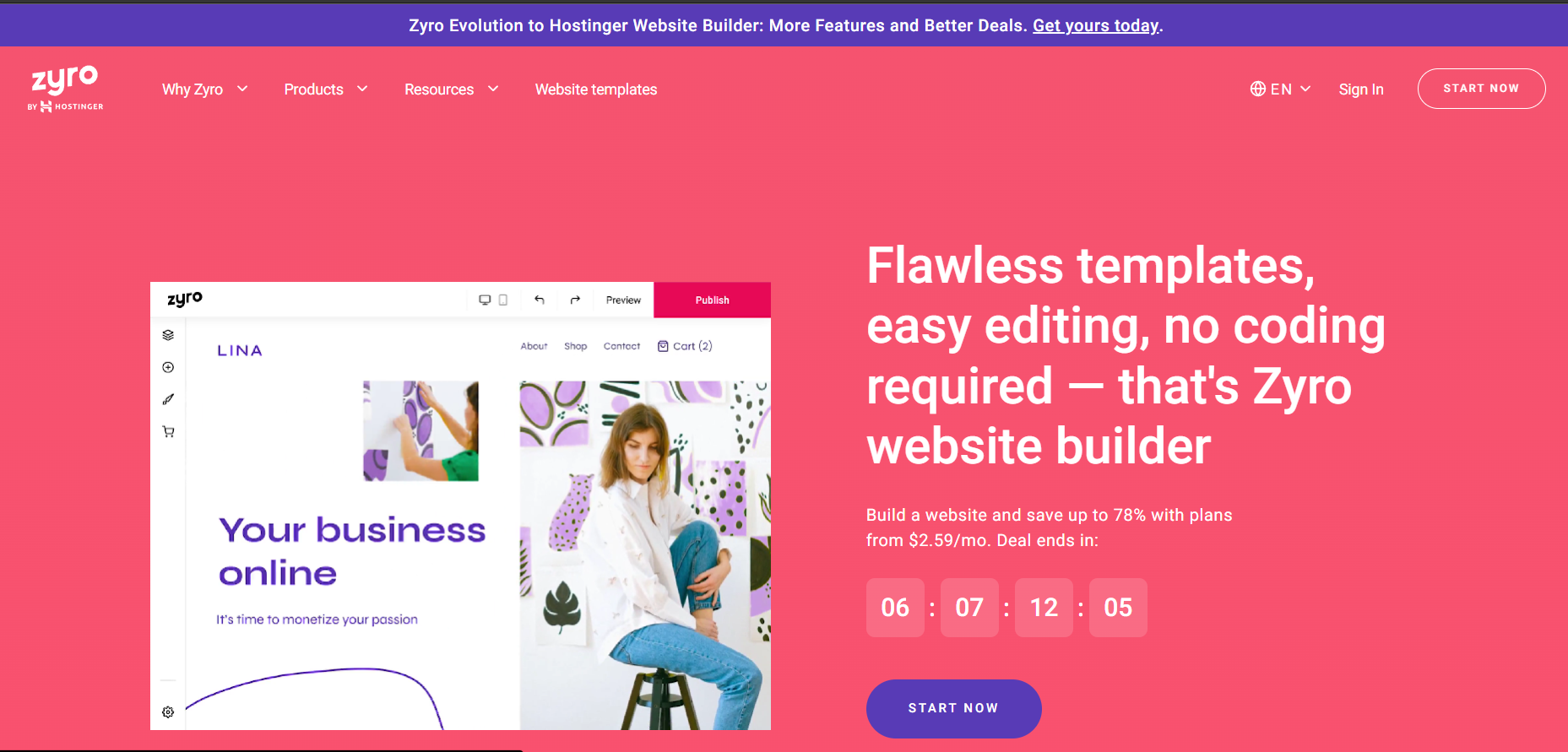 Zyro offers an easy-to-use drag-and-drop builder with modern templates to choose from. It allows the creation of sites for personal portfolios, small businesses, online stores, and more.
While features are light compared to other builders, Zyro covers the basics like contact forms, image galleries, HD video backgrounds, and social media integrations. With affordable pricing starting at $2.49/month, Zyro is a cost-effective option for simple sites.
What makes Zyro a better alternative than Weebly:
Zyro provides a basic but solid set of features specifically tailored for personal sites, blogs, and small businesses at very affordable price points. Weebly places more restrictions at lower price tiers.
Zyro offers better value for money overall with features like unlimited pages and bandwidth on all paid plans. Weebly limits bandwidth, storage space, and the number of pages on cheaper tiers.
Zyro also supports multilingual sites natively while Weebly requires integrating third-party translation apps for multilanguage support.
For users wanting just a simple and cost-effective site, Zyro delivers that without the unnecessary complexity that Weebly introduces.
---
Features to Consider For a Weebly Alternative
1. Ease of Use
Ease of use is an important consideration when evaluating alternatives to Weebly. You'll want to find a platform that is intuitive to navigate and allows you to create and manage your website without a steep learning curve.
Weebly is known for its simple drag-and-drop editor, so you'll want to ensure any alternative you choose also offers a straightforward editor and dashboard that lets you build your site efficiently.
Convoluted interfaces or overly complex backend systems will slow down your progress, so prioritize a platform that feels natural to master. This will allow you to spend more time creating high-quality site content versus figuring out how to operate the technology.
2. Design and Customization
Design customization is key when assessing Weebly alternatives, as you'll want to make your site visually distinct with your own branding. Look for a platform that provides modern, aesthetically pleasing templates to start with across a variety of niches and industries.
Also ensure the platform allows ample customization beyond just templates, such as options to change colors, fonts, layouts, imagery, and other elements. Weebly's templates tend to be more rigid and graphically limited.
For the best brand representation, you'll want to choose an alternative that empowers you to customize the look and feel to suit your style versus settling for fixed templates. This creative freedom will help your website engage your audience and align with your brand identity.
3. Blogging Tools
If operating a blog is one of your key needs, carefully evaluate the blogging functionality included in any Weebly alternative you consider. You'll want to ensure the platform provides user-friendly tools for managing a blog such as categories and tags, author pages, comment moderation, RSS feeds, and more.
Also, look for SEO-specific blog features like URL customization and built-in image alt text. Since blogging tends to require frequently publishing new content, your platform should make it as easy as possible to draft, format, and schedule blog posts.
Weebly's blogging capabilities are decent but basic – many alternatives offer far more options to create an engaging, optimized blog on your site. Choosing a platform with robust blogging tools built-in will provide a superior long-term experience over one with lackluster blogging support.
4. E-commerce Capabilities
If you plan to sell products or services through your website, e-commerce capabilities should be a top priority when evaluating Weebly alternatives. You'll want to select a platform with built-in tools that allow you to create an online store with minimal hassle.
Key e-commerce features to look for include secure payment processing, the ability to showcase products/services, inventory management, shipping calculators, coupons, and more.
Weebly's e-commerce features are relatively light – its online store capabilities come with the more expensive Pro plan. Many Weebly alternatives either include robust stores in their base plans or offer e-commerce functionality at lower price points.
Choosing a platform with advanced native commerce tools will provide far greater flexibility as your business grows versus needing to bolt on third-party apps. The right e-commerce support will save you time and money in the long run.
5. SEO Tools
A website builder's SEO capabilities should factor heavily into your Weebly alternative decision. You want to choose a platform that helps your site get found by search engines and ascend rankings for valuable keywords.
Look for built-in SEO features like editable metadata, XML sitemaps, alt text automation, and SEO performance tools.
Weebly's SEO capabilities are relatively minimal – it handles technical optimization but lacks powerful metadata tools. Many competitors offer far more control over SEO to maximize your site's discoverability.
An SEO-focused platform will help you analyze what's working, identify issues hurting performance, and directly optimize pages for target keywords. With domain authority increasingly hard to build, a website builder with robust SEO functionality can provide tremendous long-term value for reaching your ideal visitors.
6. Integrations
The ability to integrate third-party apps and services is key to evaluating Weebly alternatives. You'll want to choose a platform that allows connecting the other tools and technologies your website needs to function optimally. For example, integrating email marketing, live chat, form builders, accounting, and more.
Weebly has app integrations, but they are fairly limited compared to some competitors. A website builder with a vast marketplace of integrations will enable seamless implementation of different technologies without complex workarounds.
As your business needs change over time, you may require new tools – a platform with robust integration options ensures you can expand your site capabilities as needed. With so many best-in-class SaaS products now available, integration support is a valuable aspect to prioritize.
7. Analytics and Reporting
To understand the performance of your website and identify opportunities for improvement, analytics, and reporting tools are essential. When reviewing Weebly alternatives, look for platforms that bake in powerful site analytics rather than offer them only with premium plans. You'll want access to data on your traffic volumes, visitor behavior, content engagement, conversions, SEO metrics, and more.
Robust analytics reports allow you to optimize pages, promote top content, fix issues hurting conversions, and make data-driven decisions about your site. Weebly's analytics capabilities are quite basic unless you upgrade to a paid tier.
Many competitors like the GoDaddy website builder provide more advanced analytics even on low-cost plans. The insights you gain from analytics reports will be incredibly valuable for growing your small business website over the long term.
8. Customer Support and Community
Having access to customer support and an engaged user community is highly beneficial when using any website builder, including Weebly alternatives. When evaluating options, check what support channels are available – email, live chat, phone, etc.
Also research if they offer ample self-help resources like documentation, FAQs, tutorials, and webinars to complement one-to-one support.
An active online community of users can also provide tips, ideas, and troubleshooting beyond official channels. Weebly does provide multiple support options but some competitors offer more responsive, higher-touch support.
Don't underestimate the value of getting timely help when issues arise or you're unclear on how to use certain platform features. Prioritizing an alternative with superior support and a vibrant community will enhance your overall experience.
9. Pricing
The pricing model and cost of a Weebly alternative should factor into your decision-making. Carefully compare monthly and annual pricing options as well as the features provided at each tier. Some things to look for are if the basics like hosting, bandwidth, emails, etc. are covered in the base plan or if you pay extra.
Also see how storage space, product inventory, member accounts, and other limits scale up with higher tiers. Check what usage thresholds dictate moving to a higher pricing tier. Confirm if unlimited plans are available should your site grow significantly. Also find out if they offer any special pricing, discounts, or agency/enterprise quotes based on volume.
Weebly pricing is competitive but sometimes bundled capabilities and tier limits can influence the true cost over time. Evaluating the full scope of pricing will prevent surprise charges as your website develops. The most cost-effective alternative aligns with your planned growth.
10. Reviews and Reputation
Before selecting a Weebly alternative, research its overall online reputation amongst users and experts. Look at credible third-party review sites to gauge general satisfaction levels of any popular website builder and see the pros and cons experienced by real customers.
You can also check forums and communities to spot any recurring complaints or issues reported by multiple users about a particular platform.
While Weebly maintains a solid reputation, digging into reviews and feedback for any alternative will provide a more complete picture. A platform may look good on paper but have bugs, unintuitive workflows, or poor support that users frequently vent about.
Favorably reviewed alternatives with strong reputations for usability, features, and customer service will give you greater confidence in choosing a provider. Selecting the right platform is critical, so ensure reputability checks are part of your due diligence.
Summary and Top Picks
In this article, we covered the key factors to evaluate when considering alternatives to Weebly for your website needs.
While Weebly is a solid platform, reviewing options that offer greater design control, robust ecommerce, powerful SEO tools, strong integrations, analytics, and overall customization can provide an improved experience. We highlighted why elements like ease of use, blogging, support, pricing, and reputation should all be weighed as you assess competitors.
There are many excellent Weebly alternatives on the market that can match or exceed its capabilities and be a better fit depending on your goals. The table below shows my top five alternatives, and why they are the top choices.