Squarespace is one of the most popular website builders on the market, offering users an all-in-one platform to create sleek, professional websites.
However, Squarespace may not be the right solution for everyone. Some drawbacks like limited customization options, complex pricing tiers, and lackluster customer support could motivate users to explore alternatives. Additionally, individuals and businesses with unique needs may require functionality that Squarespace lacks.
In this post, we will highlight viable alternatives to Squarespace for those seeking a website builder that is cheaper, easier to use, more customizable, or better aligned with their goals. Read on to discover the top Squarespace alternatives based on your specific needs and preferences.
Wix is best for aspiring website builders who want free and premium options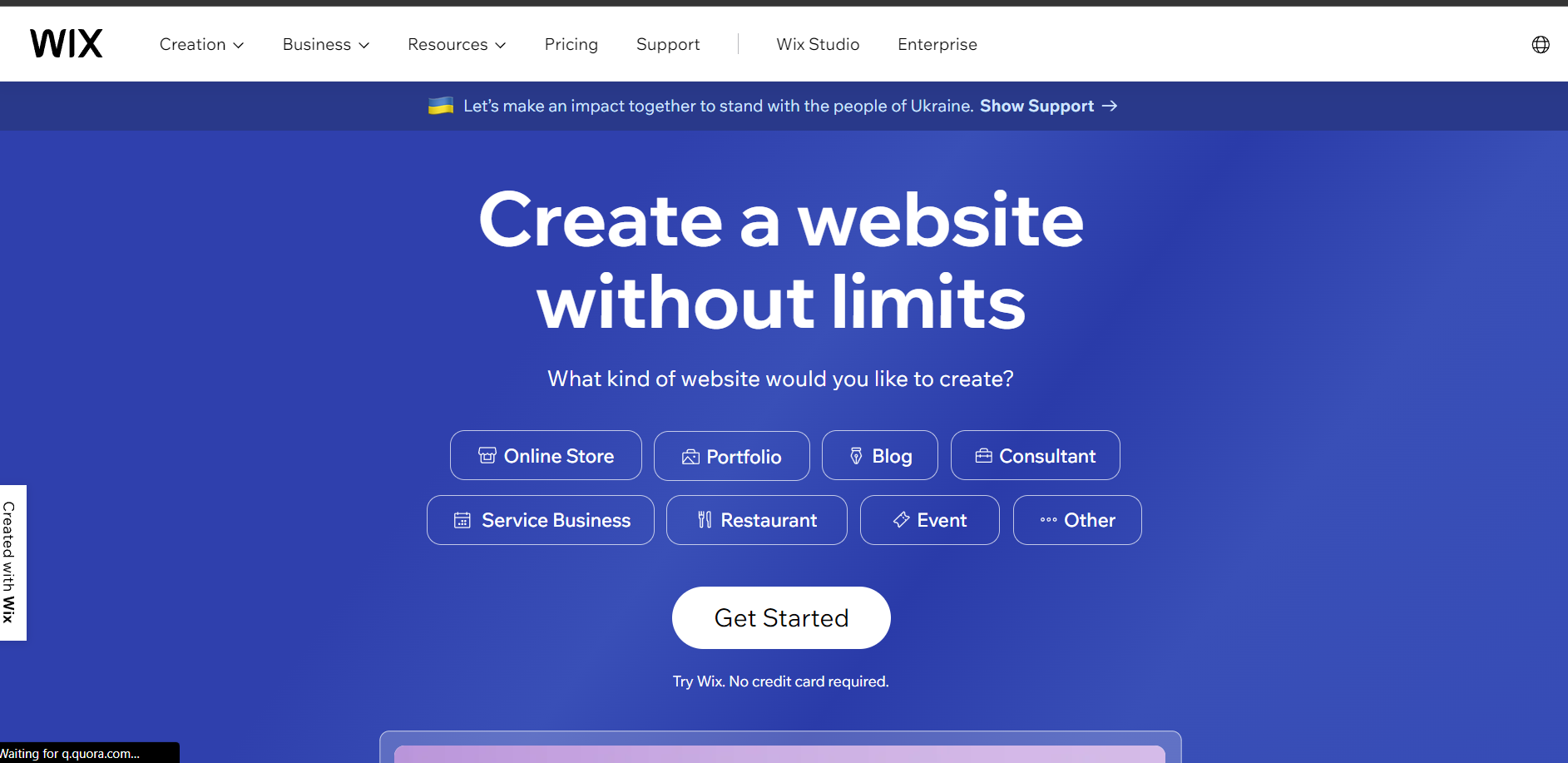 Wix is a user-friendly drag-and-drop website builder with 500+ designer-made templates to choose from. It appeals to non-techies with an intuitive editor that lets you customize fonts, colors, and layouts, and add media content without coding.
Wix has free basic plans as well as premium e-commerce options. Its SEO Wiz tool helps optimize your site for search engines. Other notable features include a mobile site builder, blog, email marketing, and customizable domains, as well as advanced features for tech-skilled users.
What makes Wix a better Squarespace alternative:
More free plan options, including ad-free sites
Full design customization without code
AI-powered creation tools like Wix ADI
A larger template library with more variety
Strong e-commerce features and integration
Superior SEO optimization capabilities
Wix shines for beginners due to its simplicity but also caters to advanced users with expansive design freedom. Squarespace limits customization and forces certain design constraints. Wix pricing tiers are straightforward without complex upsells. Customer support response time tends to be quicker as well. Overall, Wix provides greater flexibility and control over your site's look, feel, and functionality.
---
Hostinger is best for budget-conscious users needing reliable shared hosting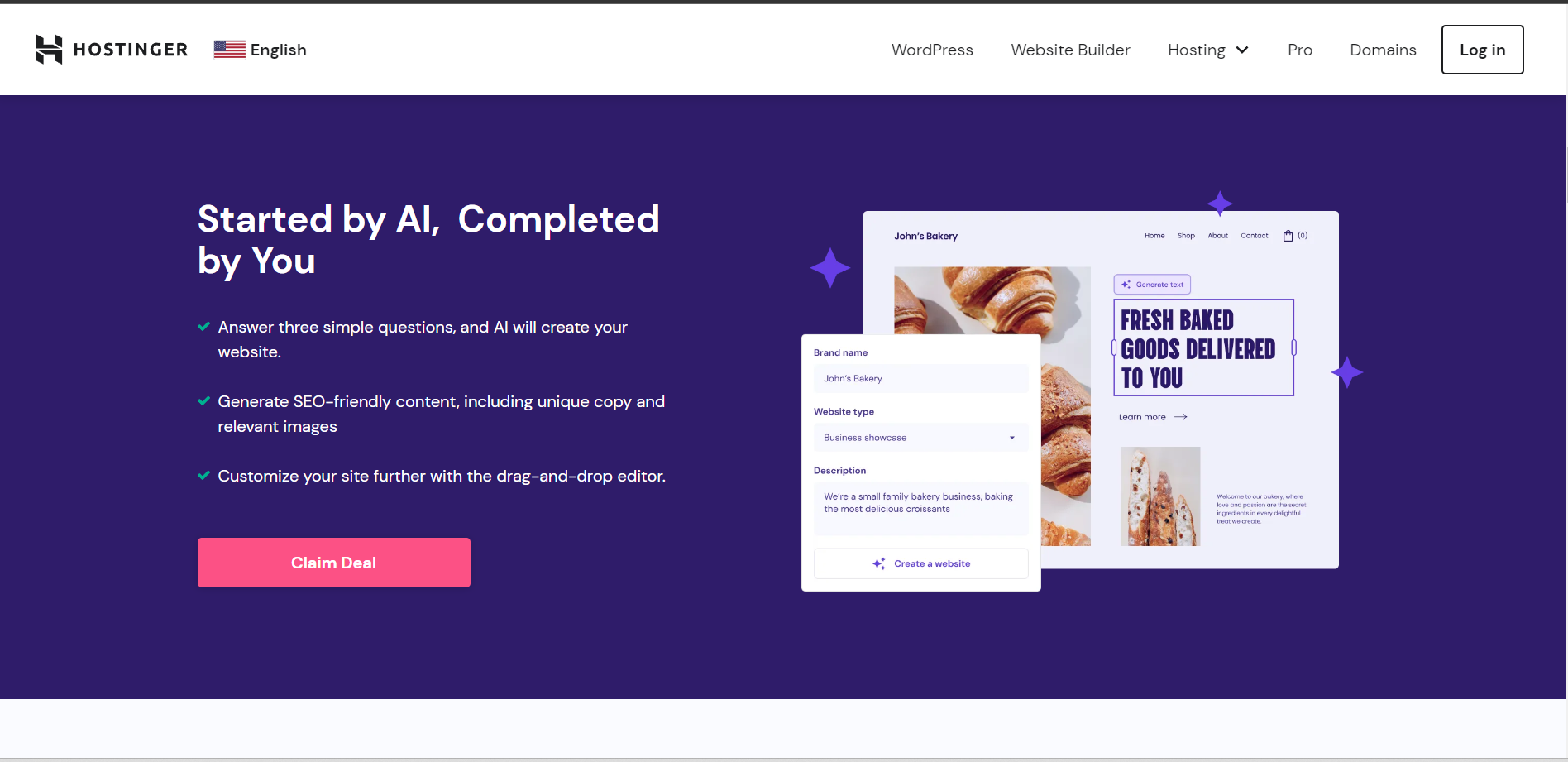 Hostinger provides affordable and easy-to-use web hosting for personal websites and small businesses. With shared hosting plans starting at $1.99 a month, unlimited sites/bandwidth, and a free domain, Hostinger is popular for its low-cost options.
The user-friendly control panel allows you to set up WordPress and other site builders quickly. Hostinger offers VPS hosting, cloud hosting, dedicated servers, and reseller plans as you scale up. 24/7 customer support is available along with a 99.9% uptime guarantee.
What makes Hostinger a better Squarespace alternative:
Significantly lower monthly and yearly pricing tiers
Ability to fully customize sites with WordPress
More powerful performance capabilities for high-traffic sites
Wider selection of hosting plans to meet evolving needs
Excellent uptime record and loading speeds
Helpful 24/7 customer support via chat, email, and phone
For those wanting maximum flexibility without the constraints of an all-in-one builder, Hostinger provides an affordable hosting platform to build the site you want from the ground up. Their optimized servers allow WordPress and other installed platforms to run smoothly and reliably. The lower costs and experienced support also make Hostinger ideal for new site owners on a budget.
---
Shopify is best for e-commerce merchants needing an all-in-one storefront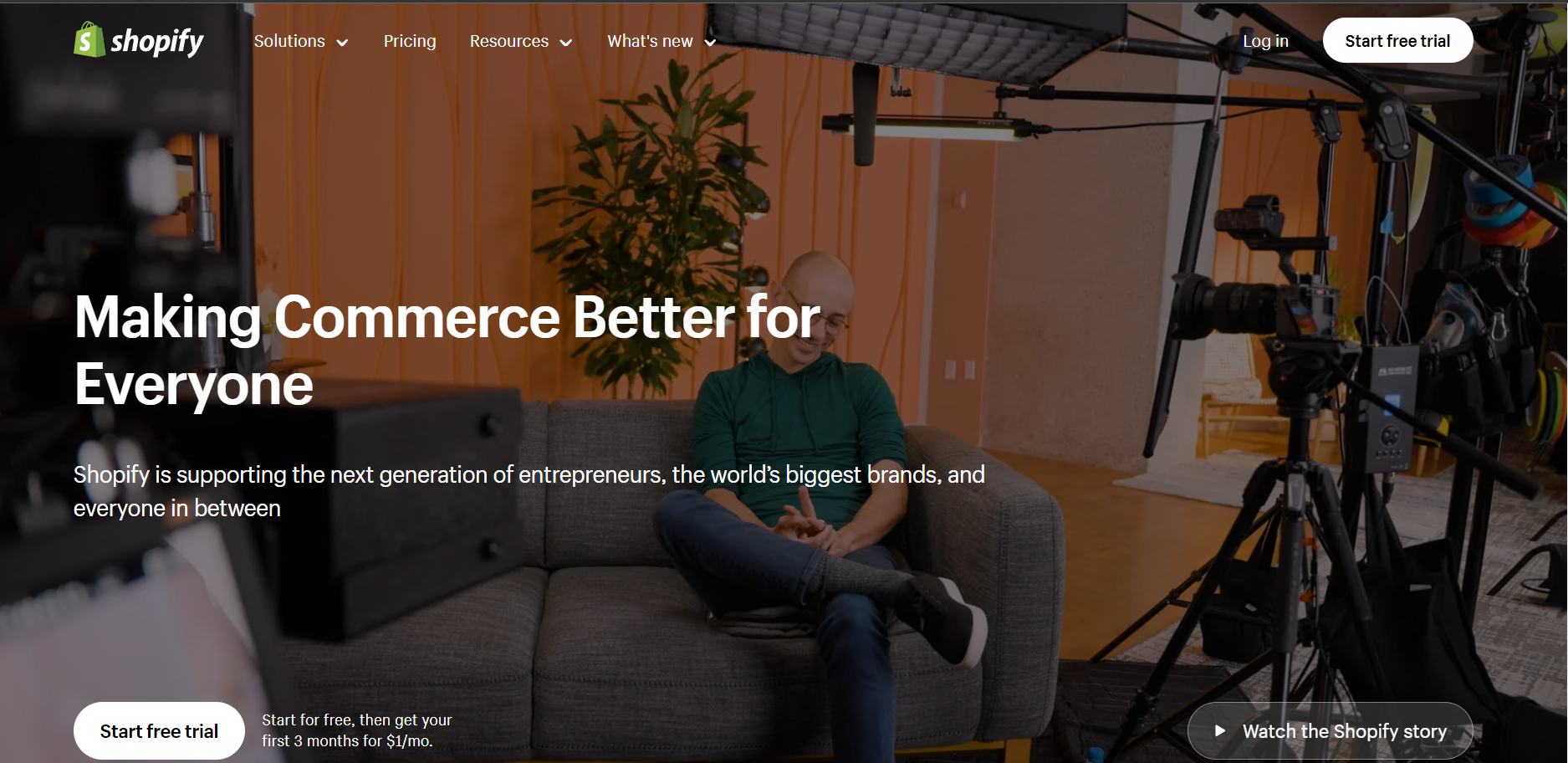 Shopify equips entrepreneurs with everything needed to build and manage successful online stores. The powerful e-commerce platform has advanced ecommerce features and combines intuitive site-building tools, secure payment processing, and marketing features like SEO optimization.
Compared to other website builders, Shopify offers more customizable online store themes, 24/7 support, and POS integration for brick-and-mortar sales. With plans starting at $25/month, Shopify enables independent retailers to sell online with an easy-to-use system.
What makes Shopify a better Squarespace alternative:
Lower transaction fees compared to Squarespace
Fully customizable storefronts without code
More robust built-in marketing and analytics
Integrations with major shipping carriers
Point-of-sale capabilities for in-person sales
Effective inventory management and order tracking
Shopify removes the complexity of running an online store by providing e-commerce merchants with an all-in-one solution. Their platform scales alongside growing businesses while offering more competitive rates and better reporting than Squarespace. For anyone needing a full-service storefront, Shopify is a top choice.
---
Strikingly is best for business users wanting a simple, elegant website.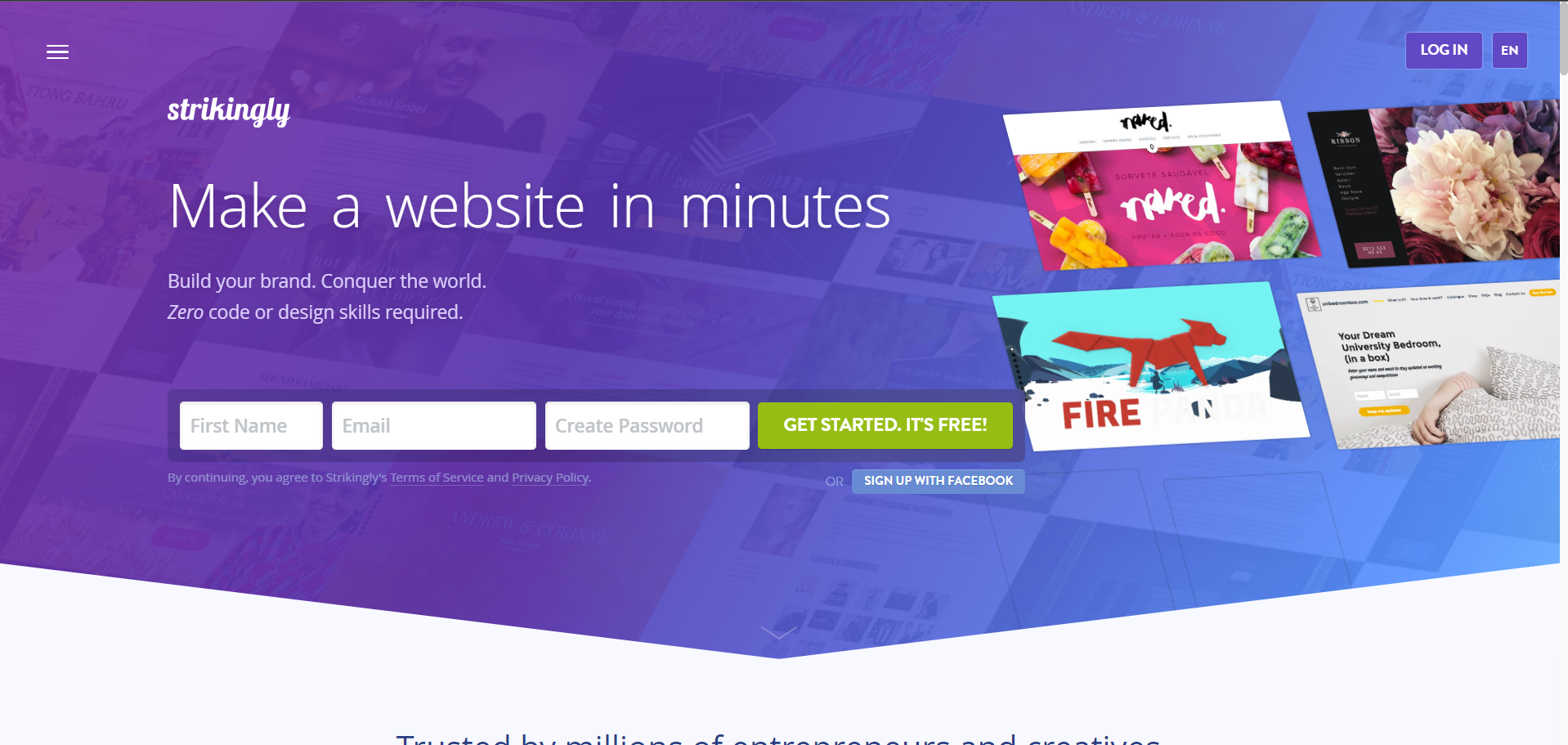 Strikingly provides an easy way to build a professional website in minutes using their modern, pre-designed templates. It appeals to non-technical users with an intuitive drag-and-drop editor for customizing site content.
Key features include integrated e-commerce, SEO optimization, email subscribers, 24/7 support, and unlimited bandwidth. Strikingly offers free basic sites as well as paid plans for enhanced functionality.
What makes Strikingly a better Squarespace alternative:
Simpler interface and workflow for beginners
Faster loading speeds and performance
Quality templates optimized for mobile
Comparable features at lower price points
Effective built-in SEO tools for better visibility
Helpful customer support via live chat
For those wanting an easy-to-use platform with a minimal learning curve, Strikingly enables anyone to make an attractive website quickly. Their elegant designs and lightweight editor provide a better experience than Squarespace for entry-level users. Strikingly represents an affordable starting point before expanding capabilities.
---
Weebly is best for entrepreneurs wanting an easy website builder with e-commerce.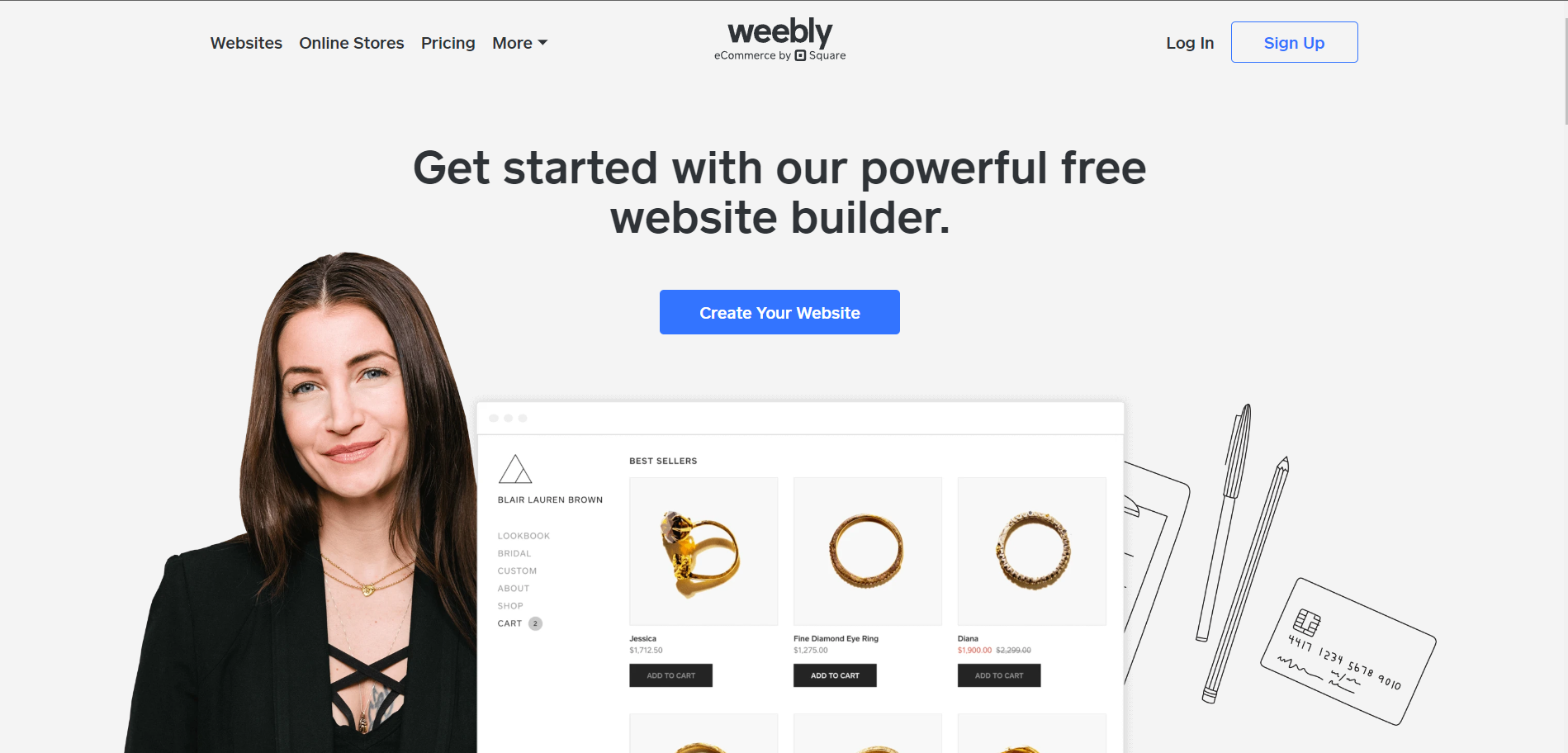 Weebly makes it simple for anyone to create a professional-looking website using intuitive drag-and-drop tools and designer-made templates. Features include integrated e-commerce, SEO optimization, mailing lists, and domain hosting.
Weebly offers free basic plans as well as premium options with more capabilities. Its App Center provides access to hundreds of useful integrations.
What makes Weebly a better Squarespace alternative:
More affordable pricing across all tiers
Highly customizable storefront design
Better apps and integration options
Superior customer support resources
Easier to navigate editor for beginners
Unlimited storage for your website files
For those wanting a free alternative, and an all-in-one platform to sell online, Weebly delivers powerful e-commerce capabilities with greater affordability and flexibility than Squarespace. Their intuitive tools make site building approachable for new users, while customization options cater to advanced needs as businesses scale up.
---
Webnode is best for new site owners prioritizing ease of use.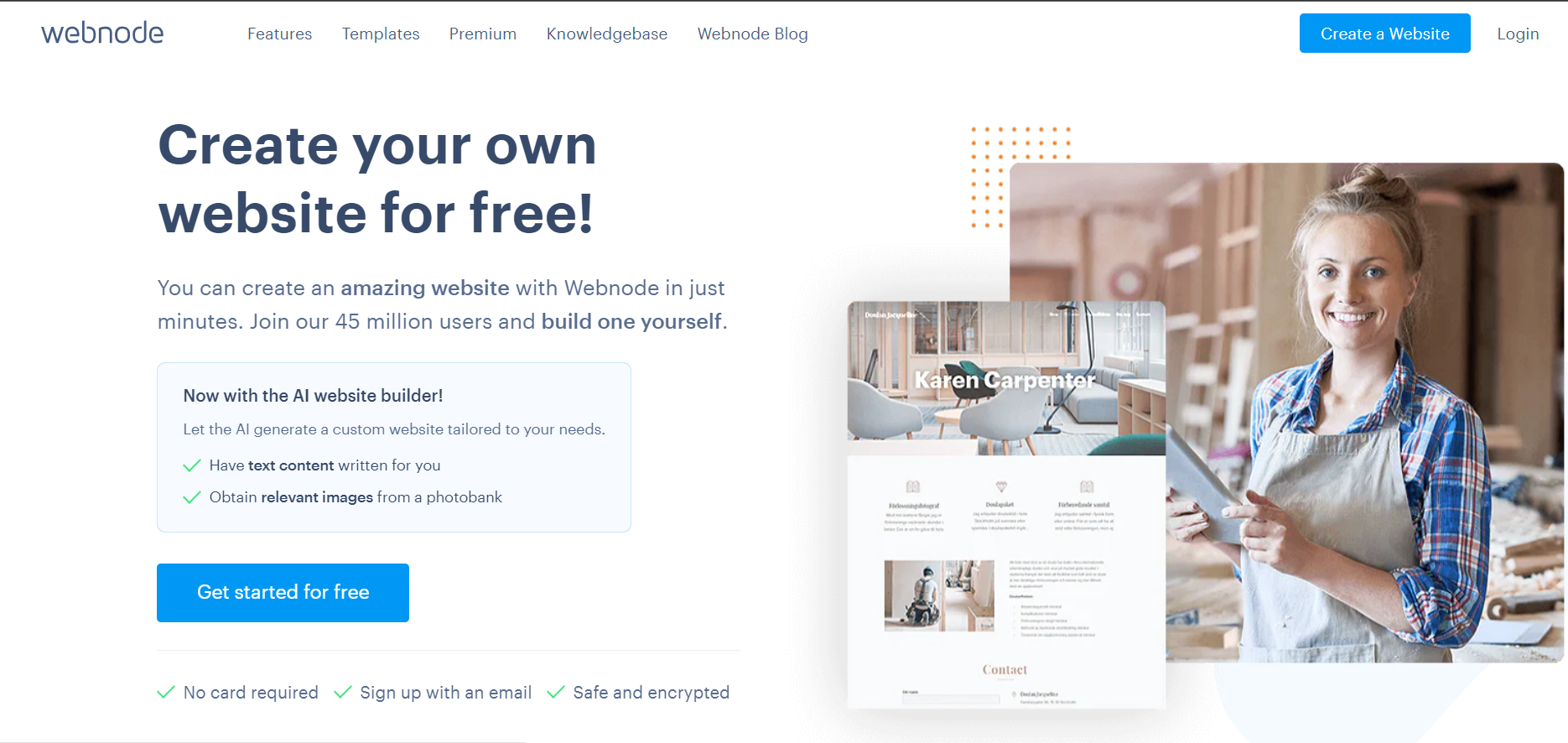 Webnode provides an incredibly simple drag-and-drop website builder for creating basic sites quickly. Their 700+ designer-made templates make it easy to get started. Notable features include free hosting, SEO optimization, e-commerce capabilities, and 24/7 customer support. Webnode offers ad-free plans starting at $3 per month.
What makes Webnode a better Squarespace alternative:
Intuitive editor perfect for complete beginners
Lower-cost plans with free options are available
Quick setup letting you publish sites faster
Quality templates suited for small businesses
Reliable performance with good uptime
Helpful customer support via chat and email
For those wanting maximum simplicity to build their own website without sacrificing core functions, Webnode is a great starter option. It has a free version with basic features and the platform's easy-to-use builder and lower costs make website creation accessible for new users before upgrading plans. Compared to Squarespace, Webnode reduces friction for launching sites quickly.
---
Webflow is best for designers wanting total creative control.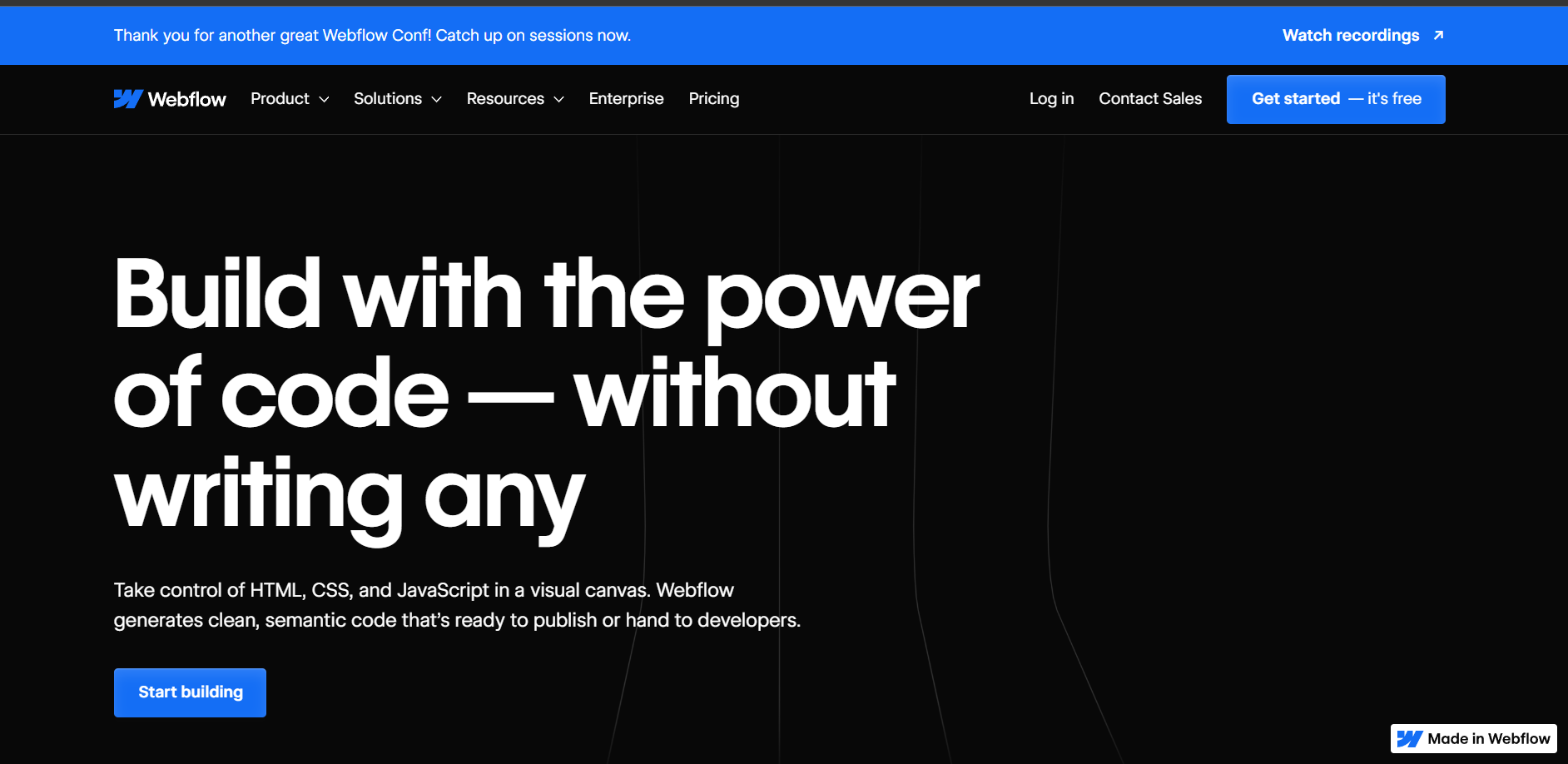 Webflow provides designers and developers with a robust toolset for building responsive, visually stunning websites. While Webflow has drag-and-drop functionality, its key draw is customization power through code-free workflows. Designers can craft dynamic, interactive pages with animation tools and interactions unavailable in Squarespace.
What makes Webflow a better Squarespace alternative:
Greater creative freedom over layouts and effects
Designer-centric tools enabling visual customization
Ability to prototype complex sites interactively
CMS capabilities for managing dynamic content
Hosting solutions tailored for Webflow sites
Active community of users and educators
For those wanting extensive creative control without coding, Webflow delivers where Squarespace falls short. Their empowering tools allow designers to make truly original sites, animated interactions, and advanced responsive features. Webflow offers more freedom to build the exact site envisioned.
---
WordPress is best for users wanting maximum flexibility and control.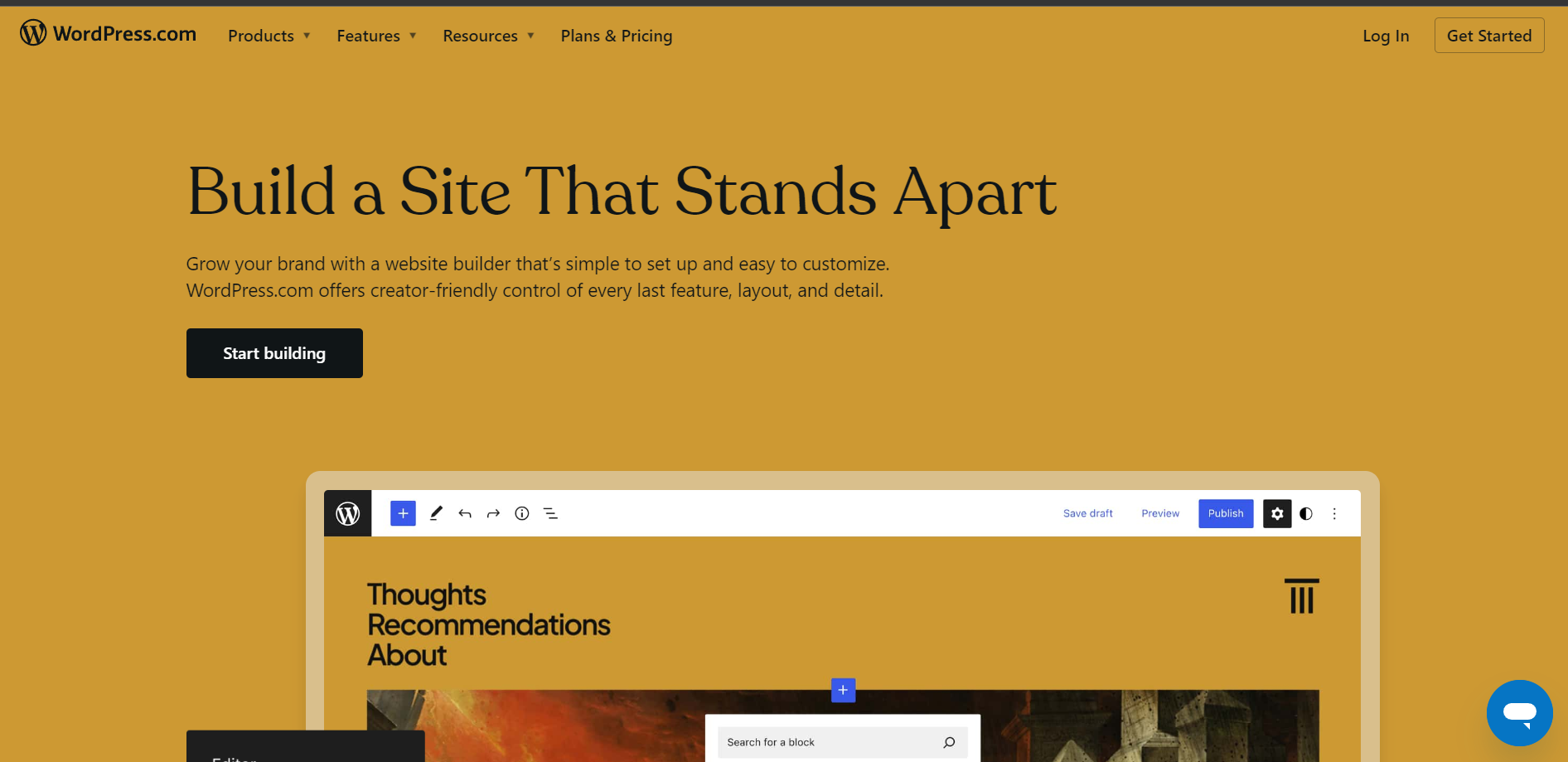 WordPress is the world's most popular open-source CMS, empowering users to make any kind of website imaginable. With WordPress, you control the hosting, theme, plugins, and functionality. This flexibility comes at the cost of more complexity. However, WordPress enables unmatched customization opportunities for experienced users.
What makes WordPress a better Squarespace alternative:
Nearly endless customization abilities
Freedom to hand-pick preferred hosting and plugins
Vast theme selections from independent developers
Ability to build complex, large-scale sites
Mature platform with strong community support
Lower long-term costs for advanced users
For those comfortable working independently, WordPress provides an adaptable framework for constructing highly tailored sites. Users gain granular control over their website and brand. However, WordPress involves more ownership in managing technical details. Overall it delivers superior expandability than walled gardens like Squarespace.
---
Duda is best for agencies building sites for clients.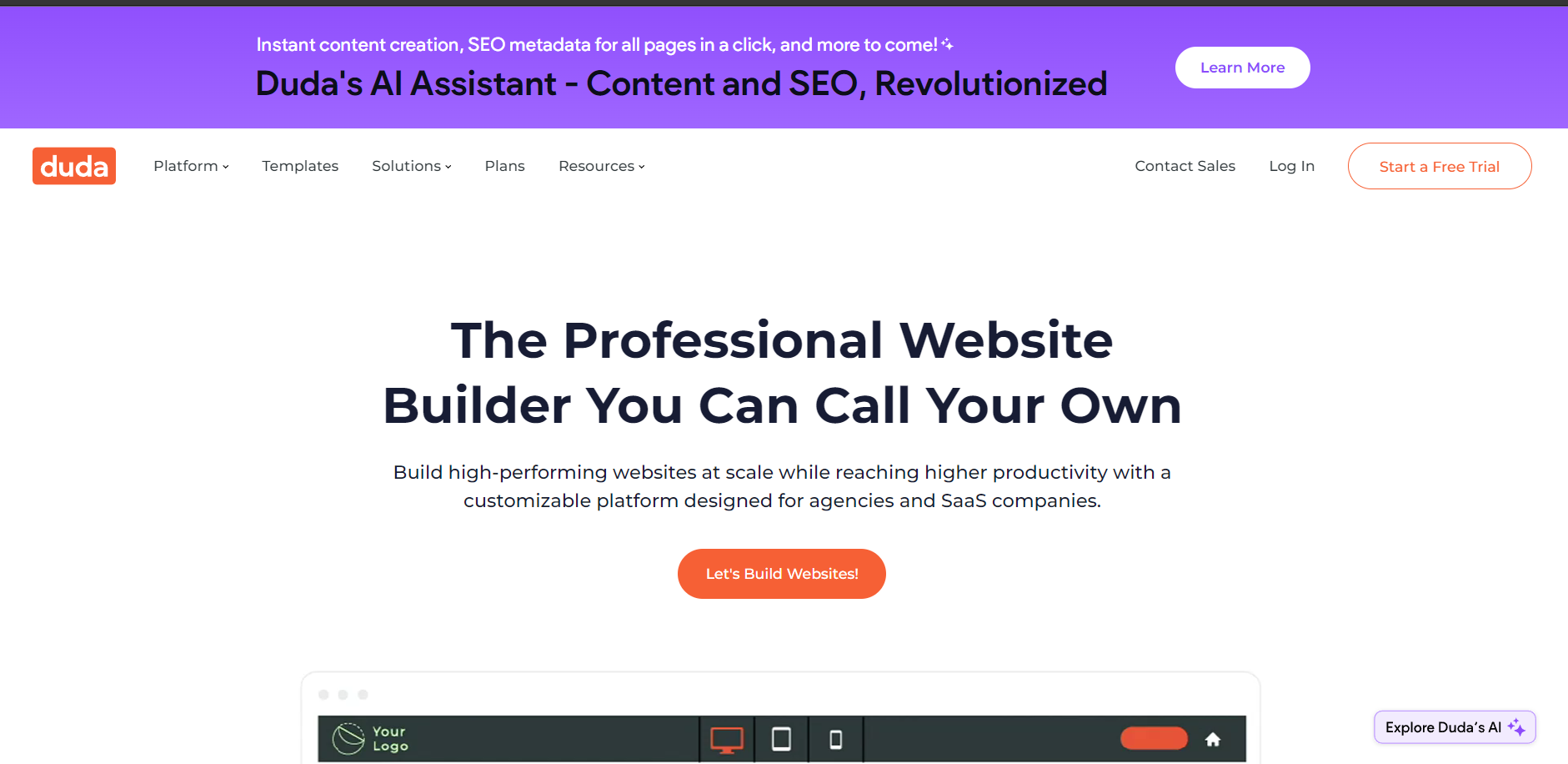 Duda offers white-label website-building solutions for digital agencies and web professionals. Their customizable drag-and-drop builder, themes, and workflows are designed for easily creating sites for clients. Duda provides client management portals, collaboration tools, and built-in hosting and security.
What makes Duda a better Squarespace alternative:
Tools optimized for web development teams
Ability to brand builder for each client
Integrations with business software stacks
More customizable and extensible templates
Improved SEO tools and site performance
Scalable pricing model as your agency grows
For web professionals, Duda delivers a more robust suite of agency-focused tools compared to Squarespace. Their white-label approach enables delivering exceptional client sites efficiently. Duda also provides superior support and technical documentation catered to agencies.
---
Jimdo is best for small business owners wanting an online storefront.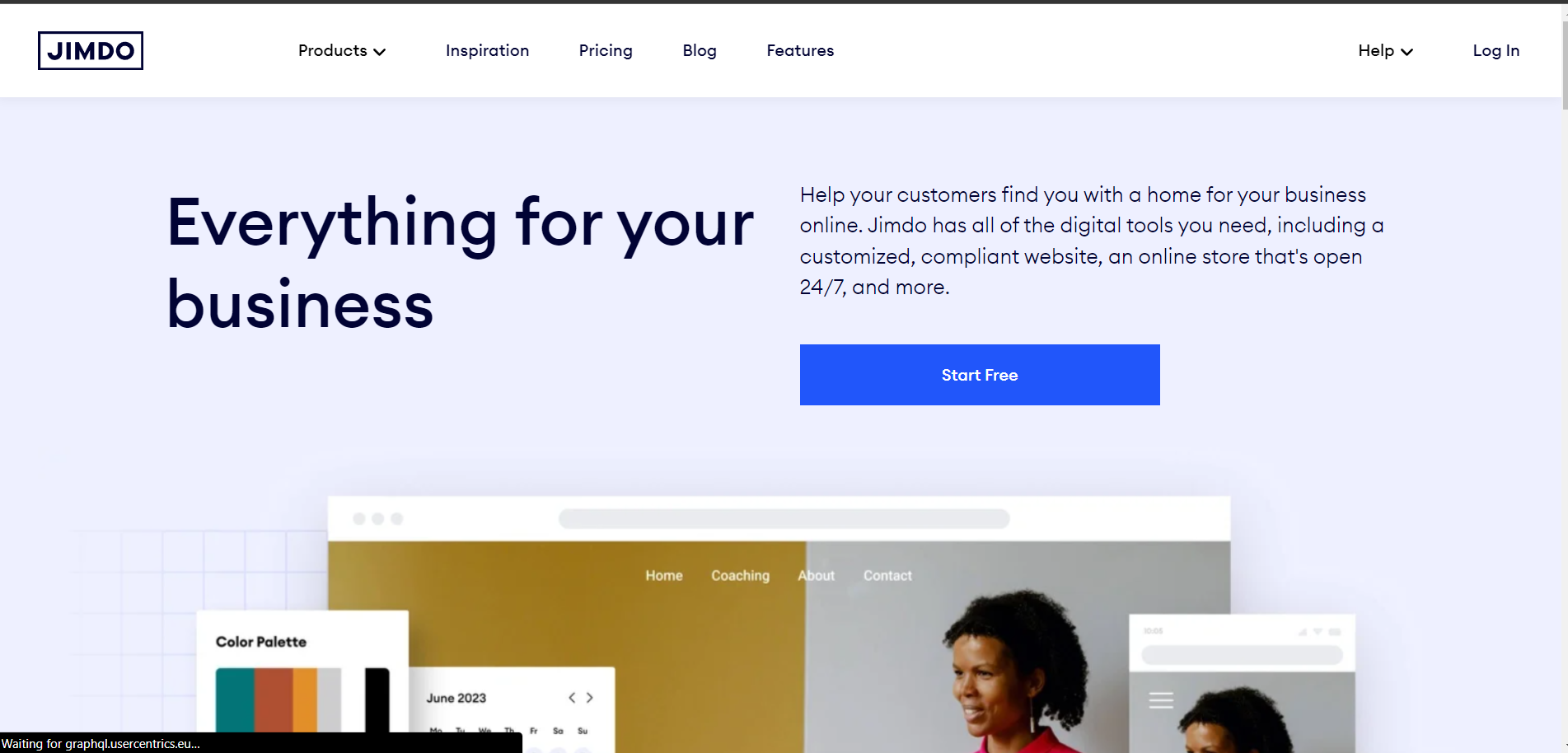 Jimdo lets small business owners easily create a professional website with integrated e-commerce capabilities. Their intuitive editor, templates, and drag-and-drop tools make online store setup simple. Notable Jimdo features include SEO optimization, appointment scheduling, social media integration, and 24/7 support.
What makes Jimdo a better Squarespace alternative:
More affordable plans for small sites
Better-tailored templates for local businesses
Built-in appointment scheduling tool
Hands-on customer support and training
Faster site loading speeds
Easy migration from another platform
For small business owners without web expertise, Jimdo provides an accessible way to establish an online presence. Their combination of easy-to-use tools, lower costs, and helpful support exceeds Squarespace for launching independent storefronts efficiently.
---
Site123 is best for anyone wanting a super simple website maker.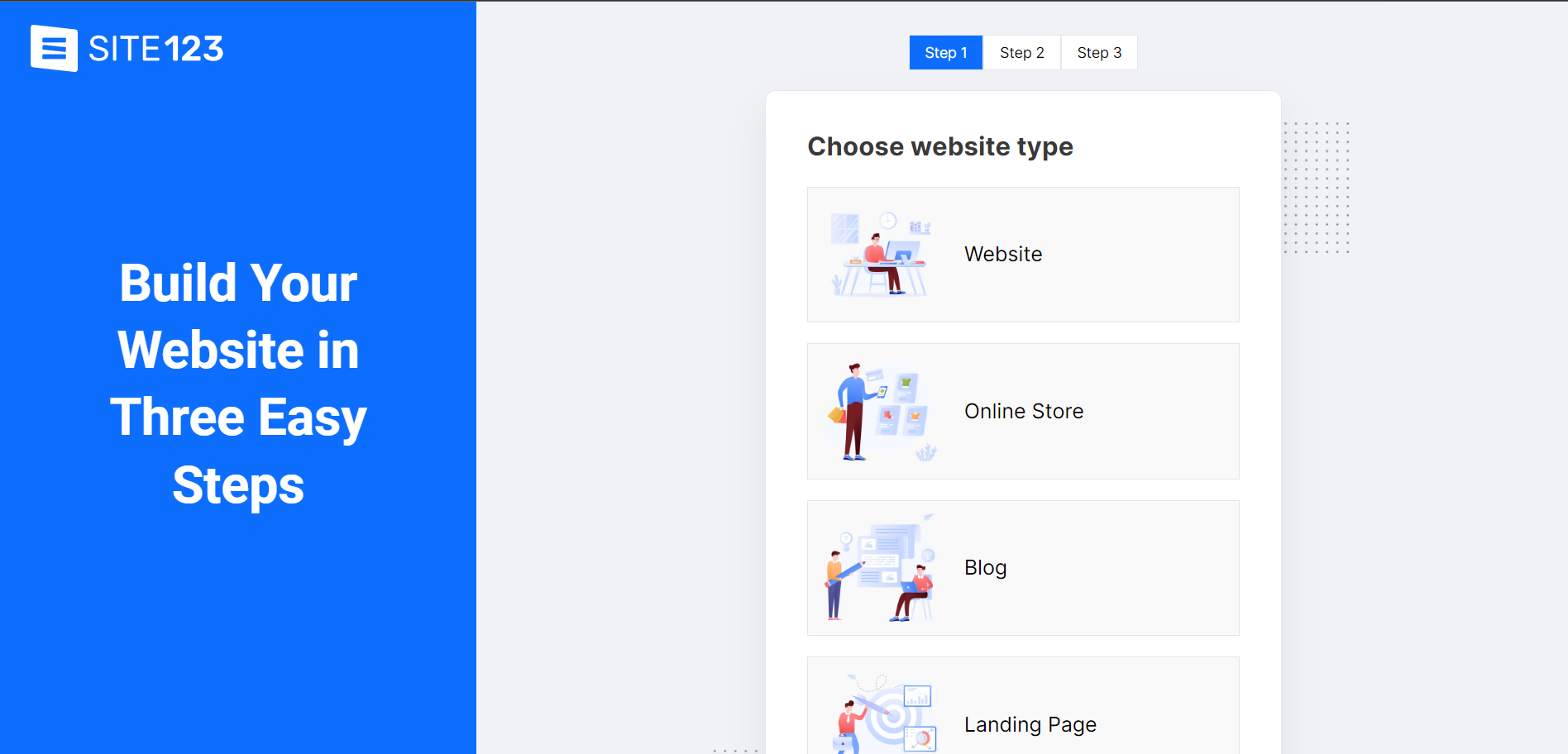 Site123 is a beginner-friendly website builder requiring no technical skills. Their streamlined editor has intuitive drag-and-drop tools, 500+ templates, and integrated hosting. Key features include SEO optimization, e-commerce, forms, and 24/7 chat support. Site123 offers free forever plans and paid options for more features and resources.
What makes Site123 a better Squarespace alternative:
Simpler interface and workflow for non-techies
Extremely fast setup with no learning curve
Quality templates designed for small sites
Lower pricing tiers with free plans available
Phone support in addition to chat/email
Easy migration tools to transfer sites
For those wanting extreme simplicity without sacrificing core features, Site123 enables anyone to create decent-looking websites quickly. Their hassle-free builder and low costs make Site123 a great starting point before upgrading to more advanced platforms.
---
GoDaddy Website Builder is best for novice users needing an affordable starter option.
GoDaddy Website Builder provides an easy way to create basic websites with little effort. Its user-friendly editor has drag-and-drop tools, an SEO optimizer, and integrated hosting. While limited in capabilities, the builder lets beginners publish presentable sites for cheap.
What makes GoDaddy Website Builder a better Squarespace alternative:
Significantly lower pricing for simple sites
Very easy interface for complete novices
DIY email marketing built into the platform
Large company with reliable customer support
Simple options to upgrade site capabilities
Easy to add domains from your GoDaddy account
For new site owners without big needs, GoDaddy Website Builder offers an affordable starting point for establishing a basic online presence. Their scaled-down editor simplifies site creation compared to Squarespace's more robust but complex tools.
---
Features to Consider For a Squarespace Alternative
1. Ease of Use
Ease of use should be a top consideration when evaluating Squarespace alternatives. The website builder you choose will determine how simple or challenging it is to create, manage, and modify your site over time.
An intuitive interface that enables drag-and-drop editing without coding knowledge is ideal for non-technical users. You want tools that are straightforward enough for you to publish pages and make updates independently. Steeper learning curves add friction when trying to maintain your own site.
Make sure any builder you consider has sufficient educational resources, documentation, and customer support channels. Even if the platform is beginner-friendly, you'll likely need assistance getting started or troubleshooting issues. Don't get stuck with an option lacking adequate help documentation or ways to get questions answered.
The goal is to choose a website builder that allows you to focus on content rather than technical complexities. Carefully factor ease of use into your decision to ensure you select a platform enabling you to fully own your website.
2. Design and Customization
The design and customization capabilities of a website builder should heavily influence your decision when evaluating Squarespace alternatives. After ease of use, design flexibility is typically the next top priority.
Consider how much control you will have to achieve your desired aesthetics and layouts. Squarespace uses set templates limiting how much you can modify the core visual design. Some builders allow extensive custom CSS styling while others only have basic color, font, and element tweaks.
Also, examine how seamlessly you can tailor the site to fit your brand identity. Using stock templates is fine, but you want the ability to adapt them to unique needs. Drag-and-drop editors enabling you to update images, text, and more without coding accelerate branding your site.
Finally, look for mobile responsiveness and tools to preview your site across devices. You want assurance that your site will provide an optimal experience for mobile visitors without extra effort on your part.
The right builder will make realizing your web design ambitions intuitive and accessible without rigid constraints. Keep this top of mind when researching Squarespace alternatives.
3. Blogging Tools
For many website owners, having integrated blogging capabilities is a significant priority when choosing a website builder.
Robust blogging features allow you to regularly publish content that builds trust and improves SEO. Look for blog-specific tools like comment moderation, RSS feeds, categorization, and article scheduling. Optimized blog templates will also make your posts more engaging.
Equally important is whether the platform seamlessly incorporates your blog posts into the site navigation and design. You don't want your blog isolated from the rest of your content.
Understand how your blog content can be shared across social media channels as well. The ability to automatically syndicate posts to your social profiles will help expand your reach.
Carefully compare how potential Squarespace alternatives handle blogging. You want intuitive tools that make consistently publishing and promoting content simple while tightly integrating your blog with the broader site experience.
4. E-commerce Capabilities
For businesses selling products or services online, evaluating the e-commerce capabilities of website builders is essential.
Examine what native features each platform offers for setting up an online storefront and accepting payments. This includes digital shopping carts, product/inventory management, shipping integrations, tax calculations, coupons, and mobile optimizations.
Also, assess the level of design customization available for tailoring your store's visual experience. More control over layouts and branding is ideal.
Transaction fees and payment processing rates should be competitive as well. These can really eat into margins, so understanding the full pricing model is key.
Security is equally important – buyers need to trust your site to handle purchases safely and reliably.
Selecting a builder with robust, flexible e-commerce tools tailored to your business needs ensures you can sell online effectively. Don't settle for lackluster or cookie-cutter options.
5. SEO Tools
A website builder's SEO capabilities should factor prominently in your selection criteria.
Optimizing for search is crucial for driving traffic to your site from Google and other search engines. The website builder should incorporate SEO best practices into its frameworks and templates by default.
Also, assess the specific SEO tools and settings provided. Look for meta description editors, title tag adjustments, alt text additions for images, XML site maps, and social sharing optimizations. Robust SEO capabilities empower you to improve discoverability.
Analytics integrations are equally important for tracking critical metrics like site visits, rankings, and top-performing content. This data will inform your ongoing SEO and content strategy.
Prioritize a website builder offering advanced SEO tools and guidance resources. SEO can become complex quickly, so choose a platform equipping you to get search optimization right from the start.
6. Integrations
The integrations and apps available for a website builder are worth examining before making a choice.
Integrations allow you to connect your site with external marketing, analytics, payment processing, live chat, booking, and other tools. This expands your capabilities without reinventing the wheel or managing separate logins.
For example, integrating email marketing or CRM software with your site provides more robust options while allowing you to stick with trusted platforms.
Assess the breadth of one-click integrations each builder offers, either natively or through an app marketplace. More connections ensure you can augment your site with preferred programs.
Understand if integrations involve extra fees beyond your main subscription costs as well. Ideally, you want free integration capabilities to avoid inflated expenses down the road.
7. Analytics and Reporting
When evaluating website builders, you want insightful analytics and reporting to inform your strategy.
Look for built-in tracking of key metrics like website traffic, visitor demographics, page views, acquisition channels, conversion rates, and more. Robust and segmented analytics help you identify successes as well as problem areas needing optimization.
Easy-to-interpret reports and dashboards are also useful for distilling analytics data into actionable insights. Look for custom reporting abilities too.
Ideally, the analytics solution should integrate cleanly with your chosen builder's interface as well. This allows efficient monitoring of site analytics alongside content management.
Carefully compare the analytics capabilities of each platform. Their reports will provide visibility into what's working so you can continually improve your online presence and ROI. Don't neglect this piece.
8. Customer Support and Community
The level of customer support and community resources a website builder provides should factor into your decision.
Look for multiple support channels like email, live chat, phone, and ticketing options to get assistance when needed. Responsiveness and problem-resolution speed are important too.
Self-help resources like knowledge bases, documentation, forums, webinars, and tutorials will also facilitate learning the platform and troubleshooting issues.
Ideally, the builder will have an active user community for advice and peer knowledge sharing as well.
Don't underestimate the value of dependable customer support. You want help readily available if questions or problems arise. Vet each platform's support offerings to ensure an ideal fit.
9. Pricing
The pricing model and structure of website builder platforms should strongly guide your buying decision.
Look for clear published price points for feature tiers and add-ons so you can accurately estimate total costs. Beware of platforms pushing custom quotes without transparent pricing.
Factor in both initial purchase costs and long-term subscription fees. Some builders have higher startup costs while others have more expensive monthly plans.
Evaluate free trial periods and money-back guarantees to test options first. Also understand any terms around renewals, commitment length, and cancellation policies.
Ideally, choose an affordable builder aligning with your current budget and projected needs down the road. Steeper prices don't necessarily deliver better value for your particular goals.
Carefully comparing pricing gives you the best shot at maximizing return on your investment in a website builder. Don't leave money on the table.
10. Reviews and Reputation
The reviews and overall reputation of a website builder platform should inform your evaluation process.
Look at ratings and customer feedback on trusted sites to gauge real user experiences with each builder. This provides helpful insight into ease of use, features, technical issues, customer support, and more.
Also, research the company behind each platform. How long have they been in business? What is their financial standing? Do they have a positive brand perception? Look for indicators of maturity and stability.
Platforms with overwhelmingly stellar reviews suggest they reliably satisfy customer needs. However, beware of review manipulation on the company's own site.
The right builder will have a demonstrable track record of enabling website creation success for users like you. Reviews offer transparency before you commit.
Summary and Top Picks
Throughout this article, we've explored top-rated Squarespace alternatives for website-building needs of all kinds. We covered user-friendly Wix and Webnode, powerhouse options like WordPress and Webflow, targeted solutions from Duda, Strikingly, and more.
Each platform was evaluated across factors like ease of use, customization, e-commerce features, blogging tools, SEO optimization, analytics, customer support, and pricing. This equips you to weigh the pros and cons of each alternative relative to your own needs and priorities.
Hopefully, this breakdown better informs your quest to find the ideal website creation solution tailored to your individual circumstances. Carefully considering both must-have capabilities and nice-to-have features will lead to selecting the best long-term platform for bringing your online vision to life.
The table below shows my top five Squarespace alternatives, and why they are the top choices.