Did you know that 52% of business leaders currently use AI content generation tools to assist with their content marketing? If you're like most other website owners, you probably struggle to create content on a regular basis. Up until now, your only options may have been to either get on the content hamster wheel yourself or outsource to a freelance writer. Either way, creating high-quality content comes at a price – your money or your time. 
Not anymore.
With the advent of AI tools like WordAI, the struggle to create high-quality content will soon be a thing of the past. WordAI is an article spinner that automatically rewrites content to produce unique versions of the same article. 
Read the rest of this WordAI review to learn more about this content-spinning software, including its features, pricing, support, pros and cons, and much more. 
Ron's Thoughts
If you've been looking for a powerful AI tool to help you generate high-quality content, then WordAI is an excellent choice. This AI tool comes equipped with a wide range of useful features, including providing ideas to help with Writer's Block, the ability to avoid most AI detection tools, content refinement, marketing copy diversification, and the ability to bulk rewrite or download the content. Overall, this is one of the best AI content creation tools out there.
Biggest Pro:

Avoids AI Detection

Biggest Con:

Short Trial Period

Annual Discount:

Yes - Up To 47% Off

Price:

Starts at $17/Mo

Promotion:
Is WordAI Worth it?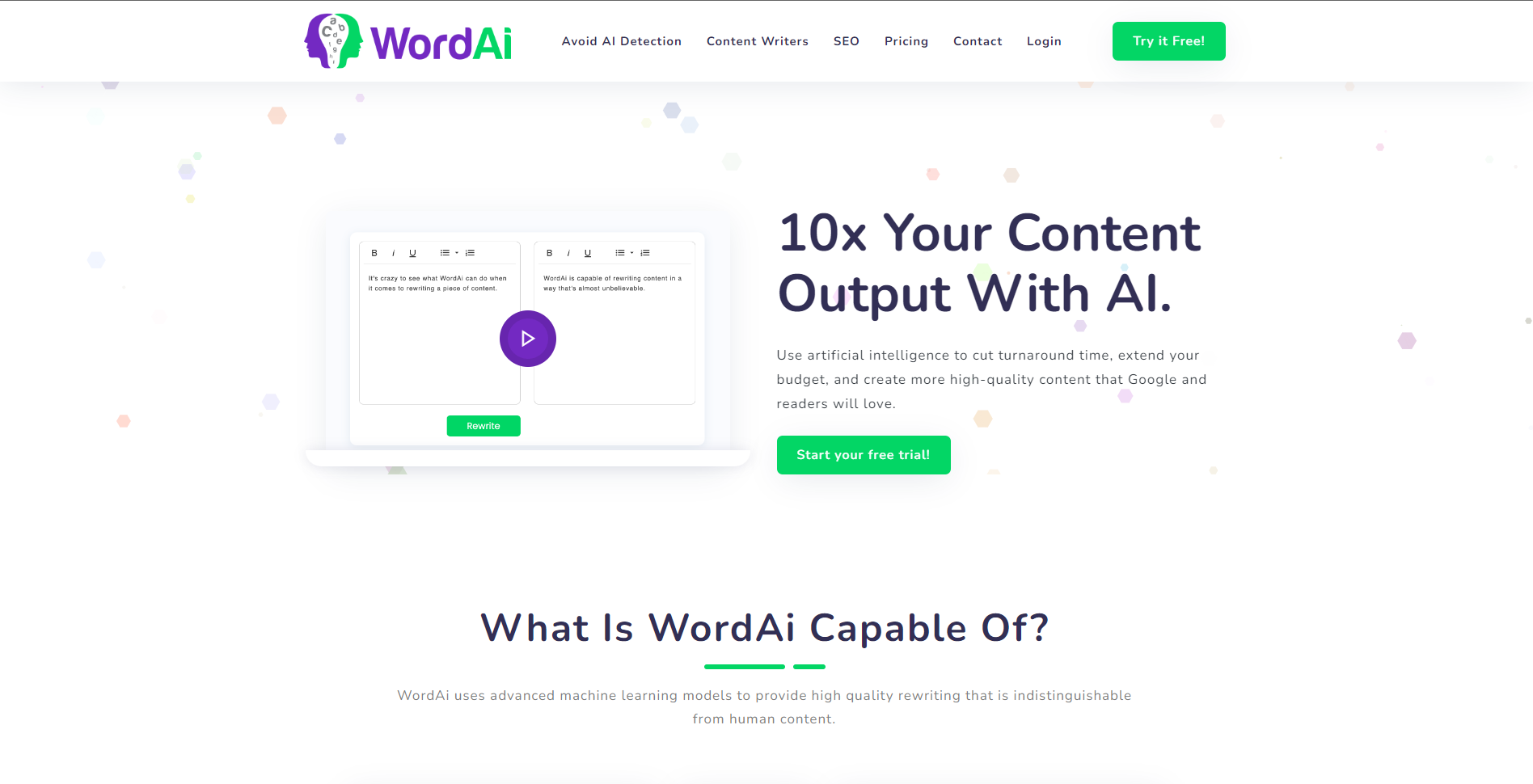 WordAI is a spinning tool that automatically generates articles by rewriting any piece of content quickly and easily.
It rewrites entire paragraphs, phrases, and sentences to produce entirely unique content.
You can create up to 1,000 rewrites from a single article, so I have to say it's certainly worth the investment.
The automatic spinning tool rewrites entire sentences and paragraphs so you can get new unique content from a single source article.
It combines word, phrase, and sentence-level rewriting to create nested spintax that produces multiple high-quality rewrites at a time.
Each of these rewrites is totally unique, which in essence means you can create up to a thousand articles in under 30 seconds.
All of them will be high-quality and unique, passing Copyscape for originality and ensuring that they never get flagged by Google's latest algorithm.
As far as content creation tools go, this is a valuable addition to any content marketer's arsenal that will certainly pay for itself in a very short space of time.
Who is WordAI Good For?
WordAI is ideal for different types of users, including:
Bloggers: Bloggers know how hard it is to create high-quality content on a consistent basis. WordAI lets you create content 10x faster so you can get off the content creation hamster wheel.
Affiliate Marketers: Affiliate marketers can use AI to write high-quality, engaging, and conversion-optimized content for niche websites.
Social Media Marketers: Extend your budget and create engaging social media content in seconds with WordAI's artificial intelligence.
Content Writers: With this software, you can instantly scale your output, please clients with spun content, and multiply your earnings by working smarter and not harder.
Small Businesses: If ever there was a way to boost productivity for your content creation, this is it. With WordAI, you'll efficiently generate articles and multiple variations of your best ideas for optimal results.
Content Marketers: You can enter a single high-quality article, and in seconds, you'll have dozens and even hundreds of unique, duplication-free articles ready to use. The software allows for bulk rewrites to save you even more time.
WordAI Functionality
1. Ease of Use
WordAI lets you rewrite any piece of content to produce high-quality content that is indistinguishable from human written content.
With a single click, you get completely restructured sentences, enriched texts, and improved clarity.
In other words, the software describes the same ideas differently to produce a 100% unique article on the same topic.
All sentences are completely restructured without losing their meaning. They are also optimized for readability and uniqueness.
To get started with WordAI, head over to the website and click "Try it free!".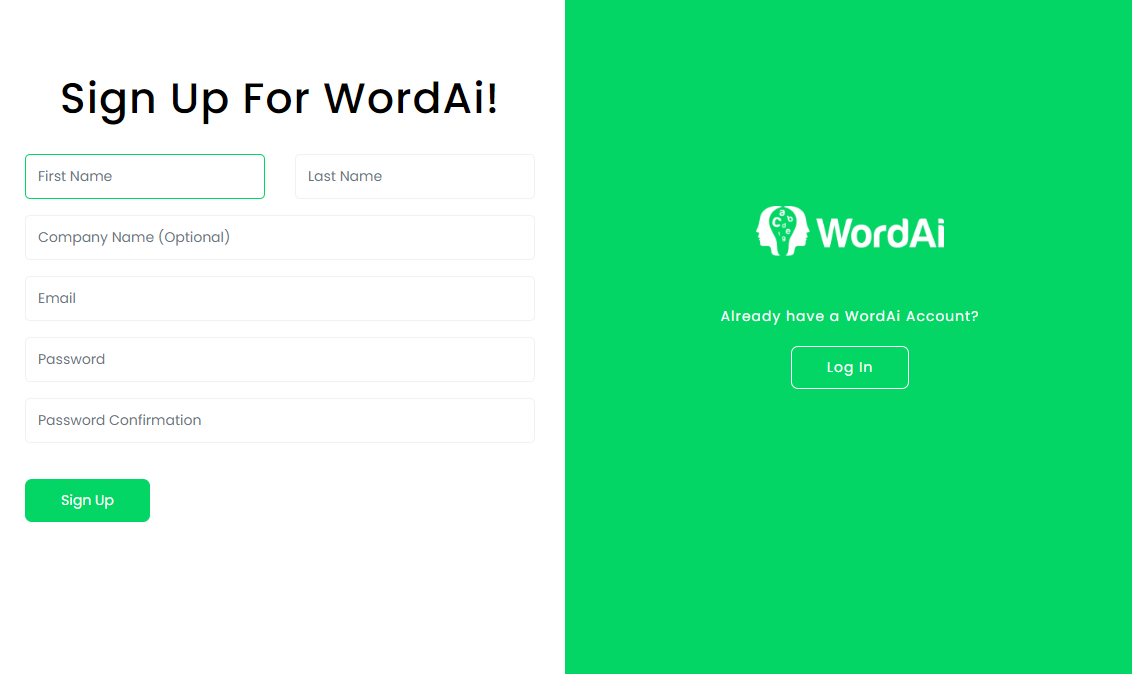 Enter your details on the signup, and confirm your email.
You'll then be able to log into your dashboard and start creating high-quality AI content.
Here's how easy it is to use the rewriting tool:
If you have an article that you want to start with, you can simply paste it into your dashboard. You can import articles from a variety of platforms, including ArticleForge, ChatGPT, and more.
To produce different variations of your article, the software will create a super-spun article with phrase, word, and sentence rewriting.
You can change the settings to create as many variations as you want. Once that's done, click "Rewrite".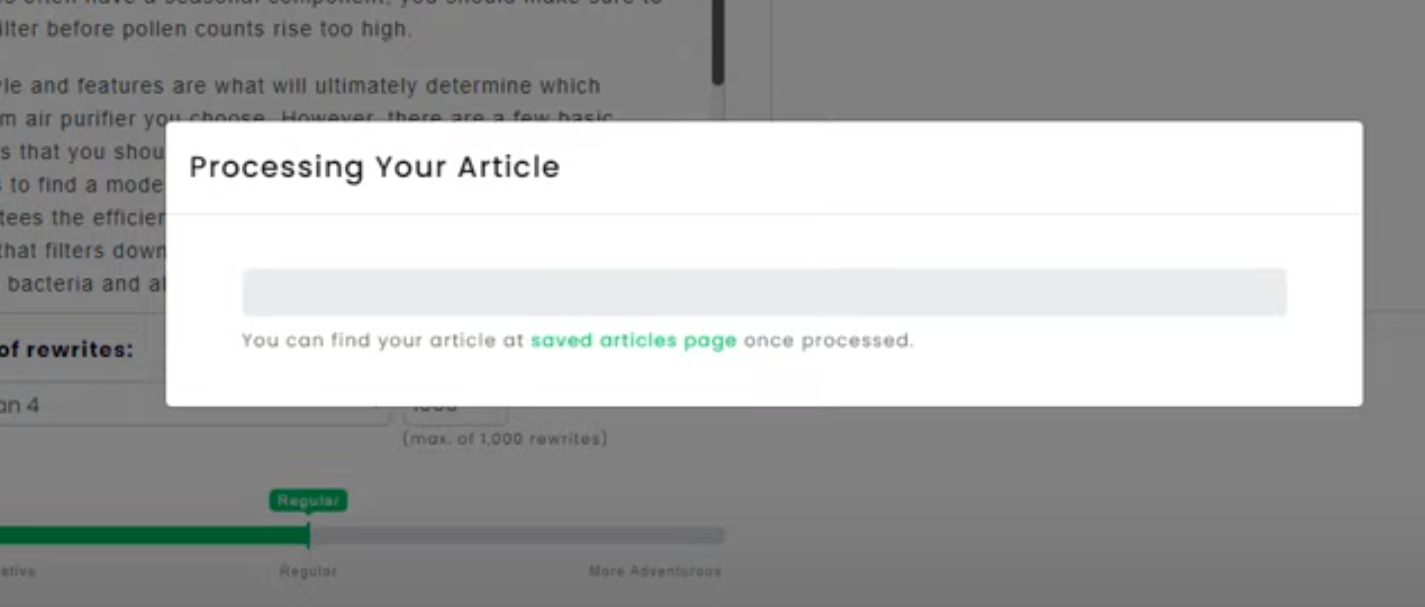 You'll be prompted to enter how many rewrites you want for each article.
You can enter any amount up to a maximum of 1,000 and you'll have your articles ready to go.
To create hundreds of unique versions, it isn't enough for you to just replace synonyms or flip the order of your sentences and phrases.
The software will not only rewrite entire sentences, but each one will have to get multiple rewrites, and that's exactly what the AI does.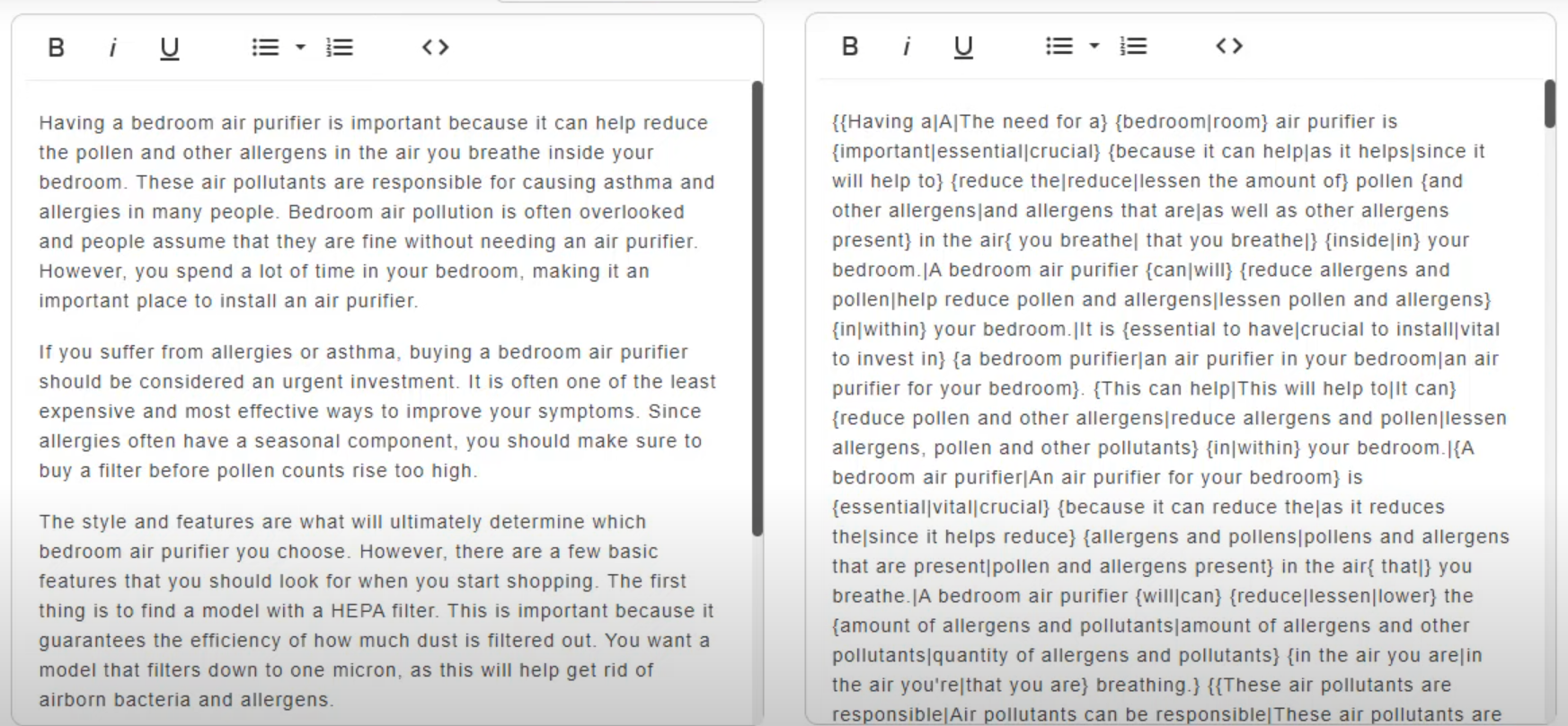 Each sentence will have multiple rewrites, and you'll have your output. Each article will be just as valuable as the original version.
And that's not all.
The software improves your content quality while humanizing it at the same time. It ensures that each piece will pass as human written in AI detectors.
WordAI works for every AI tool currently out there, including:
ChatGPT
Jasper
Copy.ai
Writesonic
Article Forge
… and many others.
Once your article has been rewritten, you can now export your content by clicking "Export".
Alternatively, you can export the syntax and have it on hand to use however you want.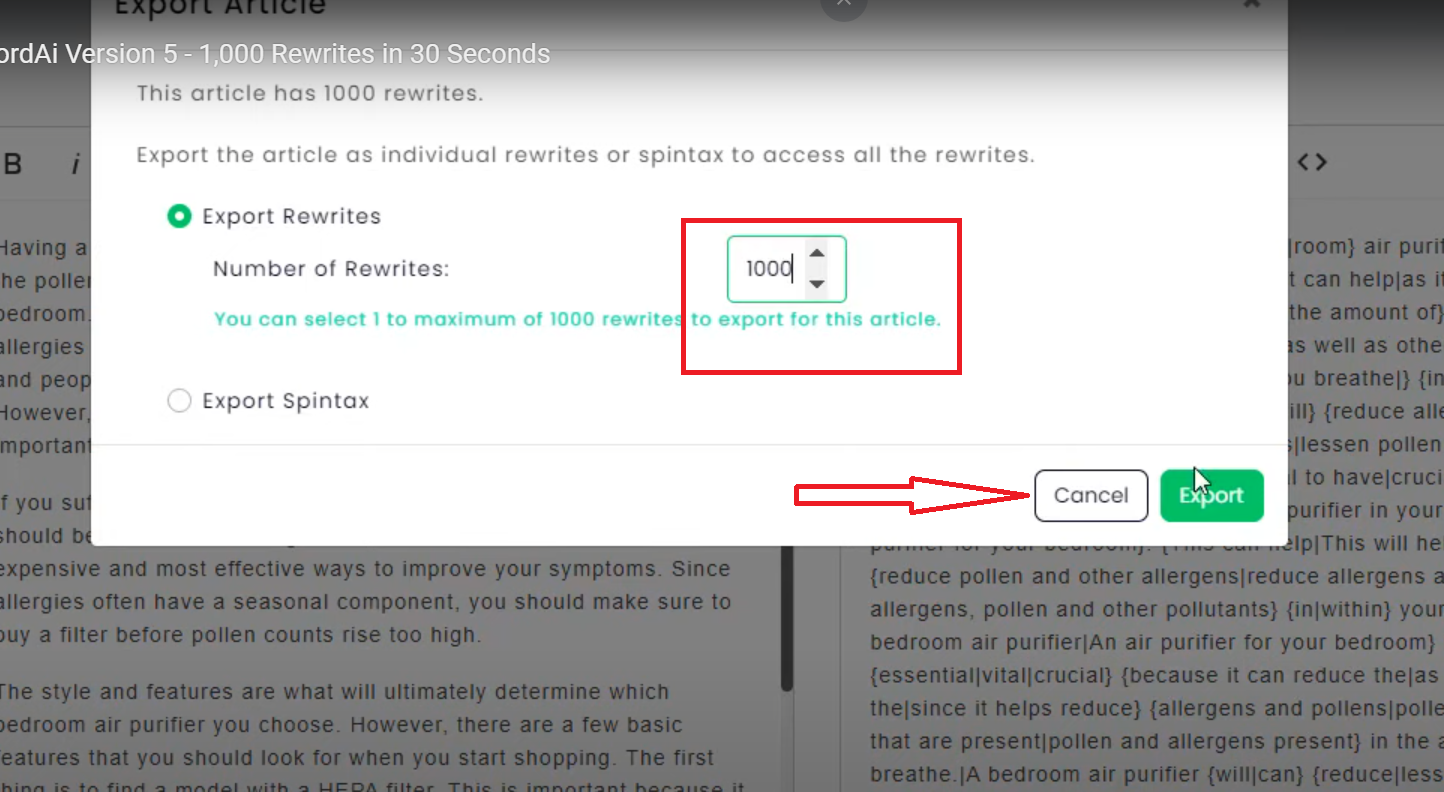 Can you imagine what you can do with 1,000 unique articles with super-spun nested spintax all at your disposal to use as you wish?
As a content creator, you will be able to boost content production and cut turnaround times in half.
With WordAI, it's now easier than ever to create SEO-optimized content that Google and readers will love.
2. Intuitive Editor
WordAI's editor is simple and easy to use. All you have to do is paste your content, and click a button to rewrite your text. Sit back and watch as the AI gets the job done.
Each document has multiple levels of spintax. Each sentence has multiple sentence rewrites and all of them are totally unique from each other.
Unlike other article rewriters that just swap a few words around, this software gives you completely different sentence rewrites that are different from the original.
That's not all. For each of the sentence rewrites, you get multiple word rewrites and phrase rewrites, as well.
And the best part? This entire process takes less than 30 seconds!
So, whether you want to create one or one thousand articles, or whether you need rewrites or spintax, this software can do it all for you.
3. Spintax
Spintax simply means "spinning" or "changing" the syntax of any piece of content to make it unique.
The changed content form should be grammatically correct and read naturally. It shouldn't be different from the original syntax.
So how does WordAI spintax work?
Well, WordAI starts by rewriting sentences from scratch. It does this as many different times as possible.
Then, each sentence variation is rephrased on the word and phrase level. This creates multiple layers of variations, allowing the software to generate hundreds of high-quality, unique rewrites from one single article.
High-quality spintax produces highly readable and unique rewrites that not only pass Copyscape and other plagiarism detection tools but also rank high on search engines.
WordAI spins AI-written text to make it more human so it is undetectable by AI tools.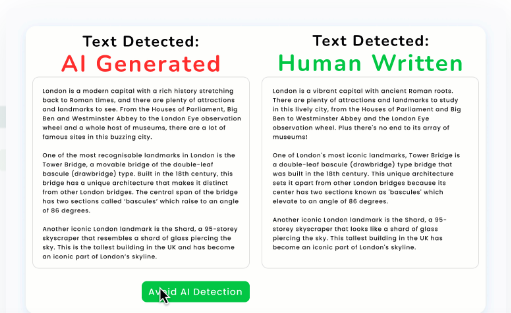 Here are additional benefits you'll get to enjoy with WordAI spintax:
Generate Superspun Content: The software intelligently creates nested spintax that provides you with up to 1,000 rewrites for each original article.
Create Hundreds of Rewrites: WordAI lets you choose the number of rewrites you want for each original article. This means you can amplify any post instantly to save time and give you a better chance to rank online on multiple platforms.
Have a Constant Flow of Content: With WordAI, you'll never run out of content options. Blast through your writer's block in seconds. Simply enter a topic idea, and the software will come up with completely original ways for you to express your unique ideas.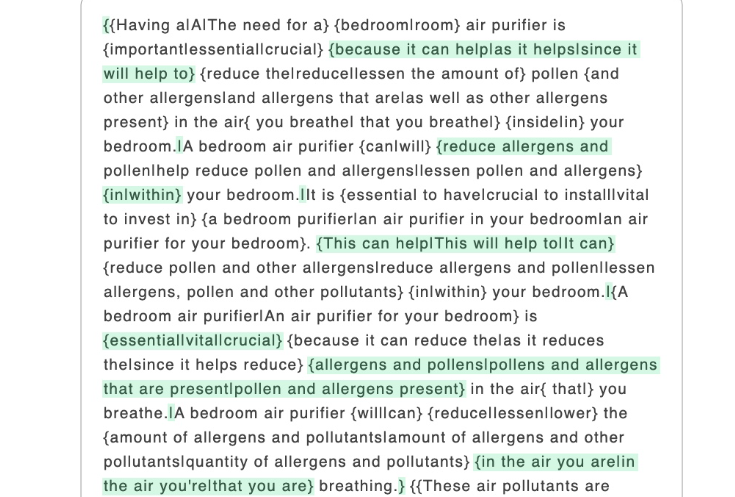 4. Fast Results for Content Writers
As a content writer, you can make money with WordAI. The software uses AI to rewrite text in exactly the same way that humans do.
You'll be able to create content that's unique and engaging every time. Provide clients with high-ranking content that passes all plagiarism and duplicate copy, and AI tests.
Not only will the software produce high-quality original and spun articles but it will also remove spelling and grammar mistakes, thus eliminating the need for an additional tool.
5. Scalable Content for Affiliate Marketers
Take your content creation to the next level and deliver human content with zero plagiarism issues.
This article spinner tool works to humanize your content, which means that it's both naturally readable to your audience and passes AI content detectors as human-written.
Multiple tests were conducted to see how the software performs against some of the most popular AI writers and AI detectors, including ChatGPT, Jasper, Copy AI, and others.
The image below shows the results of a piece of ChatGPT AI-generated content and how it scored after being rewritten using WordAI.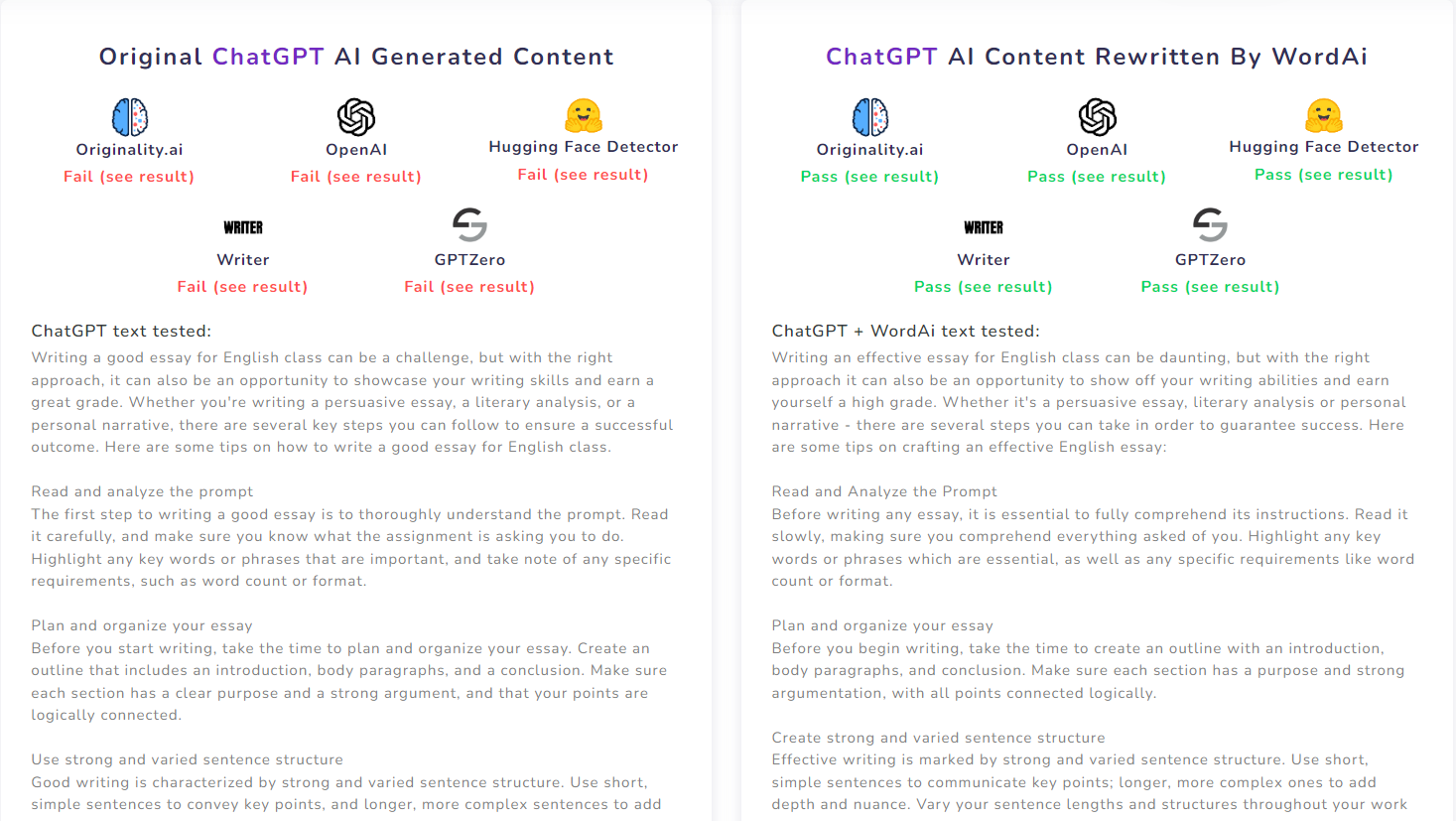 As you can see, the original content failed every test from AI detectors like Originality.ai, OpenAI, and GPTZero.
However, after rewriting the content using WordAI, it passed all the tests.
This means that as an affiliate, you'll get all the benefits of AI-written content with none of the downsides.
Rank Higher: The key to ranking is to consistently produce high-quality content. AI allows you to scale your content and SCO efforts for maximum results.
Increase Profits: By ranking faster with no worries about Google penalties and other downsides, you can keep your customers happy and make more money while spending less.
Multiply Your Efforts: WordAI is a force multiplier that lets you research, write, and proofread your content a lot faster and more effectively. Spend less time on content production and boost your margins with higher-quality outputs.
6. SEO
The only way to rank on Google and other search engines is to provide content that not only offers value to readers but also signals high quality to algorithms.
With WordAI, you can scale your SEO content strategy by turning a single article into a dozen or even a hundred in just a few seconds.
With each rewrite, you'll be able to boost your authority and capture additional longtail keywords so you can take up more real estate on the search engine results pages (SERPs).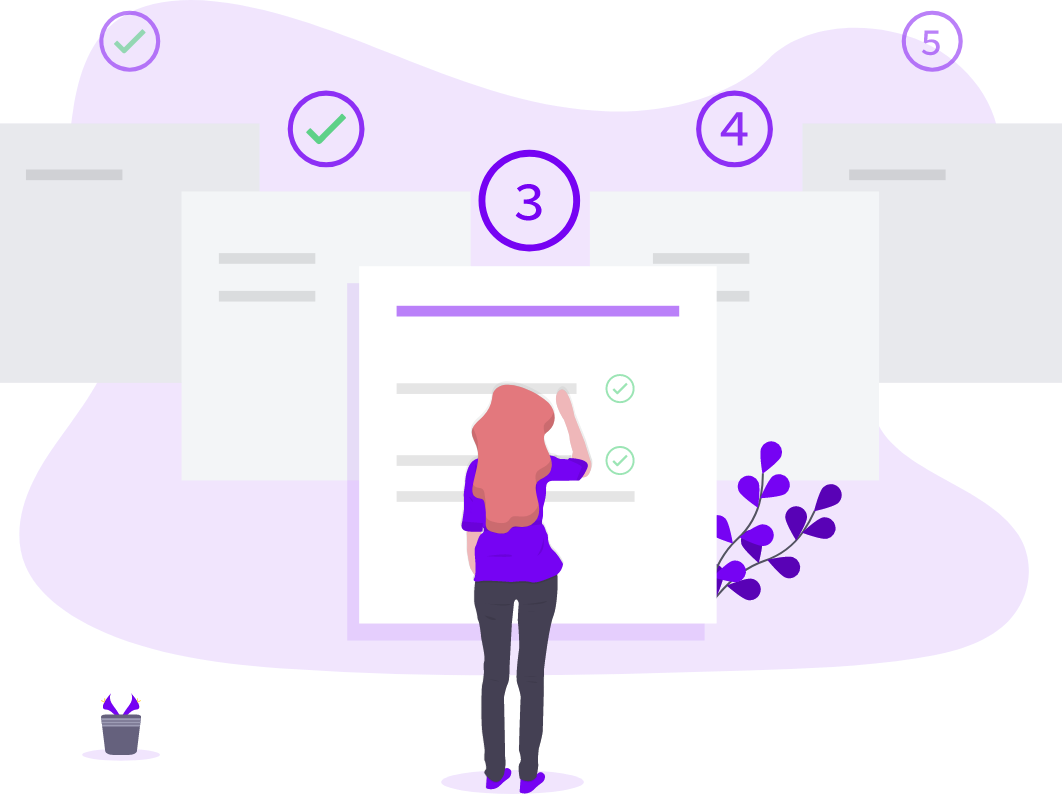 It's every content marketer's dream to be able to spend less while producing more content that ranks higher.
With WordAI, you can make that dream come true. The content you create with this software will pass all automated and manual reviews, which means you can rest easy knowing your website's rankings are there for the long haul.
No Duplicate Content: You don't have to worry about having duplicate content on your website. Each article rewrite is 100% unique which means there is no duplicate content or plagiarism.
No Penalties: Google penalizes content that fails to meet its high-quality standards, whether it's duplicate content, plagiarized content, or low-quality content. You can avoid all of these issues by using WordAI for your content creation.
Sign up for a free WordAI trial to see how you can create more quality content that ranks high in Google for a fraction of what it would cost otherwise.
You'll also be able to avoid any negative ranking factors that might harm your SEO strategies. In other words, you'll get human-quality content without the human costs.
7. Lucrative Affiliate Program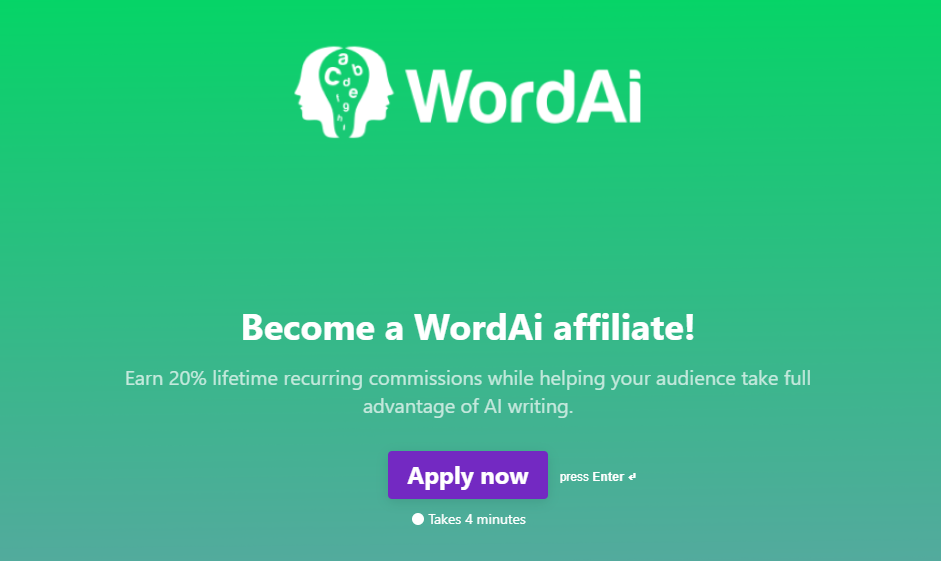 As a WordAI affiliate, you'll be able to earn 20% lifetime recurring commissions by simply helping others rewrite content.
This means that for each subscription payment made by a customer you referred, you'll get a commission for as long as that person remains a subscriber.
To get started as a WordAI affiliate, sign up for free on the website. Your affiliate link is created automatically as soon as you create your account.
Share the link with your network on social media, email, or on your blog to start earning right away.
Promoting WordAI is easy with the range of tools offered on the platform. This includes:
Ready to use banners, PPC ads, and other marketing materials;
High-quality, high-converting email swipes; and
A clean, modern dashboard to track your progress.
WordAI Pros and Cons
There's no denying that WordAI has a lot to offer. But, like any other article spinner, the software comes with its own unique set of pros and cons.
Let's take a look.
Pros:
Get Consistent Content: With WordAI, you can fill out your content calendar for years to come. You'll be able to refresh, repurpose, and syndicate blog posts so you can maximize your content impact.
Beat Writer's Block: The software works with all AI content generators and makes it easy to come up with multiple unique ideas to brainstorm and build on.
Avoid AI Content Detection: WordAI is one of the few AI writing tools that can create human-quality content that's not only naturally readable to visitors but also passes all AI content detector tests as human-written.
Refine Content: WordAI lets you clarify and clean up wordy content to remove grammar mistakes and spelling errors and improve overall quality with just one click.
Diversify Your Marketing Copy: With multiple variations of each article, you can optimize your marketing campaigns to deliver the most relevant messaging to each group.
Bulk Rewrite and Download: WordAI allows you to upload all your articles at once and rewrite them with a single click. You can also export all your rewrites in bulk to increase efficiency.
HTML Compatible: WordAI supports HTML content, and the platform also has code view which means you can view and edit your rewrites in rich text and HTML.
Cons:
Short Trial Period: The free trial for WordAI is only three days long which may not be enough time to determine if the software is the right fit for you.
Costly Plans: WordAI is somewhat expensive when compared to other article spinners.
Needs Internet to Work: All spun articles are processed from WordAI's server which means that the software doesn't work unless you're online.
WordAI Competitors
WordAI is a powerful AI tool that works with all the AI content generators and AI detection tools currently out there.
The software can intelligently spin high-quality titles and humanize any type of English text, and you can use it for blog posts, cover letters, essays, product descriptions, white papers, and more.
But, it may not tick all the boxes for you. If you're looking for a WordAI alternative, here are three top AI article rewriters to consider.
WordAI vs QuillBot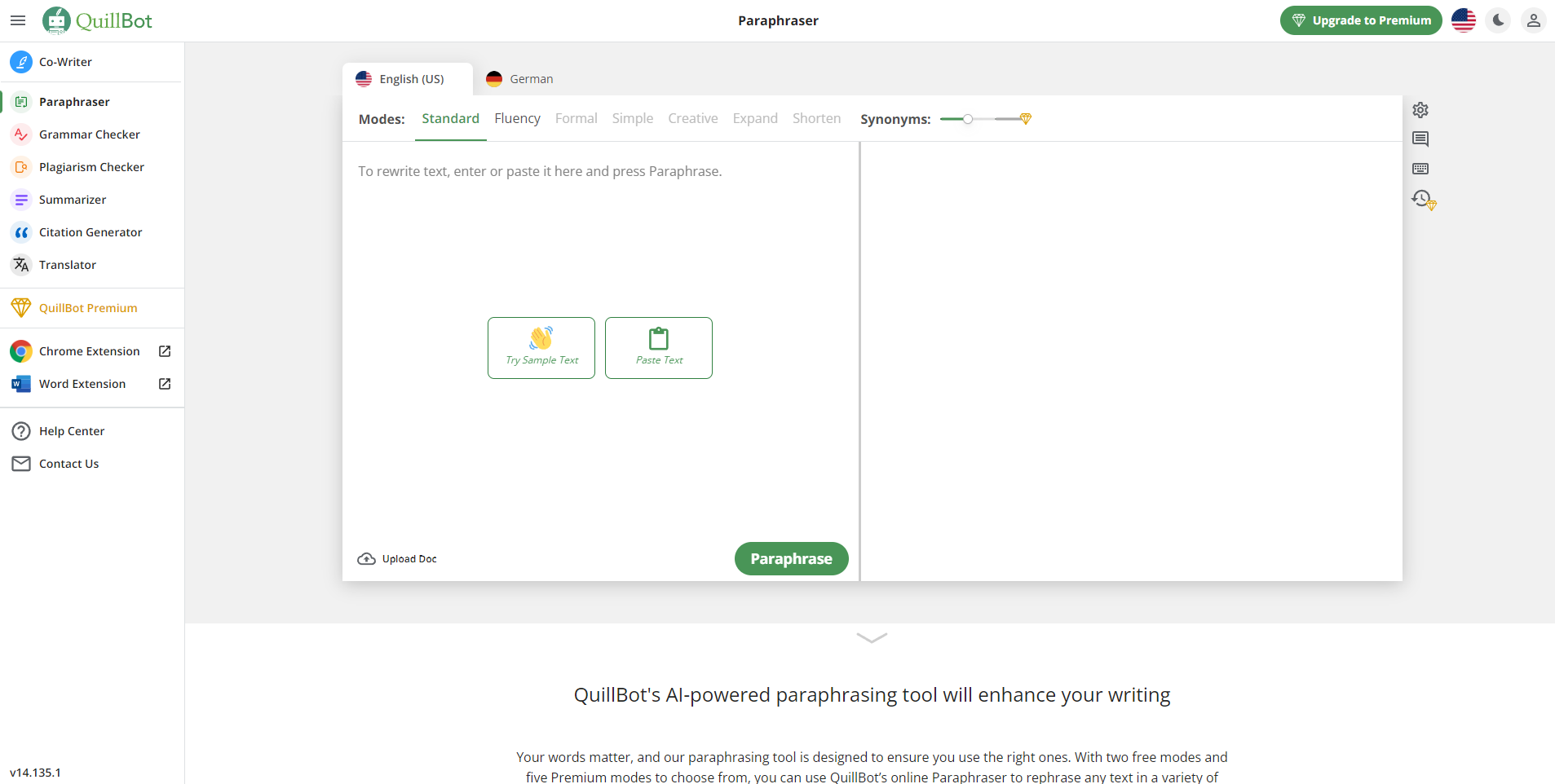 QuillBot is an article re-phraser that's very similar to WordAI. It uses natural language processing (NLP) algorithms to ensure that rewritten AI articles pass as human-written.
Some of its core features include multiple modes for rewriting, the ability to generate high-quality titles, and settings to change the degree of synonyms used within the entire article.
The software also has a Word plugin and unlike WordAI, it works seamlessly on Google Docs and has a Chrome extension.
WordAI vs Spin Rewriter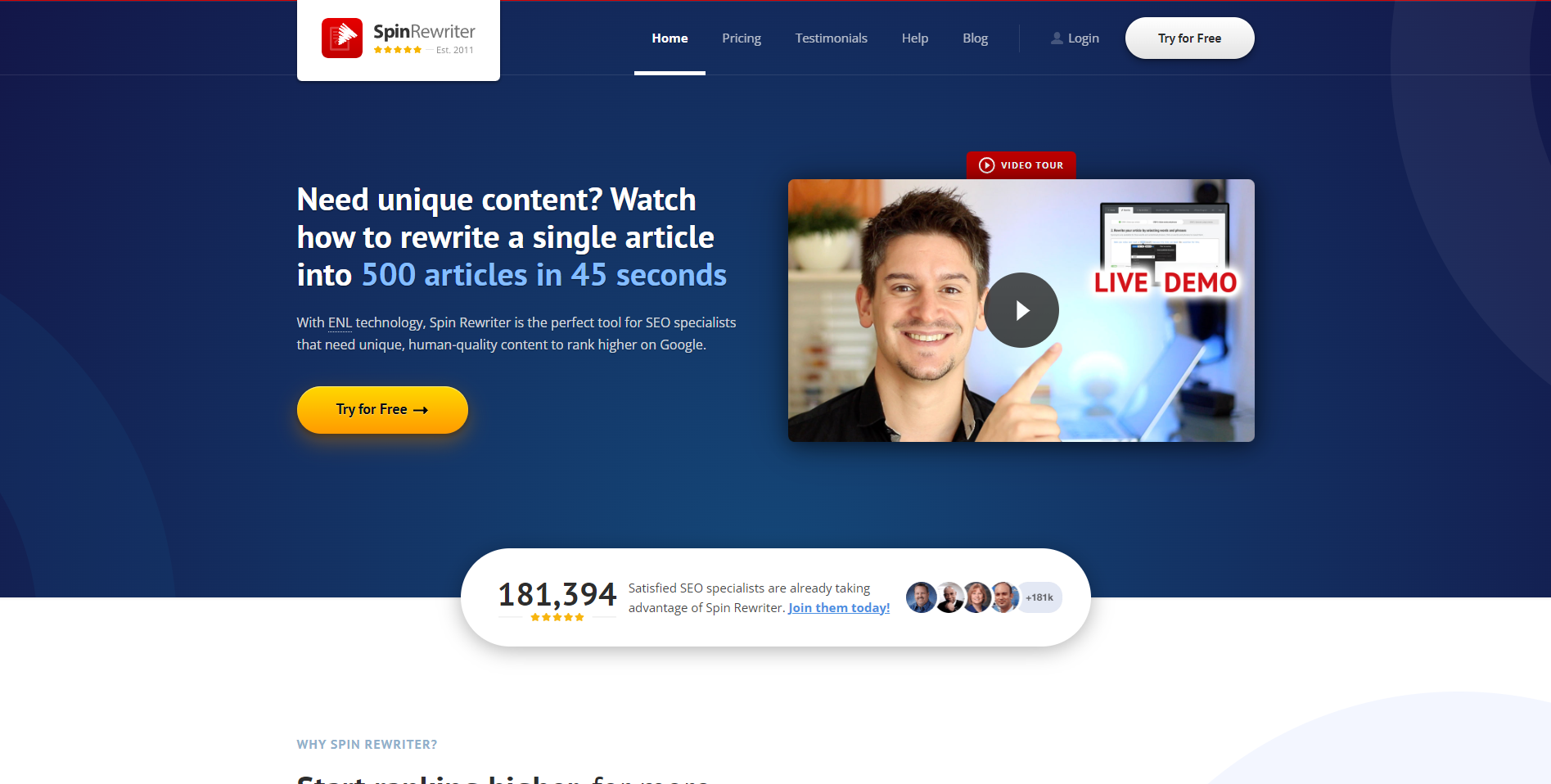 Spin Rewriter is yet another article-spinning tool that makes a great alternative to WordAI. It uses custom synonyms to create human-readable content.
One major difference between this platform and its competitor is that it offers a lifetime license that you can get for a one-time fee whereas WordAI only offers monthly and yearly subscriptions.
WordAI vs Wordtune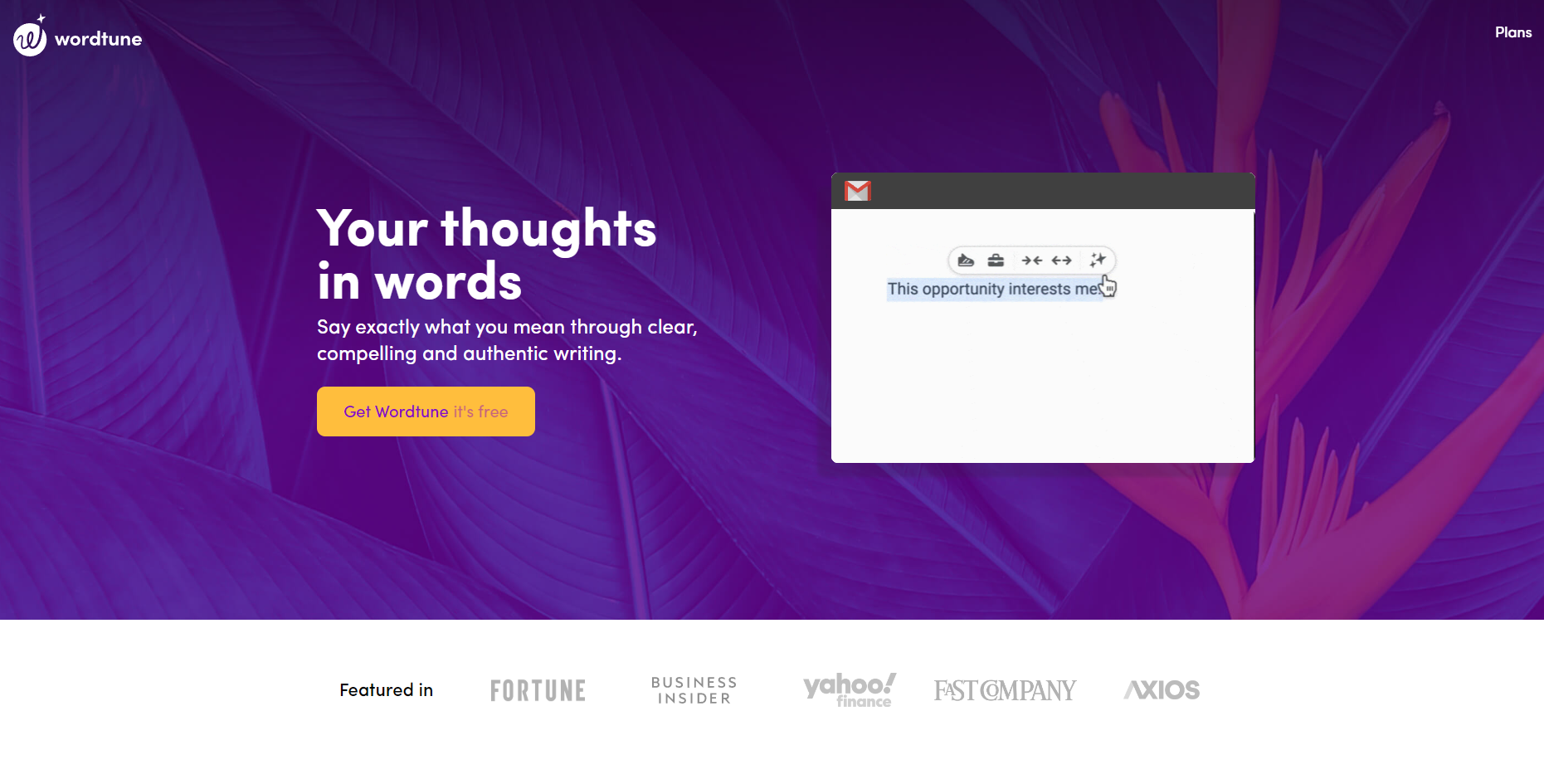 Wordtune is a WordAI alternative worth considering if you are on a tight budget. The premium plan costs $9.99/month compared to WordAI's $27/month (paid annually).
The software offers excellent rewrites, and all the sentences read as human-crafted. A standout feature of Wordtune is that it allows you to choose between casual and formal tones, and gives you the ability to shorten or expand sentences according to your needs.
Pricing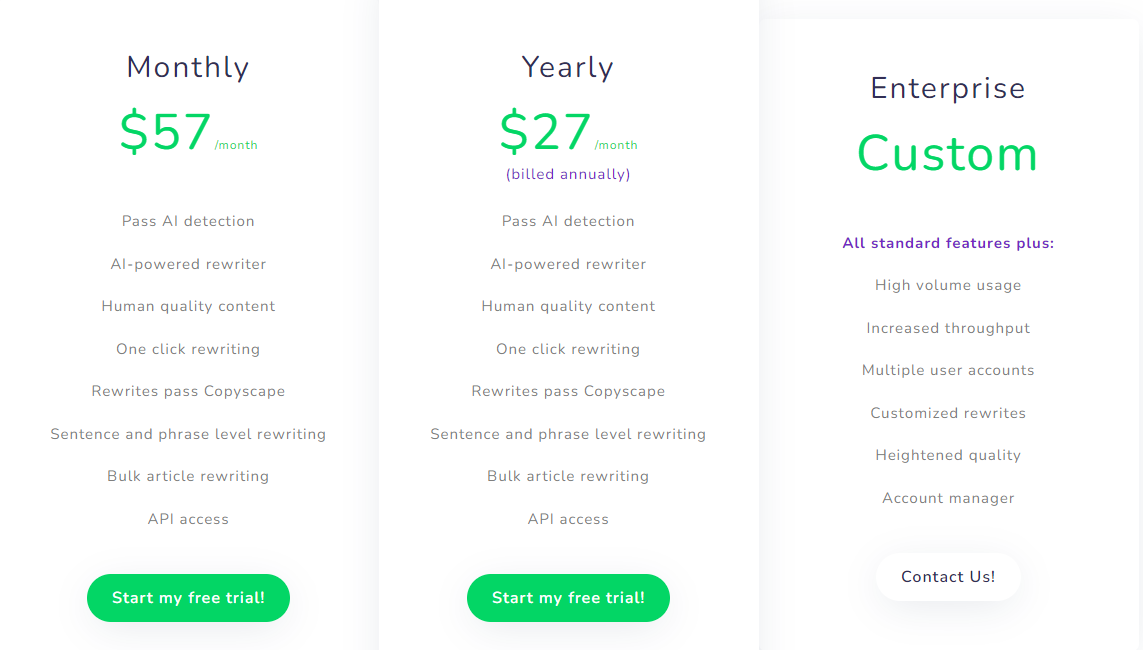 WordAI offers a completely free 3-day trial so you can see for yourself how the software works to transform your content strategy.
After the three days are up, if you determine that WordAI is right for you, then you can upgrade to one of the paid plans which are as follows:
Monthly Plan: $57/Month: This plan gives you access to the platform's powerful AI rewriter to help you produce human-quality content. With one click, you can rewrite articles to pass Copyscape and other plagiarism-checking tools. You can rewrite sentences and phrases or bulk articles. You also get API access to help streamline your content creation process.
Yearly Plan: $27/Month: This plan comes with everything in the monthly plan, except that you get a huge discount of over 50% when you pay annually. As with the monthly plan, you can sign up for a free trial on the yearly plan to get access to WordAI's main features.
Enterprise Plan: Custom Price: You can contact support to get a custom code. On this plan, you'll get all the standard features, as well as high-volume usage, increased throughput, and multiple user accounts. You'll also get an account manager, customized rewrites, and heightened quality for all requested content.
WordAI is so confident that its software will redefine the way you rewrite content that it offers a risk-free, 30-day money-back guarantee if you don't absolutely love the article rewriting tool.
If you use it to rewrite fewer than 10 articles and decide that it isn't the right solution for you, simply get in touch with support, and you'll get your money back, no questions asked.
Product Support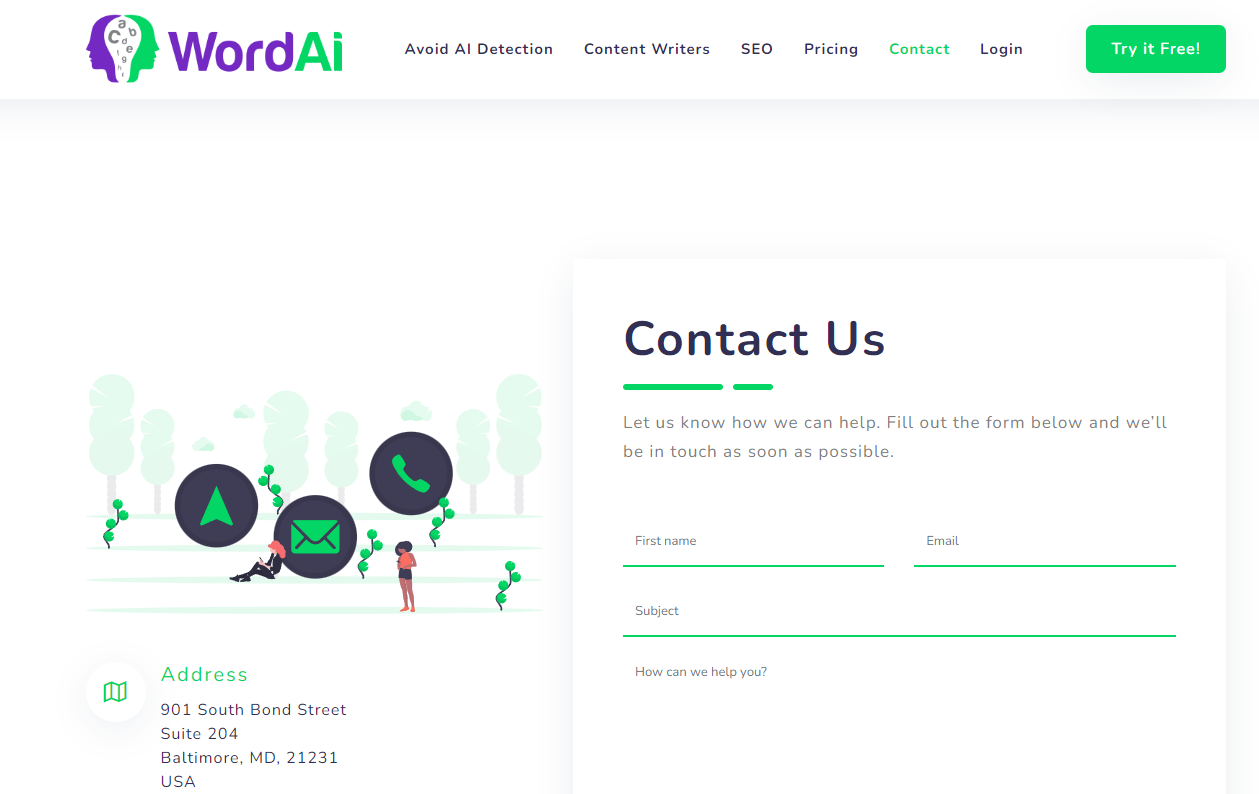 WordAI offers support via email at [email protected]. The platform also has a regularly updated blog where you can learn everything you need to know about creating AI content and how to pass AI content detection.
Integrations
WordAI integrates with Article Forge to make it easier for you to get text to rewrite. With a single click, you can import entire unique articles on any topic.
The platform also offers an API that you can use to add WordAI's rewriting to your workflow. This allows you to automatically make all your content more human so you can save time and effort.
Is WordAI Legit?
There's no doubt that WordAI can help you produce high-quality content at a much faster pace.
The software uses advanced machine learning models to provide you with high-quality rewrites that are no different from human content.
Use it to efficiently brainstorm different variations of your ideas so you can beat writer's block and clarify your content to improve its quality.
You'll be able to create multiple versions of each content piece you write or generate using AI tools to instantly scale your output and earnings. AI-written content is made indistinguishable from human content in just a few seconds.
Improvements are continually being made to the software to ensure that it continues to work with all the newest AI tools.
I recommend this tool for any content creator who wants unique, human-sounding content that'll keep both Google and readers happy.