According to recent statistics, 49% of SMBs state that graphic design is significant to their success. This isn't surprising, considering the graphic design market has grown to $13.3 billion in the US alone. So it's no wonder we see an increase in the number of visual design tools on the market.
Suppose your business frequently uses visual assets like stock photography, original graphics, videos, presentations, GIFs, etc. In that case, you need the right tools designed to help you create, edit, and share stunning graphics in real time.
One such tool is Visme.
Read the rest of this Visme review, where I break down all of Visme's features, including its ease of use, pricing, support, integrations, and much more.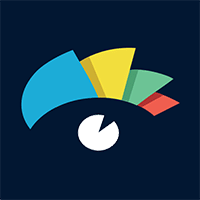 Ron's Thoughts
I personally love Visme's simplicity and ease of use. The cloud-based graphic design platform has been created with beginners in mind which is evident in Visme's popularity. Visme uses a simple drag-and-drop system for placing different elements on the canvas and it also comes with pre-built templates to make the entire graphic design process quicker and easier. There's also a 'My Brand' feature which lets everyone on your team use the same corporate identity package and branding.
Biggest Pro:

Incredibly Easy to Use

Biggest Con:

Lack of Guest Collaboration Support

Annual Discount:

Yes - Get 3 Months Free

Price:

Starts at $15/Month

Promotion:
Is Visme Worth it?
Visme is a cloud-based platform for creating and sharing infographics and other graphics in real-time.
You can use Visme to embed infographics on your websites or share them on social media. Download graphics for offline use and even secure them with password protection.
This platform has powerful features that enable managers to use custom font colors, sizes, and styles. You can also find similar images and swap out icons and other elements to create interactive reports and infographics.
You can then download these creations as high-resolution images, PDFs, or HTML5. In addition, system administrators can add images, videos, forms, and documents to their infographics. You can also get engagement analytics to give you insights into how well your graphics perform online.
But what makes the software worth it is that not only does it come with a wide range of features to replace multiple other tools, thereby saving you lots of money every month, but it's also offered for free, which means you can take it for a test drive without incurring any risk.
You can then upgrade to one of the premium plans if the graphic design tool meets your needs.
Who is Visme Good For?
Visme is perfect for anyone who wants to create better content faster and manage all their graphic designs easily in one convenient place.
Even agencies, marketers, nonprofit organizations, bloggers, influencers, etc., can use Visme with ease for its drag and drop features and infographic tool – including brand colors and fonts that are easy to do even for non-designers.
In fact, Visme makes impressive software improvements that make it trusted by leading organizations and teams worldwide, including IBM, Zurich, Duke Energy, Unilever, and Penske.
Here are a few use cases to help you see what this powerful software can do for you.
Nonprofit Organizations: Nonprofits can use this tool to visually represent the data from their campaigns in a way that's beautiful and easy to view and understand.
Social Media Managers: Visme can help you create eye-catching graphics for social media that will help you boost engagement, complete with analytics.
Marketers: Whether you're a beginner or an experienced marketer, this tool will make it easy to produce aesthetically pleasing marketing materials that'll get you results.
SMEs: Visme is perfect for small to medium enterprises because it provides an affordable way for businesses to create branded materials to help them grow.
Large Corporations: Use this tool to create stunning infographics to display the organization's "Year in Review" statistics (as an example) without confusion or frustration.
Visme Functionality
As far as graphic design tools go, Visme offers some of the most impressive functionality I've seen in a long while.
1. Ease of Use
One of the main things that differentiate Visme from other graphic design tools online is its focus on ease of use, even for non-designers
The dashboard is simple and easy to navigate, with all your projects listed clearly on the left-hand side of the page.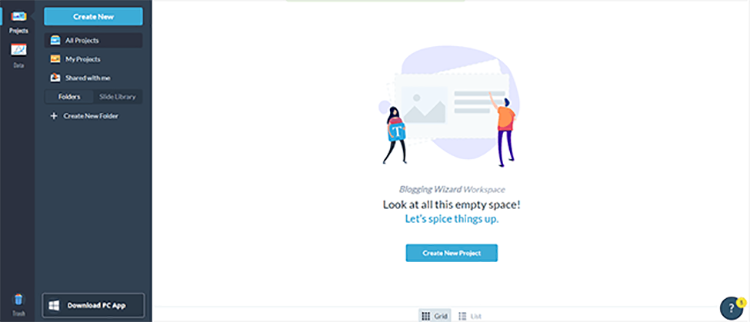 There are four main sections: Projects, My Files, My Brand, and Data.
In the "Projects" section, you'll see the following tabs:
Create New Project
All Projects
My Projects
Shared With Me
Folders
Slide Library
Once you upload files or create brands, you'll see them in the corresponding sections.
Everything in the platform, including the tabs (with slide library and more), is designed so that even a six-year-old could use the tools with very little instruction. In other words, it means that anyone can create incredible images even with zero graphic design experience.
Getting started with Visme is easy.
Simply sign up for a free account on the platform, and you'll be prompted to state what you intend to use the software for.
After choosing, enter the title that best describes your role from the options provided and the industry your business operates.
Once you're done, you're ready to create.
You can choose whether you want to use a branded template or skip this part and start from scratch.
If you're new to graphic design, it might be a good idea to pick one of the professionally designed templates that beautifully represent your brand.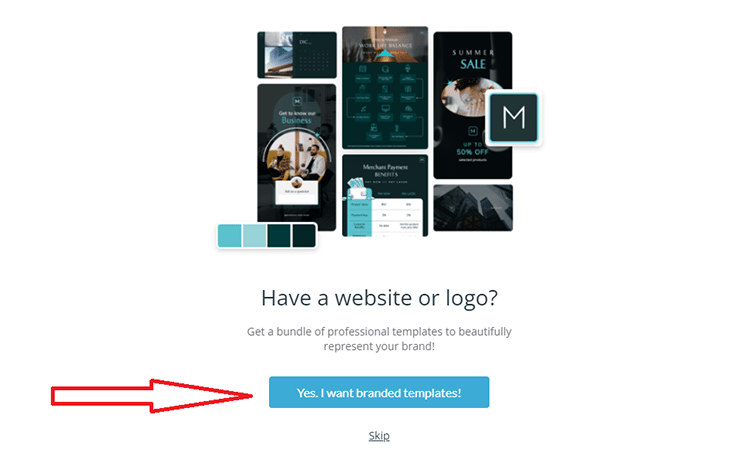 The platform's design interface is clean and modern.
You can easily find what you need on the prominently placed ribbon with the following tabs:
Presentations
Infographics
Documents
Charts/graphs for your site
Printables
Web graphics for any site
Social graphics
Videos/GIFs
There's also a "More" tab where you'll find the blank templates and a wide range of mockups for everything from social media and features to apps, food recipes, yoga courses, digital classes, and much more.
You can choose a custom size for your creations or select one of the many common sizes offered on the platform.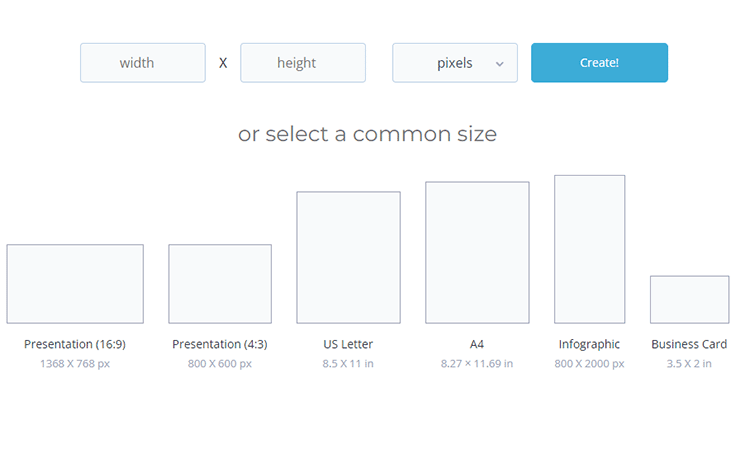 To edit a template, simply click on any of the elements, such as text, images, videos, etc., and replace them with your own files or options from the well-curated gallery.
You can add the following elements to any of your designs for your presentation or site:
Headers and Text
Font pairs
Stats and figures
Graphics and text
Diagrams
Photo grid
Call to action
My Blocks
Once you're done, you can either share your design online as a link or on social media. You also have the option of making it discoverable on Google.
You can share it privately so that only specific people have access, or embed it on your website.
Alternatively, you can download the design in a variety of formats, including:
JPG and PNG for images
Document PDF that's ready to print or share via email
Video or GIF
You also have the option to download it as PowerPoint, HTML 5, or keynote to present off-line.
You can download the PC app to get easy access to Visme from your desktop.
You get all of these features and more on the free plan, but you can upgrade to get additional features and unlock the full functionality of this graphic design software, including features such as Privacy, Brand Kit, Analytics, and Unlimited Projects.
2. Diverse Presentation Templates
Visme review on Presentation Templates: This great tool provides you with boardroom-ready presentations thanks to the many different templates available to choose from. Whether you are an educator, investor, marketer, student, etc., there's something here for everyone.
You can choose relevant templates to help you package your expertise into highly impactful and engaging presentations.
Visme has a very capable graphics creation tool that will transform your marketing campaigns instantly without the need to hire a marketing manager or designer.
It's especially useful for creating captivating content and data output for non-tech savvy users, and the versatile tool comes with a diverse gallery of templates, including animated presentations, logo creation, resumes, business cards, infographics, and much more.
3. Graphic Design Elements
In addition to the dozens of template options, Visme also has a library packed full of amazing graphic design elements such as icons, images, diagrams, fonts, and other add-ons that will make your creations come alive.
If you have a need to turn complex information or data into charts and infographics that are easy to digest, you'll love the graphic design elements on Visme that allow you to create these types of visuals in a flash.
Each of the elements is easily customizable, which means you can quickly adapt it for any of your projects.
You'll be able to create engaging charts Visme has. It also helps create infographics with interactive features.
The platform continually adds new features to its ever-growing library of stock content, which means there's limitless potential for creating unique and visually appealing content for your marketing, sales, social media graphics, or educational needs.
4. Interactive Content
Take your content from simple branded visuals to fully interacted content using one of the many expertly designed and some free templates without the need to hire a graphic designer.
You can create for individuals or teams, and design tasks that used to take two or more hours now can be completed in just 15 minutes, which means you can scale your content creation for your business while spending less time and effort.
5. Advanced Features
If you want to access advanced features, Visme offers the option of diving deep into the appearance, privacy, and sound settings.
Appearance
For instance, on the "Appearance" settings, you can choose dynamic sizing of your Visme content according to the viewer's display size. This is actually the recommended setting, but you can toggle it off if you need to.
You also have the option to allow access to Presenter View in the player. Choose whether or not you want to hide speaker notes from viewers, turn off control bar autoplay animations, etc.
You can loop your slides to allow them to start over again after ending and you can choose a global page background color for your Visme presentations.
Privacy
Under the "Privacy" tab, you can choose whether or not to show your profile and project title on your content creation. You also have the option to allow your project to be shared on social media, including Facebook, Twitter, and other sites.
Furthermore, the comments option lets viewers comment on your project and you can make registration a requirement in order to collect contact information from viewers. This is a great feature for marketers who need to generate leads and form results.
There is also a feature for indexing which allows Google and other search engines to index your project so it appears in organic search results. Bloggers, SEOs, and social media marketers, in particular, will appreciate this handy feature.
The last option in the privacy settings is the download option that allows you to let viewers download your visuals in PDF form.
Sound
Here, you can choose whether or not you want to add background music to your entire project. If you toggle this button on, you can then choose your audio from the many options featured on the platform or you can upload your own audio files.
6. Branded Templates
Most successful marketers and businesses will tell you that it's crucial to have content that reflects your brand.
With this new feature on Visme, you get over 30 beautiful templates (each of which is tailored to your specific branding), in under 2 minutes.
Simply enter your website URL or upload your logo to the Brand Wizard tool and then sit back while it does all the work.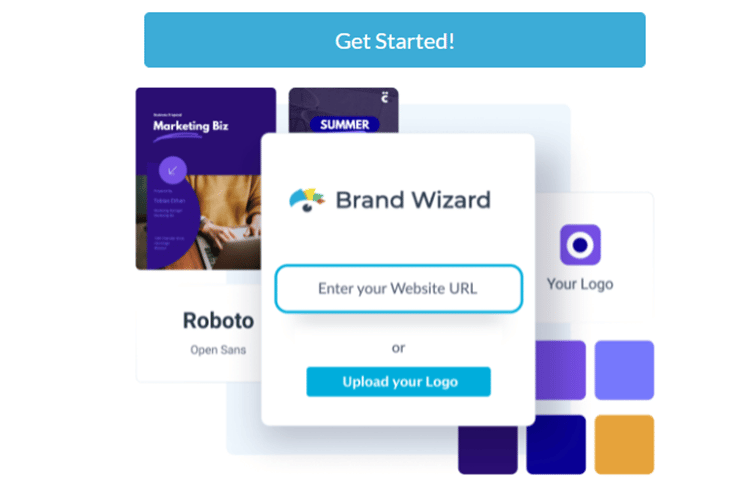 With branded templates, you'll be able to build a strong online and offline reputation for your brand, even if you are not an experienced designer. The platform marries ease-of-use with the capability to give you the power to create a memorable brand.
Professionally branded documents are also important for helping you create a cohesive brand experience which helps to build trust with your audience, and with Visme, you can brand a wide range of business documents, including:
Proposals
Training documents
Invoices
Letterheads
… and much more.
7. Data Analytics
This feature lets you search through your projects to view analytics for each of your campaigns. You'll know when your viewers visited, what they viewed, and how long they spend engaging with your content
To get full access to the data analytics functionality, you need to upgrade to the business premium plan.
After that, you'll be able to measure and analyze the traffic of all your Visme content, as well as collect and track leads using Visme forms.

Visme Pros and Cons
Every piece of software, no matter how amazing, has its own set of pros and cons. Visme is no different.
Here are some of its core benefits and drawbacks.
Pros:
Easy to Use: This software is designed for ease of use, and allows even complete beginners to create stunning graphics by simply using the drag and drop feature to different elements.
Pre-Built Templates: Visme comes with a wide range of ready-to-use Visme templates and smart icons, as well as other elements that make your graphic design process a lot easier.
"My Brand" Feature: This feature lets everyone on your team use an identical corporate identity package to ensure that your branding stays consistent across all your marketing materials and channels.
Multiple Languages: The platform supports multiple languages, including English, German, French, Russian, Spanish, Latin, and Italian
Cons:
Limited Features: The lower-priced plans come with a lot of restrictions on most of their features. To really leverage the power of the platform, you have to upgrade to the higher-priced plans.
No Guest Collaborators: While the platform does offer real-time collaboration for teams, it doesn't have the features to support guest collaborators.
Visme Competitors
As you've seen from the features outlined above, Visme is an intuitive tool that empowers individuals and organizations to transform ordinary graphics into stunning infographics, presentations, reports, and various other types of visual content.
But, as amazing as it is, it's far from being the only tool of its kind. Here's a quick look at a few of Visme's top competitors on the market right now.
Visme vs. Prezi
Prezi is an online presentation app that helps users create, edit, and share dynamic presentations on any device.
It's one of Visme's main competitors and both platforms offer many of the same tools. Where they differ is mainly in the areas of pricing and support.
Prezi's price for a two-seat team package is considerably high compared to Visme. Also, in terms of ongoing product support, Prezi's quality of support is considerably lower than that offered by Visme, according to many G2 reviews.
Visme vs. Canva
Canva continues to grow in popularity as one of the best graphic design tools for individuals and businesses.
It offers a lot of high-quality tools, a polished user interface, and a free plan that lets beginners create all types of graphics for social media, presentations, creating infographics, etc.
Both platforms offer a free plan but Canva offers a premium plan free trial for 30 days, whereas Visme does not.
Visme vs. Microsoft PowerPoint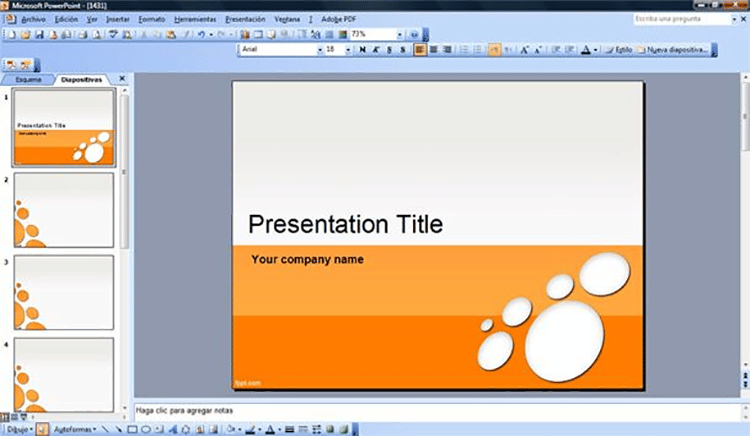 Microsoft PowerPoint is designed to help you use your presentations to tell a powerful story. Using the platform is simple and you can easily share your slides online.
Visme on the other hand allows you to do so much more than just PowerPoints and presentations.
Also, Visme is free to use, whereas Microsoft PowerPoint starts at $6.99/month for Office 365 or a $149.99 one-time payment for Office Home and Student.
Pricing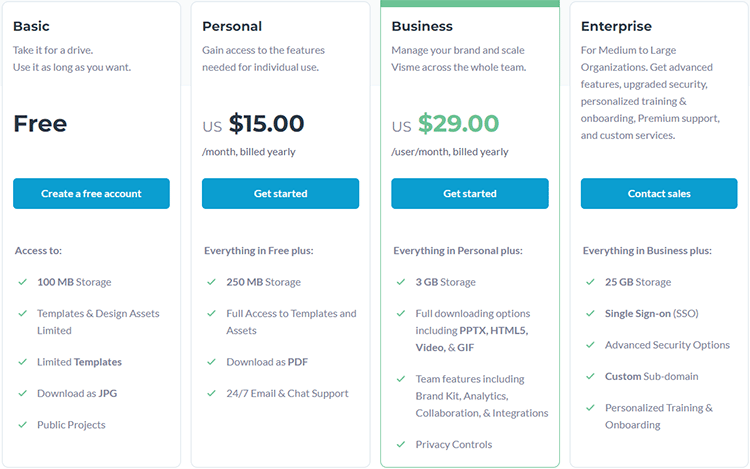 Visme offers a simple pricing structure. Visme cost depends on your plan: there are four monthly subscriptions including Basic and Free Version, and when you pay annually, you get 3 months free.
Plans are as follows:
Basic Plan: $0/month (Free version)
Test drive the features below for as long as you want
100 MB storage
Limited templates
Limited design assets
Download as JPG
Public projects
Personal Plan: $15/month
All "Basic" features +
250 MB storage for unlimited projects
Full access to templates
Full access to design assets
Download as PDF
24/7 email and chat support
Business Plan: $29/month/user
All "Personal" features +
3 GB storage
Full downloading options (HTML5, PPTX, GIF, Video, etc.)
Team features (brand kit, analytics, integrations, collaborations, etc.)
Privacy controls
Enterprise Plan:
Everything in the Business plan +
Premium support
25 GB storage
Single sign-on (SSO)
Advanced security options
Custom sub-domain
Personalized training and onboarding
Product Support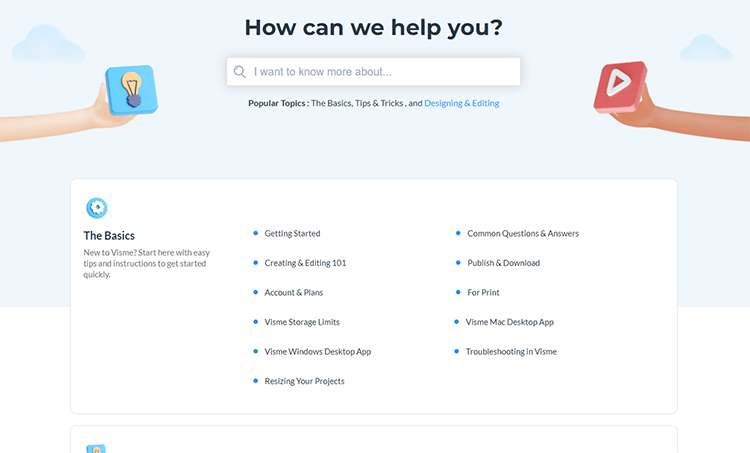 Visme review on product support: It is extended support through the following channels:
Email: You can contact the support anytime via email and the friendly and knowledgeable staff will respond to all your queries.
FAQ: Visme has a detailed FAQ section with all the answers to the questions that come up most frequently in its features and services.
Knowledge Base: There's an in-depth knowledge base on the website with how-to guides and articles on how to use the platform for both beginners and advanced users. This includes everything from design tips and ability, tricks to analytic tools and insights, productivity, collaboration, team features, etc.
Video Tutorials: You can learn from the hundreds of videos on the platform, simply search for the topic you want, and get learning.
As you can see in this Visme review, the platform provides a wide range of online measures to ensure that you have support anytime you need it.
System Requirements
Visme is a cloud-based software tool.
Integrations
Visme integrates with a wide range of apps and services. You can insert assets from third-party websites and services by clicking the "Apps" tab on your dashboard.
For example, if you click the YouTube icon, you'll be able to embed videos by pasting the URLs onto your design.
There are also integrations for:
Vimeo
Wistia
Vidyard
Loom
Google Drive
Dropbox
OneDrive
Hubspot
MailChimp
Typeform
….and many other tools.
Is Visme Legit?
Visme's aim is to empower everyone to communicate visually. In this Visme review, we see that the platform transforms the way you create and share engaging content, whether you are working individually or collaborating online as part of a team.
The graphic design tool is perfect for people at all levels of experience. There are basic tools beginners can use, as well as advanced options for power users.
If you've been searching for an effective and affordable tool to help you create stunning visuals, then this platform is a great one to consider.
The best part about it is that it provides you with the ability to test drive the software before committing to a paid plan. This way, you can try out the features to determine whether or not they are perfect for your needs.
Another great thing we see in this Visme review is that it lets you create and download an actual proof of your design as a JPEG before making a purchase. If you want the higher-quality versions of the file, you can then opt for the premium plan which is very reasonably priced.
If you're ready to change the way you create stunning content, sign up for a free trial right now.