There are many side hustles on the internet, but very few earn are as easy as retail arbitrage earn. By buying items from retailers at clearance prices and reselling them online, you have the potential to generate a nice side income without having to deal with wholesale suppliers.
In the old days, retail arbitrage was more complicated than normal retailing. You'd have to hunt down products at a local store and then resell them in-person to someone else at a higher price.
You have to search the internet for clearance sales bulk orders and then resell on dozens of platforms, including Amazon.
Over the last several decades, Amazon has seen explosive growth. In 2020, the e-commerce giant reached over $386 billion in net revenue. As a result, people are buying online more than ever, and now is the time to jump in and start making money with retail arbitrage.
Annual net revenue of Amazon from 2004 to 2020 (in billion U.S. dollars) (Statista, 2021)
If you don't know how to get started, don't worry. My wife and I have tried retail arbitrage in the past, and I've got some interesting insights to help. So take a look through my beginner's guide to retail arbitrage to learn how to start putting a little extra money in your pocket.
What is Retail Arbitrage?
Retail arbitrage is a simple concept: First, you purchase a product from a local retail outlet selling it at a low price, then sell that same product at a higher price, thereby flipping it for a profit.
You can sell items via marketplaces like Amazon, Craigslist, Facebook Marketplace, eBay, Jet, Walmart.com, etc.
Although there are many options available to retail arbitrage sellers, Amazon is one of the best places to sell for those just getting started with this business model.
This is that Amazon allows you to do something called "FBA." Or "Fulfilled by Amazon."
Amazon FBA is an excellent program because it allows you to purchase products and then send them directly to Amazon for fulfillment. This means no need to handle emails, calls, or customer returns.
Although retail arbitrage may sound like it's the same as regular retailing, it's not.
Want to learn more about Retail Arbitrage from someone who's sold MILLIONS of products? Click Here to get a FREE guide from Ryan Grant, the foremost expert in Retail Arbitrage.
The main difference is that the seller buys their products from wholesale suppliers or manufacturers in regular retailing. However, sellers get their products or stock from other sellers or retailers in retail arbitrage.
There are a few different aspects to consider if you're planning on taking up retail arbitrage, and we'll dive into each of them later in the article.
But first, let's take a look at how retail arbitrage works.
How Does Retail Arbitrage Work?
As you have seen from the description above, retail arbitrage is a straightforward yet potentially lucrative concept. And it's one that's businesses of all sizes can use regardless of the types of products they sell.
Here's an example of how retail arbitrage works:
Say you come across a sale at Target, where men's leather wallets are offered at a significantly discounted price of $15 when they usually go for $30.
This may be because the store is clearing old stock or seasonal discounts.
If you can invest some cash into purchasing 20 units, you can sell them through an online marketplace for a couple of dollars less than the product's original retail price.
Doing a little math here:
Wallet Original Cost: $30
Wallet Purchase Price on Clearance: $15
Listing Price on Amazon: $28
Revenue From Each Unit: $28 – $15 = $13
Amazon FBA Fee: $0.99
Profit (After Costs/Expenses): $12.01
Multiply by 20 Units for a Total Profit: $240.20
And all of this happens without you having to deal with wholesalers, suppliers, or manufacturers. This makes retail arbitrage an excellent opportunity for starting a successful Amazon business.
This is the main difference between standard retailing and retail arbitrage. You are purchasing directly from the retail store, and while this can sometimes cut your profit margins, it's often a more straightforward process than trying to source products via suppliers.
Because of this low cost of entry, retail arbitrage is the perfect way for most people to get started as sellers online.
Here is another example of retail arbitrage at work:
Say you purchase an item from one of your local retailers for $7, and the same product sells for $18.99 on Amazon. Whenever a customer buys your item, Amazon pays you roughly $13 (after shipping costs and all the fees). This means you will have made a profit of $6 on your initial investment of $7.
The best part about retail arbitrage is that there is no guesswork involved in profitability. The only thing you have to do is source the right products.
There are many ways you can go about identifying profitable inventory. Still, many sellers use scanning apps, like FBAScan, Profit Bandit, and the Amazon Seller App, which allow them to scan the product's barcode to see precisely what a product is selling for and how much they will have to pay in fees.
The scan tool provided by Amazon is entirely free, and it's pretty darn good.
The best and most reliable sources of products are typically sales and the clearance racks of large stores like Target, Home Depot, and Walmart.
When you use these free tools, you can get goods offered at significant discounts compared to their normal retail price; these provide great potential for making high profits when selling them online.
To be clear, Amazon Retail Arbitrage is different from many other Amazon-focused business models.
Dropshipping involves sourcing products directly from other businesses and selling them now on Amazon.
Online Arbitrage involves sourcing products directly from online retailers without going to the stores now as you do in retail arbitrage.
Private Label: This is where you source products from others or make minor tweaks to products from others and brand them under your business as your own products.
Why Does Retail Arbitrage Still Work?
You may be wondering why retail arbitrage still works and why customers would even buy products that are being sold at a higher price instead of simply going where they are sold the cheapest.
The answer is simple: Convenience and Economics.
First of all, the products aren't priced the same everywhere.
The wallet you're buying for $15 in one city might cost $45. And while leather wallets may be shared or slow-moving in one area, they may be in very high demand in another place.
This is something that Amazon sellers use to turn a profit.
Secondly, there is the issue of convenience.
As an Amazon seller, you will find a lot of consumers who are willing to pay extra for convenience.
For instance, some people will gladly pay a bit more to have products delivered to them to avoid going to the shop, searching for the item they need, and standing in long queues to purchase it.
Third, supply and demand.
One of the most straightforward rules of economics is supply and demand. With a low supply and a high demand, prices can skyrocket. For example, take the demand for toilet paper and hand sanitizer in the midst of the COVID 19 pandemic in 2020.
People were marking up these products by 100% or more on Amazon and selling out without a problem because the supply wasn't available locally.
Want to learn more about Retail Arbitrage from someone who's sold MILLIONS of products? Click Here to get a FREE guide from Ryan Grant, the foremost expert in Retail Arbitrage.
Another question most people have is:
"Why would the stores markdown products they could simply sell online themselves?"
Many reasons why a large store like Target or Walmart has discounted products. For instance, they may be doing so to make room on their shelves for different products.
And remember, brick-and-mortar retail stores have limited space where they can stock inventory, which means they need to stock that space with whichever products will earn them the highest revenue.
This process is complicated and ever-changing. So it may happen that when a new shipment comes in, they simply need to cut ties with whichever product is not performing well, or one that doesn't have long-term potential, to make way for a hot new product.
It may seem crazy to you and me, but these big-box retailers don't mind taking a loss on these retail products if they can get something more profitable in its place.
This is what creates an opportunity for retail arbitrage sellers who are searching for clearance products.
So, while you may see it as the retail stores missing out on making more money, the clearance items or sale process allows them to increase their profits by focusing on something else and leaves you free to take advantage of that store's leftover profits when you buy those products to sell them in other places (like online marketplaces where space is not a limiting constraint).
How to Get Started With Retail Arbitrage on Amazon
In this section, I will explain the entire step-by-step process for getting started with retail arbitrage on Amazon.
Step #1: Create an Amazon Seller Account
The first step on your journey to becoming a retail arbitrage seller is to register for an Amazon seller account. This account will allow you to sell products on Amazon and also give you access to all the tools you need to help you succeed as a seller on the platform.
To get started on Amazon Sellers App, simply head over to sell.Amazon.com.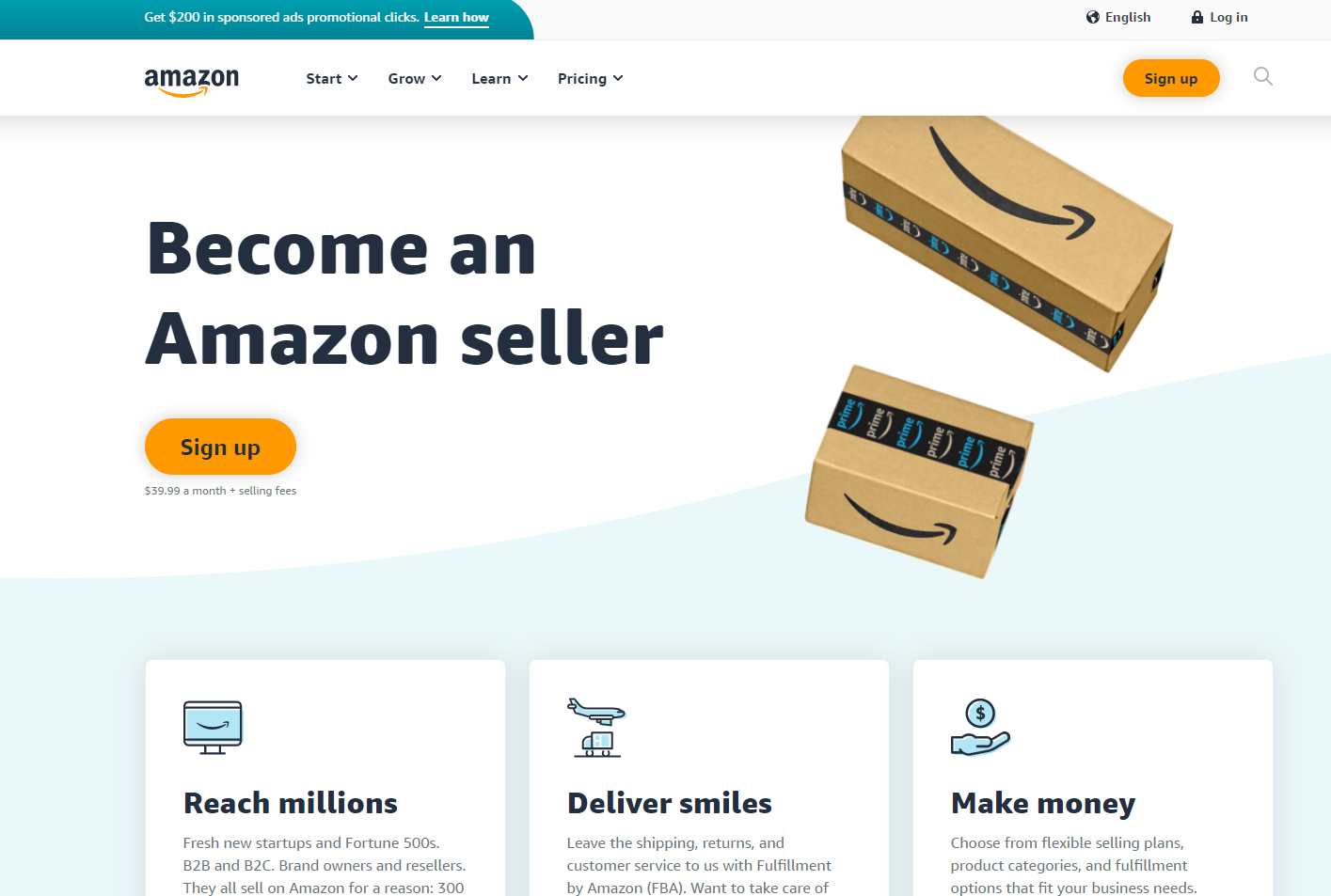 There are two options available for Seller Accounts:
An individual Amazon seller account; and
A professional account.
Let's look at each of them in a bit more detail.
Individual Seller Account
This account is free to create, but it requires paying a $0.99 commission on each sale you make on Amazon. The sales also incur an additional 15% consolidated fee.
As an individual seller, you can only sell up to 40 products. So this type of account is ideal for you if you don't intend to sell more than that number of products and if you are not going to sell products from the restricted categories.
You can't even apply to sell in these categories unless you have a professional account. Over time, you may want to consider a professional account so that you can sell a broader range of products.
Professional Account
To register for a professional account, you must pay $39.99 per month. This account also comes with variable closing fees and additional referral fees.
You can list more than 40 products on Amazon, and you won't have to pay a fixed amount each time you sell a product on the platform.
Furthermore, a professional account allows you to sign up for Fulfillment by Amazon (FBA).
As an FBA seller, your only task is to ensure that your products reach Amazon's warehouse. After that, Amazon will take care of everything else, including:
Storage of your products in one of their fulfillment centers
Shipping to the purchaser of the product
Packaging the product for shipment
Customer support if the purchaser encounters any problems with the product
…and more.
Although beginners in retail arbitrage may feel that this service is costly, it's worth the fee and more than the current Buy Box price.
In addition (other than Buy Box) to enjoying all the benefits listed above, professional account holders also stand a higher chance to win the Buy Box and are eligible for Prime delivery.
If you want to ensure reliable shipping and quality customer service (aside from Buy Box) by outsourcing to Amazon, FBA is an excellent option.
But, if you're not looking to invest that much to start your retail arbitrage journey to create your own online store, you can go with the free option. Just consider the fees they charge as you begin to list your items.
Step #2: Get the Amazon Seller App
After signing up for the Amazon selling account, your next step is downloading Amazon's free seller app. This app will provide you with details to quickly figure out the best products to buy.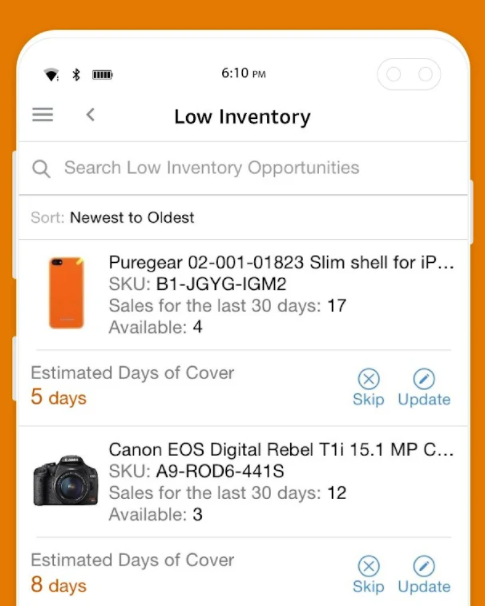 It works straightforwardly by using the camera on your phone to scan product barcodes. It will then show you how much the product is selling on Amazon.
The app will also display the fees for selling the item and other helpful information to allow you to evaluate the profitability of products.
There are a few other seller apps available, but I think this one is all you'll need to get started.
Step #3: Check out Your Local Retail Stores
Now, it's time to visit your local retail stores. Again, you will likely have many options to choose from depending on where you live.
I would recommend that you begin with the retail store closest to you and check the inventory and pricing at those locations.
You want to start where you have easy access to make things as simple for yourself as possible.
Over time, you can add to your list of stores, but when you're getting started, try to limit the number you visit so that you don't get overwhelmed.
Listed below are some of the best retail stores for you to consider.
Target
Walmart
Kmart
Sam's Club
Publix
Meijer
Shopko
Home Depot
Menards
Lowes
Walgreens
Big Lots
Rite Aid
CVS
Toys R Us
Office Depot
Costco
Bed Bath & Beyond
Ocean State Job Lots
Staples
These are just some of the best stores for retail arbitrage sourcing. And remember, you don't have to go to all of them, choose the closest ones and start with those.
Pro Tip: Check out all the Walmarts within a 150-mile radius of you, as each store may have different items on clearance. This increases your chances of being able to find great products to resell on Amazon.
Step #4: Scan Clearance and Sale Products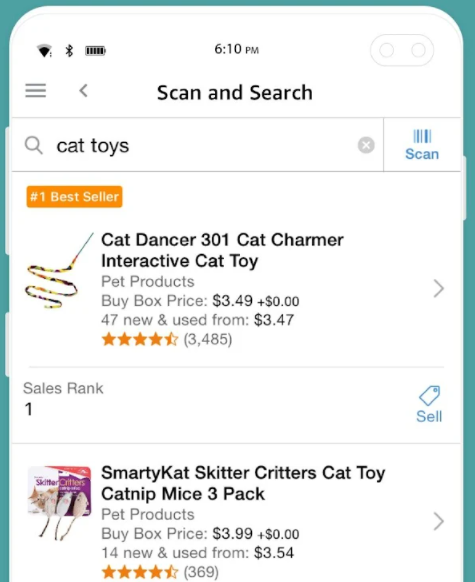 Once you're in a local store, you can then use the app to scan clearance or sell products so you can choose profitable items to get you started on your retail arbitrage journey.
Many beginners often wonder which are the best items to start with.
The answer to that question is…unfortunately, it depends.
For the most part, the best items to choose are those that sell fast and have a healthy ROI. However, you may need to do some serious hunting to find these products.
The best thing to do is not narrow yourself down to just one product type, especially when starting.
During your scanning research, you may come across products you haven't considered, but that would be excellent for selling on Amazon.
Scan all products with the Amazon app before deciding to purchase. Once you know the fees for sending it and having it fulfilled by Amazon, you will have a good idea of the profit you can expect for any given item.
Step #5: Source Products With Good Profit Potential
When choosing which products to purchase, you must first check the ROI on potentially profitable products.
Want to learn more about Retail Arbitrage from someone who's sold MILLIONS of products? Click Here to get a FREE guide from Ryan Grant, the foremost expert in Retail Arbitrage.
As a general rule, you should buy any items that offer you over $3 in profit and a 50% return after shipping and fees.
To get this information on your app, you need to enter the product selling price, your cost to purchase the item, and the cost per pound for shipping to Amazon.
Once you have entered this information, the app will show you your expected profit on the product based on that information.
There are three essential things you should check at this stage:
Are You Eligible to Sell The Product?: The first thing to check is whether or not you are eligible to sell that particular item. You can quickly find out by looking at the category list here. If you screw this up, you'll never be able to sell the product. So make sure to avoid this mistake.
Will You Make a Profit?: Check to see if the figure shown for net profit is higher than the minimum profit threshold. You can set the minimum profit threshold to whatever figure you like, but I recommend setting yours at least $3 per unit. This means that you will not purchase any product that offers less than $3 profit per unit.
What is the ROI Percentage?: If your product meets the minimum profit threshold you've set, you must now calculate the ROI percentage. To do this, simply divide your expected profits by the cost of the product.
So, for your online arbitrage, in an instance, if your profit is $4.80 for a product that costs $6 (not including shipping costs), then your return on investment is 80%. As a beginner in retail arbitrage, it's good to look for items that offer an ROI percentage of more than 50%.
If the item you are looking at meets all the criteria for the retail arbitrage products you need for your own business, you can purchase it.
I recommend purchasing about six of each item to diversify your inventory and keep your risk low, especially when you're just starting.
Of course, as you gain experience, you're likely to come across scenarios where it makes more sense to buy larger quantities, particularly if you find a high-demand item that offers a healthy profit.
Step #6: List Products for Sale on Amazon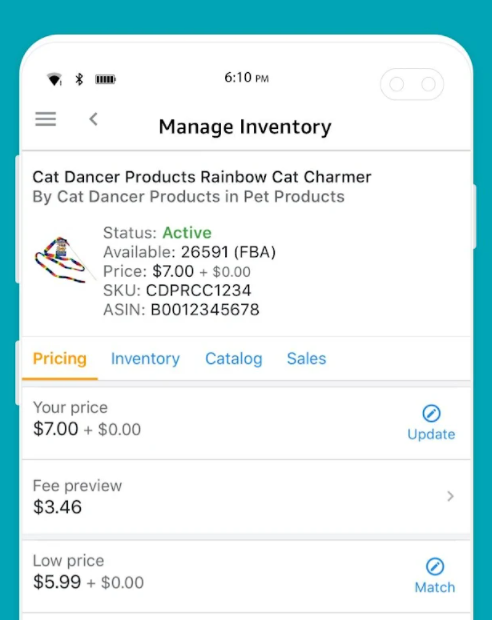 Your final step is to list your products on Amazon and prepare for your first sale. If you are using Fulfillment by Amazon, which I recommend as it's the easiest way to do things, you can ship the items to the FBA warehouses.
There are certain conditions where fulfilling the orders yourself could make sense. But, for the most part, you will find that FBA will almost always provide more benefits than merchant fulfillment.
Pro Tip: When you're first getting started, it's a good idea to scan as many products as possible. Try not to make any assumptions about what will sell and what won't. Otherwise, you may miss out on a lot of profitable products.
Some products you may not value but may still be highly profitable to sell. Let the numbers guide you in making the best decisions for which products you should buy.
Use the evaluation process outlined above as an efficient way to help you choose the right products to sell. As a beginner, this will help you avoid wasting time on products that don't meet your buying guidelines. However, as you become more experienced, you can adjust these guidelines in any way you wish.
Retail Arbitrage Pros and Cons
As with most other business models, retail arbitrage has benefits and drawbacks. Before you decide whether or not this is how you want seven Amazon, check out the pros and cons of retail arbitrage:
Retail Arbitrage Pros
Low Barrier to Entry
Becoming a retail arbitrage seller typically has a lower threshold than most businesses. With this type of business, you can get started with as little as $100.
This low cost of entry is one of the main benefits of retail arbitrage. Since you will not be buying products in large quantities directly from suppliers, you don't stand to lose much money if your product doesn't fly off the shelves.
Short-Term Earnings
This business model presents an opportunity to make money very quickly. Since you're not trying to build a brand or create lasting relationships with suppliers, you can focus on rapidly making your first profit instead.
For people just getting started selling on Amazon, this is one of the fastest ways to make a profit.
eCommerce Authority
When you conduct retail arbitrage in conjunction with Amazon, you benefit from working with one of the largest and most trusted retailers in the world.
As a third-party seller sourcing products from elsewhere and selling them on their platform, you give Amazon a cut of your earnings, making you a valuable revenue source for them. Because of this, they generally work hard to keep your business by offering you great benefits for using their platform.
Private Labeling Gateway
Retail arbitrage is a great way to get into private labeling and using Amazon Seller Central. Many retail arbitrage sellers on Amazon gravitate towards using the platform's FBA services because of its ease of use and the many benefits of using a private label.
They use Amazon's Seller Central Dashboard, and once they get the hang of the way the system works, they typically create their own brands selling under private labels. Using Seller Central is a stable and more scalable way to do a business online.
Retail Arbitrage Cons
Brand Registry Protection For Retail Store
When using an online marketplace like Amazon, one major hurdle is that particular product sells as "brand gated." Brand gating is when Amazon gives brands and private labels greater control over product listings.
If you are selling a brand-restricted product, you will have to ask for permission to sell those products. Listing products without getting authorization may result in your account being flagged and taken down by Amazon.
These types of brand regulations make retail arbitrage a risky venture, and you must always make sure that the products you sell are not part of the platform's brand registry before listing them.
Lower Margins For Retail Arbitrage Sellers
Since you don't have any ownership of your products, you have limitations placed on you, which hampers your profit margins. For instance, if the products you want are top-rated, the retailers may place buy limits.
This means that you might have to ask others to buy the stock for you to purchase more stock than they allow you to. This takes up more of your time and effort, but it also may cost you money as some people may ask for a cut.
Increased Risk As Retail Arbitrage Seller
When conducting retail arbitrage and Amazon, you risk losing a large portion of your investment if your inventory is not good. For instance, it may turn out that some products that you purchased were on sale because of certain defects or recall issues that you didn't know of.
Often, larger retailers know when newer versions of products are coming out, and therefore they put the older products on clearance to make way for the latest stock.
Unsuspecting resellers may buy such products only to face a significant loss when the new versions hit the shelves.
Low Customer Retention In Retail Arbitrage Business
Since you are unlikely to find the same products on clearance, again and again, it means you will have to sell all kinds of different things. In addition, you will likely get to meet new clients every time you change your inventory.
In addition, all your products will bear other people's brands, which means that if they're great, those people get praise, not you. But, if the products are of poor quality, it damages your seller rating on Amazon.
Minimal investment and fewer risks make it easier to live with the fact that you may never have client attention.
Very Difficult to Scale Business Model
While this is a tested method for making a bit of cash on the side, and while it's possible to make big margins on any of the products you choose to sell, this sustainable business model isn't great as a long-term strategy if you want to build a scalable, sustainable business that you can sell for profit.
With other business models like private labeling or creating your own brand, you can automate processes in various verticals. You also have full control over the way things function. However, with retail arbitrage, you must have a hands-on approach to have any control or consistency over the process.
Gas Costs and Time Spent Sourcing Products
For most people, this is one of the significant downsides of retail arbitrage on Amazon. You have to spend a lot of time and energy looking for incredible deals in your local retail stores and carefully providing space for storage, but this will cost storage fees.
Also, you have to find resale opportunities quickly. Otherwise, you risk having to pay storage fees.
Although retail arbitrage seems simple, this business model requires a lot of hard work to make it successful. But, the good news is that for those willing to put in the time and effort, this can prove to be a highly lucrative source of income.
Retail Arbitrage Success Stories
If you read this guide about retail arbitrage in 2022, you've probably heard many stories about how other people have made a killing with this business model on Amazon.
In this section, we will look at three examples of people who have had massive success with retail arbitrage.
Use their stories as inspiration so you can get started building toward your own success.
Run by a wildly successful retail arbitrage seller, Stephen Smotherman, Full-time FBA is a blog that helps individuals turn their part-time hours into full-time incomes.
Stephen consistently provides free actionable tips and tricks designed to help you grow your profits on Amazon by making the most of your money, time, and resources.
2. Kevin Howard
Kevin Howard is an attorney-turned-entrepreneur. He is a small business owner who teaches others about the entrepreneurial side hustle.
He discovered retail arbitrage in 2014 and has since built a profitable online business that provides him with a consistent source of semi-passive income.
In his book, retail arbitrage money machine, Kevin shares his experiences and discoveries in the world of reselling sales and clearance items from local stores on Amazon.
The book was written to help those searching for legitimate methods to build consistent income in simple ways that can be done at your own pace and with minimal money invested.
3. OnlineSellingExperiment.com
Online Selling Experiment is a website dedicated to people who are serious about online retail. They offer free in-depth training on retail arbitrage and other business strategies that will help you replace your job with an online retail business.
Simply sign up for their newsletter to receive a free copy of a free guide to building a 7 figure business online.
Everything they teach has been tried and tested over the years, and their system will help you build an online retail business from scratch and scale it to 6, 7, or 8 figures.
Want to learn more about Retail Arbitrage from someone who's sold MILLIONS of products? Click Here to get a FREE guide from Ryan Grant, the foremost expert in Retail Arbitrage.
Retail Arbitrage FAQ
Many people who are just getting started in retail arbitrage have questions about the business model.
This article aims to answer all of these questions and provide you with all the information you need to get started building your own retail arbitrage business.
Read on to discover the answers to some of the most commonly asked questions related to retail arbitrage.
Is Retail Arbitrage Illegal?
The biggest concern most beginner sellers have regarding retail arbitrage is whether or not it's legal. However, if you have been wondering the same is Retail Arbitrage legal, you can put your mind at rest because retail arbitrage is perfectly legal.
According to the U.S. Supreme Court, retailers can't stop anyone from reselling their products as long as the merchandise has been acquired legally. So basically, all you need to practice retail arbitrage is your receipt from the store where you bought the stock.
But, keep in mind that just because it's legal doesn't mean it comes without challenges.
You may face many problems if you decide to sell branded items. Although legally, there is nothing to stop you, if you are not an authorized reseller, some brands could try to intimidate you to get you to stop commercializing their products.
Can You Make Money With Retail Arbitrage?
Yet another question that comes up often is, "Can you make money with retail arbitrage?" The answer to that question is an absolute YES.
With the right retail arbitrage strategies, you will be able to make a healthy income with this business model. The amount you make will largely depend on how much money and time you can invest initially.
The more money you can put into buying inventory, the more you will be able to sell, and therefore the more profits you will make. However, you don't need to have that much to get started.
You can even get started for free by selling some items you already own on marketplaces like Craigslist or Facebook Marketplace and then reinvesting profits into new products to sell on Amazon.
The bottom line is, even if you don't have a lot of money to start with, you will still be able to earn substantial amounts in short order just as long as you're willing to work hard and invest the time necessary to grow your business.
What Are The Best Categories For Retail Arbitrage?
There are a lot of categories that you can choose for retail arbitrage.
Listed below are some of the products and markets that have a considerable scope this year and are expected to continue selling well in the coming years.
Sports and Outdoors: You will find tons of shops that offer discounted products or discounts during the different seasons of the year. For instance, you may find great products during football season, hunting season, and swimming for summer.
There are plenty of great products to choose from, and you can either focus on a variety of products in one category or just one product from each category.
A great product that has been popular for years and will continue to sell well is fitness leggings. This product caters to multiple niche markets and is a versatile commodity for anyone getting started in retail arbitrage. Fitness leggings are also extremely light, which means they are less expensive to ship.
Bath and Kitchen: This is yet another growing industry on Amazon. New products are continually coming out, and there are many things you can do to make your bathroom and kitchen look and function better. This gives retail arbitrage sellers a massive opportunity to find and sell products that customers love.
One bath and kitchen product that sells well is bamboo toothbrushes. With minimalism increasingly becoming a lifestyle choice for many people worldwide, retail arbitrage sellers can take advantage of this trend by selling products like bamboo toothbrushes.
Many customers are consciously choosing to search for more sustainable alternatives for many of the products they use in their homes, and that's why products like bamboo toothbrushes are trending at the top of the list.
Toys and Games: This is an outstanding category that allows you to make sales throughout the year. It's ungated, which means you don't have to get approval to sell products in this category, and you can start making money right away.
When choosing this category, keep in mind that you may have to go through specific steps to get approval to sell toys containing minimal parts that children could accidentally swallow or toys with sharp edges that could potentially harm a child.
Plush toys are the perfect example of products you can get started with as a retail arbitrage seller. The toys have always been and continue to be popular. You can even bundle them with other products from your inventory to create an excellent opportunity to upsell your customers.
Clothing and Shoes: With this category, you won't get approval automatically as it is a gated category. To sell clothing and shoes on Amazon, you have to be selling for quite a while before you can apply.
Once you get approval, you will be in a much smaller group of sellers, which means there are fewer people for you to compete with. If you find clothing and shoes that have high brand value, it's possible to make a killing on Amazon.
For instance, some brands can sell for $90 retail, and if you can get the products for $25-$30 and then sell them on Amazon for $50-$60, you will make money very quickly.
There are, of course, many other categories that you can focus on, including beauty products, books (take a look at this guide), handbags, and many more. But as a beginner, try to keep your focus on just a few categories to avoid getting overwhelmed by the sheer number of available products that you can choose from.
Pro Tip: Look for gift items as these offer massive opportunities over your competition. Also, check the best sellers rank (BSR, aside from sales rank) of the things you choose to see how high its chances of selling are.
For the most part, you should avoid selling anything with a BSR greater than 100,000. A BSR on the lower end means that it is selling well, and ideally, you want a BSR of under 25,000.
25,000-50,000 is also okay, but if it's above 50,000, you need to do additional research to ensure that your chances of selling the product are strong.
What Are The Best Retail Arbitrage Apps?
As a seller on Amazon using retail arbitrage as your sourcing strategy, you need a reliable scanner app to use when scouting for products in your local stores.
Listed below are the top 5 barcode scanner apps to choose from that will allow you to check prices on Amazon or eBay.
1. Amazon Seller App (Available on: Google Play, iTunes, and Amazon)
Amazon seller app is a free app offered by Amazon that you can start using right away as a registered seller on the platform. Once you have your seller account, simply download the app, and you can start to sell on Amazon and scanning products right away.
The Amazon seller app and free tools will help you uncover the following such as Sales ranks and more:
Official Amazon category
FBA fees, product price
Approximate profits
Total number of sellers
Bestsellers rank
Sales Rank
…and much more.
But, the Amazon seller app doesn't show you custom fees or taxes, which means you only get an estimate of profitability.
Also, the Amazon seller app doesn't integrate with eBay or Google, so it can be tough to find information on the product price history and trends.
2. Scoutly (Available on Google Play, iTunes, and ASellerTool)
This app has a great feature that allows you to switch from live search to local database mode. So if you ever find yourself in a wifi/reception black hole, you won't have to stop your product scanning.
The app contains all the information that you will find in other scanning apps, such as sales rank, including:
FBA prices
Sales Rank
Product Type
Image
Weight
Title
… and so on.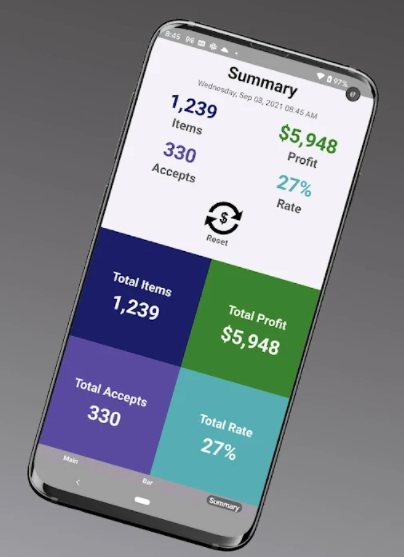 Although this information on FBA and sales rank and more are also available on all the other scanners, this app's data/wifi-independent feature helps it stand apart from the competition.
3. Scoutify App (Available on Google Play and InventoryLab)
This is a fantastic app with lots of great qualities. But it does come with one major downside: To use the app, you must sign up for the entire package.
You get what you pay for with Scoutify, and there are a lot of excellent features that will drive your success as a retail arbitrage seller on Amazon.
If you are just getting started, this app may not be the right choice because of its cost. However, if you are a seller with a high monthly volume, then this is the right app for you as it will afford you the following benefits:
Integrated third-party apps like Keepa and CamelCamelCamel
The app works in taxes so that you will get a more accurate final price number
It allows you to scan with Bluetooth
A shopping list keeps the history of your purchases
You get access to sourcing, reporting, and bookkeeping tools
4. Profit Bandit (Available on iTunes and SellerEngine)
As with the option above, you need a paid subscription to use this scanning tool. However, it's affordable and offers excellent features to help you research products in real-time.
This means you can make the best-informed decisions possible as you will have the most up-to-date information right at your fingertips.
Because of its affordability, profit bandit is an excellent app for low-volume sellers looking to find ways to increase their profitability.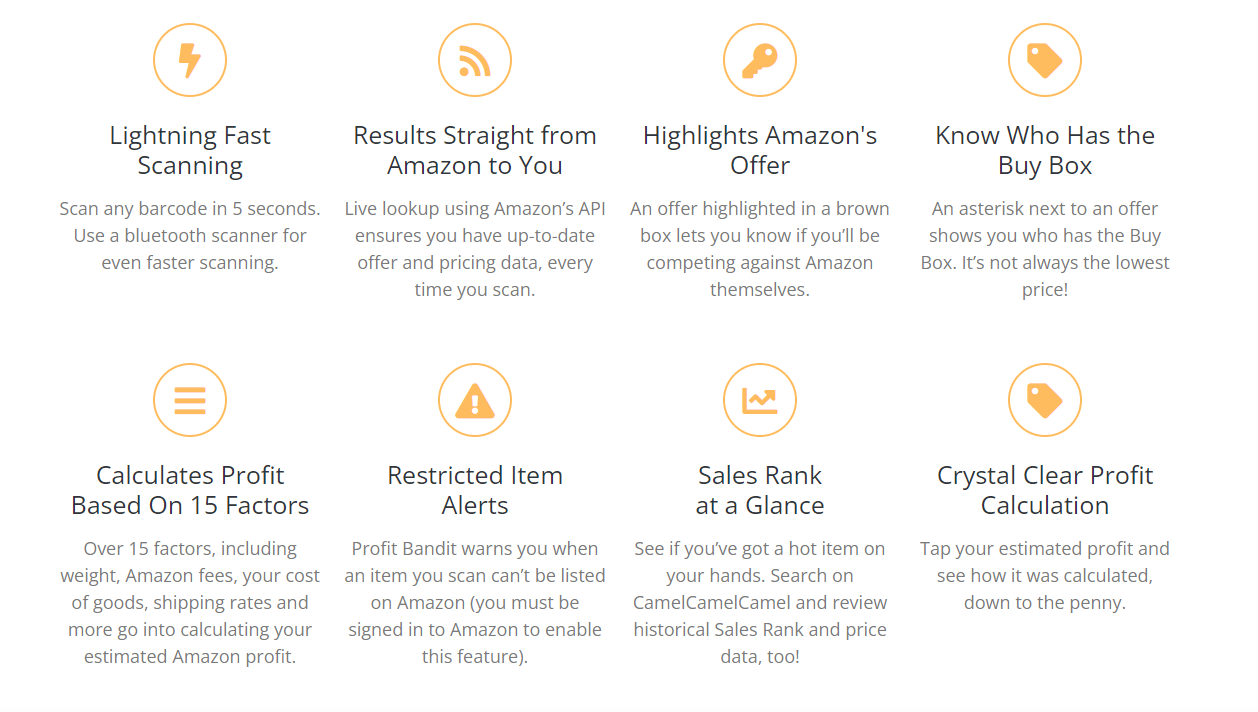 5. Scan Power (Available on Google Play, iTunes, and ScanPower)
Scan power costs more than the other apps on this list. However, it also has the features to put you ahead of other retail arbitrage sellers on Amazon. It comes with the best and most accurate live data straight from the platform.
If you are someone who operates most efficiently on the go, then this is the app for you. It has some fantastic features, such as sending information to your desktop while you're out and about so you can look it over later.
It also allows you to create 2-D barcodes, which is convenient so that when you ship your items, the barcodes are already there, giving you one less thing to worry about.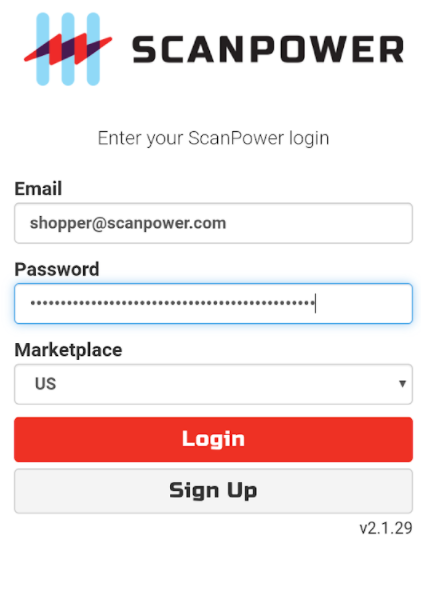 What is the Average Retail Arbitrage Profit Margin?
Your profit margin with retail arbitrage will differ depending on how much you pay for the items you sell on Amazon and how much customers are willing to pay for them.
Many retail arbitrage sellers use 10 to 30% as a strict benchmark. To help ensure your success as a beginner, it's a good idea to use the exact figure as a rule of thumb. Only source retail arbitrage products that you can get for 10 to 30% lower than their minimum cost.
How Do Taxes Work for Retail Arbitrage?
As a retail arbitrage seller, there are some essential things you need to know about filing taxes. First, you need to stay on top of sales tax to sell on Amazon. This is the tax on products that are not deemed "essential."
This varies from one state to the next, and you need to check the regulations where you operate your business.
You also need to focus on your deductibles when you monitor sales. As with all other self-employed individuals, an Amazon retail arbitrage seller can claim deductibles on education costs, home office expenses, and other items. Again, make sure to keep all receipts related to your online activities.
---
And there you have it. Everything you need to know to help you get started as retail arbitrage.
Now that you've seen how lucrative it can be to sell items from your local stores on Amazon.
Use the information in this article to start your own small business with minimal risk and build it up to create a reliable source of income for yourself.
Do you think the retail arbitrage business model is the ideal home-based business for you? Let me know in the comments section below!