If you've ever had the need to create convincing and realistic voiceovers that sound like an actual human instead of a computer, what you needed was an AI voiceover tool like Murf AI.
The Murf AI text-to-speech tool is designed to help you simplify voiceovers using AI (artificial intelligence). It changes the way you create and edit voiceovers, allowing you to create lifelike, flawless voices in just minutes.
The company has a growing global footprint with over 40,000 voiceovers created on the platform from users in 120+ countries.
In this Murf AI review, I am going to share my experience with this software: the features of the platform, who it's good for, its pros and cons, and whether or not it's worth it for your business.
Ron's Thoughts
Using Murf to create realistic voiceovers is enjoyable and even fun thanks to its capabilities and precision. It uses Artificial Intelligence (AI) and text-to-speech to create flawless voiceovers that you can edit until they're perfect. Create the voiceover you need in mere minutes by choosing the voice you want, providing the AI with text, and adding various effects to the final product. Lastly, you can use the free version to test the software; you'll get 10 minutes of transcription & voice generation, and 120+ voices to choose from.
Biggest Pro:

Voice Customization Versatility and Ease of Use

Biggest Con:

Expensive for Individuals

Annual Discount:

Yes - Up to 33% Off

Price:

Starts at $19/Month

Promotion:
Is Murf Worth it?
Murf AI is a must-have tool for enterprises, small-medium businesses, and individual content creators looking to generate super-realistic voices across different ages, languages, and accents without having to hire expensive voice actors.
This feature-laden platform provides you with all the tools you need for voiceover production, including the capability to sync video presentations with voiceovers, which takes away the need to integrate a third-party tool.
You can easily create and edit voiceovers, and the work that used to take hours, weeks, or even months now takes minutes using Murf Studio.
This one tool will save you valuable time and resources, which makes it a worthwhile investment for anyone who requires voice-over services.
Who is Murf Good For?
This DIY voice-over maker tool is perfect for content creators across all industries, from L&D, authors, and podcasters, to educators, animators, product developers, and corporate coaches.
The platform is perfect for anyone who wants to create voiceovers on a budget.
You'll be able to create realistic recordings that are out of this world, including:
Product and explainer videos
Ads and promotional videos
eLearning course modules
Audiobooks, Games
YouTube videos and Podcasts
IVR phone system/Customer support
Corporate training
Software apps and demos
…and much more.
You can create and edit your content, as well as make future edits easily with the platform's AI-powered audio.
You can also use this tool to make your social media posts a lot more engaging by including voiceovers in them.
This is a quality and cost-effective solution to create voiceover narrations for a wide range of use cases. It's easy to use and fast, and produces exceptional results, making it a must-have tool for all your future projects.
Murf Functionality
It's time to take a deeper look into this software as part of my Murf AI review.
1. Ease of Use
Murf Studio is built with specific features to help you generate voiceovers and edit them in a simple way.
This ensures that anyone can get value from the platform, even those with no voiceover experience or skills.
This is how the simple and easy to navigate dashboard looks:
You get a seamless experience and great voice quality. You'll find a ton of great audio varieties across multiple age groups. You can also modulate the audio by modifying speech, pitch, pronunciation, etc., and you'll be able to build more realistic audio by using the appropriate dialect
So, for instance, if you want someone to sound older or younger, you can do it here. You can also use the built-in speed adjustments and pitch shift features to make high female voices sound like low male voices and vice versa.
You can also alter the sound quality by adding a variety of effects, such as:
Reverberation
Flanging
Phasing
Chorusing, etc.
The possibilities for creating exceptional voiceover work are endless with this software, and best of all, you'll be able to see your voice in real-time so you can make any necessary adjustments prior to rendering the final product.
To get started using the software, choose whether you want to create a new project or customize one of the many ready-made templates.
If creating a new project, you'll be prompted to create a name for it, and then choose the video (MP4), or image (JPEG/PNG) that you'll use to start creating your voiceover. If you are using Murf for just creating audio you can choose Upload Later option.
Alternatively, you can choose one of the many templates, including:

Podcast Intros
Product Demos
Business Promos
Mobile App Explainers
Presentations
…and much more.
Once you've made your selection, you'll be taken to the editing page where you can add videos and images and make edits.
You'll see the following tabs at the top of the page:
Video/images
Voices
Soundtrack
AI Changer
Script
Settings
FAQ
Below the tabs, you'll see a box where you can type in or copy/paste your script in the audio blocks. If using a pre-designed template, the script will already be in there, so just edit it to suit your needs.
Next, click "Voice" choose your favorite voice from a wide selection and set your voice styling options.
Now, you can adjust the pitch and speed of your voiceover according to your preferences.
You can also change the volume, add pauses, and emphasize specific words.
Next, add your soundtrack. You have the option to upload a soundtrack from your device, choose one from the gallery, or import audio clips from Youtube, DailyMotion, Vimeo, etc.
Your next step is to sync the voice with the visuals by adjusting the size of the audio blocks in the bottom panel to perfectly time them with the visuals.
The last step is to render the video by clicking the blue "Build Video" button shown in the image below, and that's it. You're done!
You can now preview your video and make further edits as required.
As you can see, Murf makes adding voiceovers to video as simple as possible for users of all skill levels.
2. Murf's AI Voice Generator
You get over 120+ realistic AI voices in 20 languages. This diversity of voices allows you to build a global audience of both young and old users alike.
You get young adult, middle-aged, and kids voices to choose from in a range of languages, accents including:
English
French
Spanish
German
Russian
Italian
Portuguese
Norwegian
Romanian
Chinese
… and many other languages.
You also have the ability to transcribe your recorded audio, as well as change the text to AI voices with a single click of the mouse.
You can easily switch your voice with an AI voice to give your home recorded audio a more professional sound.
The AI-powered voiceover tool also gives you syncing capabilities with your video presentations, which means you don't have to integrate another tool to get that done.
3. AI Voice Changer
This feature is unique to Murf lets you transform your voiceover from a simple recording to a professional-quality AI voice.
There are a ton of options for AI voices that are easy to use and edit. The software uses natural language processing and machine learning technologies to create voiceovers with your desired personality and tone.
4. Team Collaboration
This platform is made for teams, with features that allow you to collaborate with your colleagues globally to create voiceovers at scale.
On the Enterprise plan, you can conduct eLearning narrations at scale and create best-in-class, natural-sounding voices with the features on the platform regardless of the specific authoring tool you're using, whether it's Adobe Captivate, iSpring, Articulate360, etc.
Your projects and voices will be available for future editing and you'll be able to work together with your team to create, edit, share, and collaborate easily on one platform. You can also upload and import scripts, further simplifying your work.
On the platform, you can also:
Add multiple users
Create workspace and delegate
Control access
5. Text-Based Audio Editor
The platform accepts both voice-based inputs and text-based inputs, meaning that you can upload an audio or text file and have it instantly converted into any voice of your choice.
You can easily edit your recorded voiceovers using the simple, yet powerful text-based audio editor that lets you edit voiceovers exactly the way you do text.
In this feature-packed studio, you'll be able to:
Add video, music, or images
Create dialogues
Standardize pronunciations
Voice customization (speed, pitch, emphasis, etc.)
Grammar assistant
Bulk upload via txt, Docx, and srt format files
All these features are available to you and easy to use so you can get perfect audio every time.
You have the capability to get a real human voice on any background sound using just text. There is also an emphasis feature that helps you build a more realistic and natural output.
This feature provides the tone to the script (formal, chat, etc.) and adds emphasis to specific words so you can have a more realistic recording.
6. Premium AI Voices Library
The platform also has a diverse library of voices for your premium content. A single subscription lets you access an extensive and ever-expanding selection of natural-sounding voices in a wide range of accents and languages.

Murf keeps on adding new voices regularly, with the very recent addition of African American AI voices plus a few others. The Murf AI text-to-speech platform might be the only one that is offers African American AI voices further adding to the diversity of its voice collection.
This way, you don't have to spend as much time and money to get creative and generate high-quality voiceovers.
7. Robust Data Protection
Murf Studio prides itself on its powerful data protection and security protocols. Access control is protected by 2FA (two-factor authentication) and all data is hosted on secure servers.
It's stored in Amazon Web Services, which is compliant with all data privacy and security regulations, including:
GDPR
PCI
DSS
HIPAA
HITECH
FedRAMP
SOC1
SOC 2
SOC
The bottom line is the platform keeps your data safe whether it's at rest or in transit by ensuring that all the data that flows through the global network of the platform's data centers are automatically encrypted before leaving the secure facilities.
Murf Pros and Cons
Every piece of software on the market comes with its own unique set of pros and cons and this Murf AI review wouldn't be complete without mentioning them.
Pros:
Wide Variety of Voices: The platform has a wide range of voices for you to choose from, including female and male voices.
Create Perfect Voices: You can change the voice pitch, speed, tone, etc. in order to produce the perfect voiceover.
Extra Effects: There are a ton of additional voice filters like monster voices, helium voices, etc. that you can apply during or after the voiceover recording.
Google Slides Add-on: The platform also comes with an optional Google Slides add-on feature.
Robust Data Protection and Security: Access points use 2-factor authentication (2FA) with clear role segregation, with periodic reviews of risk assessment.
Cons:
Pricey for Individuals: The premium plans are ideal for businesses that regularly create voiceover content, but may prove pricey for individuals. In such a case, the free plan may be better suited.
Murf Competitors
Although this is an awesome tool for creating and editing voiceovers, it's far from being the only high-quality, cost-effective solution for creating voiceover narrations. Here are a few Murf alternatives that I've decided to mention in my Murf review:
1. Descript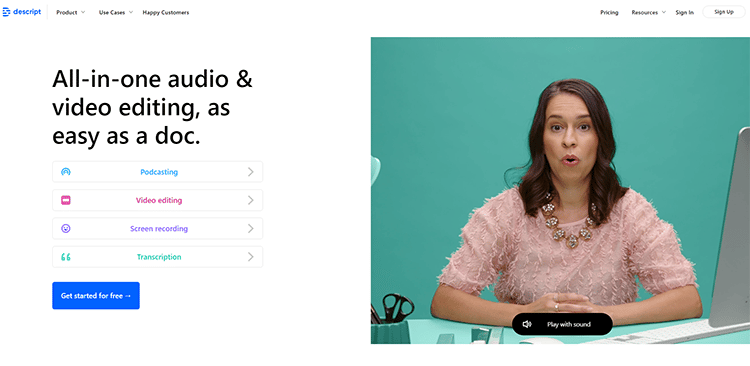 This platform provides you with 3 hours of transcription for free. You can record, edit, and make a full project, and you also get 20 screen recordings at a time (720 P max). To unlock more functionality, you can upgrade to one of the premium plans for $12/editor/month.
2. Logic Pro X
The standard edition of Logic Pro X costs $199.99 but you can sign up for a free trial to test out its powerful features which include tools for mixing and exporting your audio files and a massive collection of instruments, loops, samples, etc. to take your background music to the next level.
3. Synthesia
This platform costs $30 per month and comes with advanced features to help you scale up your use case and create a huge number of videos quickly and easily.
You get 10 video credits each month, text or video features, 40+ built-in avatars, and 40+ languages. There are also custom backgrounds and background music, MP4 downloads, and video-sharing pages
Pricing
Murf AI has a free forever plan and 3 monthly subscriptions for individuals, pros, and teams. You can get a massive 33% discount off the monthly price by paying annually.
Murf Free: $0/month

Try all 120+ voices
10 mins of voice generation
10 mins of transcription
Share link for audio/video output
No downloads
Single User
No credit card required

Basic Plan: $19/month or $13/Month Paid Annually

Unlimited Downloads
24 hours of voice generation/year
Access to 60 voices (10 languages)
Commercial Usage rights
Chat and Email support
Single User

Pro Plan: $39/month or $26/Month Paid Annually

Unlimited Downloads
96 hours of voice generation/year
48 hours of transcription/year
Access 120+ voices (20 languages)
Commercial Usage rights
Recorded voice editing
Voice changer
Up to 3 users
Priority Support

Enterprise

Custom voice generation time
Custom transcription time
Specify the number of users
SSO
Collaboration features
Centralized invoicing
Account Manager
Product Support
Murf provides robust customer support to help you get the most from the platform. The company's pre-sales and technical support are unparalleled, and you will get the help you need any time you reach out to the knowledgeable and friendly support team.
You can get support in the following ways:
Email
Tutorials and Resources
Account Manager (for Enterprise clients)
System Requirements
Murf AI is SaaS (Software as a Service) tool, which means that it can be accessed via a browser at any time from any device.
Is Murf Legit?
So, what's the verdict of this Murf review?
This platform, considered by many to be the best AI voiceover software, comes with a ton of tools that make Murf not only one of the most time/cost-efficient tools out there, but also one that is extremely fun to use.
With it, you'll be able to create great voiceovers in just minutes as opposed to the tedious process of sending scripts to agencies or voiceover freelancers and waiting for hours and even days to get voiceovers back.
There's a superb, natural-sounding voice collection to choose from, and you can make changes whenever you like, which gets rid of the need for never-ending back and forth between you and voiceover freelancers or agencies.
If you're on the fence about whether or not Murf.ai is right for you, click right here to start today for free.