One of the best ways to make money online is to diversify your digital revenue streams and create high-quality content for each of them. However, when adding videos to your digital marketing mix, you also need to make sure you're using the right file format.
Some formats support higher quality videos but consume much more storage space — which could increase lag on your site.
That said, choosing the right video converter is crucial, and one of my favorites is the Movavi Video Converter.
To help you understand why this is such a powerful tool, check out my extensive Movavi Video Converter review below where I'll share who it's good for, its features, pros and cons, and whether or not it's worth it for your business.
Movavi Video Converter Summary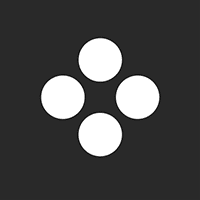 Ron's Thoughts
The Movavi Video Converter immediately stood out to me because of its characteristics. This intuitive video converter software is beginner-friendly yet packed with features that give it an edge over other video converters. For instance, the Movavi Video Converter supports over 180 file formats. You can also expect lightning-fast processing times, numerous video editing tools for merging and trimming videos, and Timeline manipulation and scaling.
Biggest Pro:

Supports 180+ Video File Formats

Biggest Con:

Limited Features Unless You Upgrade

Annual Discount:

No

Price:

Starts at $49.95/Year

Promotion: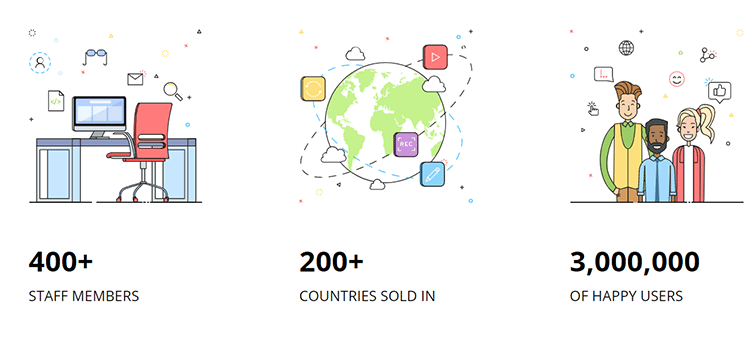 What is Movavi Video Converter?
Before we dive deeper into this Movavi Video Converter review, let's take a look at what it is.
It's an all-in-one toolkit that takes care of all your video creativity requirements. This includes:
Recording and editing videos and audio clips
Splitting and/or joining slideshows
Saving and converting online videos
Burning to discs
Saving individual video frames
Compressing large files
…and much more.
If you're wondering whether this software is for you, ask yourself this:
How many times have you been in a situation where your smartphone or computer wouldn't open a file correctly, or you couldn't share a file because it was too big?
Or maybe you spent hours trying to figure out how to convert a video into a GIF so you could create your own meme for Facebook.
In each of those cases, what you needed was a high-quality video converter, like Movavi, to solve these and other video conversion problems.
Is Movavi Video Converter Worth it?
Movavi Video Converter is so much more than a mere conversion tool. It also doubles as a brilliant piece of video editing software that comes with a wide hose of benefits.
For one, it's extremely easy to use. It has an attractive and intuitive user interface that even complete beginners can use with ease.
Also, it provides fast audio/video quality conversion, with very high-quality results.
Don't forget that it also supports the most popular formats as well as some rarer formats for audio-visual nerds like myself.
There is a wealth of editing and customization features, some of which are unique and not available on other video converters (more on features below).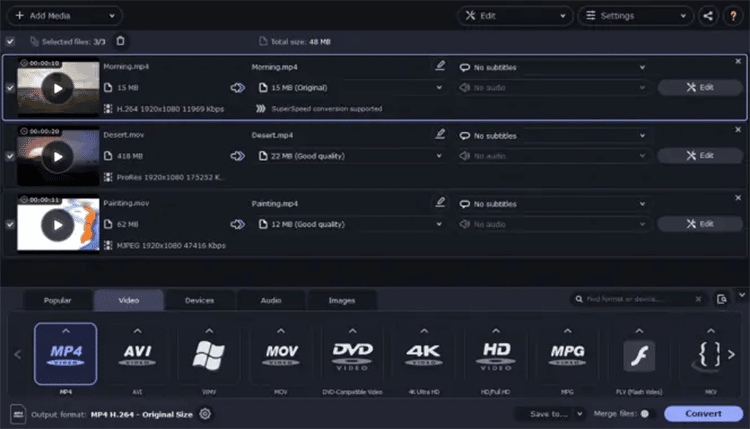 What truly makes this piece of software worth it is that it has an amazing return on investment (ROI).
It's extremely cost-effective and well worth the cost. In fact, it will pay for itself in no time at all. It will save you a lot of time, extra software costs, and labor costs by taking away the need to search for, find, pay for, and use additional tools and 3rd party apps.
This makes it a must-have for all computers.
Need to convert video and audio files into different formats like AAC, WAV, WMA, MVA, AC3, DTS, MP2, MP3, Mpegs, and more?
Need a program that's compatible with all major mobile and desktop devices including iOS devices like iPhones, and iPads; Nokia, LG, HTC, Samsung, and other devices running Android operating systems; Amazon devices like Kindle; and PCs?
Need a powerful tool for easy sharing and distribution of media files online?
Need a program for compressing large file sizes from your action camera?
Need to add subtitles to your videos quickly and easily?
Need to set custom resolutions to bitrate in your videos?
If you have any of the following problems, this Movavi video converter software can take care of them all in one!
I hope by now you have a clear understanding of what a great ROI this software offers and why it will work for you to solve any of the issues outlined above.
Who is Movavi Video Converter Good For?
Movavi Video Converter is ideal for anyone who has ever had a need to convert files to play on different devices.
With 180+ video and audio formats to choose from, you can transform any file into the ideal format for any device.
Listed below are a few use cases of Movavi Video Converter so you can get a better idea of how it helps different types of creators.
1. Convert Action Camera Videos to Any Format
If you want to post your action camera footage on social media, blogs, etc. Movavi Video Converter can help you convert it into any format that is ideal for different uses.
2. Cut Out Unwanted Parts From Your Videos
This amazing software isn't just for converting videos, you can also use it to edit, rotate, merge, and crop footage so you end up with a professional-looking end result.
3. Adding Subtitles to YouTube Videos
If you work with multimedia, you need an app that meets your specific needs. For instance, Movavi Video Converter will allow you to add subtitles to your videos easily so you can cater to a broader audience.
4. Compressing Security Camera Footage
Say you own a business where you record security camera footage. You can use Movavi Video Converter to compress the raw files into much smaller formats (without loss of quality) so you can store the videos on your hard drive.
5. Add Effects and Enhancements to Videos
This software is ideal for marketers and entrepreneurs who deal with many different work projects. It does it all in one and will help you streamline your editing efforts so you don't have to deal with many different apps to add effects and enhancements to your video projects.
Movavi Video Converter Functionality
The next feature we'll be looking at in this Movavi Video Converter review is the software's functionality.
One of the reasons Movavi Video Converter stands out is because of the many unique features and tools that it offers.
There is everything to suit everyone's needs, from basic features to advanced conversion tools, not only for converting videos, but also audio files, DVDs, and static images.
Below, we take a look at a few of the most prominent features of the software.
1. Speedy Video Conversion
Movavi Video Converter is one of the fastest and most reliable video converters you'll find. In fact, it's so fast that the video conversion process feels like straight copying.
According to tests conducted by the software company, conversion with Movavi Video Converter using SuperSpeed mode was shown to be up to 79 times faster than other converters!
Converting your video files is easy. All you have to do is follow these 3 steps:
Step #1: Add Files. Drag-and-drop your files into the program window, as shown below:
Step #2: Choose a Format. Next, click the icon for whichever format you need.
Step #3: Convert Your Video. Finally, click the blue "Convert" button to start the process.
Once you've chosen the folder and conversion parameters, your files will now be automatically converted and added to that folder.
2. Supports 180+ Formats
The app supports over 180 different media file formats, which allows you to convert all types of videos, audios, and images, including:
AVI
MP4
FLV
MKV
MOV
WMV
3GP
MP4, etc.
You can also extract soundtracks from clips of movies and save the main audio formats like MP3, FLAC, etc., and you can rip DVD videos to a multitude of popular video formats. That said, if you need to convert MP4 to MP3 this post can help.
3. Fast Encoding
With Movavi Video Converter, you'll be able to encode your files at the speed of light. No more endless hours spent waiting for files to be converted to the right formats.
Now, you can take advantage of your NVIDIA and Intel hardware acceleration and get maximum use from your multicore CPU.
The innovative SuperSpeed mode allows you to change video formats without reencoding. It's up to 79x faster than traditional encoding methods, which makes it useful for busy creators.
4. Built-In Editing Tools
The software comes with a wide range of built-in editing tools that allow you to trim and merge your clips easily. You can cut multiple fragments from any media file and join them with one click.
It's also extremely easy to add subtitles to your videos. Furthermore, you can adjust various video parameters, including contrast, brightness, saturation, etc.
You can edit videos before you save or share them on YouTube, Facebook, iTunes, etc. Quickly and easily trim and/or join any video or audio clips you want to process.
You also have tools at your disposal to enhance your files, such as Magic Enhance, a tool that lets you automatically improve picture quality.
Furthermore, you can stabilize shaky videos, add captions and watermarks, rotate and crop the frame, adjust and normalize sound for videos shot on a camera, and much more.
5. Compress Large Files Easily
Movavi Video Converter also works as a video compressor that allows you to quickly and efficiently compress videos without loss of quality.
6. Subtitle Search
This handy feature lets you find the subtitles you want so you can use them in your videos. There are also additional editing tools that allow you to customize your subtitles by changing elements such as the fonts, style, color, and size of the subtitles.
With this feature, you'll never again have to settle for unsynchronized subtitles. You'll be able to easily search online to find the most suitable subtitles for each of your movies or serious cuts. These are attached to the image whenever you go through the conversion process.
7. Video Improvements
With Movavi Converter, you can automatically improve video and audio quality at the click of a button. There are features that allow you to transform the format and modify audiovisual material.
Whenever you upload an image, video, audio file to the video converting platform, you'll see an "Edit" button displayed to the right of the page. This button offers you a complete AV editing window where you can make vast improvements to your files.
These include:
Adjusting brightness
Changing the contrast
Using the zoom feature
Adding filters or vignettes
… and so on.
The best part is that during the video/image editing process, the software displays both the "before" and "after" versions which allow you to see the difference made by the enhancements.
8. Device Detection
Movavi Video Converter allows you to enjoy your media on any device you choose. There are over 200 ready-made presets designed for mobile devices.
This automatic device recognition and appropriate preset selection help to make things easier for you when choosing the right preset to optimize media files for playback on different devices, including:
Apple iPhone
iPod
iPad
Sony PS Vita
Android smartphones
Tablets
… and many more.
It doesn't matter if you are not sure of the exact default format for your device. The program will allow you to choose the type of device and conversion of your media file will automatically be processed to the corresponding format.
Movavi Video Converter Pros and Cons
This software does it all in one. But, like all other software, it comes with its own unique set of benefits and drawbacks.
Here are some of its pros and cons to help you determine if this is the right video converting tool for you.
Pros:
Easy to Use: This is a powerful, yet beginner-friendly video converter for Windows.
Supports Major Formats: The software supports an impressive 180+ file formats.
Built-In Editing: There are additional built-in editing tools for trimming and merging, etc.
Speedy Conversions: The tool offers superfast processing times for file conversions.
Timeline Scaling: You can expand or contract the timeline scale allowing you to cut media files with millisecond precision.
Cons:
Limited Editing Features: You don't have access to all the software's features unless you upgrade.
Watermark on Free Version: Watermarks are added to your converted clips when using the free trial.
Lack of Features: Lacks a built-in "Help" file, but there's an online manual that provides a lot of relevant answers.

Pricing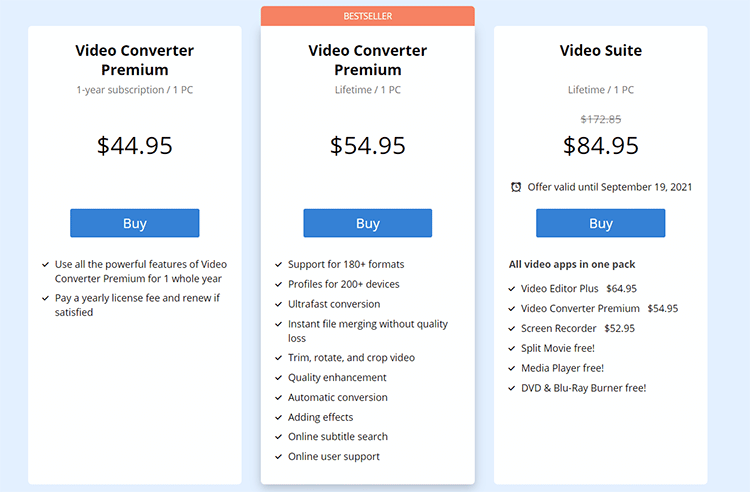 The Movavi video converter is extremely cost-effective in terms of efficiency and quality. It's very attractively priced, especially when considering the impressive number of features included in the software.
You can sign up for a free trial where you get to use the program for 7 days before committing to a paid plan.
Premium plans are as follows:
Movavi Video Converter Premium: $44.95 for 1 PC for one year.
Movavi Video Converter Premium: $54.95 for 1 PC for a lifetime license.
Video Suite: $84.95 for 1 PC for a lifetime license.
The Video Suite offers the best value as it comes with all the video apps in one pack. This includes Video Editor Plus, Video Converter Premium, Screen Recorder, Split Movie, Media Player, and DVD & Blu-Ray Burner.
Subscribers to the Movavi Video Converter newsletter can receive an additional 20% off the Movavi Video Converter:
There is a 30-day money-back guarantee for your peace of mind.
Product Support
Movavi Video Converter offers 24/7 technical support to all premium users. As soon as you log onto the intuitive dashboard, you'll be presented with a display that prompts you to learn more about how the program works in just a few simple steps, as shown in the image below:
On YouTube, you'll also find plenty of video tutorials like the one below. They cover every aspect of how to get the most from the video converter.
Although the company doesn't offer phone support, it does offer exceptional assistance through online manuals, FAQs, and a live chat on the website.
System Requirements
Movavi Video Converter is designed for Windows OS (10/8/7) and Mac OS X 10.6.8 or higher.
In order to run the software with optimal performance and reliability, your system should match these requirements:
For Windows OS
Microsoft Windows XP/Vista/7/8/10 that has up-to-date patches and service packs installed.
NVIDIA GeForce series 8, Intel HD Graphics 2000, AMD Radeon R600 or higher graphics card with up-to-date drivers.
Intel, AMD, or compatible processor, 1 GHz.
1280 Movavi Video Converter768 screen resolution, 32-bit color.
120 MB available hard disk space for installation, and 750 MB for ongoing operations.
512 MB RAM for Windows XP and Windows Vista, 2 GB for Windows 7, 8, and 10.
Administrator permissions are required for installation.
For Mac OS
Mac OS Х® 10.6.8 or higher
64-bit Intel® processor
1280 Movavi Video Converter768 screen resolution, 32-bit color
128 MB RAM
140 MB available hard disk space for installation,
750 MB for ongoing operations
Administrator permissions are required for installation

Is Movavi Video Converter Legit?
Here's what I'll say to wrap up this Movavi Video Converter review – If you want an easy-to-use video converter for Windows 10 that comes with a ton of useful features, definitely check out Movavi Video Converter.
It's a complete package with everything you need for converting and editing videos quickly and easily.
The software has extremely high ratings on G2 and other review websites, which isn't surprising when you consider that this is the ultimate conversion software that does so much more than just converting videos.
The tool is great for both beginners and expert users alike. The best part is, you get a free 7-day free trial by clicking here so you can decide whether or not it's a great fit for you before paying anything.
All in all, this is one of the best and most efficient video converters you'll find on the market right now.