Meta recently invested some serious money into Facebook Reels — the short-form video feature that is similar to the TikTok app. This big move instantly created a new way for content creators to profit in the social media marketplace and earn money via their Facebook page.
Reels are short videos, often enhanced with music and/or special effects, that last up to one minute. Popular content is usually trendy, funny, and driven by sound bites and cues.
Eligible content creators have various opportunities to make money on Facebook through monetized challenges and by embedding ads into their Reels. Viewers on the app also have the option to tip their favorite creators.
Here are some proven methods for making money from Facebook Reels.
How Much Money Can You Make With Facebook Reels?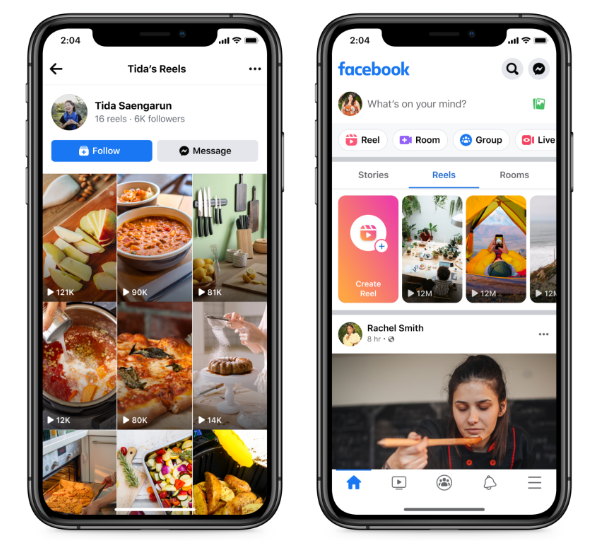 Facebook Reels is available through the Facebook social media platform on both Android and iOS in more than 150 countries across the globe. Because users on Facebook and Instagram spend half their time watching videos, Reels is easily Meta's fastest-growing content format.
The social media giant is focused on introducing better ways to help creators get discovered, connect with an audience, and earn money. Meta is offering new creation tools, they're making it easy for users to find and share relevant content, and they are providing more places to watch and create Facebook Reels.
As part of their $1 billion creator investment, Meta has launched the Reels Play bonus program — which pays eligible creators as much as $35K per month based on qualifying reels and views.
Creators can also earn money from Facebook Reels through monetization products like overlay ads and Stars. Any creator in the US, Canada and Mexico who is part of Meta's in-stream ads program is automatically eligible to monetize their publicly-shared Reels with ads.
All of this investment has already made an impact. From 2019 to 2020, the number of content creators on Facebook earning $10,000 per month grew 88 percent, and those earning $1,000 per month grew 94 percent.
Note: Facebook users under the age of 18 aren't eligible for monetization at this time.
6 Ways to Make Money With Facebook Reels
Monetization features for Reels are only available for Facebook pages and profiles in professional mode. Facebook profiles creating Reels outside of professional mode are ineligible.
In order to earn money with Facebook Reels, you must live in the United States, be at least 18 years old, follow the Meta community standards, pass and remain compliant with a set of rules called the "Partner Monetization Policies and Content Monetization Policies," and apply from an account that is older than 30 days. Also:
You must have created at least 5 Reels in the last 30 days.
You must have received at least 100K reels plays in the last 30 days.
If accepted into the Reels Play bonus program, you will receive an invitation to join the program.
1. Use the Facebook Reels Play Bonus Program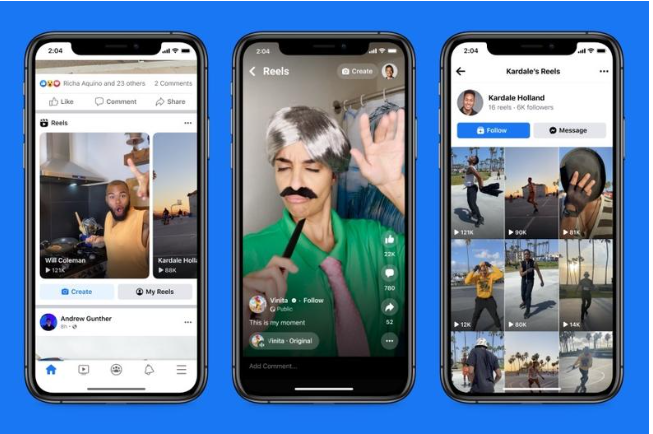 The Facebook Reels Play Bonus Program feature individual time-based bonus opportunities that creators can access in the Meta Creator Studio or in the professional dashboard on their mobile device. The program pays a "bonus" to anyone whose Reels get a minimum of 1,000 views over a 30-day period.
To post reels for the Facebook Reels Play bonus program, you must create reels from your Facebook page or profile in professional mode, which is only available on mobile. This will give you access to a bundle of professional tools, enhanced safety features, and monetization products once you're eligible.
Note: Your main profile is what you create when you sign up for a Facebook account, and this is where you share info with your friends and family. When you turn on professional mode, you can build a public presence as a creator while maintaining your personal friends and family experience.
The Reels Play bonus pays eligible creators based on the performance of their reels, and is available on both Facebook and Instagram.
Getting Started with the Facebook Reels Play Program
To get started from your computer, go to Creator Studio > Monetization > Bonuses. To get started on your phone, click the menu button in the bottom right corner of the screen and tap Professional dashboard > Bonuses. To get paid through the program, you must set up a payout account.
Bonuses run for 30 days at a time. When that period ends, you are automatically enrolled into the next bonus.
What to Include in your Reels
Reels can reach everyone — not just your existing friends and followers — because Facebook users can discover them based on their interests and what's popular.
Reels must be in .mp4 format and can be as long as one minute, but most are shorter. There is no specific criteria for what must be included in a Reel. But videos that get noticed often feature music, graphics, and/or sound effects.
For your account's reels to count toward an in-progress bonus opportunity:
It can't contain someone else's content or be owned by someone else.
It can't be watermarked with any platform's mark, name, or logo.
It must remain public on Facebook for at least seven days from the date posted.
How Much Money Can you Make With the Reels Play Bonus Program?
The maximum amount you can make each month in this Bonus Program is $35k. There is also a challenge incentive program that allows creators in the Bonus Program to earn up to an additional $4k per month by completing sequential, cumulative challenges. However, the challenges incentive bonus is currently an invite only program.
An example of a challenge would be: "earn $20 when 5 of your Reels reach 100 plays each." When a creator completes a challenge, the next one is unlocked.
2. Facebook Stars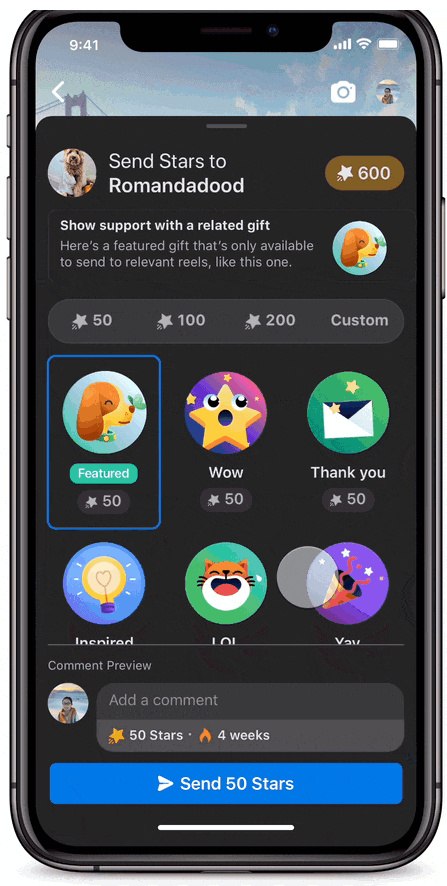 Stars is a virtual good that lets fans show creators love, while giving creators the ability to create deeper connections with their fans. For every Star you receive from a fan, you earn 1 cent from Meta.
You can use Stars with more than Facebook Reels. Fans can also send you stars on live broadcasts and on-demand videos in eligible markets.
3. Embed Ads in your Facebook Reels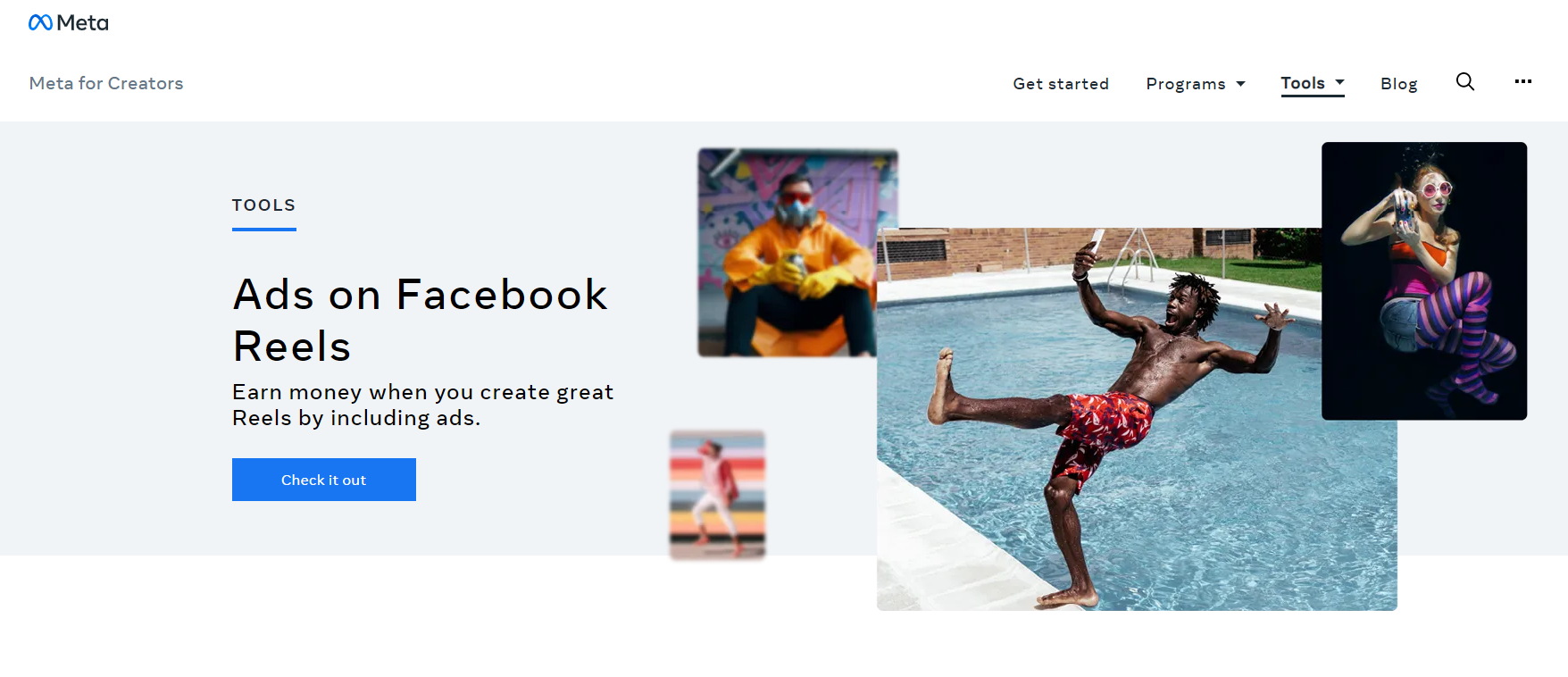 Ads on Facebook Reels offer creators a sustainable way to earn money with minimal extra effort. Before you are eligible for monetization with ads on Facebook Reels, you must be at least 18, live in an eligible country, and pass and remain compliant with Meta's Partner Monetization Policies and Content Monetization Policies.
Facebook Reels Overlay ads come in two formats. There are banner ads, which appear at the bottom of a Reel as a semi-transparent overlay. The second format is sticker ads, which are static image advertisements with an overlay that a creator can place at the start of their Reel.
These banner ads and sticker ads are non-interruptive and allow the creator to earn a portion of the revenue — 55 percent goes to the creator and 45 percent to Facebook.
4. Affiliate Marketing
Affiliate marketing is the number one to earn money online, and this selling tool can be used to make money from Facebook Reels.
When you make a video associated with a product or niche, include your affiliate link in the description and get a percentage from each sale. As soon as your Reel gets some attention and views, your chances of selling your product and earning money increase.
5. Use Reels to Promote your Products
You can use Facebook Reels to promote a product or sell a service or course. Think of it as creating your own commercial.
6. Get Sponsorships & Earn Income from Them
Once you've built a fan base and have a history of videos with high view counts and engagement, you can start earning money on Facebook Reels via sponsorships.
If you are creating content that has an audience, potential sponsors will reach out to you. Just be careful about who you choose to work with and what products you associate with your content.
Tips to Make More Money With Facebook Reels
According to Meta, the most successful and discoverable Reels engage an audience, they tell a story, they're relatable, or they inspire others. Take some time to try different types of content and editing effects to see what engages viewers.
To grow your audience, create engaging Facebook Reels by prioritizing high quality content. Entertain your audience and grab their attention with relatable, engaging videos. Low video quality Reels and content that is visibly recycled from other apps are not as satisfying for audiences and are less discoverable on the Facebook app.
1. Be Imaginative & Unique
To make Reels relatable and to get noticed, you can use your own unique talents and skills to respond to the latest trending hashtag. Or, inspire and start a trend that others can easily participate in.
Take advantage of the many creator tools that Facebook Reels offers– like text, filters, or camera effects. Use good lighting and shooting techniques, use vertical video instead of horizontal, and add some music.
The audio options allow you to look for a song in the Facebook music collection or use your own original audio. You may also use audio from other public reels. You can also add effects, adjust the speed, include a timer or countdown, use the multi-clip feature, or do a remix.
Imaginative and unique videos — true original, authentic content — are the most successful. It's always a good idea to experiment with different content formats like tutorials, product education, or entertaining clips to see what kind of videos you are good at making and see what engages your audience.
2. Use Storytelling in Reels
Story-telling Reels with a narrative encourage viewers to watch the entire clip. The longer the engagement, the better the video performs. With the video clipping tools, you can make a story teaser by pulling a clip from a longer video that tells a bigger story.
3. Create Content that Viewers can Relate to
Reels that feature hashtag challenges, motivational moments, and videos that ask questions are some of the best ways to inspire your audience and create content that viewers can relate to.
4. Share your Reels in Facebook Groups
Reels can now be shared in Facebook Groups to expand your audience. When viewing a Reel, a Facebook user can now follow the creator directly from the video. And, they can like the clip, comment on it, and share it with friends.
5. Create Reels for New Spots on Facebook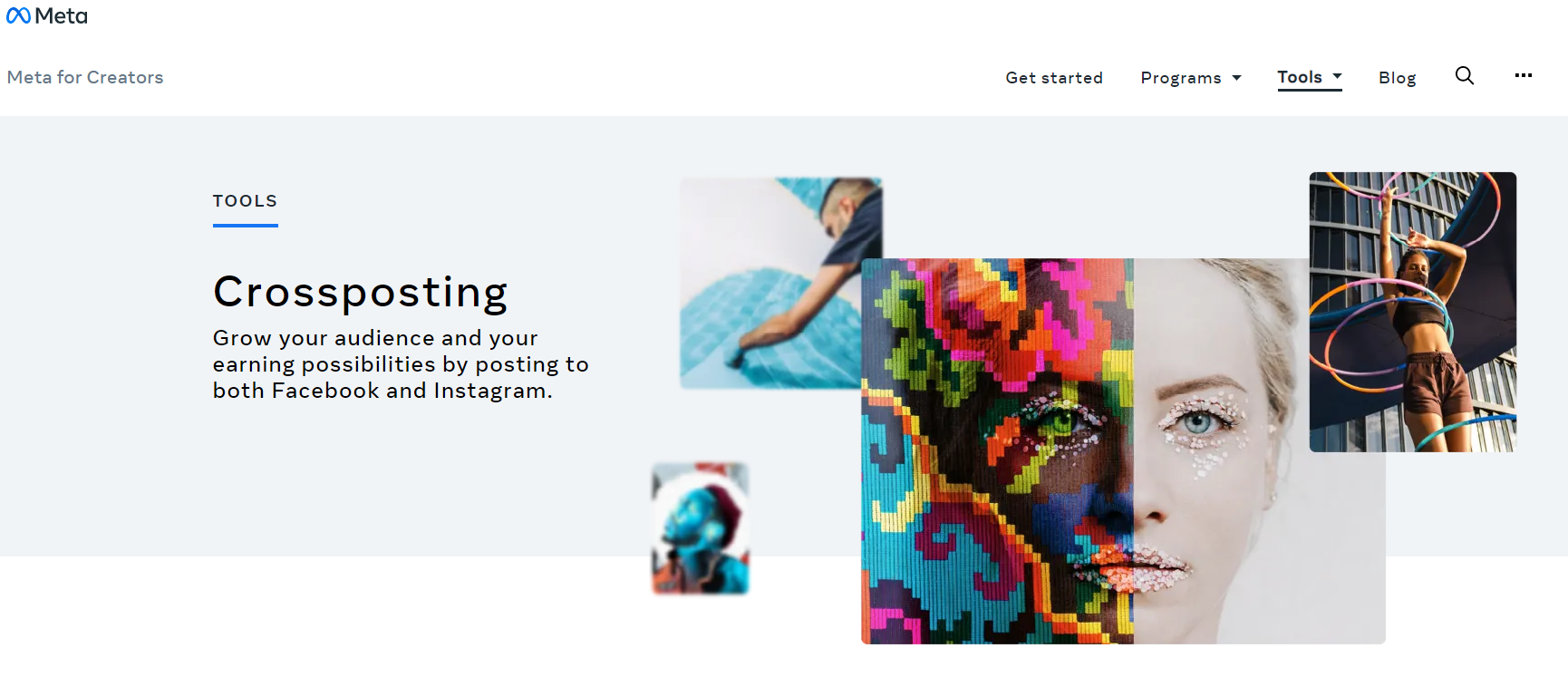 Meta has been introducing new ways for Facebook users to create and discover Reels in new places. User can now find Facebook Reels in Feed, Groups, and Watch.
For more visibility and reach, you can now share your public Reels to your Facebook Stories and create Reels from your existing Facebook Stories.
You can also create Reels in the Watch tab, and users can watch Reels directly within the Watch tab. Facebook has also added a new Reels label at the top of Feed, and they are suggesting Reels that users may like from people they don't follow.
Meta is currently coming up with ways for creators to easily share their Reels on both Facebook and Instagram via methods like crossposting.
There are many ways to make money from Facebook Reels. These tips should help you get started — and remember to pay attention to Facebook Reel's editing tools. Meta is constantly updating the creator studio so you can optimize your content and get the most out of monetization.