3D printing has become much more popular in the last few years and is poised to grow significantly over the next ten years. While this may seem like a saturated market, the truth is that it's still growing significantly.
You might be a 3D printing hobbyist today, but tomorrow you could become a business owner using the methods in this article.
How Much Money Can you Make With a 3D Printer?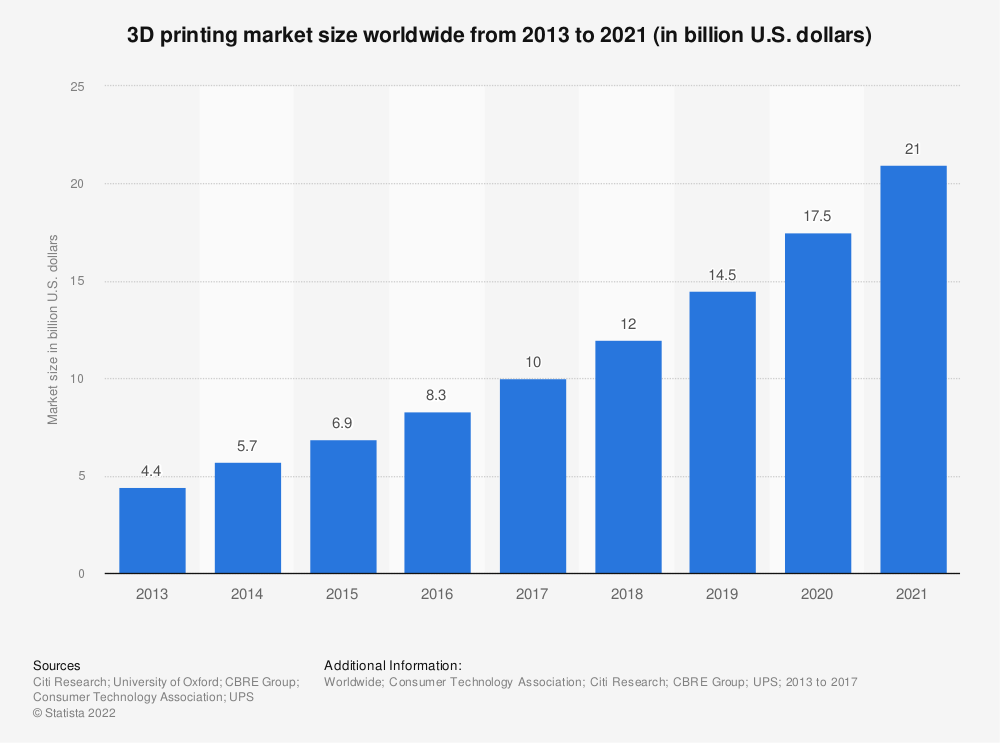 3D printing is a growing market with plenty of potential for entrepreneurs. When starting a 3D printing business, it's important to keep in mind that potential is different from reality. How much you actually make may be vastly different from another person. To give an idea of this, here are a few different YouTubers and how much money they reported making from 3D printing:
Joe from Martinson Manufacturing began offering print on-demand services in 2018. In 2020, he made over $100,000, and the next year this grew to over $150,000. (Source)
Uncle Jessy started an Etsy store in 2015. From 2015 to 2021, he made $30,076.44 in revenue from it. (Source)
Ken from OriginaldoBo started selling on Etsy in 2021. In that year alone, he made over $42,000 in revenue. (Source)
As you can tell, there's quite a bit of variability in 3D printing business success. You may only have it as a side business for years before it becomes a significant source of income, or you could find rapid success in your first year.
Ways to Make Money with a 3D Printer
1. Design, Print, and Sell 3D Prints Online
3D printers can be used to make all kinds of products, from toys to models to mugs and so much more. Here's how to get started designing and selling products online:
Explore Ideas on Pinterest
Pinterest is one of the best places to find ideas and save them for future reference. If you want to create an original product but are short on inspiration, it's a great place to start. It's also helpful for market research. You might have an idea already, but if no one's interested in it, it can lead to a lot of wasted time and money on your end.
Once you find the inspiration you need, you can go into a 3D modeling program and design your product.
Sell on Etsy
Once you have the design ready, you'll need to set up your online store. While you could start a website from scratch, I highly recommend starting with an Etsy shop. There's no initial cost to set up a store. You'll just pay fees as you go along, like listing fees and processing fees. There are also optional advertising fees if you want more product visibility. Here's a breakdown of the fees:

Etsy is not only cost-effective — it also gets more organic traffic. SEO takes time to build up for store websites, but Etsy stores get traffic from people searching on the site and from search engines.
All in all, Etsy is a great place to start making money off your 3D prints. As your business grows, you can always decide to expand to other marketplaces or leave the platform entirely to start your own online store.
2. Sell your 3D Print Models
If you're more interested in designing 3D models than selling products, this business model may be right for you. With it, you'll design the 3D models and sell the digital files to 3D printing enthusiasts. You won't have to pay for shipping costs, filament replacements, or any other costs associated with making and selling the 3D prints yourself.
Some sellers decide to sell file packs, while others sell each file individually. Other sellers do a combination of both. File packs are a great way to collect simple, related files and charge a higher price. Meanwhile, selling individually is usually a great option for elaborate models.
Etsy
Etsy allows you to sell both physical products and digital ones, so you can sell 3D models here, too. STL files (the typical 3D printing file format) are decently popular on the platform.
There are a few problems with Etsy, though, particularly with the competition you'll face. Some of the sellers on there sell what they call "megapacks," which claim to have thousands of gigabytes of 3D files all in one place. Many of these are resellers, and some have even been accused of using pirated content. But these megapacks are quite popular because they offer a lot of content at a cheap price.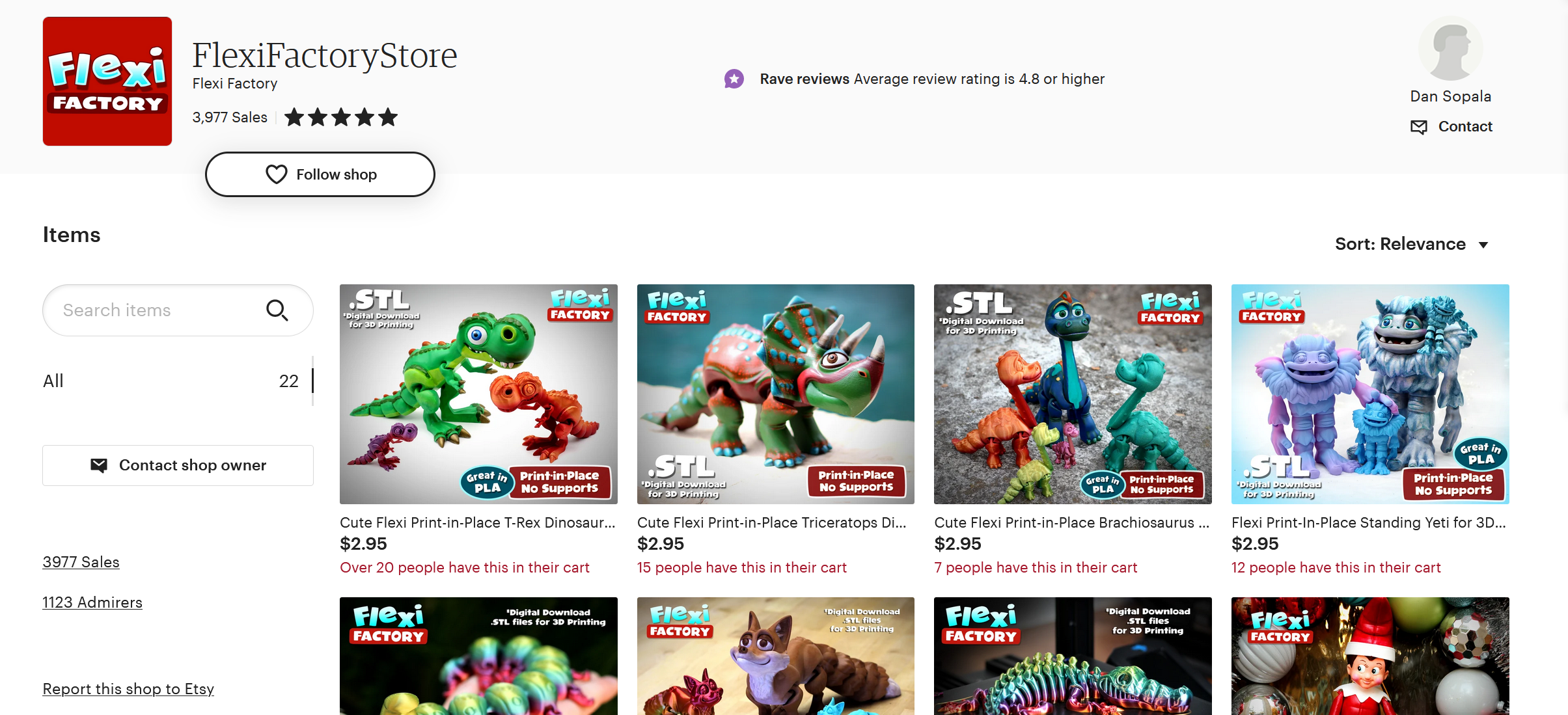 That being said, unique and original STL files still sell on Etsy. There are a few stores that have had thousands of sales solely from selling files, such as TacoMolds (3,157 sales while this article was being written) and Flexi Factory (3,977 sales). Along with being in demand on the platform, a variety of files do well. Whether you're creating simple, practical items or elaborate figurines, you may be able to find success on there like some of the other STL file sellers have.
eBay
There aren't many STL file sellers on eBay at the moment, but most of the ones that do have hundreds and thousands of sales. The main types of files that sell on eBay are elaborate models, so it's a great place to show off your 3D design skills without much competition.
Amazon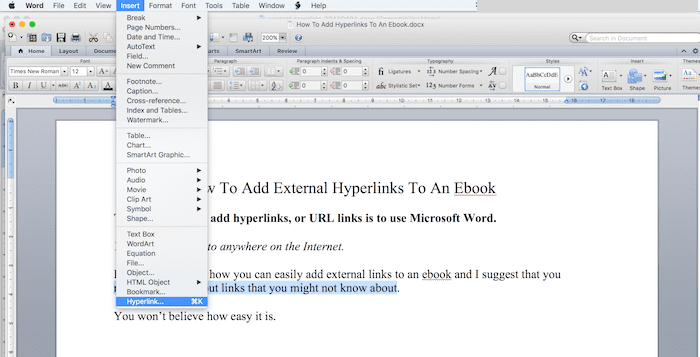 Amazon is a bit different from the other platforms because they restrict the types of files you can sell. You can't sell STL files directly. Instead, you can sell them indirectly, such as creating an eBook that includes hyperlinks to your STL files. It's a bit more work-intensive than some of the other platforms, but it's a largely untapped market that could pay dividends.
Fiverr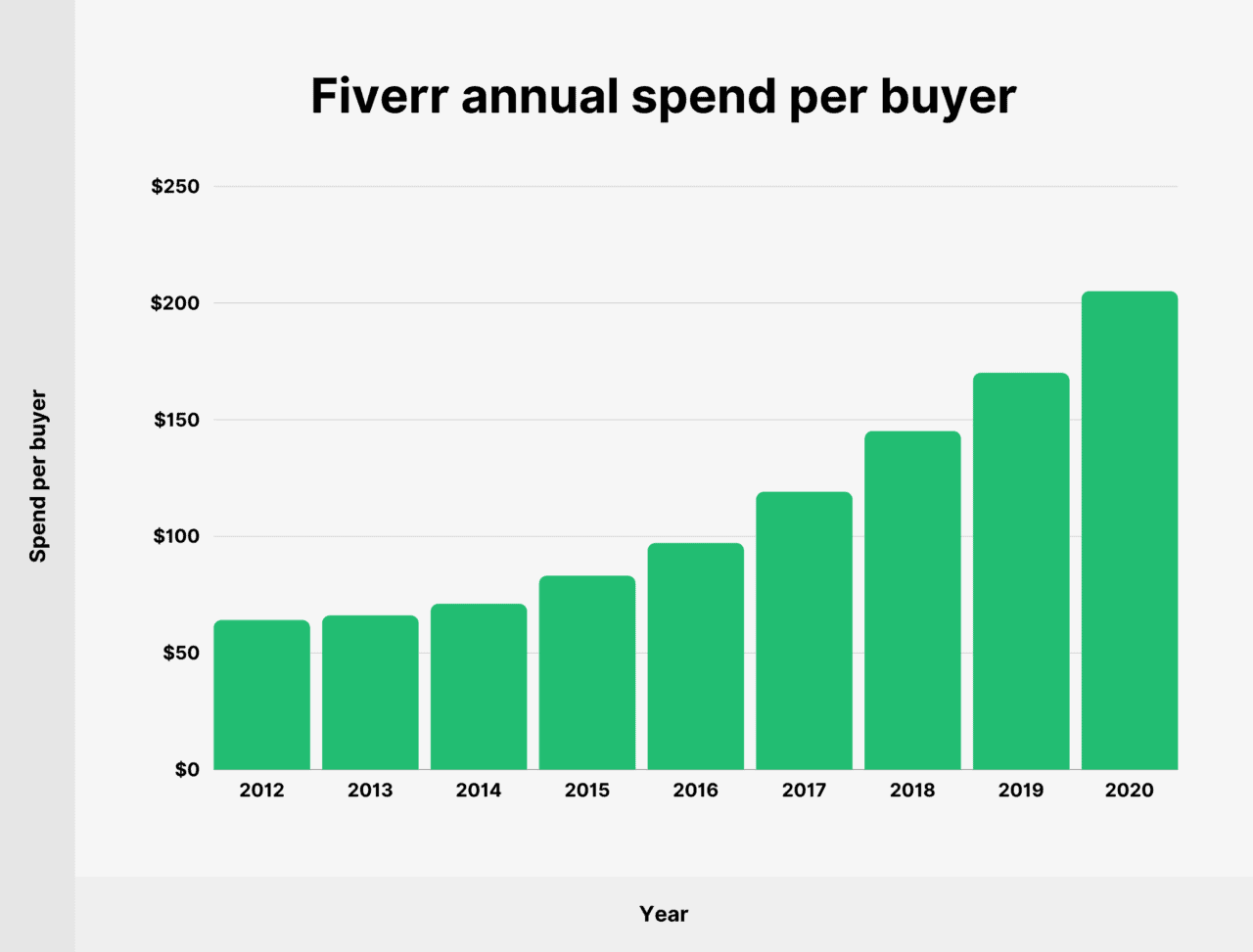 Fiverr is a steadily growing platform that offers services and products on demand. On Fiverr, your business model will be different. Rather than selling digital products as individual or group listings, you instead list your custom 3D modeling service for customers to buy. This often requires being a skilled designer since you'll need to create models according to client specifications rather than selling previously created models. You may find Fiverr rewarding if you love challenging your creativity and working directly with customers to create designs they love.
3D printing is popular on Fiverr right now, so it might be difficult to stand out from the more established sellers. The best way to do this is to make your listing, description, and profile unique so that customers are enticed to choose you. Here are a few tips to get started:
Make your listing for a specific niche rather than a general category. Many sellers have something like "I will create a custom STL file," but there aren't many sellers who specifically offer cookie cutters, keychain designs, figurines, and so on.
If you want to offer more than one product, you can always create another listing to appeal to a different target audience.
Make sure to list any experience, education, or certifications in your profile. Buyers want to make sure you're the best option for their needs.
Make the description of your listing personable and relatable. Many customers find down-to-earth language more appealing than generic, corporate speak.
3. Design and Create Prototypes
Many companies now prefer creating prototypes with 3D printing technology over traditional methods. They are more cost-effective, and many 3D-printed prototypes can be used in real-world tests. With a 3D printer, you can start a prototype design business where you work with companies to help bring their ideas to life.
This business model often requires a greater initial investment than some of the others on this list. You may need to buy a more expensive 3D printer that can handle small details, various filament types, and larger-size prototypes. Still, businesses and entrepreneurs alike are willing to pay good money for a skillfully designed prototype, so the investment may be worth it.
There are a few different ways to start making money with 3D-printed prototypes. The first would be to start with a marketplace like Fiverr. This is great if you're just starting out since you don't need to spend money on a website, and clients can come directly to you. The second would be starting your own website. While it requires more money and work, it also gives you the freedom to source your own clients.
4. Sell 3D Printed Replacement Parts
3D-printed replacement parts are becoming more popular. They're often cheaper and more accessible, especially for obsolete electronics. There are two main businesses you can do with replacement parts — you can either do a part printing service on-demand or sell specific parts you know how to make well.
Selling replacement parts typically requires technical knowledge and a 3D printer capable of handling precise measurements and small details. Many of the replacement part services on Fiverr are run by engineers or engineering students with design experience.
5. Provide Specialized 3D Printing Services
If you offer specialized 3D printing services, customers will come to you and ask for a product, then you'll bring it to life and sell it to them. Many platforms allow you to do this, including:
Fiverr
Fiverr isn't only for digital files. You can also ship physical products out to your customers through the platform, allowing you to offer specialized 3D printing services. Since you create your service offer, you can customize it in pretty much any way you choose. You could offer a package deal where you design the STL file for them, print the product, and ship it, or you could keep it simple and print and ship designs your customers send you.
Shapeways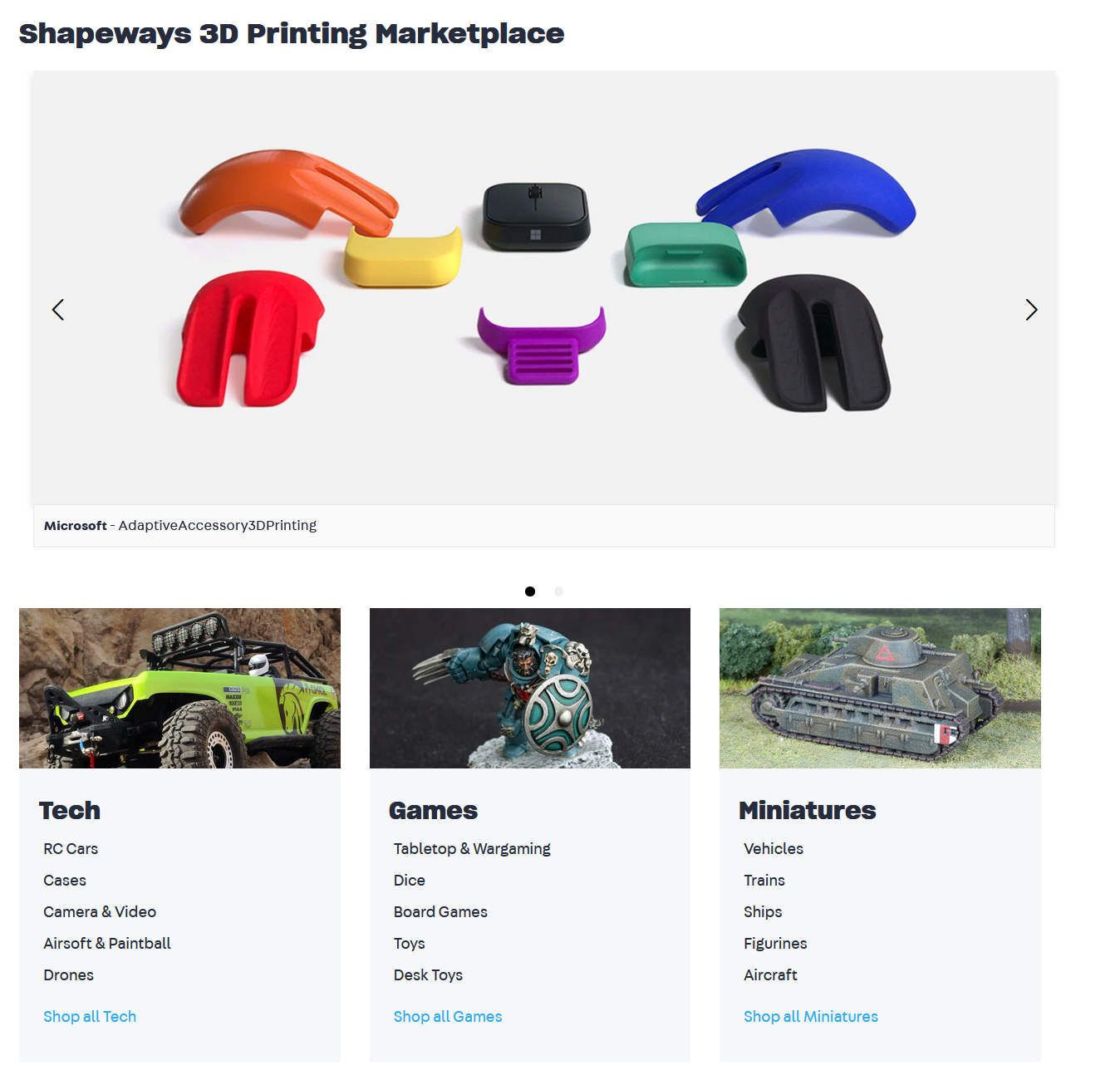 Shapeways is a marketplace specifically for 3D-printed items. On there, you can sell a practically endless assortment of products, from figurines to jewelry to art and more. All you need to do is set up a free store on their platform, upload your designs, set a markup, and start selling.
This platform is unique among online marketplaces since you don't actually need to print the items yourself. All you need is a design, and Shapeways will print it for you and send it to the customer. If you want to do specialized orders, you can encourage customers to message you so you can design a new product for them and add it to your store.
3DHubs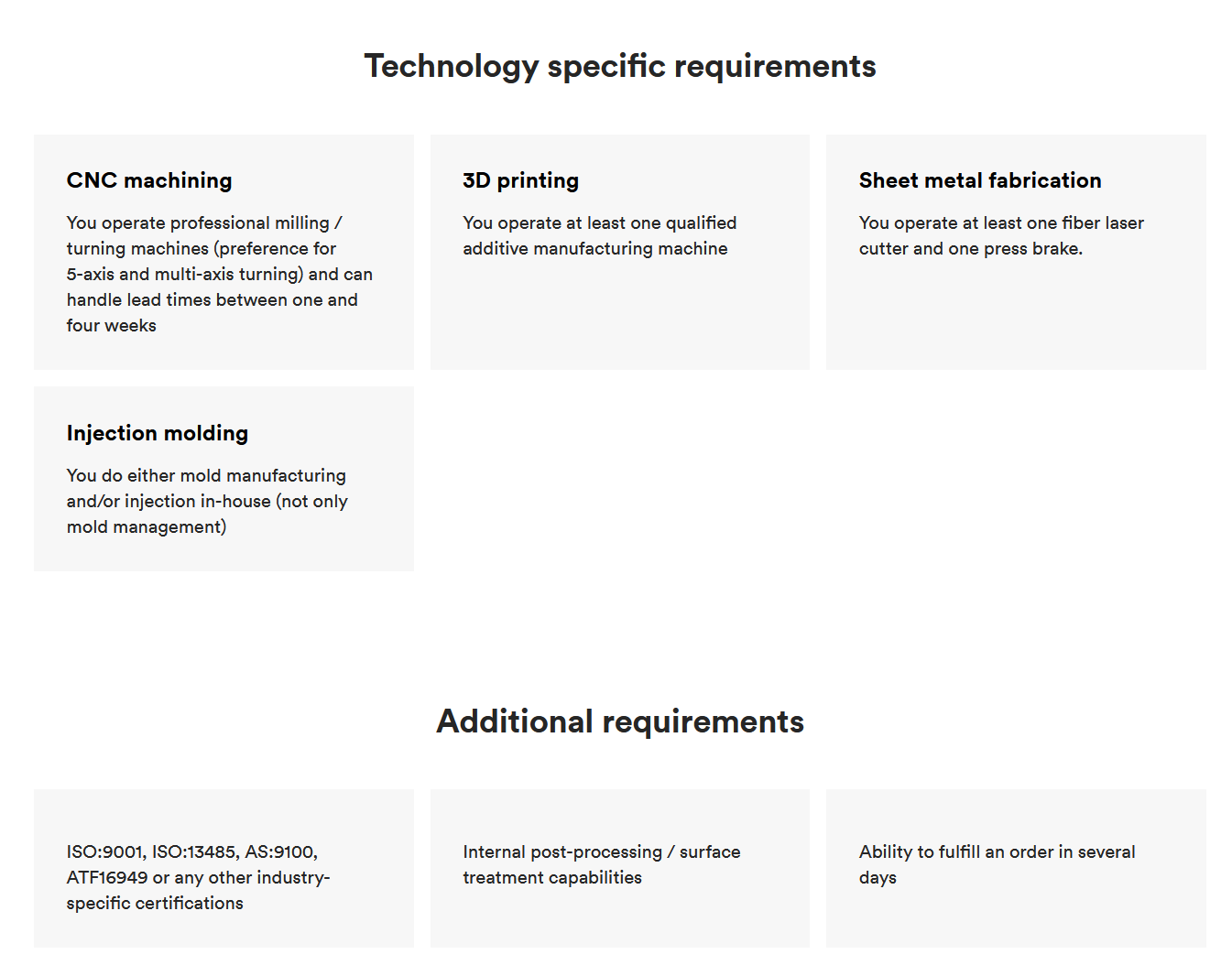 3DHubs allows you to become their manufacturing partner. Manufacturing partners get many benefits, such as the ability to choose how many jobs you take on, and special discounts on materials and tools. Becoming a partner does come with multiple requirements outside of owning a 3D printer, such as an industry-specific certification and a fiber laser cutter — you can view the full list of requirements in the photo above. But if you're able to do this, you'll get access to thousands of jobs ranging in value from $100-500,000, according to their site.
MakeXYZ
MakeXYZ is similar to 3DHubs in that you can sign up to be a printer and then fulfill jobs. All you need to do is click sign up, then enter your information and tick the box that says "I have a 3D printer to list." Then you can fill out your profile, and orders should come your way from local customers. You can also add your own products and specialized service listings on the platform, much like Fiverr.
Some users on MakeXYZ have said they've received very few orders. This may vary depending on demand in your area and the number of services you're able to offer. Still, some have been able to use it as a side hustle alongside their other 3D printing businesses.
Treatstock
On Treatstock, you can join their network of manufacturers and start fulfilling custom orders. All you need to do is register your business to get started.
6. Open a Local 3D Printing Business
If you'd rather offer your printing service to local clientele, you can open a local 3D printing business. Some regions allow you to run a business out of your home, or you can invest in a storefront. Either way, having a physical location is great for marketing since you can add your business to maps services like Google Maps. That way, if someone is searching for "3D printing businesses near me," your business will come up so they can contact you.
7. Rent your 3D Printer
There are many people who are interested in 3D printers, but the cost makes them back down. After all, good 3D printers are an investment. If they don't print often, they may not find the price worth it. That's where 3D printer rental services come in. You rent out your 3D printer, your customer can use it to print the design they have in mind, and then you can pass it on to the next customer.
If you decide to start a rental service, it's a good idea to write a rental agreement and have the other person sign it. You don't want to pay for someone misusing and damaging your printer.
8. Start a YouTube Channel
As 3D printing has grown in popularity, so has interest for it on YouTube. Search "3D printing" in the search bar, and you'll find a wide range of content, from reviews to tutorials to top 10 lists. Some YouTubers even create content about their 3D printing business to help others replicate their success.
YouTube has many different monetization methods.
The best-known one would be ad revenue. There are a few requirements to receive revenue, which you can see in the photo below: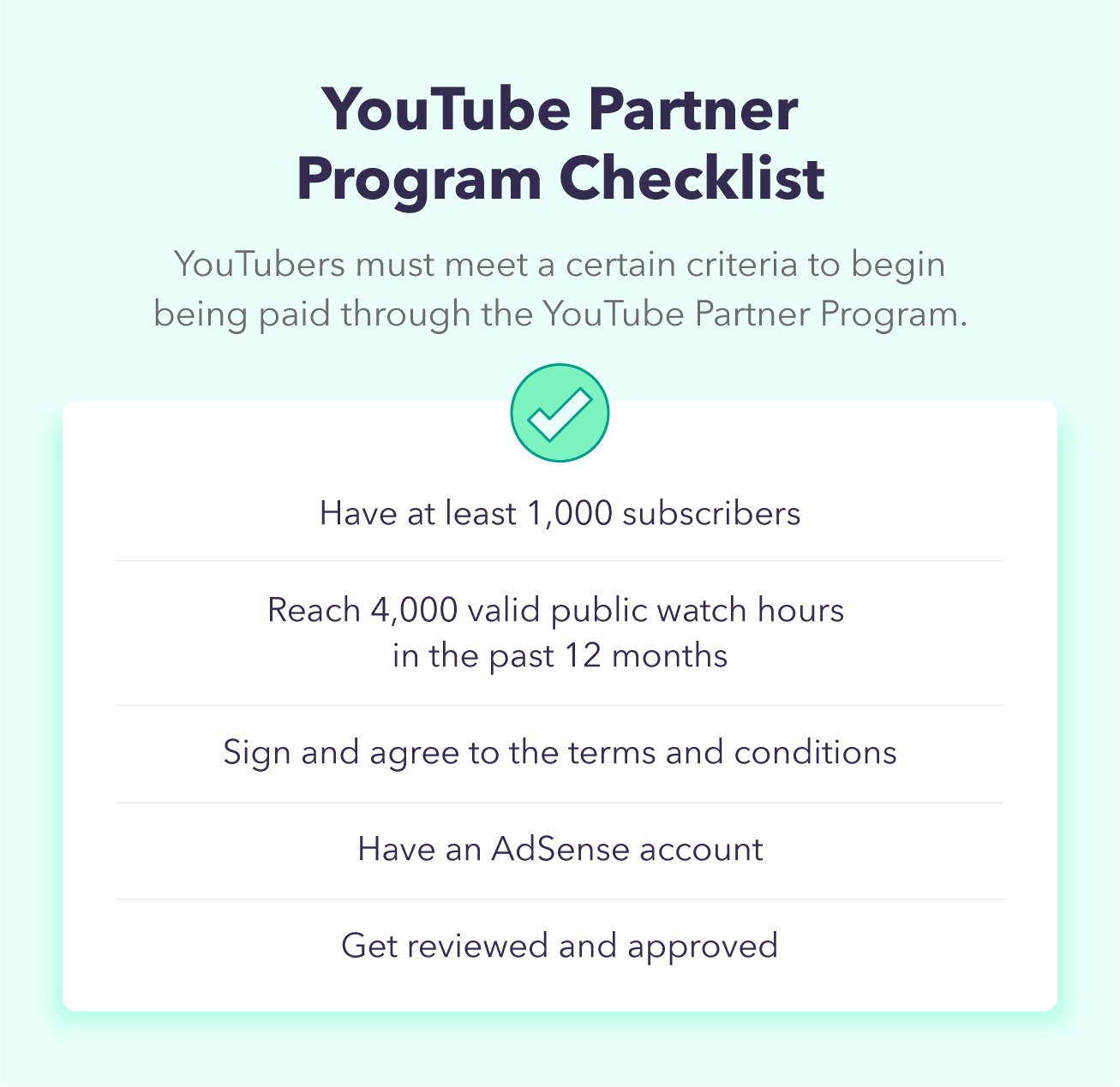 This money comes directly from YouTube's Partner Program, but there are plenty of off-platform ways to earn money on your own YouTube channel.
One of the most popular ways in the 3D printing community is to use affiliate links in the description of the video. Here is an example from the channel 3D Printing Zone:

This is a great use of affiliate links because if someone sees a 3D printer in the video they like, they can go ahead and buy it. When they do, you'll earn a small commission on the purchase. Over time, your affiliate revenue may add up and become a reliable source of passive income.
To get started, all you need to do is join an affiliate program like the Amazon Affiliate Program, get some links, and put them in the description with an affiliate disclaimer.
As your channel grows, sponsorships are another great method for making money with your YouTube channel. Many businesses recognize the power of influencer marketing on YouTube and are willing to pay thousands for a single sponsored video, even for channels with fewer than a million subscribers. The Economist published a report in 2016 on the average earnings on sponsorships for channels in different subscriber brackets: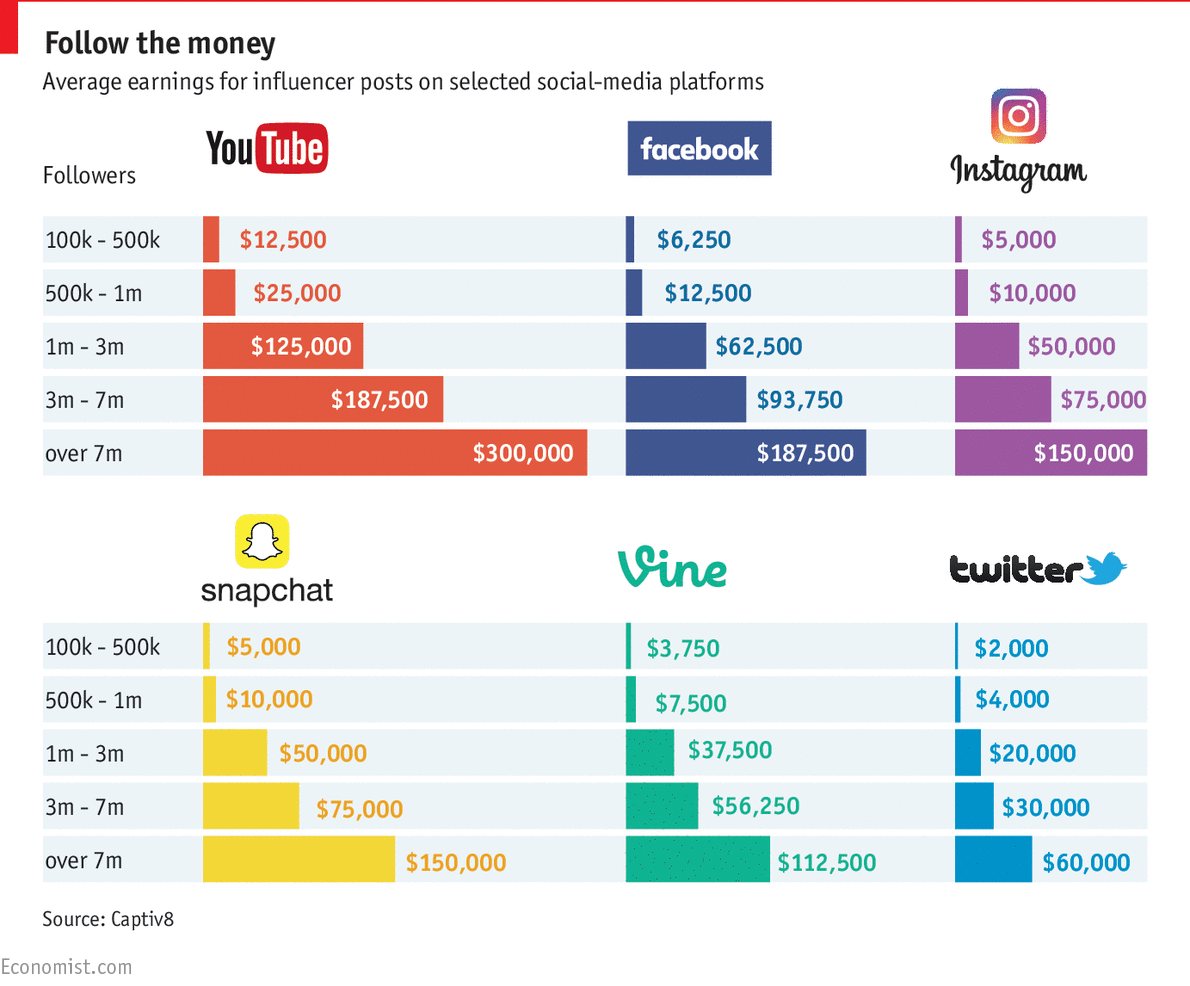 To start getting sponsored by companies, you'll need to set up a business email and make it clearly visible. Most YouTubers put their business email in their channel description, and some go a step further and put the email in every video description. This will allow companies to send you sponsorship offers, which you can accept or decline. It's also a good idea to source your own sponsorships. You can find companies that are relevant to your channel or whose products you already enjoy and send them an email to see if they're willing to work with you.
9. Start a 3D Printing Blog
If you love writing, you may want to start a blog. Blogs are a great way to earn passive income since you can earn ad revenue and add affiliate links to your posts. They're also easy to integrate with other 3D printing businesses. For example, you could start a YouTube channel about 3D printing and turn the videos into blog posts.
Many platforms allow you to start a blog for free. Here are just a few of them: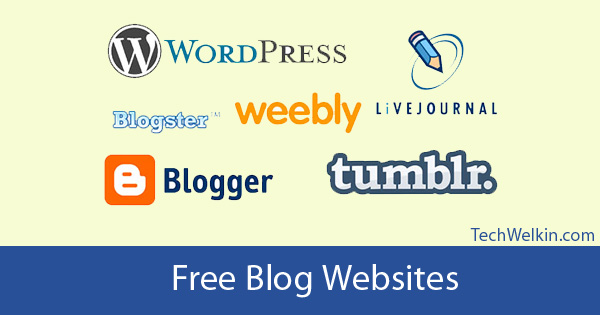 10. Offer 3D Printing Courses

3D printing can feel pretty complicated when people are just starting out. They may not understand how to use their 3D printer, how to design models, what materials are needed, and more. Making an online course allows you to help these beginners while tapping into a growing community of online learners.
There are many platforms that allow you to create and upload courses, such as Udemy, Udacity, and Skillshare.
Is Selling 3D Prints Legal?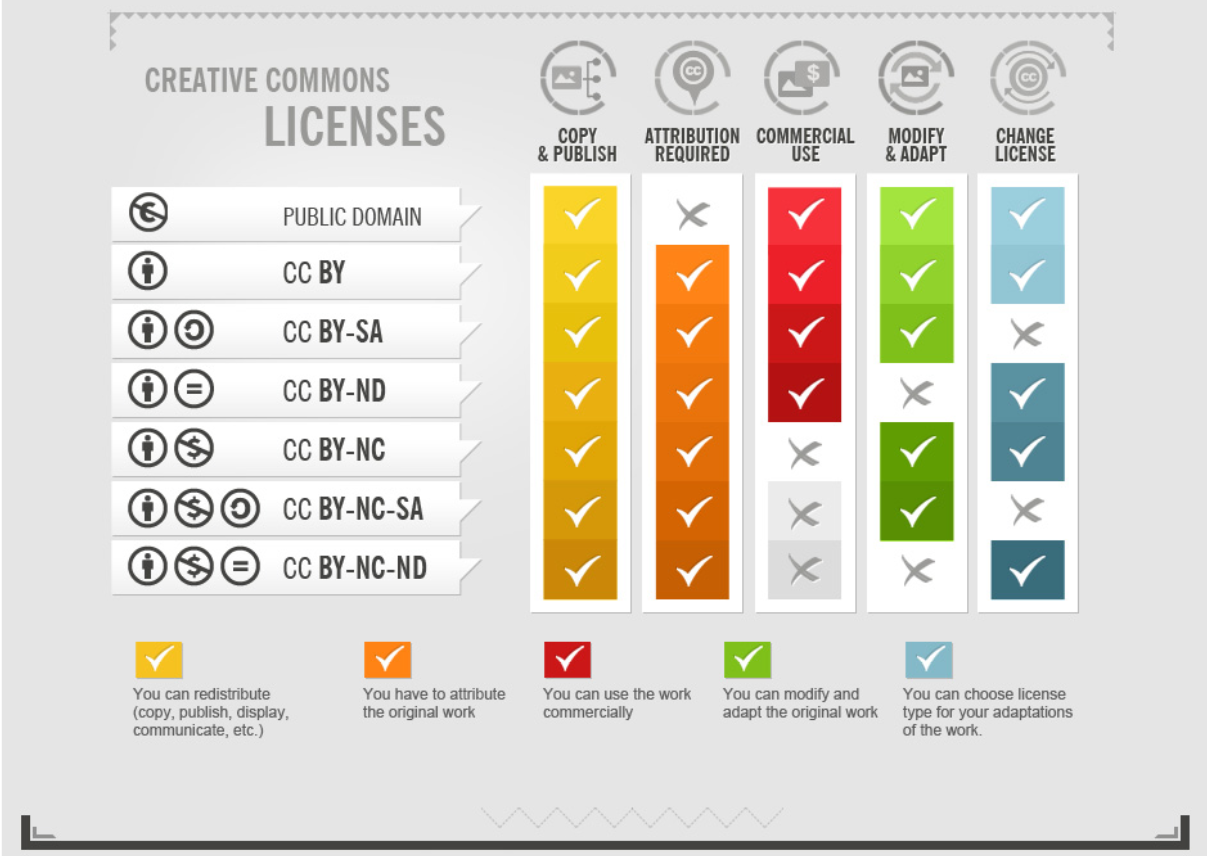 Selling 3D prints is usually legal, but there are some situations where it may not be.
First of all, you need to take licensing into account. If you create designs to 3D print yourself, then you own the rights to sell the 3D print. But if you download a file online, you may not have the right to sell 3D prints. In that case, you need to take a look at the license. This also applies to files you downloaded and modified in some way, such as adding a part. Here is a list of licenses and what they mean for your 3D printing business:
Copyright: The work is owned by the copyright holder. You may not sell prints of it online without express permission from them.
Creative Commons with Attribution (CC BY): This allows you to sell prints from the file, so long as you give the file creator proper attribution.
Creative Commons with Attribution and ShareAlike (CC BY-SA): This is the same as the previous one, but if you modify the file somehow, that file (and the prints you create from it) must be under the same license. For example, you can't modify a file and then tell people they can't sell prints using the new file, since the CC BY-SA license allows for commercial use.
Creative Commons Noncommercial with Attribution (CC BY-NC): You can't sell prints using the file or using a modified version of it. This license is for noncommercial uses only.
Creative Commons Noncommercial with Attribution and ShareAlike (CC BY-NC-SA): Much like the previous, you can't sell prints using the file or a modified version of it.
Creative Commons with Attribution and No Derivatives (CC BY-ND): This allows you to sell prints using the file, but you can't change the file in any way. You also have to give proper attribution to the creator.
Creative Commons Noncommercial with Attribution and No Derivatives (CC BY-NC-ND): You can't sell prints or modify the file in any way.
Public Domain (CC0): Public domain files are completely free to use. You don't have to give attribution to the creator, and you can modify the file in any way you'd like.
One thing I didn't mention in the list above is copyrighted images or characters. If you were to create a 3D print of Link from the Legend of Zelda series, for example, you would not be able to sell it. Link is owned by Nintendo, and 3D prints depicting him count as a derivative work, which is not allowed without express permission. This also goes for characters from books or movies.
The exception to using others' characters is that you can use them if they're in the public domain. For example, Robin Hood is in the public domain, so you could create an original figure based on him and sell it. This isn't true for specific depictions of public domain characters, though. Robin Hood the Disney movie isn't in the public domain, so you can't sell products using their character depiction.
If you're ever in doubt about whether you can sell 3D prints from certain files or of certain characters, it's best to talk to a copyright lawyer. They will be able to give you personalized advice for your specific situation.
Second of all, you need to take the item you're selling into account. This is particularly true for dangerous items like firearms. 3D-printed firearms are regulated differently depending on what country and region you live in. They have also changed over the years as 3D printing technology has developed, so check the most up-to-date laws on selling 3D-printed firearms in your area. Some will allow you to sell them if you get a firearm manufacturing license, while others ban even the possession of digital files. If you're ever in doubt, talk to a lawyer. Otherwise, you may face government fines or even jail time for printing unauthorized firearms.
Is 3D Printing a Good Source of Income?
3D printing can be a good source of income. But like any business, there are no guarantees of how much you'll make. You'll have the best chances if you diversify your income streams. For example, you might sell 3D-printed toys on Etsy, start a YouTube channel about your business, and use the videos as a basis for a blog. From this, you could earn 5 different types of income: direct sales, affiliate marketing, YouTube AdSense, sponsored video, and blog ad revenue.
Do you Need a License to 3D Print?
No, you don't need a license to 3D print. The only exception comes if you're trying to print firearms. Some regions require you to get a firearms manufacturing license before you're allowed to print them.
Is 3D Printing Costly?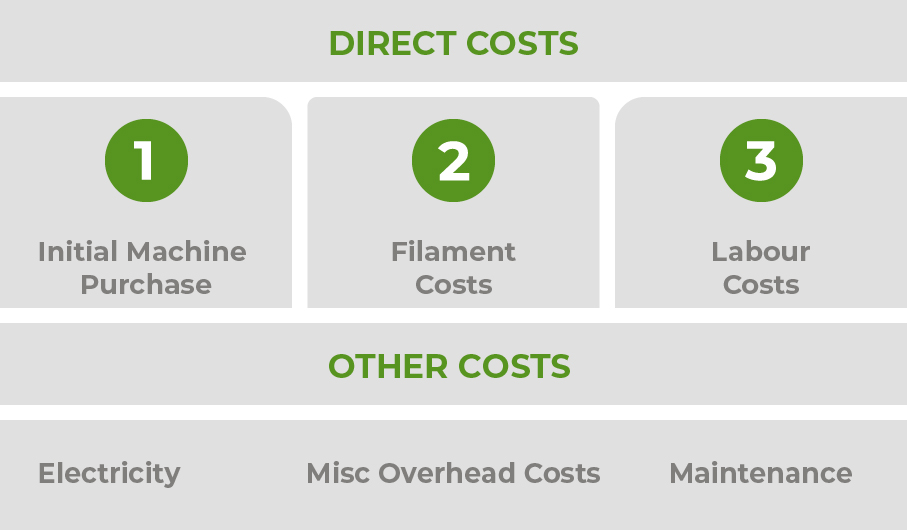 3D printing can be inexpensive or costly. There are many factors that go into the price of 3D printing, which vary widely depending on what products you buy and your specific 3D printing business.
The first cost you'll face is buying a 3D printer. 3D printer prices vary widely. Some are under $100, while others cost hundreds of thousands. Most popular and highly-rated models are between $200-1000. Often (but not always), the cost of a 3D printer directly corresponds to better quality and more features.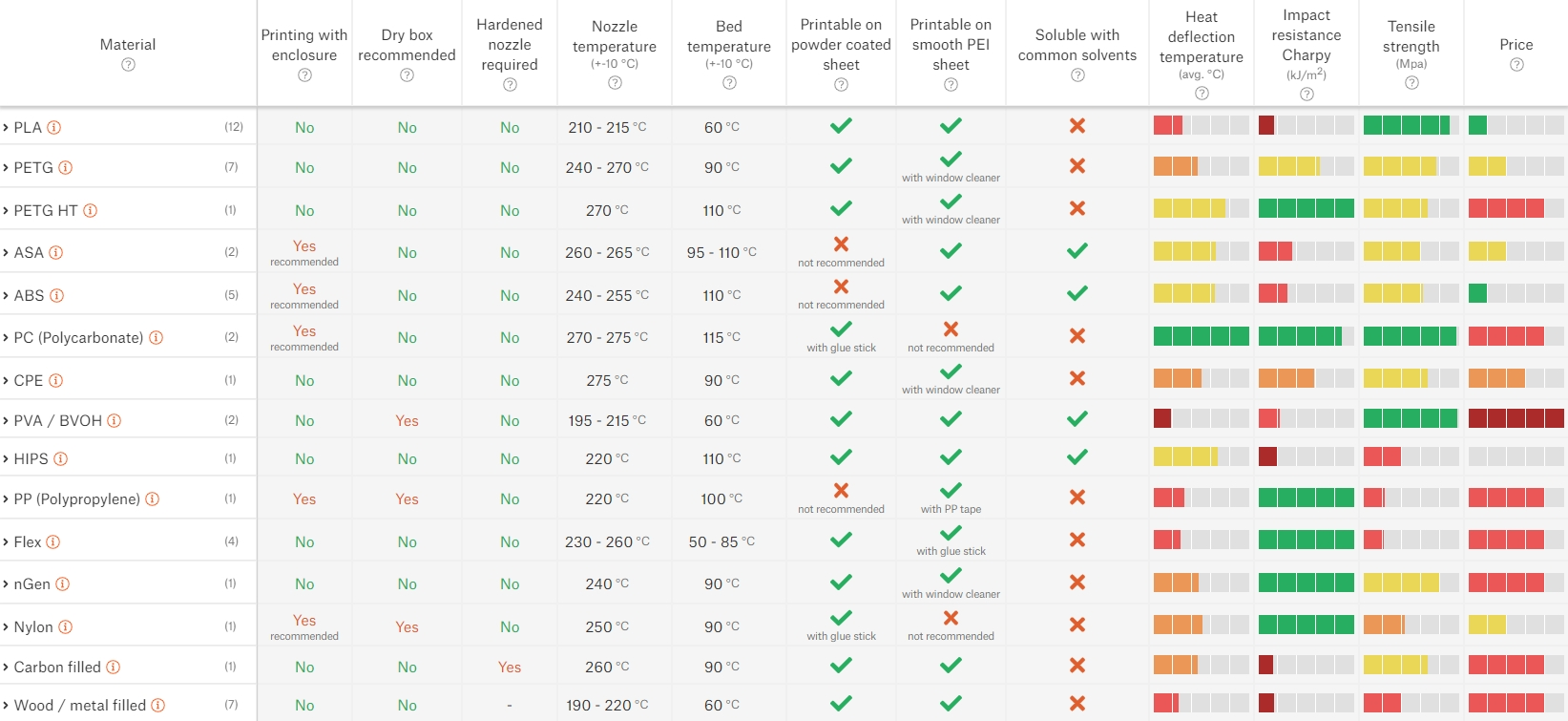 You'll also need to buy materials. Filament is the material used to create 3D prints. It has a variety of options. The type of filament you need will change depending on what 3D printer you're using and what qualities you're looking for. Filaments vary in strength, flexibility, color options, and, of course, their price. Cheaper filaments like PLA, ABS, and PETG typically cost around $20 per kilogram (about 2.2 pounds), but some filaments like nylon usually go for $150 or more. (See chart above for a more detailed comparison of filament types.)
Depending on what you're creating, you may also need to buy other materials such as supports or adhesive.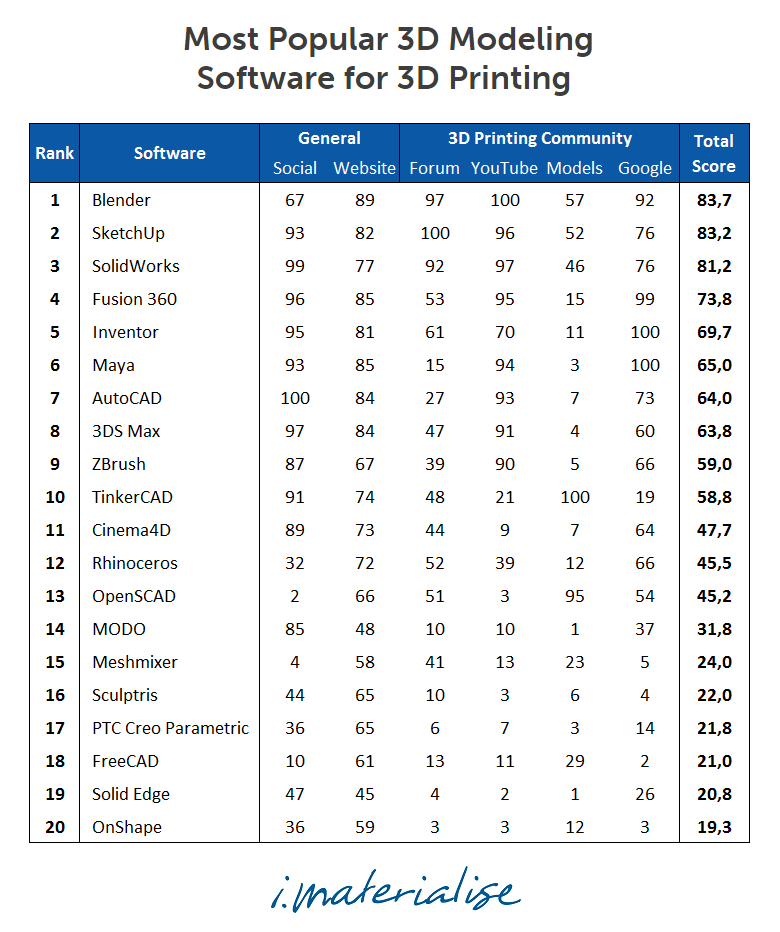 The next cost you'll face is software. If you're going to create your own 3D models, you'll need 3D modeling software. Some 3D modeling software is free, while others operate on a one-time cost or subscription model basis. If you're new to 3D printing, I'd recommend trying a free program like Blender first. You can always upgrade later if you're looking for specific features in a paid program.
Regardless of whether you create your own files or download them, you'll need a slicer program. Slicers take 3D models and turn them into a format that the 3D printer can understand. Much like 3D modeling software, there are both free and paid programs out there. Some 3D printers even come with proprietary software so you don't need to search for another program.
These are the initial costs you'll face when 3D printing, but there are also some recurring costs. Filament is both an initial and a recurring cost since it will get used up while you're 3D printing. How long your filament will last depends on what you're printing. Small prints will naturally use less filament than large prints. You can calculate an exact cost of filament per period of time using your slicer program. It will tell you ahead of time how much filament the printer will use to print your model. For example, let's say you run a 3D printing business selling small plant pots. Each week, you print 5 pots on average, and each pot uses up 62 grams of filament. That means you'll need to buy a new filament spool every 3.2 weeks. If each filament spool costs $20, then you'll spend about $325 on filament for that year.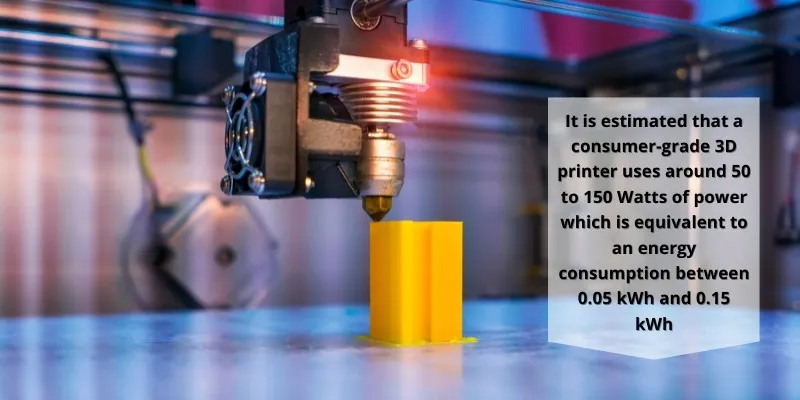 Another recurring cost is energy. 3D printers require power to run, and how much that costs will depend on four main factors: how often you use it, how long prints take to finish, how much energy costs in your area, and how much energy your printer consumes. You can check the energy consumption of your printer by using a power meter while it's printing something. Also, much like filament usage, your slicer program will tell you how long it will take to finish your print. You can use these factors to calculate a rough cost per year.
Using the same example from before, let's say the small garden pots you're printing take 12 hours each. You live in an area where energy costs are $0.16 per kWh, and your printer consumes an average of 0.10 kWh of energy. Every hour you use the printer will cost $0.016, leading to an energy cost of $0.192 per pot. Multiply this by the production rate (5 per week) and the number of weeks in a year, leading to a total yearly energy cost of $49.92.
Besides energy, you'll also need to take maintenance into account. Some parts need to be replaced regularly, such as brass nozzles. Others may break down over time, especially from overheating. You'll also need lubricant to keep the parts well-oiled. Typically, maintenance costs for 3D printers are relatively cheap. Replacement nozzles and lubricant usually cost under $10 each. Also, most 3D printers have a limited one-year warranty, so you generally won't need to worry about paying out-of-pocket if your printer unexpectedly malfunctions in the first year.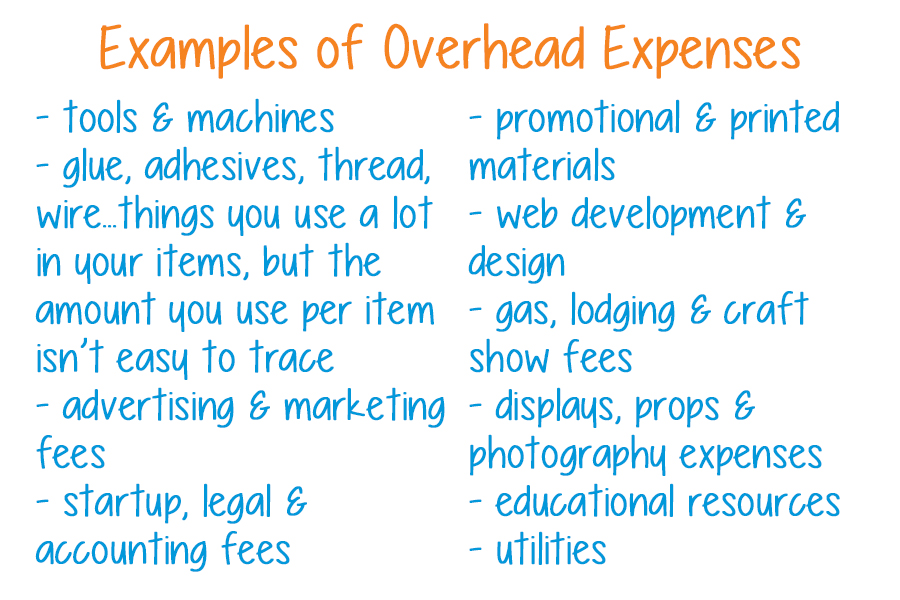 Finally, it's worth mentioning that these are not the only costs you'll face when 3D printing. You'll have to add these costs to other overhead expenses, such as:
The cost of labor (including yourself and any team members you work with, if any)
Shipping costs (if you offer free shipping)
Advertising expenses
Marketplace fees (such as Etsy listing fees)
Packaging materials
Taxes
Overall, there are ways to save money with a 3D printing business, such as buying cheaper materials, purchasing a reliable budget 3D printer, using free software, and so on. But some expenses are unavoidable parts of running a business, like some of the overhead expenses mentioned above.
As some final thoughts, there are many ways to make money with a 3D printer. I hope these tips help you to create a profitable business doing what you love.