Wattpad is a platform that allows you to share your stories with the world for free. But did you know you can earn money online by becoming a Wattpad writer? It's true. Whether you're looking to make extra income or build an entire business, the 10 proven strategies in this article will help you get started.
How Much Money Can You Make Writing on Wattpad?
Before we get into the strategies, let's look at how much money you can make on Wattpad. Technically speaking, Wattpad has unlimited earning potential, but how much money you'll make will vary.
It's best to think of Wattpad as more of a business you're building rather than a writing job. You aren't working directly for Wattpad and earning a predictable income. Instead, you're building different income streams to hopefully get money in the future. Just like any business, there is some risk involved. You could earn no money or turn your business into a full-time career.
10 Ways to Make Money on Wattpad
1. Join Wattpad's Stars Program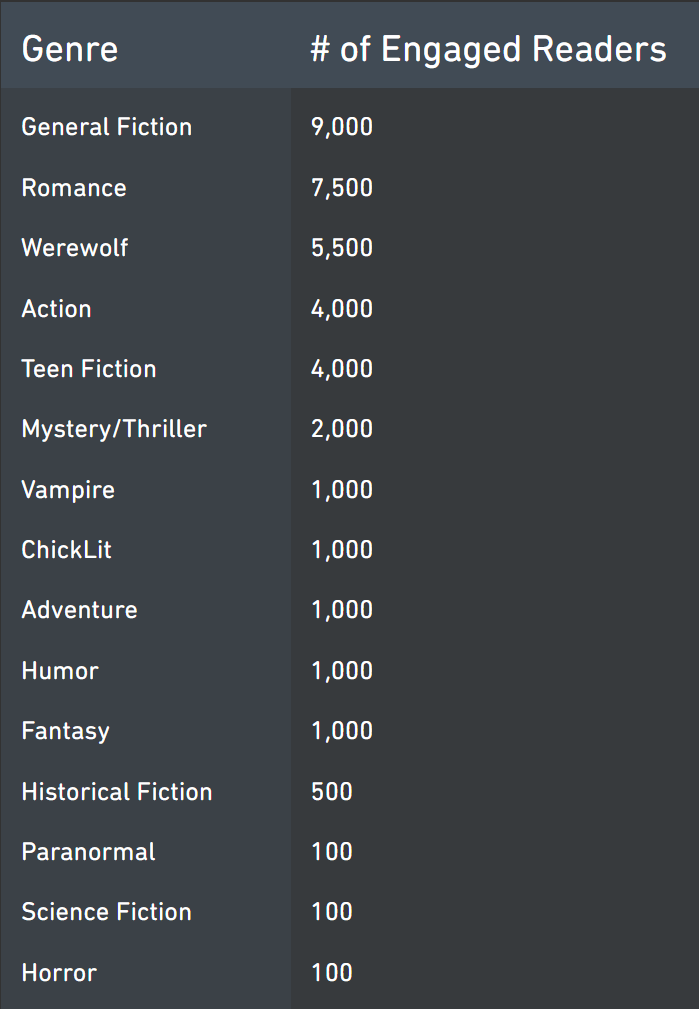 On September 15th, 2015, Wattpad announced the Wattpad Stars program. Wattpad Stars were recognized based on how often they posted content, their interactions with the community, the quality of their writing on Wattpad, and their unique personal brand. The program would grant Wattpad Stars access to a community of fellow Stars, access to resources, marketing both on and off Wattpad, and consideration for the Paid Stories program.
Since then, Wattpad replaced the Stars program with the Wattpad Creators program, which launched on June 30th, 2022. The program's primary focus is to give writers the funding and resources they need to publish their stories exclusively on Wattpad. That being said, the company does say it has opportunities for off-Wattpad recognition, much like the Stars program. Some of the program's perks include:
Potential to earn cash stipends
Marketing for stories
Editorial support
Brand partnership opportunities
Wattpad also says it offers "creator-focused resources," though its official page does not specify what these are.
How to Join the Wattpad Stars Program?
The Wattpad Creators program is currently invitation-only. Any writer who meets the requirements should be contacted within 30 days by a Wattpad Creators staff member via DM and email (using the email address attached to your Wattpad account). In the future, Wattpad plans to allow writers to apply to the Creators program. The company has not announced when this will be taking place.
There are four requirements to joining the Wattpad Creators program:
You must have created at least one story within the last three months
You need to complete at least one story that's 50,000 words or more
You need to have at least one story that meets the minimum engaged readers, which varies based on the genre (see photo above)
You must have no pending Trust & Safety violations on any of your stories
Violations are regulated by Wattpad's Trust & Safety team. Read Wattpad's content guidelines before uploading a story to avoid violations.
2. Join Wattpad's Paid Stories Program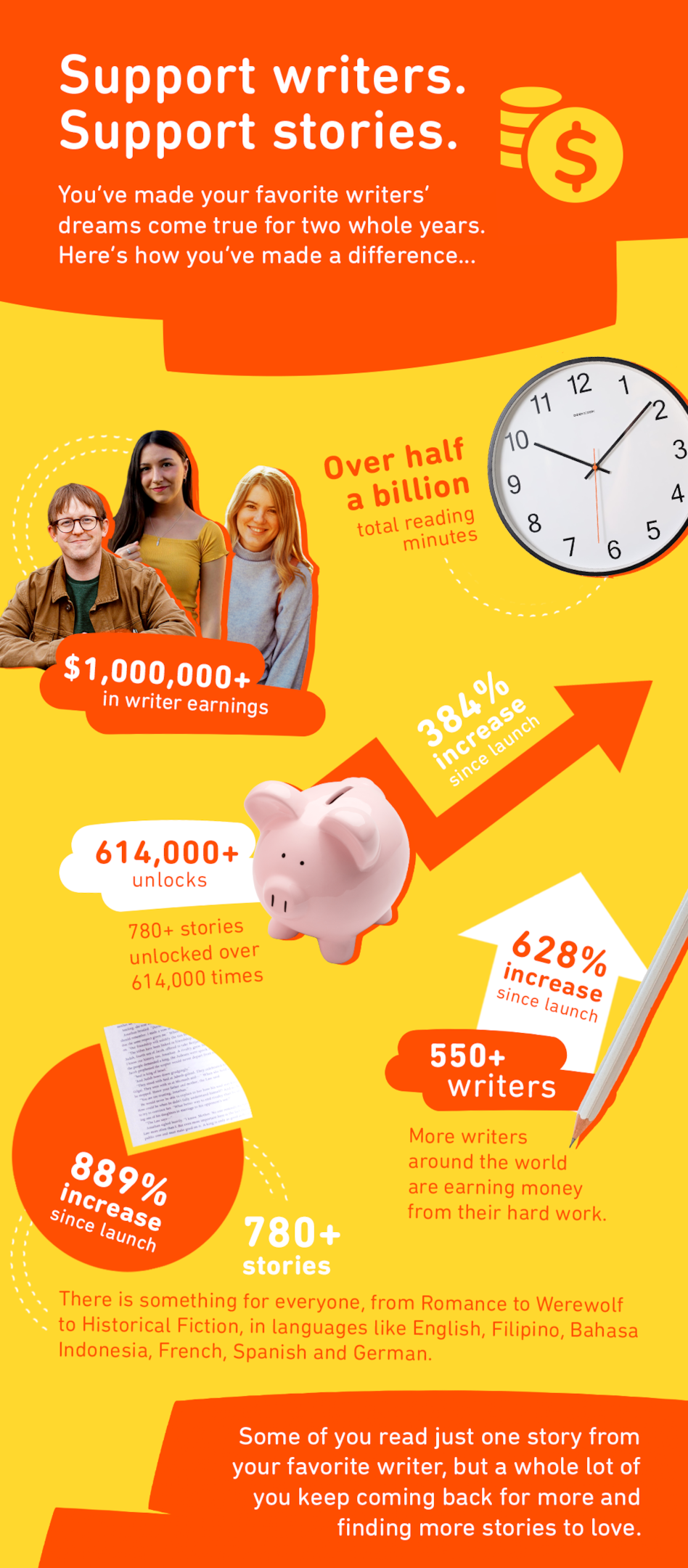 The Wattpad Paid Stories program is designed to support selected authors by putting their stories behind a paywall. To read paid stories, Wattpad readers need to buy coins, which can be purchased through the Wattpad app on Android and iOS. Readers can either pay for one chapter at a time or the whole story at once.
A percentage of the coins a writer earns on one of their paid stories will determine how much the writer is paid. Wattpad does not disclose its pay rates publicly. These are revealed to writers when they sign a contract with Wattpad.
How to Join the Wattpad Paid Stories Program?
Unlike the Wattpad Creators program, Wattpad does not offer specific criteria to get into the Paid Stories program. It is invite-only at the company's discretion. The company said on its FAQ page, "If you aren't part of Paid Stories yet, keep writing and growing, your next story might become the newest addition to the program."
While there are no guarantees, these tips may help you to become part of this program down the line:
Join the Wattpad Creators Program: This will give your stories greater recognition and gain access to resources that will make your stories even better.
Promote Your Stories on Social Media: Posting about your stories on social media will allow them to reach new readers and build a larger community.
Learn from Top Writers: Read popular stories in the genre(s) you like to write in. You'll learn tips and tricks to improve your writing as you see what they're doing.
Post Chapters and Stories Regularly: Wattpad readers enjoy when their favorite authors update a story regularly and when they come out with a new, exciting one. While there are no rules on how often you should upload, try to create a schedule that fits your life and allows you to maintain a consistent writing quality.
Engage with Your Community: When it comes to Wattpad, the story itself is only part of the picture. The community around the story determines the metrics like engaged readers, comments, and so on. Engage with your community by asking questions, replying to comments, and answering frequently asked questions. Often, this will make the community more close-knit and likely to engage with your stories in the future.
Listen to Feedback: Readers will sometimes leave feedback in the comments that can help your writing on Wattpad improve, especially if they're Wattpad writers themselves. Look for comments that offer useful writing advice, such as, "I like this story so far, but it would be great if it had more sensory language that made the story come alive."
3. Write Books
If you've written an original story on Wattpad, you may be able to turn it into a book and earn money that way. There are a few different ways to do this.
One is by getting publishing deals with the Wattpad WEBTOON Book Group. This group partners with select creators to make their Wattpad stories into published books, which it sells on the website and other online book retailers like Amazon. Wattpad doesn't guarantee that any particular author will get a book published. The advice it gives on the official website is "to keep creating and continue engaging with your community."
Another is by getting a deal with an external publishing company. You will need to find a publishing company that publishes stories in your specific genre. You'll also need to convert your story into a proper manuscript and write a query letter. To send a submission to a publisher, you can either work with a literary agent or find a publishing company that accepts unsolicited manuscripts.
Finally, you can become a self-published author. Going this route is often more complicated since you will need to figure out editing, formatting, marketing, and so on all on your own or find others who can do these tasks for you. There are many platforms available for self-published authors. One of the most popular ones is Kindle Direct Publishing. Others include Apple Books, Lulu, Barnes & Noble Press, and more.
4. Utilize the 'Buy Me a Coffee' Feature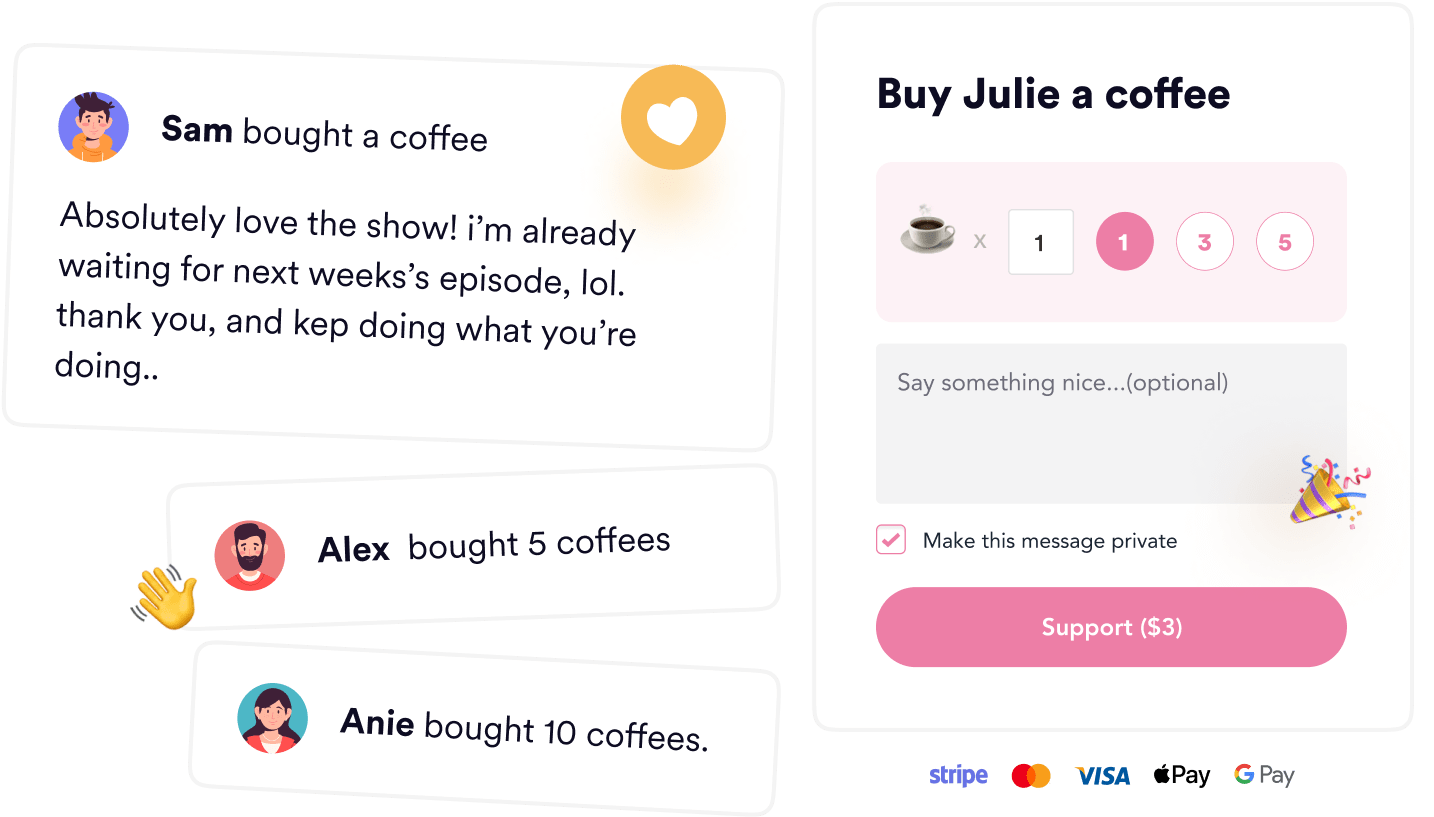 Buy Me a Coffee is a site that allows you to receive one-time donations from fans who want to support you. It also offers other support methods, including monthly and yearly memberships and Extras, which allow you to sell things. There are three steps to using Buy me a Coffee in Wattpad:
Create an account
Create a Buy me a Coffee page
Add the page link to your Wattpad profile
Buy Me a Coffee is free to use. It just charges a 5% transaction fee on all money earned through the platform.
5. Use External Platforms such as Patreon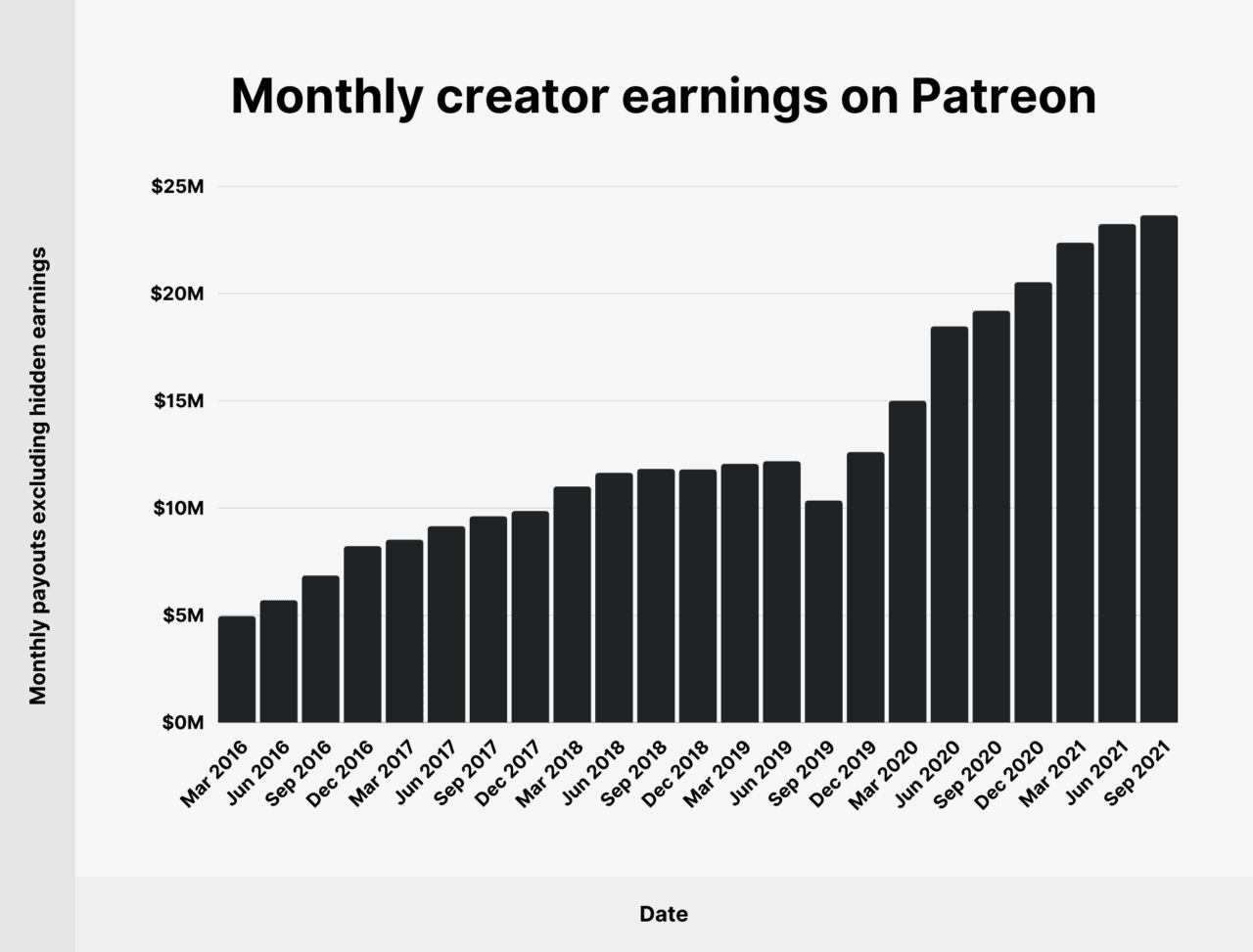 External platforms like Patreon have become popular ways for creators to make money on Wattpad. Patreon works through monthly memberships, which your readers can subscribe to.
Note that with Patreon, subscribers usually expect perks in exchange for membership. Some perks Wattpad writers may want to include are:
Access to a Discord server for fans
Access to locked posts on Patreon
Early access to chapters before they're published on Wattpad
Early access to unpublished stories
Signed copies of merch or published books
Patreon memberships are tiered, so plan out the rewards according to how much people are paying. For example, a $2 membership might get readers access to your locked Patreon posts, while a $100 membership might allow readers to get that plus early access to chapters, signed copies of merch, and more. Patreon tiers are customizable, allowing you to add multiple tiers of different dollar amounts and limit the number of people who subscribe to any specific tier.
Besides Patreon, other platforms that allow your readers to subscribe to memberships include Podia, Ko-fi, and more. If you'd rather go for a more DIY option, you can also consider creating an e-commerce website and offering subscriptions there.
No matter which platform you choose, you'll want to promote it. Much like Buy Me a Coffee, you can add a link to your Wattpad profile.
6. Offer Additional Content (Video or Audio) for a Fee
Wattpad stories can be converted into content like videos or audiobooks. You can sell this content to your readers as another way to experience their favorite stories. One of the easiest ways to get paid for video and audio content is to use it as a reward for your monthly subscribers on Patreon or other platforms.
If you decide to turn your story into an audiobook, you can sell it online through platforms like Audible. You can also sell your video content to your readers using platforms like Uscreen.
7. Make Money on Wattpad with Affiliate Marketing
Wattpad isn't known for affiliate marketing, but there is some potential.
Affiliate links can be added in two ways. Wattpad allows you to add external links in stories, which show up at the end on the web version of Wattpad only. It also allows you to add an external link to your profile.
Incorporating affiliate links into stories is a little difficult for a few reasons. One, they only show up on the web version of Wattpad. If your Wattpad audience is primarily mobile users, you likely won't get as many clicks. Two, the affiliate link should relate to the content in some way. Otherwise, users won't be enticed to click on it.
Another option is to put an affiliate link in your profile. The affiliate links here can be a bit broader, but they should still relate to your story or writing in some way. For example, you could link to one of your favorite writing tools. You can even get creative and link to a product you think a character from your story would use.
To make the most out of a single external link, you can also create an Amazon Influencer storefront. This requires having thousands of followers/subscribers on YouTube, Facebook, or Instagram, so it will take time to build up. But once you do, readers can visit a store page full of Amazon affiliate links, increasing the likelihood that they'll purchase something.
Here is an important thing to note if you decide to make money with affiliate marketing: legally speaking, affiliate links require disclosure. Make sure it's clear that when readers click on your link, you may make money from the purchases they make through that link. Where you add this disclosure will depend on where you put the link. If you added it to your profile, for example, you would want the disclosure to be somewhere in the profile.
8. Consider Brand Partnerships
Wattpad has brand partnership opportunities for some creators. There are two main ways to get involved with brands on Wattpad directly:
Joining the Wattpad Creators program
Enter a branded Wattpad writing contest
You can also cultivate brand partnerships outside of Wattpad. You can set up a business email to allow brands to come to you with offers, and you can also go to brands directly and ask if they'll sponsor you.
9. Advertise your Story on Wattpad's Website
Advertising your story is an indirect way to make money on Wattpad. You will reach a wider audience and get better engagement by advertising your story. This could eventually lead to more opportunities like joining the Wattpad Creators program, the Paid Stories program, getting brand partnerships, and more. Also, getting more recognition will call attention to your external platforms like Patreon or Buy Me a Coffee, as well as any affiliate links or merch you have.
There are no paid story ads for Wattpad at the moment, but there are a few free ways to advertise.
One way is through Wattpad promotions. Wattpad regularly chooses some stories to promote on its platform. These stories may be added to a Wattpad Picks list, to the app's home screen, and other places at the company's discretion. To be promoted, you need to ensure you meet the requirements, and then you can fill out an application. While there are no guarantees of promotion, it's a straightforward process that gives your story a chance at being seen.
Another way is by partnering with other writers. Some writers are willing to do cross-promotions, where they promote your story, and you promote theirs. Promotions will usually be in an author's note at the end of a chapter.
10. Sell Merch
While you can't sell merch directly on Wattpad, there are external services that allow you to create merch based on your stories. These include Zazzle, Printify, Redbubble, and more. The one you choose will generally depend on how hands-on you'd like to be with the selling process. Some platforms only allow you to sell merch on their platform, while others allow you to integrate the products into your e-commerce website.
Character art, memorable quotes from the story, and more can all make great ideas for merch your fans want to purchase. To create the art for the merch, you can do it yourself if you're skilled at digital art/design, or you can work with a graphic designer that offers a commercial license on their work.
Note that if you primarily write fanfiction on Wattpad, you likely won't be able to create merch since the characters are copyright-protected. There are some exceptions — for example, Redbubble has partnerships with a few brands, and they will allow you to submit designs for approval. If your design is approved, you'll be able to sell merch using the design on the Redbubble platform. Another exception is characters in the public domain. Public domain characters are not copyright protected, so you can add them to any merch design you'd like.
What is Wattpad?

Launched in 2006, Wattpad is a platform that allows writers to freely publish their written works for readers to enjoy. Wattpad is best known for fanfiction and original romance stories but hosts stories of all genres. Since its origins, it has had over 4 million active writers and a monthly readership of over 80 million users. The platform has become such a global phenomenon that popular books, shows, and movies have been created based on stories published there.
What is the Minimum Number of Reads on Wattpad to Get Paid?
There is no minimum number of reads on Wattpad to get paid. This is because none of the methods above are guaranteed. You could get lucky and have a fan send you a donation when you only have 100 reads. Or, in another scenario, you might not earn anything until you join the Wattpad Creators program and earn money there.
Consistent uploads, quality content, an engaged audience, and multiple income streams will significantly increase your chances of getting paid through Wattpad.
Is Publishing on Wattpad Worth it?
Overall, publishing on Wattpad is worth it. Wattpad is a free platform for writers, so it's a great place to begin. On Wattpad, you can build an audience, get name recognition, and engage in unique opportunities. Some Wattpad writers have even become mainstream authors. With time and dedication, you can become a Wattpad success and start making money through the platform.